Get access to digital Fall art that you can download and use in your own home for free! These are the prints I have in my own living room.
Art is one of the easiest ways to transition your home from season to season. It's an instant visual representation of the season and a great way to tell a story.
In this case, I'm not talking about huge art pieces hung above a mantel, but smaller pieces like those found in a gallery wall, above a bed, in a hallway, or even on a shelf!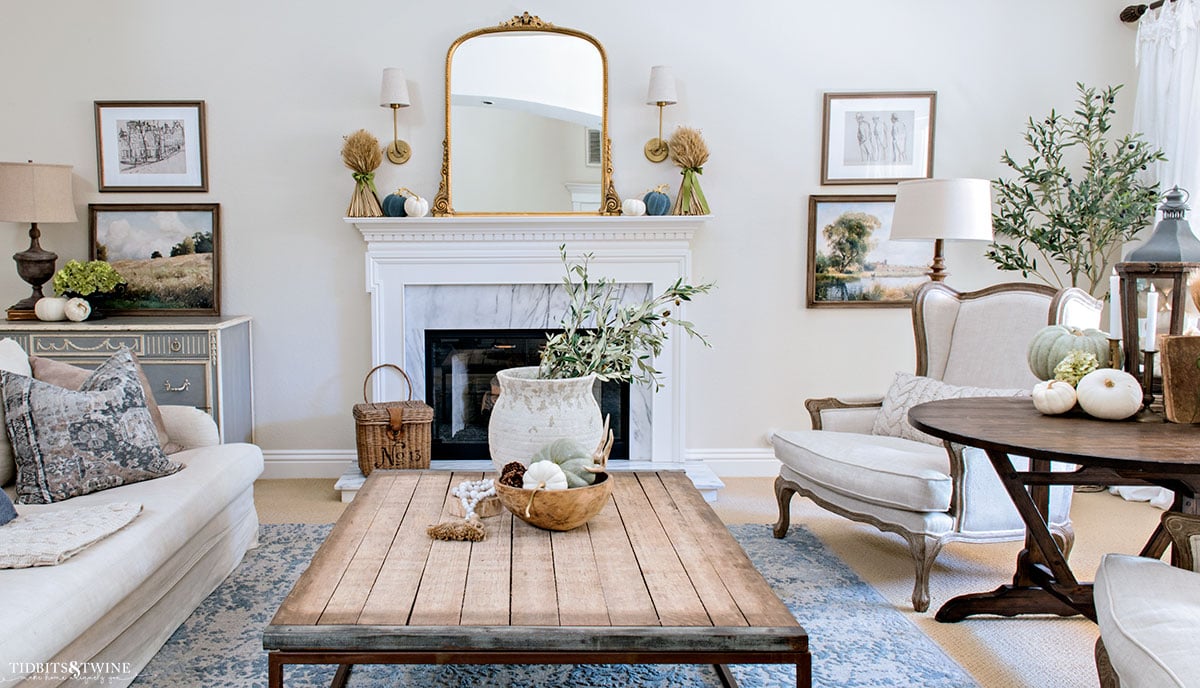 I tend to change my mind a lot when it comes to what art I feel like having on display. For me, it's a bit like how some women change their jewelry. Well, art is the jewelry on my walls.
Ever since I started searching for and downloading art from the Public Domain, I rarely, if ever, purchase art. Instead, I buy frames that I like and then print out new art.
Learn the Designer Secret that will give you access to tons of free art to download and print in your own home!
I literally have stacks of pictures stuffed in the back of every frame! As I replace an image, I just put it on top of the old one and that way, I can always rotate back whenever I feel and the images are stored safely away.
Fall Art for the Home
I recently shared my Fall living room tour which included four new pieces of art. These are my versions of Fall…
I love the soft, muted colors of the field and stream with the yellow grasses that I used in the 20″x24″ frames.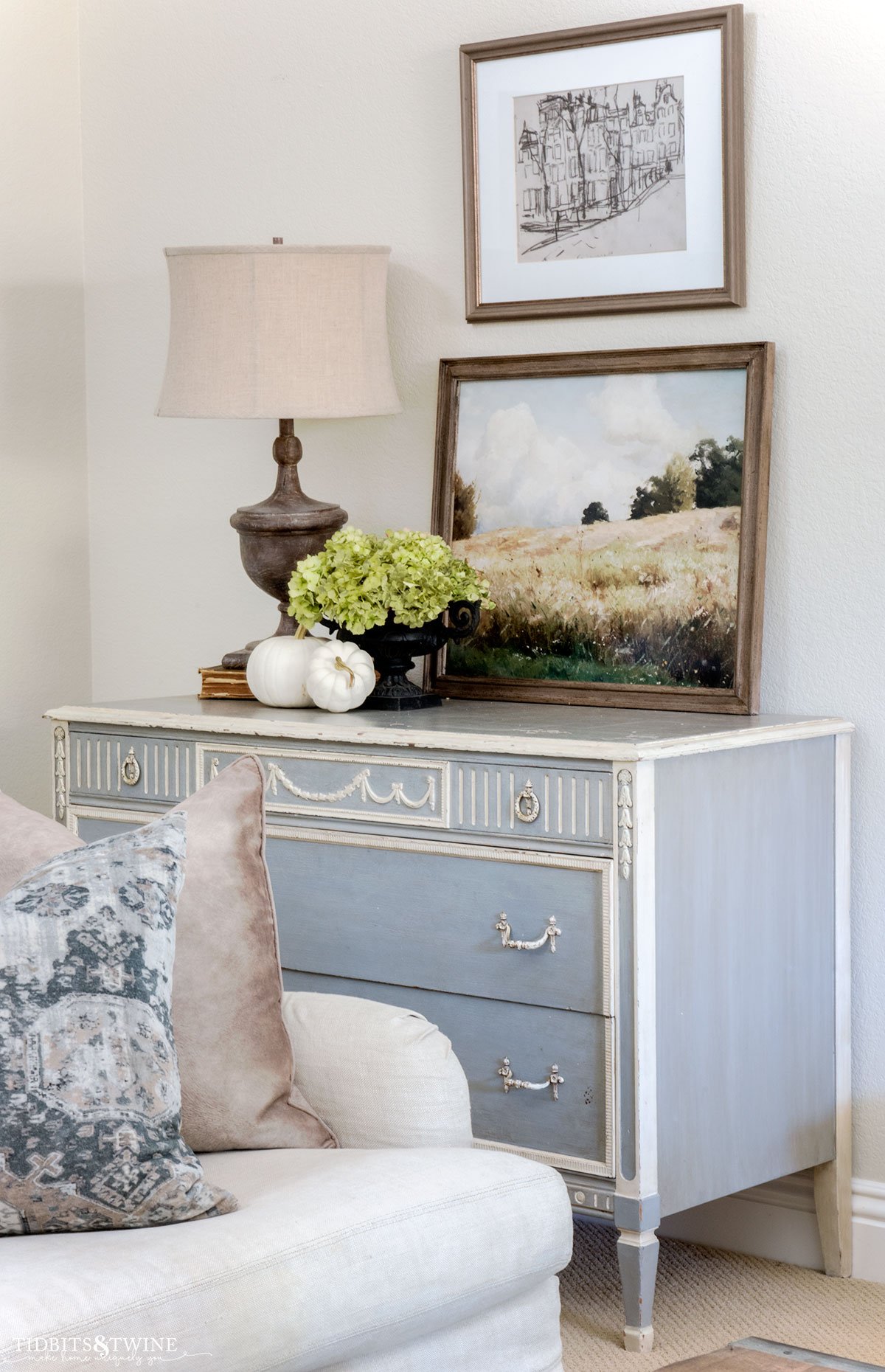 Above the landscape art, I included two pieces of sketch art. Okay, I'll admit these aren't Fall. But I was looking for something neutral that would work with the landscape images without detracting from them. These fit the bill perfectly!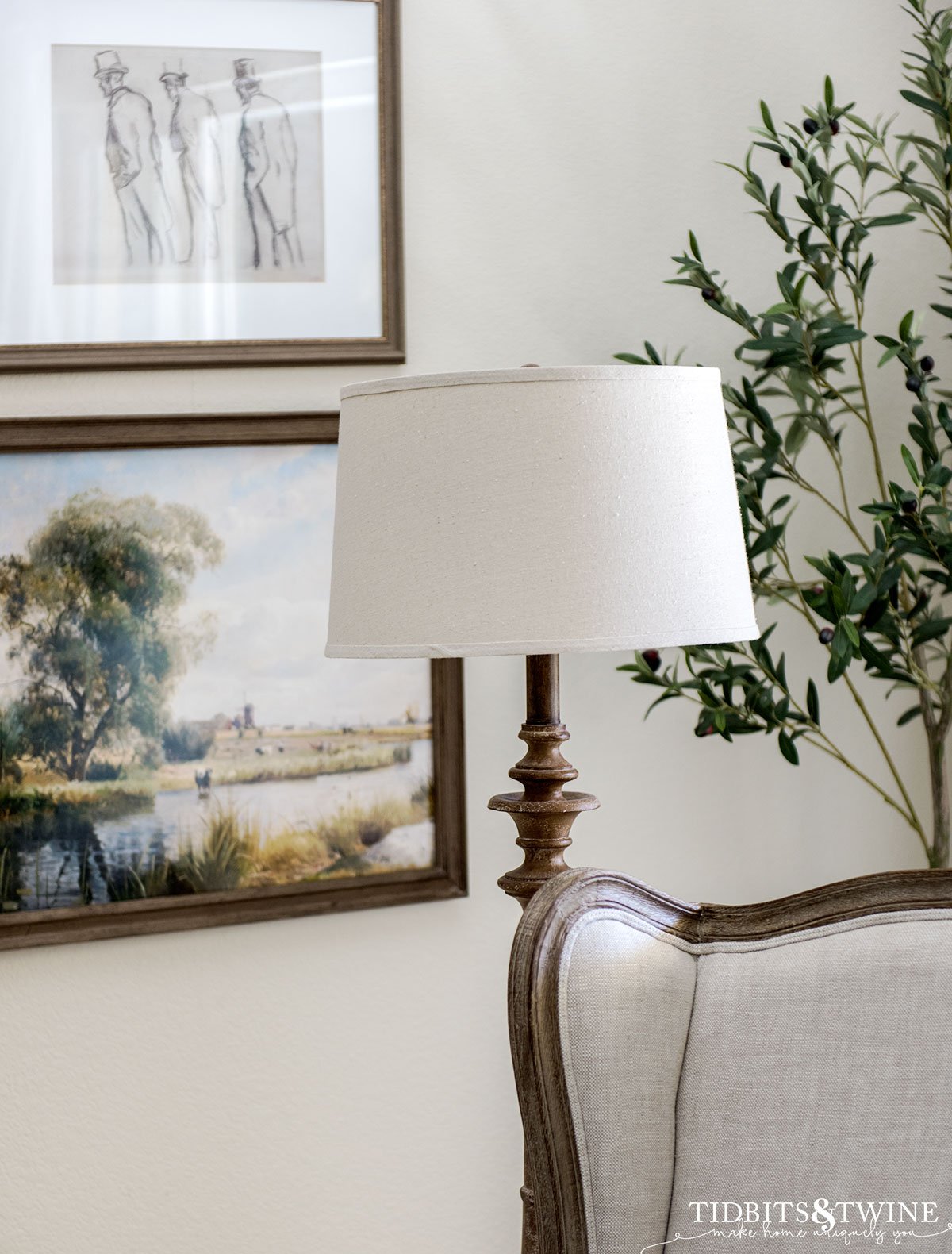 Free Fall Landscape Art
Today, I'm sharing all four of these art pieces with you, free to subscribers. The two landscapes were created by Gustaf Rydberg (1835-1933).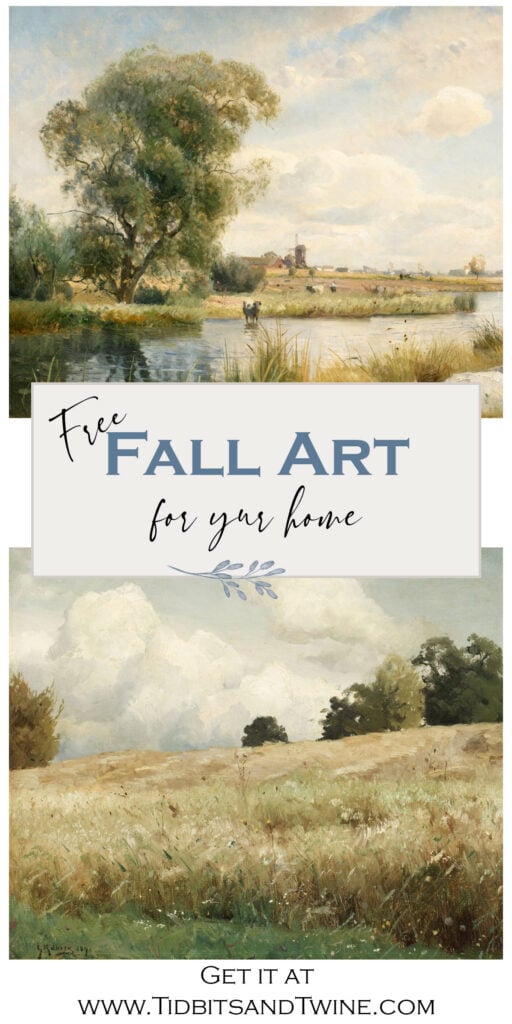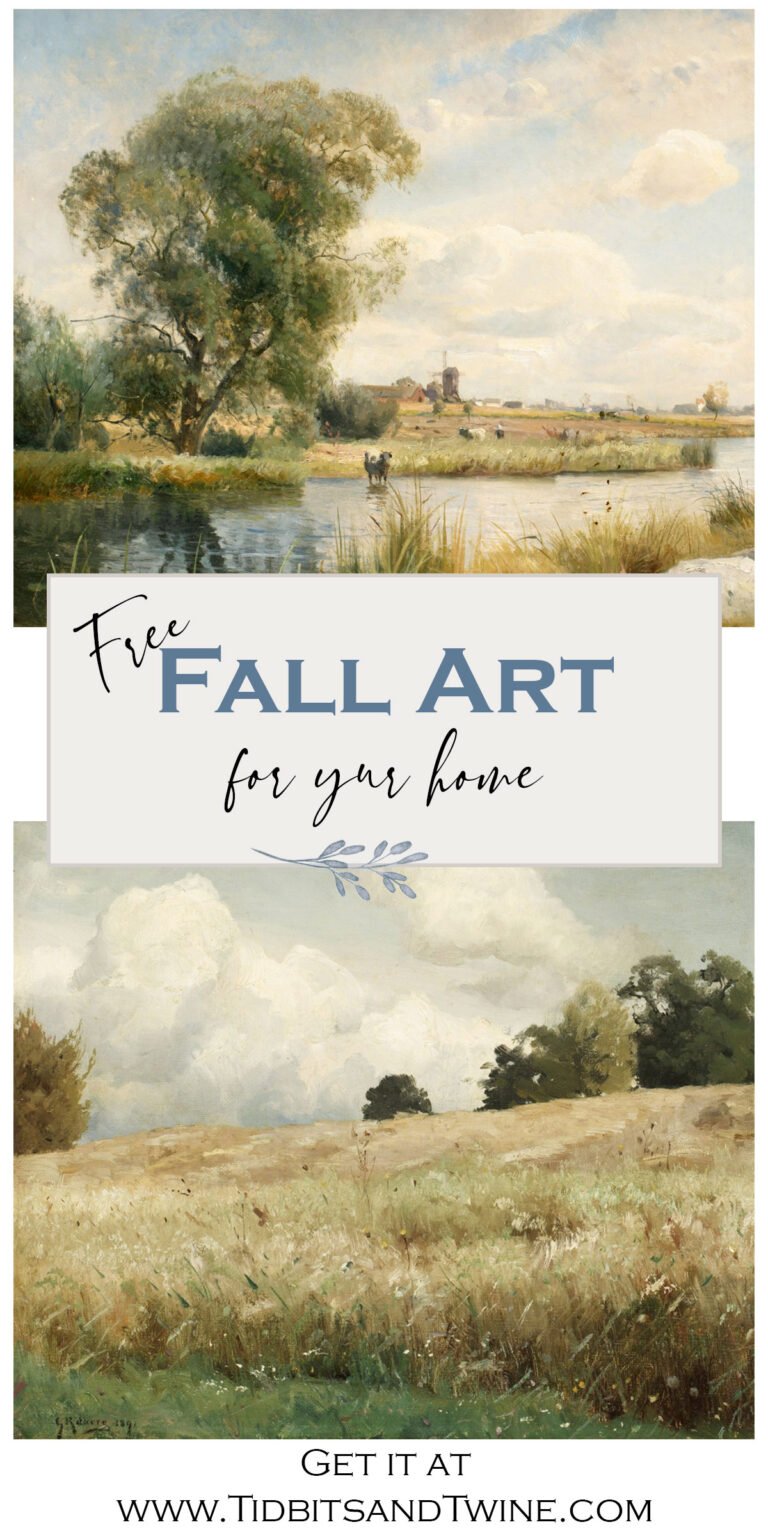 Free Sketch Art
The sketches are from two different artists, but I changed the coloring a bit so that they'd match a bit better. One is "Three Studies of Ludovic Halévy Standing II" by Edgar Degas. The other is George Hendrik Breitner's "Brug over de Keizersgracht te Amsterdam ter hoogte van de Berenstraat".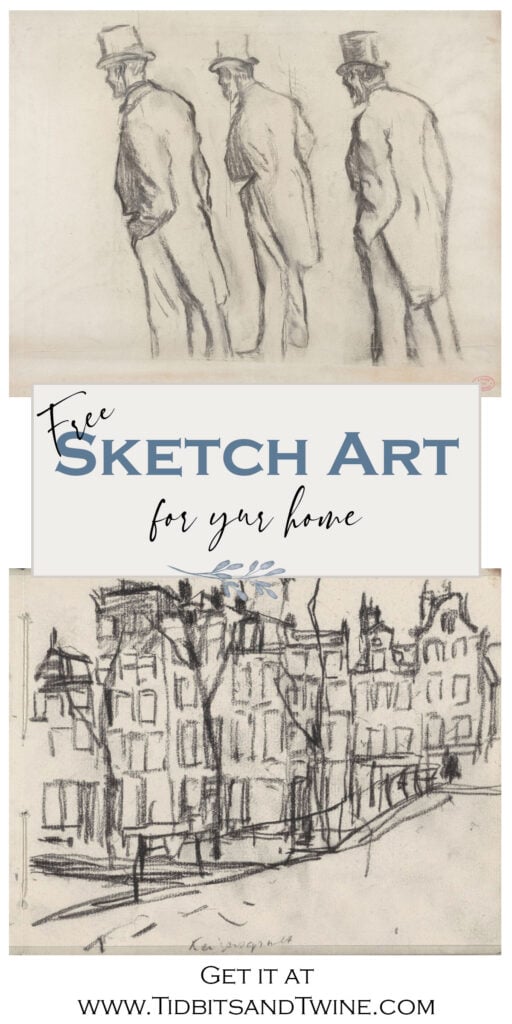 How to Access the Art
If you're already a subscriber, simply click the button below to access! Then just save to your computer and print! Remember, the password is at the bottom of EVERY email I send!
Not yet a subscriber? Sign up below! You'll get weekly updates with new articles, plus access to more digital art, including for the Frame TV.
How to Print Digital Art
When printing from home, you can use standard paper but I prefer to update to a heavier stock for a higher-quality look. I love this 80# linen paper for my art prints. If using a home printer, change your print settings to Photo, or Best, or whatever your printer calls its best quality of print.
If printing from home isn't an option for you, there are several printing services that can make quality prints for you. Each one varies slightly in terms of paper quality, colors, and price, so select one that best fits your needs. I've personally used all of these in the past. My current favorite is Mpix:
More Art Ideas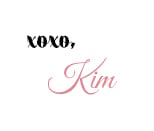 Join the Community
Let's keep in touch! Get exclusive artwork plus the latest news delivered directly to your Inbox!