My curated list of the most realistic faux pumpkins for every budget! These easy-to-care-for pumpkins are all style, no mess!
Get ready for pumpkin season with the most realistic fakes out there! Dive into my favorite list of seriously realistic faux pumpkins that'll have you fooled and fall-ready.
Who's ready for Fall?!
Every year at the end of August, I start itching to put out my Fall decor. If you're familiar with my style, you know you won't find Fall-themed pillows, scarecrows, or cornucopias at my house. I'm more of a Fall style person versus a Fall theme.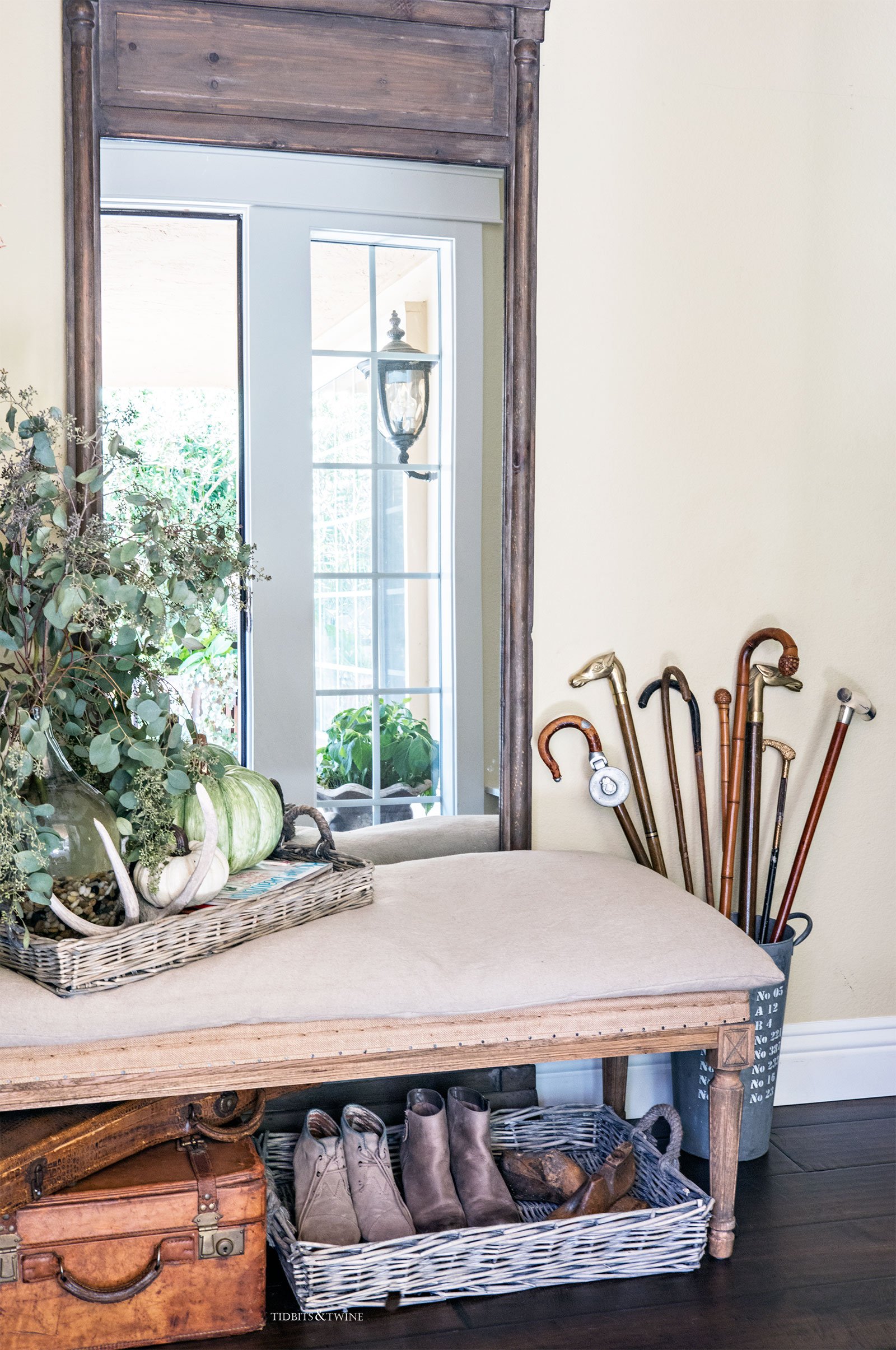 In fact, my favorite Fall decor is natural items. I've written an entire article about ways to decorate with natural Fall decor! But among them, pumpkins are my weakness.
I love white pumpkins and heirloom pumpkins, specifically. But who am I kidding? I like all pumpkins. And so long as I don't carve them AND they don't have any cuts/bruises when I buy them, they will last me through Thanksgiving!
But that's not to say there haven't been times when I find a pumpkin that's started oozing in the heat and running down my front porch steps. Or worse! On my fireplace mantel! And even though real pumpkins aren't particularly expensive, buying them every year does add up.
Enter the saviors of fall decor: realistic faux pumpkins.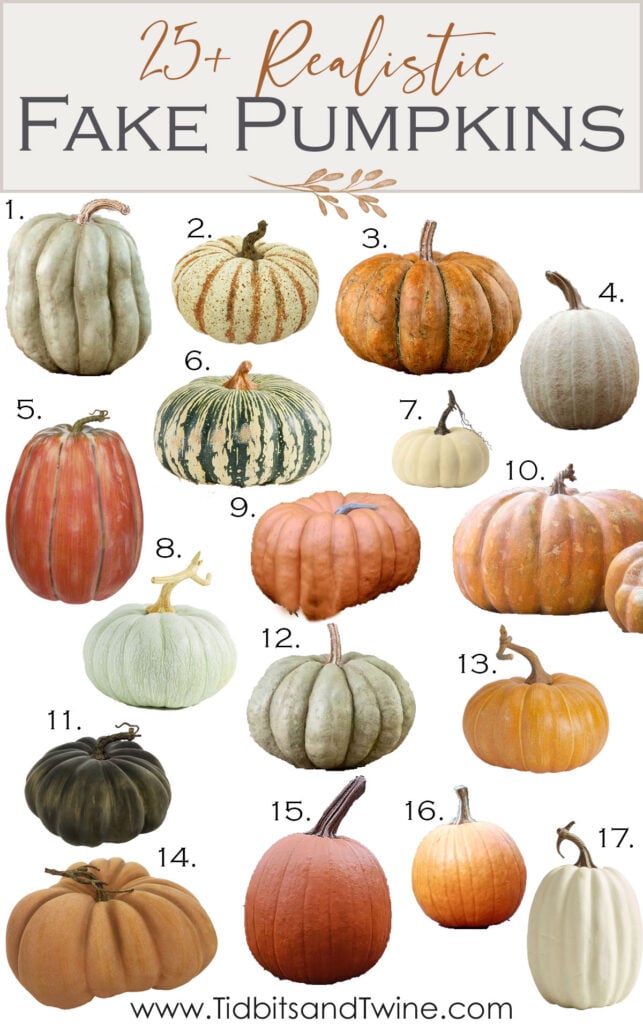 What Makes a Faux Pumpkin Look Realistic
There's a reason I've never shared my favorite faux pumpkins before….because I didn't have any. Or at least not many. And those that I did find were one-offs sourced at HomeGoods.
Up until recently, fake pumpkins looked faked. Like yucky, plastic-y fake. But recently, there are now quite a few that look good! So what makes a fake pumpkin look realistic?
Shape
Let's start with the shape! With the exception of miniature pumpkins, most pumpkins aren't perfectly round or perfectly oval. So the faux pumpkins that look realistic are the ones that embrace those imperfections in their shape! Maybe they're a little lopsided, or a little bumpy or bulbous. That's great!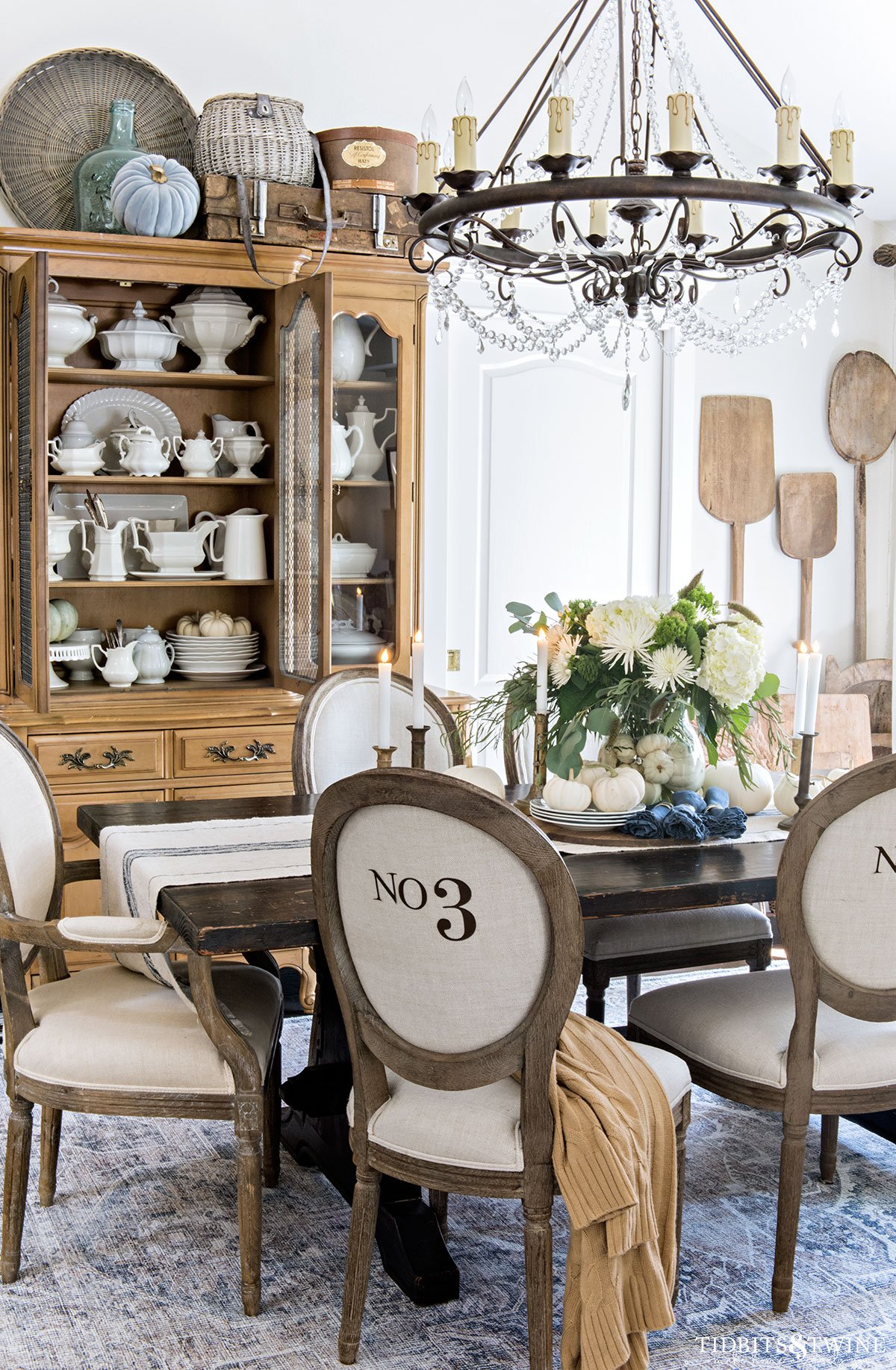 Finish
Most real pumpkins have bumps or dark spots or shading. A faux pumpkin that is just one shade of orange, won't look nearly as realistic as those that have a lot of shading and even some discoloration!
Also, pay attention to the sheen! Most pumpkins aren't super shiny, so avoid high-sheen finishes if you want a realistic look.
Stems
Sadly, this is where even the best realistic faux pumpkins still fall a bit short! It's very hard to replicate the look of a realistic stem. Pay attention to the shape and the sheen of the faux stem to find those that look the best.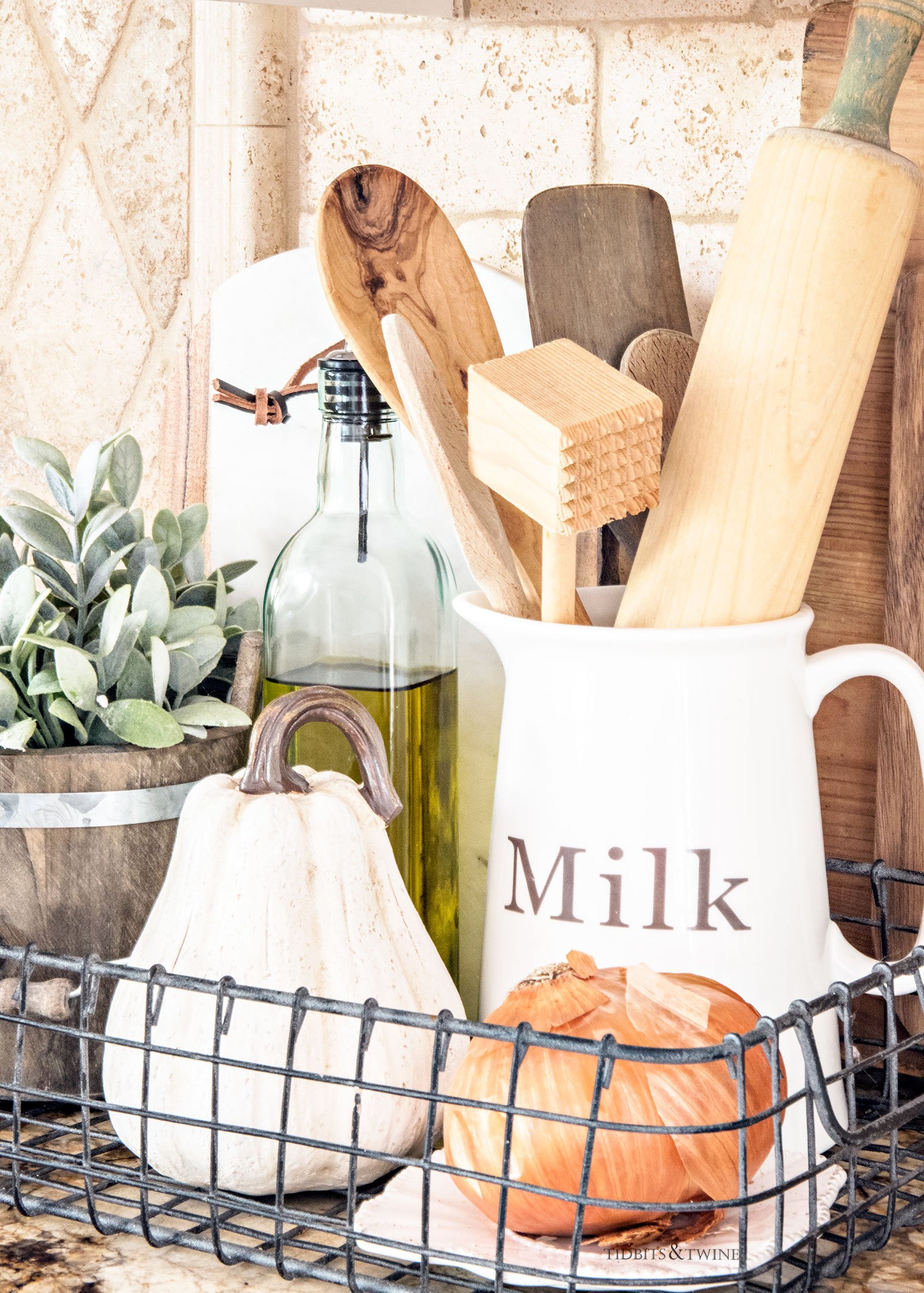 I'm not adding material to this list because I've seen plastic, stone, wood, and more that equally look great! So I personally don't pay much attention to the material unless I plan to use it outdoors.
Tip: If you want to use your faux pumpkins outdoors where they'll be exposed to sun and rain, look for those made from polyresin that specifically say that are crafted for outdoor use.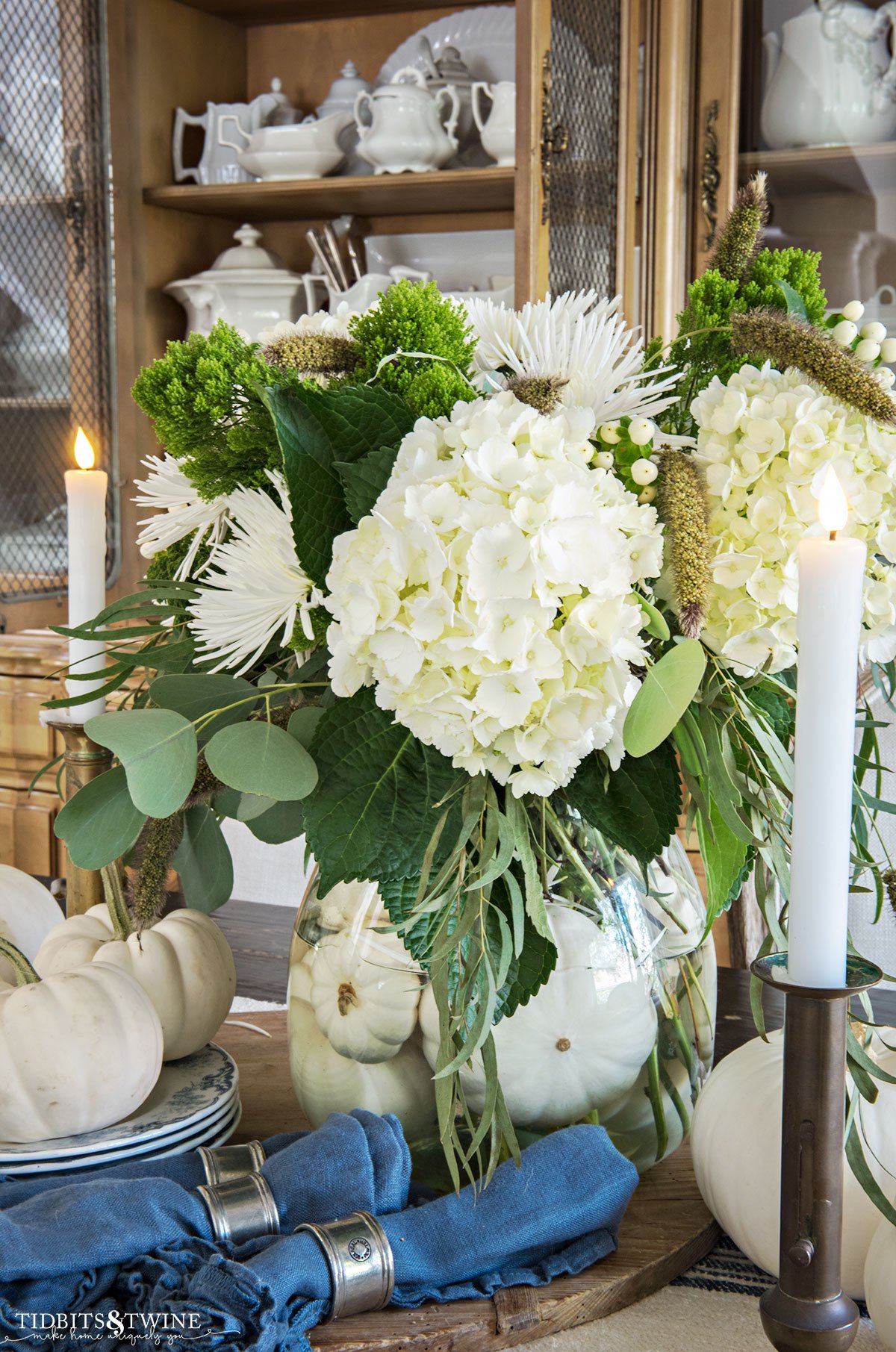 My Favorite Realistic Fake Pumpkins
I searched high and low to source the best realistic fake pumpkins I could find. I'm not including any decorative pumpkins, like velvet or twig, on this list. My list includes just the realistic-looking pumpkins.
I just ordered these pumpkins from Kirkland's and was hoping that they'd arrive before publishing this post but they didn't.
Since creating the graphic above, I found even more! You can find all of them below. Click on any of the images below to shop the product.

Ideas for Decorating with Pumpkins
Here's a list of creative ways to decorate with realistic faux pumpkins:
Fall Mantel Display: Arrange a mix of faux pumpkins in varying sizes and colors on your fireplace mantel, along with fall foliage and candles.
Harvest Table Centerpiece: Create a stunning table centerpiece by placing a collection of faux pumpkins along with faux leaves, berries, and candles in the center.
Front Porch Welcome: Place faux pumpkins of different sizes on your porch steps or near the entrance to create a welcoming fall display.
Pumpkin Topiary: Stack faux pumpkins on top of one another. largest to smallest, to create a topiary-style arrangement either indoors or outdoors.
Autumn Vignettes: Combine faux pumpkins with other autumn-inspired decor like lanterns, pinecones, etc. to create charming vignettes.
Pumpkin Centerpiece Bowl: Fill a decorative bowl with an assortment of small faux pumpkins and use it as a centerpiece on your dining table or coffee table.
Pumpkin Basket Arrangement: Arrange faux pumpkins in a woven basket along with faux leaves and branches for a rustic fall arrangement.
Pumpkin Focal Point: Put a pumpkin under a cloche or on a pedestal to create a display.
Pumpkin Candle Holders: Hollow out the tops of faux pumpkins to create candle holders for LED or real candles.
Faux Pumpkin Planter: Use a larger faux pumpkin as a planter for silk fall flowers, branches, or grasses.
Coffee Table Display: Place faux pumpkins next to a large display of stems to create a grouping, either on their own or in a tray.
Pumpkin Trio Display: Group three faux pumpkins of different sizes and heights together to create an elegant yet simple arrangement.
Vase Filler: Use small pumpkins as a vase filler for your favorite Fall floral arrangement.
Remember that the great thing about faux pumpkins is their versatility and reusability, so you can experiment with various arrangements and styles to match your personal preferences and home decor.
Join the Community
Let's keep in touch! Get exclusive artwork plus the latest news delivered directly to your Inbox!