Here's how to make a bow for wreaths, tree toppers, packages, and more! Don't buy those expensive bows when you can easily make one yourself with just ribbon and wire!
UPDATE: Many have asked for a video tutorial for making the bow and I've just added one! Scroll down for step-by-step bow instructions AND a complete video tutorial. Make sure your volume is on!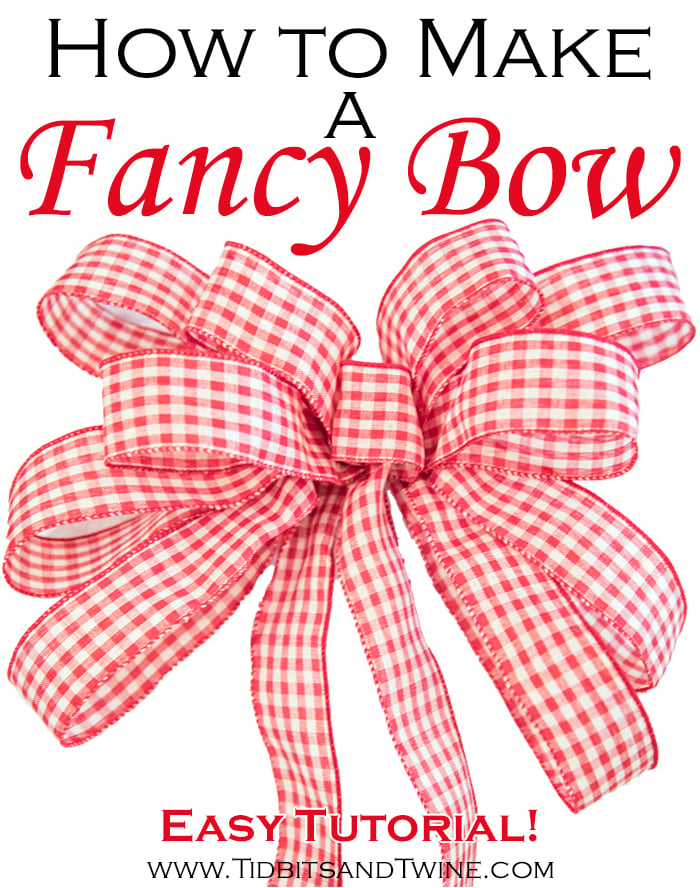 I don't know about you, but for whatever reason, no matter how hard I try to carefully store a wreath after the season, the next year, it doesn't come out of storage looking quite as good as when it went in. So now, I just use one wreath for all seasons, which helps to keep it nice year-round and is a less expensive alternative versus buying multiple wreaths!
I purchased a bare twig wreath from a local craft store to use as the base (you could also use a grapevine wreath). On sale, it cost just under $14. For each season, I just wire on different accent pieces to create a new look. For fall, I picked up some faux berry stems and pussy willow branches (on sale for 50% off plus I used a 20% off coupon) and also used two different ribbons that I had on hand.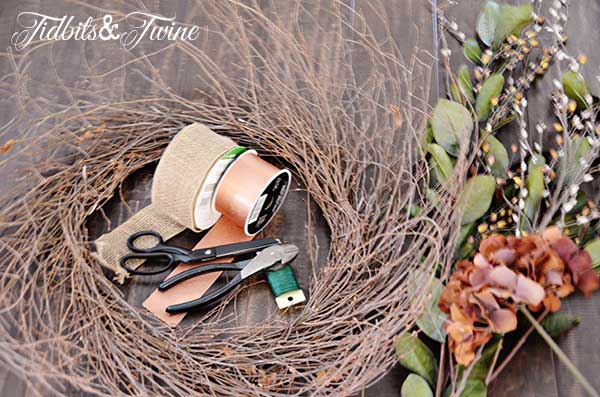 I first wired the pussy willow all the way around, making sure that I kept it facing the same direction as the twig wreath.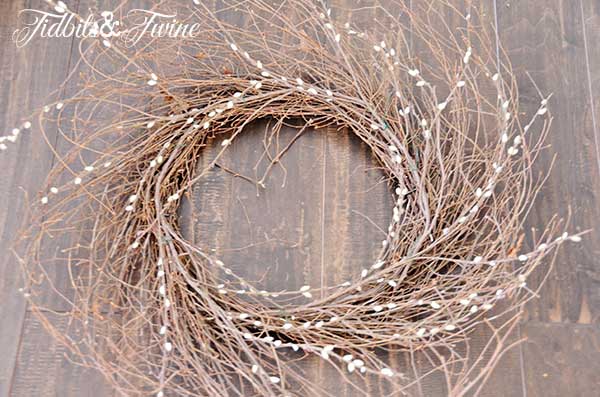 Next I wired the berry stems onto the wreath. I took a picture of this step to show you, but didn't take the time to check my photos in between each step and afterward, realized that some of them were so blurry that I couldn't share them! You'll have to use your imagination as to what it looks like with the berry stems wired on top of the pussy willow.
I then decided to add a wire burlap bow to the bottom center of the wreath. The next steps will show you how to make a bow for a wreath. This technique will work with any type of ribbon, although wire is preferable so that it will hold its shape. Looking for similar burlap ribbon? You can find it on Amazon HERE.
Yield: 1 Bow
How to Easily Make a Bow for Wreaths and More!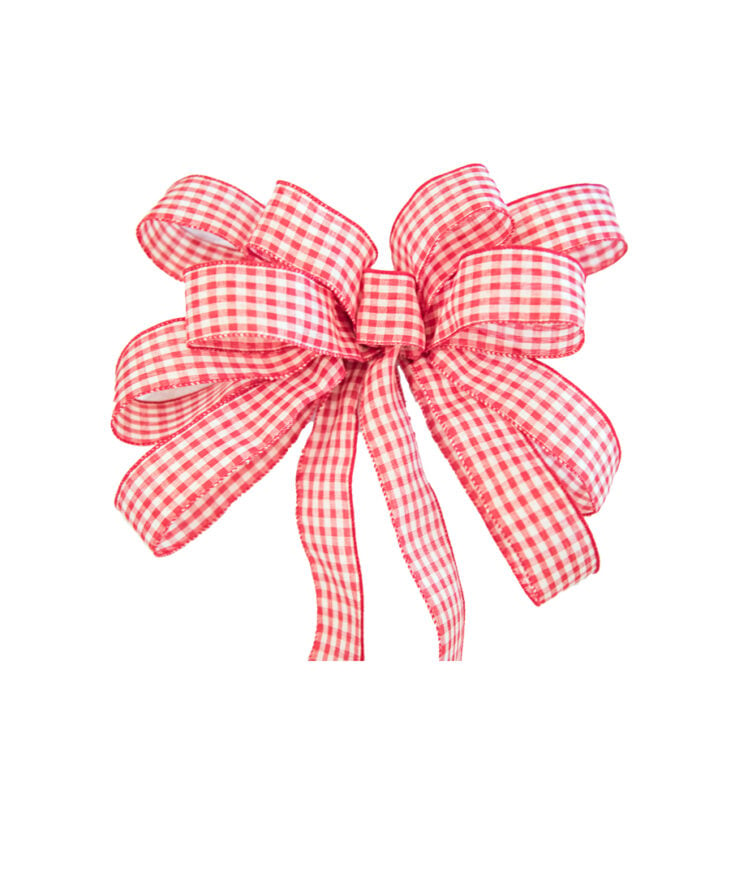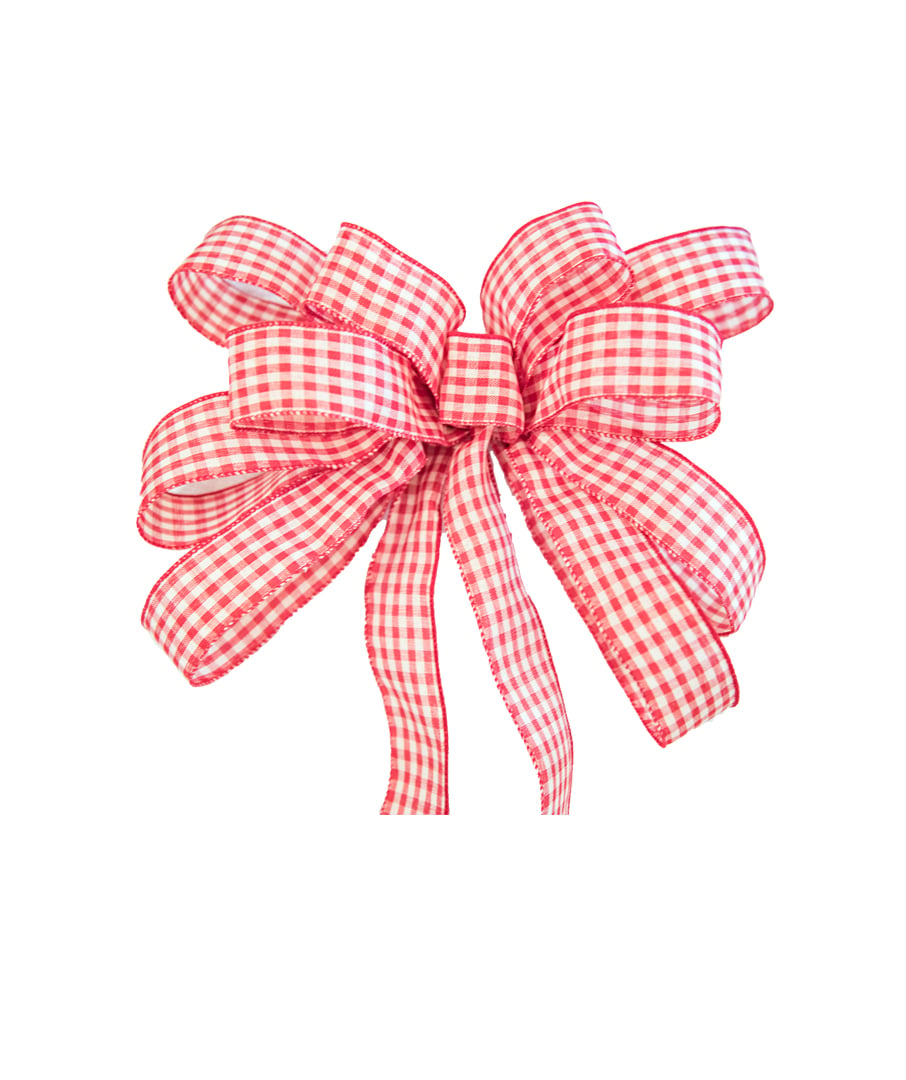 Here's how to make a bow for wreaths, tree toppers, packages, and more! Don't buy those expensive bows when you can easily make one yourself with just ribbon and wire!
Instructions
Start with the Tail - Hold the ribbon in your hand and leave a tail long enough to work as one end of your bow plus the length you'll need for the center loop. When in doubt, leave more! The tail should be in the front of your hand.
Create 1st Loop - Fold a length of ribbon backward to create a loop and pinch with it your thumb. This loop will be the smallest (inside) loop on the left side of your bow. The tail of your bow will continue to hang down in front.
Fold to Create Second Loop - Fold another loop backward on the other side that matches in size to the first loop. This will be your smallest (inside) loop on the right-side of your bow, so you want the two sides to be even. Each loop thereafter will get progressively bigger. Note: if your ribbon is one-sided, be sure to twist after each loop so that the good side always faces out. You should now have two matching loops, one on the left and one on the right. The tail is still hanging down in the front.
Continue Creating Loops - Continue making loops on the back alternating from the left to the right. Remember that each loop should be a bit bigger than the one before it.
Finish with an Odd Number - When you have reached your desired size, you are ready to finish it off! The number of loops you create and the size of the loops will depend on the size you want for your finished bow, but regardless, always use an odd number of loops on each side. Here you can see that I have five loops per side going from smallest to biggest and one tail of the bow is on the front and the other (still attached to the spool) is on the back.
Create Center Loop - This one was hard to photograph, so I'll do my best to explain! In this step, you'll be creating the center loop of your bow. Take the tail end that is on the front and create a backward loop with the tail end now going down over the top of the bow to the back.
Secure with Wire - To secure the bow, use a length of wire that is twisted around the back. Wire is ideal because it hold securely, but also allows you to move the loops around to spread out the bow when you're ready to fluff it. A twist tie works, too!
Fluff and Finish - Now you're ready to fluff! For this, all you need to do is pull the loops alternating up and down so that each one is visible. I tend to like the biggest loops on the back to come down toward the tail of the bow, as shown below.

Notes
Use your bow for wreaths, tree toppers, packages, and more!
Need more help? Watch the tutorial here: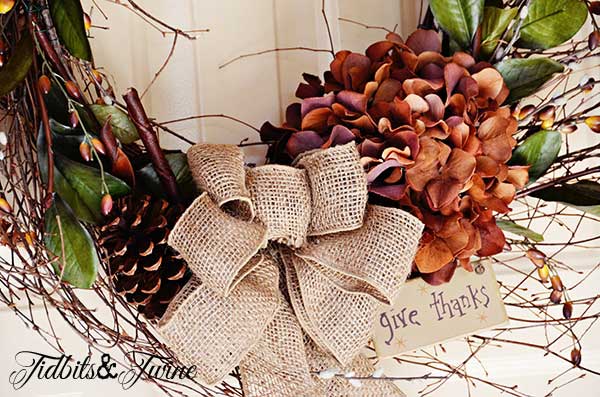 Whew! Now that the bow was made, I was ready to finish the wreath. I added the head of a faux hydrangea, some pinecones, and a small fall sign.
Everything is wired – not glued – so that for winter, spring and summer, I can just remove these elements and add new ones. I find that it's much easier to store faux stems than entire wreaths, plus they are less expensive to buy.
Tip: Here is a great and easy way to hang a wreath on the front door! Simply turn a Command hook upside down on the inside of the door to hold your wreath. I prefer this over a wreath hanger because the hangers always clanged against my door whenever we shut it, but now it is silent and the wreath is firmly in place!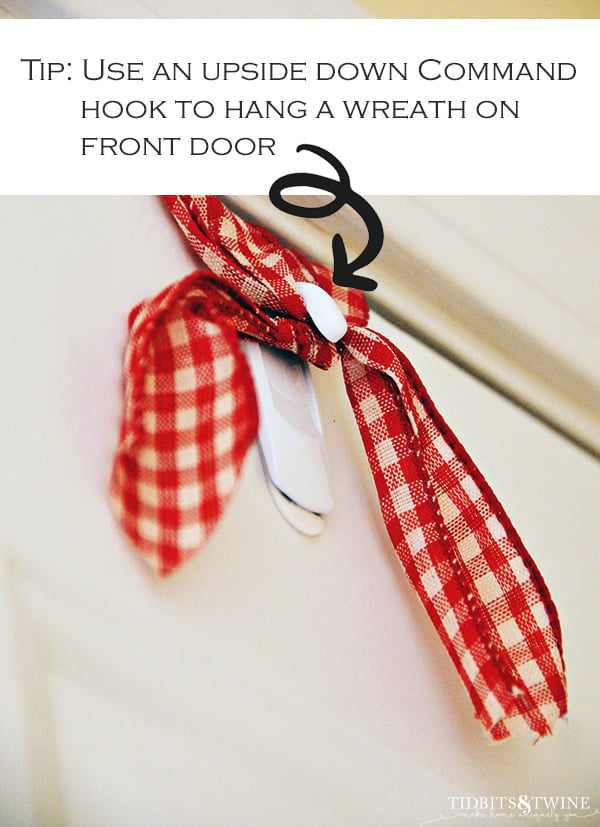 More Decorating Tips

Join the Community
Let's keep in touch! Get exclusive artwork plus the latest news delivered directly to your Inbox!