Is a marble tile bathroom practical? Is it difficult to keep clean? Does it stain? How do you clean marble? I get an email about once a week from people asking me about the maintenance of marble and how mine has held up in my bathroom, so here's an update on my marble bathroom two years later.
When I first started planning my master bathroom remodel, I knew that marble wasn't exactly the most practical choice. But, it was exactly the look I wanted so I went ahead anyway knowing that there would be a little more maintenance involved. I receive a lot of emails with questions so I'm summarizing all of them in one post!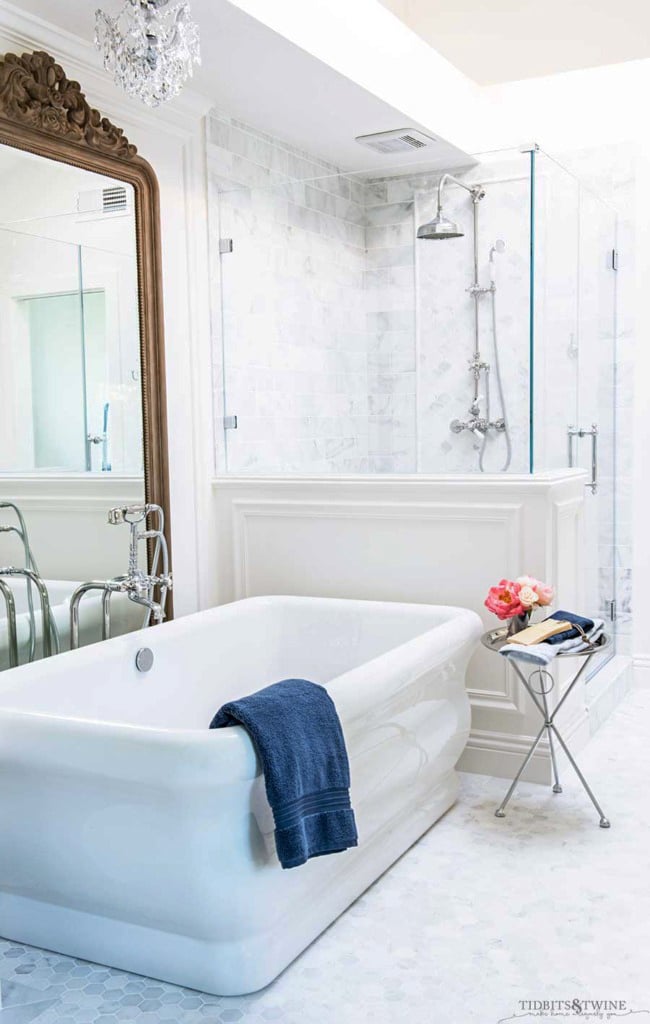 While marble tiles do require more maintenance, I love them and have been very happy with my choices. So, if you're thinking about using marble tiles but are worried about cleaning, staining, etching, etc, let me answer some questions for you based on my personal experience.
One thing to note, my master bathroom countertops are quartz, not marble. I choose quartz over marble because I knew the countertops would have more makeup spills, heat styling tools, toothpaste blobs, etc. and quartz was a more practical choice for me.
My floors, shower walls, and shower floors are all marble tile, though, and I've had them installed for just over 2 years. My downstairs bathroom floors and shower walls are also marble and have been installed for just over 6 years.
What's the Difference Between Polished and Honed Marble
Polished marble has been polished to a shiny, glass-like surface. Polished marble is a very classic, timeless look and is often used for kitchen and bathroom countertops.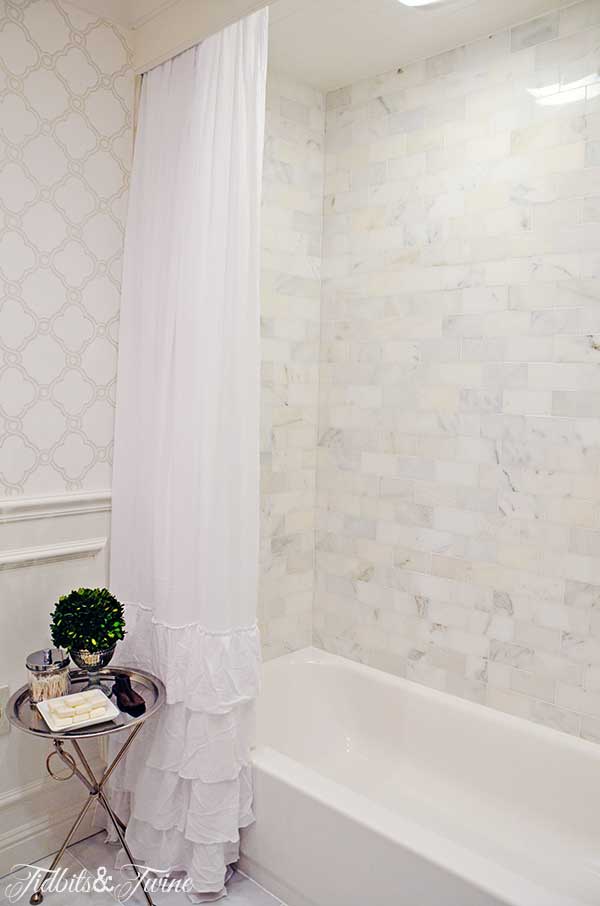 Honed marble has a matte finish, so it is not reflective like polished. A big benefit to honed marble is that since the surface is already dull, scratches and etches are not as visible. It is also a better choice for flooring because it's inherently less slippery.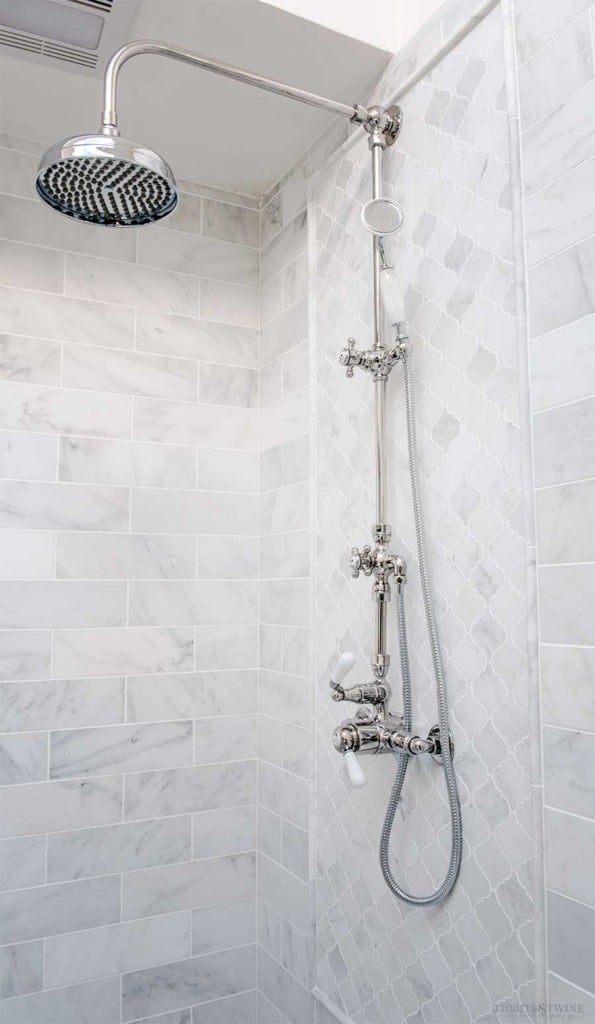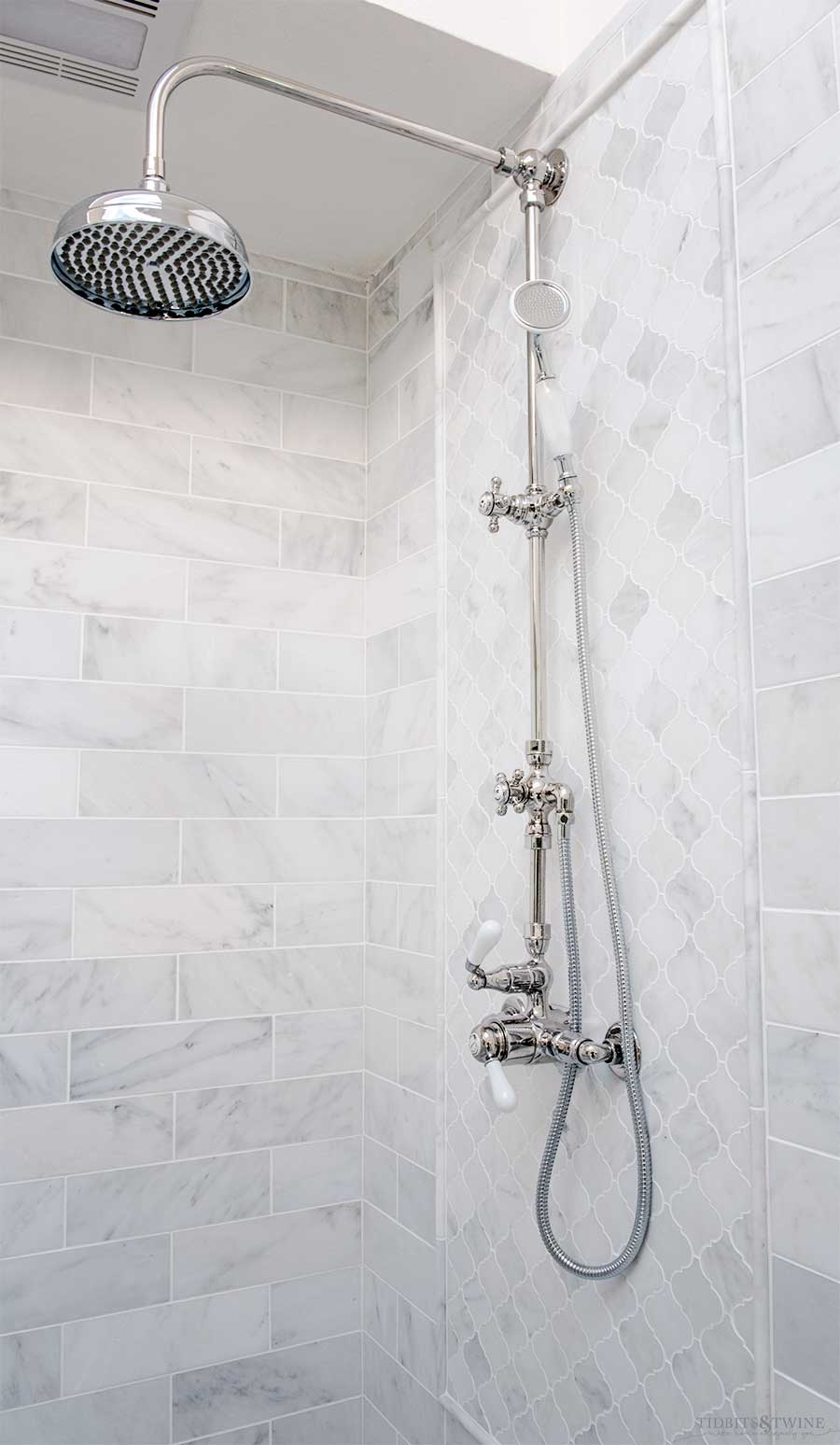 My downstairs bathroom has polished marble and my upstairs has honed, so I have experience with both.
Does Marble Stain
Yes, marble can stain. Marble is very porous and can soak up spills, allowing them to penetrate the surface and sink deep into the stone. With any natural material, make sure you seal it once it's installed. While sealing doesn't prevent staining, it does slow the absorption, giving you more time to clean up before a stain occurs.
Thankfully, I am happy to report that neither of my bathrooms has any stains. I've spilled makeup and my dog had an accident and we haven't had any issues with staining on the floors or in the shower. That's two years of daily wear-and-tear in the upstairs bathroom and six years of occasional use downstairs.
Does Marble Etch
Yes, marble is a soft stone, so it can etch. An etch is not the same as a stain. Etching occurs when something acidic interacts with the stone and literally eats away at the surface of the stone. If you have polished marble, this will be more apparent because an etch mark has a dull appearance to it.
My marble tile bathroom floor does have a couple of etch marks according to the stone restoration company I recently hired to clean the marble. Can you see them? Yeah, me neither. So glad I chose honed marble tile…
5 DECORATING TIPS You Should Know!
Get my FREE 5-day email guide and join the 10,000 subscribers who already receive the weekly decorating tips and exclusive art!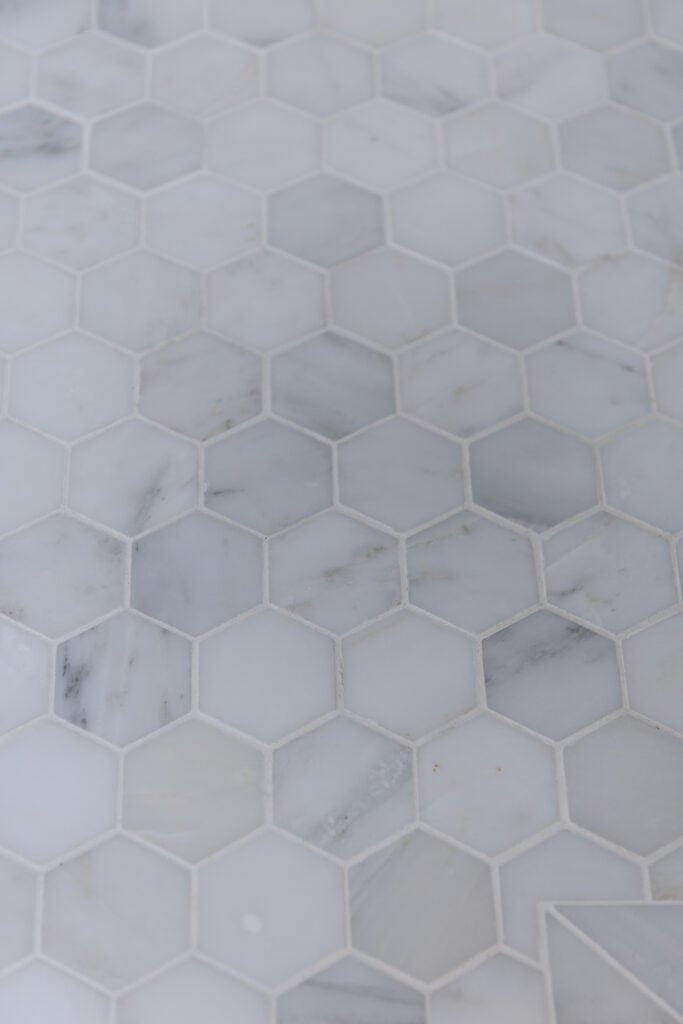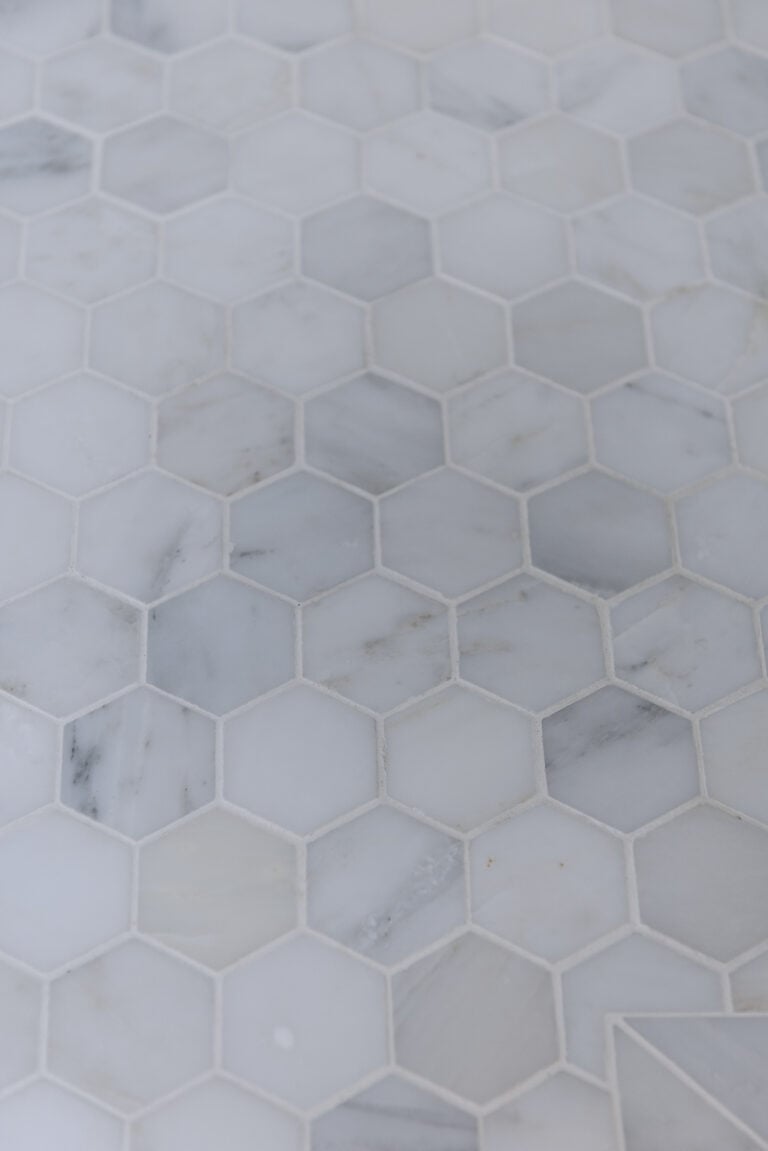 How to Fix Etching
There are two main ways to fix marble etching. One is to have it buffed out. Buffing is like sanding down the top layer to expose a fresh layer…like starting over! The other way to minimize etching is to use honed marble.
Does Marble Chip or Scratch Easily
Yes, marble is a soft stone and can chip or scratch. I have unfortunately done both. I've dropped my hairdryer and a styling wand a couple of times. I escaped a chip on all but one of the incidents. Here's the chip my hairdryer left behind. As you can see, thankfully it blends in with some of the other natural imperfections found in marble.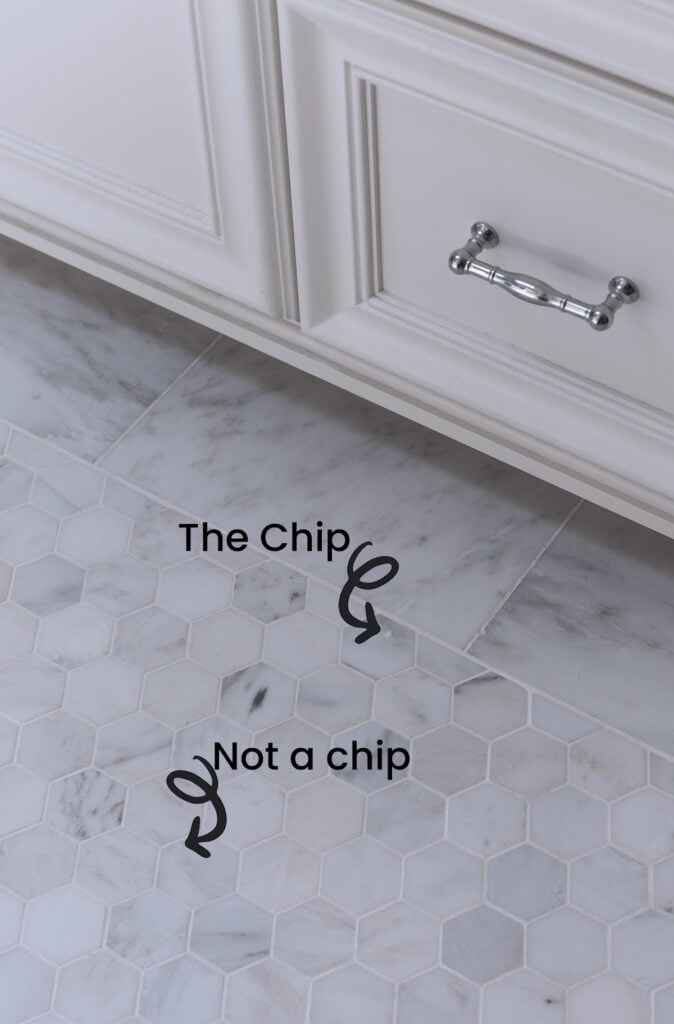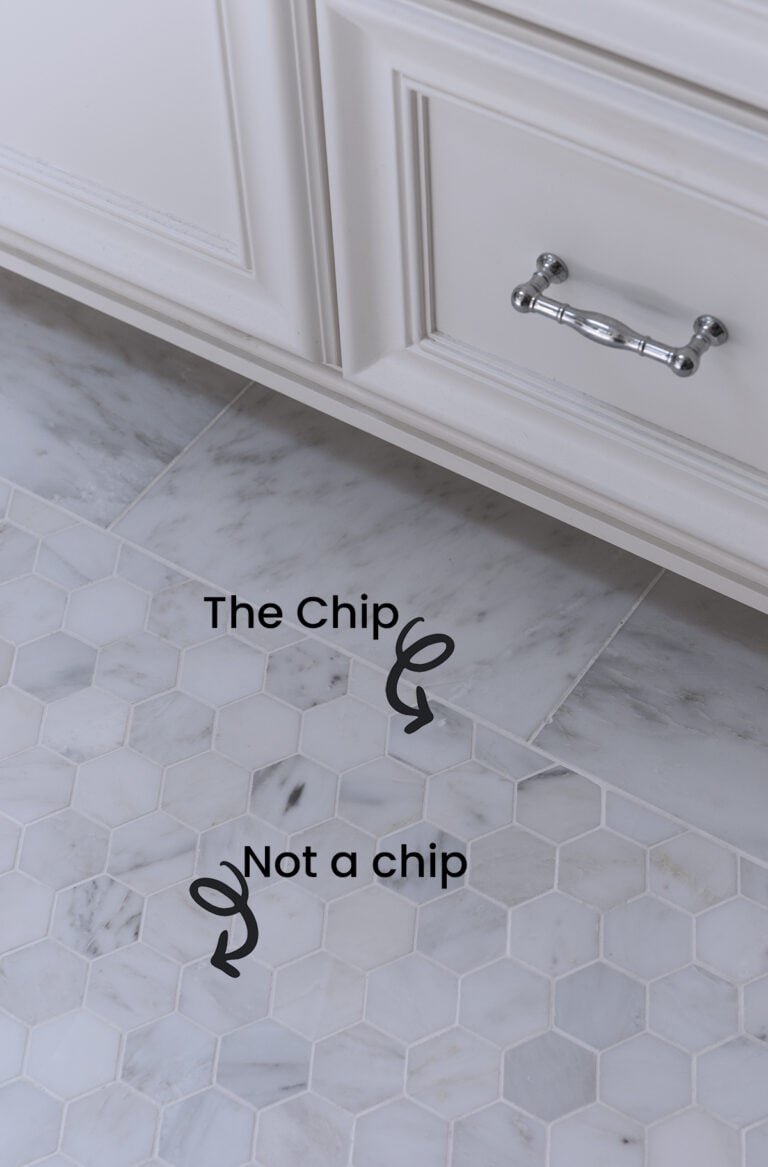 My biggest, biggest problem with my marble tile is a series of scratches that I got after the felt pad on one chair leg fell off and I didn't notice. The leg of the chair scratched the marble when I pulled my chair in and out from my makeup vanity.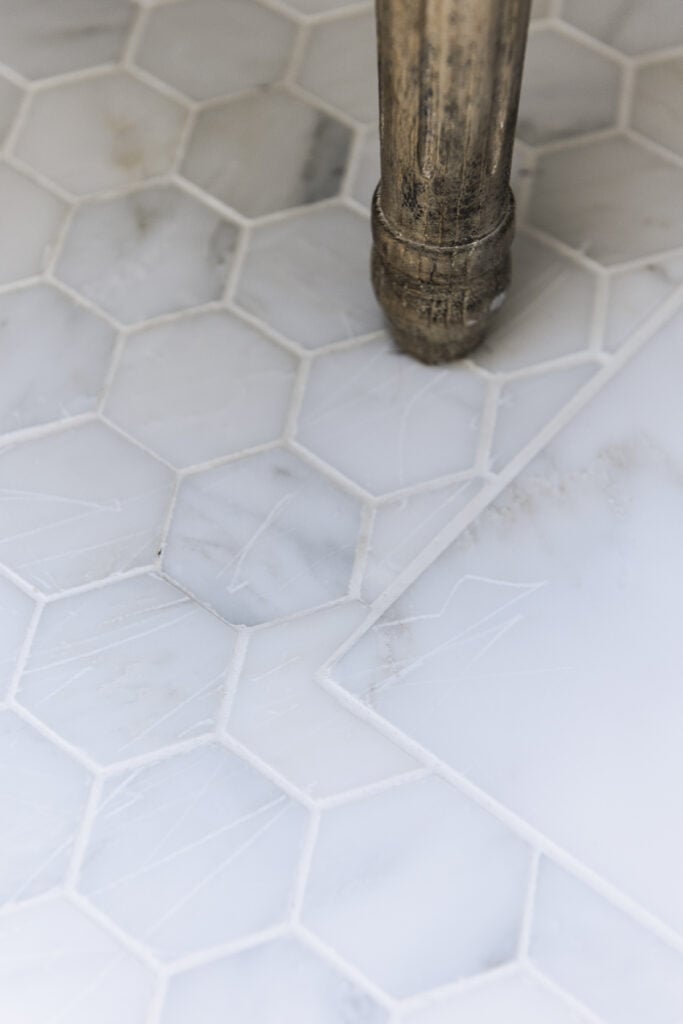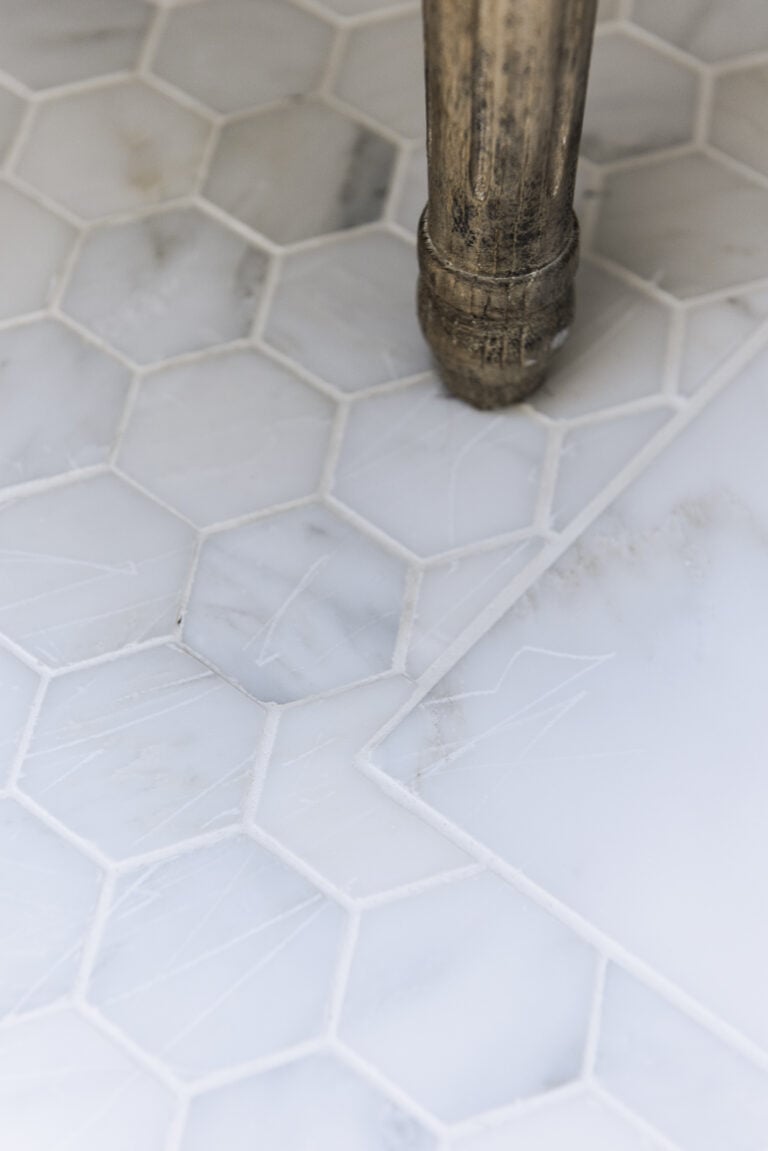 Unfortunately for me, these scratches cannot be fixed. Surface scratches can be buffed out, but in my case, the marble sort of cracked deeper down into the stone.
Does Marble Show Water Spots
In a bathroom, especially a shower, almost all tiles will show water spots to some degree (depending on how hard your water is). I have polished marble downstairs and honed marble upstairs and I definitely say that the honed marble shows fewer water spots.
Truthfully, though, I have to really look to see water spots in either bathroom, because they just aren't very apparent on the marble. Note that I don't have very hard water.
How Do you Clean Marble Floors
It's best to keep marble free of dirt and debris so that you minimize scratches. I use my Dyson cordless vacuum with a soft dusting head to vacuum the floors regularly. I use Aqua Mix Aquashield Cleaner and Resealer to wash the floors by spraying and wiping away with a cloth.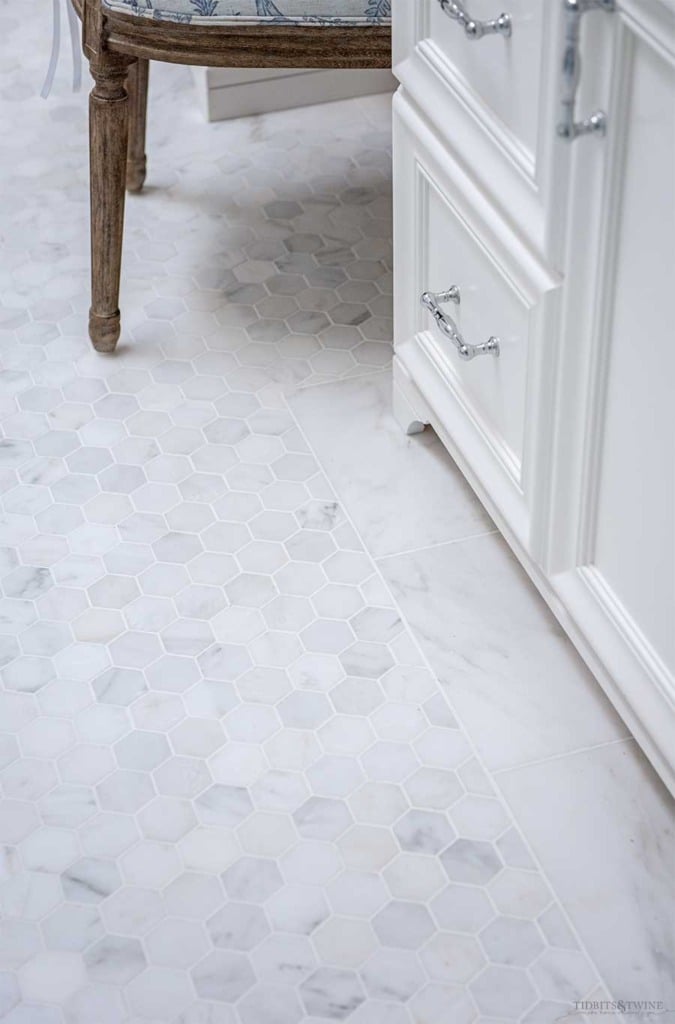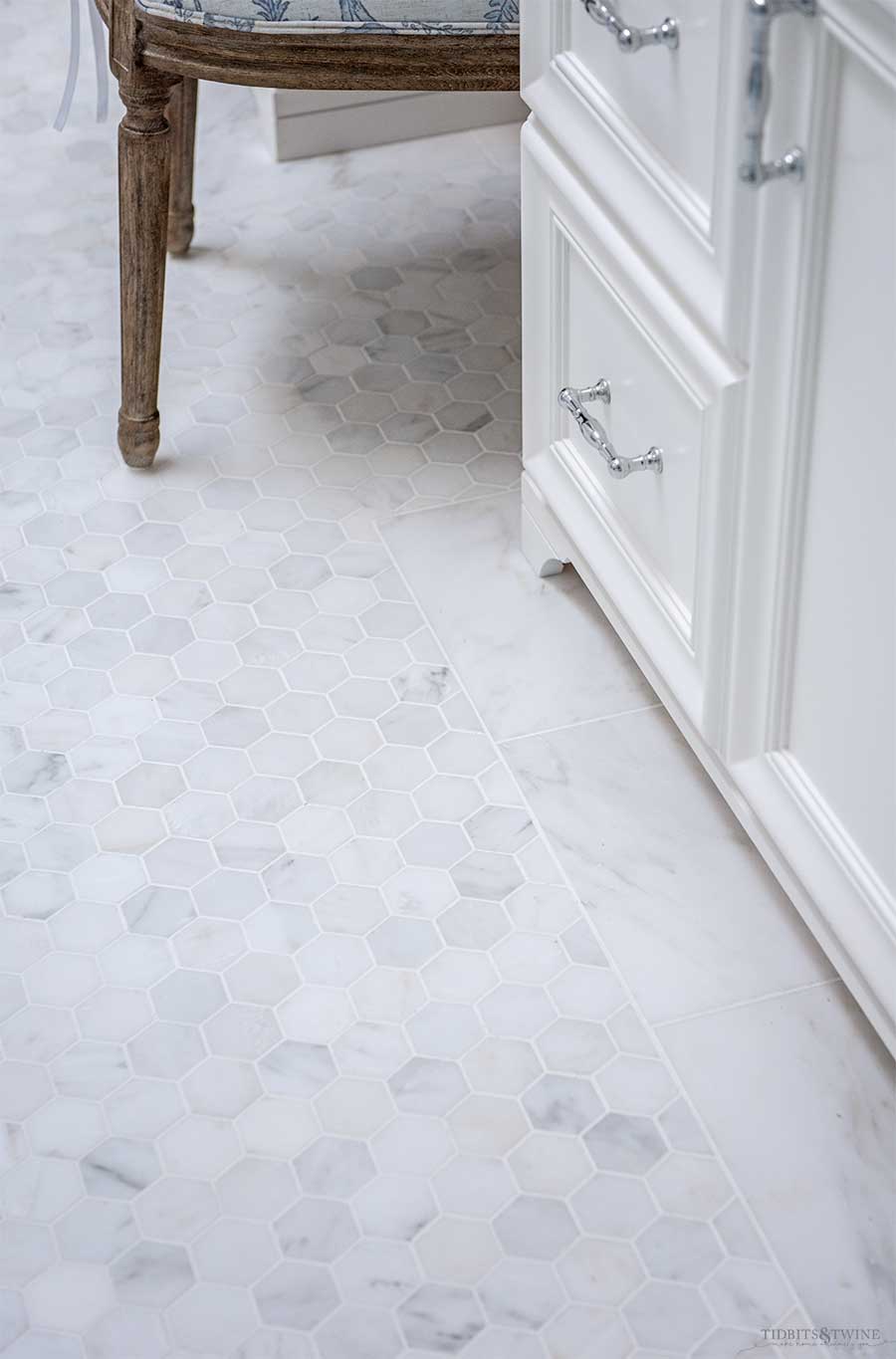 How Do you a Clean Marble Shower
The shower gets rinsed with soap and water daily because…well, it's a shower! But for weekly cleaning, I use Stonetech Mold and Mildew Stain Remover to clean any mild/mildew that accumulates around the caulking.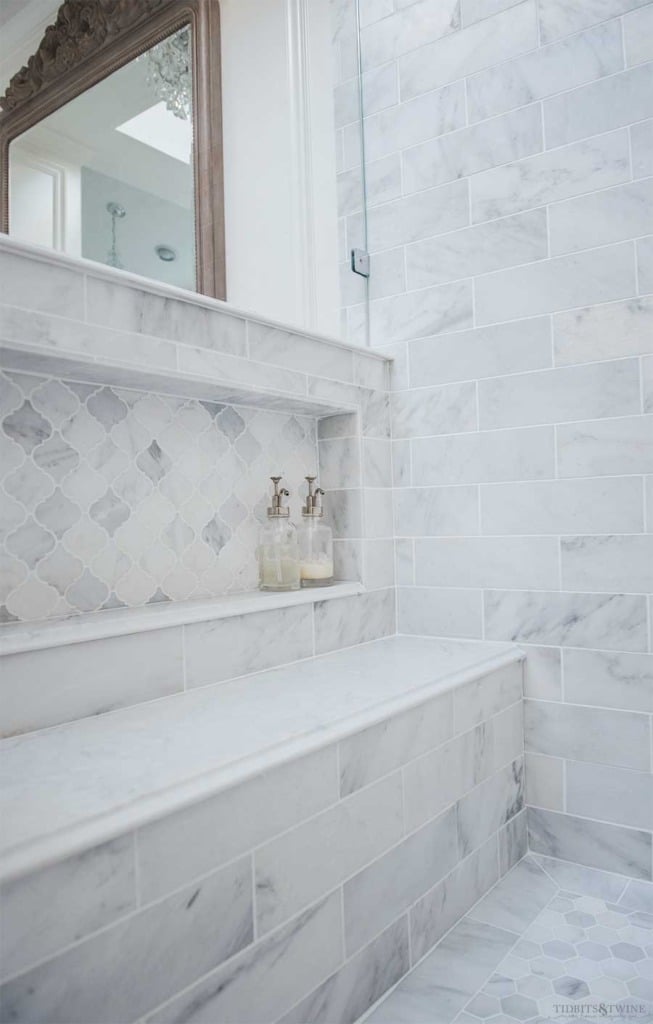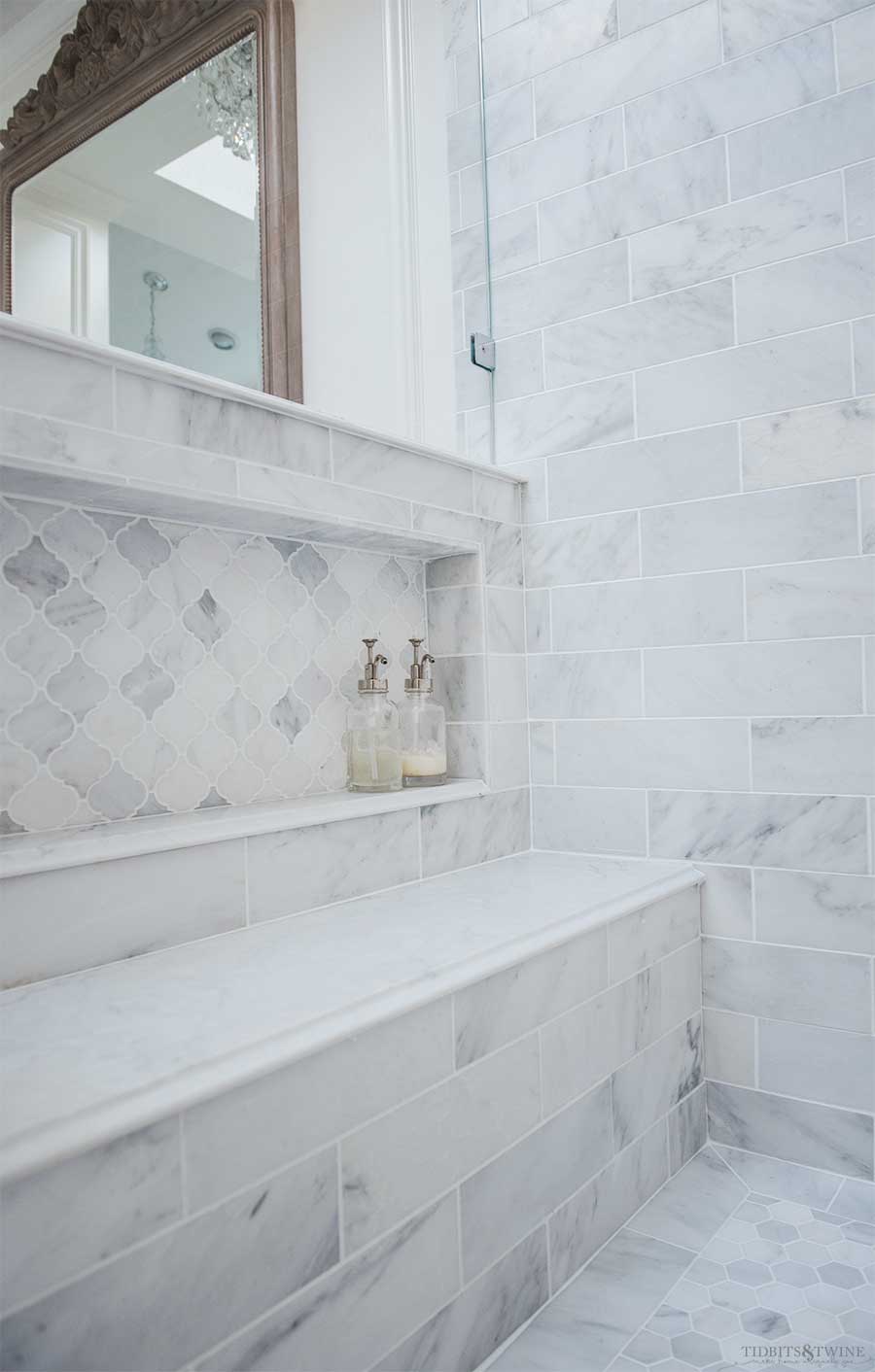 Any chemical used around marble MUST be safe for natural stone. Many cleaners contain acid, which can ruin the marble, so double-check that any cleaner you use is approved for use on marble.
Is the Grout Difficult to Clean
Yes, but isn't all grout difficult to clean?! With marble, it's important to find a cleaner that is safe to use around the stone. I like Black Diamond Grout Cleaner. To use it, I just spray, let it sit, scrub it with a brush, and wipe away the dirt. I also recently had the grout professionally steam cleaned and resealed and it looks almost new again.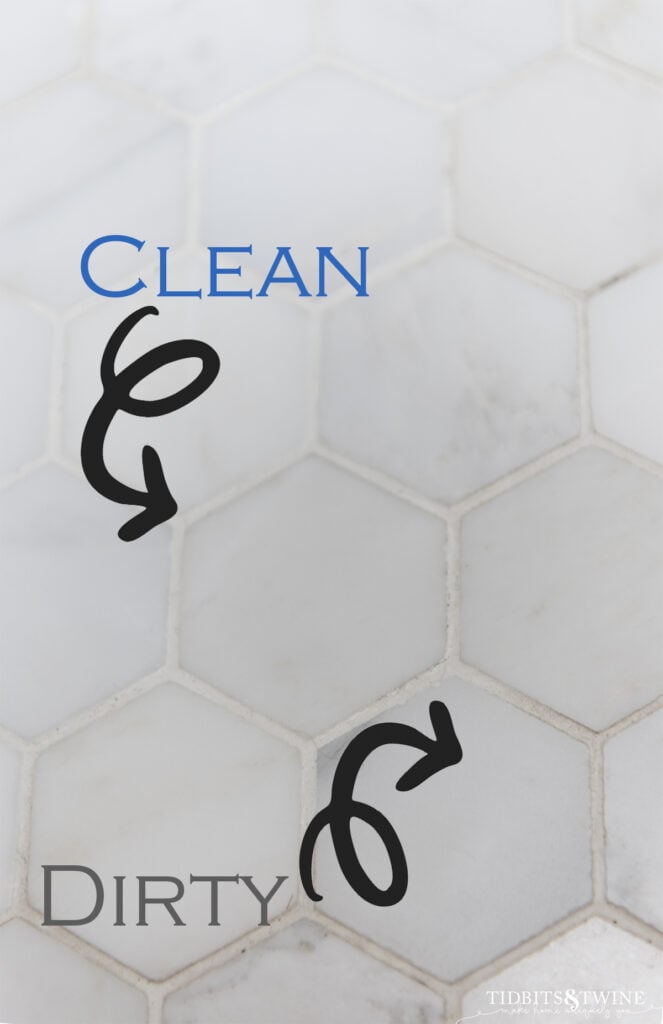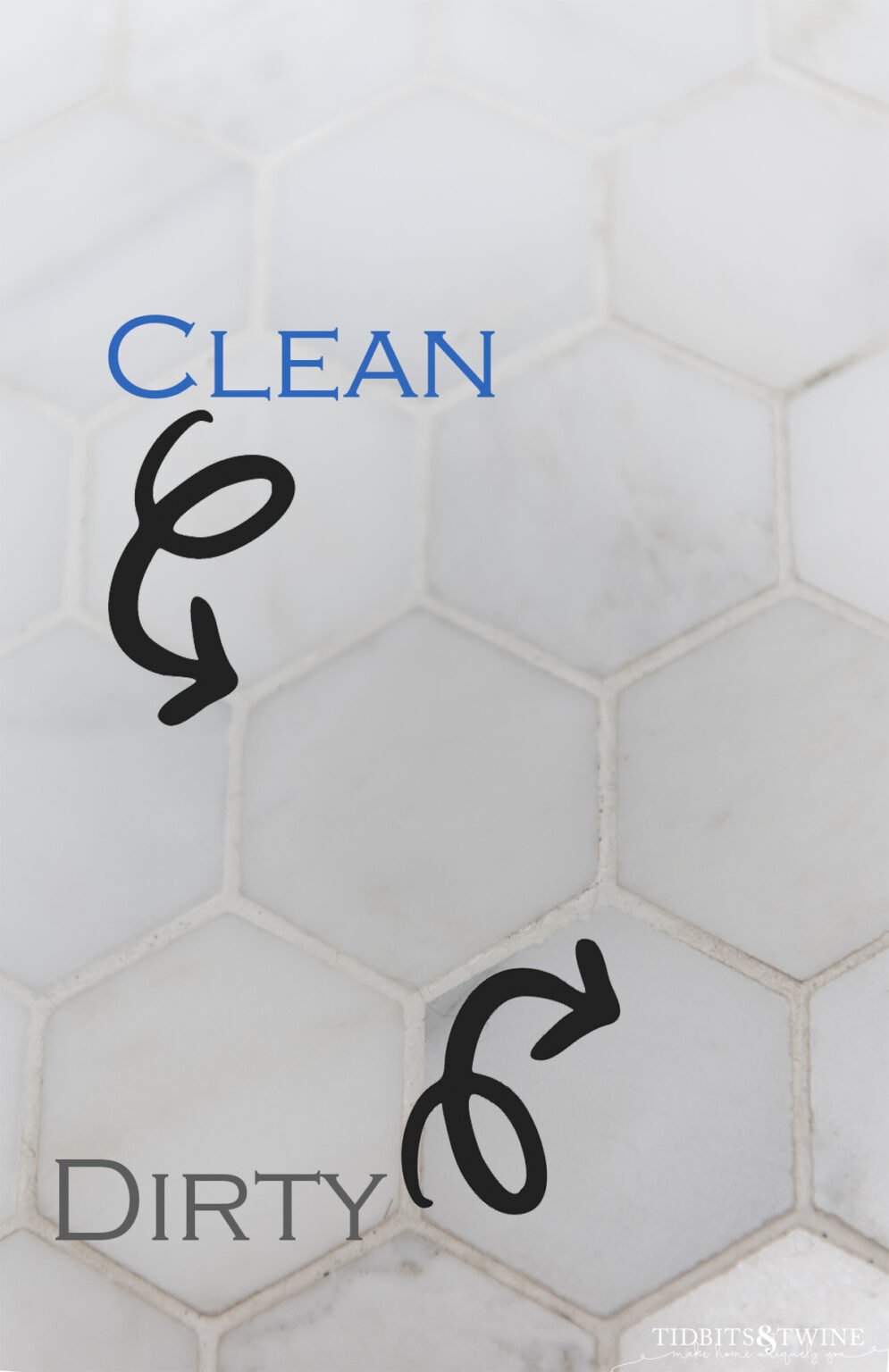 My grout is Bright White grout from Bostik. Not at all a practical choice for my home because it's difficult to keep white grout clean. A soft gray would be a more practical grout color if the task of cleaning the grout seems daunting to you.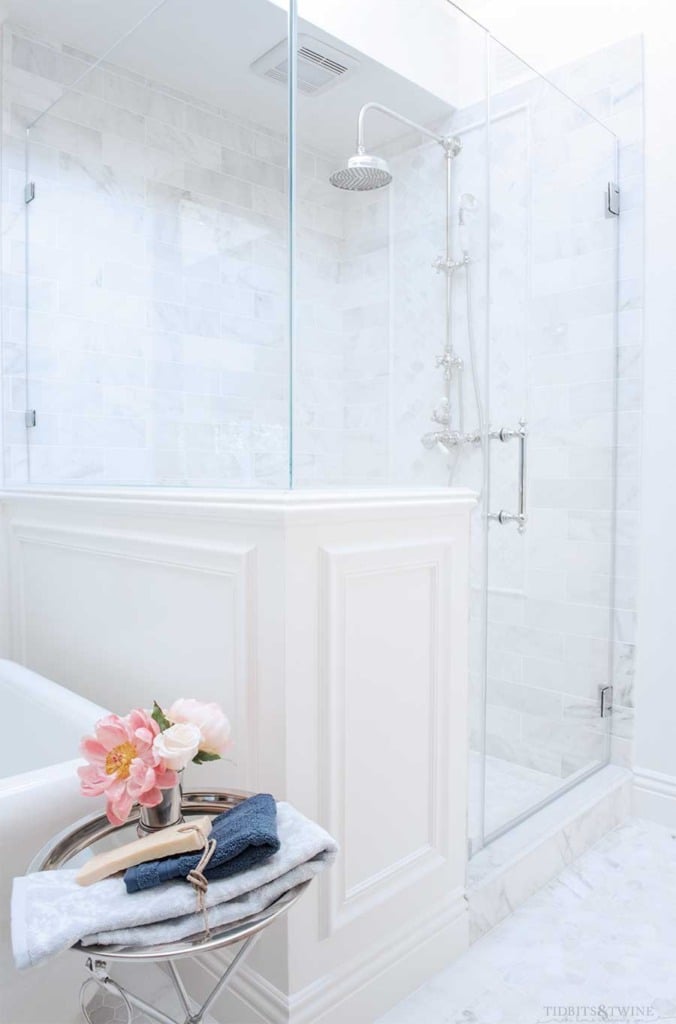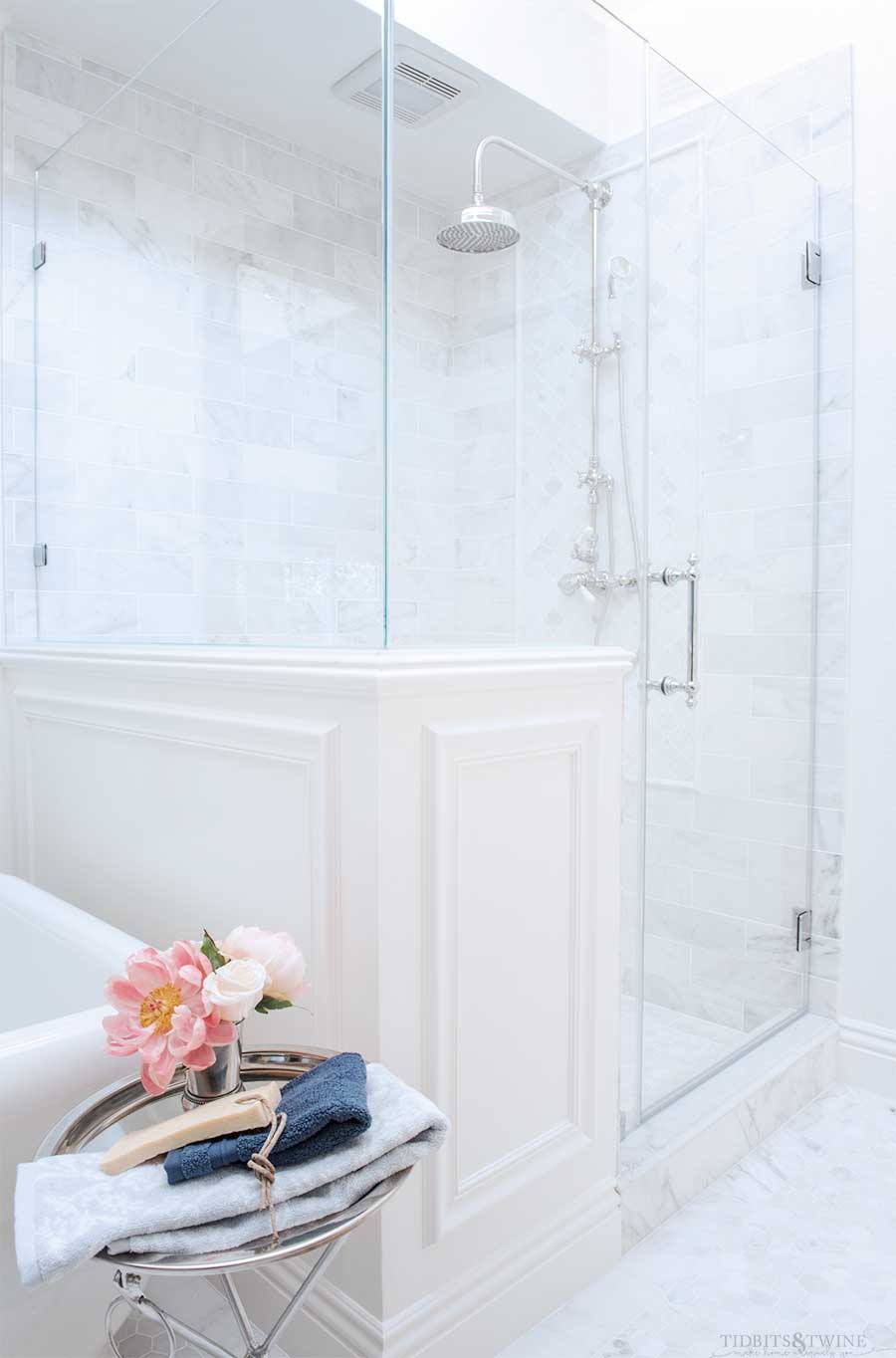 So, aside from one chip and a few scratches, I've really had no issues with my marble tile bathroom. I absolutely love the look and was prepared for the extra maintenance prior to installation, so there haven't been any surprises.
Hopefully, this will help you decide if a marble tile bathroom is right for you!
More Decorating Tips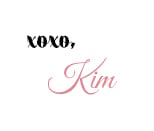 Join the Community
Let's keep in touch! Get exclusive artwork plus the latest news delivered directly to your Inbox!