Okay, it's finally time to share my kitchen renovation plans with you! I thought I'd kick off this series by sharing my design goals, as well as some of the kitchens that have inspired my remodel.
My Current Kitchen
My kitchen layout and cabinets are original to the house built in 1989. The finishes were updated in the early 2000's to reflect the Tuscan trend that was big at the time! That means painted cabinets with glazed details, dark granite countertops, and travertine backsplash. Visually the kitchen is starting to look dated, not to mention that the paint is chipping and the drawers are starting to fall apart.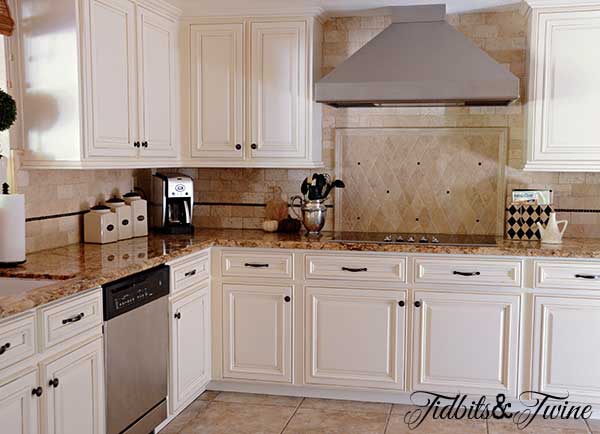 Functionally, this kitchen has always had some issues. For example, the refrigerator next to a door that doesn't allow the fridge door to fully open. And the trash compactor is located as far away from the sink as possible meaning that there are a lot of spills on the floor.
While the kitchen is dated, my biggest issues are as follows:
The Peninsula
The peninsula really blocks the flow of traffic and creates congestion both in and out of the work area, but to the sliding glass door as well. I hate that my guests always feel like it's a boundary and they have to stay on "their" side.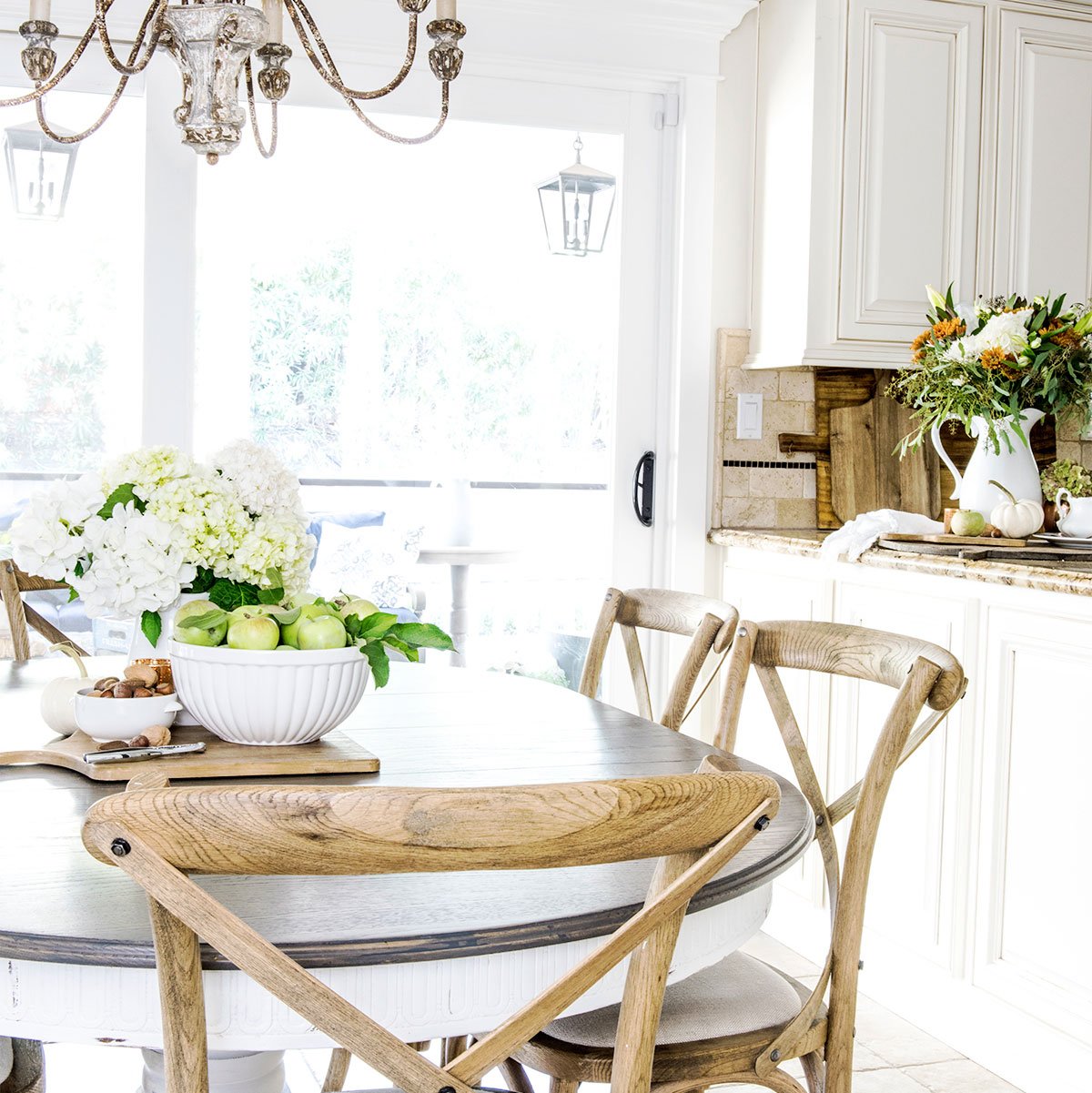 The Ceiling
This really is a pet peeve of mine…my ceiling is only 88″ tall. That's 7 feet, 4 inches and the usual minimum is 8 feet! This short ceiling makes the space seem a bit closed in. I'm short and even I feel a little claustrophobic!
The Natural Light (or lack thereof)
I have both a sliding glass door and a window off of my kitchen, but my covered outdoor porch means that I don't get any direct sunlight. Now don't get me wrong, I love my covered porch! But the short ceiling and lack of light makes this the darkest room in the house.
When you combine the lack of natural light with all of the dark finishes in this space…well, it's a bit sad.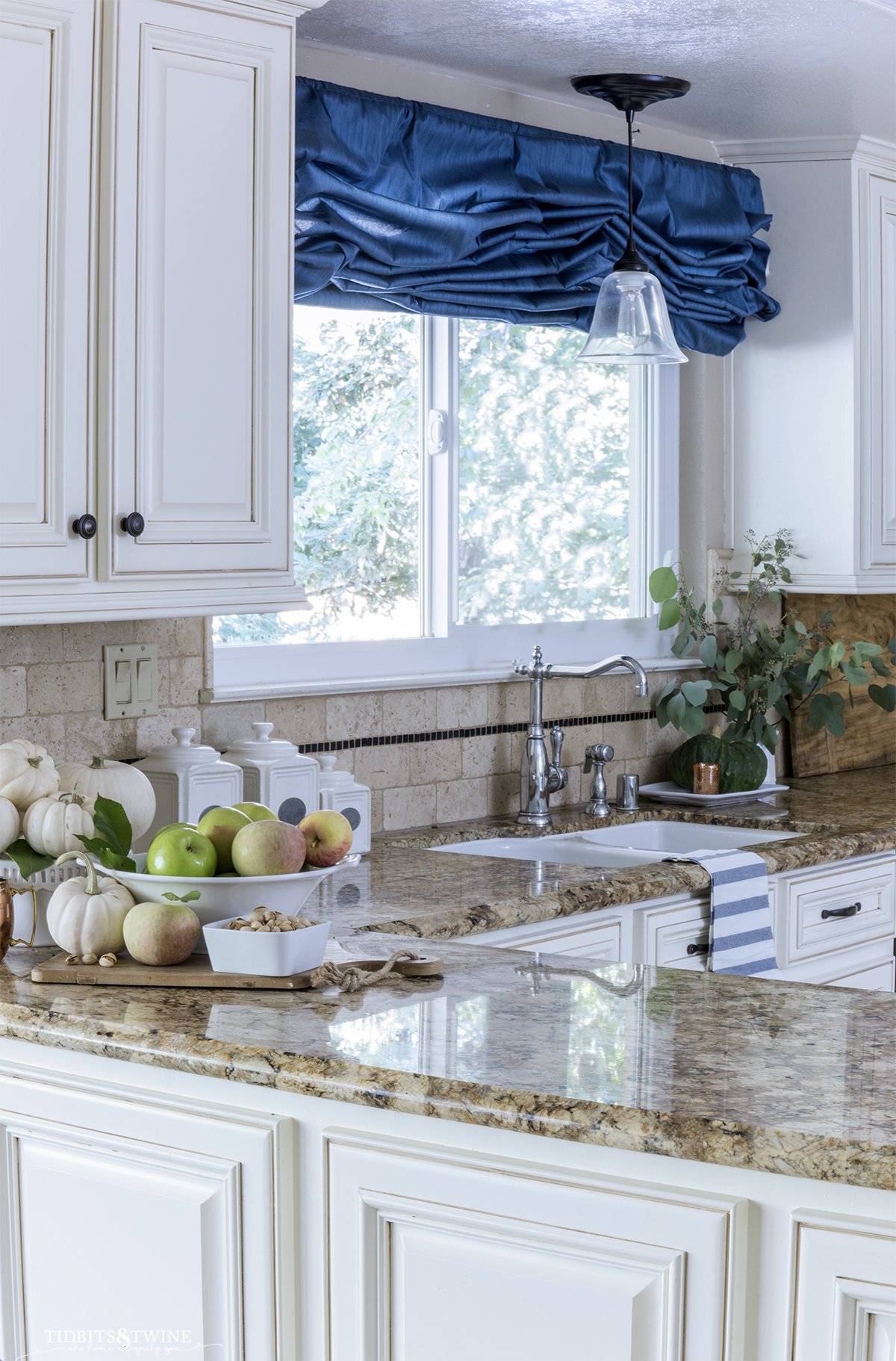 Kitchen Design Goals
Overall, I am really hoping to create a classic, timeless warm white kitchen with a touch of rustic European (lol! Is that such a thing?). My style definitely leans toward Traditional and I love an elegant look juxtaposed with rustic touches.
Given how dark and gloomy my current kitchen is, I'm really hoping that the renovated space looks light, bright, and airy.
I've been browsing Instagram for some time and have been gathering ideas and inspiration! Of course, these kitchens are all huge with soaring ceilings and lots of natural light, so I have to keep in mind that I can't create a kitchen on the same scale, but I can still implement some of these ideas!
Here are some things that have really caught my eye.
Mix of Wood and White
I like the mix of white and stained cabinets because it helps to keep the feeling of warmth and adds some texture.
Timeless Details
I'm always drawn to classic details because they never go out of style! For example, decorating with black will always be "in". The kitchen below has crisp, clean cabinets with elegant details and zellige tile.
Rustic Touches
I love using texture in decorating. The pairing of crisp and clean with old and rough really appeals to me! Rustic touches like rock, brick and wood always catch my attention.
My personal favorite is a wood floor with wood beams on the ceiling. Unfortunately, my hardwood floor is no longer available, so wood flooring won't work for me. And then there's my short ceiling to remember. So beams are out, too! I'll have to find another way to introduce texture to my kitchen.
Contrasting Interior
I'm planning on using white cabinets, so the idea of a contrasting interior appeals to me so that my white dishes can be seen!
Molding & Architectural Elements
Is there anything more classic than molding and architectural details? My doors all have wide casing with pediments on top, so I might do the same to my kitchen window. And I have columns throughout my home so they'd blend right in with my kitchen if I were to incorporate some.
Backsplash Ledge
This is a strange one for me…I'm not personally in favor of open shelving because it isn't practical in a kitchen, and yet I love a backsplash ledge! I think I like the idea of having another space to display my kitchen decor. Lol!
Drip Rail
A drip rail is usually made of wood or the same material as the countertop. It's not that I need the functionality of a drip rail, but I love the added detail that helps create the look of a bespoke kitchen.
Coffee Station
My current cabinets sit lower than allowed by code (who knows why…) so my coffee maker doesn't quite fit underneath. I'm so tired of it sitting at the front of my counter and would love to just be able to tuck everything away! Plus, I'm a big tea drinker so I always have my electric kettle on the counter as well.
Next week, I'll show you how I took these ideas and incorporated them into a design that works with my space and budget!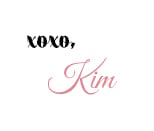 Join the Community
Let's keep in touch! Get exclusive artwork plus the latest news delivered directly to your Inbox!