Come on in for a tour of my home all decorated for Christmas! Sharing my living room, dining room, entry, guest bedroom, and primary bedroom all dressed up for the holiday season.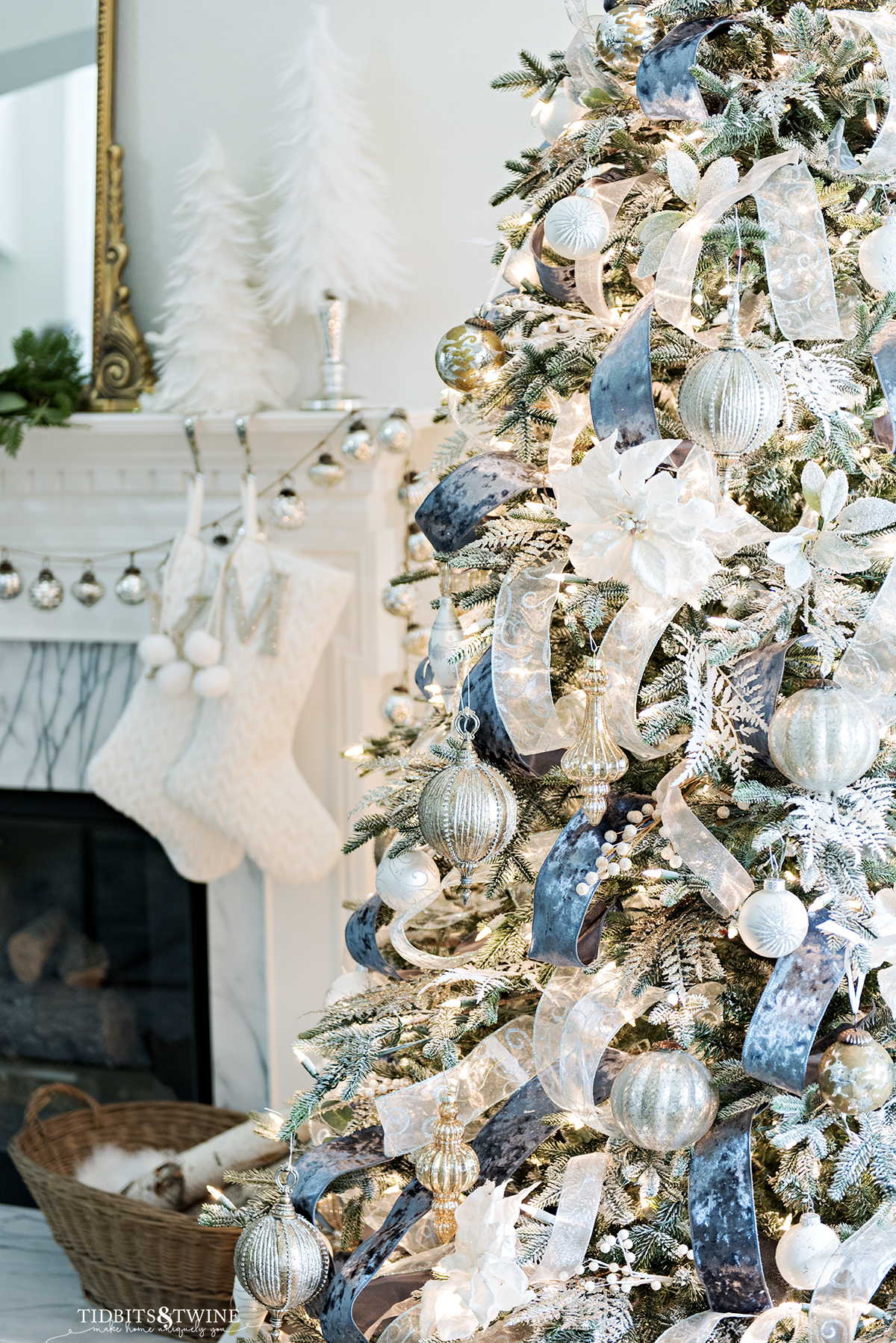 Earlier in the season, I shared a tour of my living room with you. I also created tutorials for how to flock a tree and how to add ribbon loops.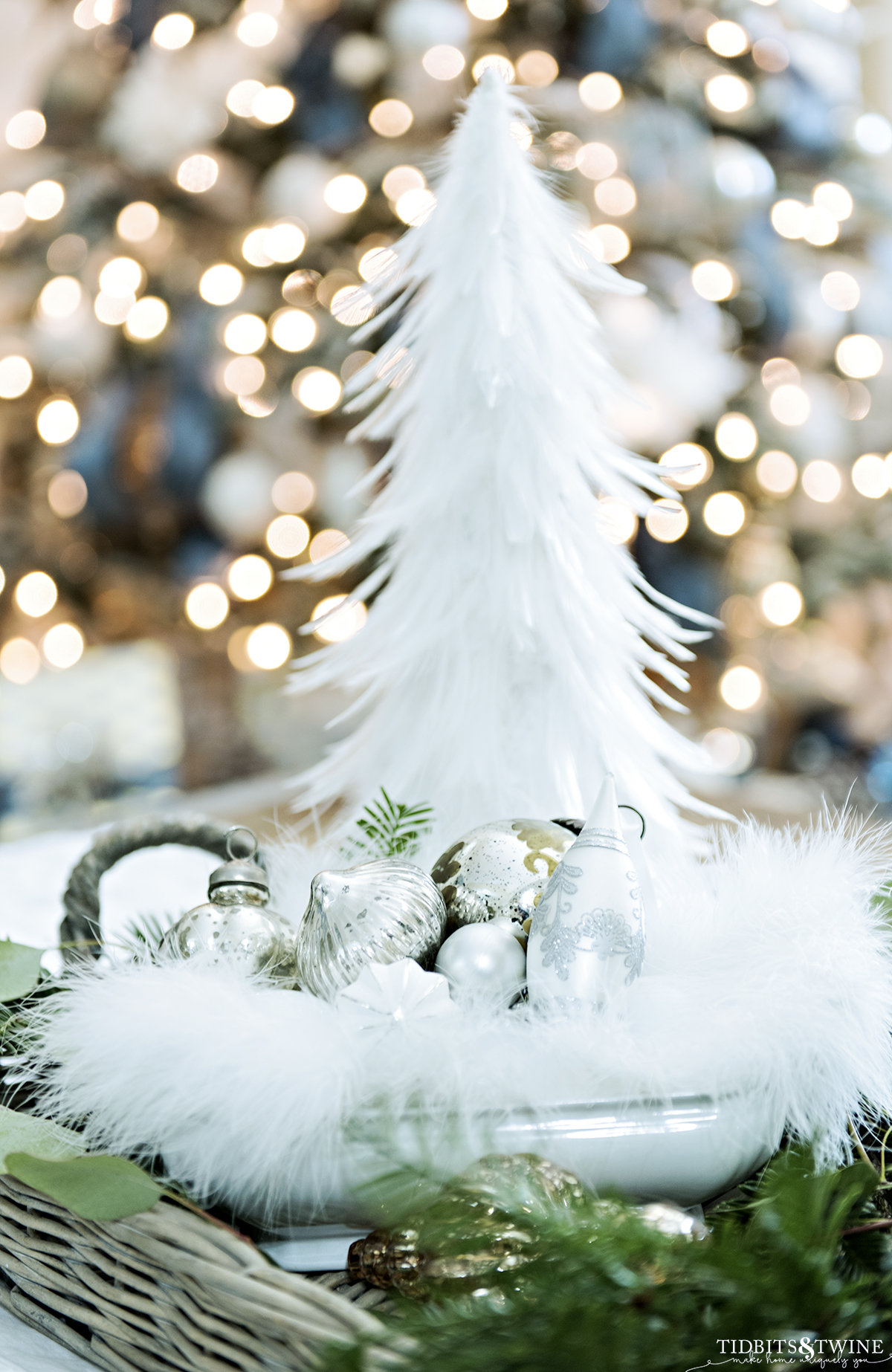 I also shared my dining room with you, dressed in blues, whites, and silvers for a Winter Wonderland look.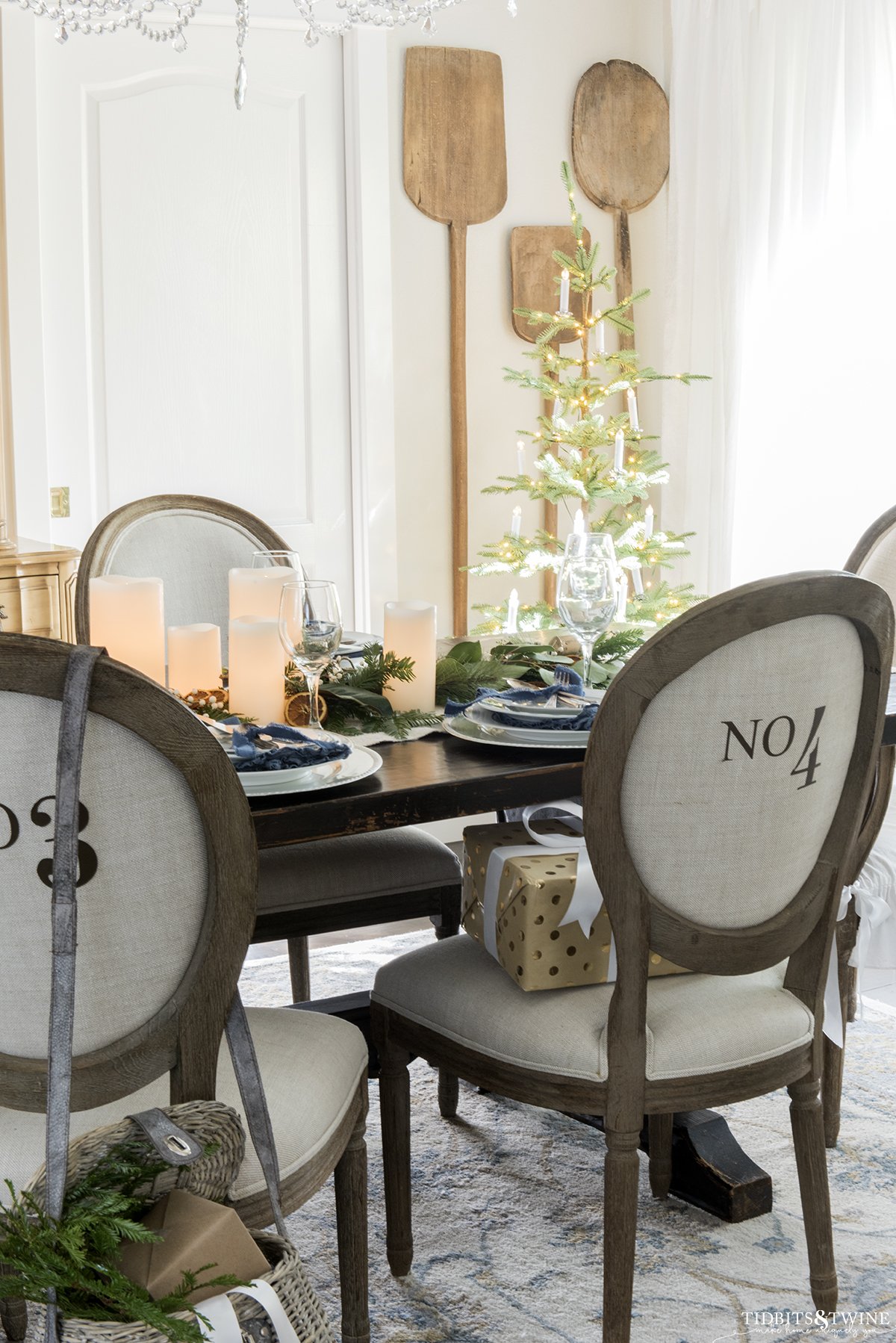 Today, I'm sharing a look at a few more spaces so you can see other areas of my home decorated for Christmas.
Front Entry
That's as far as my tour went, but I did take a few other snaps from around the house that I'm sharing with you today. Like my front door! I embellished a simple wreath by adding gold berries, magnolia leaves, and a bow.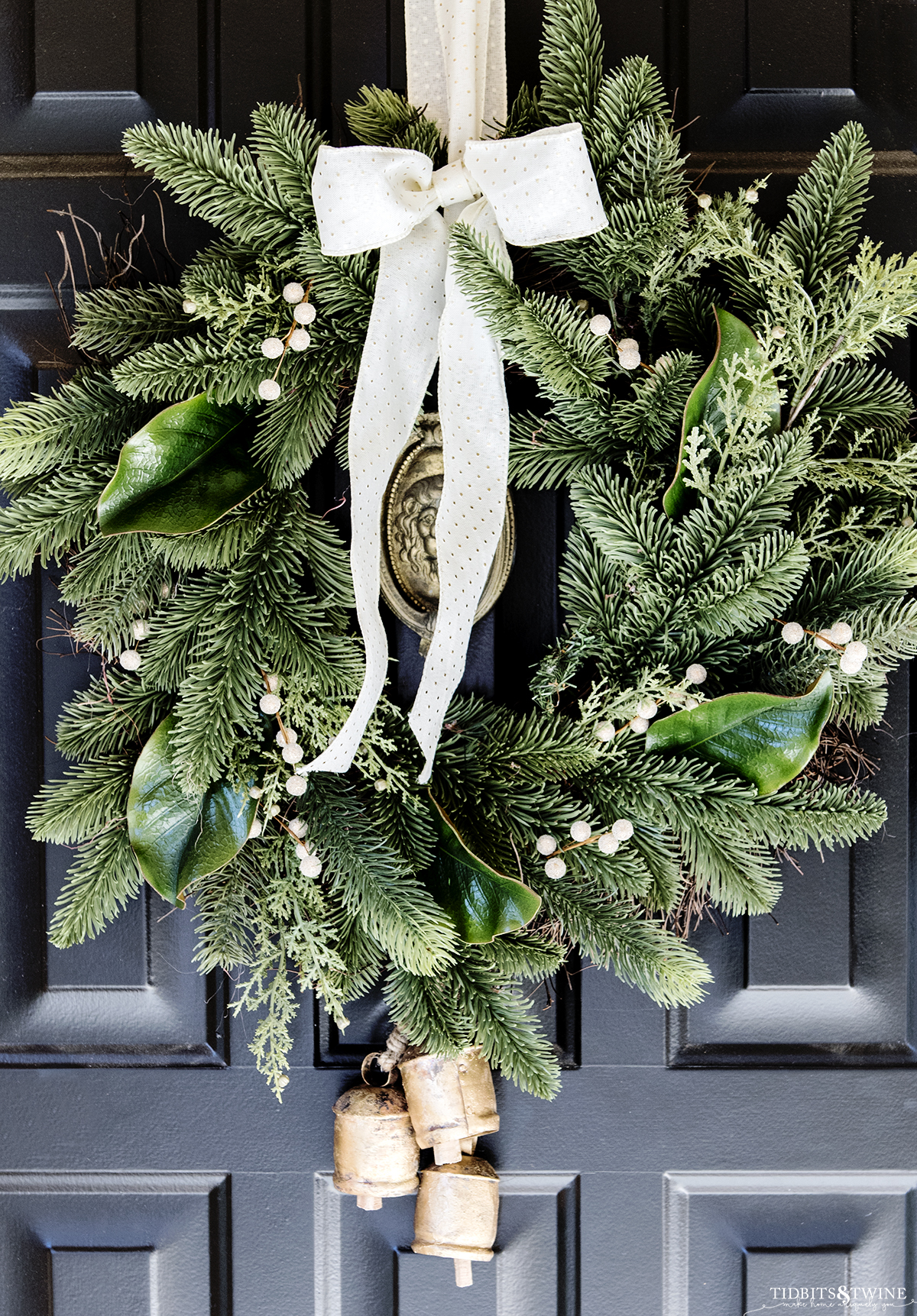 I also added my favorite vintage-style bells. You can find similar ones on my list of French Christmas Decor.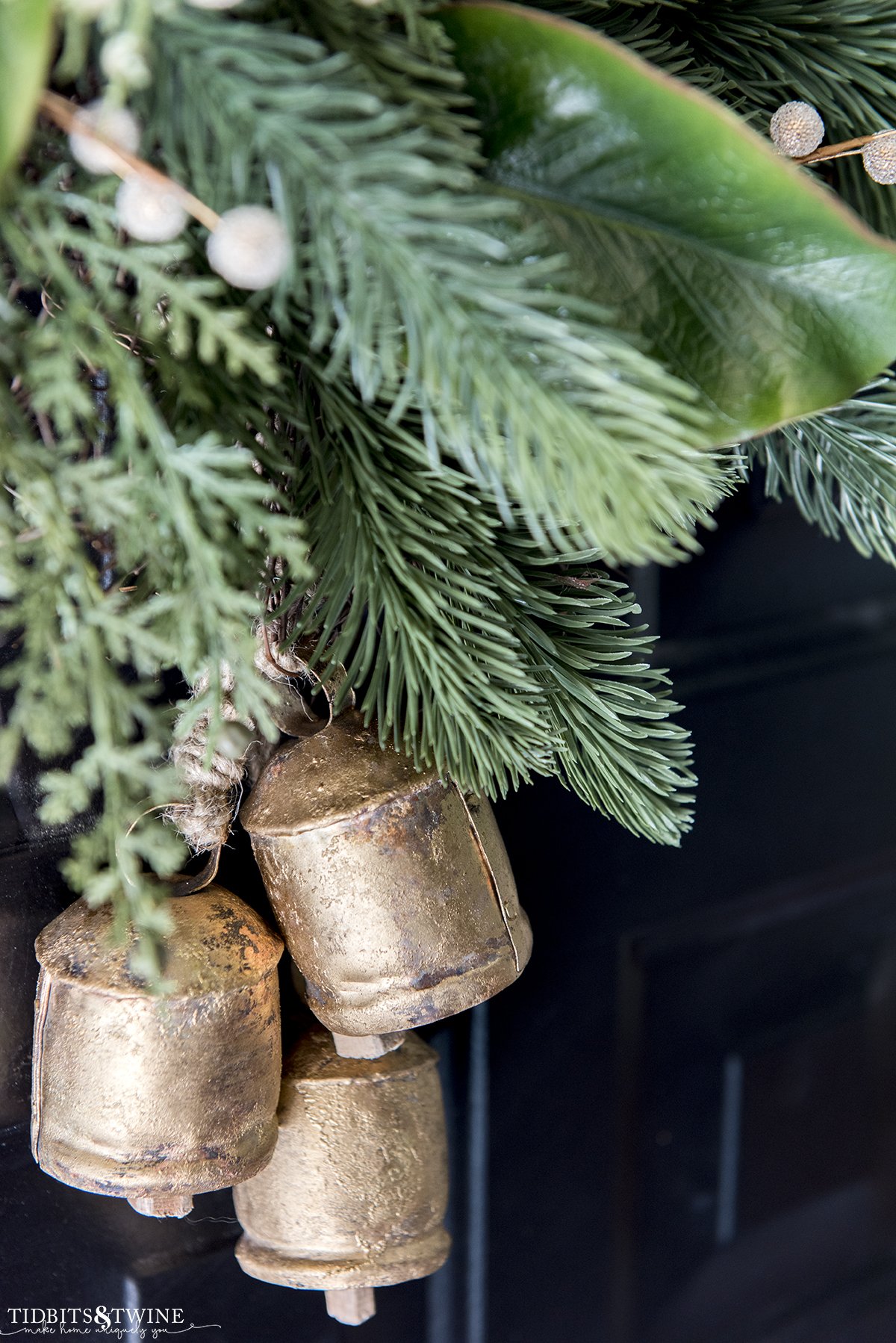 Once inside the door, the entryway is decorated with greens, "snow", and ornaments. The little sled underneath the table is new this year. I loved it so much that I went back and bought a second one!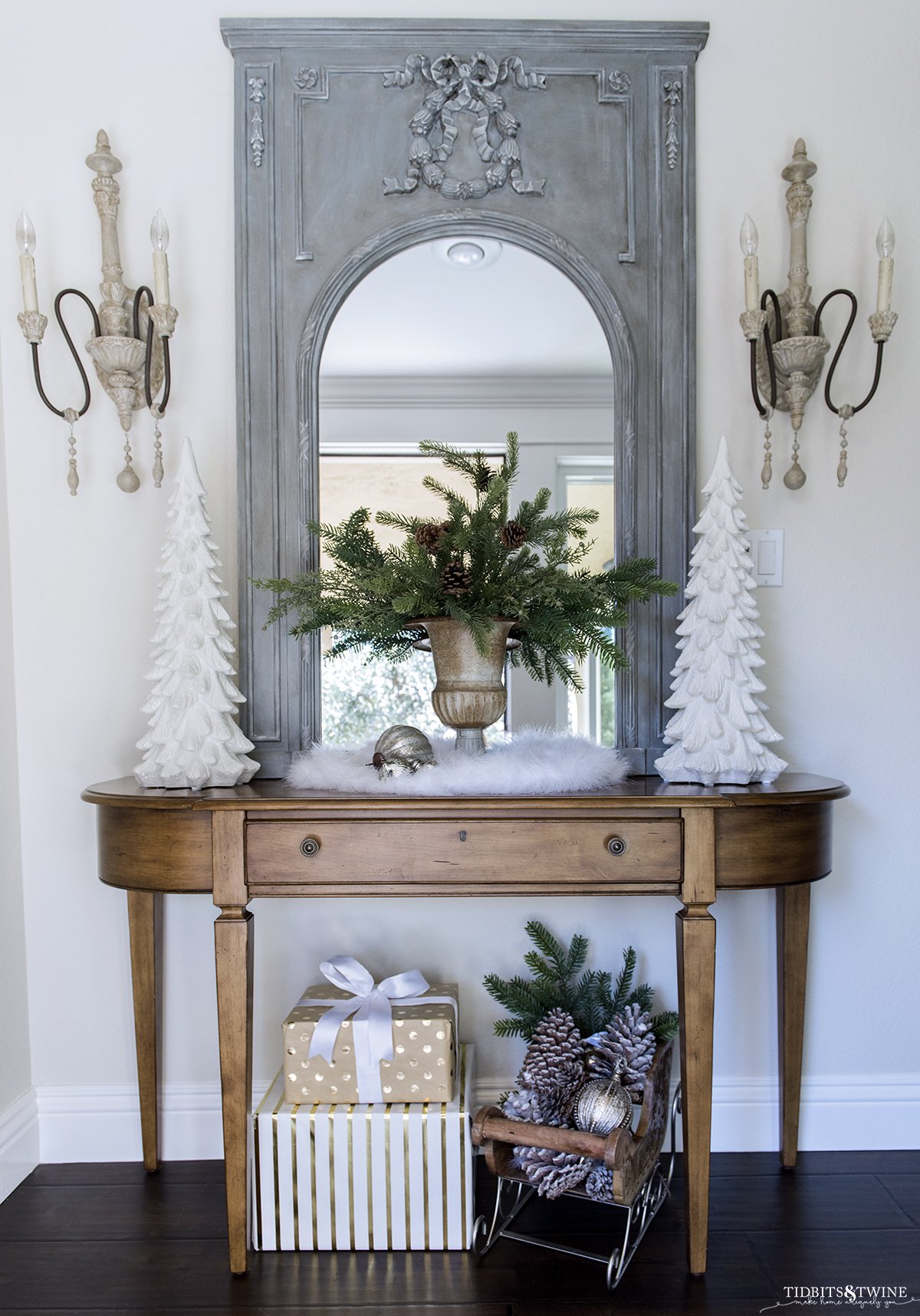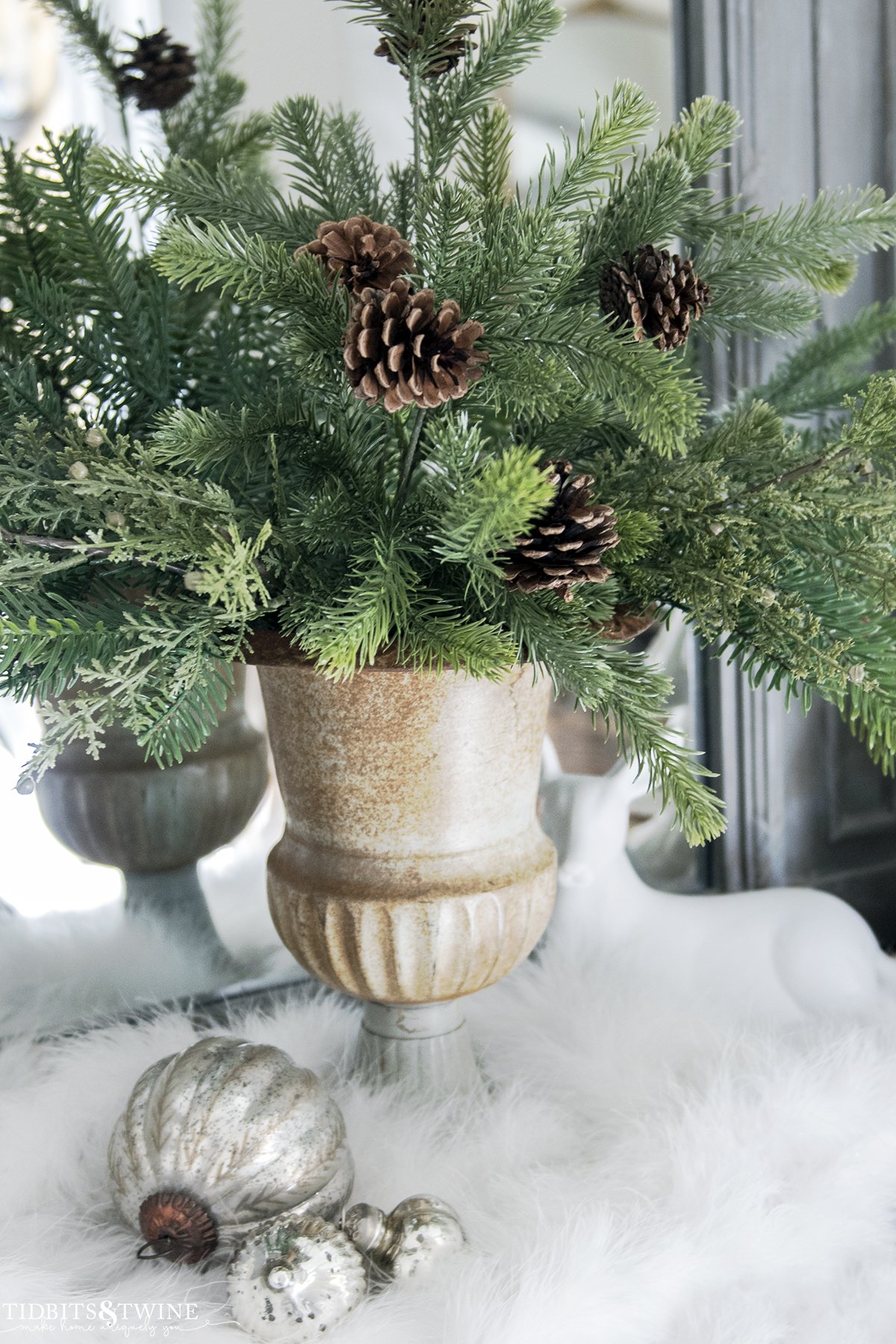 Living Room
Right off the entryway is the living room. Here are a few more pics that I didn't share in the full tour. Like my latern filled with ornaments!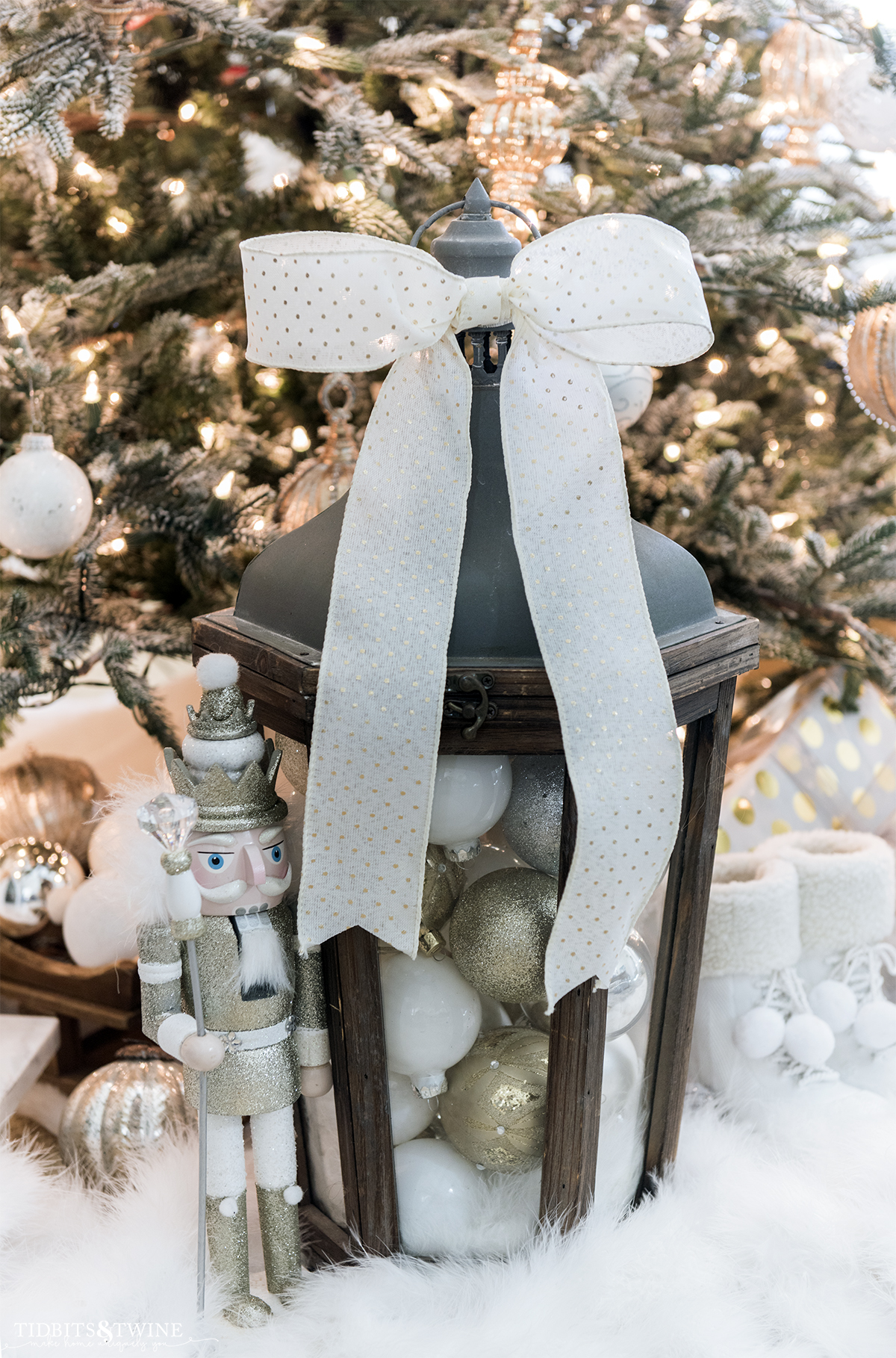 I couldn't decide whether I liked this picture and so ultimately, didn't share it. But it does show how my living room and dining room connect.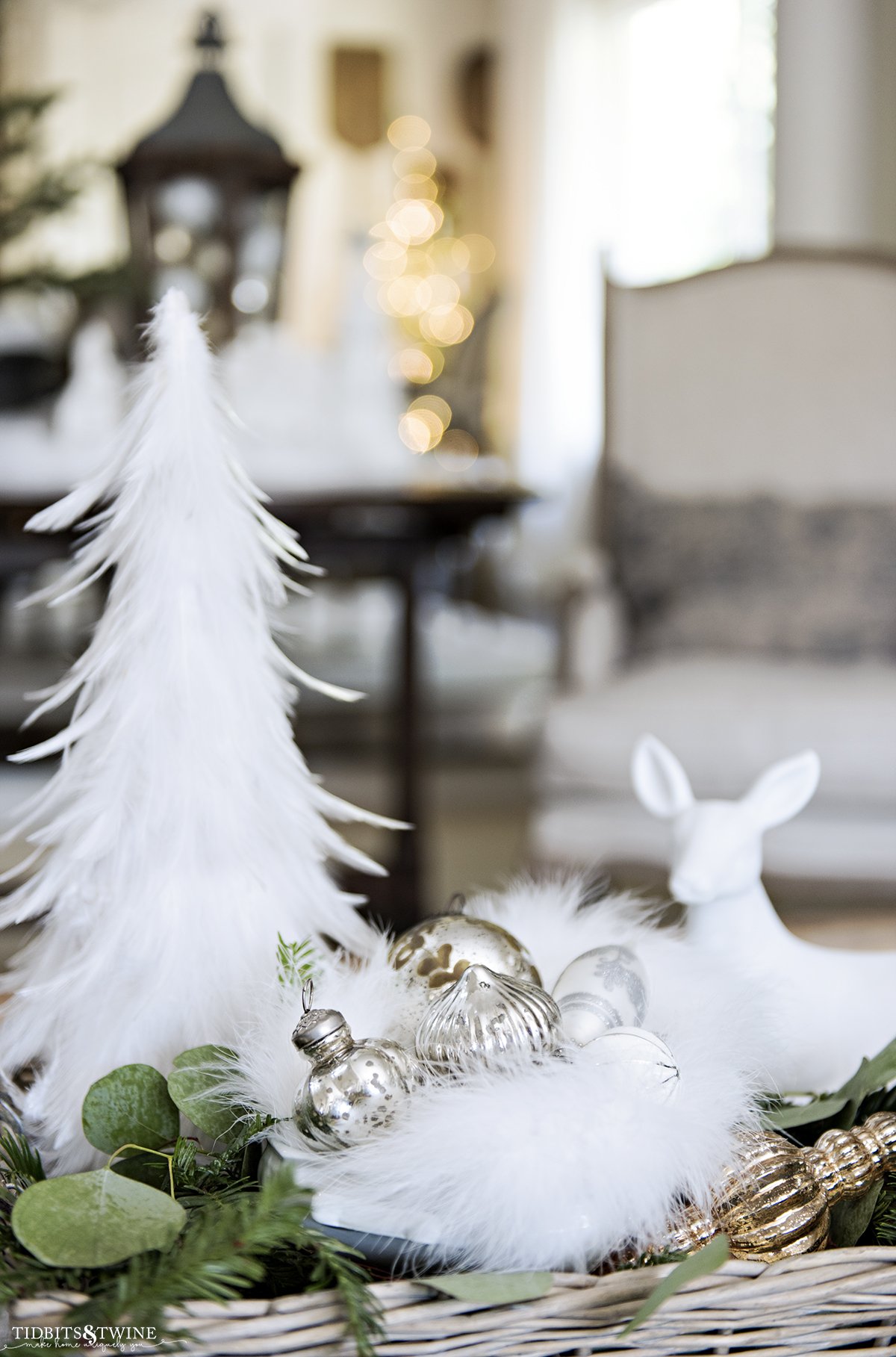 There's no purpose to this picture other than I thought it was pretty! Putting ornaments in bowls is one of my favorite ways to decorate because it's so easy, yet festive. Here's a guide to other 10 minute Christmas decorating ideas.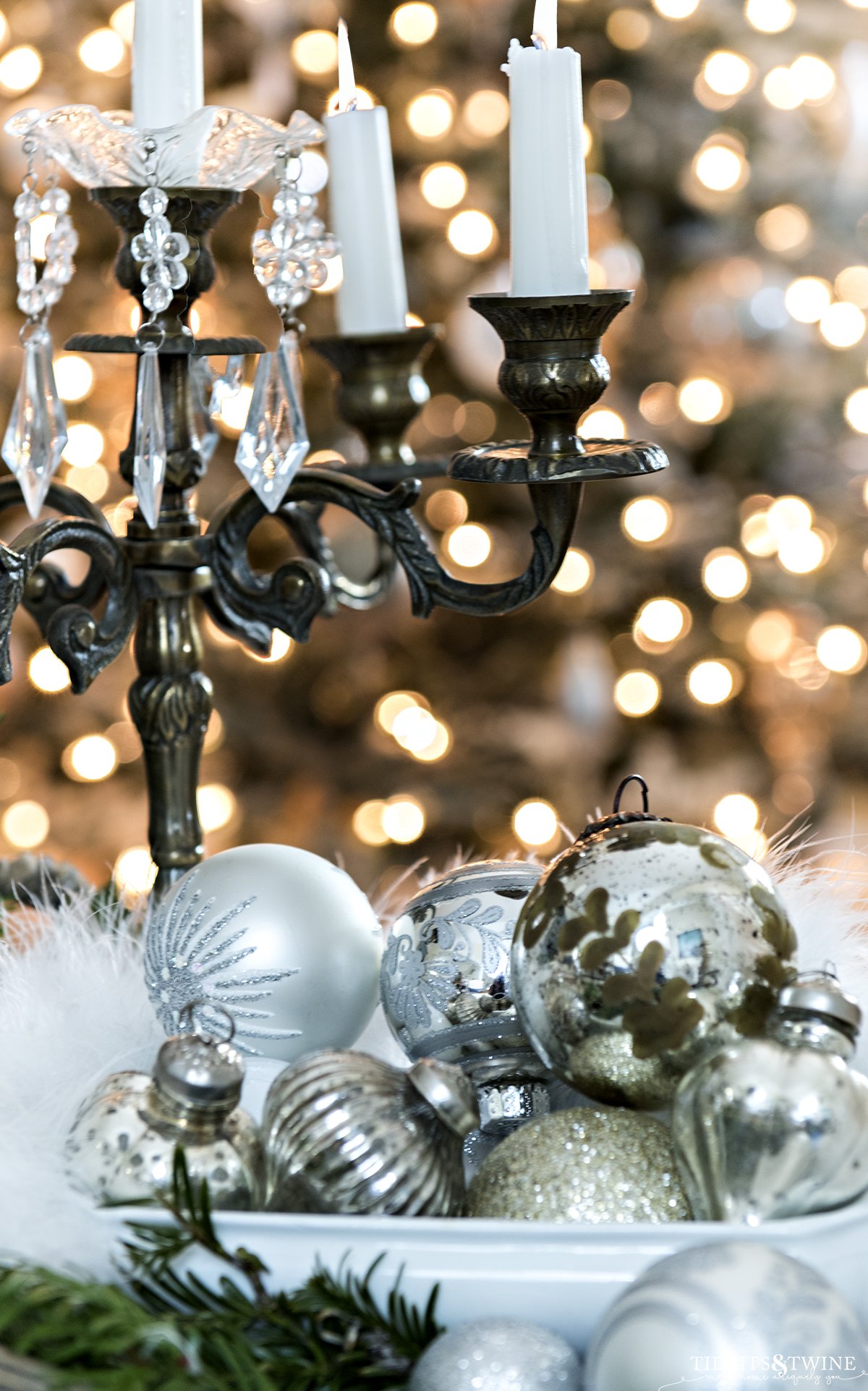 Family Room
Over in my family room, I have a couple of little trees that I love and use every year. This year, I put them in my new-to-me urns.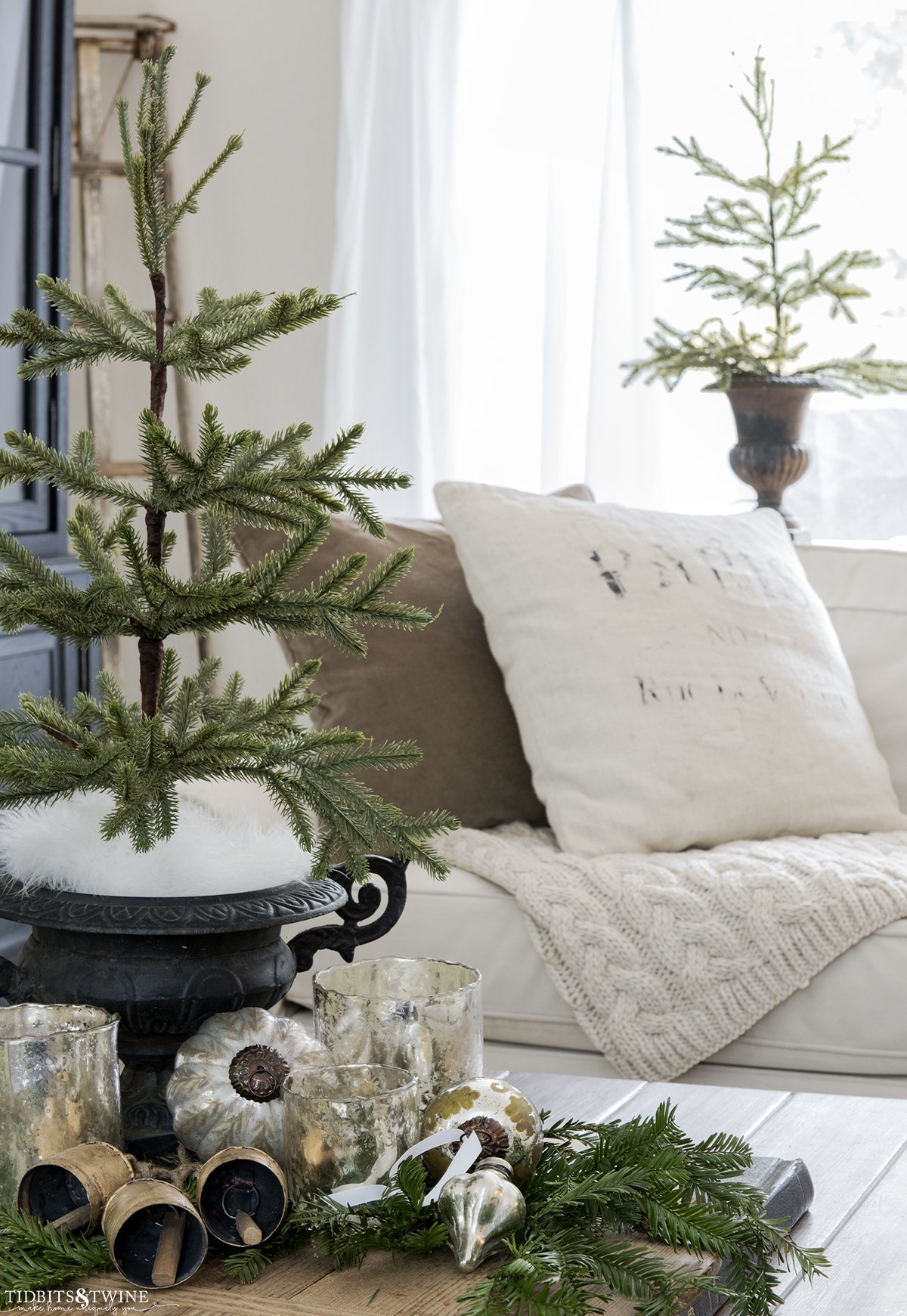 I also filled a round dough bowl with beautiful votives, small lights, and more "snow".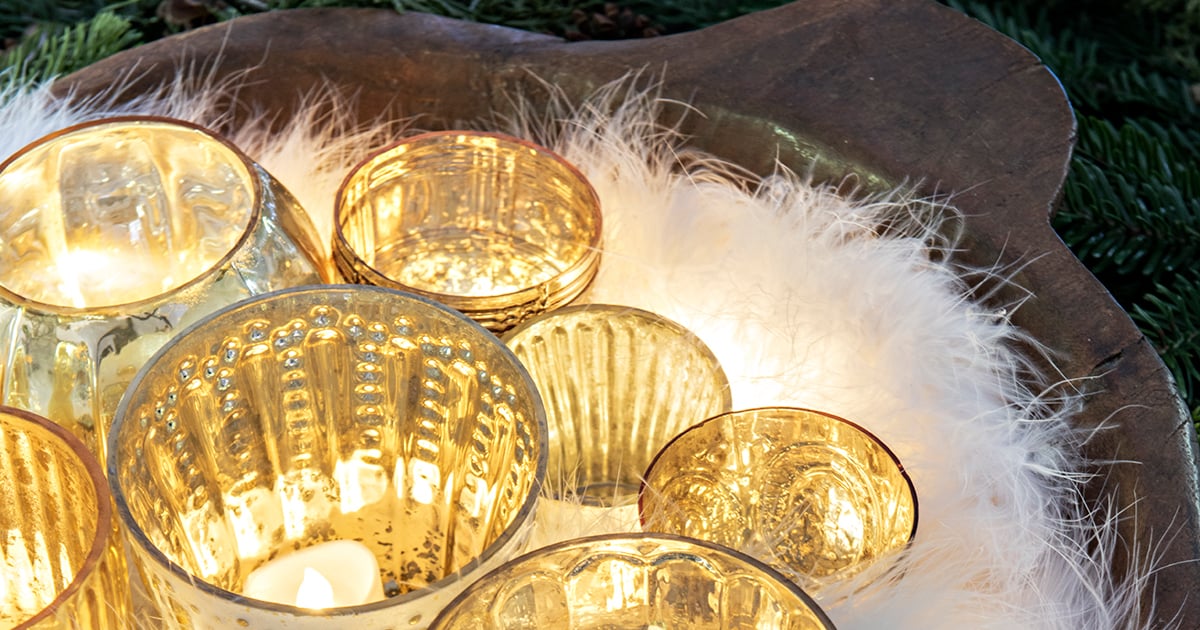 Guest Bedroom
The guest bedroom received its usual red plaid treatment this year! This is the only room in the house that I decorate in traditional Christmas colors but I feel like the black furniture really lends itself to a traditional look.
Since I last photographed this room, I've changed the artwork on the walls and updated the area rug.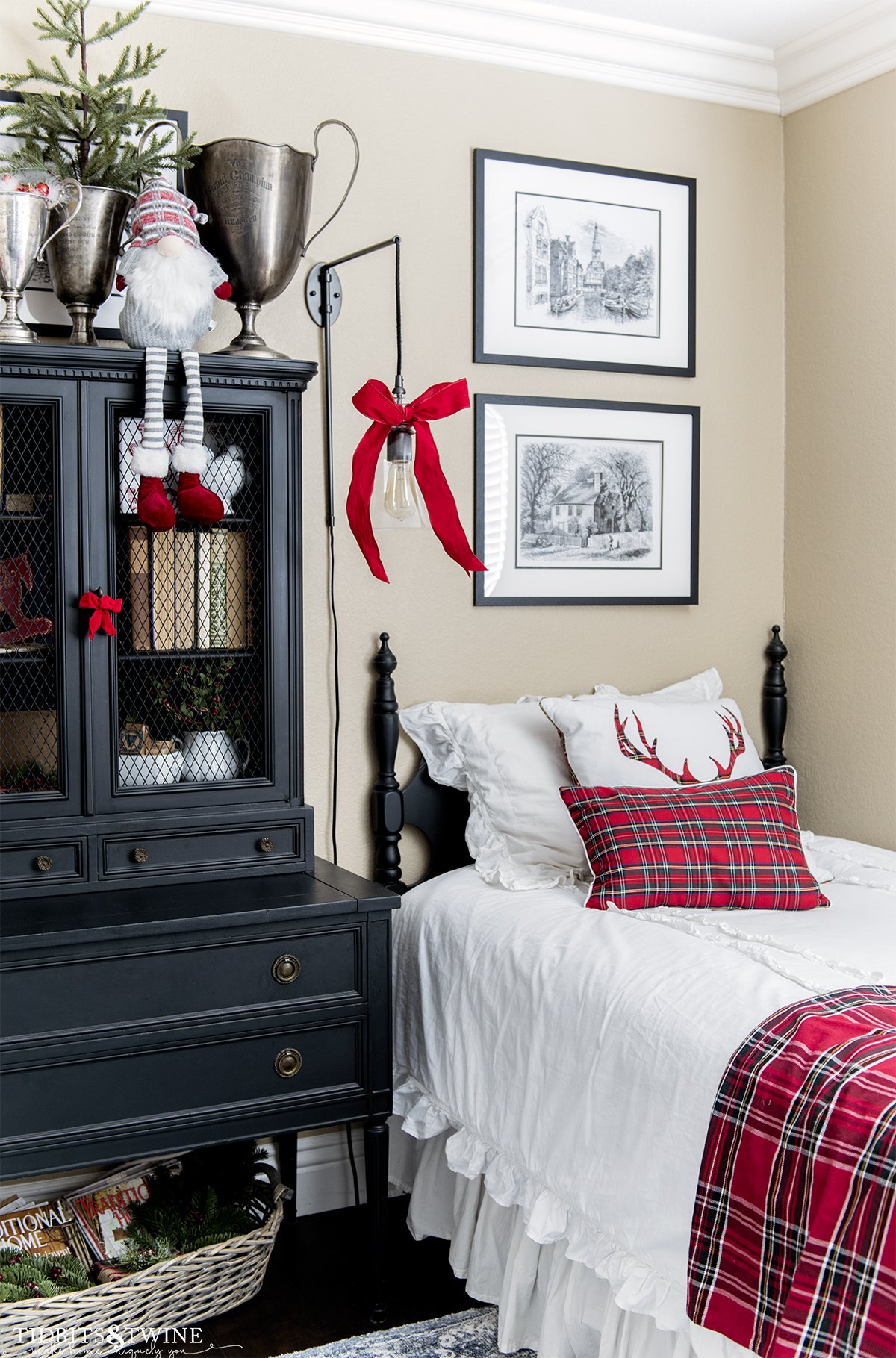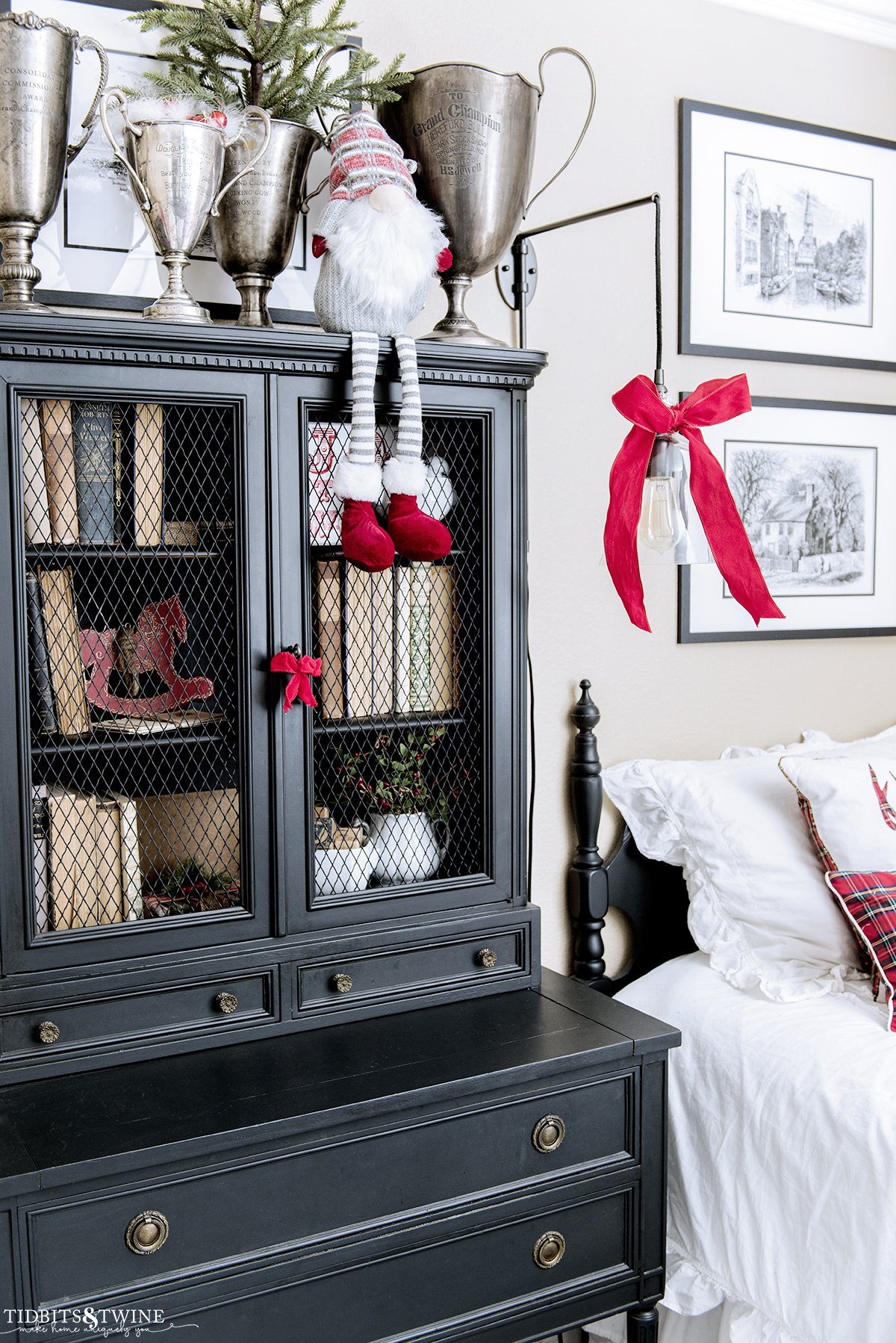 So many people have asked me about this little hutch. But I'm ready for this room to get a makeover and that means the hutch needs to go….!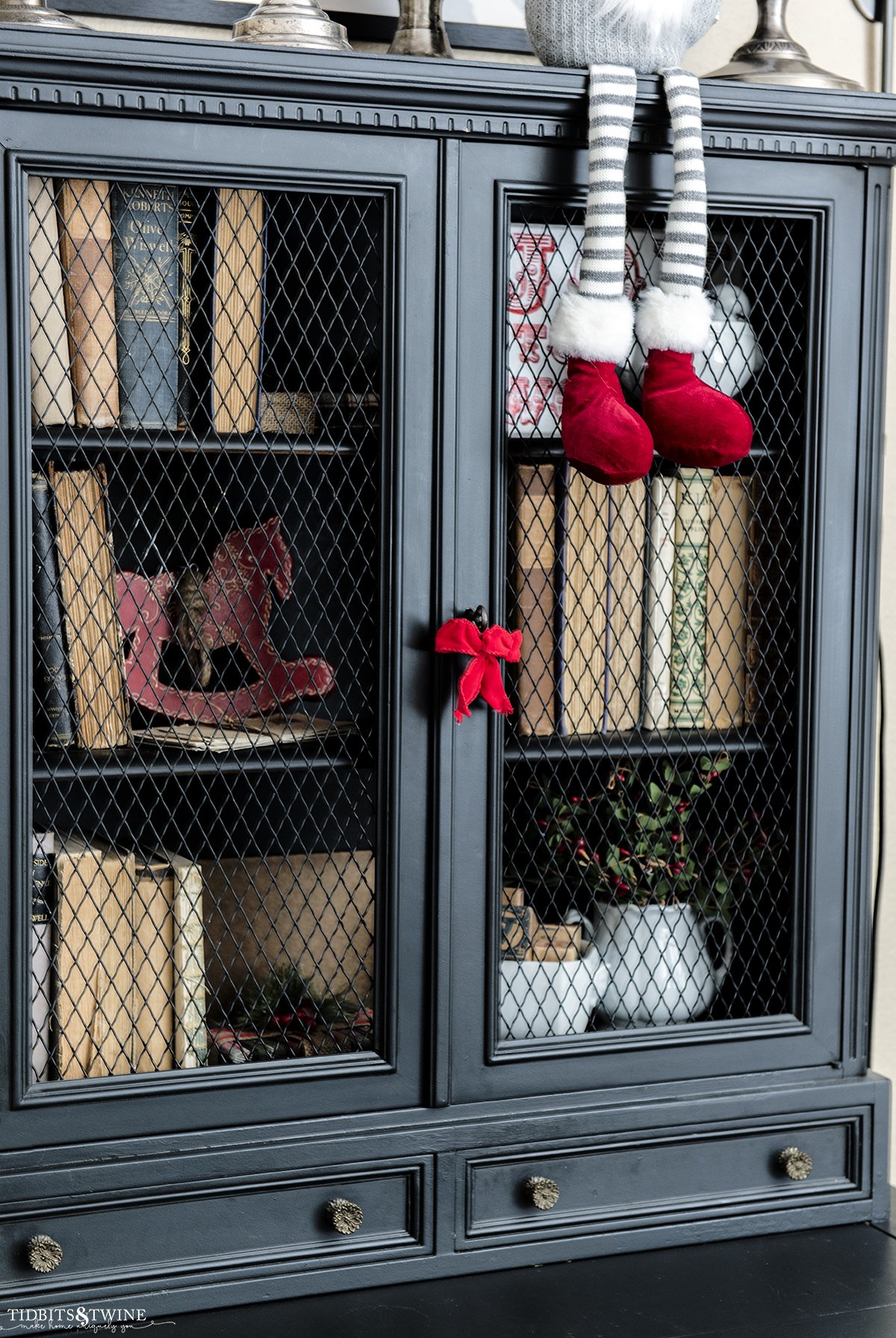 Primary Bedroom
And last but not least on today's tour, my primary bedroom. I love having a tree in our room and this year, I used my Balsam Hill European Fir, which is a tree I've had for two years now but have never previously shared with you!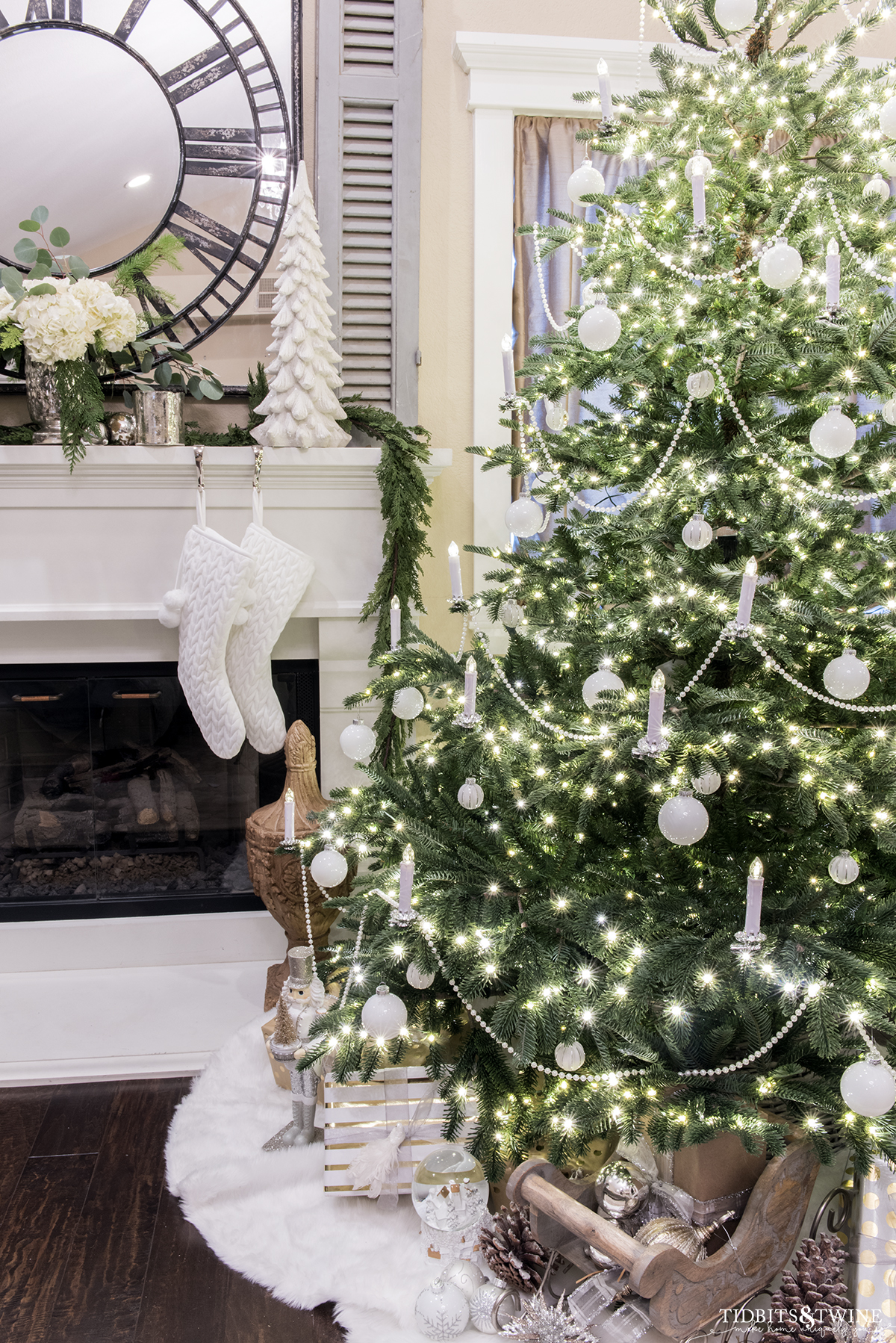 I kept this tree super simple with just white ornaments, pearl garland, and my favorite LED candles.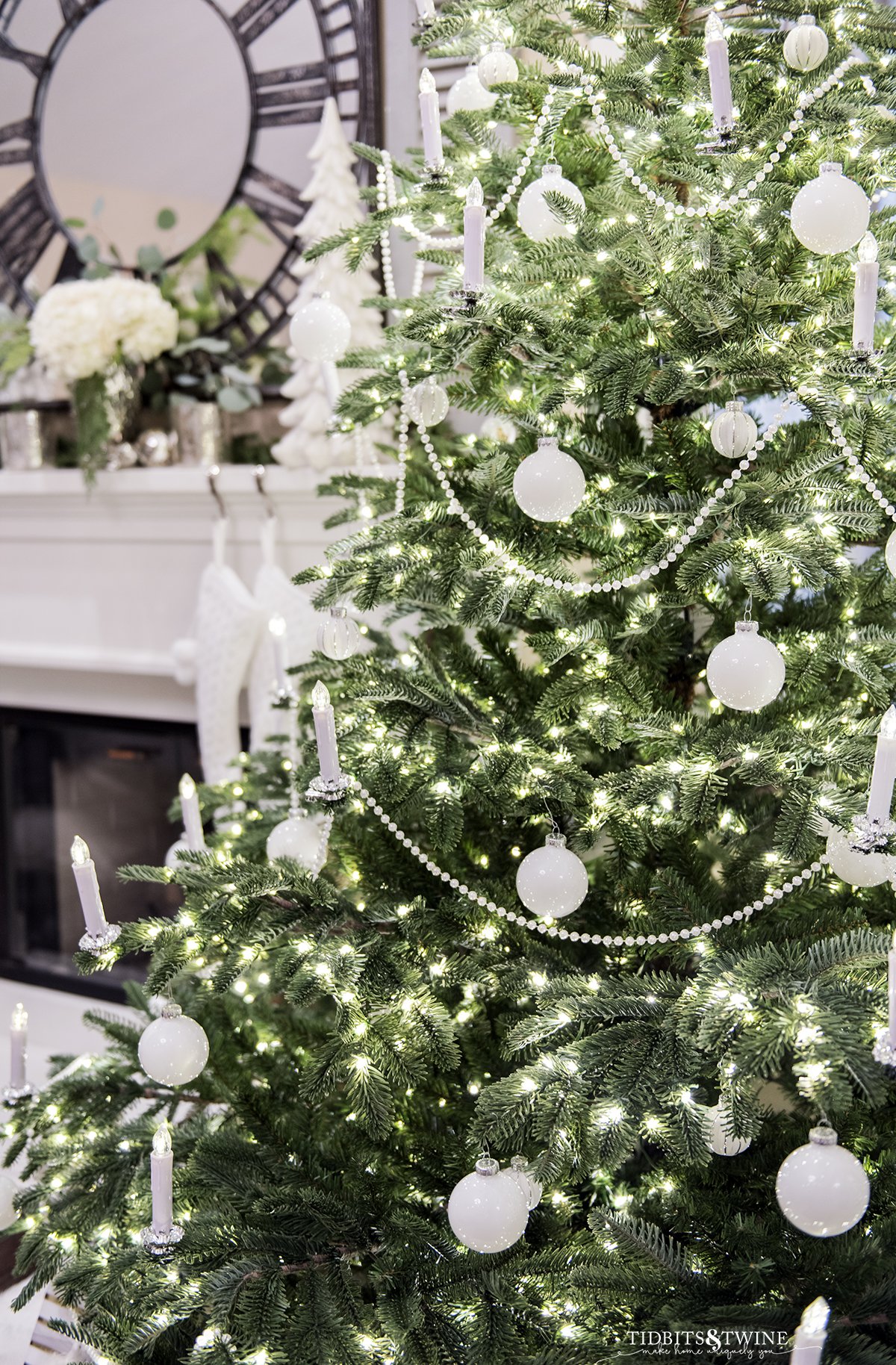 The mantel is decorated with mercury glass votives, greenery, and a few hydrangeas.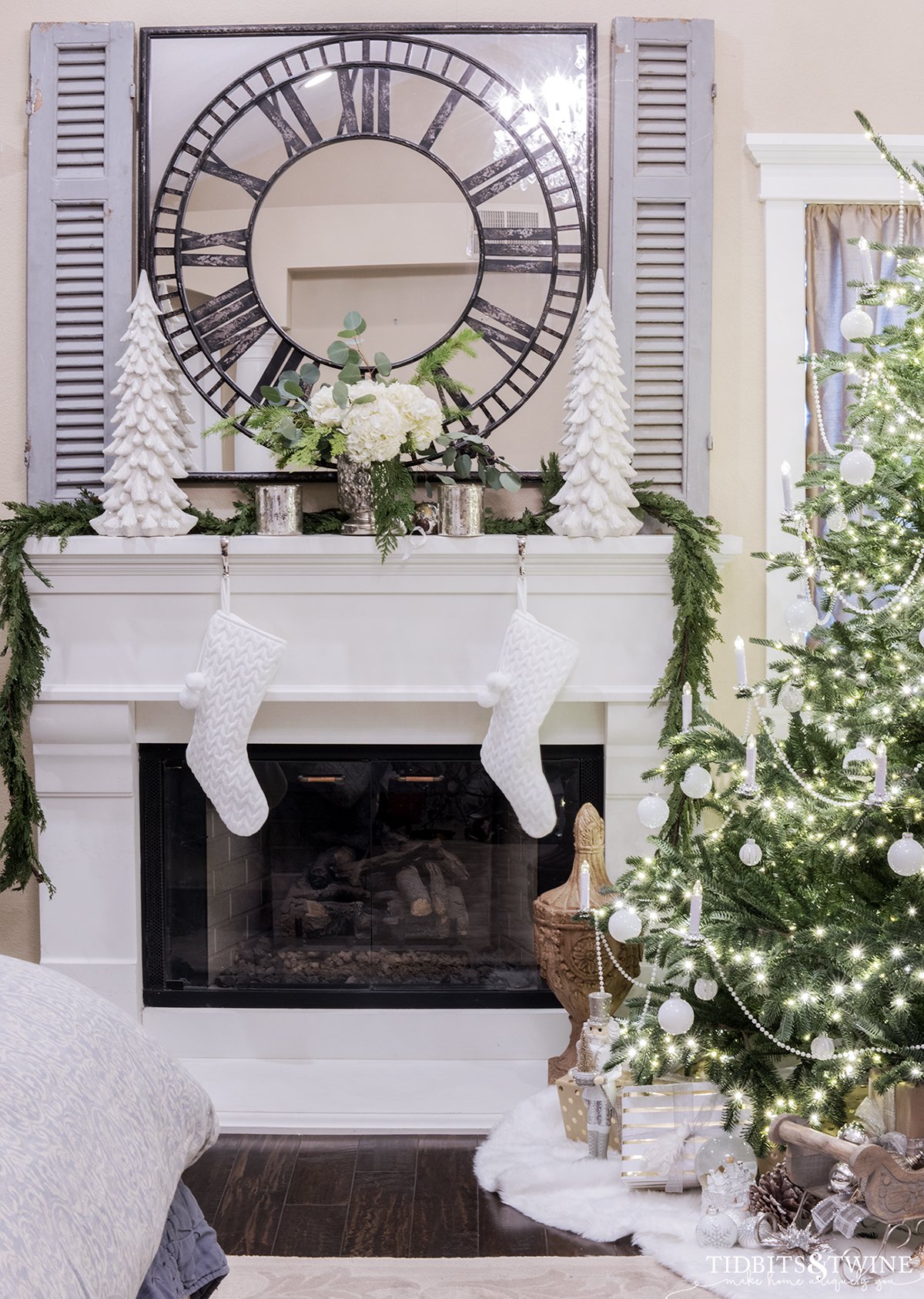 When the flowers die, I'll replace them with my favorite faux flowers. The greenery should last me all season, though, because I treated it to ensure it would stay fresh longer!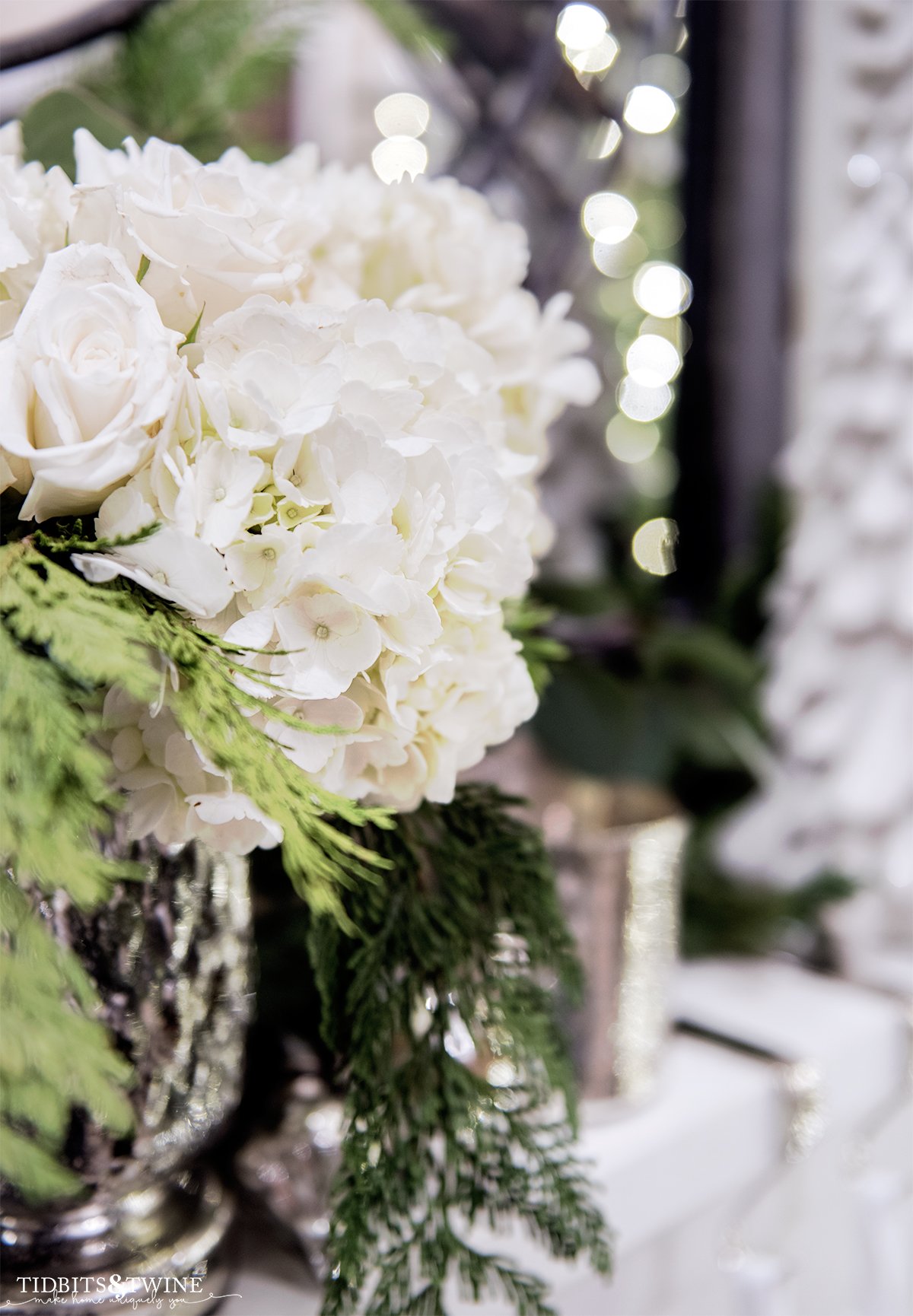 The table at the end of my bed just has a sprinkling of simple Christmas decorations.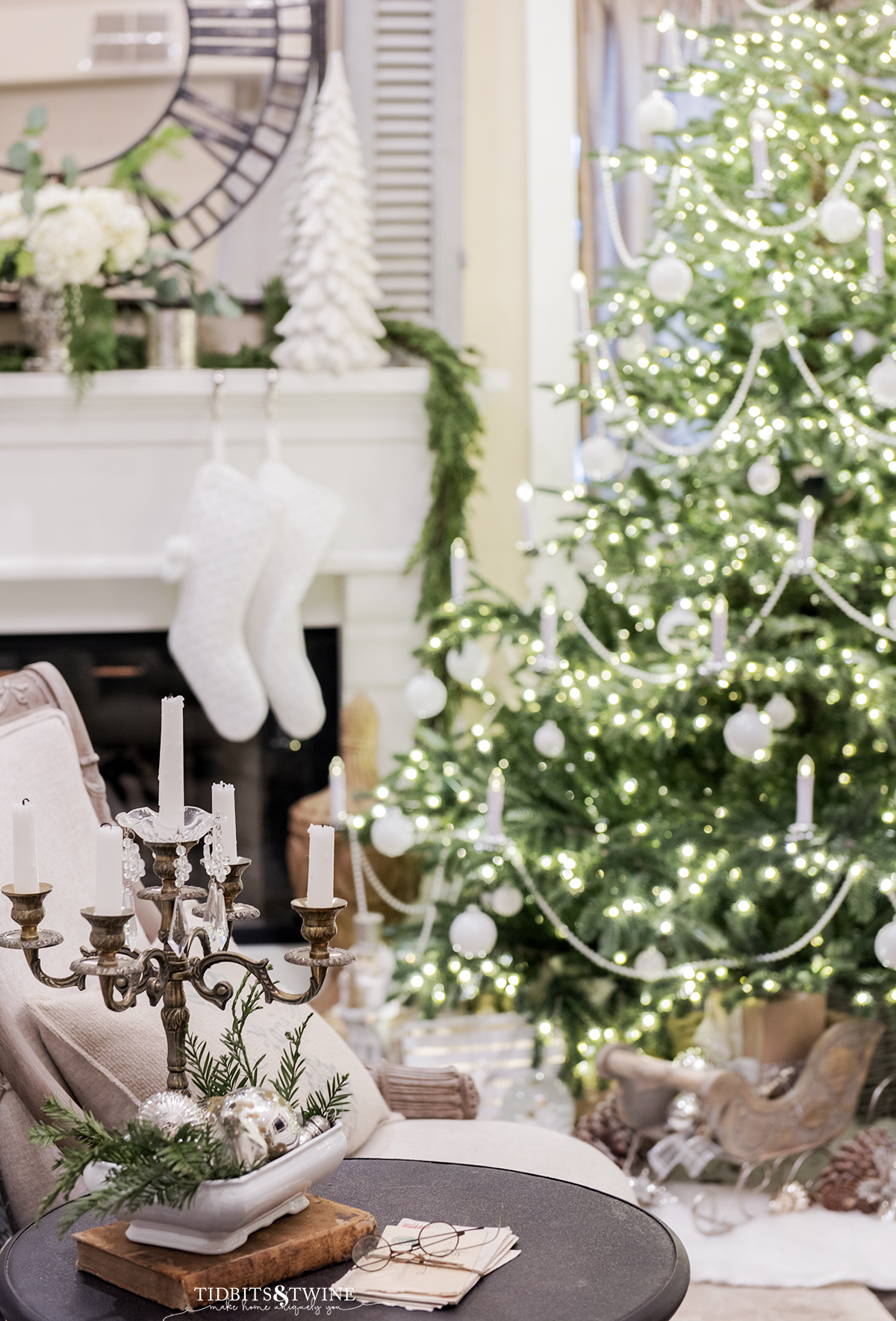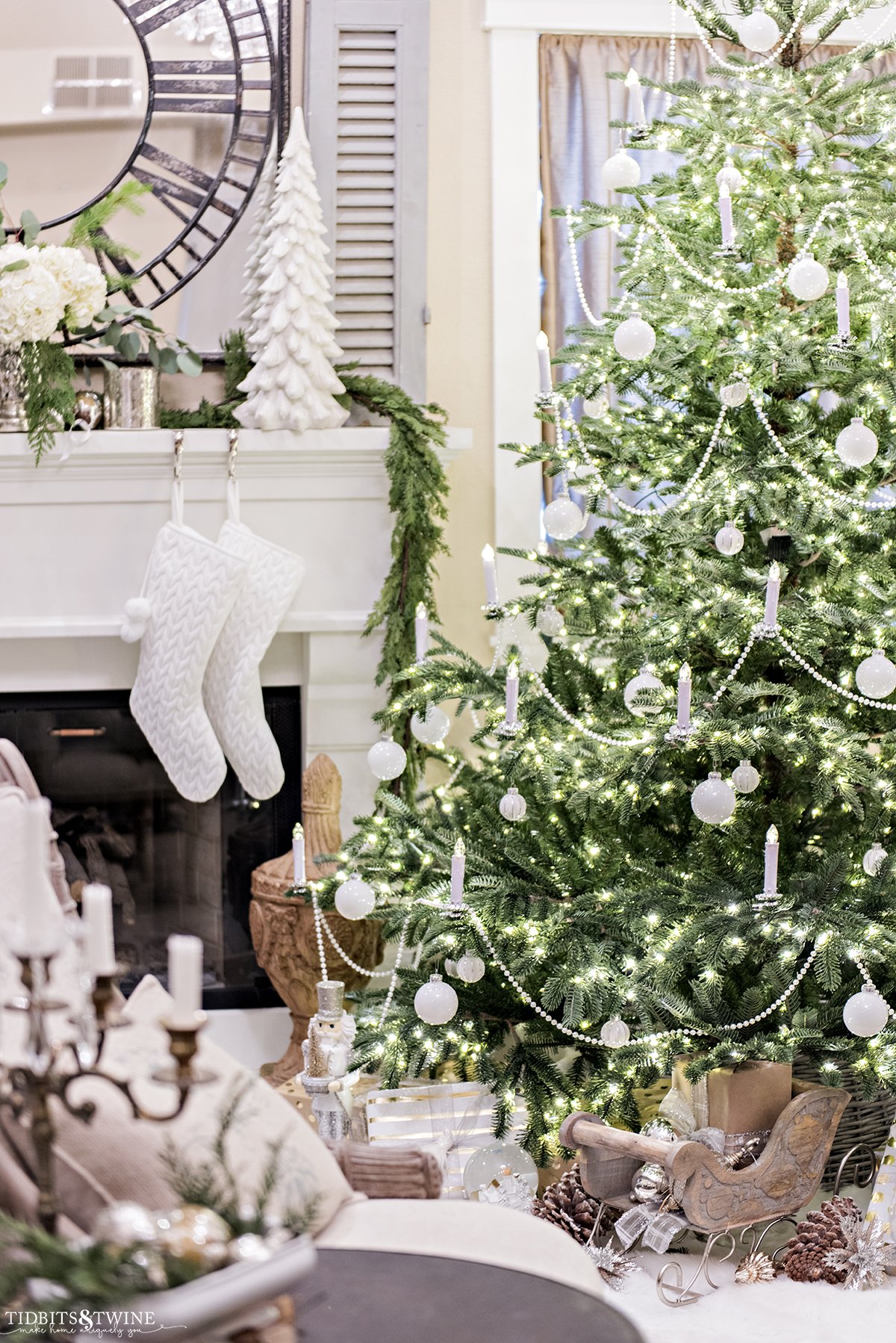 Next year, this tree will be in my living room and I've already made my plans for how it will be decorated!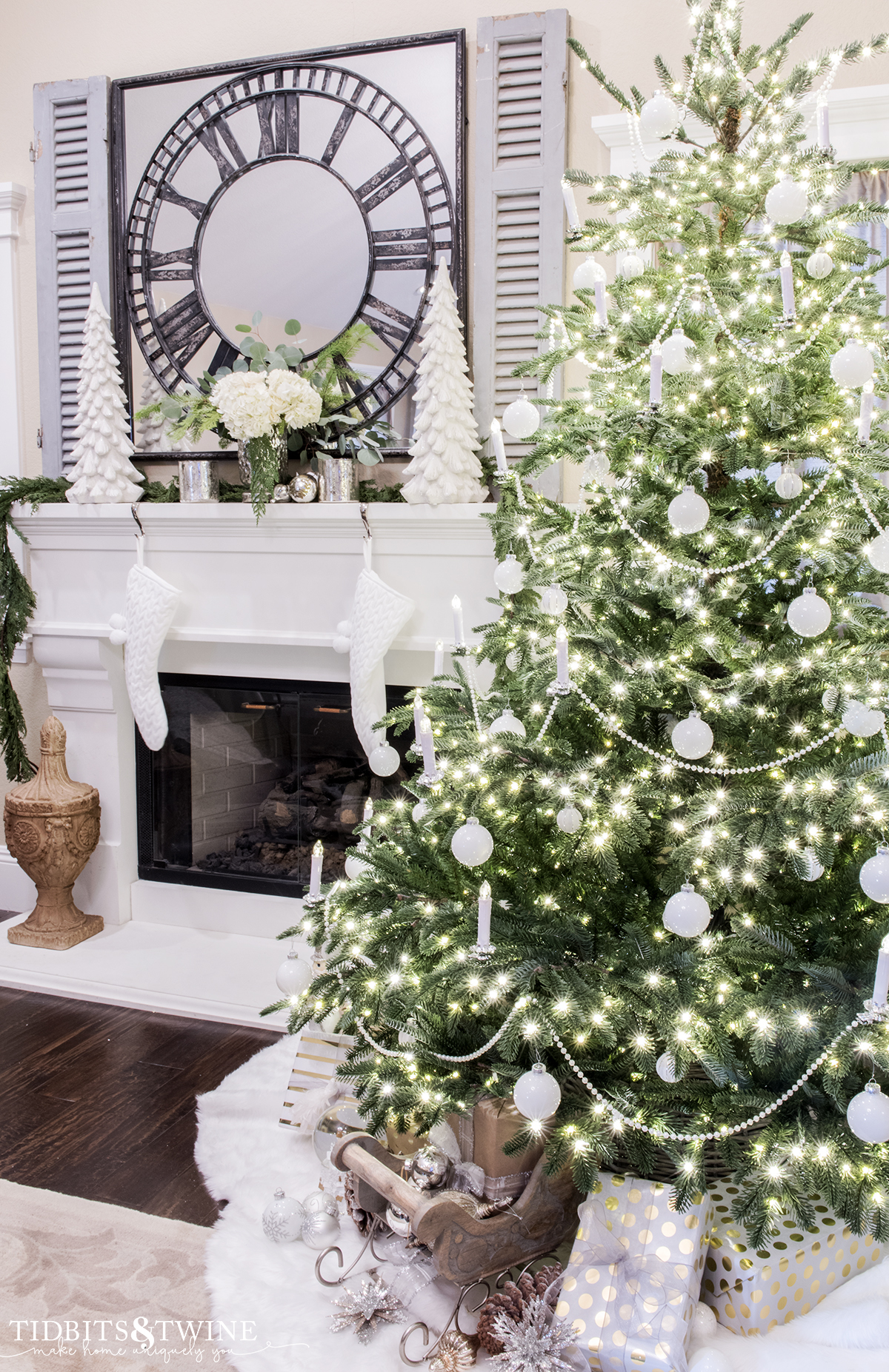 That's it for this year's Christmas tour! I'm going to take a little break to be with my family and I wish you all a happy and healthy holiday season.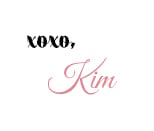 Join the Community
Let's keep in touch! Get exclusive artwork plus the latest news delivered directly to your Inbox!