When you think about bold choices in home decorating, the first thing that probably pops into your mind is color – right?  Or maybe pattern?
Yes, a fabulous emerald room is definitely bold…
…as are canary yellow accents…
…or even a room steeped in Pantone's 2014 Color of the Year, Radiant Orchid.
I agree that color is a great way to make a bold statement in your home, but what about us neutral-lovers?  Or those of us that prefer softer, more muted colors?  Does the absence of a strong color mean that we can't be bold in our home decorating, too?  Not at all!
Sometimes, being bold is a statement, not a color.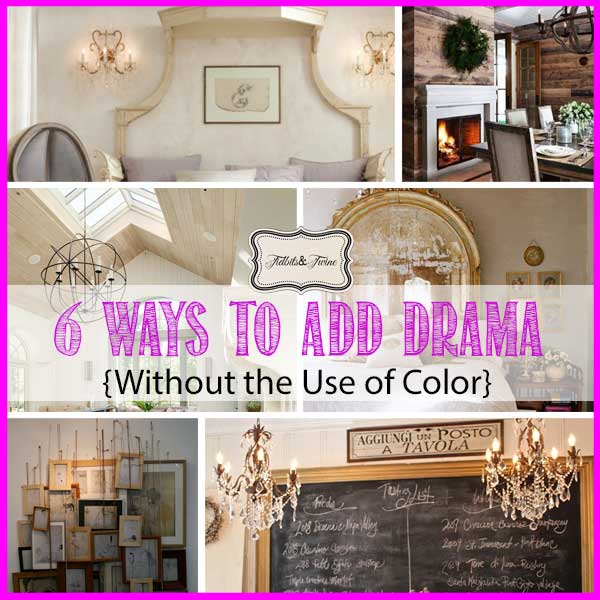 1.  Unique Shapes
Furniture that has a unique shape can be an attention grabber, even if it doesn't sport a bold color or print.
2. Scale
Drama can be created with an oversized item, whether it's a piece of furniture or wall decor.
3. Collections
When grouped together, collections can have tremendous impact, while at the same time, expressing a bit about our personalities and interests!  I love this ironstone collection from Kim at Savvy Southern Style.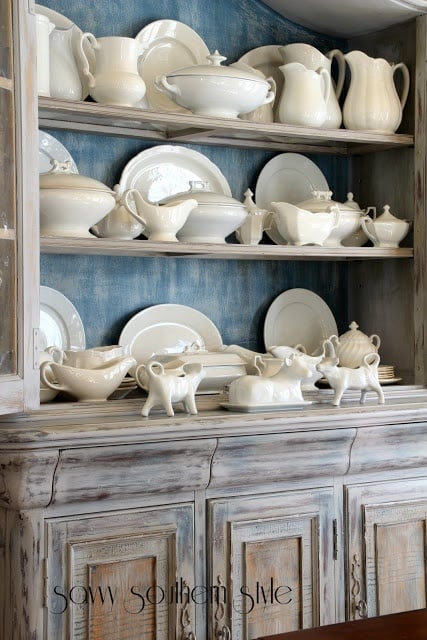 4. Materials
Material choices can create a dynamic and unique look, like an interior planked wall or a pebble floor.
5. The Unexpected
Sometimes, just the unexpected can grab our attention and make a bold statement.  Wouldn't you agree that Courtney's plywood chalkboard is a bold – and unexpected – find for a dining room?
Even daring to use a room in a way other than how it was intended can be bold, like a dining room that's been converted to an office.
6. Architecture
Interesting, unique or dramatic architectural elements easily lend themselves to creating a bold space.  Even if a home isn't built with these elements, they can be added as part of the decor.
Making bold decorating choices is more than just choosing a strong color – it's about making a strong statement.  And as long as you love what you're using and feel it reflects your style, then go for it!  Be brave and be bold!