I just couldn't wait to start decorating with the items I recently purchased at the antique faire and decided to tackle my living room mantel. Since I had recently disassembled my Halloween mantel decor, there was space to create something new!
I love decorating with natural elements in the fall so this is my vision of a fall mantel. Along with the photos, I'll share with you my thought process as I put this together.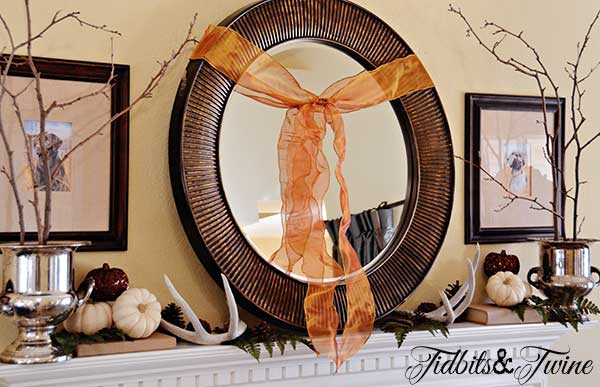 As I mentioned earlier this week, there were so many antlers and so much silver at the antique faire, and while neither were on my shopping list, I ended up with both! I really wanted to incorporate these two items into my display and so started by using the champagne buckets to flank each side.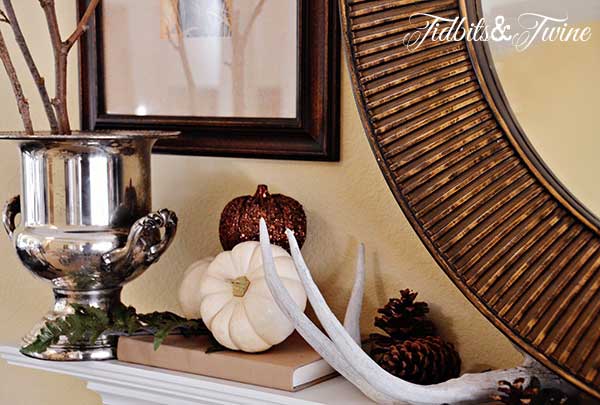 I didn't want to use the art that normally hangs above the fireplace and so instead, used a mirror that was previously in my entryway. I don't typically put a mirror above the fireplace because the reflection is of the ceiling, but I liked how it the frame looked with the fall decor. To detract from the unappealing view in the mirror and to add a bit of color, I added a ribbon knotted in the center. (It puts more focus on the ribbon itself and less on the reflection.)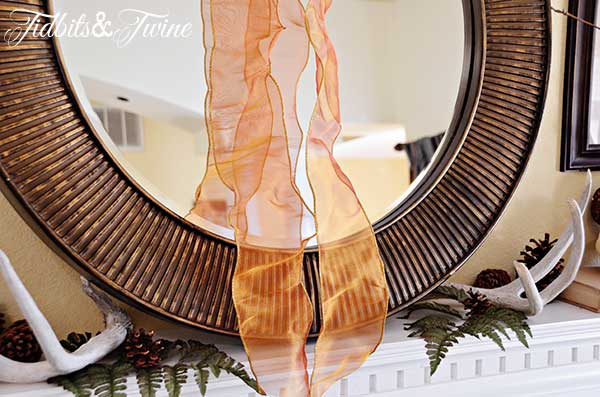 I added the antlers at the bottom of the mirror on each side along with some pinecones and ferns.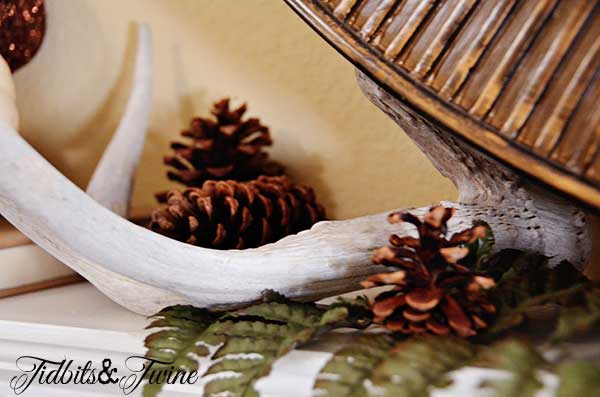 To add some height and texture to the sides, I added a few branches that I collected with the kids while walking to school.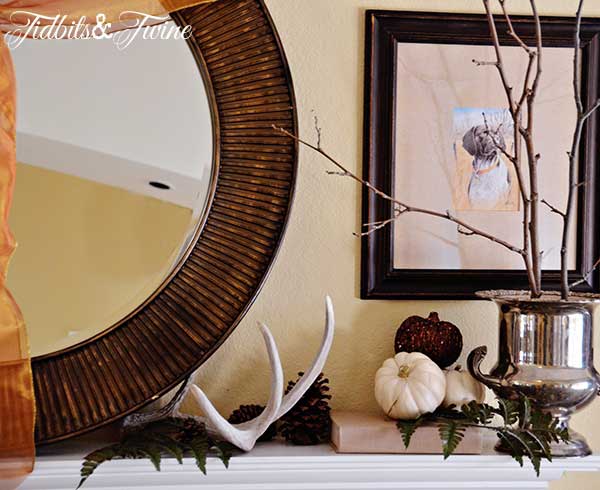 And to add more weight and height to the sides so that I could maintain a triangle of movement, I added a wooden frame with a linen mat behind the branches on each side of the mirror. These frames were in my family room, but I am constantly moving things around the house to keep it feeling fresh.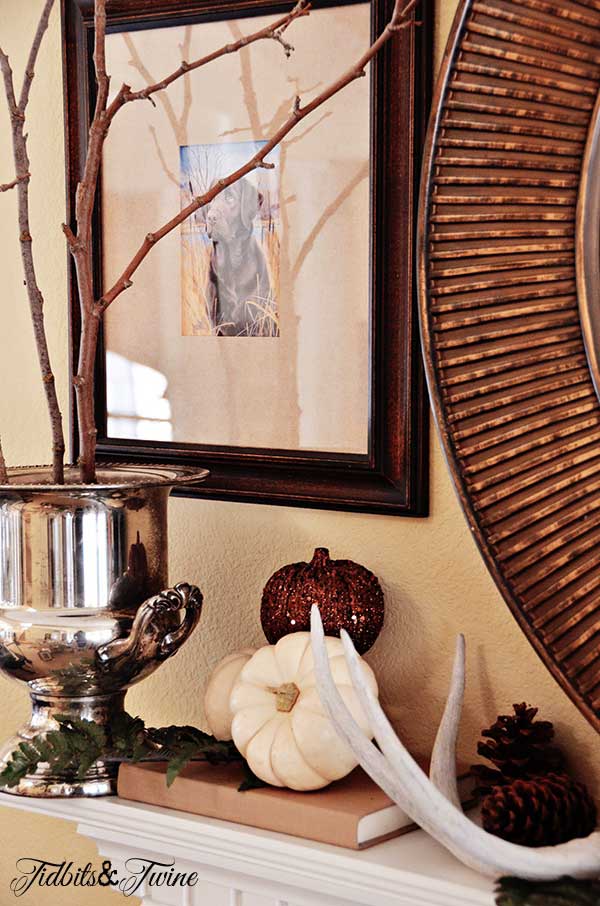 I added a few pumpkins to fill the space between the antlers and champagne buckets, but I didn't like the way the white pumpkins looked sitting directly on the wooden mantel and so added a fabric covered book beneath.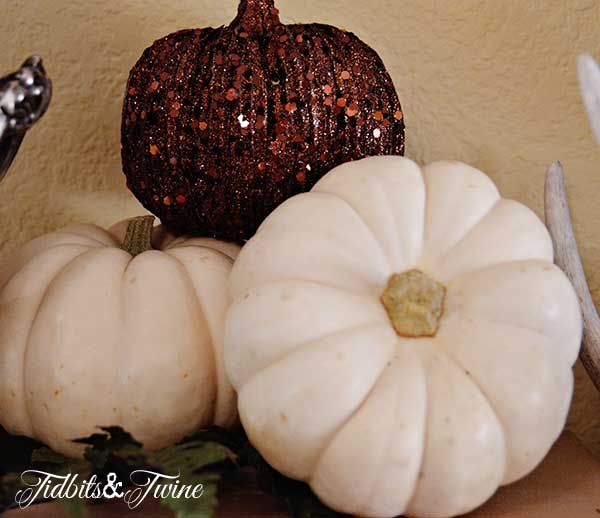 I really like the addition of the antlers to the display and am so happy that I was able to purchase them from Lisa at City & Sea Vintage before she ran out!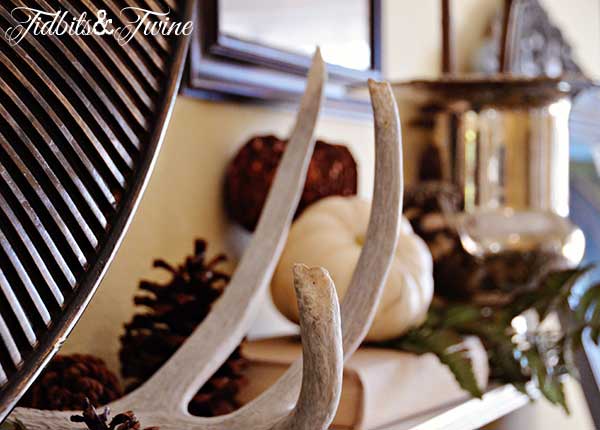 In keeping with my home, the entire display is in neutrals with a mix of rustic and elegant elements.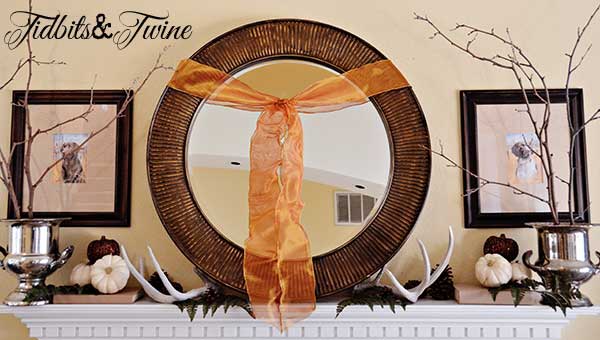 Knowing me, I'm sure I'll take this down within a couple of weeks and try something new, but I'm happy with it for now!

Sharing At: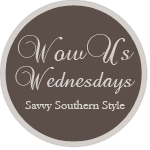 Would you like to receive my posts via email? Enter your email address below. You will instantly receive an email from FeedBurner and you will need to click the link to activate your subscription.
Join the Community
Let's keep in touch! Get exclusive artwork plus the latest news delivered directly to your Inbox!