Today I wanted to share with you some of the other fun finds and creative ideas that I saw at the Alameda Point Antique Faire over the weekend. Please excuse the quality of the photos…I took these just as the sun was coming up so the lighting and focus are a bit off, plus my eyes were still blurry from getting up at 4 a.m. and the coffee hadn't yet kicked in ! :)
As I was shopping, I started to notice a theme among many of the European antique vendors. It seemed that silver and antlers were big this month, and while neither were on my shopping list, I somehow ended up with both! I loved the use of this silver pitcher to hold old brushes.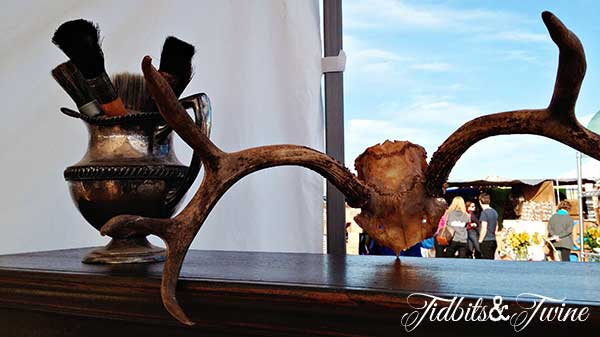 And as you might know, I love seeing silver used as everyday decor and so I thought this champagne bucket used as a pot for this gorgeous fern was a great idea!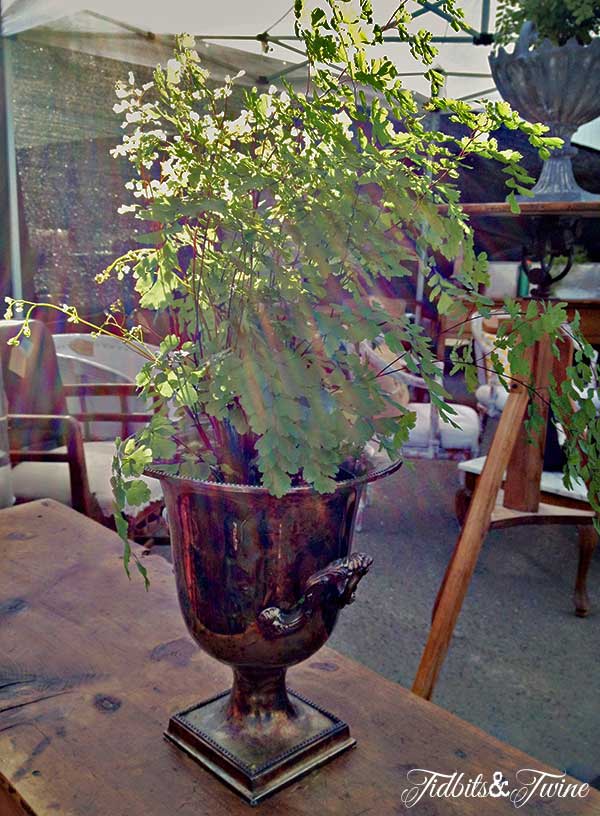 Mary from Glorie had quite the selection of silver, including these pretty platters.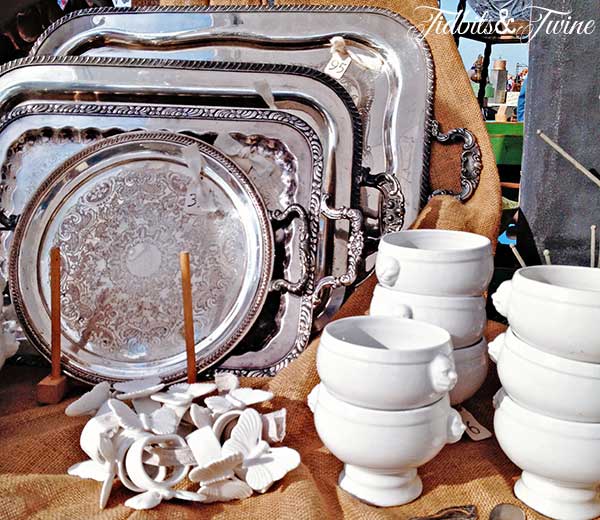 She also had an entire bookcase containing a variety of silver pieces. Unfortunately, she didn't have the vintage trophies I was looking for or I would have snatched them up!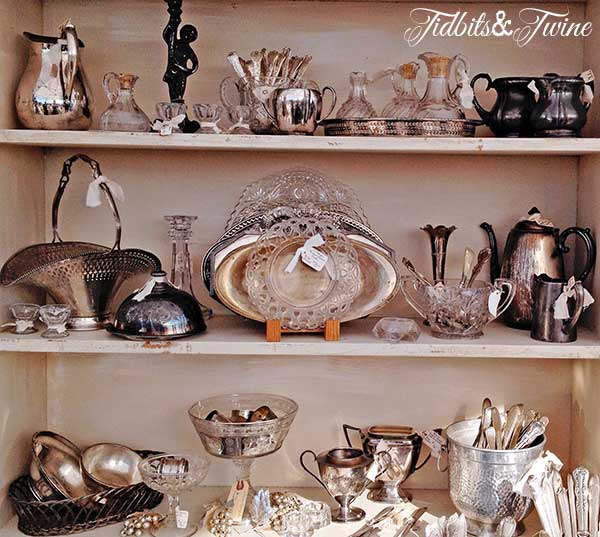 And I thought her use of an upside down tomato cage to hold bundt pans was incredibly clever!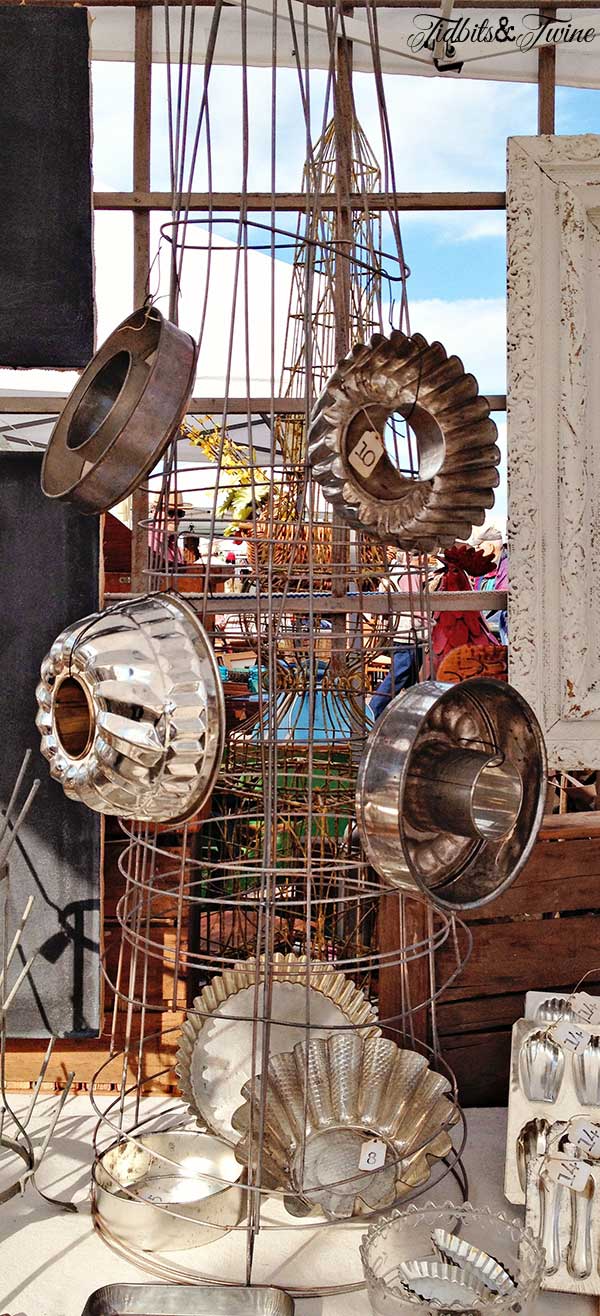 There were several other displays that I thought were creative, like this apothecary jar used to hold letters…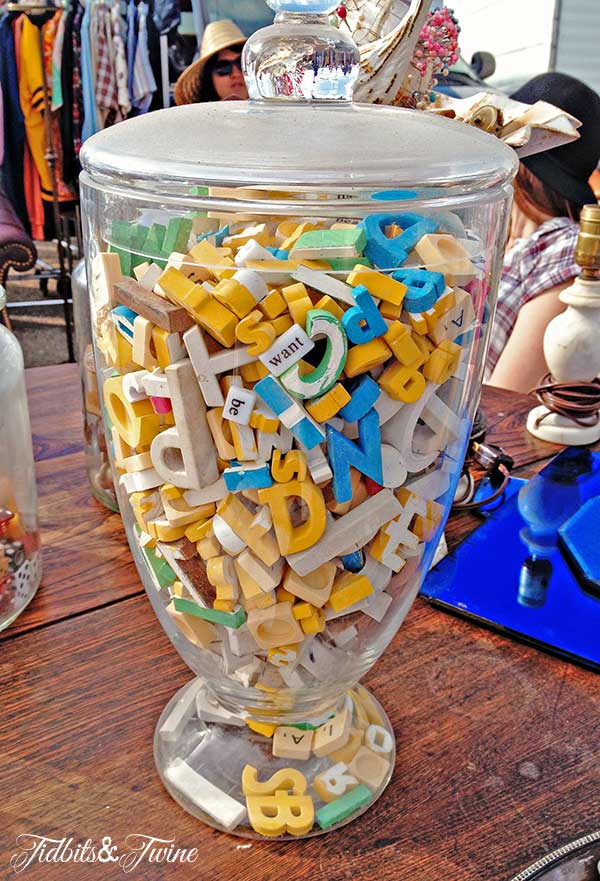 …and this display of twine and scissors that sits atop a roll of tickets!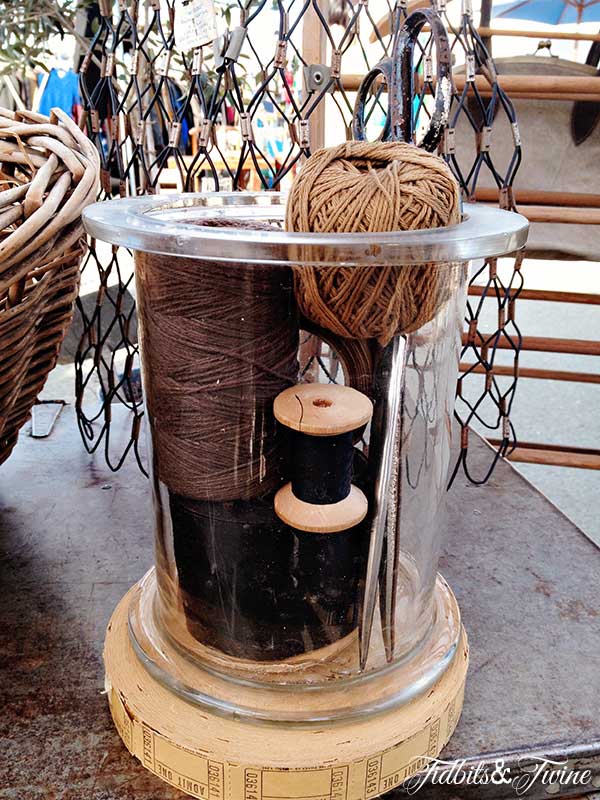 And here's a craft project you could make for fall! This is just short strips of book pages arranged in a flower fashion and attached to bare branches to create paper flowers!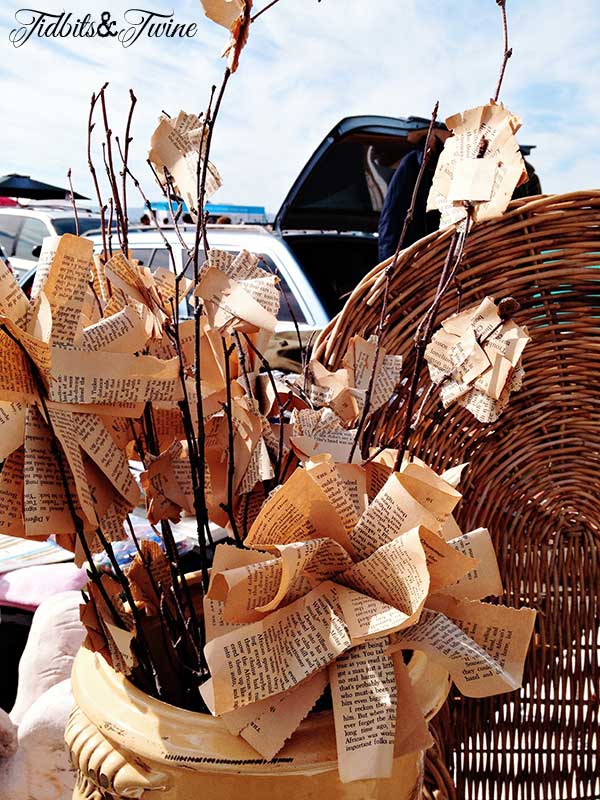 This chair also caught my eye because it is so interesting, although not entirely practical! I'm not sure what this covering is, but maybe it's the exposed horse hair stuffing?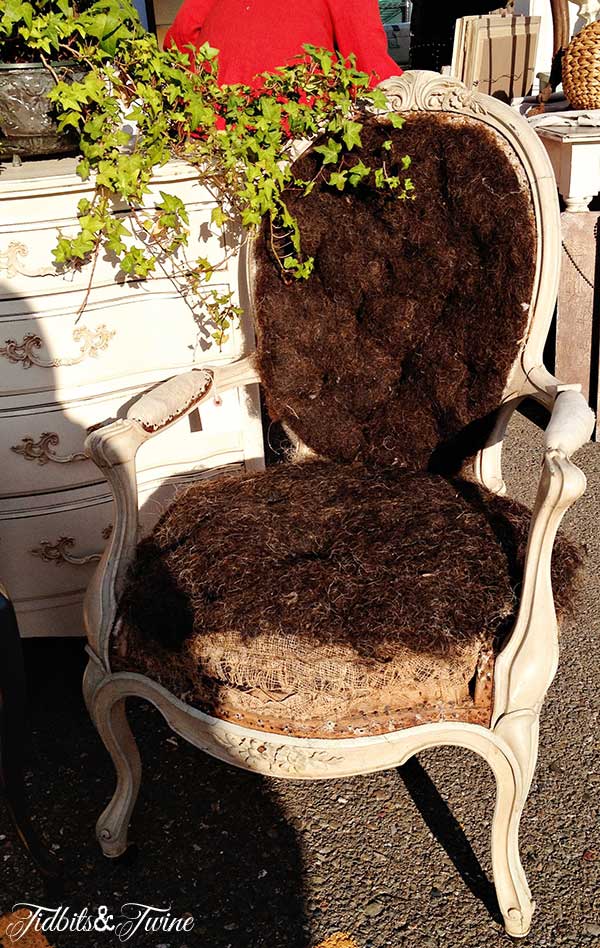 And how great is this French bottle drying rack used to hold bakers twine and vintage spools?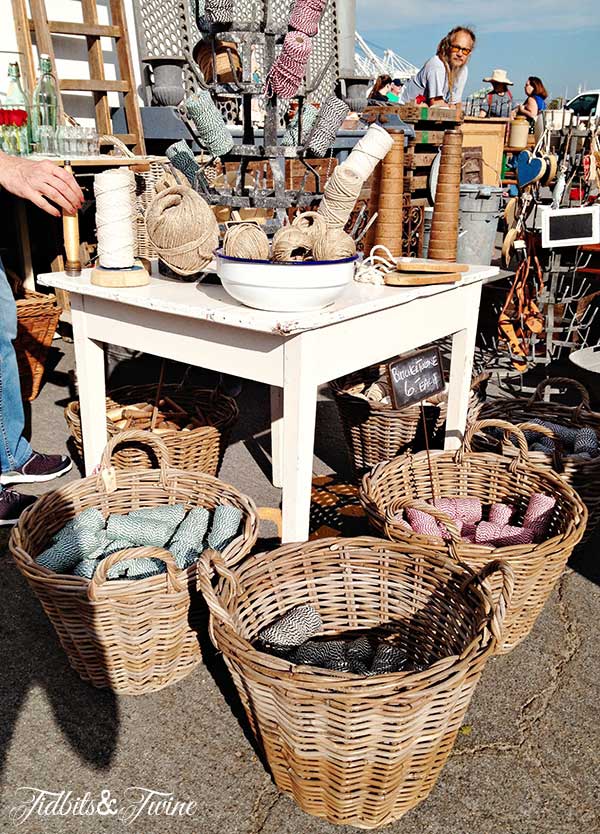 And there's a vendor that I make sure to always swing by and see because their displays are so great. I was at their booth very early in the morning so these photos don't quite do them justice. Have you heard of Atelier de Campagne? If not, you should check them out! Here's a few photos from their display, including a great lavabo!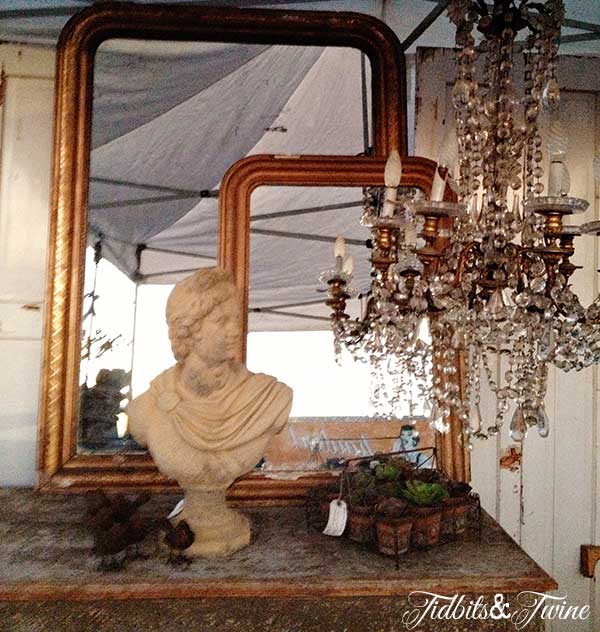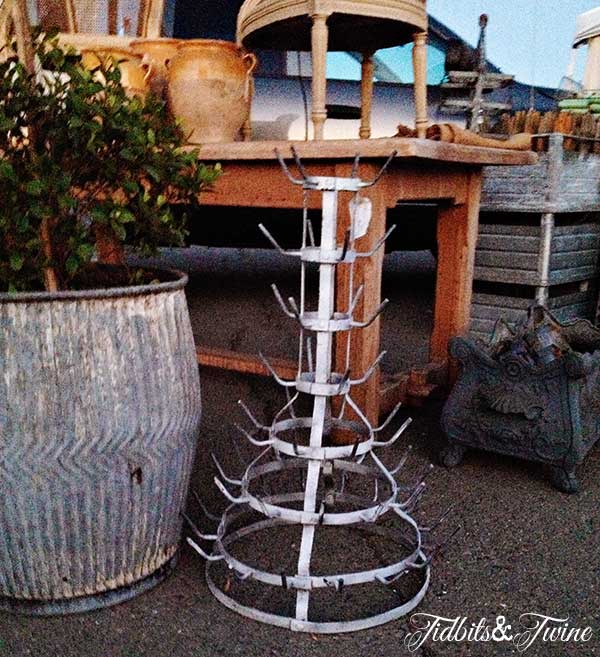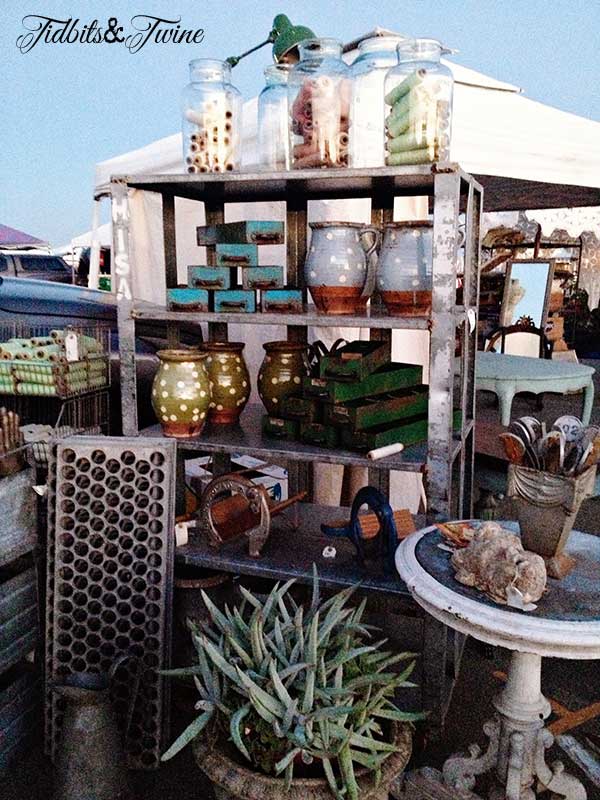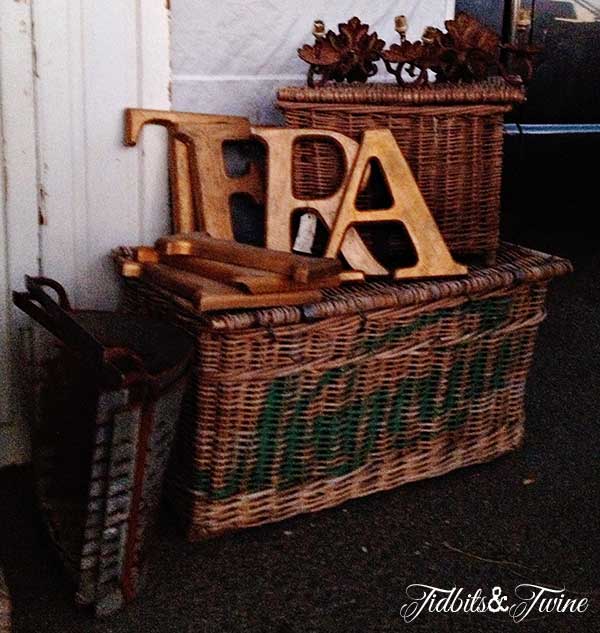 I also stopped by Ludwiga's Linens to check out her vintage linen, which is sold by the yard, and her grain sacks. While I was there, I learned about mangle cloth! Pictured below on the right, mangle cloth is fabric used with old roller ironing presses called mangles. You can find more information about mangle cloth on her website here.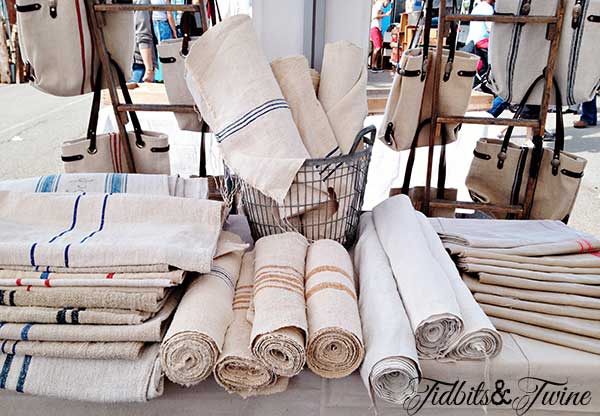 New to the show this month was City & Sea Vintage and Lisa's booth was crazy crowded! Early in the morning she had a great display of antlers in a huge dough bowl at a great price. Luckily, I was there early enough to pick up a pair because by the time I stopped by for a second visit, all of the antlers were gone, as was the dough bowl! In the spot where the antlers had been, she had this amazing caged santos doll!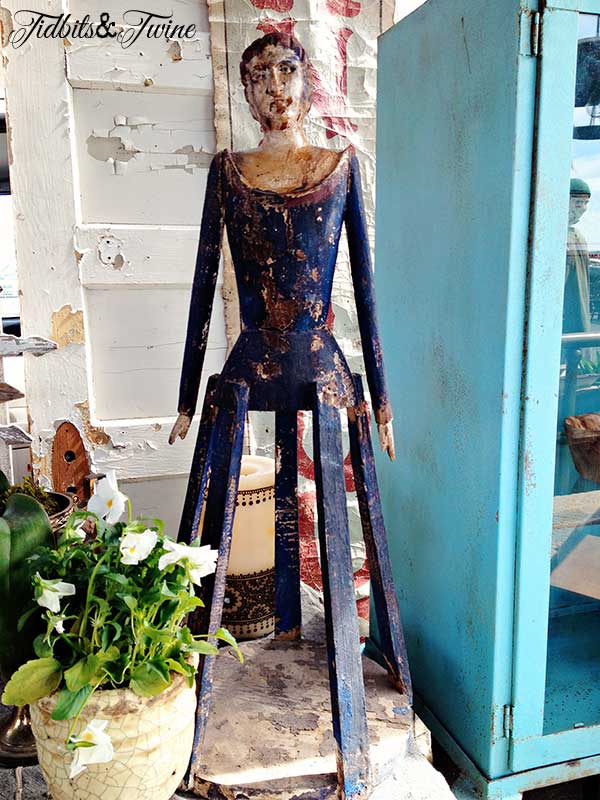 And what did I spot to the left of this beautiful lady? A trophy filled with an orchid! What a great use! Can't you just picture this in a study or on a coffee table? Maybe two on a mantel flanking a fireplace?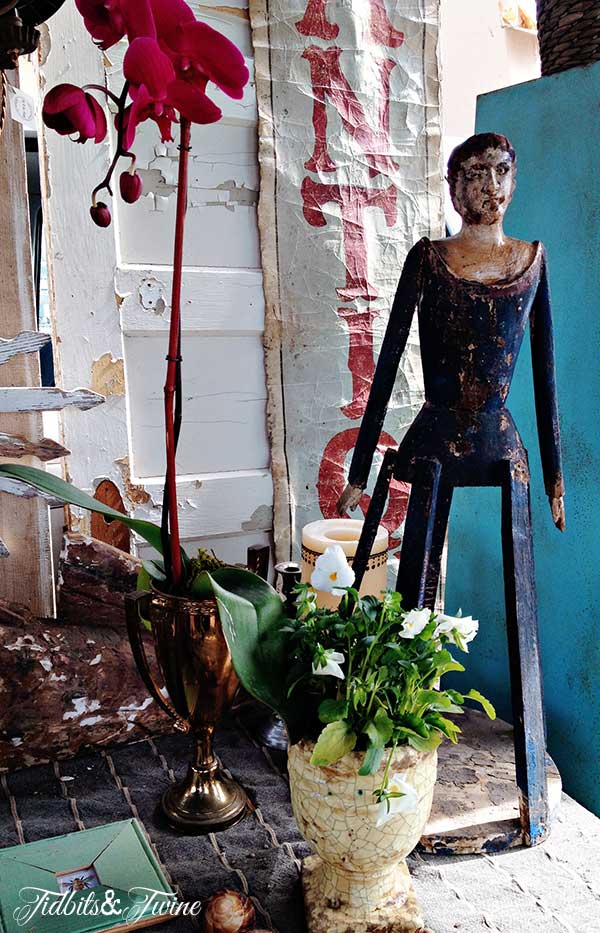 I also really loved to hear Lisa explain how she had taken an old chicken feeder, turned it upside down and created this industrial light fixture.
Hopefully, these pictures have given you some ideas as to how you can use vintage items. And if you don't have an antique faire in your area, visit these vendor's websites to see if you can find what you're looking for!
One last takeaway from the antique faire – if you don't see what you're looking for, ask the vendor if they have it. Often times, they don't unload their entire stock at one time, so if they have items similar to what you're looking for, ask if they might have what you want still packed away. And if they don't have it with them at the show, there's a good chance that they might have it at their store/warehouse and will be willing to work with you to purchase it.

Would you like to receive my posts via email? Enter your email address below. You will instantly receive an email from FeedBurner and you will need to click the link to activate your subscription.
Join the Community
Let's keep in touch! Get exclusive artwork plus the latest news delivered directly to your Inbox!