These lovely glass bottles are simple, beautiful, and multi-functional. Here's everything you need to know about demijohns, including what they are, how to tell an antique vs a reproduction, how to decorate with them, and perhaps most importantly, where to buy them!
A few years ago I attended my very first antique fair and was so amazed by all of the beautiful objects, that I wrote a post about the names of various European finds, including the demijohn! Since then, I haven't really said much about them but have been slowly (okay, very slowly), building my own collection.
I purchased the large Hungarian demijohn below from Patine and have used it all over the house. Right now, it's sitting in my entryway underneath a table. It makes a great, sculptural accent piece!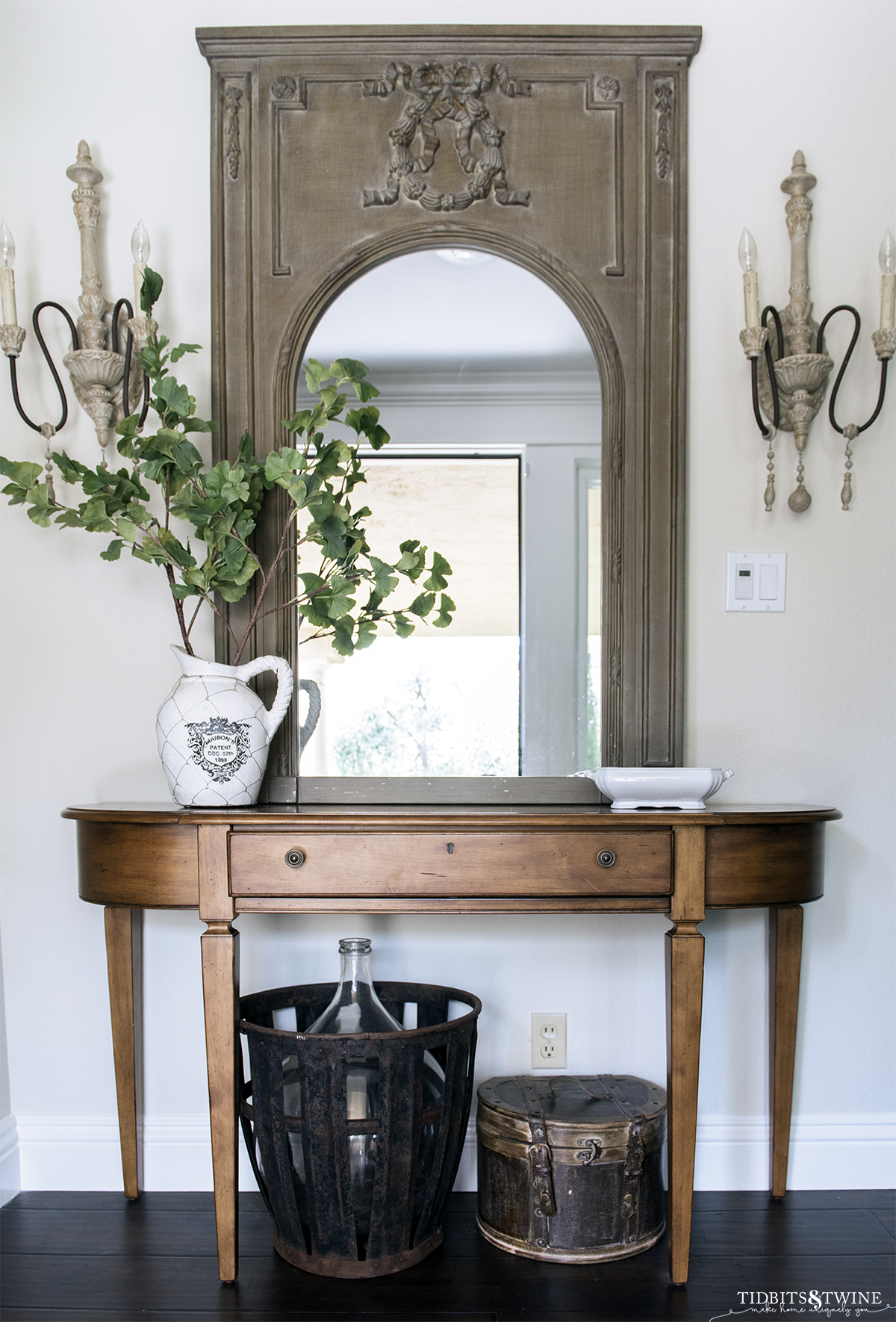 Nowadays, these are popular for use as interior decor so there are many reproductions available if an antique isn't your style or not in your budget. You can find them in a wide assortment of colors, shapes, and sizes to fit any decorating style.
So let's take a look at these glass beauties!
What is a Demijohn
A demijohn (pronounced de-mee-john) is a narrow-neck or teardrop shaped large bottle that is used to store liquids such as wine, olive oil, cider, vinegar, etc. with a cork stopper. The word demijohn is thought to come from the French word dame-jeanne. These beautiful bottles were seen as early as the 14th century, but the word is thought to be from the 17th century. While the U.S. did produce these bottles, most were imported from Europe.
Although there is possibly some historical distinction between a demijohn and a carboy in terms of bottle shape and liquid carried (carboys might have been used for acidic liquids), today the terms carboy and demijohn are used interchangeably.
How to Tell an Antique vs a Reproduction
Demijohns have become so popular as part of home decor that there are now many reproductions available. The great thing about the reproductions is that they allow for a more accessible price point, but they are missing some of the charm of antique demijohns.
Here are some characteristics that will help you identify an antique demijohn:
Glass irregularities
Pontil marks
Flat lip/Uneven top
Thicker base than sides
Label
Colors
Glass Irregularities
In general, antique demijohns made prior to the 19th century would have been handmade, technically mouth-blown. As such, they won't have a seam running up the sides of the bottles (which is made from a mold or a machine). You might also find some irregularities in the glass such as waviness or even bubbles, which is a sign that the bottle was blown.
Bottles that are embossed are either machine-made or made from a mold (a molded bottle can still be an antique), but definitely not mouth-blown (although sometimes the body can be made from a mold and the lip mouth-blown).
Pontil Marks
A pontil mark is where the pontil (or punt) is broken off from the blown glass, leaving a mark behind.
Flat lip/Uneven top
The mouths (or tops) will have an uneven cut to them and the lip will usually be flat, not rounded.
Thicker Base
Often, the bottoms of antique bottles are thicker than the sides.
Label
The vineyard would put their label on bottles and while there are some still affixed, I haven't had any luck finding an antique with an original label.
Colors
The colors of very old antique bottles typically were seen in shades of green, ranging from dark green to aqua, clear, or amber.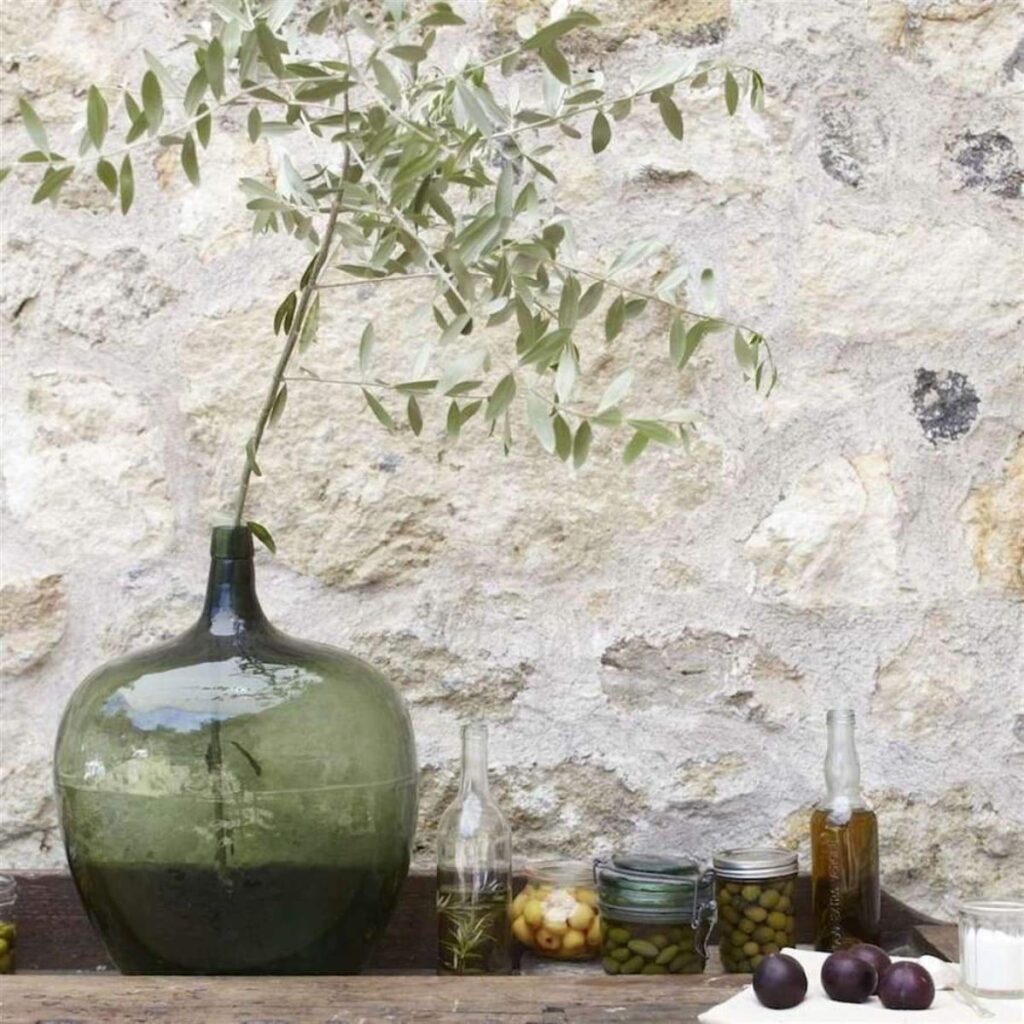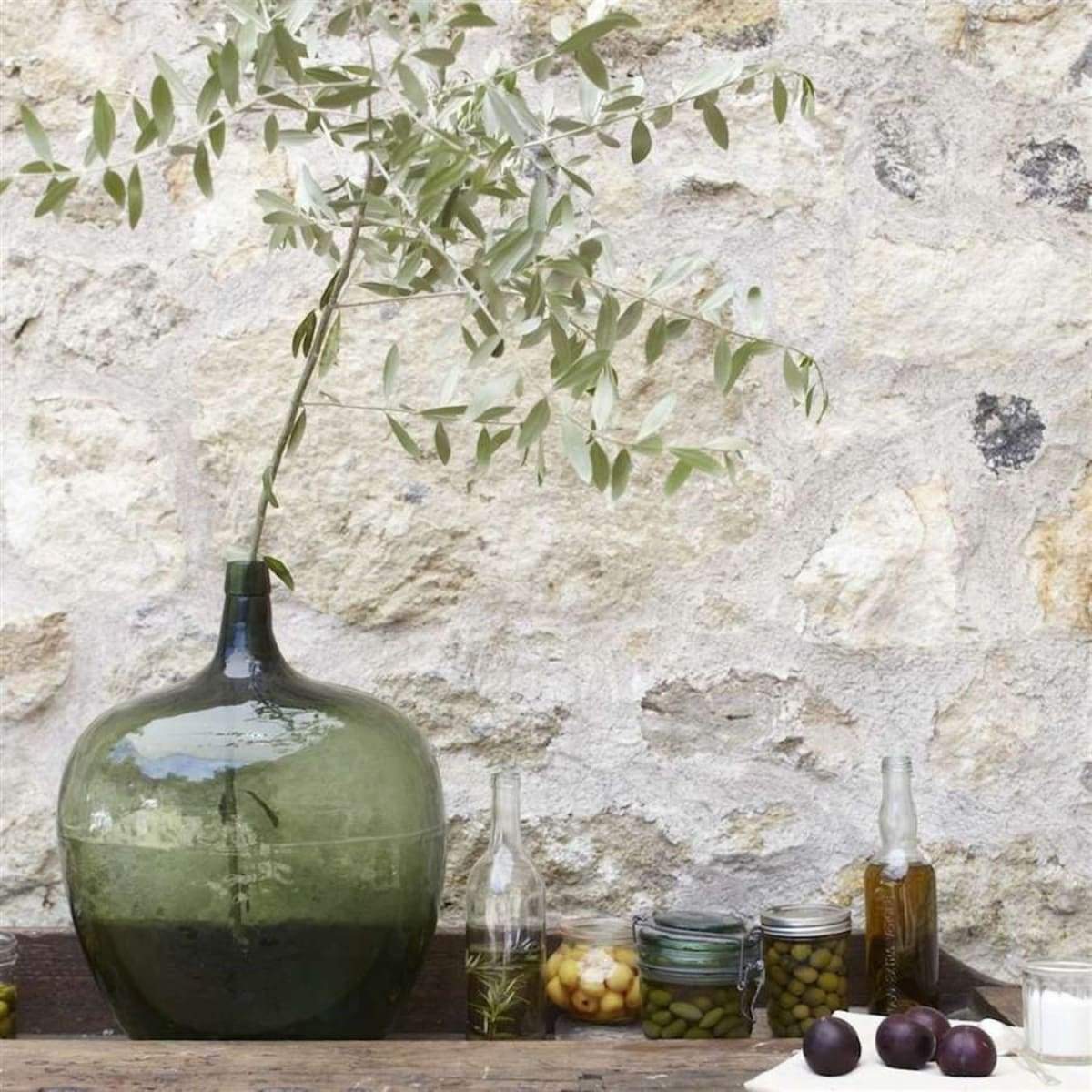 Newer antique demijohns (after 19th century) might be machine-made and you're more likely to find clear bottles in this timeframe. This side seam makes it a bit more difficult to tell an antique demijohn from a reproduction, so then you'll have to look for signs of age and wear and tear, as well as any markings you might find on the bottle that indicate manufacturing information.
Remember, to be an antique, an item must be at least 100 years old. Vintage items are typically 20+ years old. Anything newer or not actually used for transporting liquid or storing wines would be a reproduction demijohn.
Size and Transportation of Demijohns
In general, glass demijohns range in size from 1 to 15 gallons, depending on what they were used for. You'll often find the bottle by itself, but for transport, it would have been protected from breaking.
A common method for transporting demijohns was to wrap them in wicker. The wickerwork would have acted as an insulation to keep the bottle from shattering when jostled and moved.
Other times, you might find demijohns in wooden crates or even metal strap baskets (with or without small handles). These containers would have been filled with straw or fabric to insulate the bottles. Sometimes, the crates and baskets are sold separately from the bottle just because they are beautiful storage options all on their own.
Vintage demijohns, versus antique, might be sold in a plastic basket molded specially to protect the glass vessel.
Ideas for Using a Demijohn
Focal Point
Large demijohns are beautiful all on their own as a focal point. You can place them near a fireplace, next to a bench, in an entryway, or under a table. If you have high ceilings, you could add tall branches!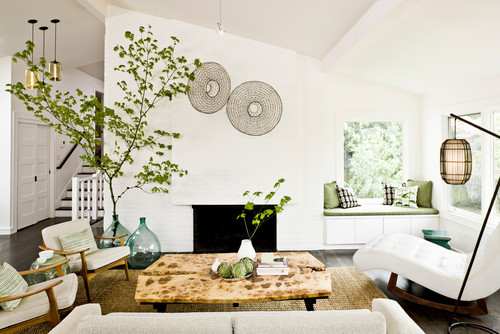 Photo by Jessica Helgerson Interior Design – Look for living room design inspiration
Vases
Tabletop sized ones make fantastic vases. If I'm not using mine as a vase, I just pop it on top of my dining room hutch where it sits on display until I use it again.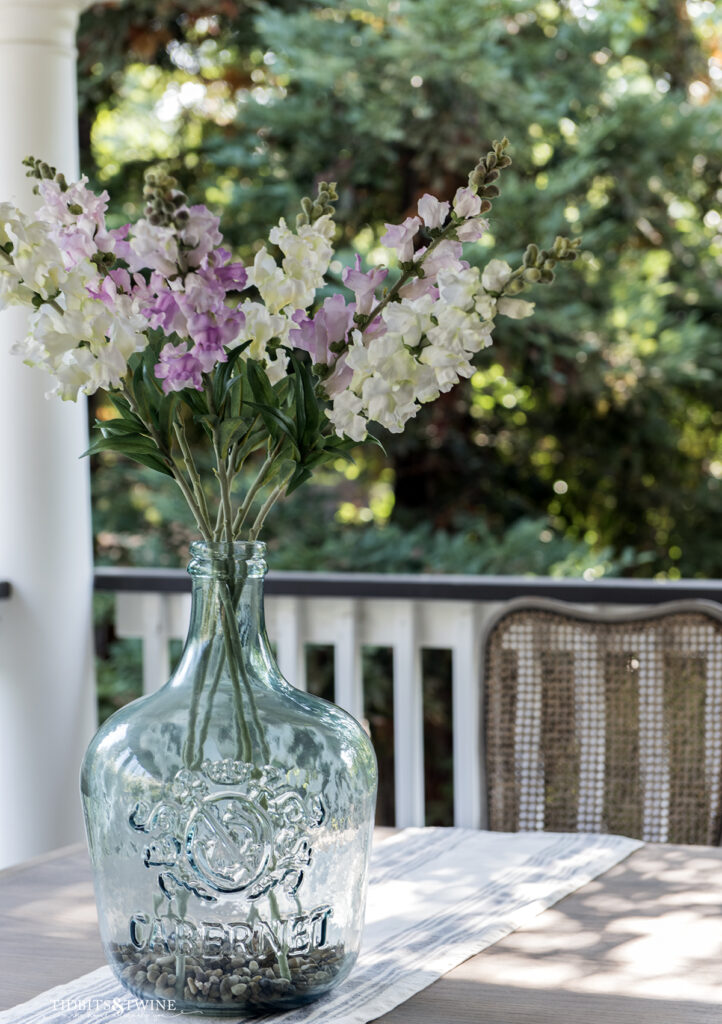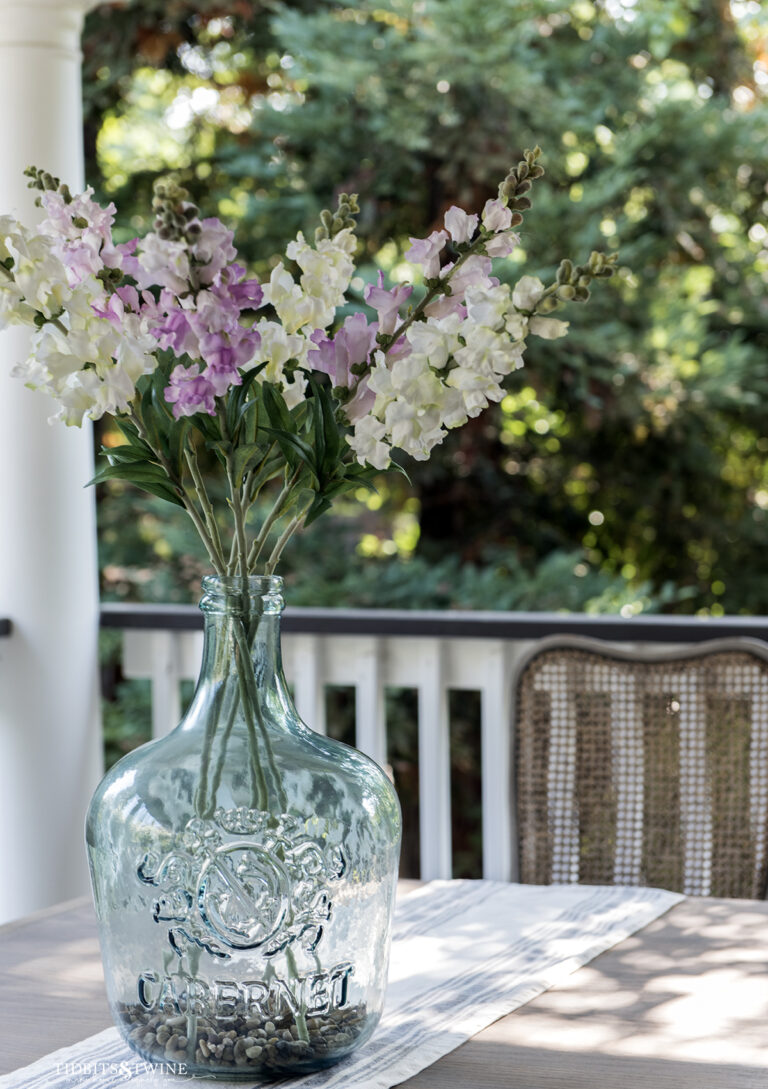 Collection
Grouping your collection together makes a beautiful display. Whether on shelves, on a tabletop, or even a mantel, groupings help make a statement and show off your personality!
Where to Buy Antique Demijohns
Some of my favorite places to buy true antique demijohns include:
I'm fortunate to live close to an amazing monthly antique fair and see these bottle beauties often!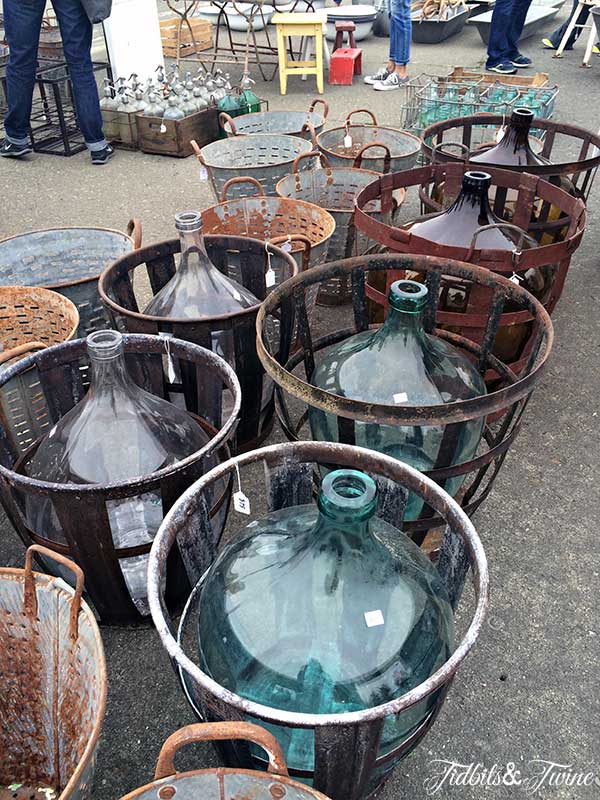 Where to Buy Reproduction Demijohns
I have two reproduction demijohns and absolutely love them! Here are some of the places where I find beautiful reproduction demijohns: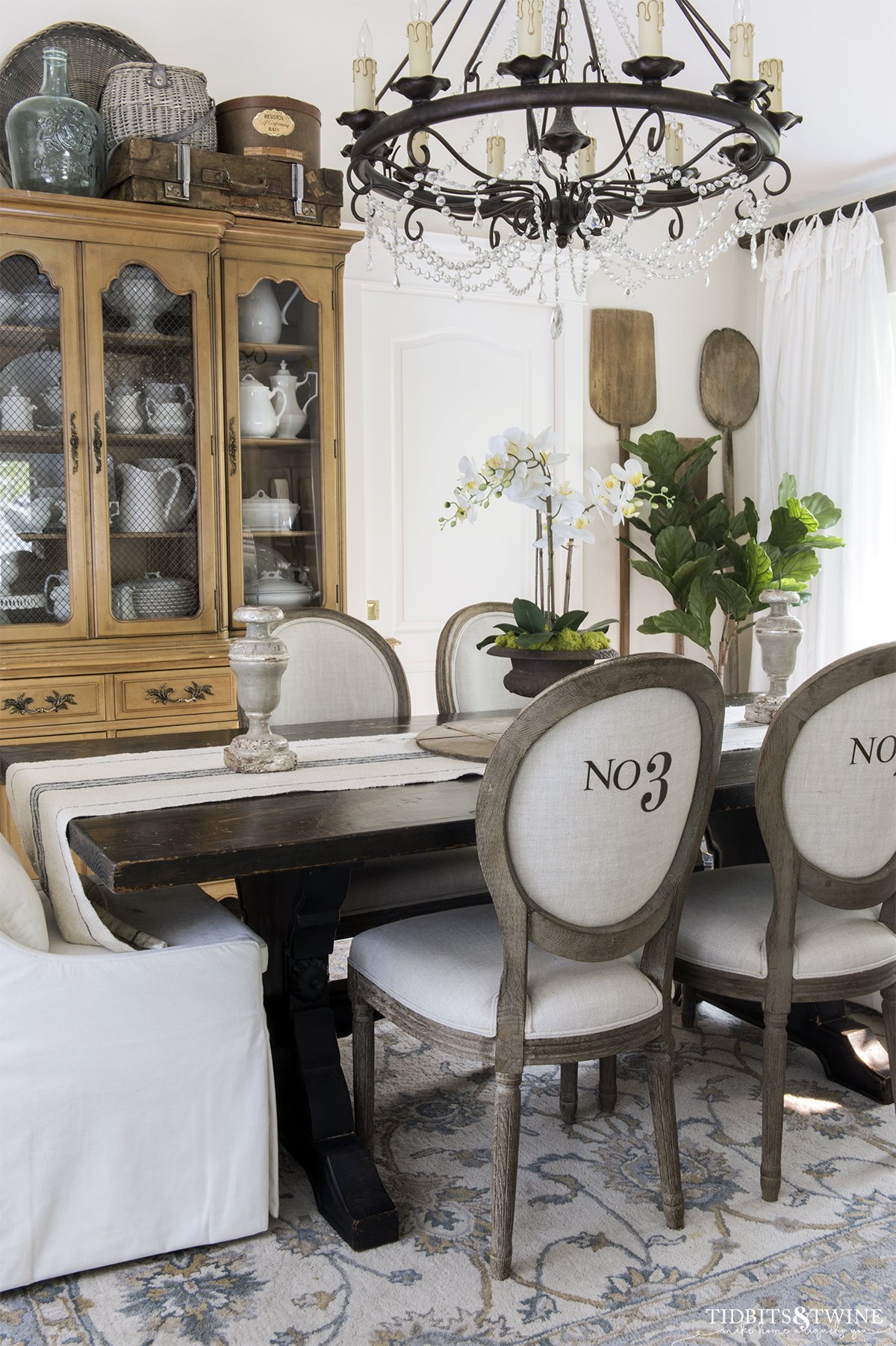 Beautiful Demijohns for Sale
I've scoured the internet and listed all of my favorite demijohns for sale below. Some of these are antique and some are reproduction and there's a variety of sizes, shapes, and colors to fit any budget!

More Decorating Tips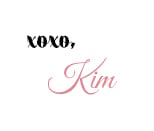 Join the Community
Let's keep in touch! Get exclusive artwork plus the latest news delivered directly to your Inbox!