French Olive Jars are a beautiful addition to the home but they can be quite pricey! But here's why you'll fall in love with them and how to find less expensive reproductions.
As you probably know, I have a love of European antiques and love to decorate with them around my house. I've previously written about so many of them that I've dedicated an entire section to antiques on my site!
But there's one thing that I don't own but have longed for for years…an antique French olive jar. Okay, this might seem random if you aren't familiar with them, but stick with me and I'm sure you'll see the appeal! I'll show you how to decorate with French Olive Jars, the history of them, my reproduction and how I use it, my top picks for gorgeous dupes, and more!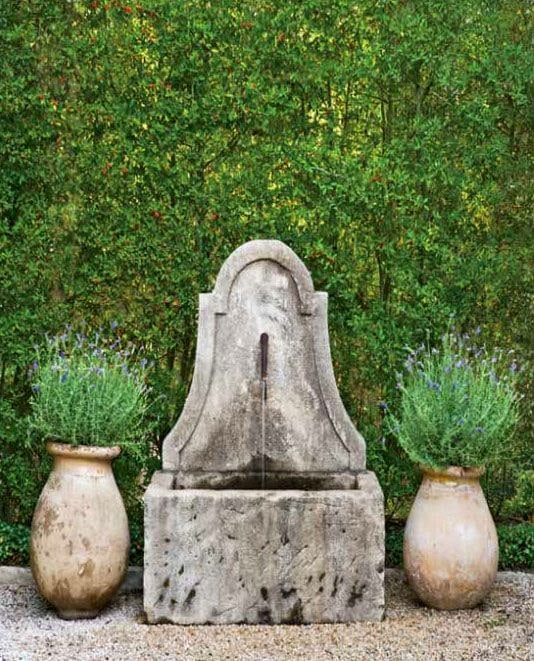 I decorate with mostly neutrals, and texture is such an important part of ensuring that neutral rooms don't end up looking flat and boring. French Olive Jars have so much character with an old-world feel. Just imagine pairing one of these antique beauties with a crystal chandelier for juxtaposition! And you know I love decorating with opposites…
The large planter on my front porch broke and I've slowly (very slowly) been looking for a replacement. My heart longs for an antique Biot jar, but my budget does not. Lol! So at the bottom of this post, I've sourced some great dupes that give the look of an antique French Olive Jar without the hefty pricetag (which can be upwards of $3,000).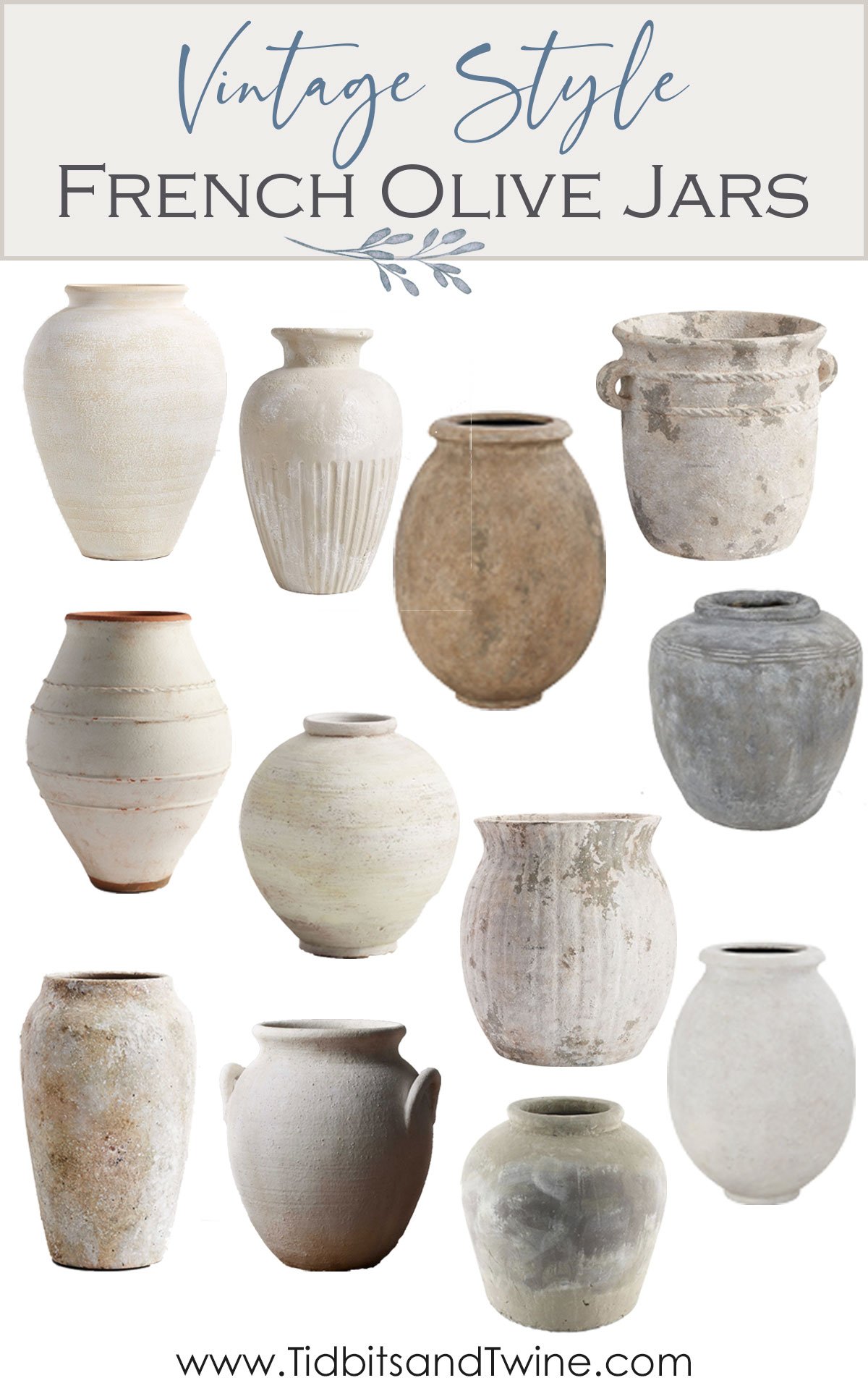 Decorating with French Olive Jars
Three of my absolute favorite designers, Pamela Pierce, Carol Glasser, and Kristin Mullen, have used French olive jars in their designs and I always find these artifacts to be such statement pieces.
This room from Pamela Pierce uses a French Olive Jar as a vase from white roses and it makes a dramatic statement on the staircase landing!
Below, Pamela uses it on the mantel to create an oversized focal point.
Kristin Mullen tucked this one away in the office corner and I love the contrast with the beautiful rug and lovely herringbone floors.
Carol Glasser decorated this kitchen, which was featured in Veranda Magazine. I love the fruit topiary that's just tucked away on the counter adding a bit of color and texture to the space.
But of course, French Olive Jars can be used outdoors! Below, Kristen Mullen has used a grouping to flank this covered front door.
Below, Pamela Pierce uses two antique French Olive Jars as lavender planters on the front steps.
Antique French Olive Jars
To be fair, the correct term for an authentic antique is "Jarres de Biot" or Biot jars in English. They are named after the town from which they originated, which is a small town in Southern France.
These clay jars were made to store and transport olives, as well as flour, oil, and other foods. Their shape, plus the fact that they stored olives, is what leads many to simply refer to them as French Olive Jars.
The jars are entirely made by hand using a mix of local clays to achieve the desired color, which years later, results in a gorgeous patina. The round bottom is made first and then ropes of circular clay are stacked on top to create the desired height and shape. Everything is then smoothed and dried before it goes into the kiln.
The interior and rims are glazed in order to keep the oils from seeping into the terracotta. During the drying process, the glaze would sometimes drip out before drying and drop onto the jars below. These drips are highly unique because they represent the handmade nature of the jars and are referred to as "mother-in-law tears".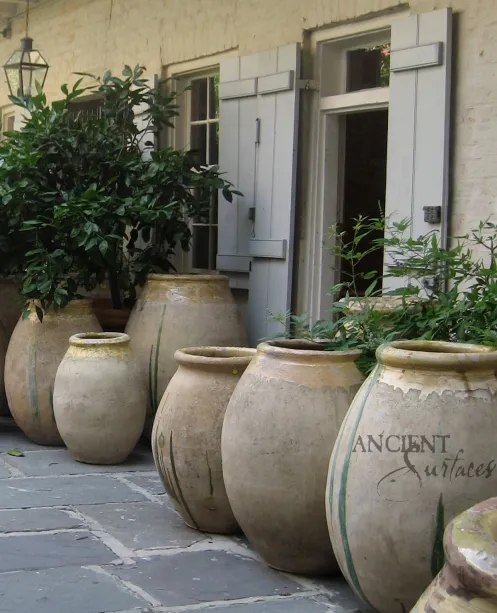 The jars originally would have had a wood or slate lid. Most are now missing their lids. Since they are used decoratively and not functionally, though, lids are not necessary.
An authentic antique French Olive Jar will likely have a production mark on the rim or bottom made by the jarrier. Olive jars made in the 18th century have a more upright shape representative of an olive. 19th century biot jars are a bit more bulbous. Jars from the Biot region are known for their yellow glaze.
The quality craftsmanship, history, and simple shape are what makes French Olive Jars so desirable in design even today!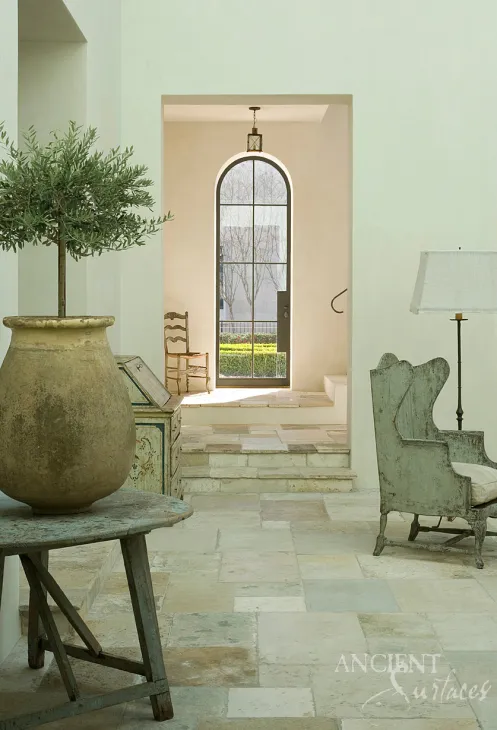 My Reproduction Olive Jar
Given the expense, an antique French Olive Jar just won't be in my future. But I did order this rustic vase from Pottery Barn and instantly fell in love.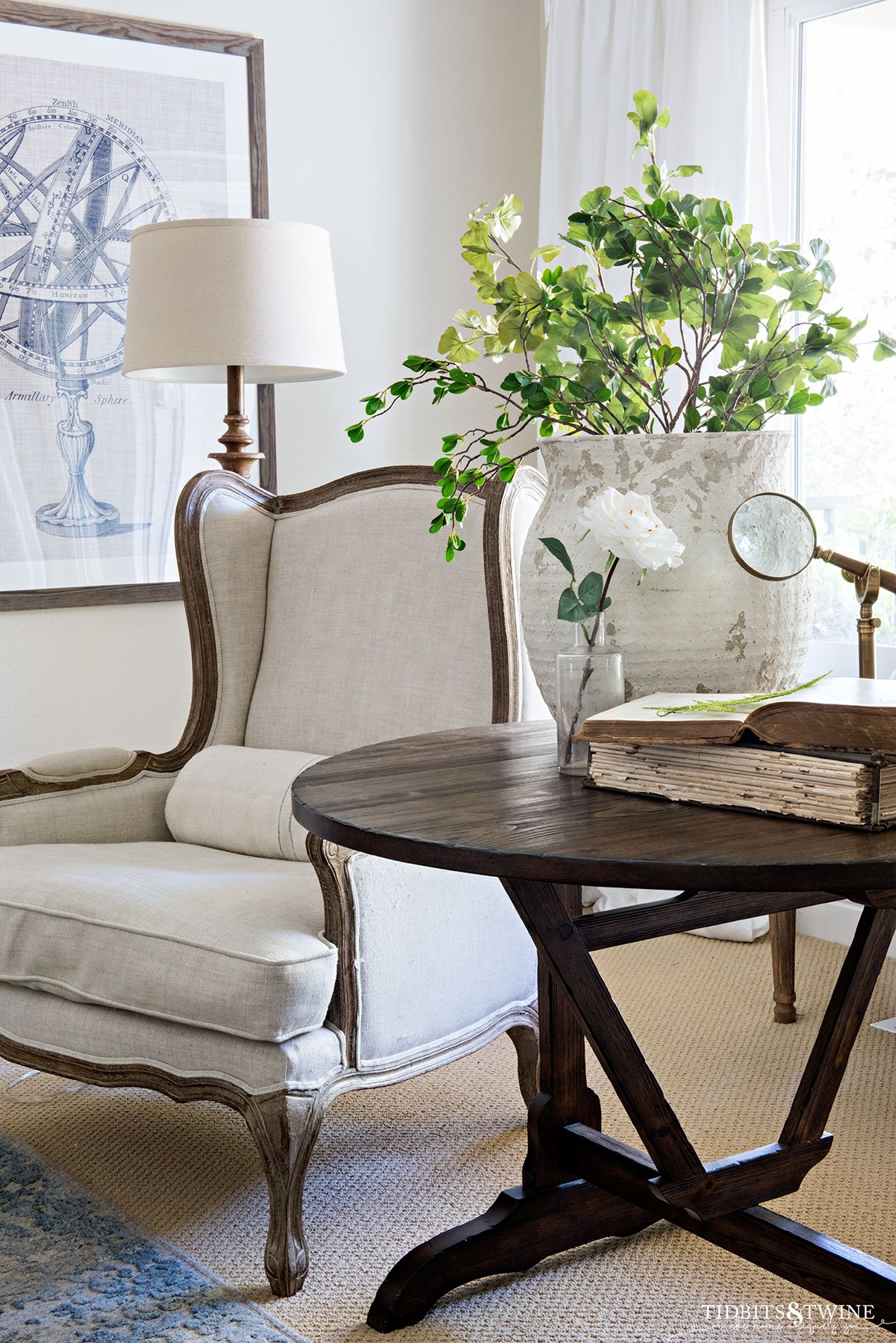 The shape is slightly different because it has a flared, not rimmed, top. Nonetheless, I think it still has the same overall feel and adds a dramatic statement.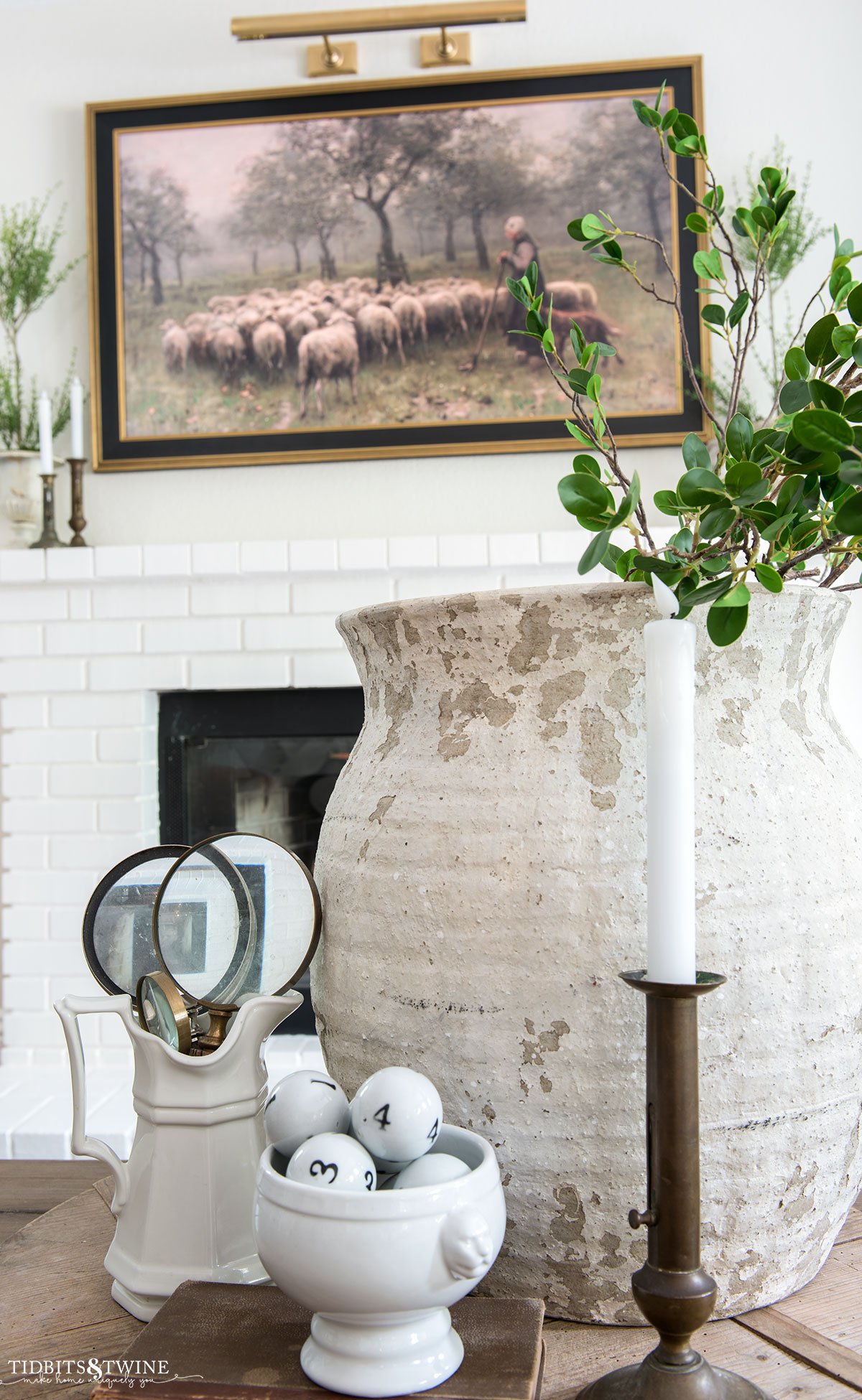 I transition most decorative elements in and out of my home at record pace, but this is one piece that has stayed in my home since the day it arrived!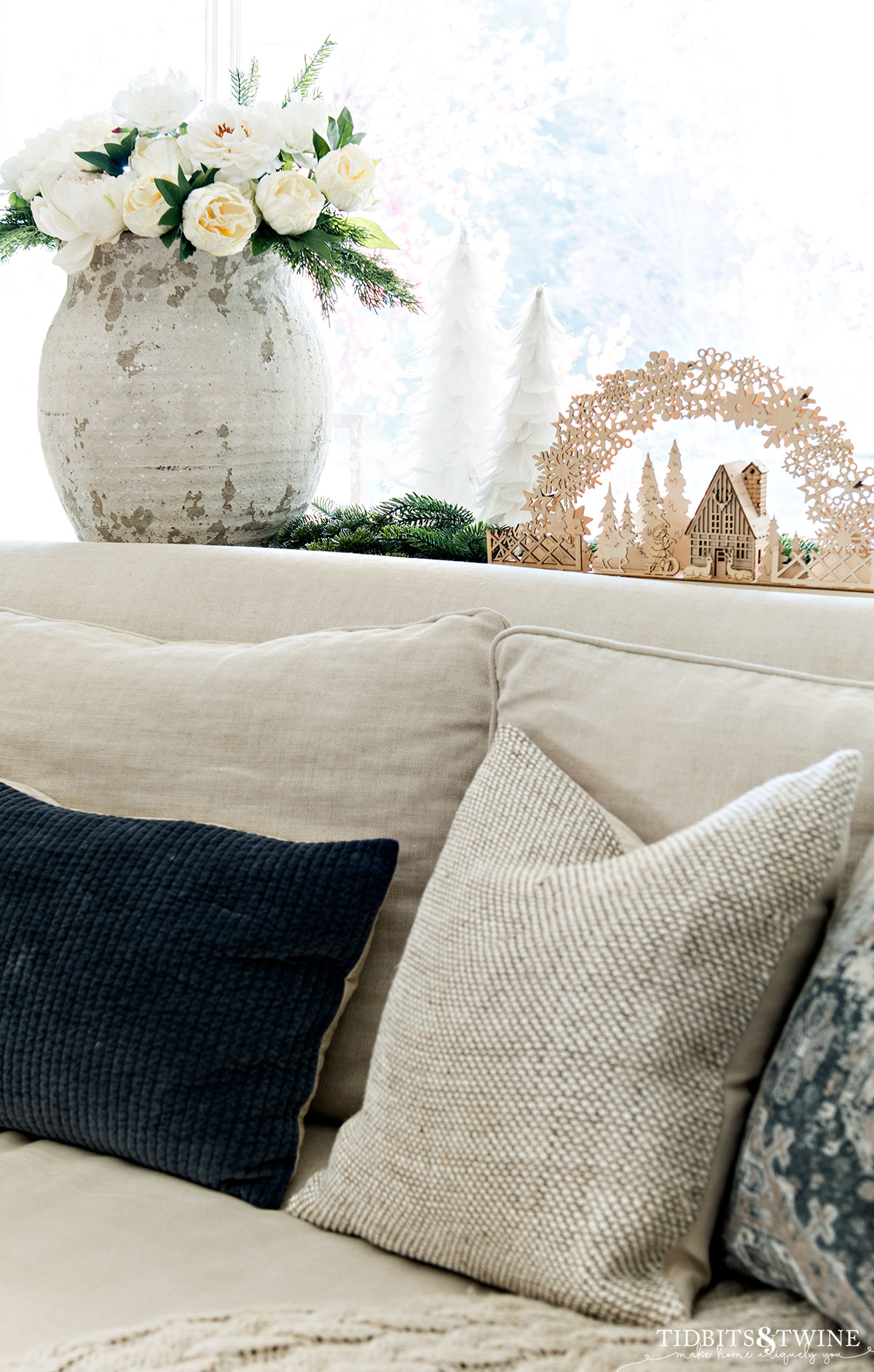 Affordable French Olive Jars
My faux French Olive Jar is still available at Pottery Barn. Even better, at the time of writing this, it's on sale!
I was able to find a few others that will give the same overall effect but at a fraction of the price of an actual antique olive jar. You can click on any of the images below to shop.

Antique French Olive Jars
If your budget allows, the authentic patina of an actual antique french olive jar is unrivaled. You can find some beautiful ones here:
Join the Community
Let's keep in touch! Get exclusive artwork plus the latest news delivered directly to your Inbox!