Jackpot! I found a piece that I LOVE on my local Craigslist last week. For those of you following me on Facebook, you've already had a sneak peek at this amazing piece and know that it's now jumped to the top of my To Do list.
To be honest, I don't even know why I was searching Craigslist. I wasn't looking for anything in particular but just wanted to see what was out there and so typed "French" into the search box. This was the first post in the search results and with one look, I was hooked!
I've written before about finding an inspiration piece and how important this first step is when creating a design plan. I've been wanting to decorate my guest room for a ridiculously long time, but until now, haven't really been inspired. This is now my inspiration piece for my guest bedroom. I can now visualize the room coming together!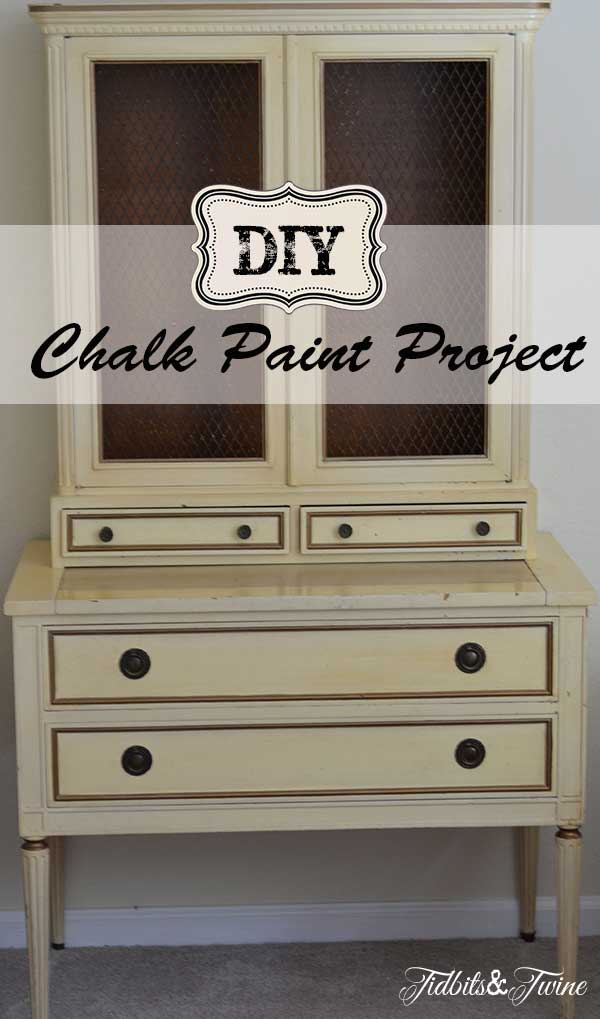 First and foremost, this is such a unique piece of furniture with lots of character and interest. So many beautiful details!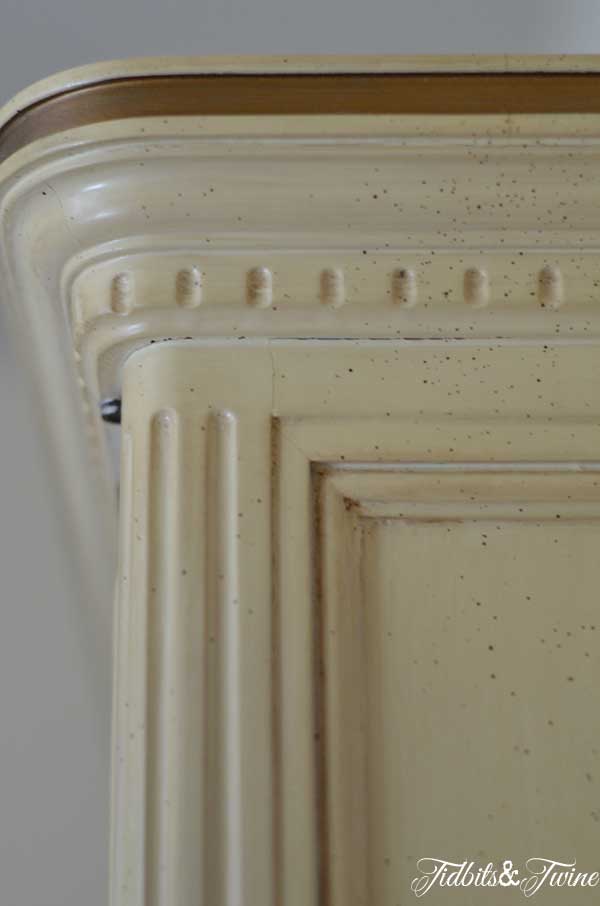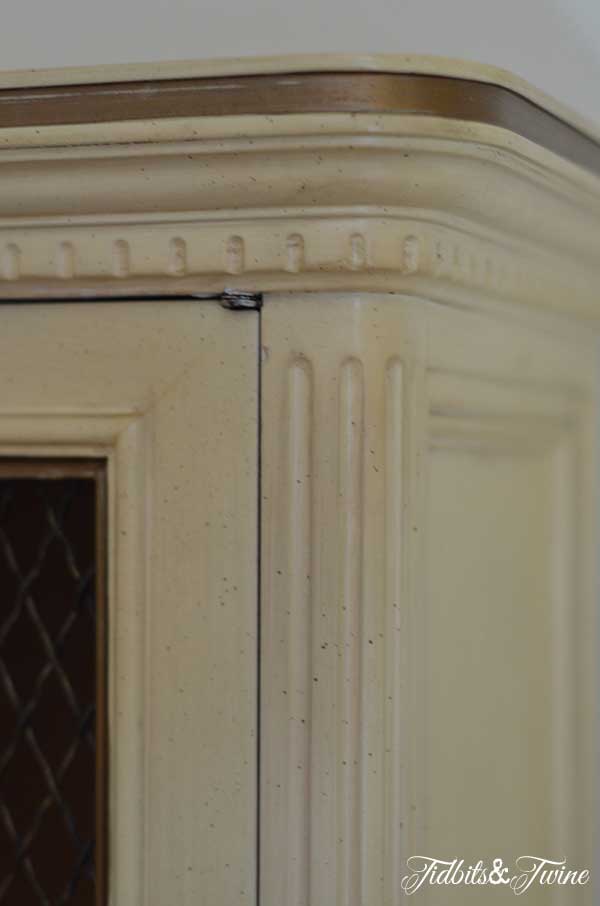 And function is important, too! There are two deep drawers where I can store my guest bedroom essentials, plus two smaller drawers where guests can store jewelry, watches, wallets, etc.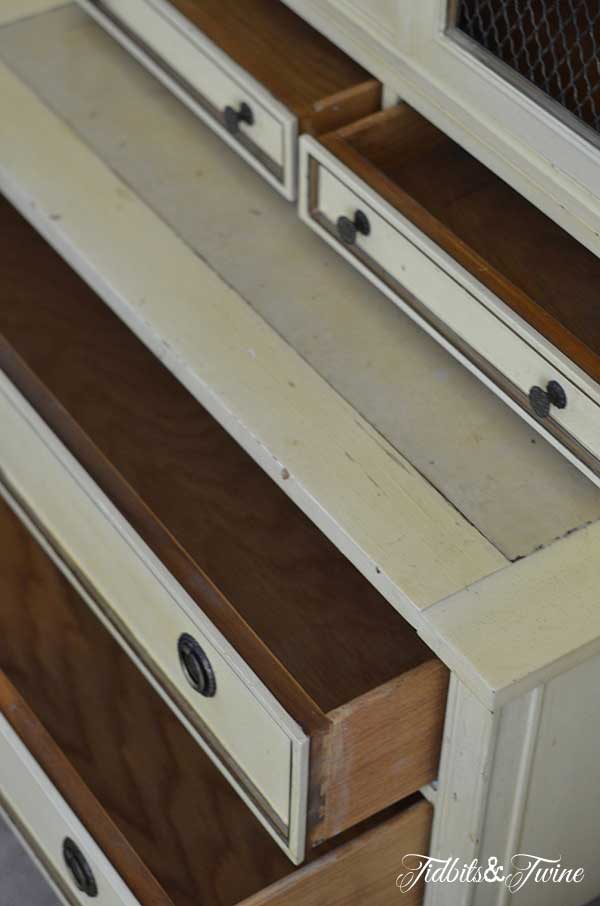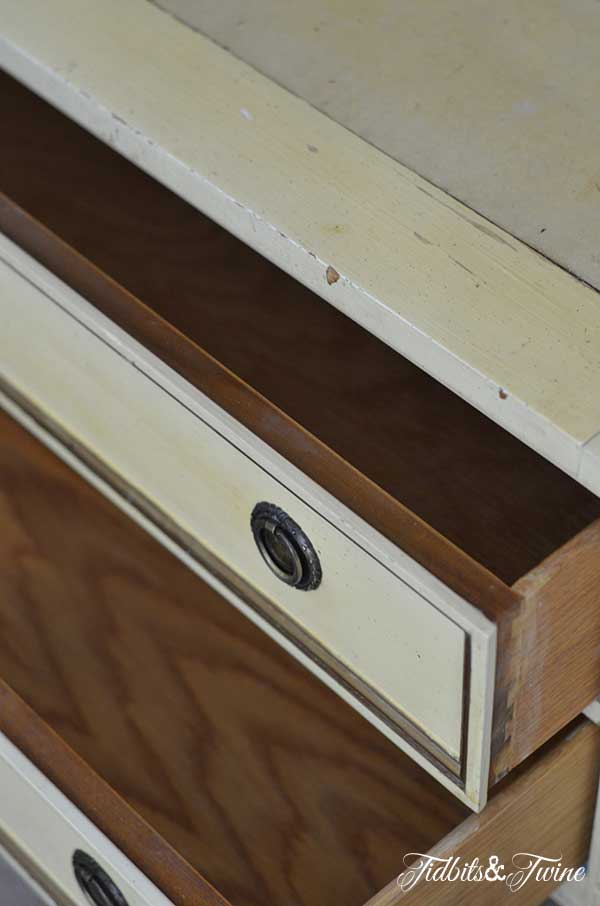 The top can slide forward, allowing for a slight overhang so that it doubles as a work.space While this isn't practical as an everyday desk, it would be fine for a guest's laptop if they wanted to keep up with emails or check an itinerary.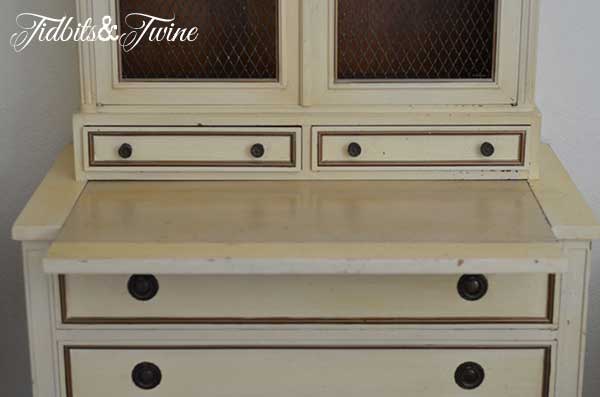 I love the wire front cabinet doors because they show the piece's age and allow items on the shelves to be visible…and I love to style bookshelves! There are two shelves, but I removed them when transporting the piece home.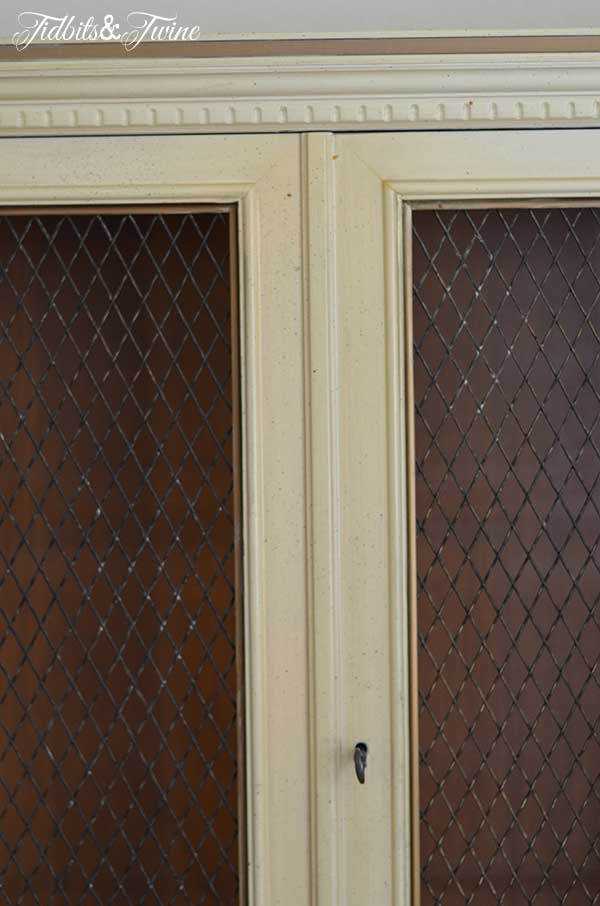 Even the key is charming. (I actually had lost it by the time I got home but then realized it might have fallen out in the parking lot when we were loading it up. The whole family piled into the car and we scoured the parking lot where I had purchased it and luckily, found the key!)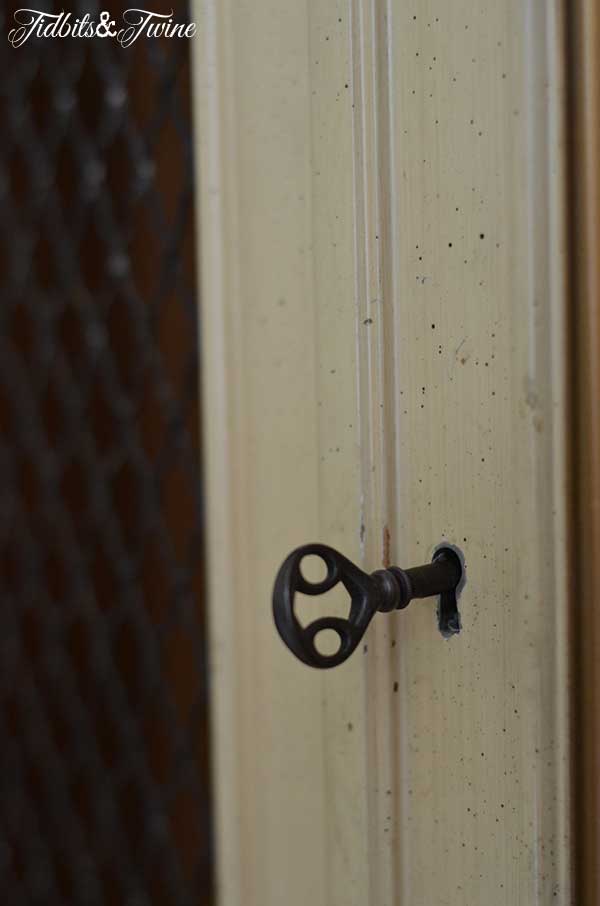 I also love that this piece is solid wood construction with dovetail joinery, a sign of craftsmanship and quality.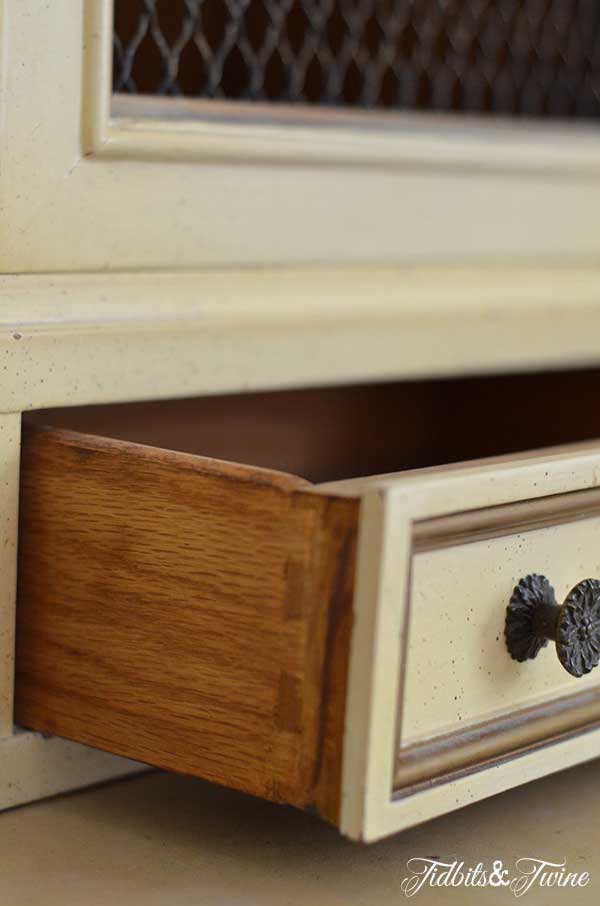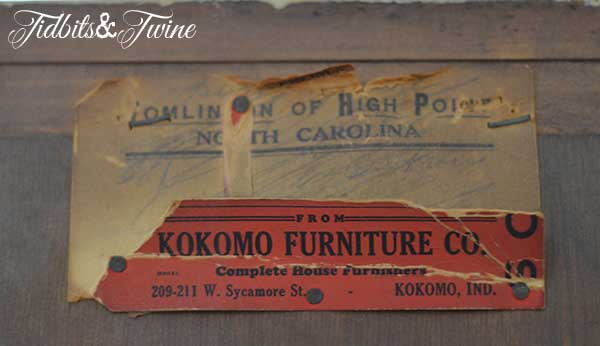 Currently, she is a pale shade of yellow with gold flecks and gold accents on the molding. Not quite what I have in mind for my guest bedroom and so I'll need to paint her in order to realize my vision.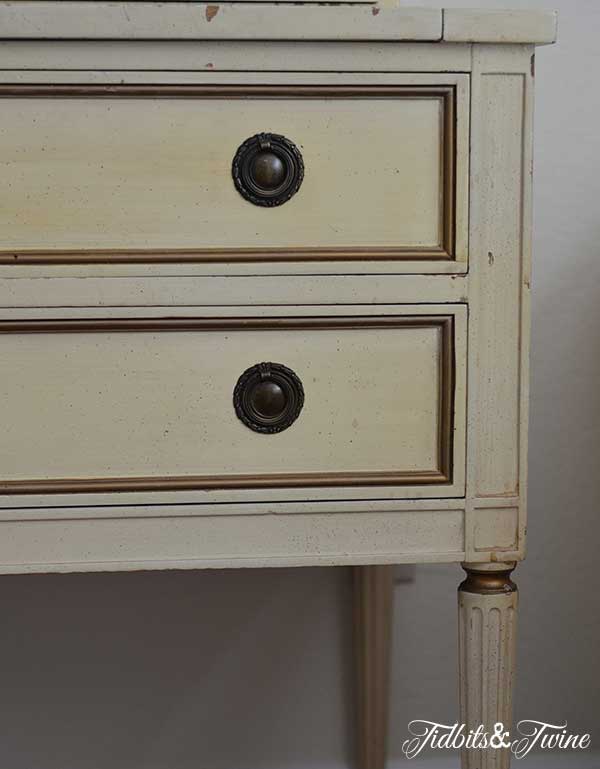 I'm thinking of painting her with a warm coat of CeCe Caldwell's Virginia Chestnut, which is a rich brown. On top of that, I'm planning to paint a coat of Buckley Coal and will then distress it back to show areas of the brown. And I might add an unexpected color in the drawers…we'll see…
Inside the cabinet, I'm planning to line the back of the bookshelf with burlap secured with upholstery tacks. This will help give the piece some added texture and will also help tie it in with the other neutrals and textures I'm planning for the room.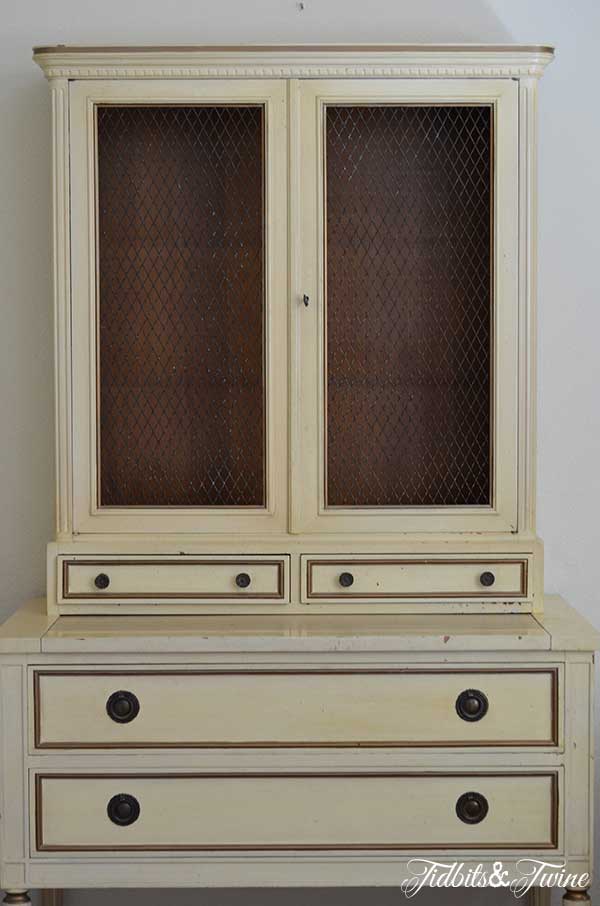 I might replace the hardware, but it's rather interesting so I'll wait and decide after the piece is painted.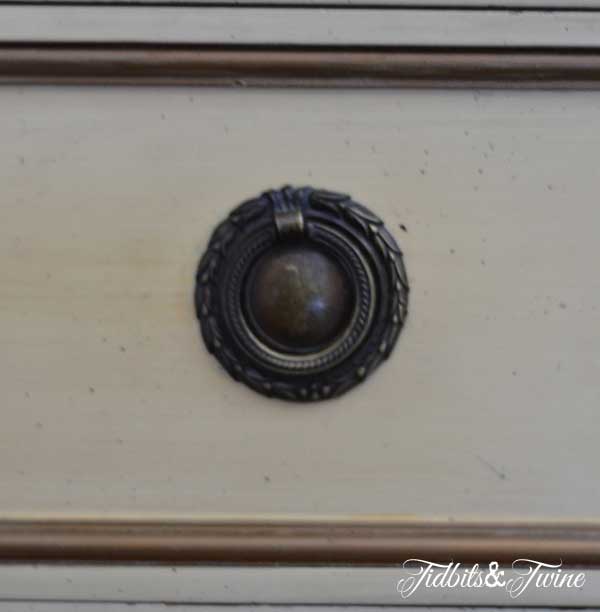 The piece came with a matching chair but yikes has it seen better days!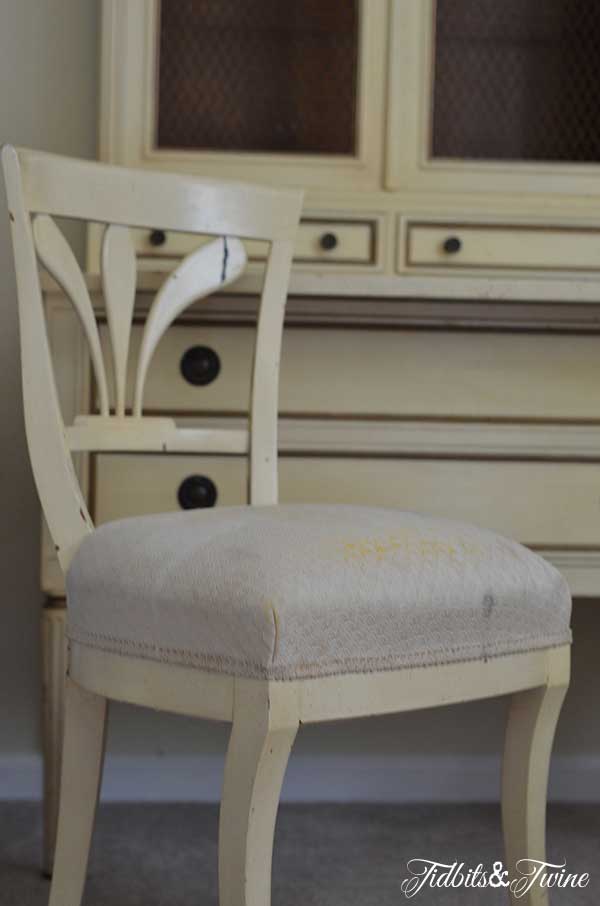 The structure is sound, though, so a fresh coat of paint and a new seat and the chair should be good as new. In fact, now that I think about it, I have a vintage grain sack that I picked up at the antique faire that might be just right for the seat cushion! (And I already have Rachel Ashwell bedding that I picked up at Target!)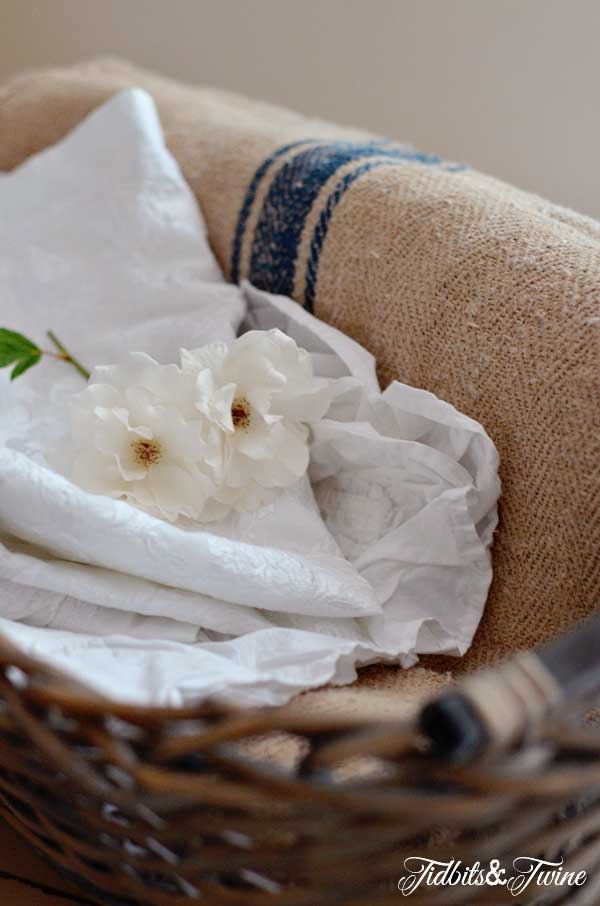 So, my antique chairs that need to be reupholstered are now on hold as I tackle this project. I keep walking past my guest bedroom and looking in just to see this beauty and she brings a smile to my face every time. Must be love.

Join the Community
Let's keep in touch! Get exclusive artwork plus the latest news delivered directly to your Inbox!