8 easy tips for how to style a bookshelf to perfection! Get a designer look that is styled beautifully with these expert tips and examples.
It's true that some people have so many books that they fill all the shelves of a bookcase. For others, a bookshelf is another surface on which to display accessories and important belongings. Shelves are opportunities to create beautifully styled stories and vignettes. So if you want to up your "shelfie" game, here are 8 tips for a how to style a bookshelf to perfection.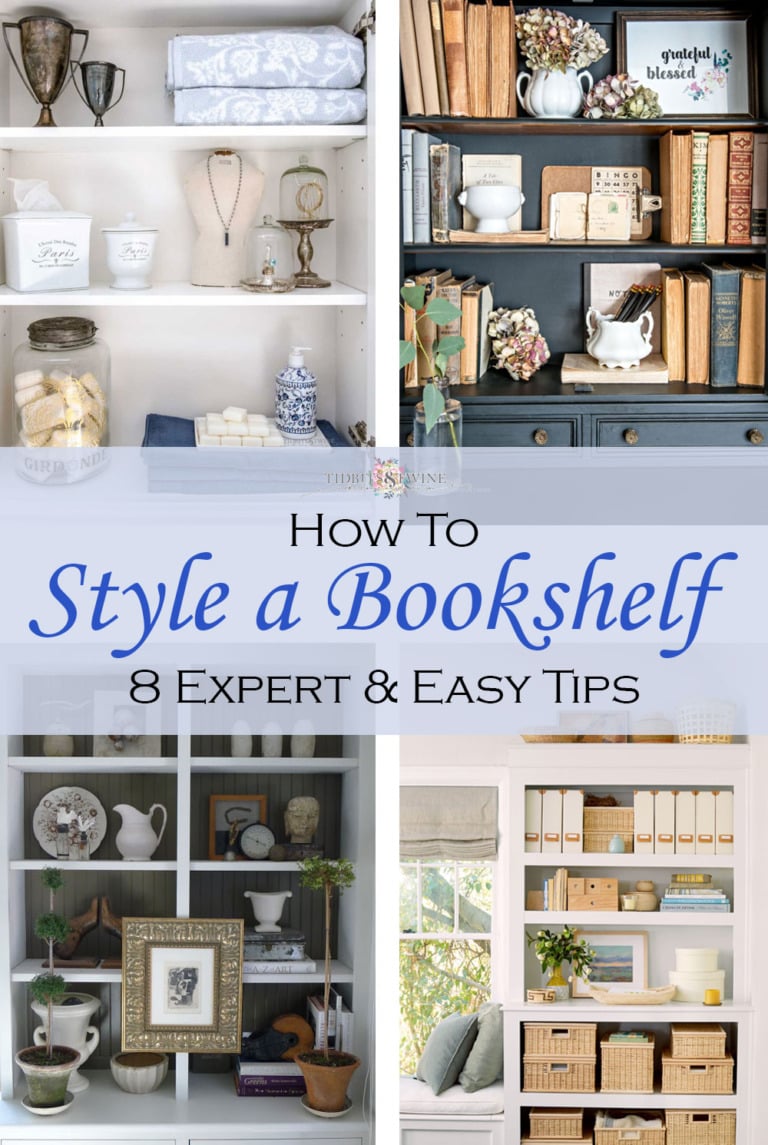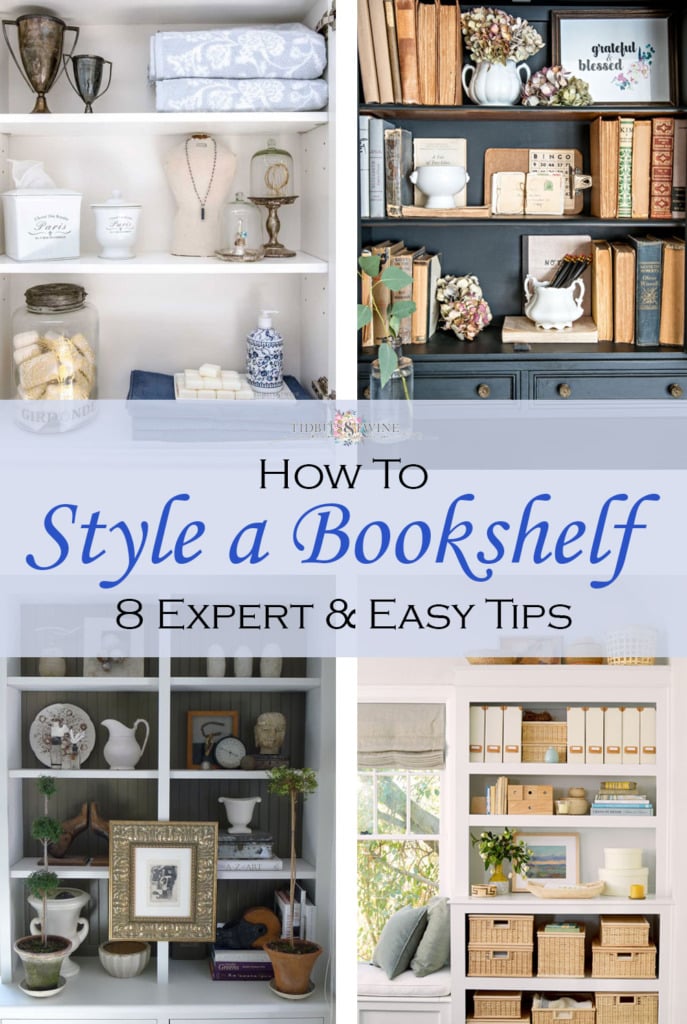 1. Create Layers
Create layers on the shelves working from the back to the front so that you are using the entire depth of the shelf. This creates more interest than just lining up all of the items in a straight row. Use the larger items in the back to anchor the space and work forward layering in the smaller items. Using items of varying heights adds to the overall interest of the display.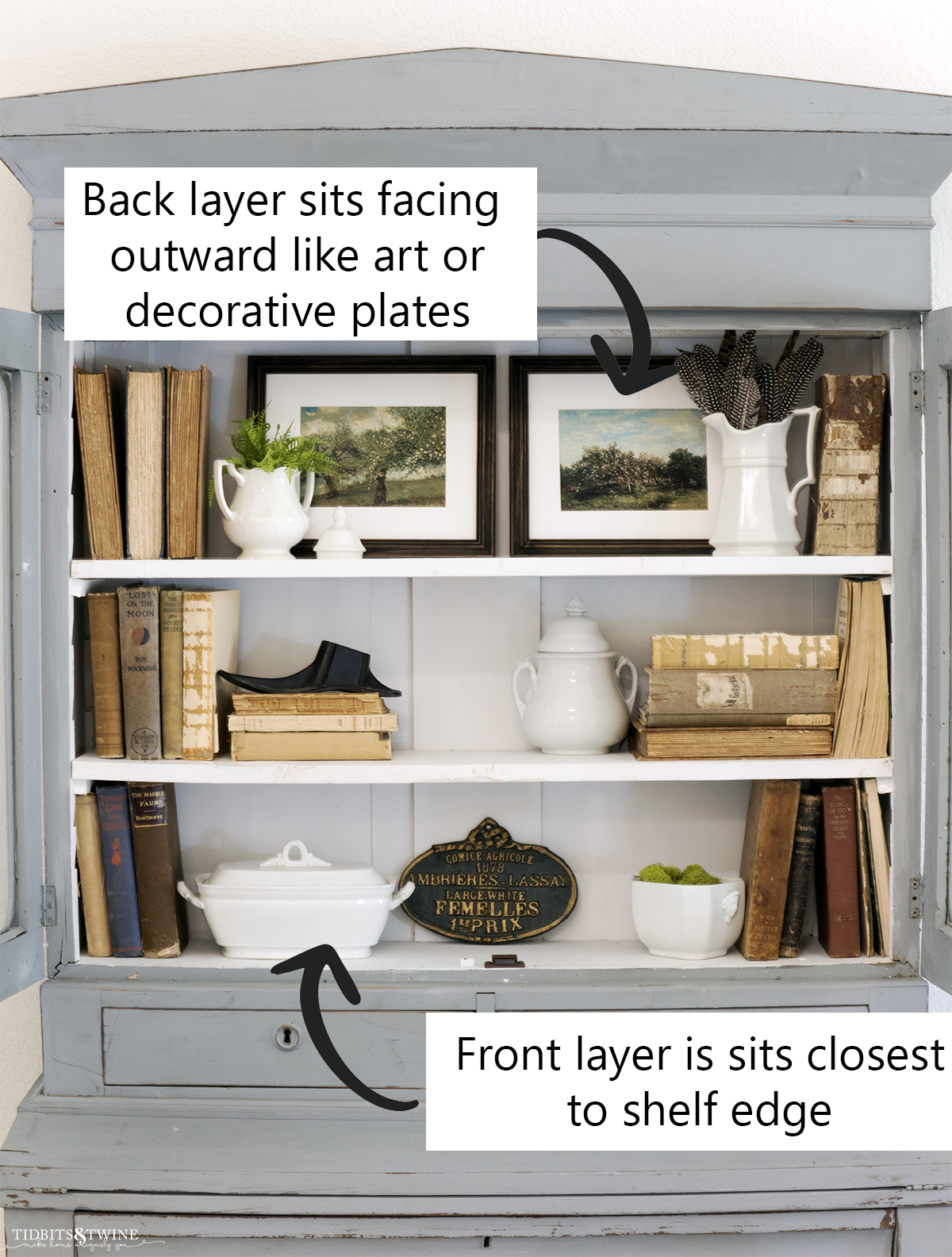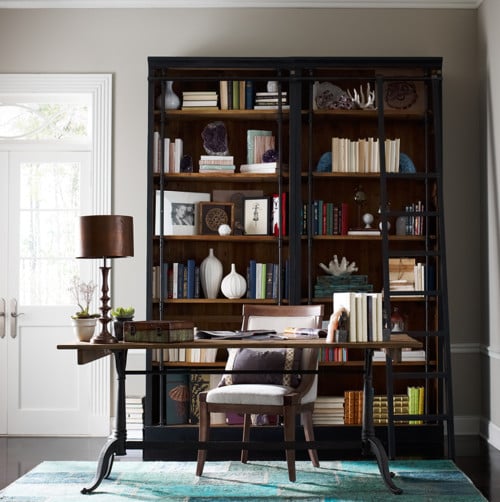 2. Include Meaningful Objects
What's the point of display space if you aren't displaying something meaningful? This could include family heirlooms, collections, objects from vacations, family photos, etc. No matter what, be sure that your bookcase includes something of meaningful to you. Doing so will ensure that you love the end result!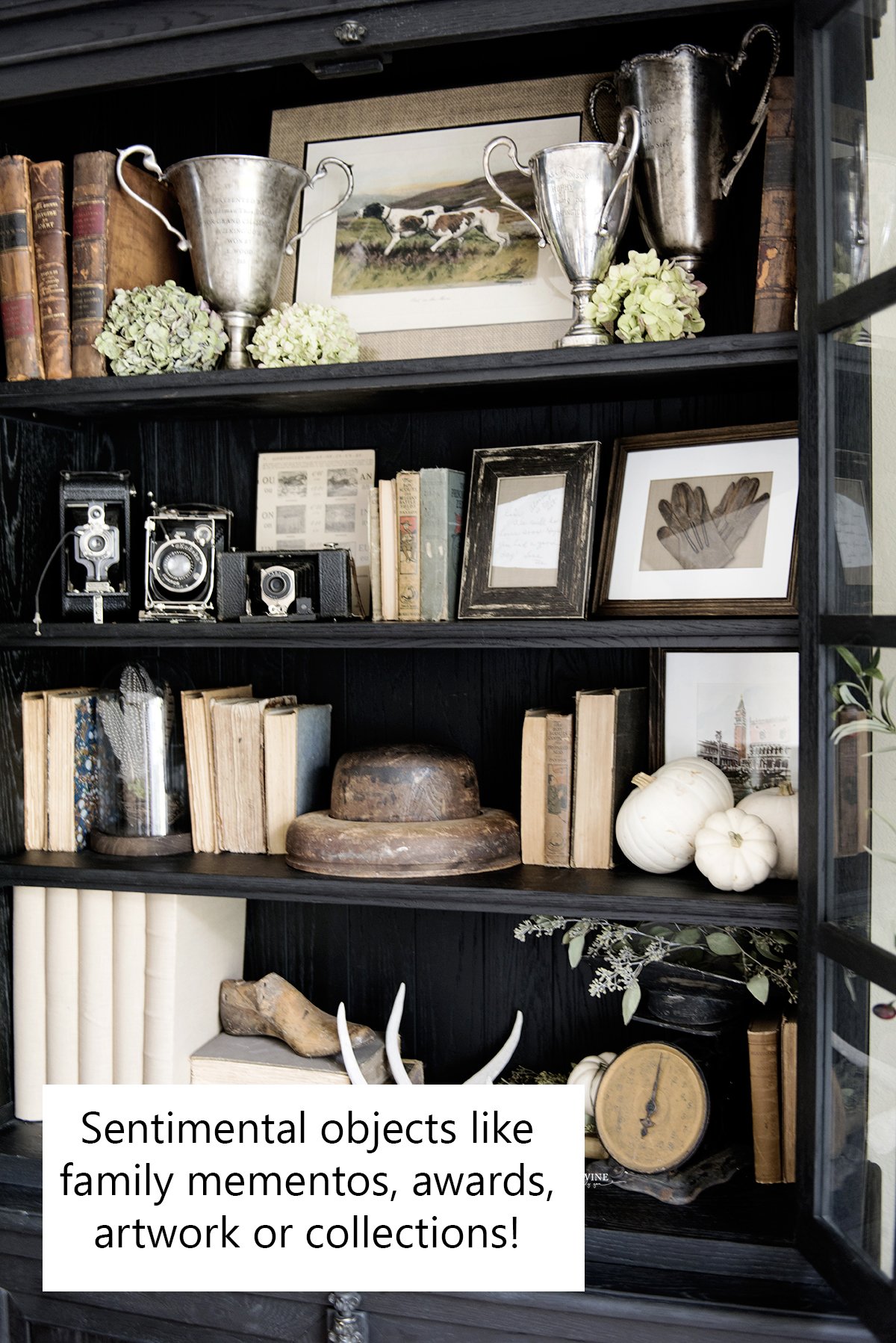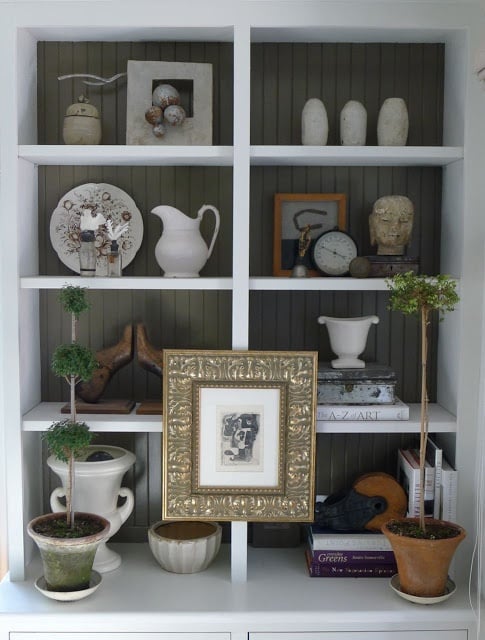 3. Think Horizontally and Vertically
When thinking about how to style a bookshelf, don't forget to mix up how you display your books to create added visual interest. Some can sit vertically while others can be displayed flat. Stack them up to create a tall display or just stack a few and top them with a decorative object. You can even use a few stacked books to act as a bookend for those displayed vertically!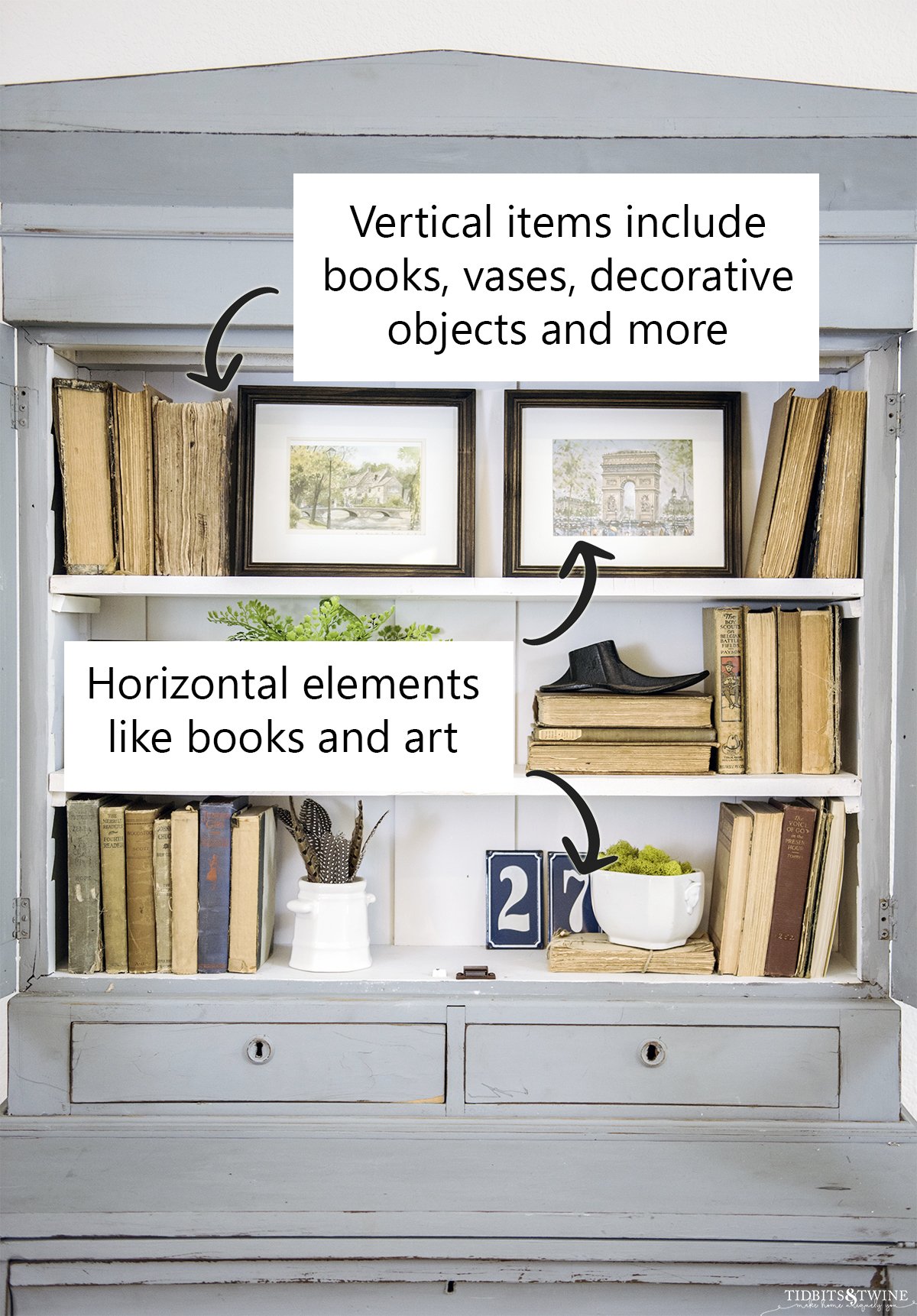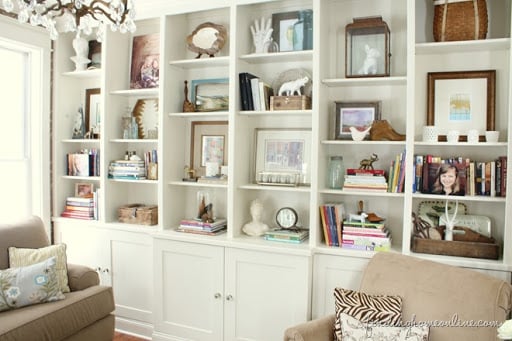 4. Add Organic Elements
Use a variety of textures on each shelf for added interest and to give it a "lived in" feel. These natural elements provide organic shapes and textures that help break up the overall look. Organic elements include plants, dried arrangements, seashells, flowers, feathers, preserved plants, or even heavily aged paper on books!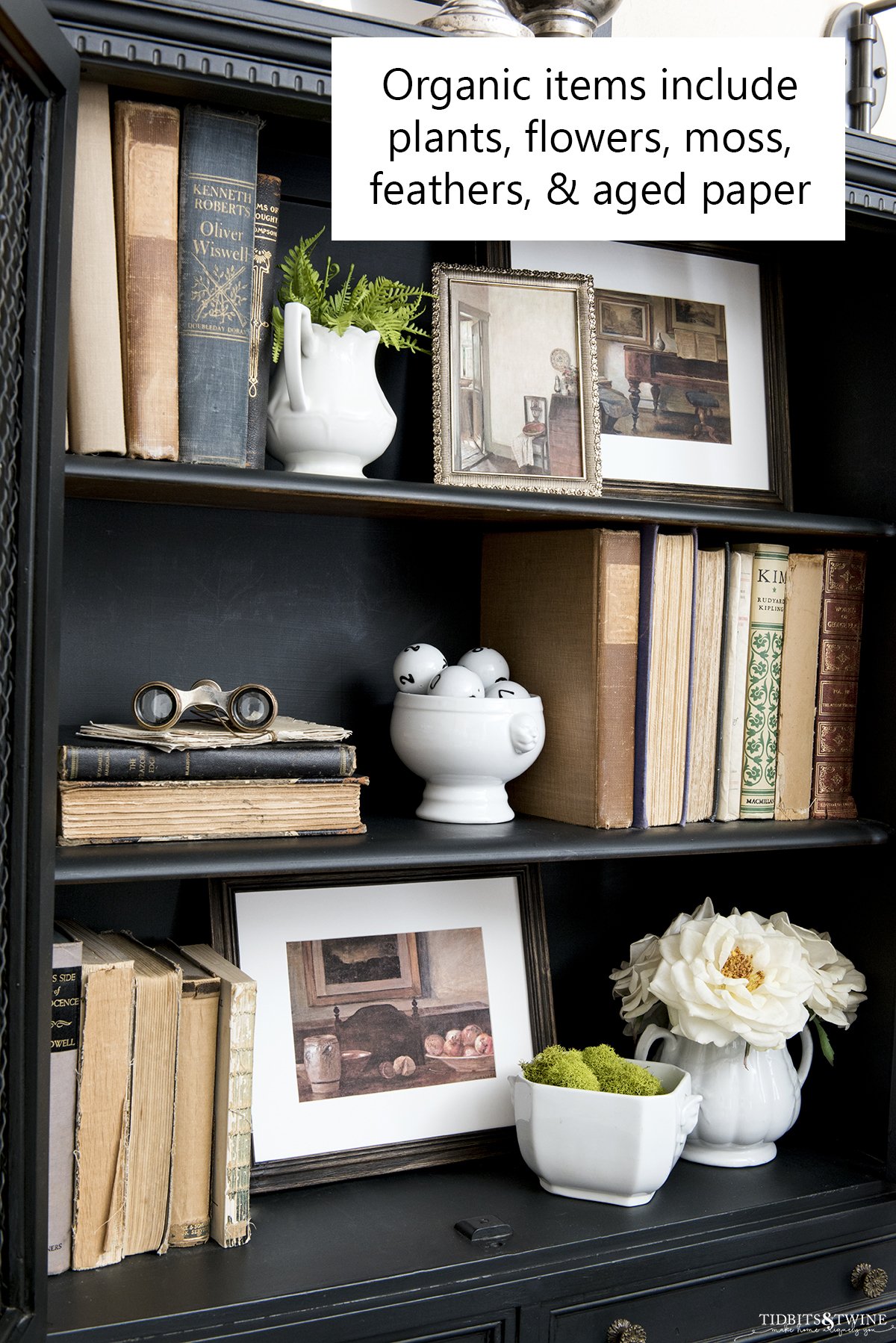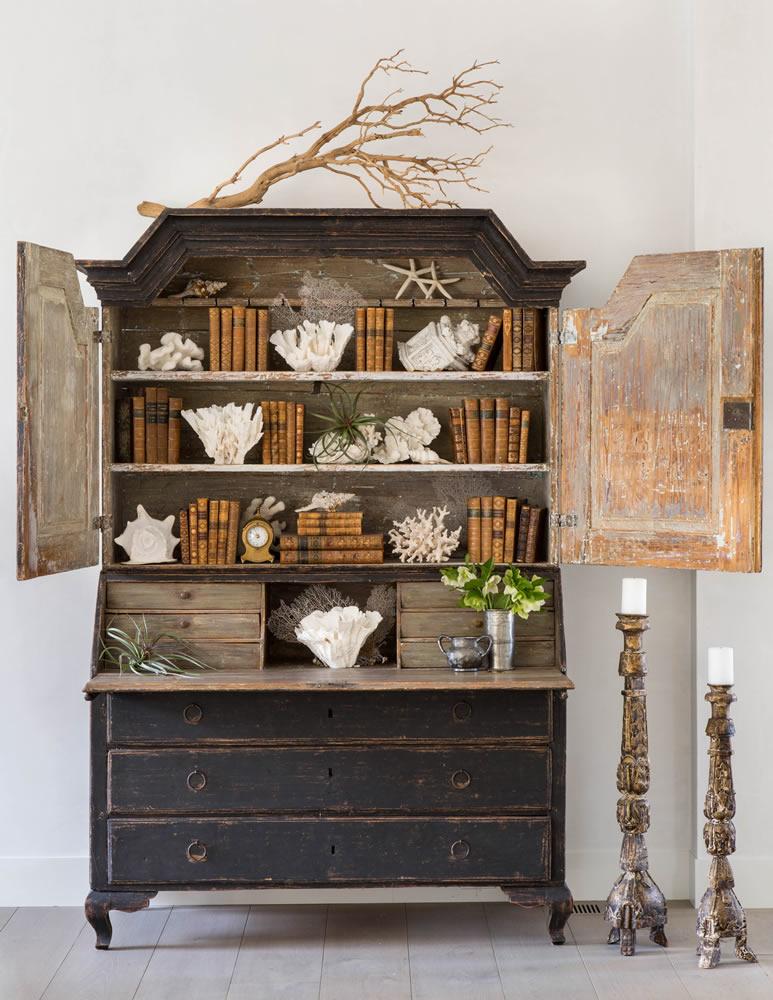 5. Create Groupings
To successfully style a bookshelf, use a variety of objects on each shelf to create groupings. For example, instead of placing all books on one shelf and all pictures on another, mix all of the items together. This not only helps to create a more balanced look, but also gives a more interesting look to the entire bookcase.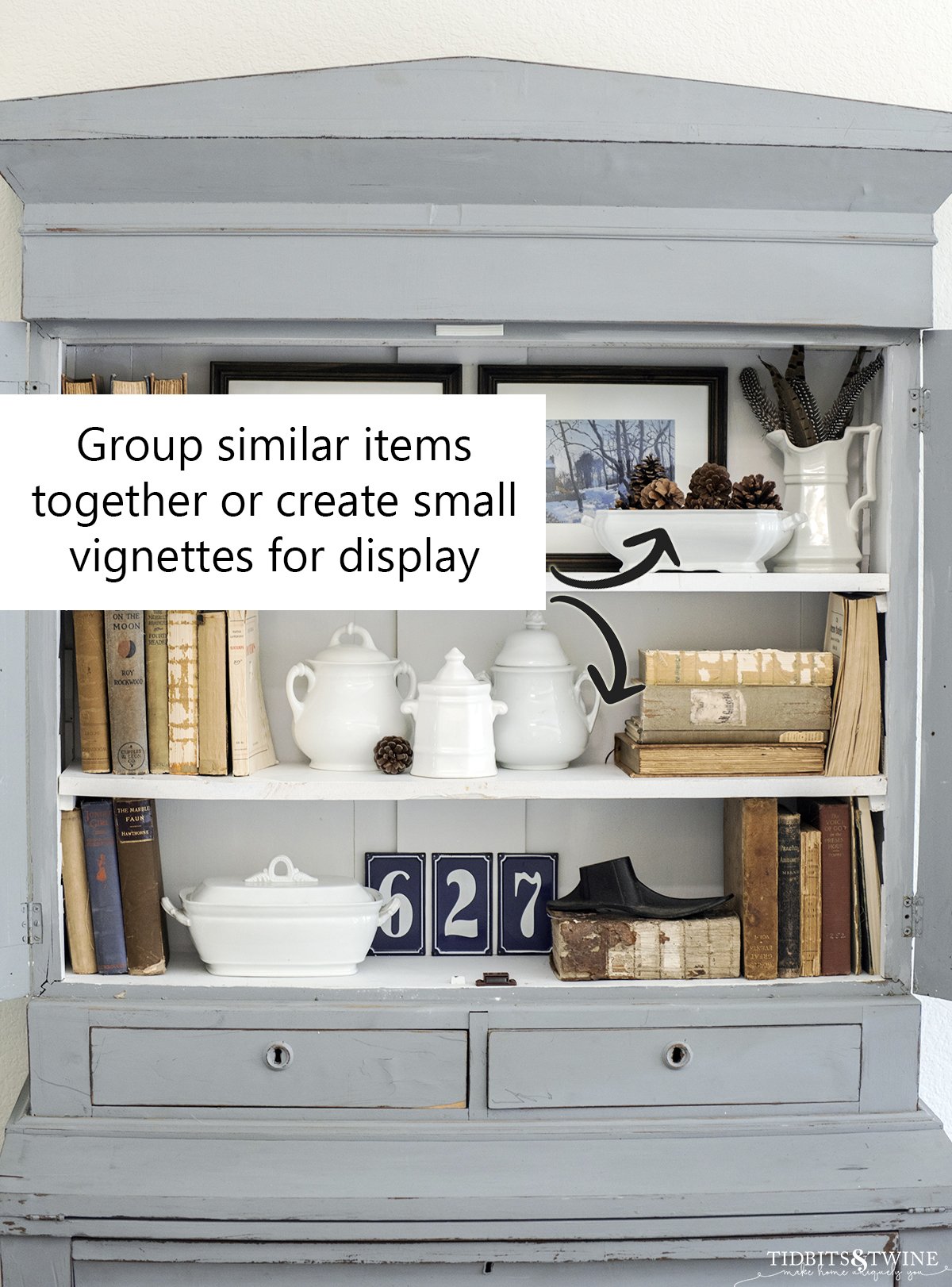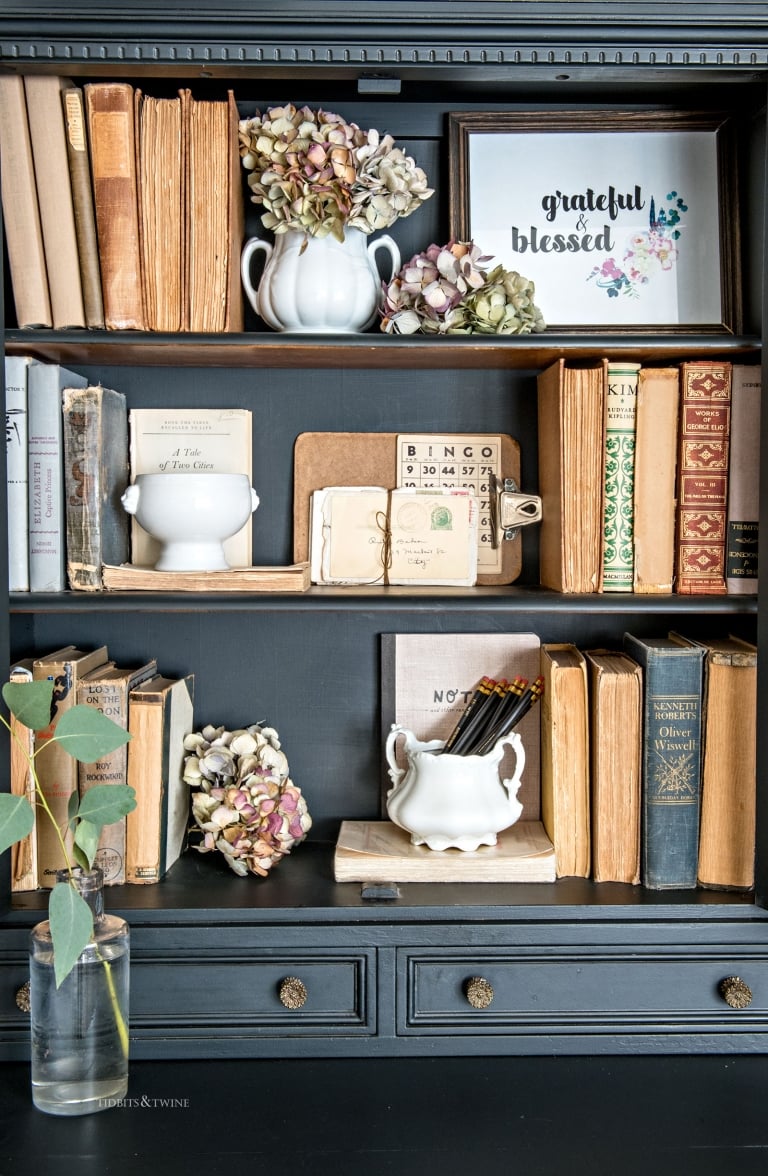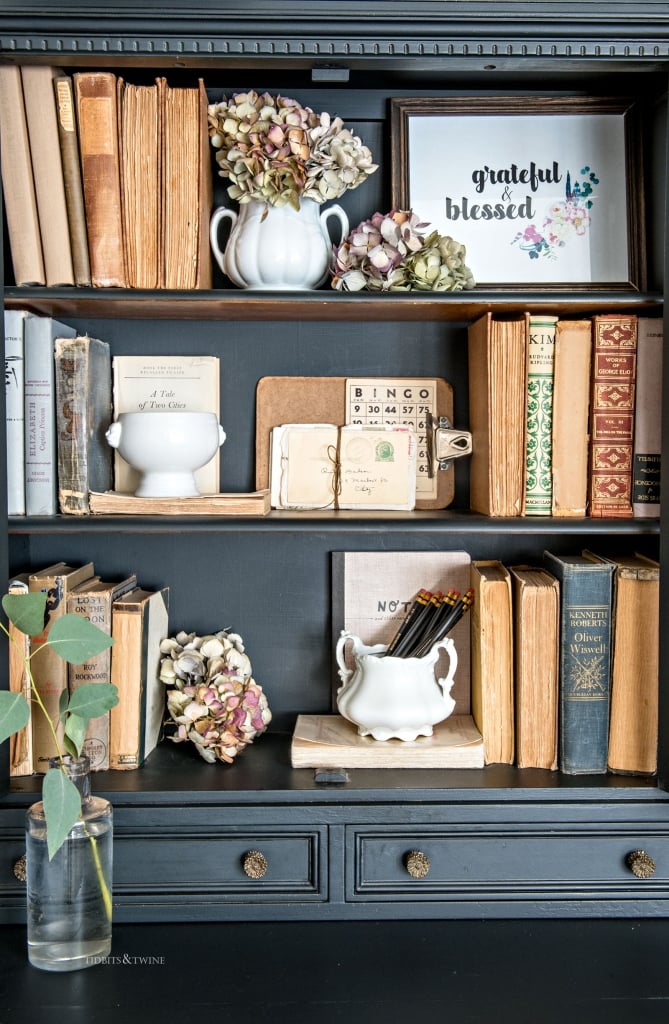 The exception to this is if you're using your bookcase to display various groupings of collections.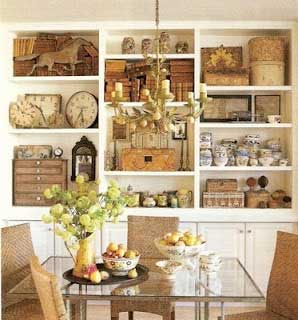 7. Balance the Weight
Ensure that you create an overall balanced look from side to side and top to bottom. You might have to stand back to assess whether you've achieved balance and adjust if necessary.
Tip: For very tall bookcases in spaces with high or vaulted ceilings, use larger pieces on the top shelves to ensure that they can be seen. For standard ceilings, use the larger pieces on the bottom; otherwise, larger pieces on the top feel as if they are looming over you or as if they will fall on you.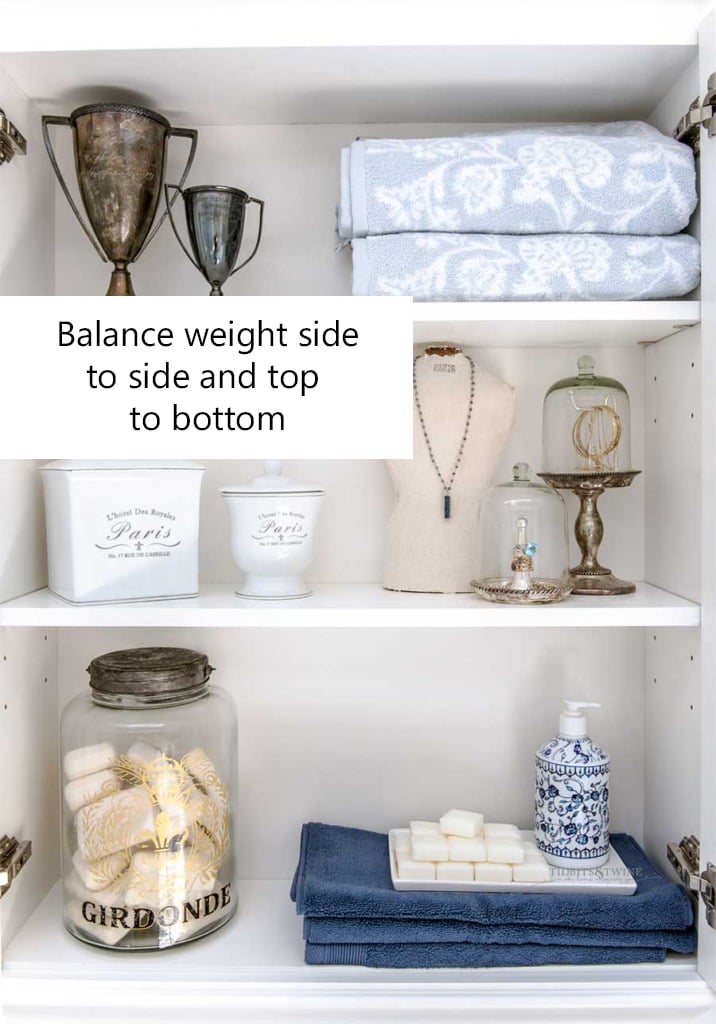 8. Use Decorative Storage
Look for decorative containers like baskets or beautiful boxes to store practical items like DVDs and toys. This will keep the space looking tidier and overall, more attractive.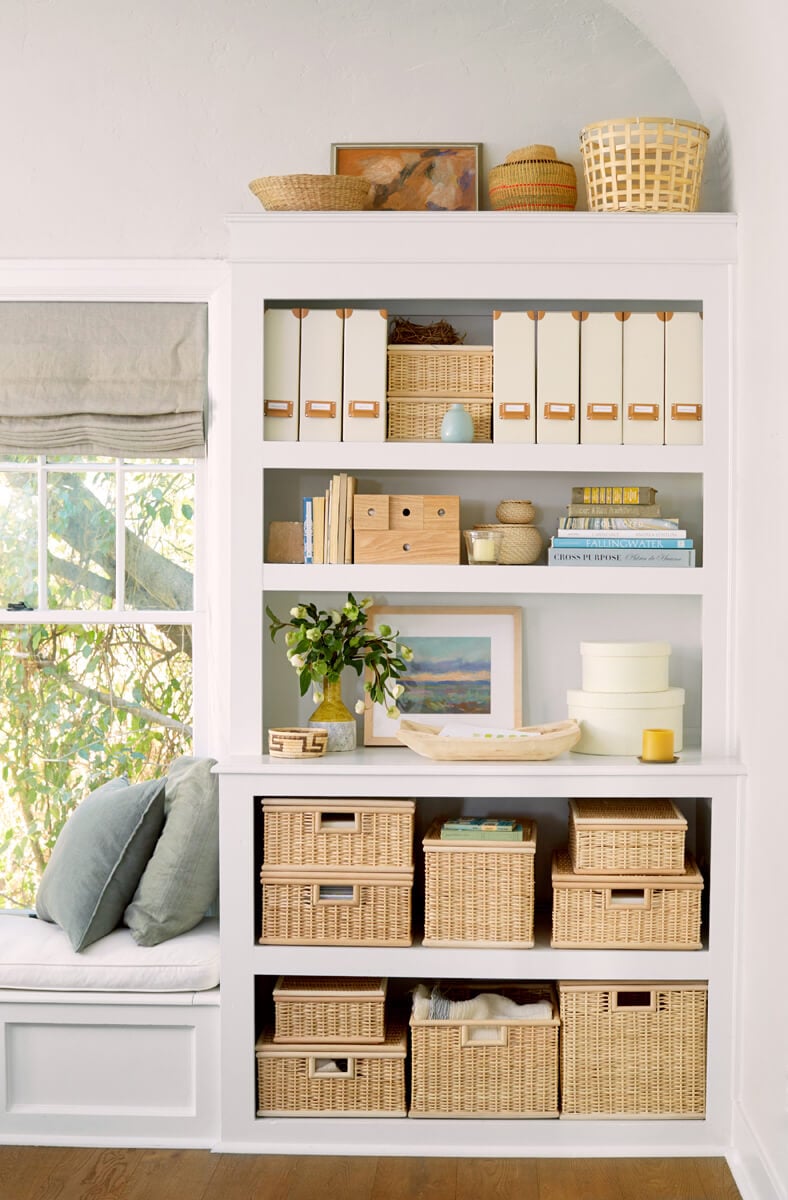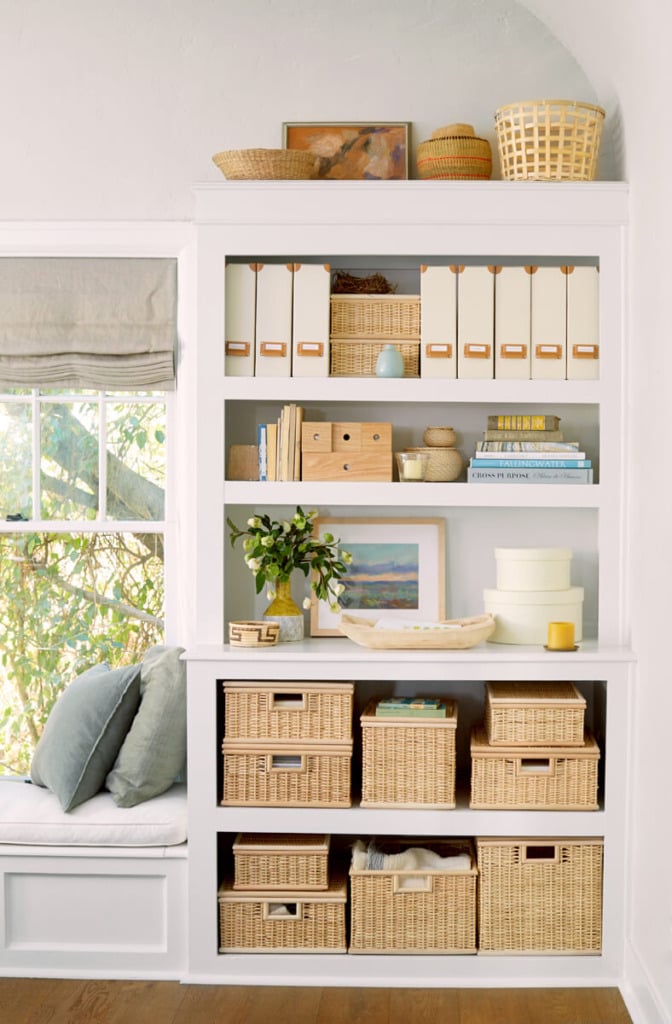 Bonus: Empty space is okay! Sometimes, we feel the need to fill every inch of a shelf so that we don't waste space, but this often leads to the bookcase looking cluttered. Leaving a bit of empty space here and there throughout the bookcase helps to keep it looking more organized and intentional.
I hope this gave you some good ideas for how to style a bookshelf! Happy styling!
More Decorating Tips: