The other week, I shared my kitchen inspiration with you. I think it's always great to have a goal in mind, but let's be honest, unlike my inspiration photos, my kitchen doesn't have soaring ceilings and I have a limited budget!
That being said, I made probably 50 different versions of my kitchen layout. Trust me, my friends never want to hear the phrase "I made a new kitchen plan" come out of my mouth!
I knew exactly where I wanted the appliances, but other things took more time, like:
How many upper cabinets?
How much seating do I need?
Should I have open shelving?
What color should the island be?
Which things are must-haves and which are wants?
Current Kitchen
As a reminder, here's the current layout of my kitchen from an old picture.
5 DECORATING TIPS You Should Know!
Get my FREE 5-day email guide and join the 10,000 subscribers who already receive the weekly decorating tips and exclusive art!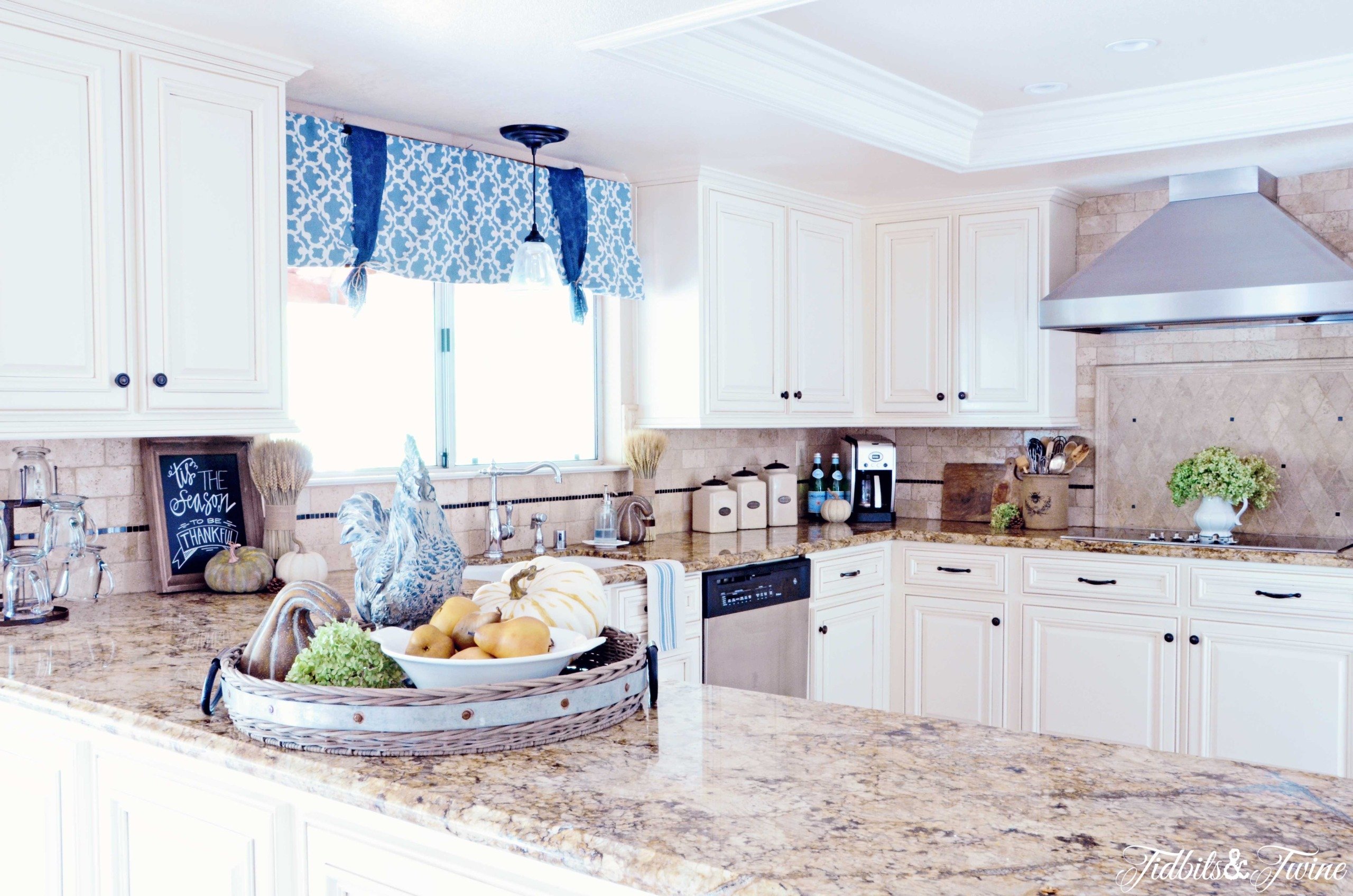 Kitchen Design Goals
I shared more about how I came up with my goals in my kitchen inspiration post, but here they are:
Overall, I am really hoping to create a classic, timeless warm white kitchen with a touch of rustic European (lol! Is that such a thing?). My style definitely leans toward Traditional and I love an elegant look juxtaposed with rustic touches.
Given how dark and gloomy my current kitchen is, I'm really hoping that the renovated space looks light, bright, and airy.
Kitchen Renovation – The Design
In the end, here's the basic look/feel I created for myself in Photoshop. This isn't exact by any means. I took a basic photo and then just added various items to it! Some are spot-on, others not so much.
As you can see, I've eliminated a lot of the upper cabinets in favor of some full-length cabinets. This does eliminate some countertop space, but I'm gaining some in the island.
Basically, I wanted to create a focal point on the back wall but without feeling too overwhelming. I'm hoping to achieve this by flanking the range with full-length cabinets and adding a backsplash ledge to create a sense of openness.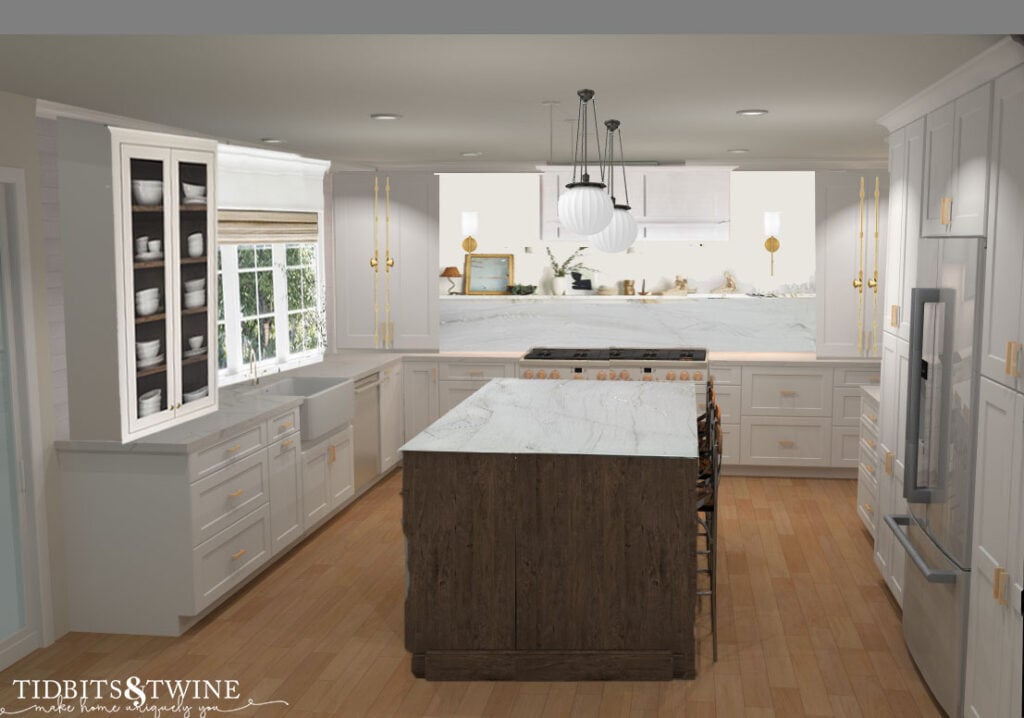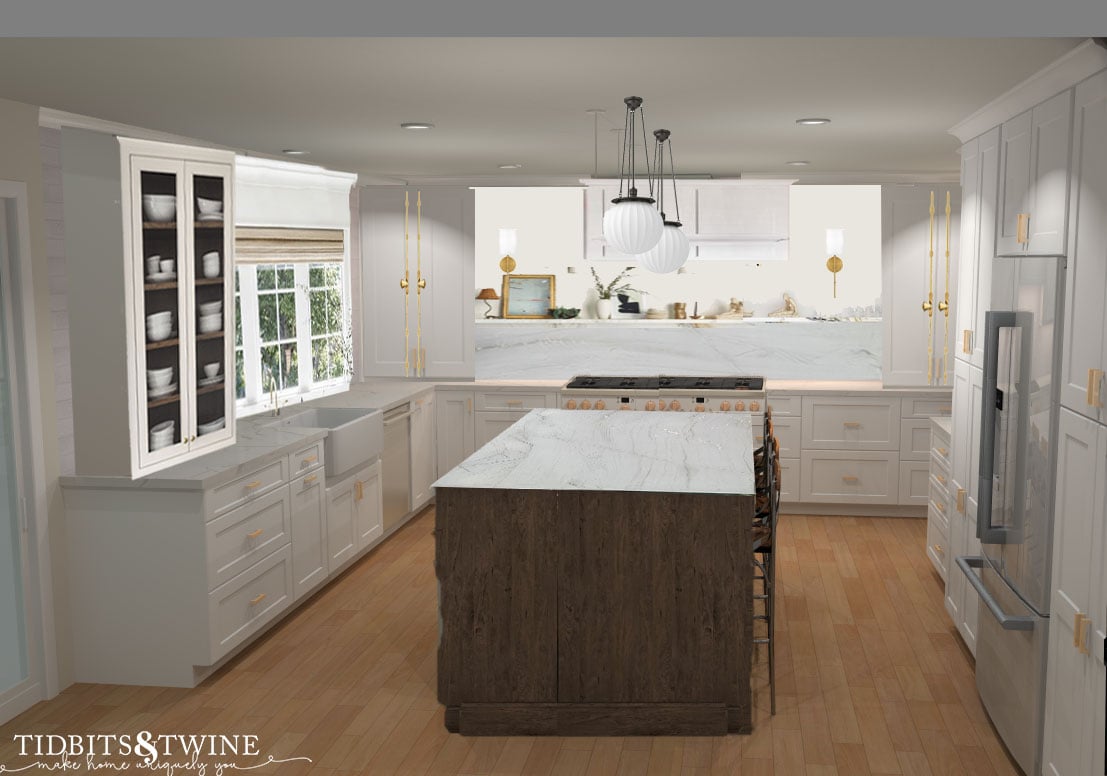 Cabinet Selection
I ended up choosing semi-custom, full overlay cabinets for a few reasons. First, I live in California. Our state is regulated such that painted cabinets made here cannot have the same durable finishes as cabinets made in other states. So, if I were to order custom painted cabinets, I'd have to be much more careful with spills and scuff marks than I would with painted cabinets made in any other state. Cabinets made in other states can have a durable topcoat applied to the paint that allows them to better repel stains and be scrubbed clean without damaging the paint! But not in California…
As for full overlay vs inset, well, price was definitely a factor for me here. I just couldn't justify the extra cost for the inset. Additionally, I live on adobe soil along an earthquake fault, so our house shifts a lot. I figured with inset cabinets I'd have to constantly be adjusting the doors so that they didn't rub the frame or get stuck.
So, there you are. Semi-custom full overlay cabinets was the way to go for me!
Not sure what cabinet is right for you? Check out my Guide to Cabinetry!
Cabinet Brands Considered
Now when it came to brands, trust me, I shopped around! But, I have two design decisions that really affected what brands could accommodate.
First, I have the glass cabinet with the stained interior. Second, I have the two full-length cabinets on the range wall. Not all cabinet manufacturers were able to do one or both of these things. That narrowed down my options.
Also affecting my decision were the price and the cabinet designer themselves. I really wanted to work with someone who I could connect with and who understood my vision!
I loved Omega cabinetry with all of its options. Decora was great, too! But in the end, I decided that Schrock was the way to go for me. I loved the paints and stain choices, which is key. But I also really like the local designer! And while Schrock can't quite do everything I want, the designer is willing to work with me to sort-of customize a few things to make them exactly how I want them. I love people who are willing to get a little creative with their solutions!
So let's look at my layout according to the cabinet designer's program and I'll walk you through everything.
The Kitchen Layout
I'm planning to eliminate my current peninsula and put in an island with seating. My refrigerator will move from the back corner and my wall oven will be replaced by a range. This is the view as if you were standing at my kitchen table looking into the kitchen.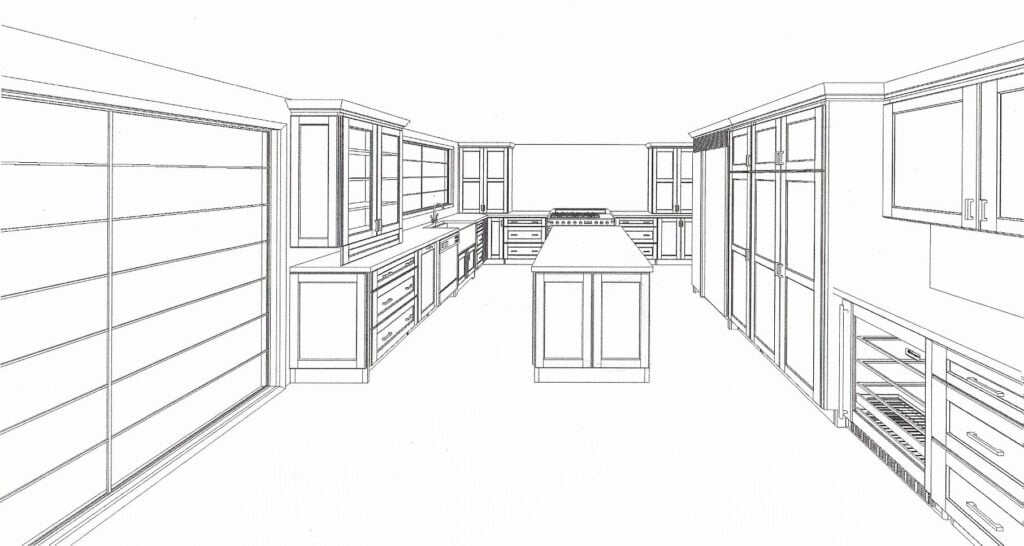 The Pantry Wall
On the other side of this wall is my dining room, accessed by the two doors you see on either side of this bank of cabinets. We're planning to get our first-ever built-in refrigerator! Next to the refrigerator will be a set of pantries with roll-out shelves. On the far right side, we have a beverage fridge and a small group of drawers.
We don't technically have an "office" in our house and we all share a printer, so our printer lives in the kitchen right now. Not the best for aesthetics, but it's very convenient. As a solution in our new kitchen, the bottom drawer will be used to hold our printer, making it accessible but hidden!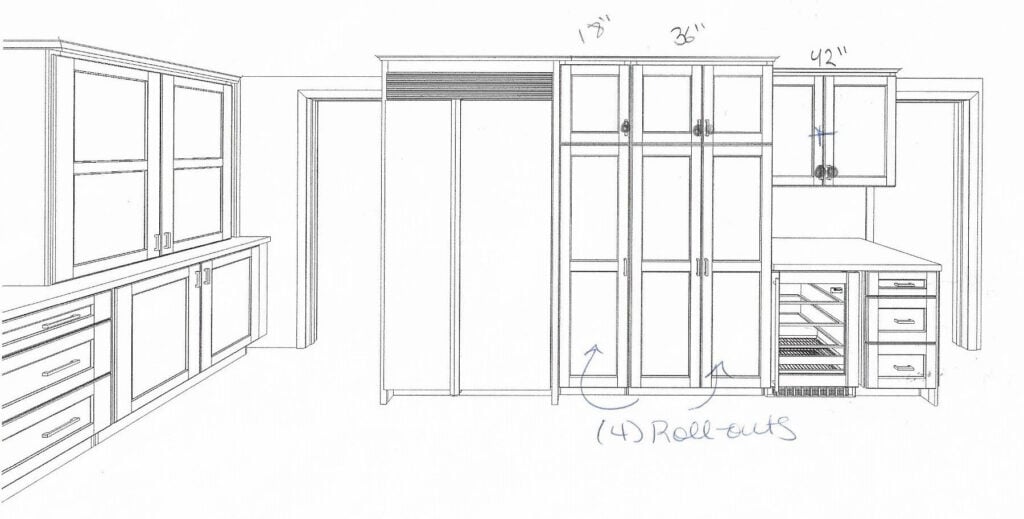 The Sink Wall
Our new sink will be centered in front of our window. I'm planning to have one glass cabinet with a contrasting interior to hold our everyday dishes. Our dishes are basic white so I think they'll look pretty, but also be practical!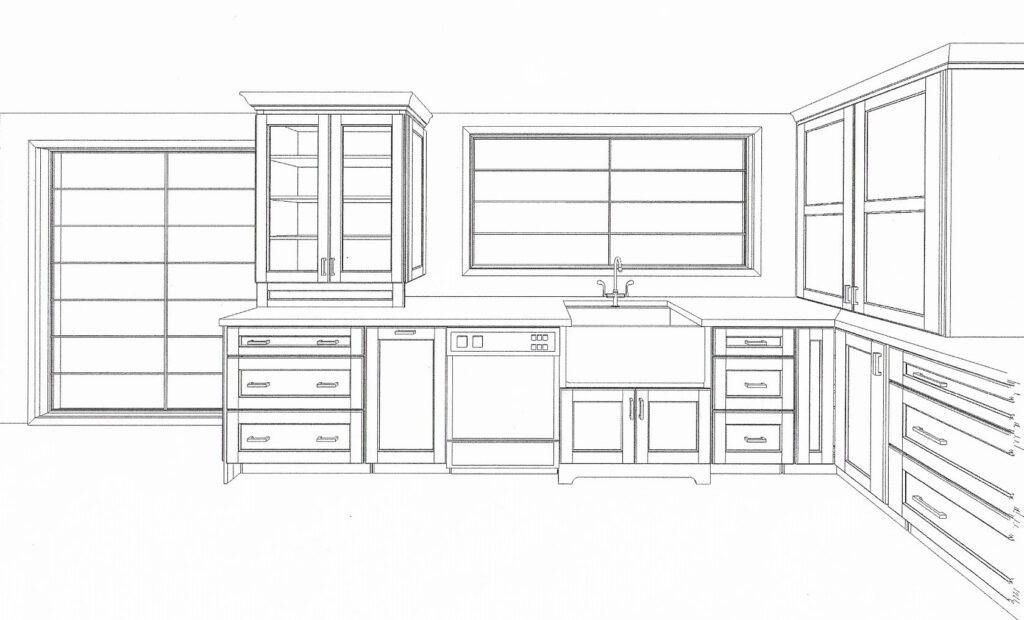 The Range Wall
While there isn't a hood in the picture, we're ordering one from Hoodsly, so there will be one above the range. We're planning to use the tall left cabinet as a coffee/tea station. The far right cabinet will house a microwave, along with other small appliances.
Now, since my cabinet doors are overlay, I can't have pocket doors. Instead, I'm working on a custom solution to make everything easily accessible. More on that later…
I debated for a long time as to whether I should have pullouts on either side of the range for spices and cooking utensils, but I had to sacrifice a lot of storage for them and I just didn't like the way the layout looked. In the end, I decided to go with deep drawers for pots and pans and to purchase spice storage for the top drawer.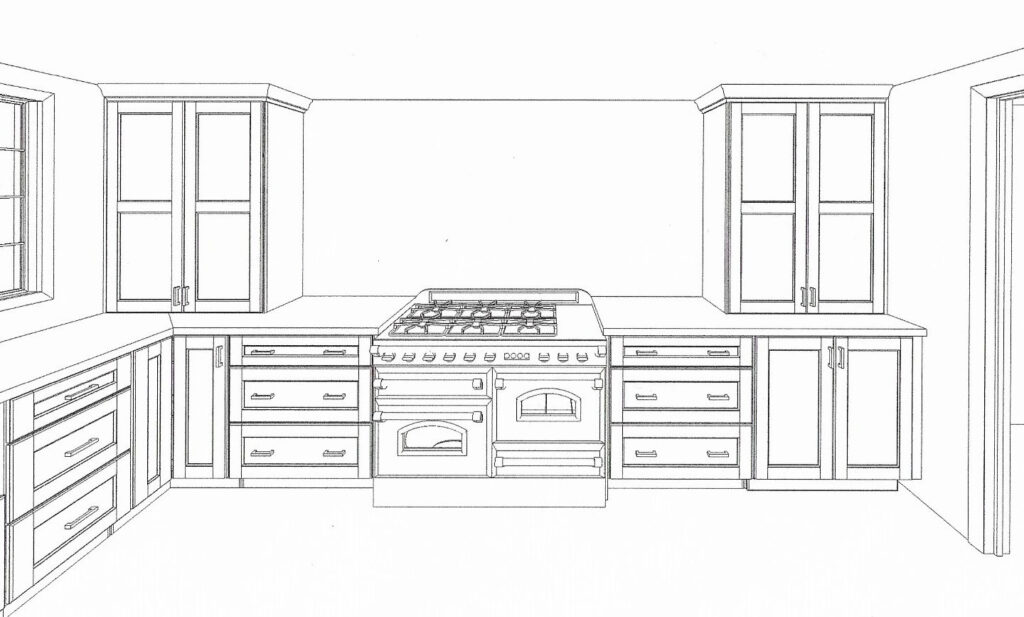 The plan isn't quite finalized yet, but it's close. I have a bit of tweaking to do still with some of the details and measurements, but I'm excited to move forward!
If you have any thoughts or suggestions on my plan, please share them with me!
More Kitchen Ideas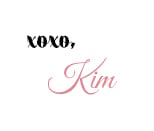 Join the Community
Let's keep in touch! Get exclusive artwork plus the latest news delivered directly to your Inbox!