My favorite items from the new Pottery Barn Julia Berolzheimer collaboration. Get the look of traditional elegance with an updated, modern feel. Perfect picks for yourself or as a gift to someone else!
Julia Berolzheimer is a mom and Charleston, North Carolina lifestyle and design tastemaker known for her Grandmillennial style. She recently teamed up with Pottery Barn to collaborate on a new home and garden collection that launched earlier this month. Her signature style is on full display in her collaboration. Her pieces include tabletop, entertaining items, textiles, a range of décor, and outdoor items. The collection ranges in price from $22 – $1,999.
I don't typically highlight collaborations unless they really stand out to me. And this one stands out. Why? Because it's quite a difference for Pottery Barn!
In my opinion, Pottery Barn's inventory has shifted toward a more contemporary and masculine vibe over the last few years (with the exception of bedding). Pottery Barn has featured a lot of heavy, textural and rustic vases, chunky knits, and wood. This first collaboration with Julia Berolzheimer, however, gives a new look to Pottery Barn's style and decor with its lighter, more feminine feel.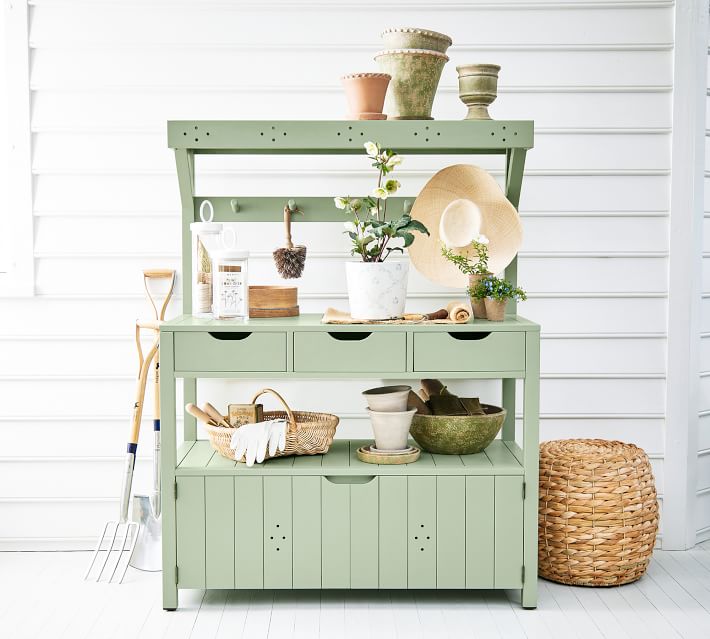 What to Expect from the Pottery Barn Line Julia Berolzheimer
Berolzheimer embraces classic details like scalloped edges, vintage florals, and romantic touches. The colors include just a few shades that reflect the essence of the garden. You'll see a soft, green color palette throughout the entire line, along with a pale fine-china blue. And all of the items are cute, Southern names!
Berolzheimer's thoughtful pieces mix and match effortlessly. While her items might represent the delicacy of nature, they are all meant for practical use in our everyday lives. So think melamine dinnerware, water-resistant tablecloths, and planters that can sit on the porch or out in the sun!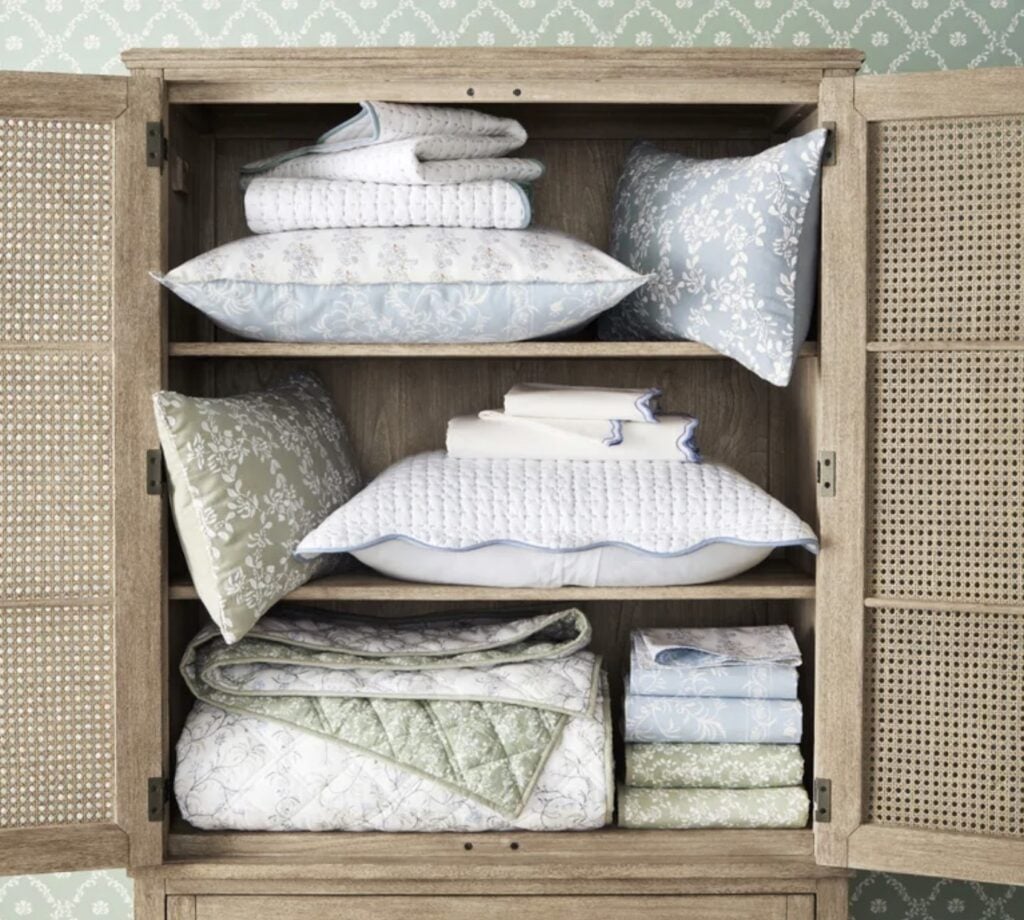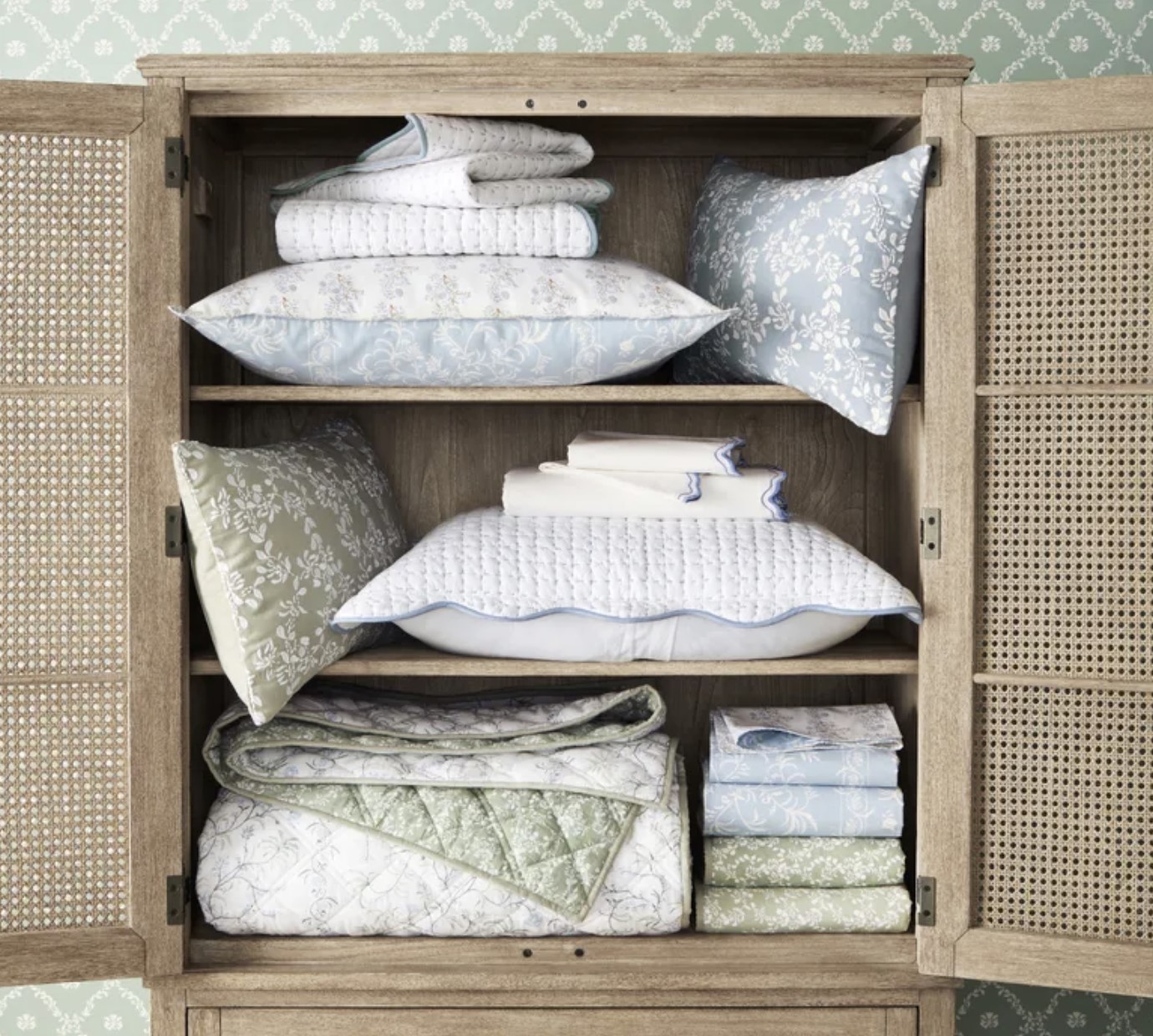 My Favorite Pottery Barn Julia Berolzheimer Pieces
I've highlighted a few of my favorite pieces to give you some inspiration, but you can shop the entire collection below.
How cute are these floral dishes?! They look quite delicate, but they're made of melamine, so they're family-friendly pieces perfect for an outdoor BBQ or picnic.
Made of machine-washable cotton, these napkins are just pretty! You could even mix and match them with the Flora napkins from the Pottery Barn Julia Berolzhiemer collection.
The easy care Millie oilcloth tablecloth is perfect for dining al fresco! It's water resistant, making spills easy to clean. And of course, it coordinates perfectly with the other colorful tableware in the collection.
Eloise Embroidered Organic Percale Sheet Set
I'm thinking of getting this for my own home…I adore the scalloped edging on the Eloise Sheet Set. It has a feminine feel without being overly fussy.
I love versatility, especially in bedding! Named after one of Julia's daughters, the Marigold Duvet Cover is reversible bedding in a lively white floral on one side and a soothing blue on the other. The pattern is reminiscent of gorgeous garden trellises. The duvet and matching shams pair nicely with the scalloped sheets and other items in the bedding collection.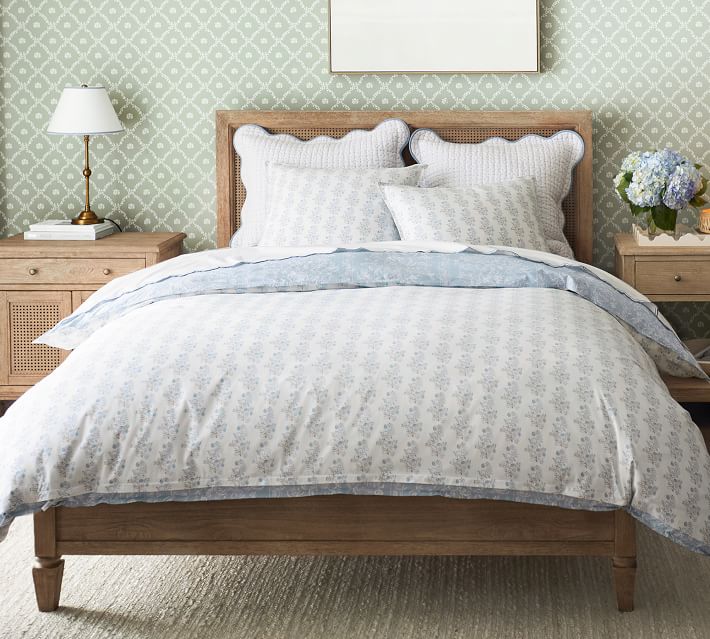 These are perfect if you want to add a pop of color to your bathroom without being too bold. I love the additional stripe detailing at the bottom. You could pair these with either print or solid towels.
I'm always a sucker for a basket. There are two styles/sizes available, both with a gorgeous woven texture. The deeper one would be perfect for extra linens or pillows. I think the shallow one pictured below is perfect for magazines or gardening.
Shop the Entire Collection

Join the Community
Let's keep in touch! Get exclusive artwork plus the latest news delivered directly to your Inbox!