Get 25+ inspiring ideas for decorating with a dough bowl! Plus learn how to care for them, where to buy them and how to tell a true antique from a reproduction.
I have been captivated by antique dough bowls from the moment I first saw one at Alameda Point. At the time, I didn't understand quite what they were, but was in love with their rustic beauty and time-worn patina.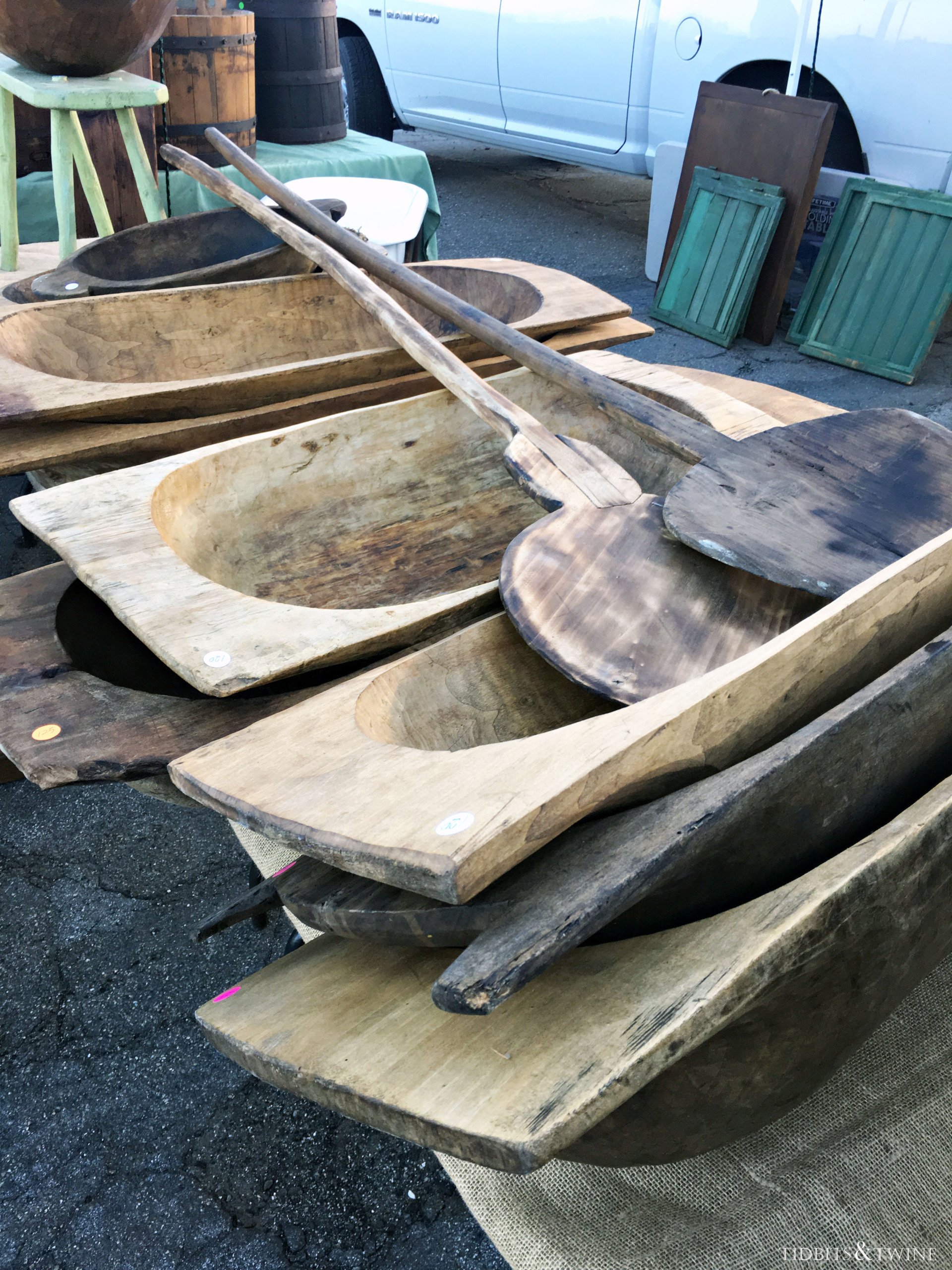 These days, I own a four antique dough bowls in different sizes and shapes. Dough bowls are incredibly versatile so I love decorating with dough bowls throughout various rooms of my home. The idea of taking something and using it in a way other than its intended purpose is a great way to extend the life of an item and show it off. I mean if I only used a dough bowl for making dough, I'd have no use for one!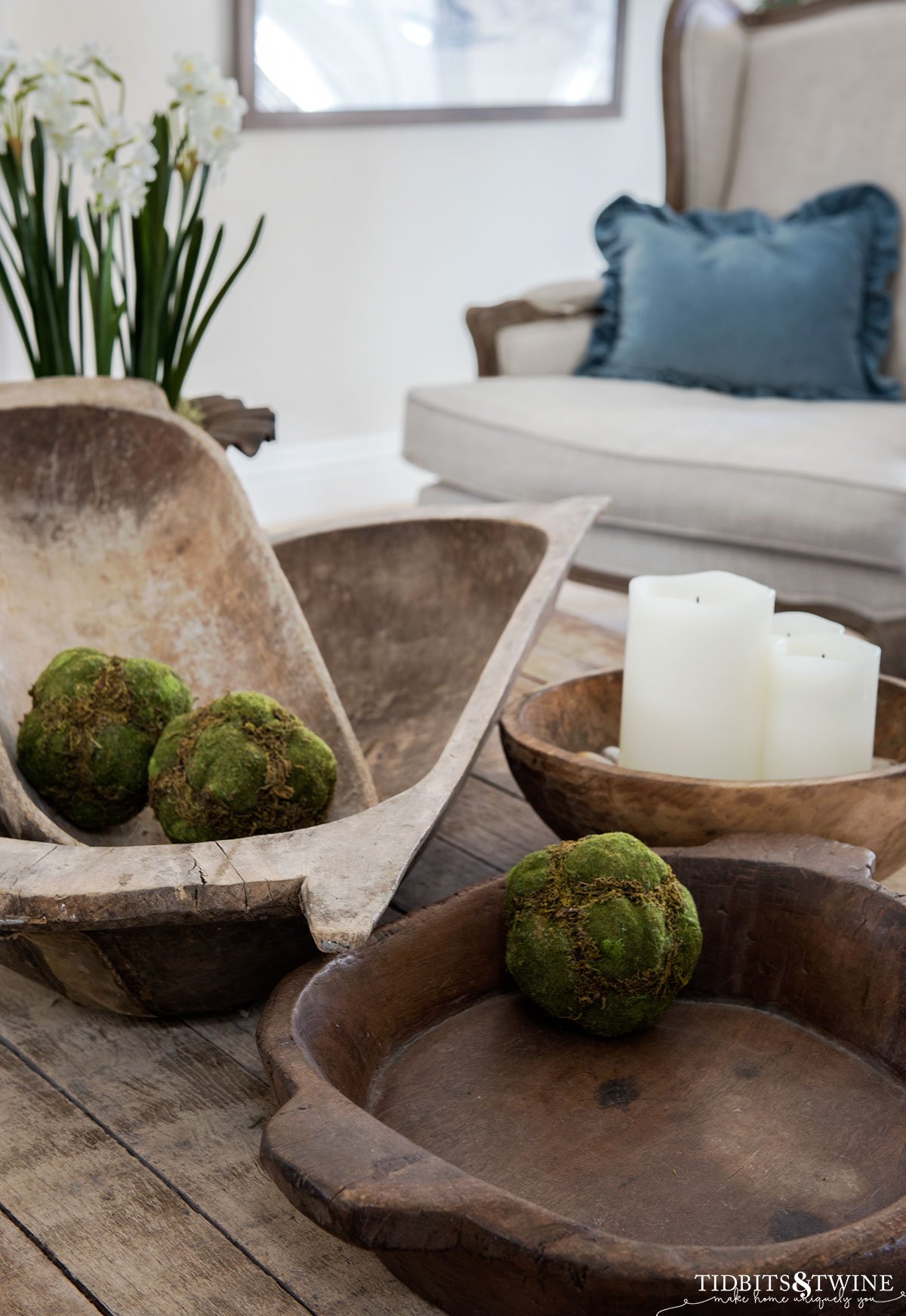 Not only can you use dough bowls as a base for centerpieces, but you can include them in your seasonal decorating. Simply changing out the contents of your bowl gives it an instant update! Affiliate links provided for your shopping convenience. You can read my full disclosure policy here.
History of Dough Bowls
Dough bowls are exactly what they imply. They are bowls once used to mix, raise, and knead bread dough. Sometimes referred to as "trenchers", these bowls were widely used in the 1800s and 1900s.
Dough bowls are hand-carved from a single piece of wood, so each one is unique. They range in size from small to very large and can be round or rectangular, but the rectangular shape is more often readily available. Regardless of size and shape, they often have a rounded bottom, which depending on the wear pattern, can be tricky to work with when decorating with a dough bowl.
Wooden dough bowls originated in Europe, but became widely used in the South and Midwest as well. The biggest difference between European and American dough bowls is that European dough bowls typically have handles on each end, whereas American ones have small or no handles. In Europe, one person would grasp the handles and gently rock the dough bowl, while another person mixed the dough (hence the need for a slightly rounded bottom).
The kitchen is the heart of a home, and a dough bowl became an important item in a family. These bowls were well cared for and passed down through the generations from mother to daughter.
Antique vs. Reproduction
A true antique is something that is at least 100 years old. A reproduction, on the other hand, is something that is new but made to look old. (Fun fact: Anything that is old but less than 100 years old is considered vintage.)
Identifying a true antique vs a reproduction can be a bit tricky because these days, reproductions are so good that it's hard to tell! But there are a few telltale signs…
How to Find an Antique Dough Bowl
Antique dough bowls will NOT be consistent in color or shape. They will often show uneven wear patterns representing years of use.
You might also see cracks in the wood, either repaired or left as-is. And of course, wormholes also represent an older item. Lastly the color of the bowl should be consistent throughout, meaning that if you scratch the surface, there shouldn't be a top "stain" color that can be removed.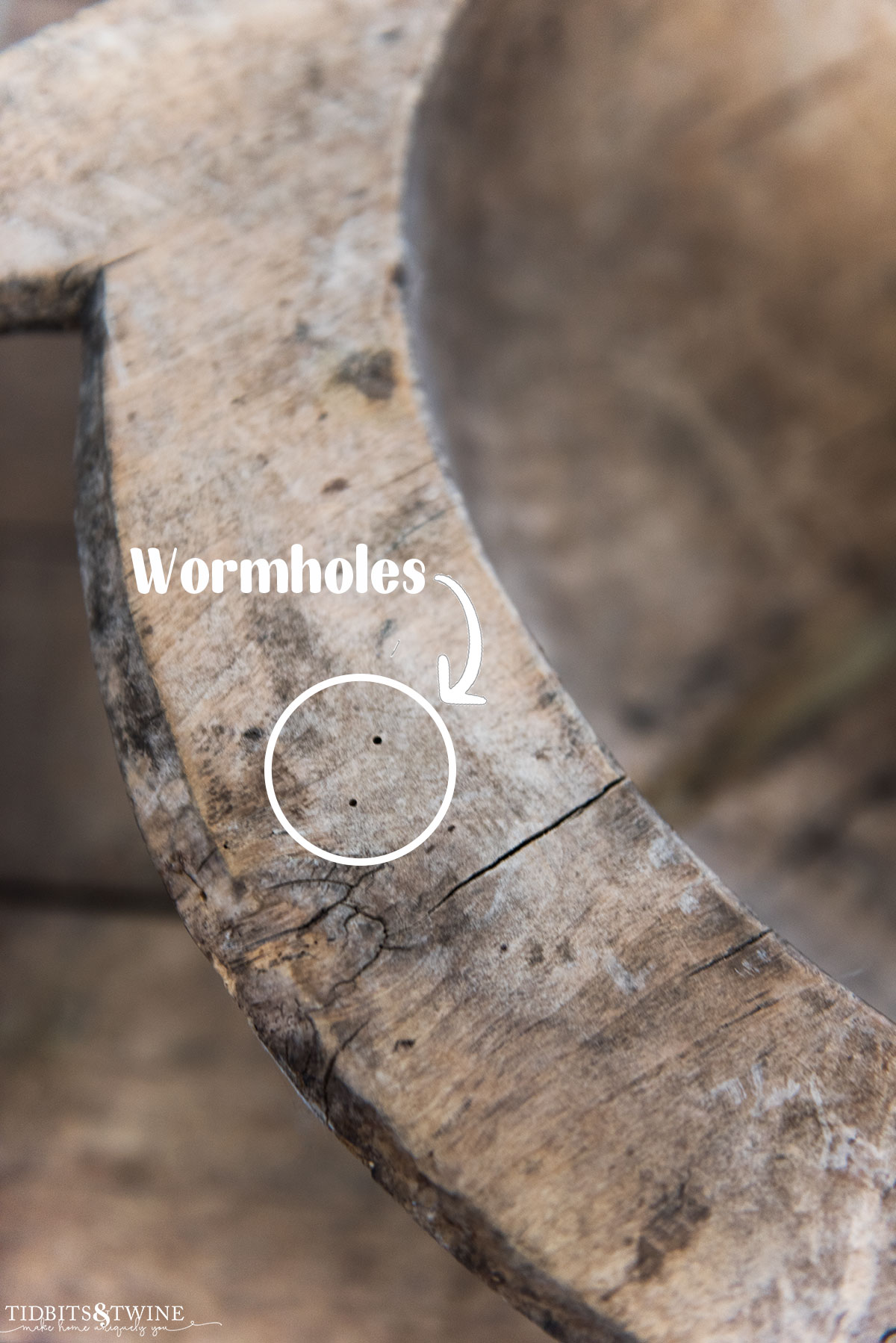 If you see a stack of dough bowls and each one looks old but identical, those are reproductions. Remember, no two antique dough bowls will ever look exactly the same!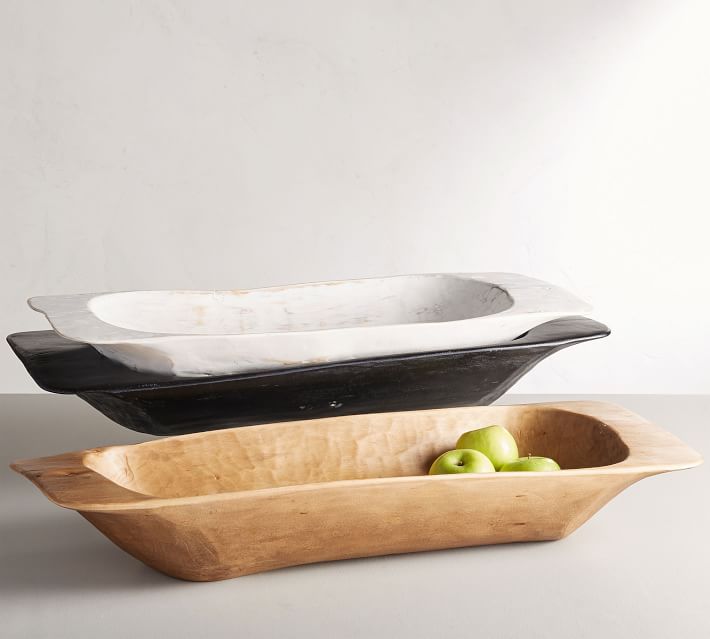 Reproduction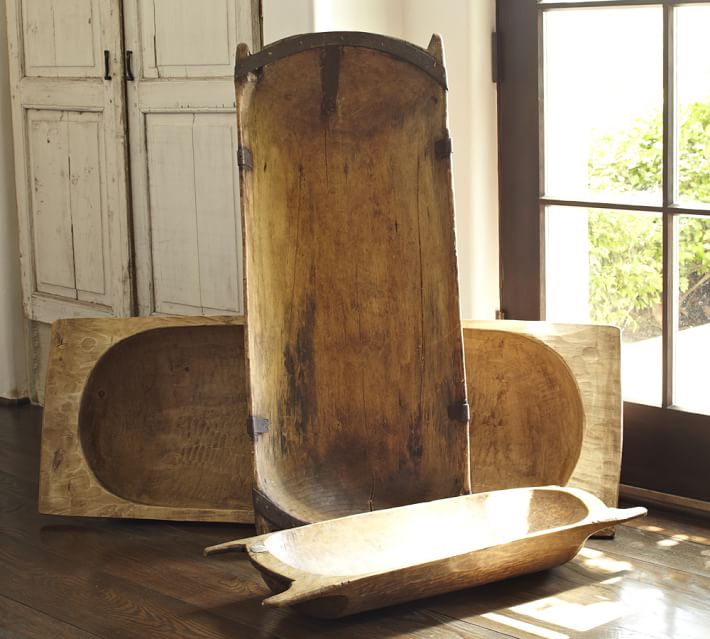 Antique
While reproductions are quite good these days, nothing can match the beautiful patina and wear patterns of a true antique.
25+ Ideas for Decorating with Dough Bowls
Dough bowls are truly so versatile, not only in what room you can use them, but also in how you can style them!
Centerpiece Ideas
Large dough bowls are perfected suited for a table centerpiece, whether a kitchen table or a dining table. You can even create a beautiful centerpiece on a kitchen island!
Below, faux flower stems, olive branches, and berries create a beautiful dough bowl centerpiece. You can learn how to make this centerpiece at Home with Holly J.
As a Filler
A large dough bowl can also be part of a beautiful vignette to fill an empty space on the wall! When not on the table, I use mine to fill an empty corner, sometimes in the kitchen and other times, in the dining room.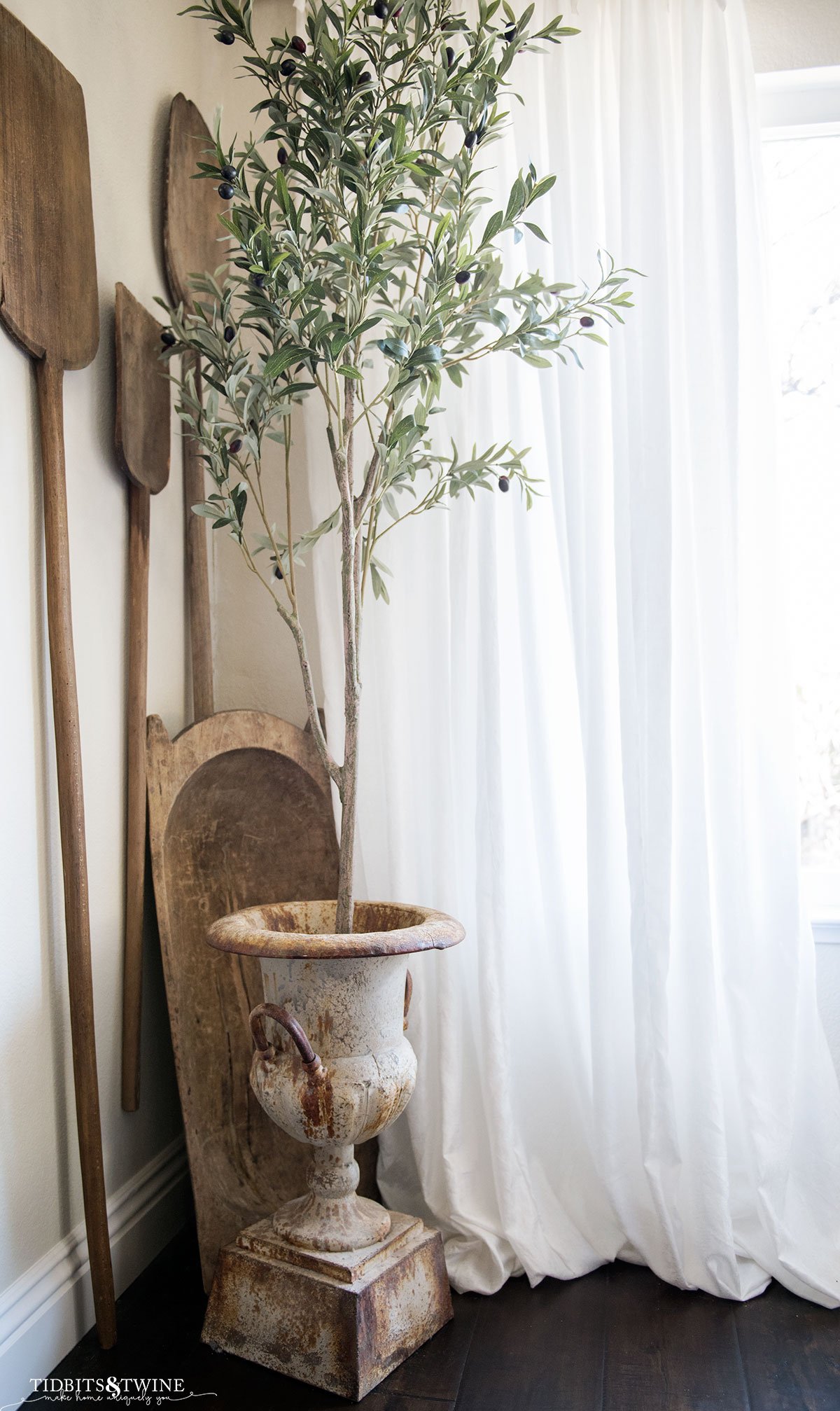 This rustic dough bowl stands vertically off to the side of the desk. The sleek, modern lines of the furniture are nicely contrasted by the vintage pieces in this room.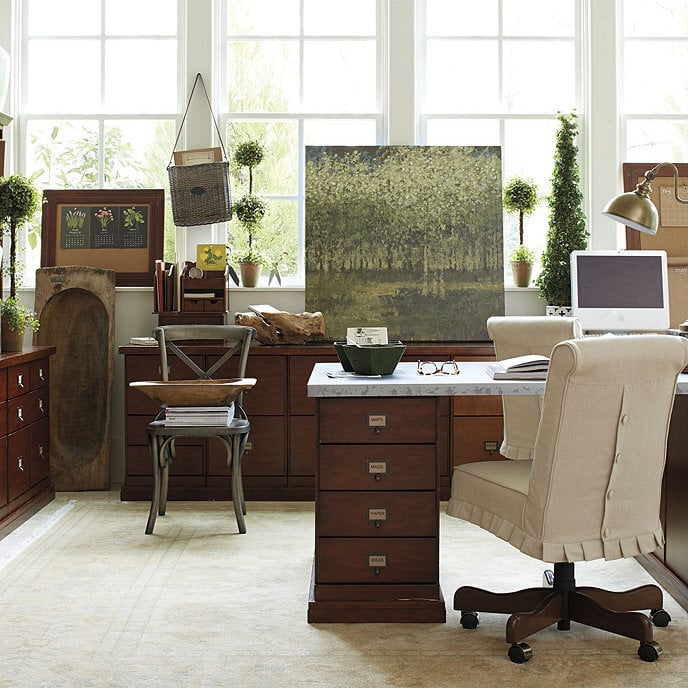 As a Tray
If you have a round bowl with shallow sides, it can work perfectly in lieu of a traditional serving tray! Robyn of Robyn's French Nest created a beautiful summer vignette in her dough bowl!
Flowers and Plants
Dough bowls make a beautiful, one-of-a-kind vessel for dried flowers and live plants. If using live plants (which have moisture), be sure to use plastic liners so that no water or moisture sits on the bottom of the bowl itself.
Below, a series of four white orchids are placed in a long dough bowl. Topped with reindeer moss, the pots are concealed for a polished look.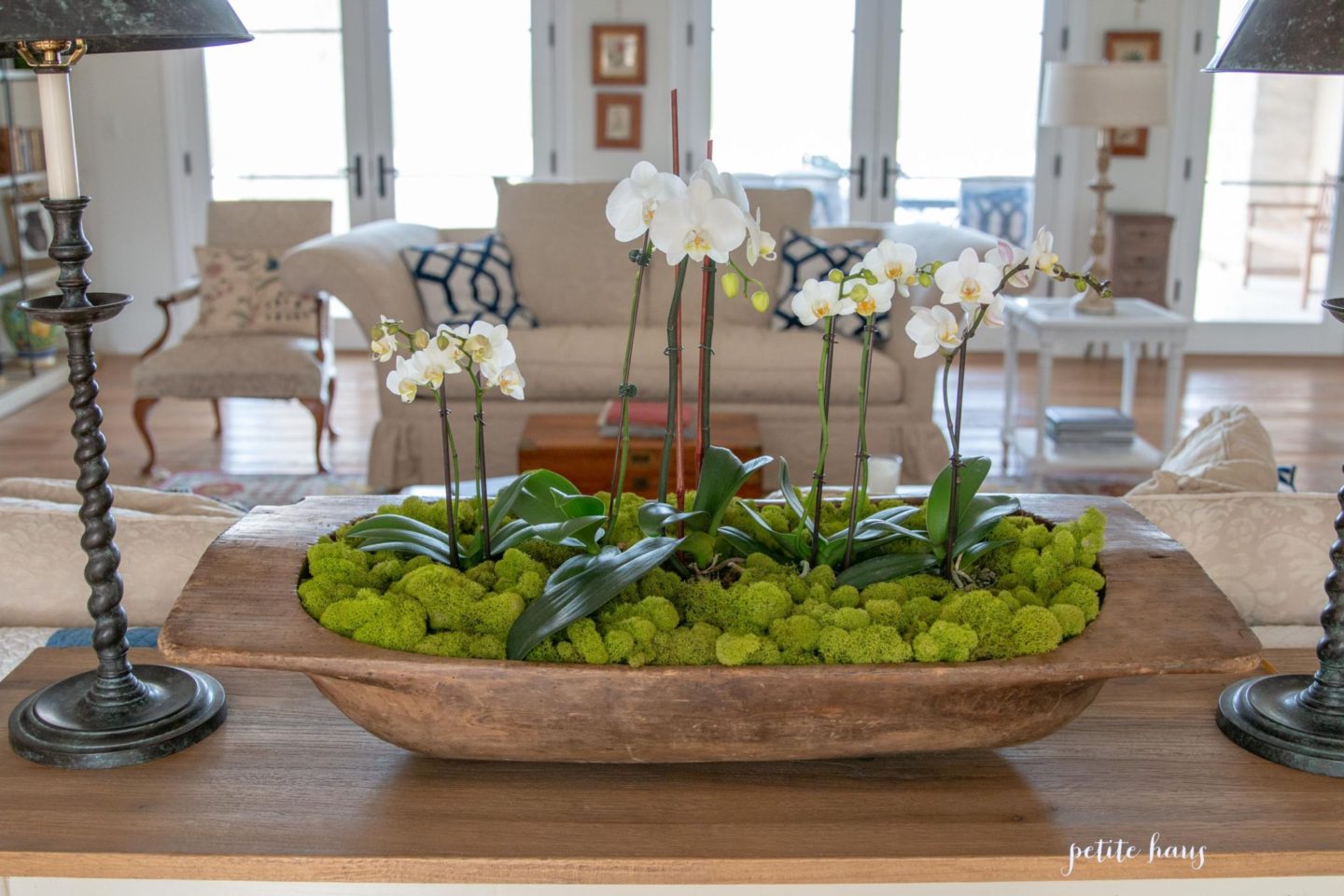 Air plants are perfectly suited to sit beautifully in dough bowls for a beautiful display!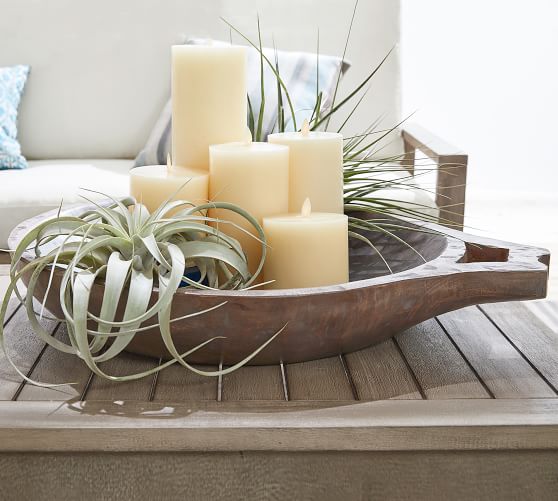 Candles and Lanterns
Because dough bowls are rounded on the inside, it can be a bit tricky to stand things up in them. But with some patience (and maybe a wedge or two), you can do it and it's worth the effort!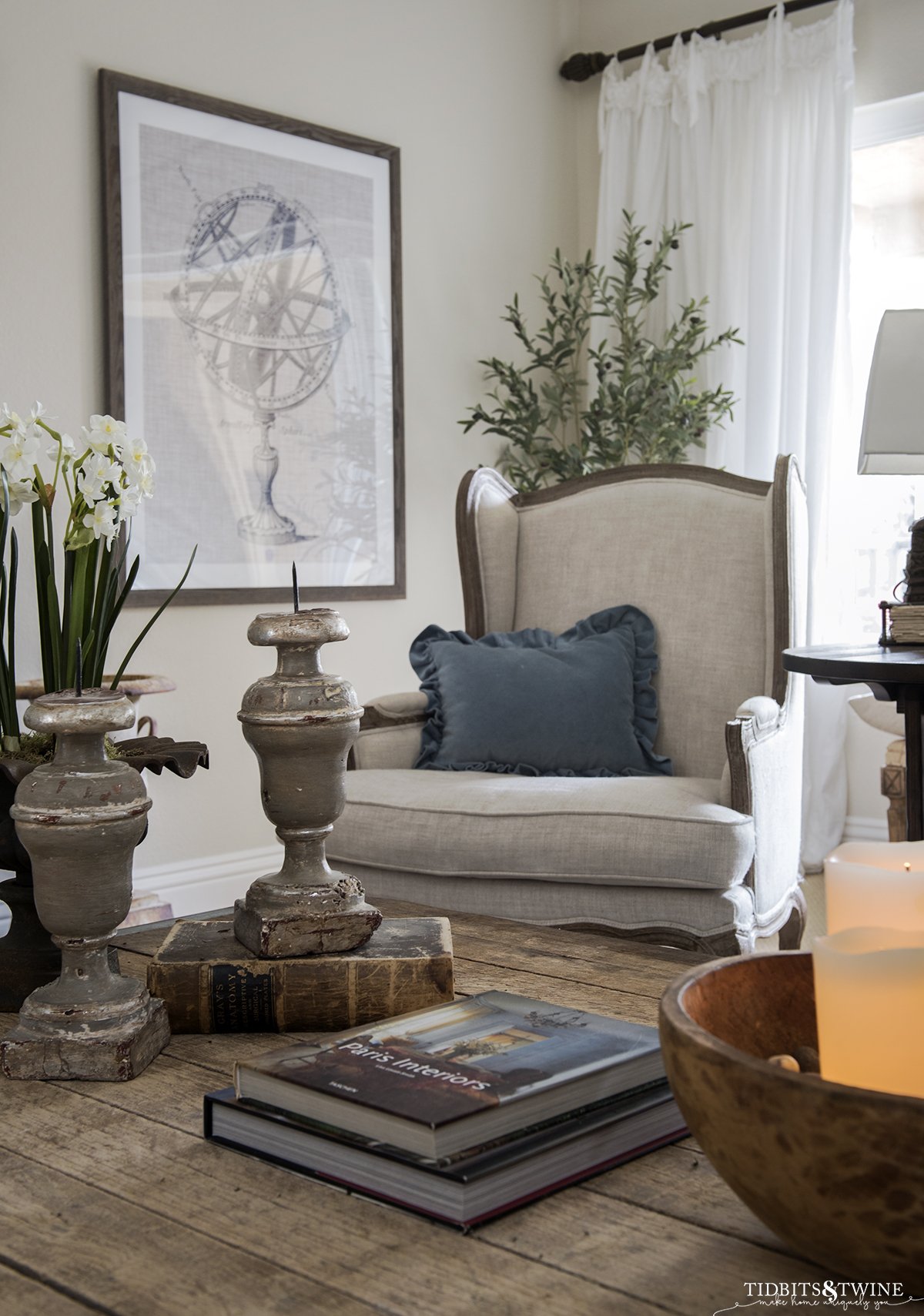 Some floral foam is the key to holding taper candles in place. Candles surrounded by greenery make a great dough bowl display!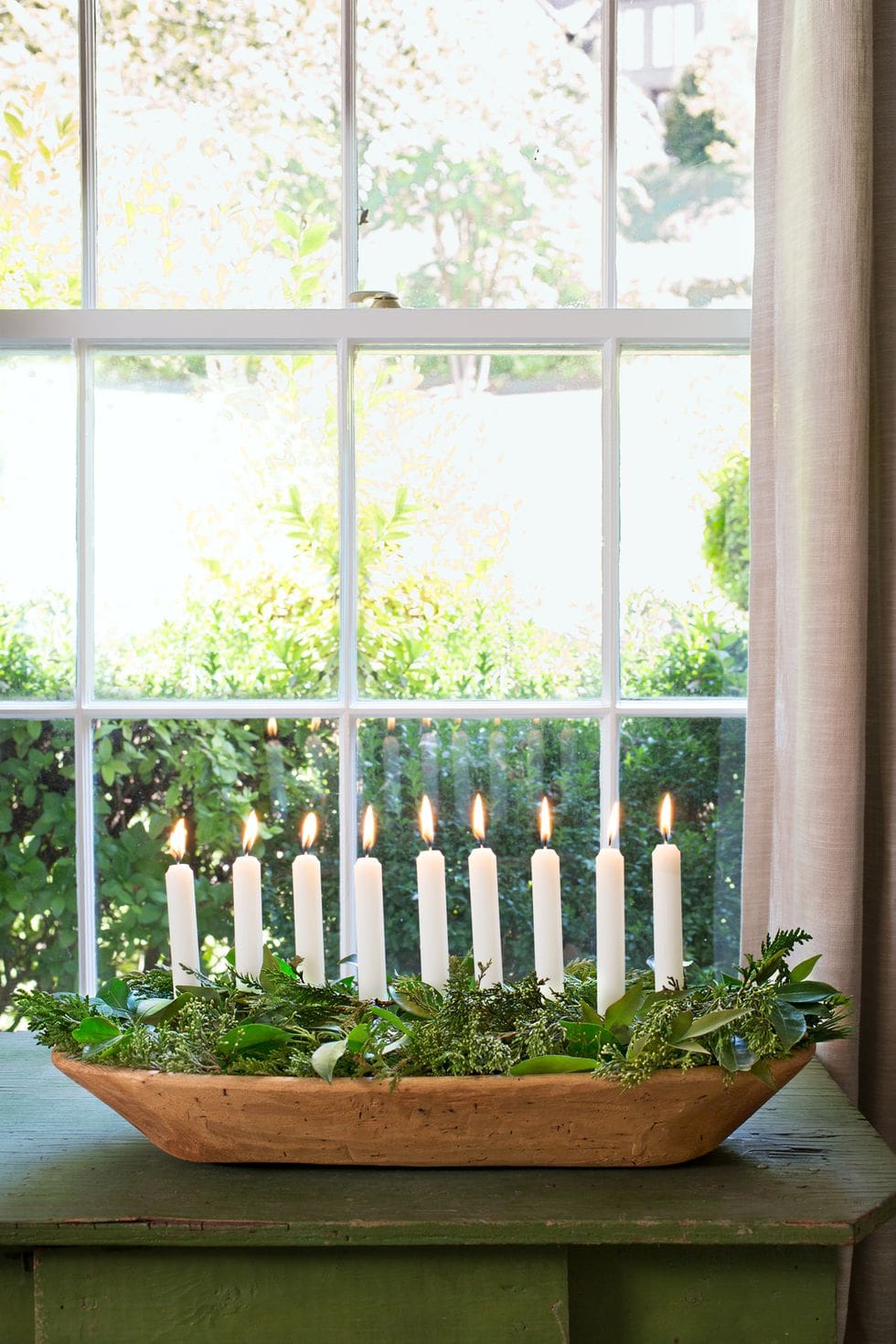 Greenery and Succulents
Succulents and greenery look beautiful in dough bowls. Trailing succulents add interest, like this display from Pottery Barn.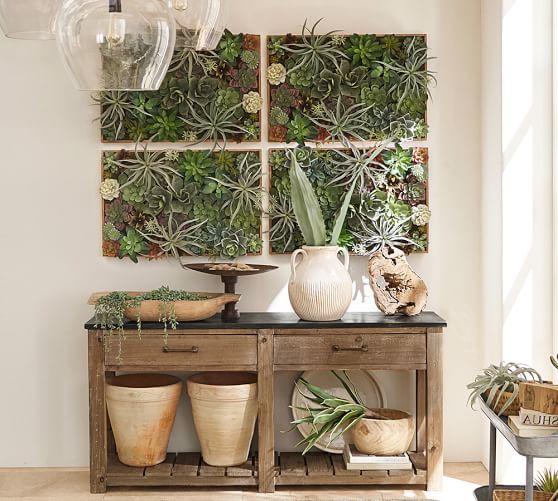 This moss display in a vintage dough bowl is simple, yet dramatic!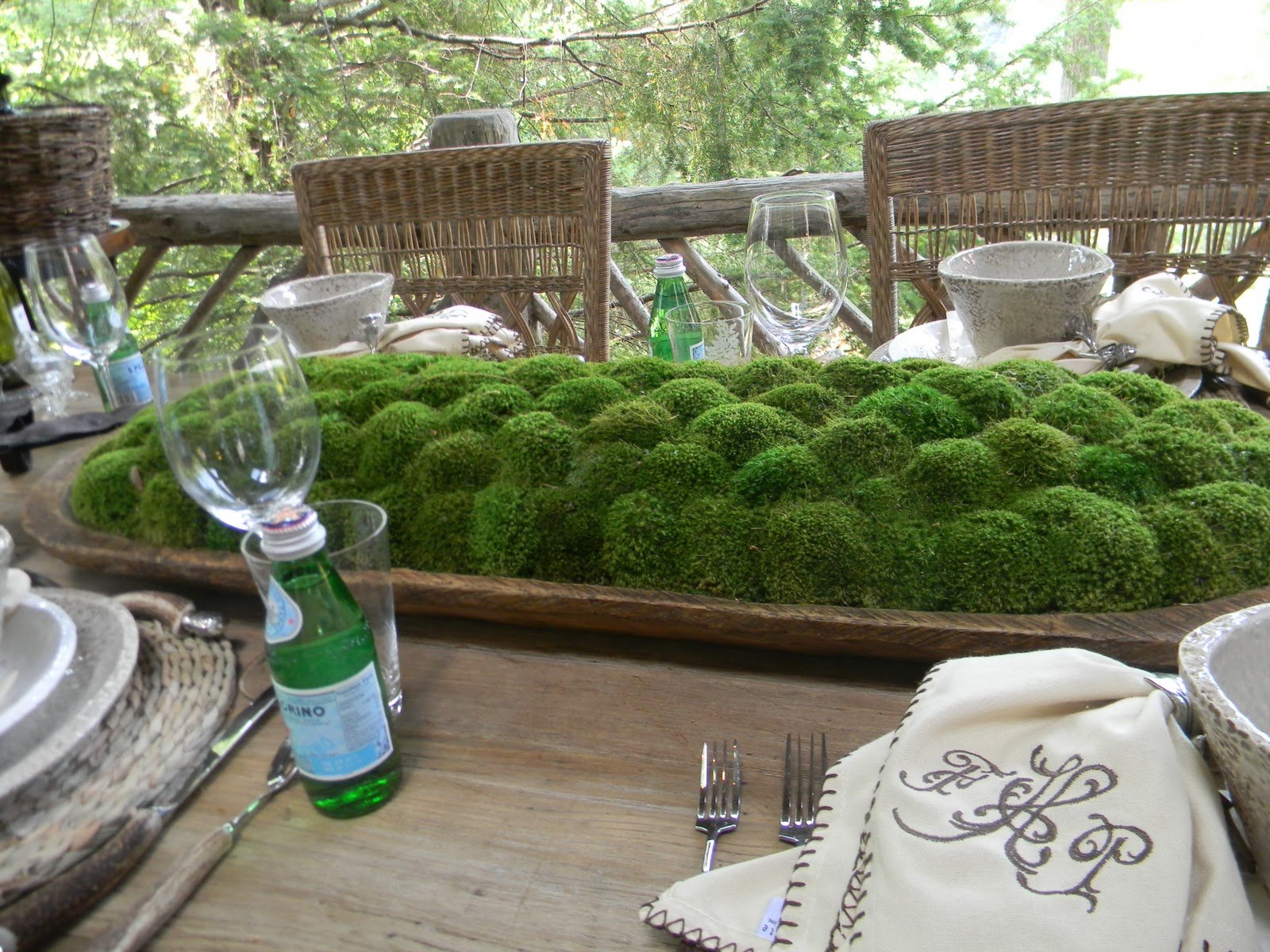 Magazines and Books
Dough bowls of various sizes can be used to hold books and magazines, either for storage or for easy access for reading. You can neatly tuck a large dough bowl underneath a coffee table, or put a smaller one on top of the table as part of a vignette.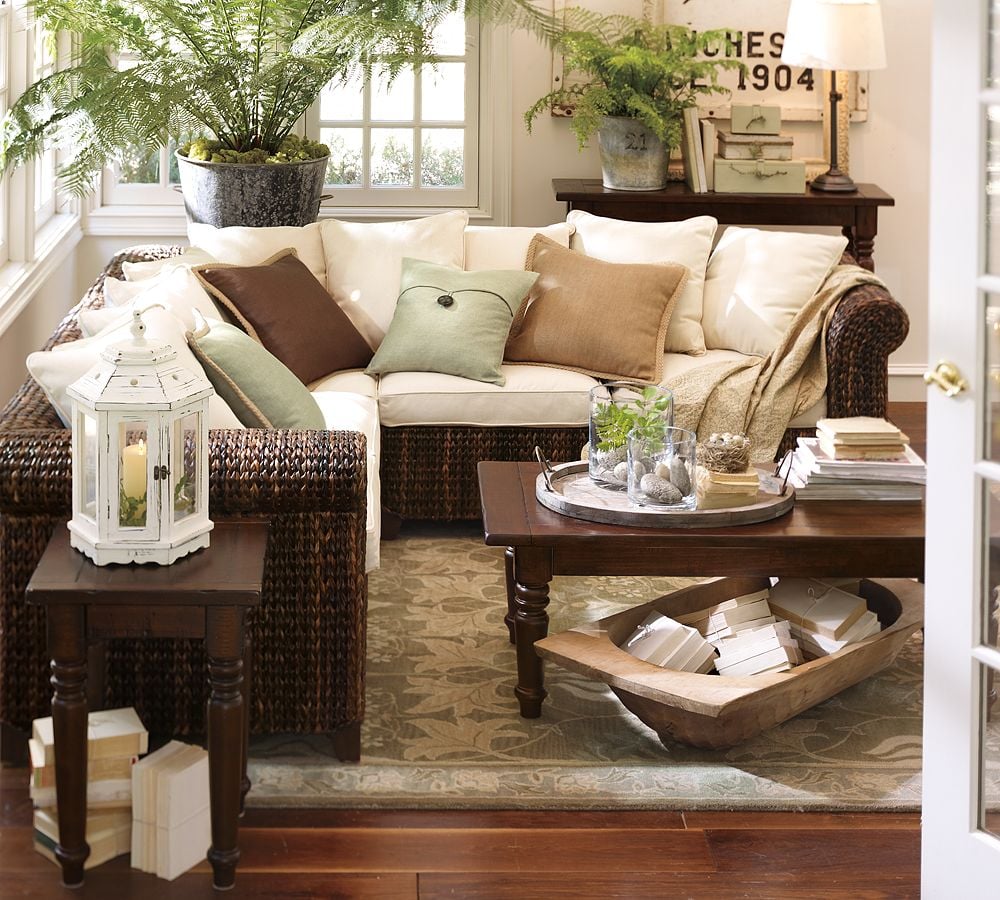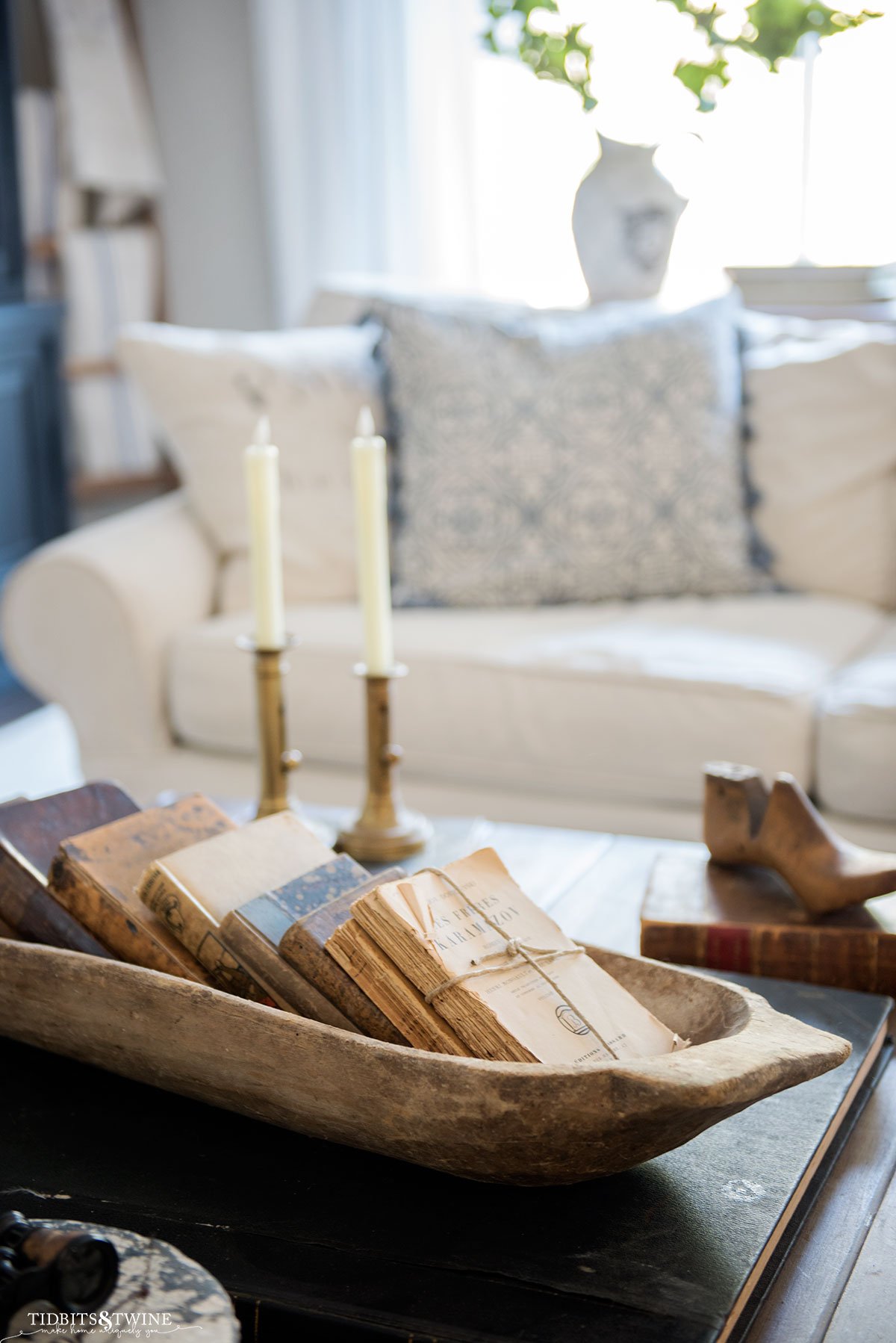 Fruits and Vegetables
A dough bowl is a natural fit in a kitchen and perfectly suited to holding a variety of fruits and vegetables. You can even change up your display seasonally!
In Fall, try apples, gourds, or mini pumpkins. In the Winter, pomegranates and oranges. And throughout Spring and Summer, use a variety of seasonally available fruits and vegetables, including artichokes and pears.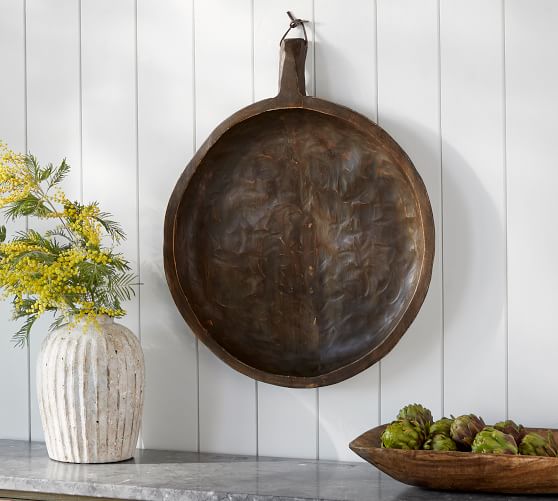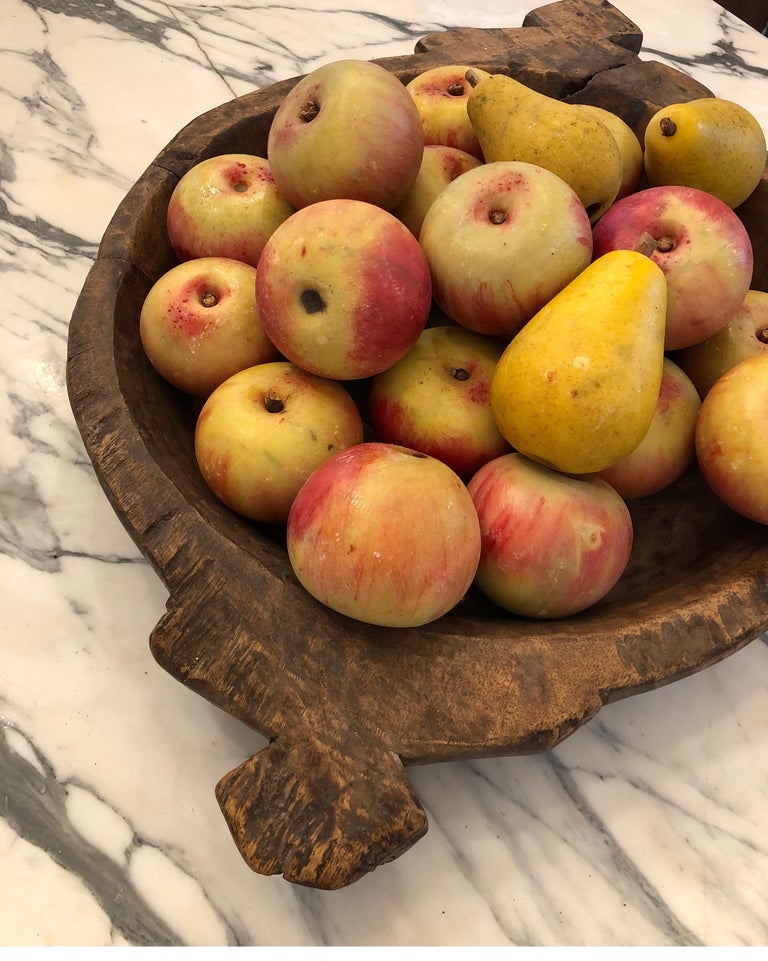 Throws & Towels
Keep necessities within reach by placing them in a dough bowl! For some time, I kept extra bath towels in a dough bowl on the floor of our guest bedroom. But a dough bowl underneath a coffee table can also be used to store extra throws for a sofa.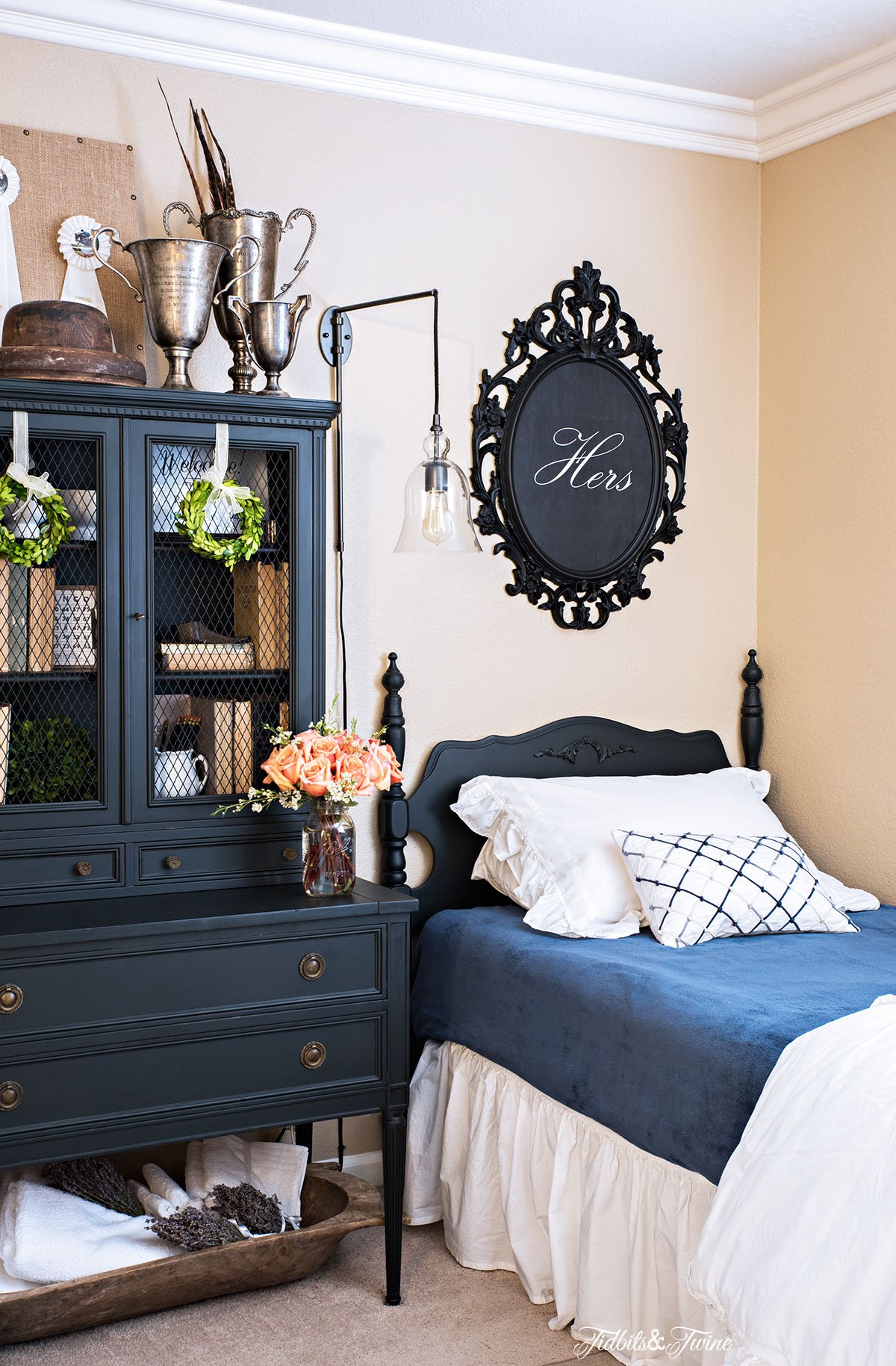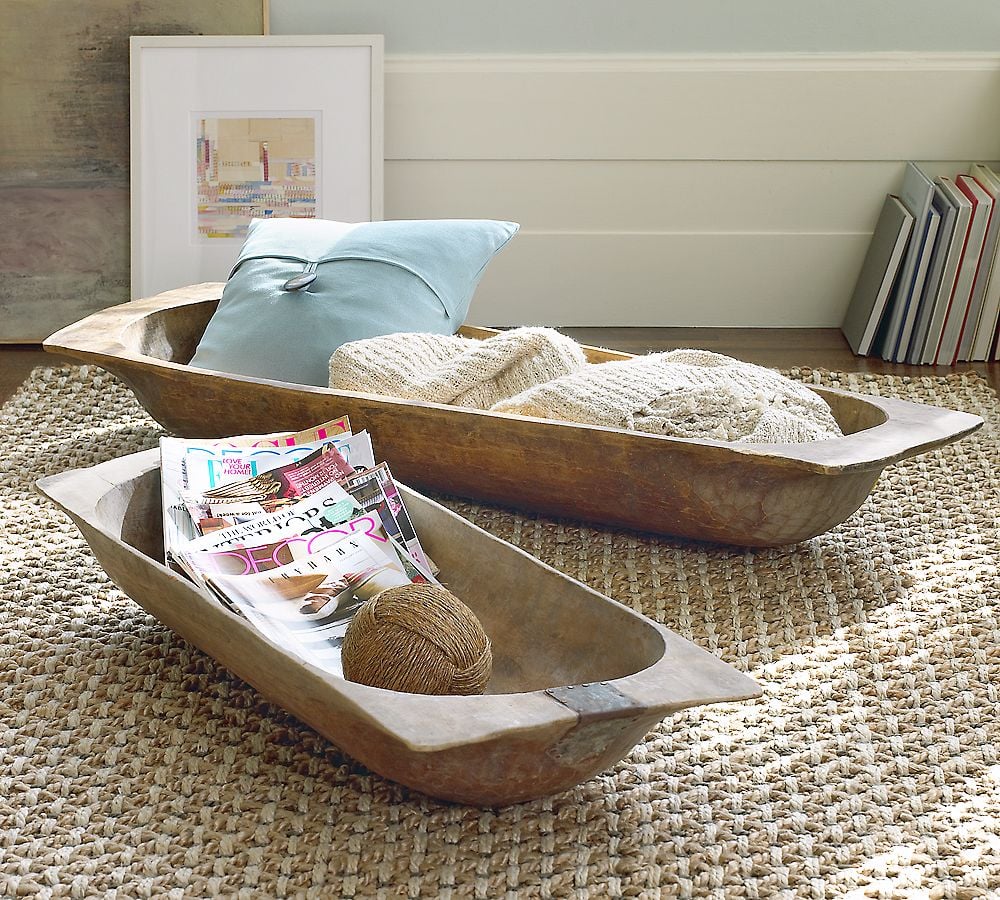 Nothing
Who says you have to fill a dough bowl? Each one has a unique look and beauty and can become a beautiful focal point all on its own.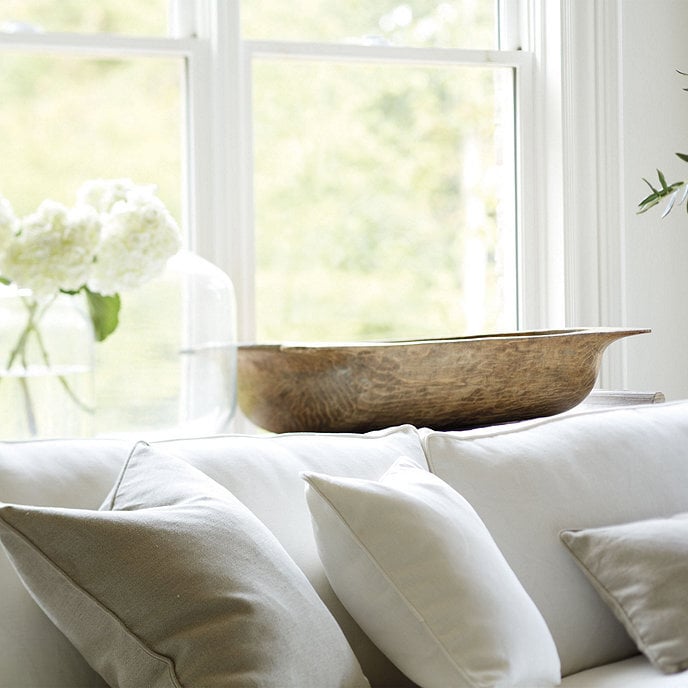 Seasonal Decorating Ideas
Winter and Christmas Dough Bowl Ideas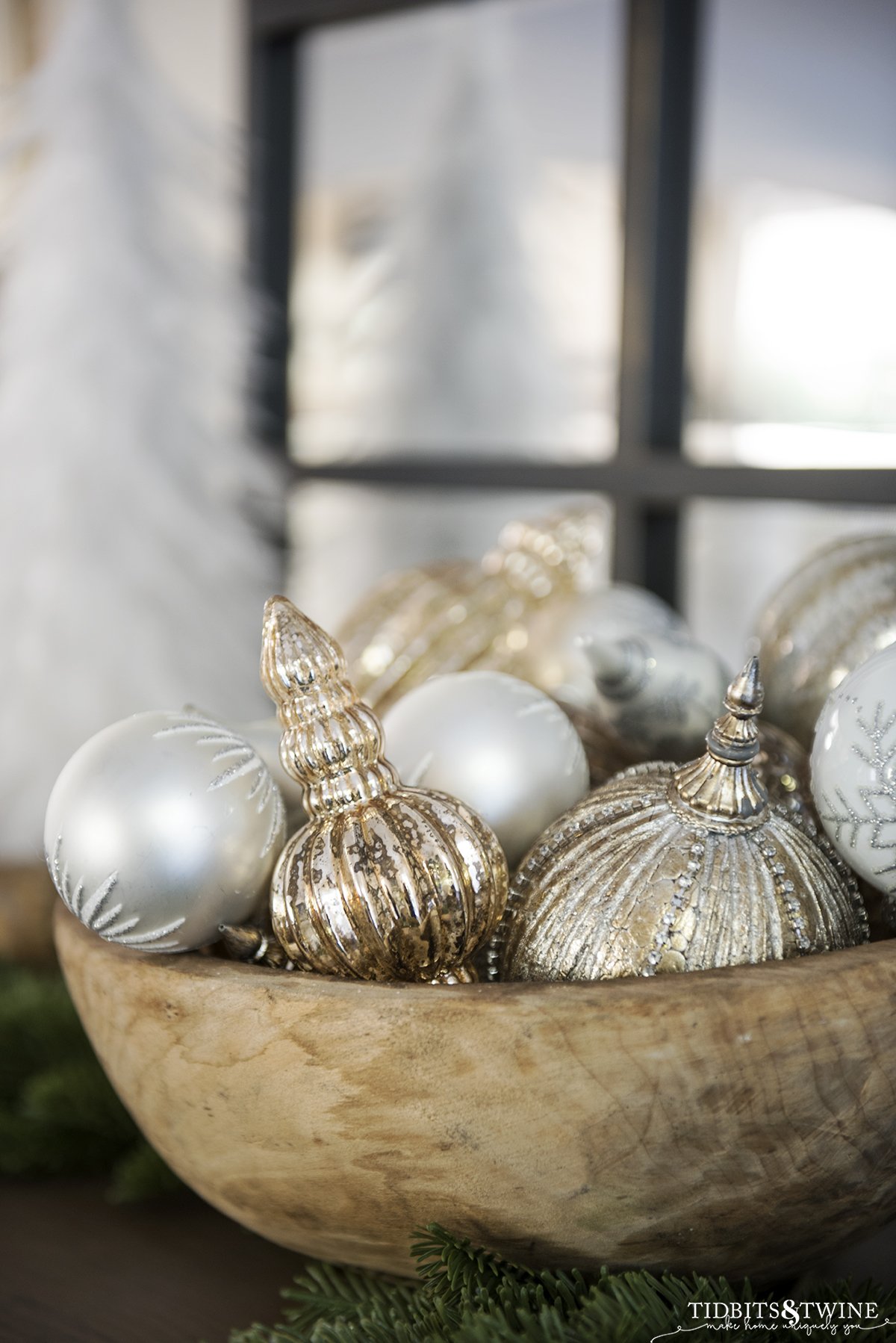 During Winter, there are so many beautiful ways to create a dough bowl display! Consider using:
Greenery boughs (faux or real)
Decorative logs by the fireplace
Ornaments
Bells
Garland
Pine cones (bonus if they are the cinnamon scented ones)
Candles
Poinsettias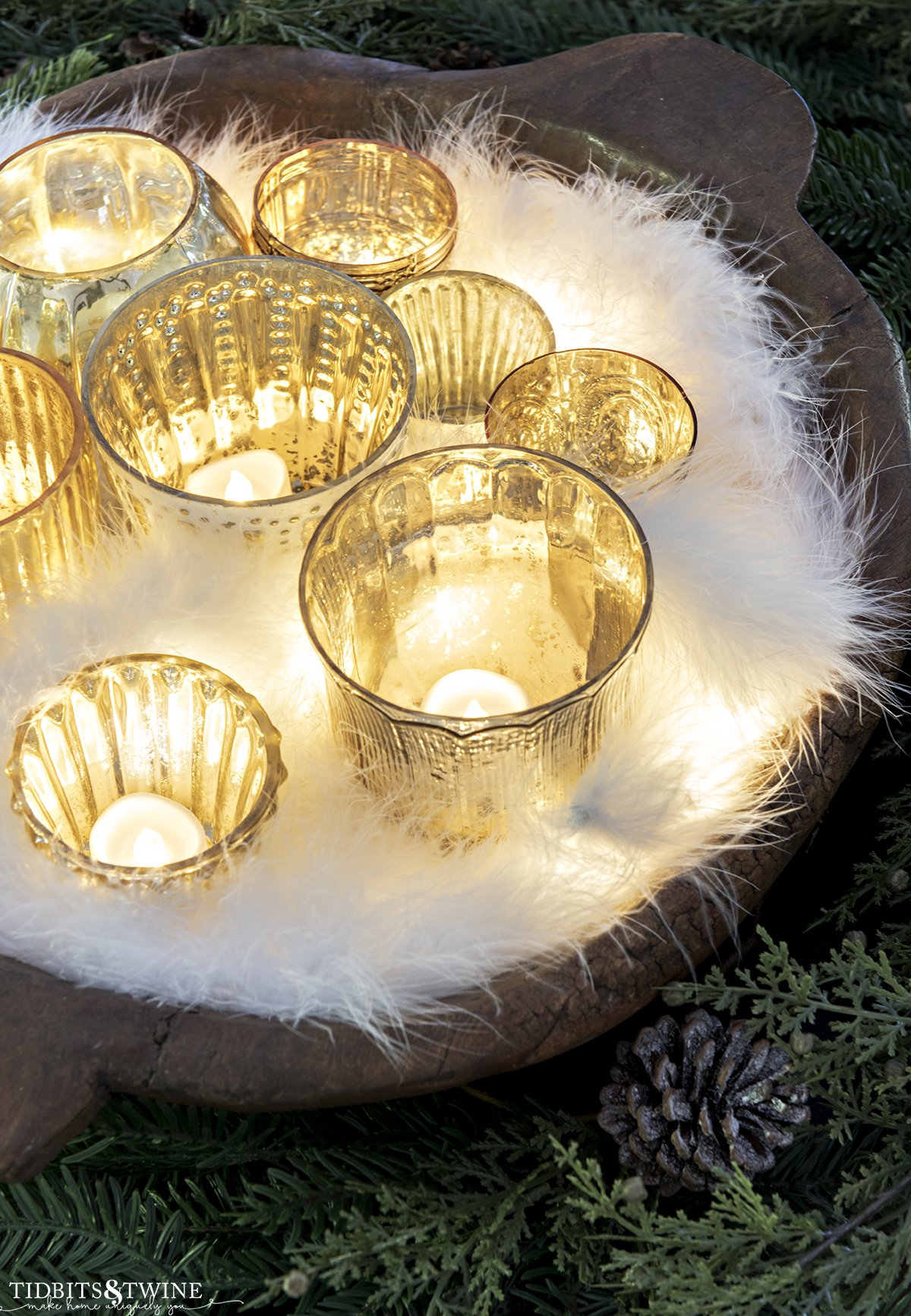 Spring Dough Bowl Ideas
In Spring consider using:
Moss balls
Preserved boxwood
Bird nests/eggs
Easter eggs (for an Easter theme)
Potted flowers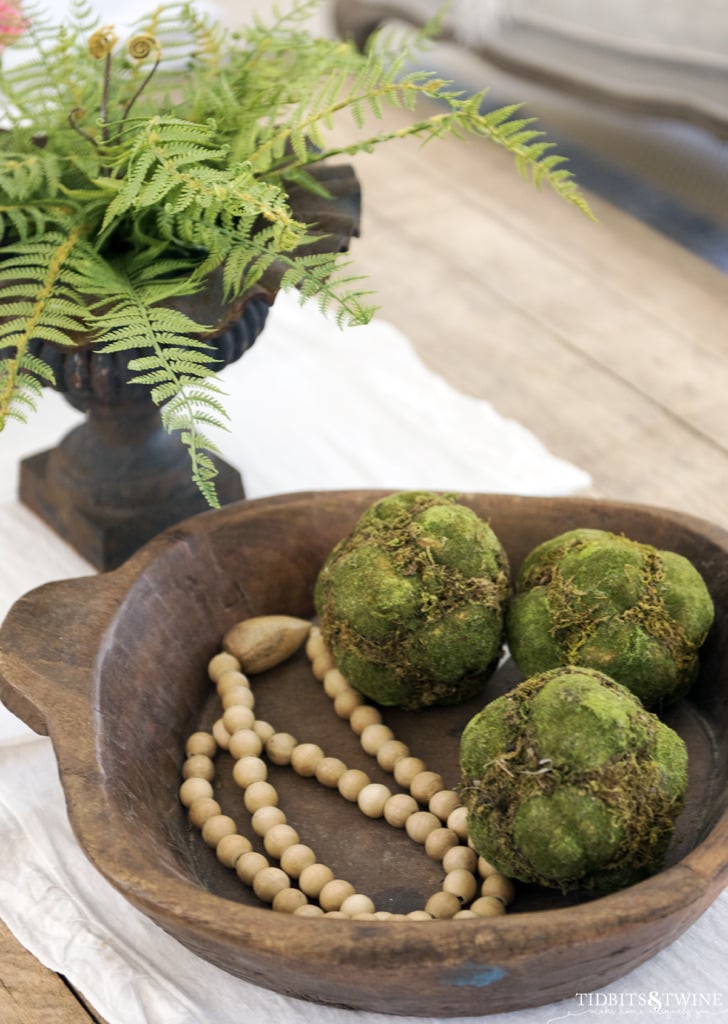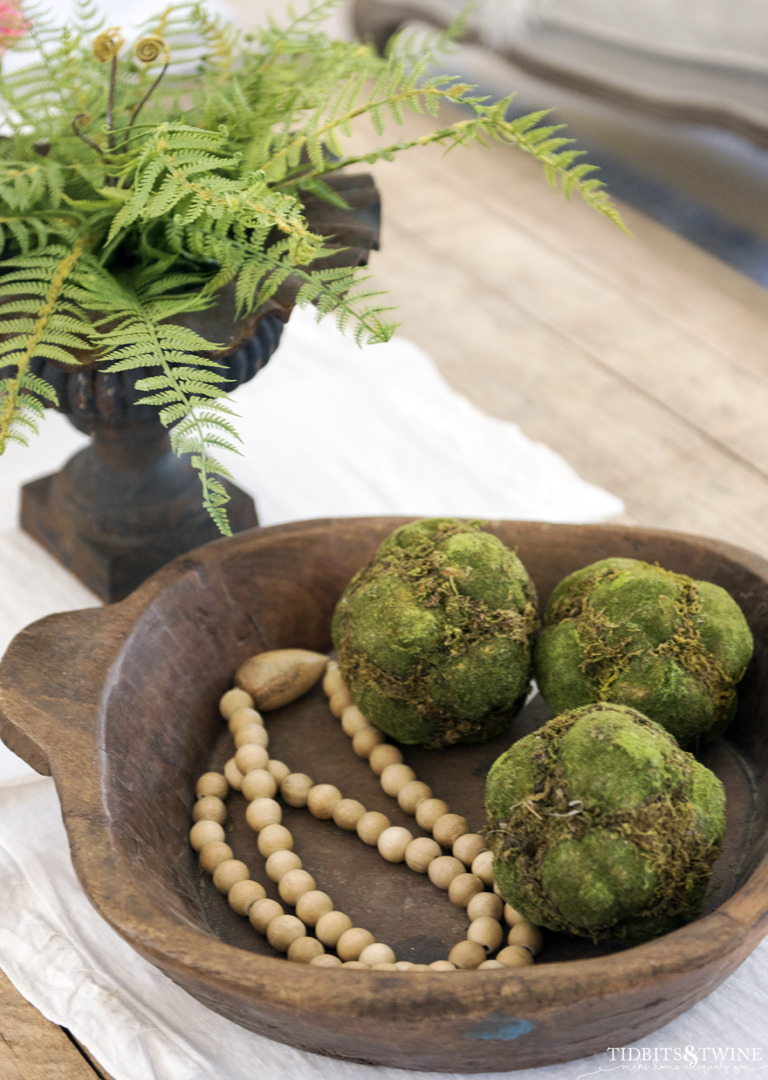 Hydrangeas and succulents make a beautiful centerpiece display in this dough bowl from Jeanine at The Stoker House.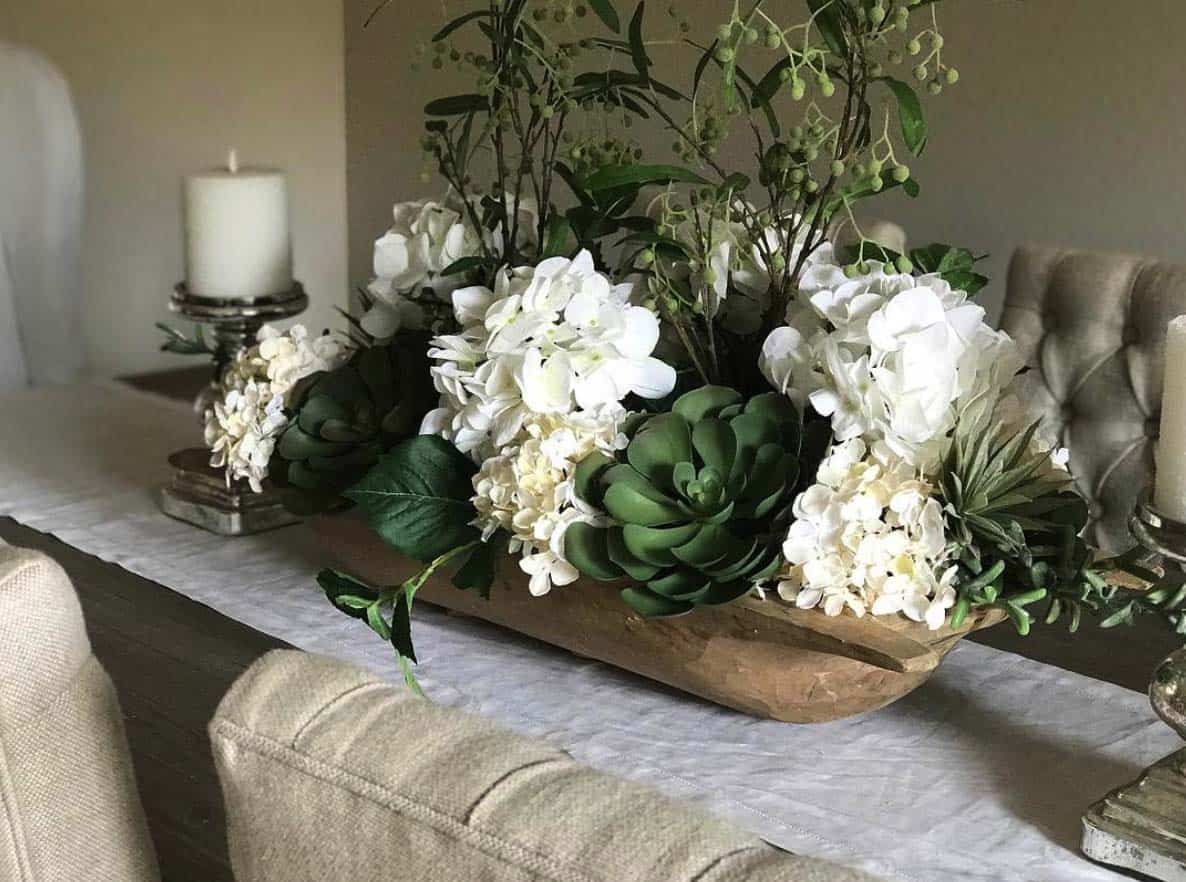 Summer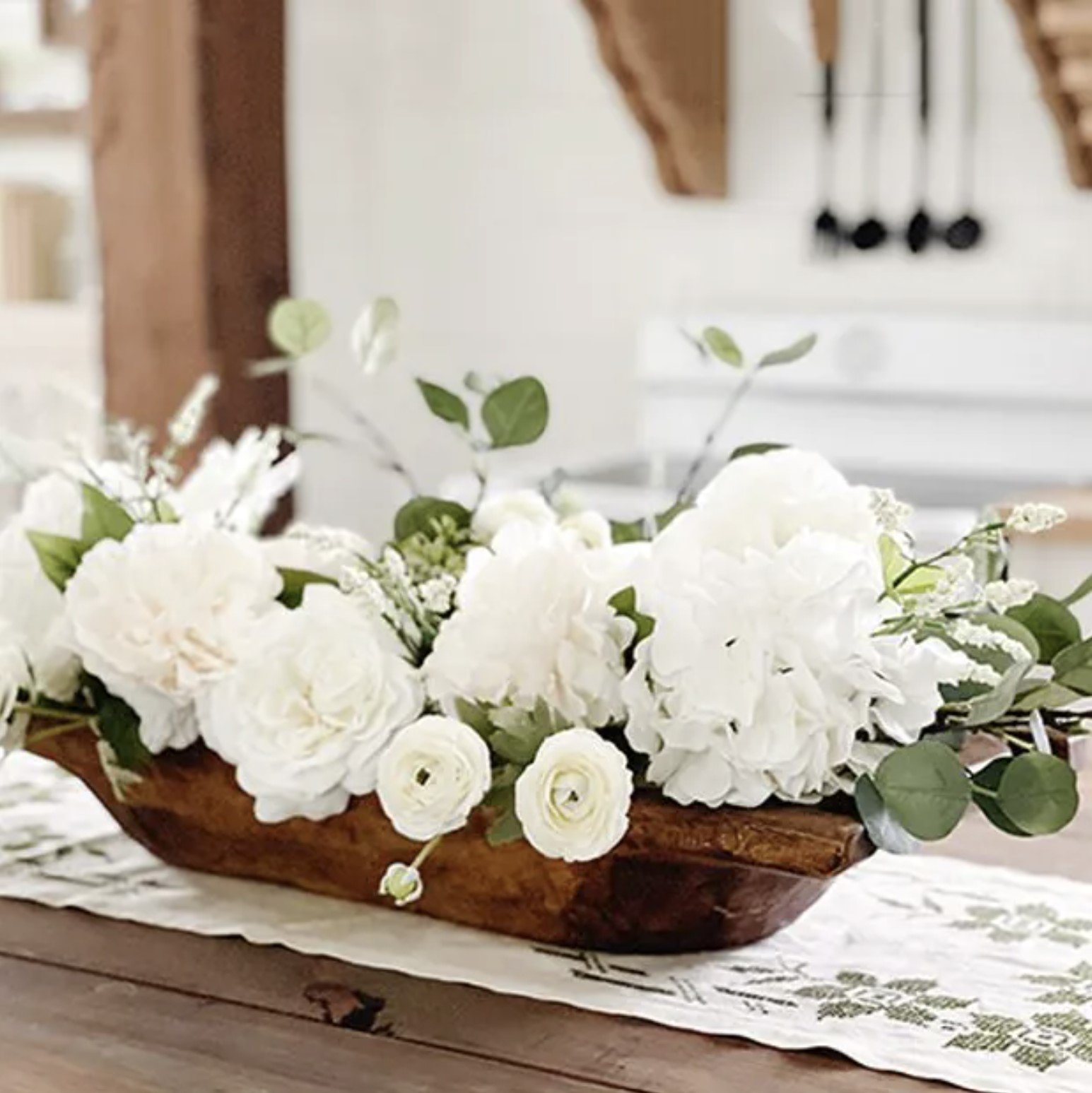 To reflect the warmer temperatures and longer days, consider using:
Seashells
Flowers
Lavender bunches
Glass fishing floats
Fruits
Plants
Moss balls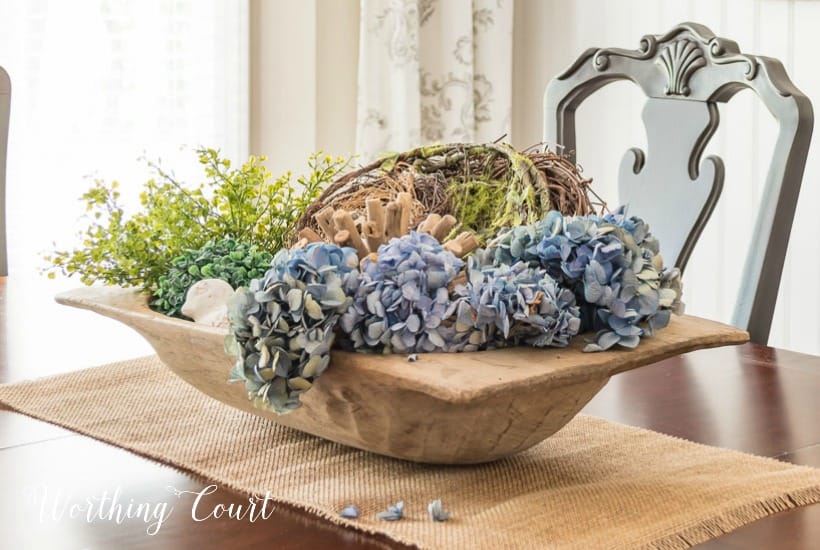 Fall
Last year, I filled my Fall dough bowl with an assortment of white pumpkins and antlers.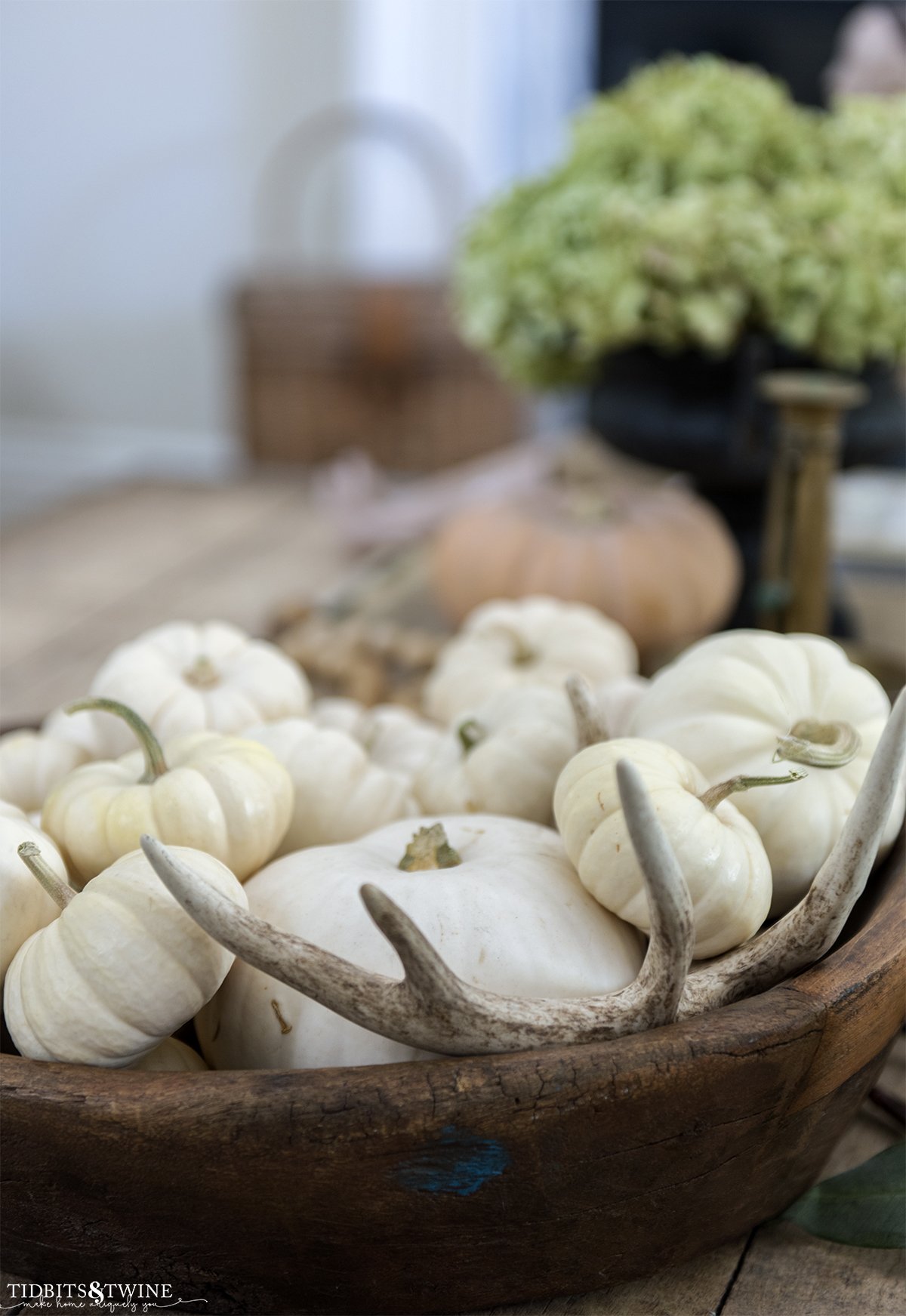 Fall allows for a variety of options! Consider using:
Acorns
Pine cones
Apples
Dried flowers like hydrangea
Eucalyptus stems
Gourds
Mini pumpkins
Spanish moss
Wheat bundles
Antlers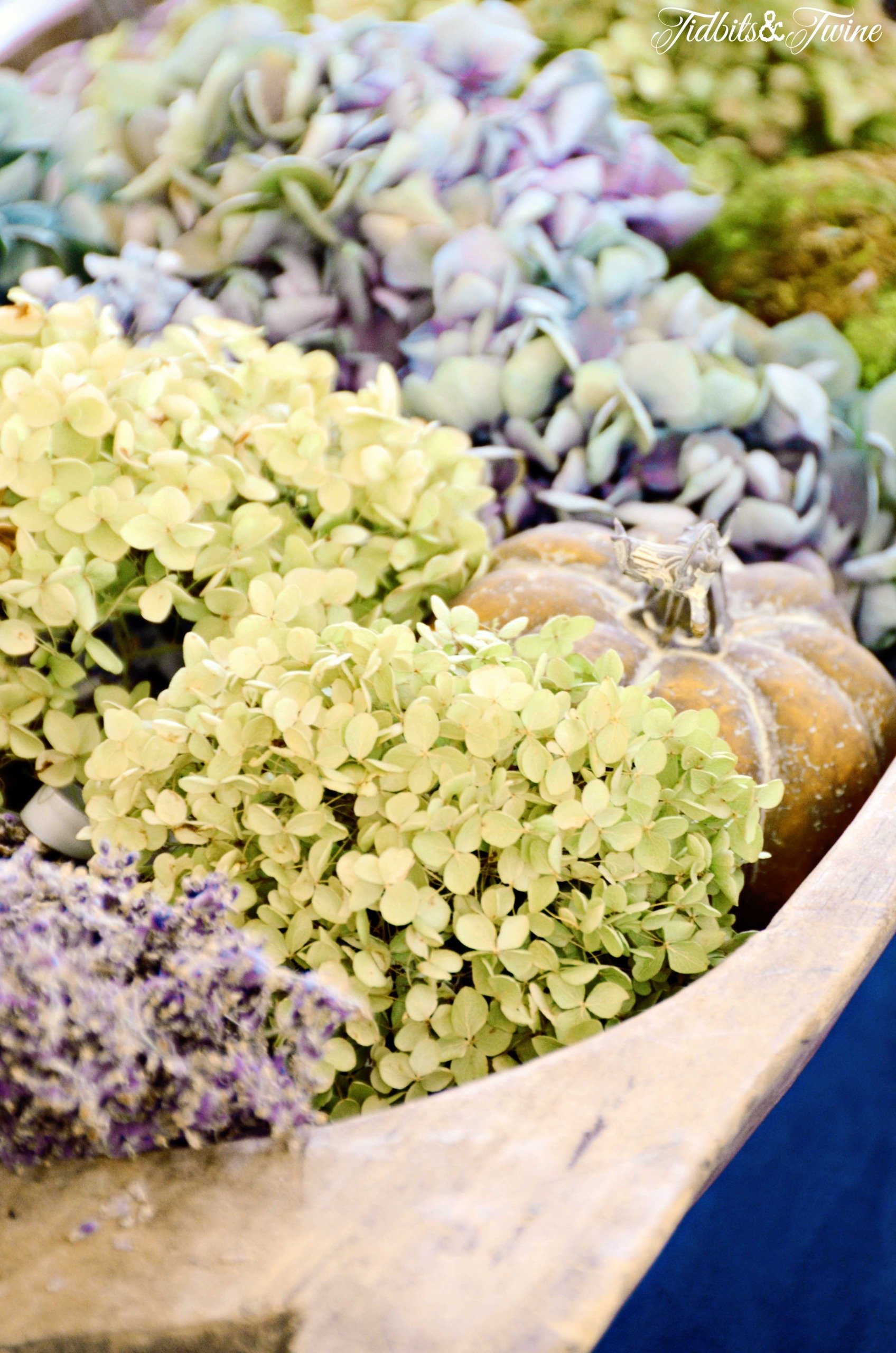 Dough Bowl Styling Tip
Dough bowls are truly so versatile, not only in what room you can use them, but also how you can style them! The options for what you can put in your dough bowl are almost limitless….almost…
Personally, I think the dough bowl decorating ideas that look the most natural are those that incorporate items you would normally find in a bowl, container, or tray of some sort. So, for example, a bowl of apples, or a container of flowers are all a natural fit for a dough bowl. But a statue? Well, you wouldn't normally put a statue in a container, right?
For a styled dough bowl that looks and feels "right", stick with items you'd normally put in a container. The one exception would be seasonal decorating ideas that are meant to embrace a theme, like a miniature Christmas tree in a dough bowl, for example.
Where to Put a Dough Bowl
Dough bowls aren't just for the kitchen or dining room!
A large dough bowl can be used as a centerpiece on a dining room table.
Use a large dough bowl to fill an empty corner or even underneath a coffee table for magazines
You can add a plant to a dough bowl for a beautiful display in the foyer
Add fruits or vegetables to a dough bowl in the kitchen
A small dough bowl on a console table or side table is a great catchall for for TV remotes and glasses
A long dough bowl can be used on a buffet to hold plates and napkins as part of display
How to Care for an Antique Dough Bowl
Dough bowls are hand-crafted from real wood. Like all wood products, this means that water can damage them and they'll need regular care to maintain.
How to Sanitize
Upon purchasing an antique dough bowl, it's best to start by sanitizing it since you don't know when it was last cleaned or how it's been stored and transported.
How to Wash Your Dough Bowl
If you've decorated with your dough bowl (or perhaps even used it to make bread dough!) and want to clean it, simply wipe it down with warm water mixed with mild soap. Never completely immerse it in a tup of water because this will cause the wood to expand and warp. Once wiped down and rinsed, allow it to air dry.
How to Season
Personally, I've never seasoned by dough bowl, but if your dough bowl begins to look faded or dull and you want to revive it, you can simply use a bit of mineral oil on a soft cloth. Once rubbed in, be sure to wipe off any excess with a clean cloth.
How to Repair
If your dough bowl gets wet and develops splinters in the wood, you can take fine-grit sandpaper and simply sand it smooth again. Repeat the seasoning step if you feel it's necessary.
If your dough bowl develops a crack you could try to repair it, but part of the charm of an antique dough bowl is the wear and tear it receives, so perhaps leave the crack as a part of history! In fact, many antique dough bowls already have signs of repair, whether in the form of metal patches or strips of glue.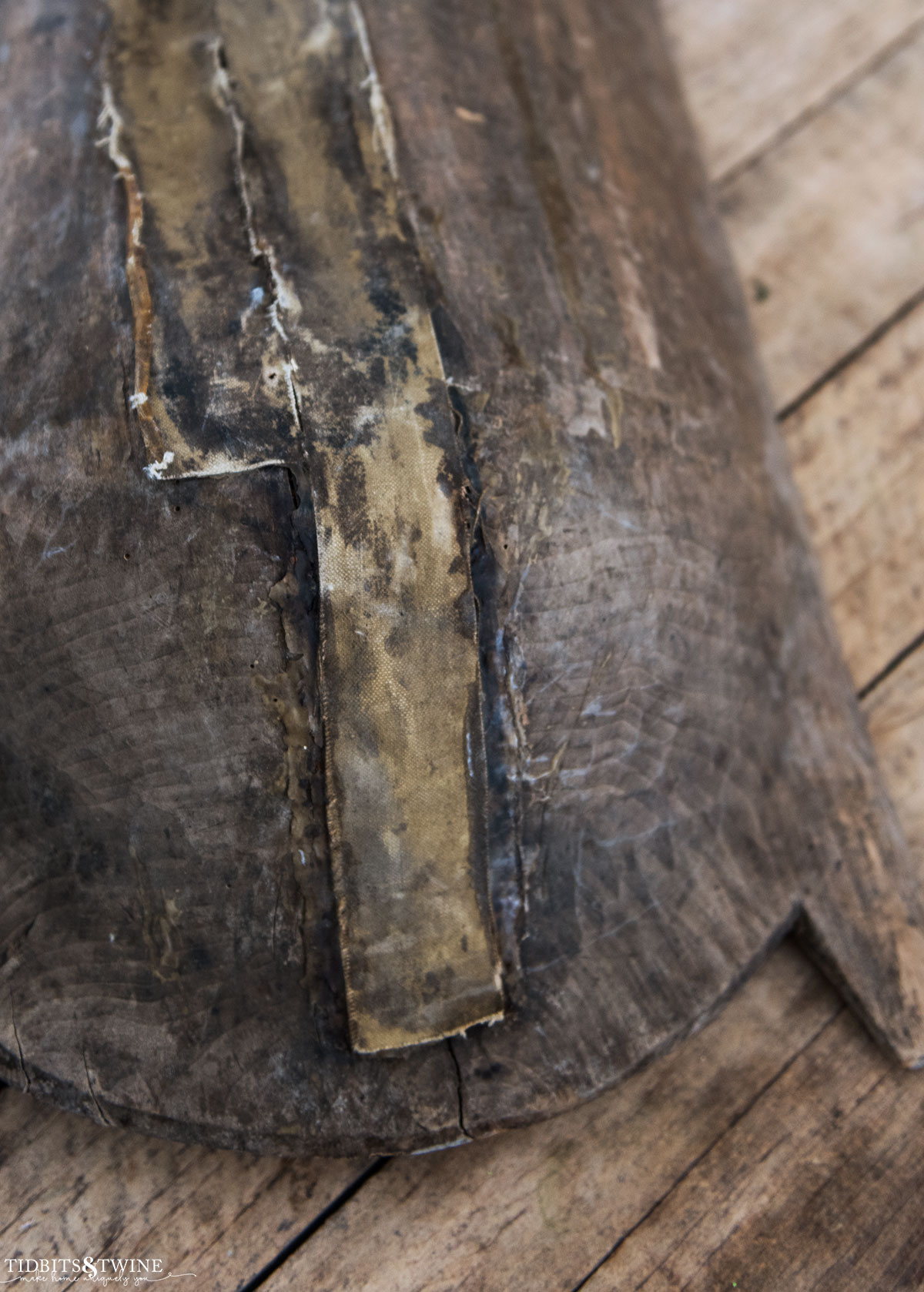 Where to Buy Antique Dough Bowls
Local antique stores and antique fairs will carry dough bowls (although I haven't seen more than 1 in stock at a time), which is great because then you can select the exact one you like.
But if finding one in-person proves difficult, thankfully there are many online retailers who carry them.
Shop for Dough Bowls
Here are some of my favorites!

More Ideas for Decorating with Antiques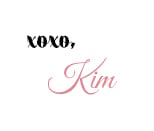 Join the Community
Let's keep in touch! Get exclusive artwork plus the latest news delivered directly to your Inbox!