Easy ideas for decorating with flowers to add natural beauty to your space! This guide will give you ideas and inspiration for how to decorate with flowers in your own home beyond just a standard vase on the table.
There is one thing that you're pretty much guaranteed to find in any room of my home. Everyone loves them. They never go out of style. They always make me happy. Yes, I'm referring to flowers!
I love their delicate beauty, the color, and even the life they bring to a room! And you don't need to create a complex flower arrangement or have any floral arranging skills to decorate with flowers. The key is to use them to enhance the beauty of your home and honestly…to enjoy them!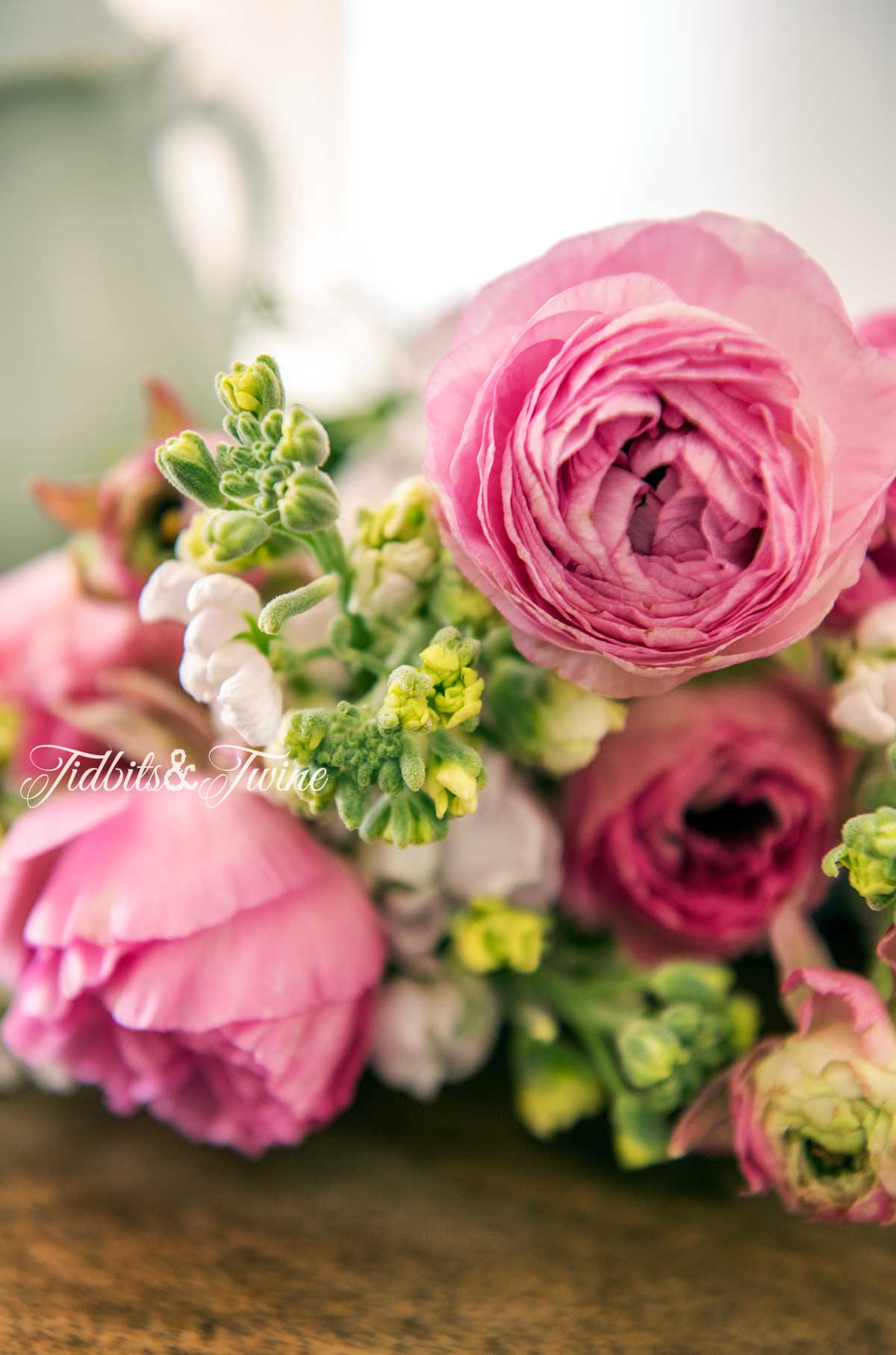 Why Decorate with Flowers
Decorating with flowers is an easy way to add an organic element to a room, a pop of color, and a breath of fresh air – literally! They are incredibly versatile so you can move them room to room, split one bouquet into many, or change the mix as certain flowers wilt or die.
Plus, remember when we discussed decor trends for 2022? Among them was biophilic design, or the art of bringing the outdoors in. But don't do it just because it's trendy. Do it because it will improve your mood! When we talked about creating your signature home scent, one of the reasons was because 75% of each day's emotions are a result of smell!
And of course, you should decorate with flowers because they are accessible and affordable. Whether you're clipping flowers from your garden or picking up some blooms at your local grocery store, all flowers are beautiful. And with so many colors and varieties to choose from, you're sure to find one that matches your mood and design style!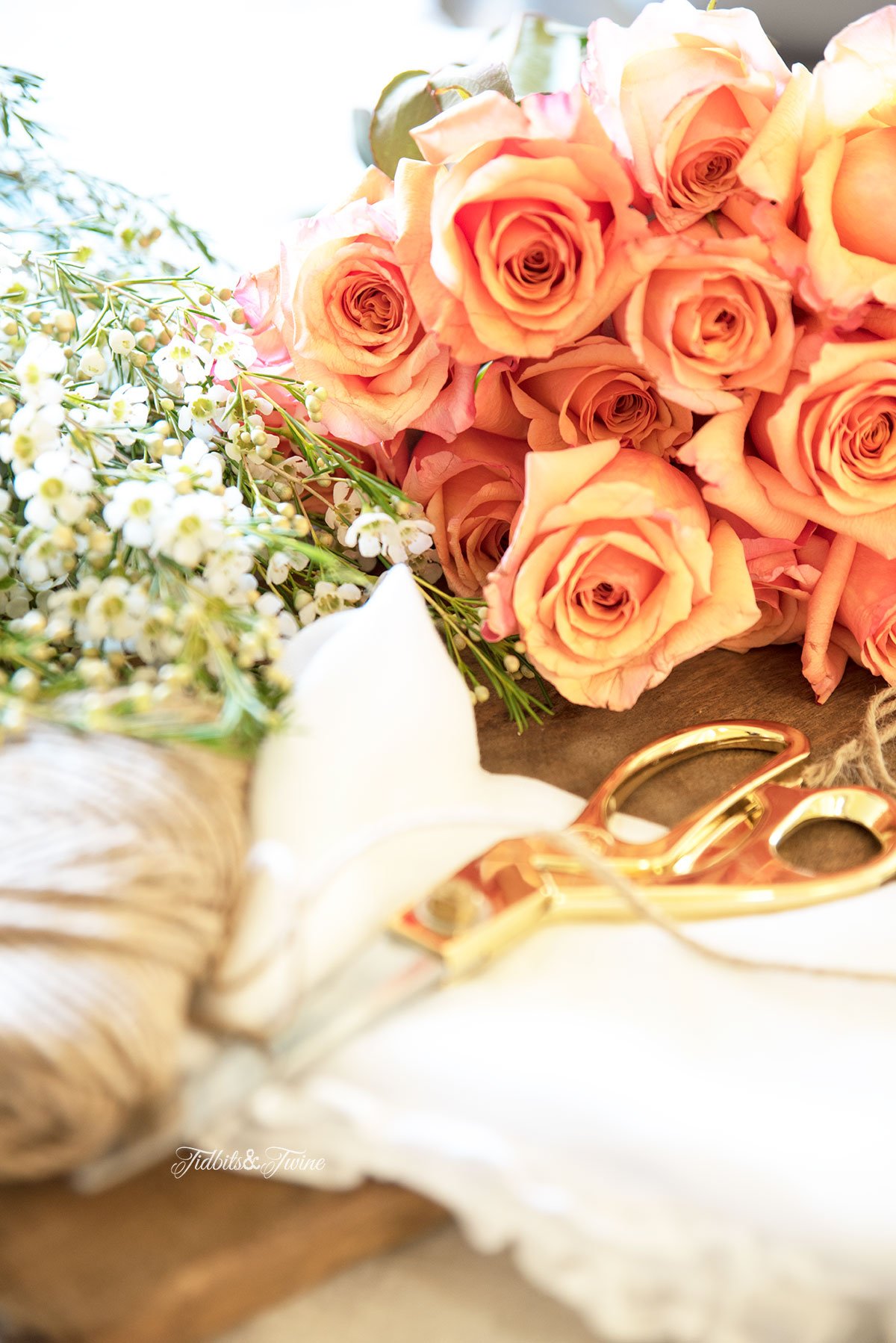 What Flowers to Use for Decorating
What type of flowers to use for decorating is really a matter of personal preference and seasonality. If you're shopping at a grocery store, for example, you'll largely be limited by what flowers are in season.
If you hit up a flower market, on the other hand, you'll have more luck finding out-of-season blossoms if you have something specific you're looking for.
In addition to thinking about what flowers you personally like and what colors, also give consideration as to whether you want to dry your blooms for future use. Hydrangeas and roses, for example, dry nicely and can be used year-round.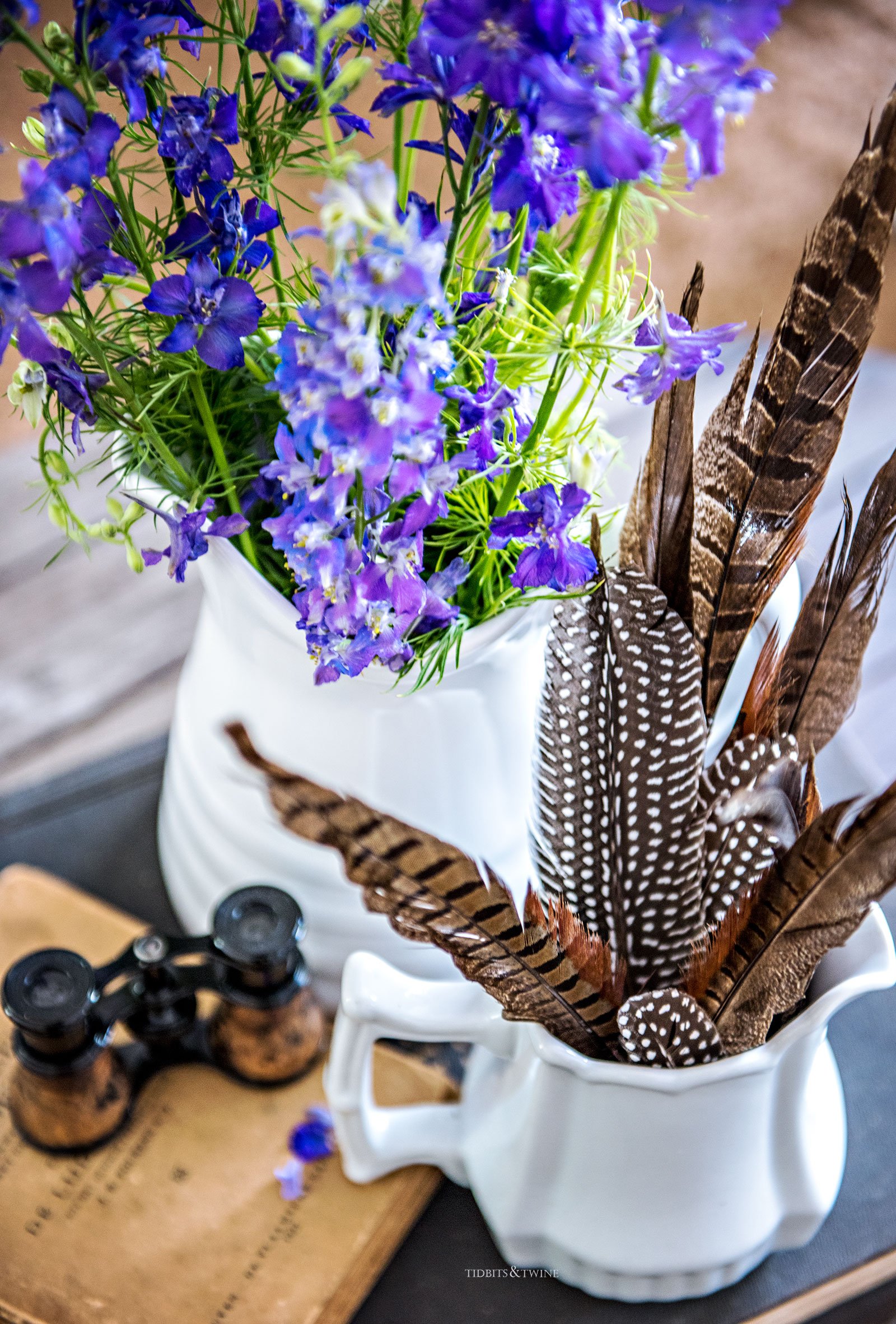 20 Ideas for Decorating with Flowers
Yes, you can buy or clip some flowers and stick them in a vase on the table. That's fine! But if you're looking for some new ways to display your flowers or even new ideas for simple arrangements, I've got you covered! I've rounded up 20 ideas for decorating with flowers to give your home the boost it deserves.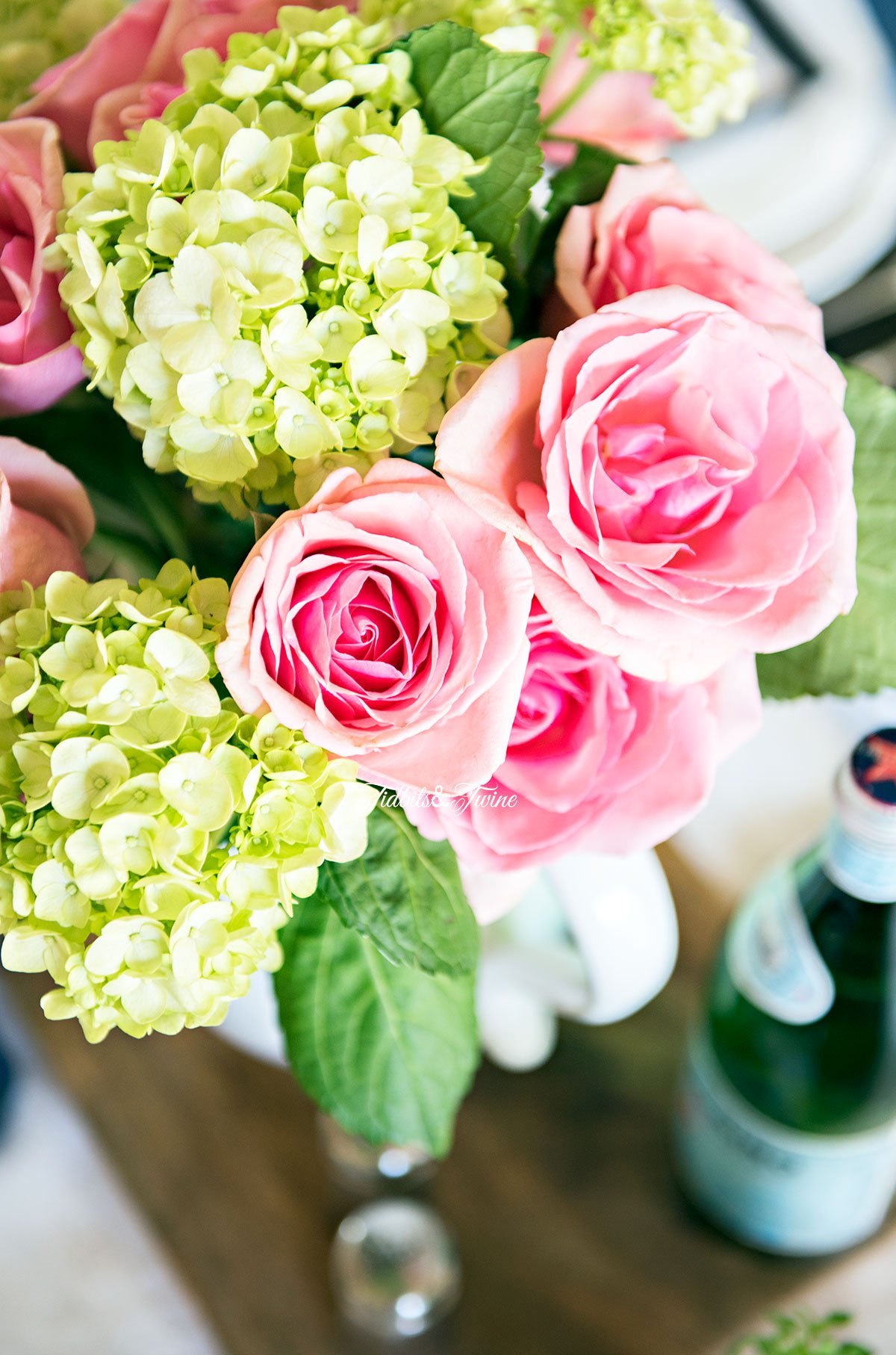 1. Use One Color
Why not? There's no need to stress out about creating a complex arrangement! Sometimes, there's beauty in simplicity. So don't hesitate to pick a color and run with it. On my coffee table I've used a large pickling jar to display white roses and peonies. This arrangement couldn't be easier and with some pebbles for added texture, it creates an eye-catching display.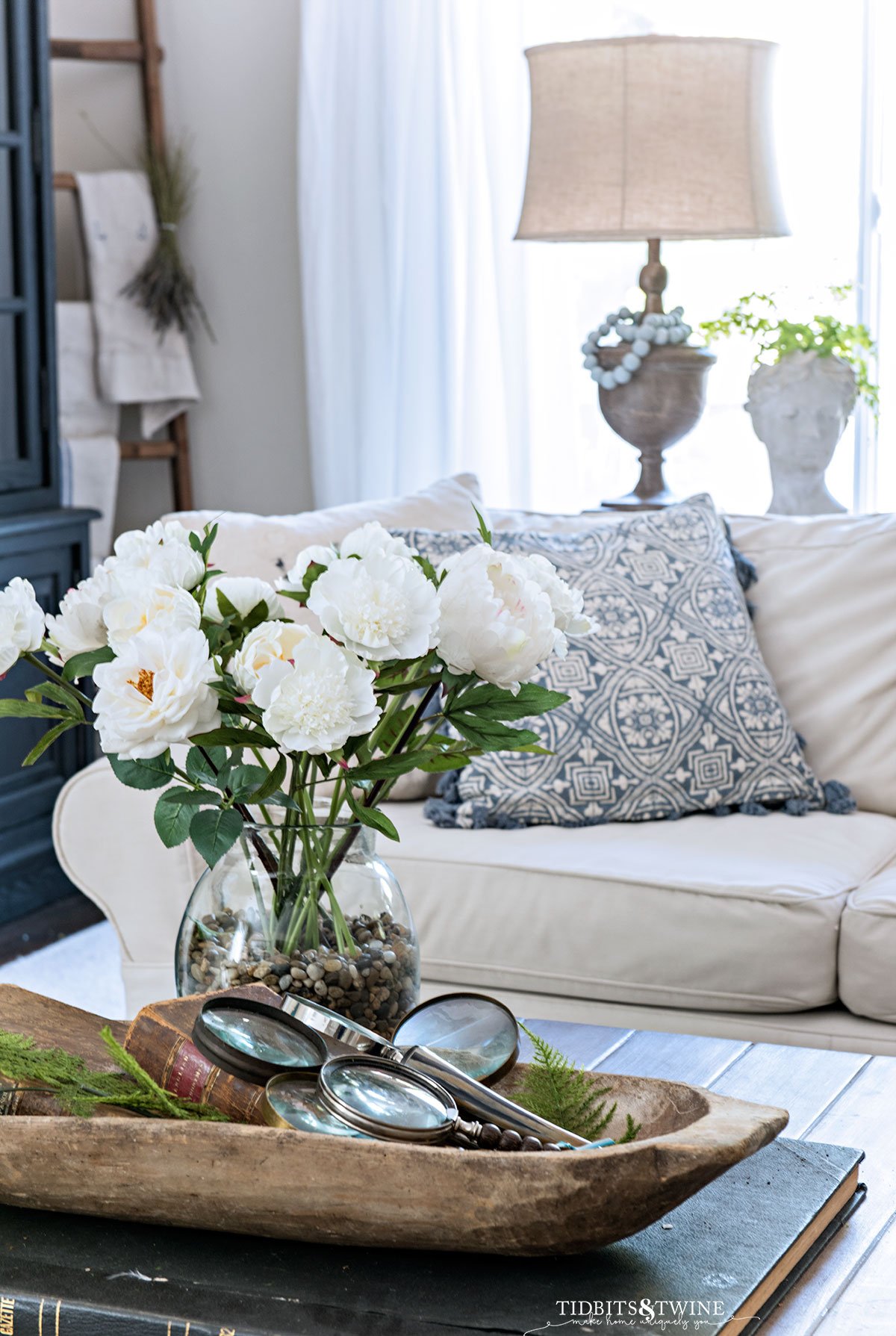 2. Remember that Opposites Attract
If one color is playing it too safe for you, remember that opposites attact! You can create a bold display of contrasting colors. I love the combiation of purple and green or even yellow and purple.
Take a look at the color wheel and pick complementary colors that are opposite one another on the wheel.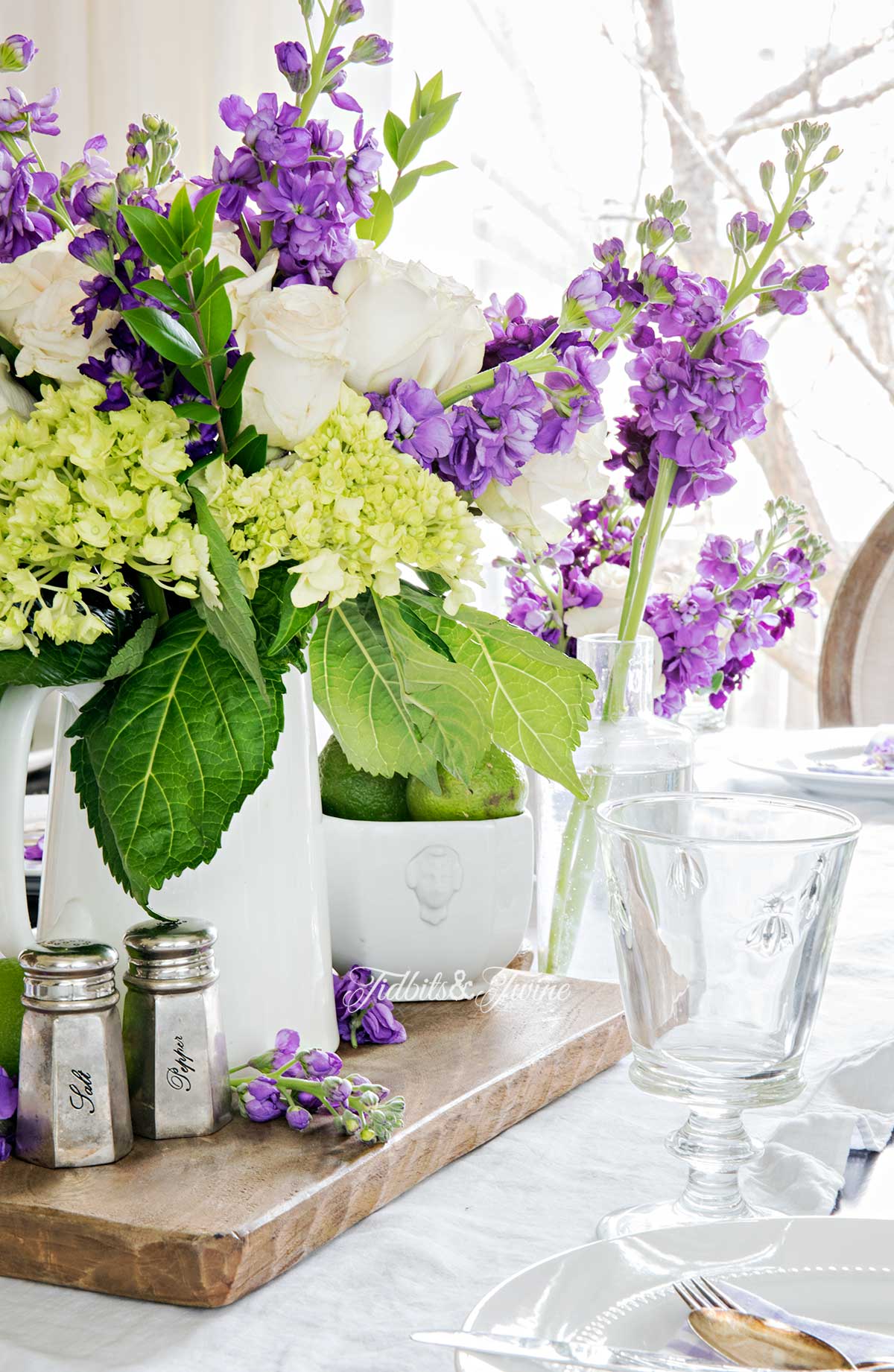 3. Shop the Grocery Store
I cannot say enough about grocery store flowers! Whether you shop at a large retail chain like Safeway, Vons, or Piggly Wiggly, or Trader Joe's, they have fantastic prices on seasonal flowers. While you're not going to find a particularly unusual or out-of-season flower at the grocery store, what you will find is a fresh selection with regular restocking. You can read all of my tips to make grocery store flowers look amazing!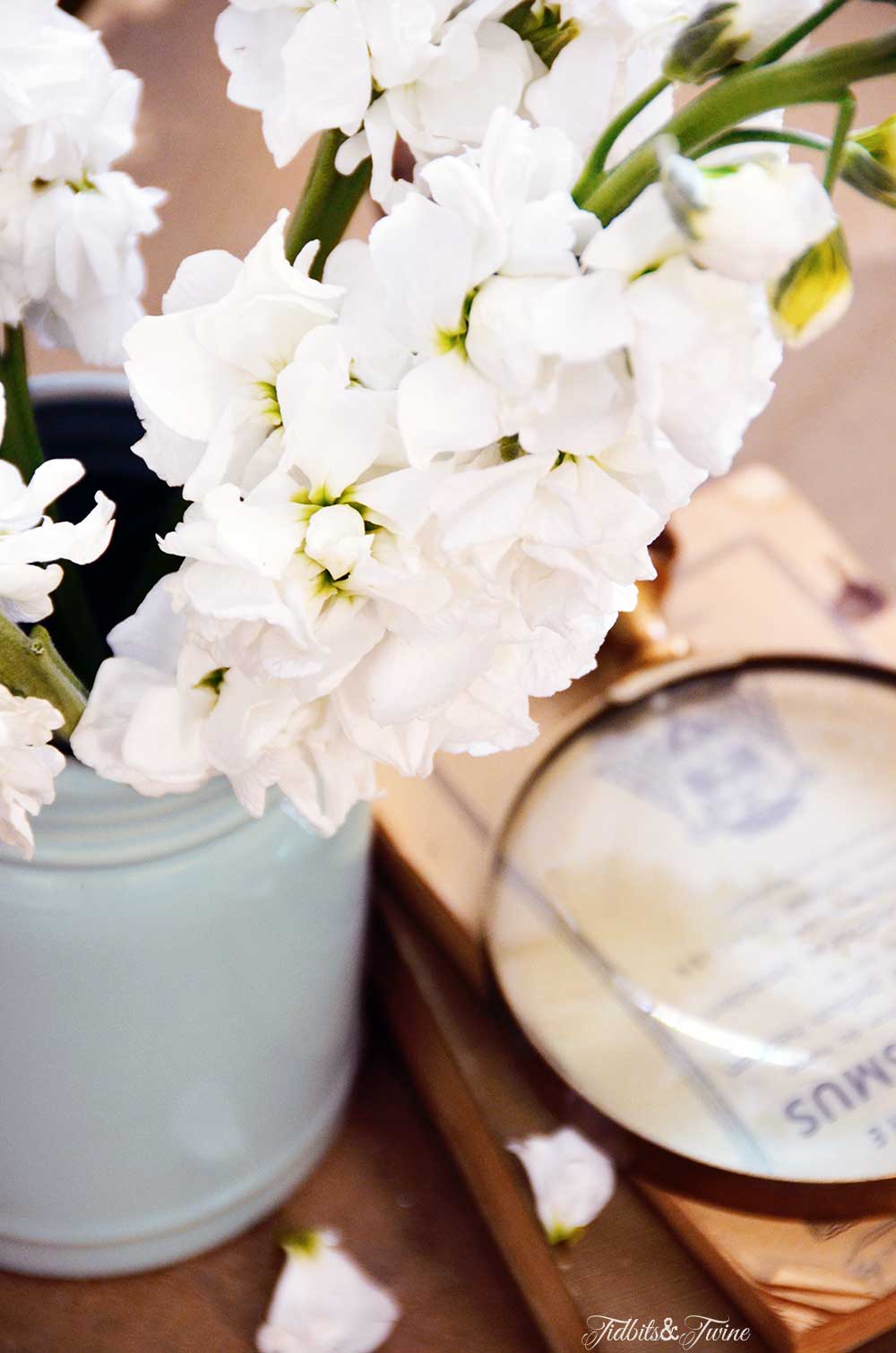 4. Use Dried Flowers
Don't underestimate dried flowers! While they don't have the same look as fresh flowers, they definitely have a beautiful look of their own. Some flowers lend themselves to drying more than others. Hydrangea, roses, and lavender are my personal favorites for using in dried flower arrangements.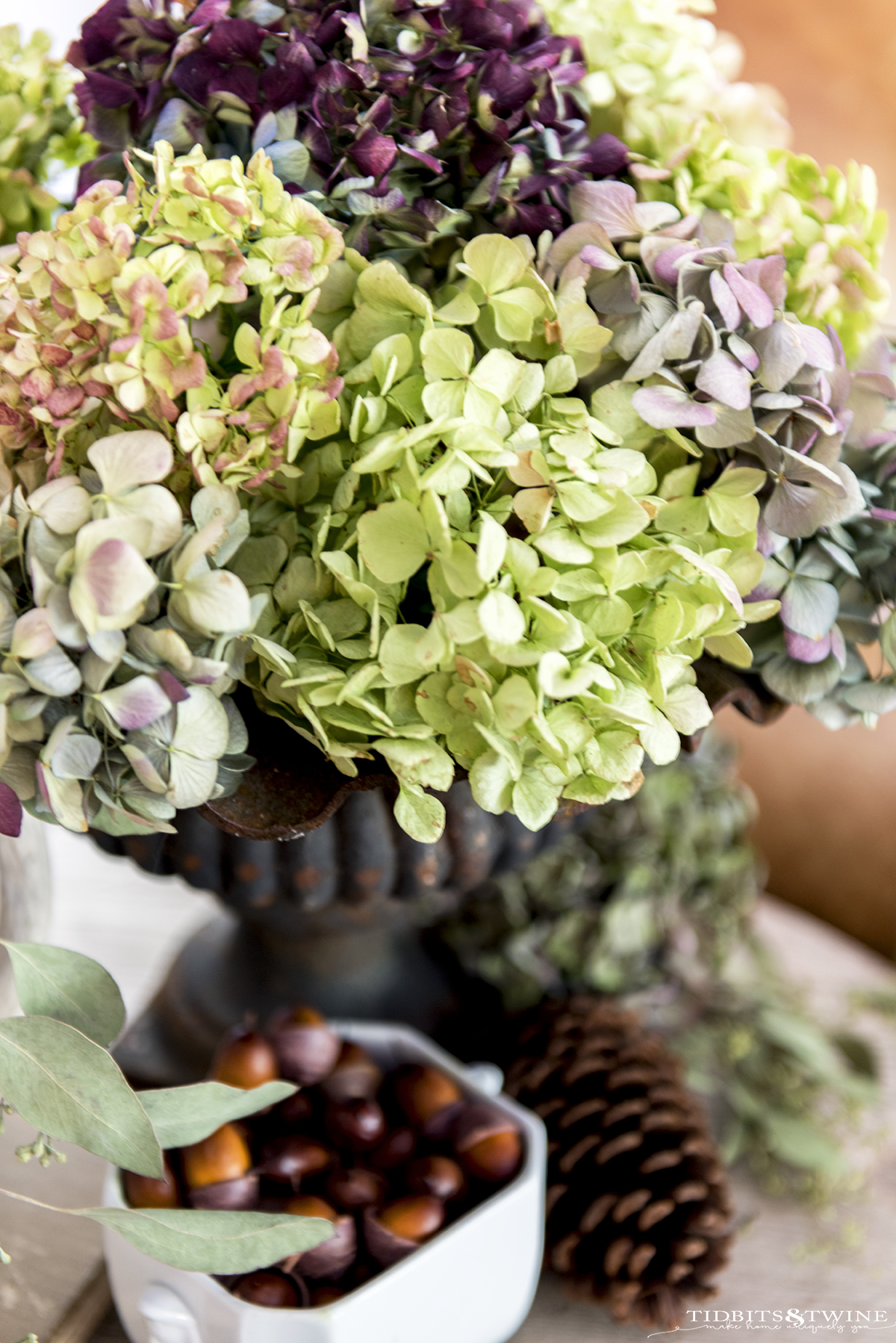 5. Create a Table Centerpiece
Consider creating a centerpiece for your kitchen or dining table…just because! There's no need to wait for a special occasion or meal when you can enjoy a pretty floral centerpiece every day. Here I used simple white flowers in a pickling jar with pebble filler on a breadboard.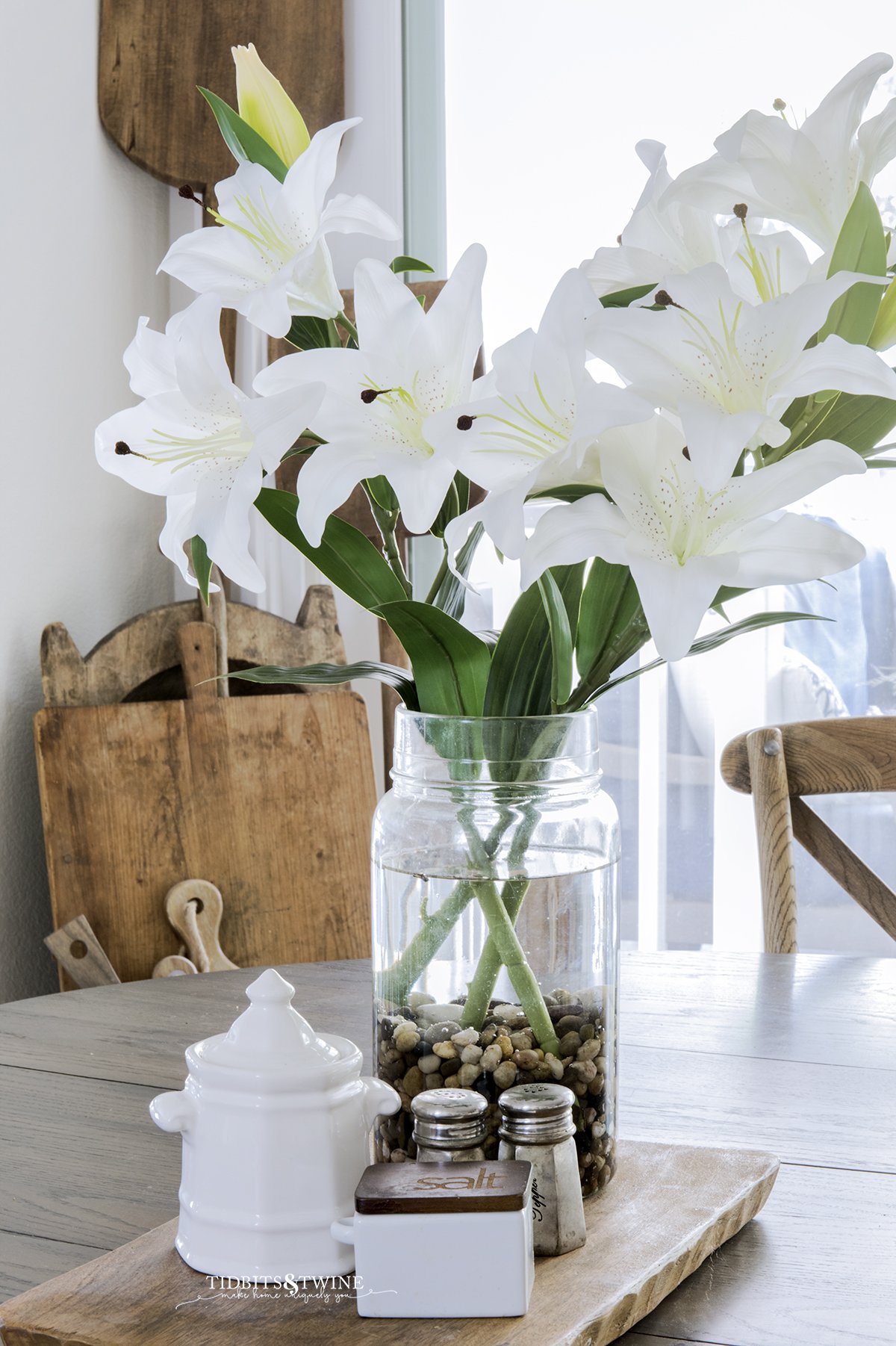 6. Create a Flower and Fruit Vignette
You can create a beautiful vignette by combining your flowers with groupings of fruits. Pumpkins are easy because you can just prop a few at the base. But you can also put a bowl of apples, pears or oranges next to flowers in the kitchen for a creative display.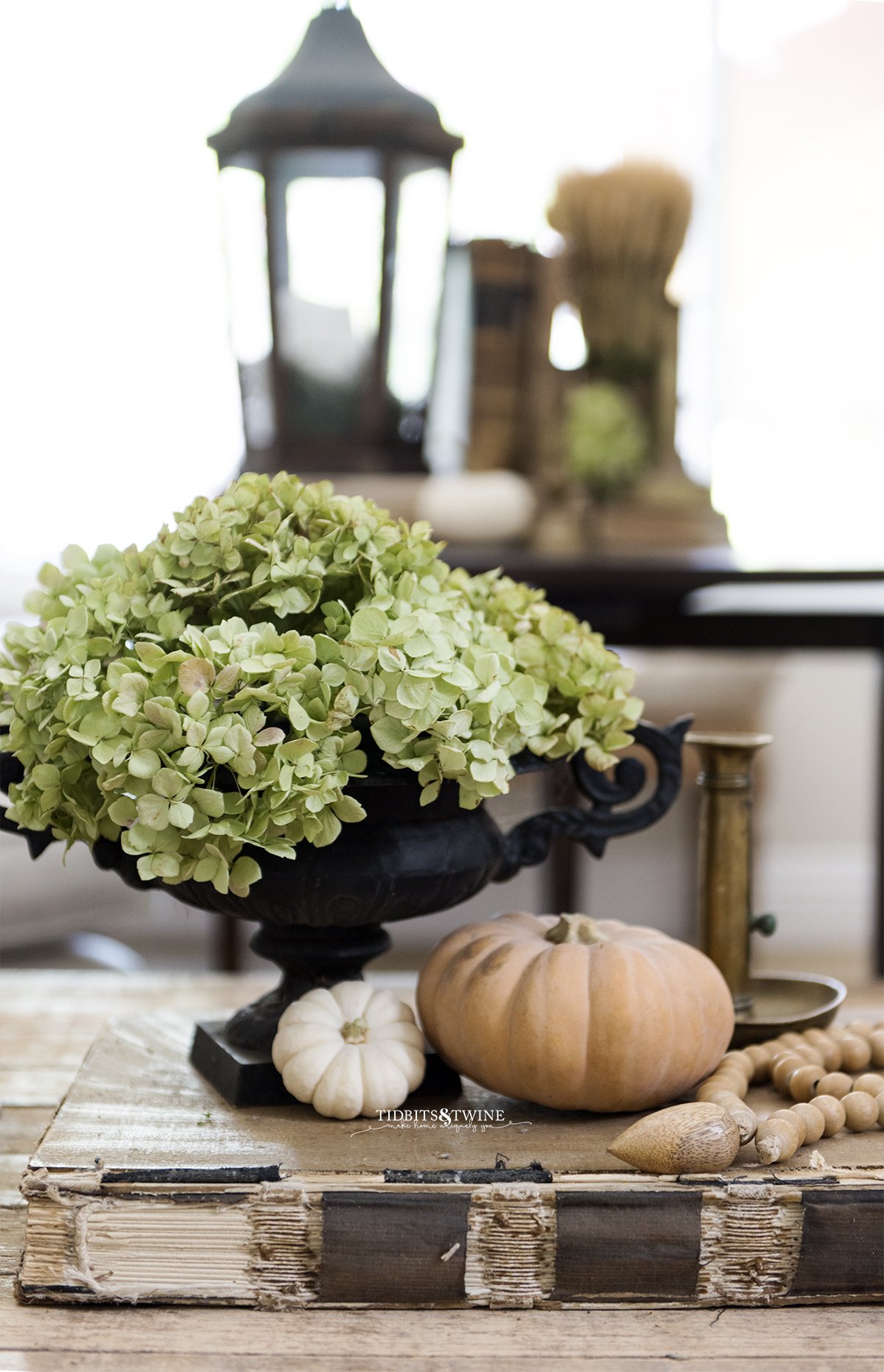 7. Add Bits of Greenery
You can take a single flower bouquet from the store and enhance it with a bit of greenery. You can even take clippings from your own yard! Here I used white roses and added some stems of eucalyptus for a Fall display.
8. Combine Fresh and Faux Flower
While fresh flowers might be the gold standard, there are some beautiful fake flower options available these days! You can create an entire bouquet of artificial flowers, or mix real and fake together to create a larger arrangement.
Can you spot which flowers are fake below?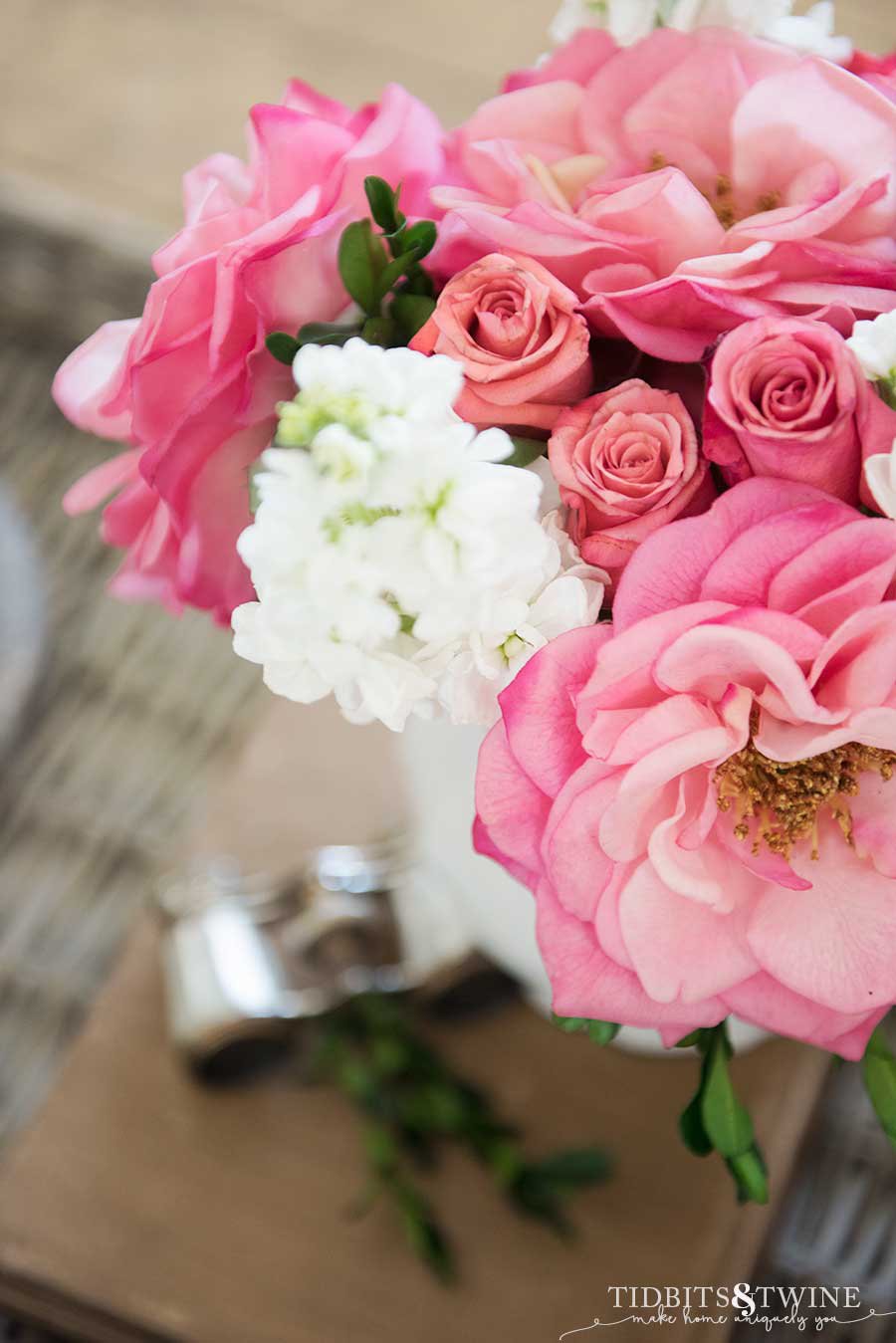 9. Remember Small is Beautiful
Don't limit yourself to juse one arrangement! You can take a larger arrangement and split it into multiple smaller ones. This way, you can enjoy flowers in multiple rooms or create a flower grouping using a collection of white vases or even mason jars.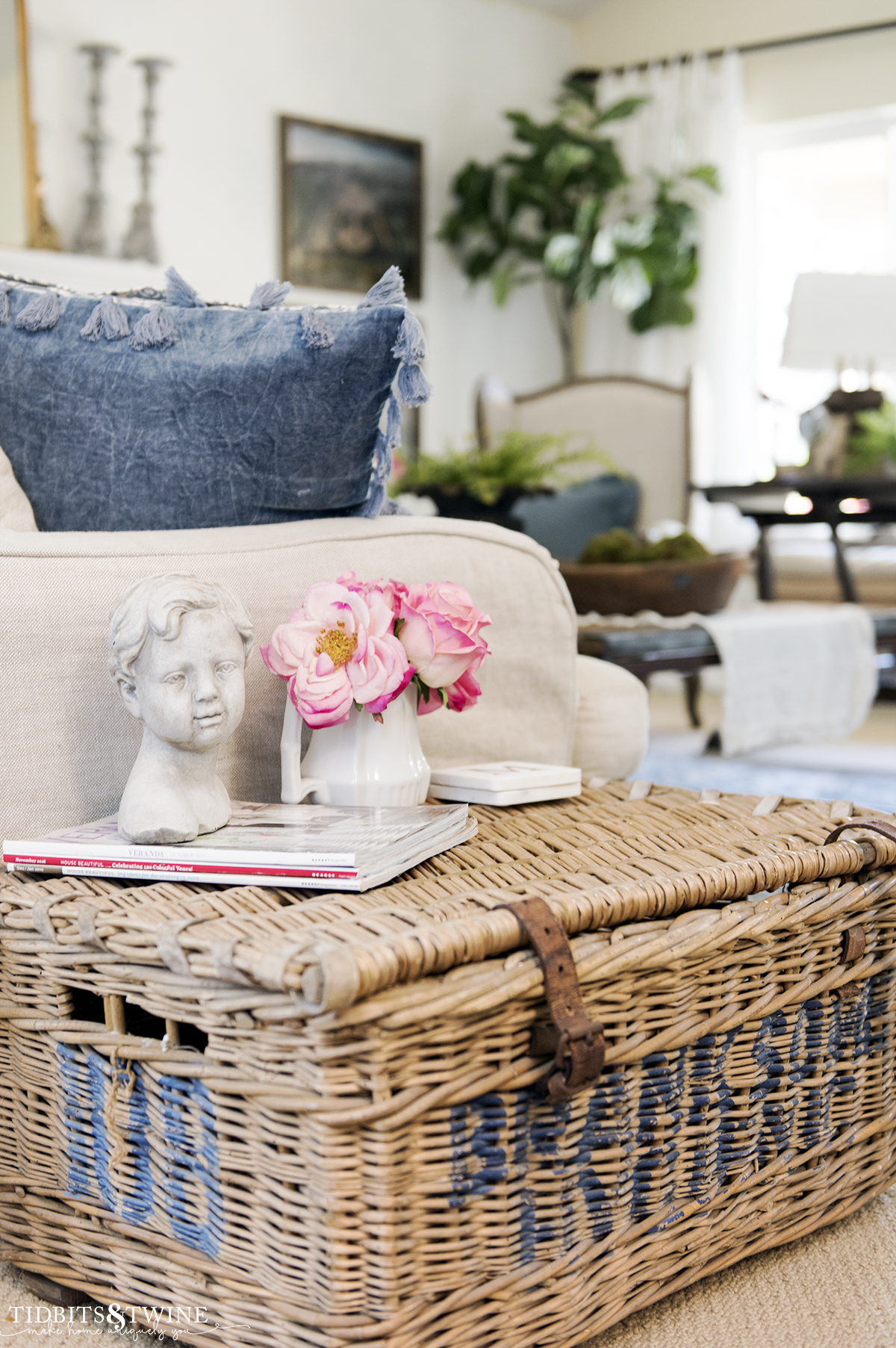 You can even clip a rose from your garden – even if it's just one – and place a single stem on a side table!
10. Use a Unique Vessel
Think outside the box when it comes to displaying your flowers and don't limit yourself to a standard vase. Part of what makes an arrangement beautiful and "work" within your decor is the vase itself! I almost never use a traditional flower vase.
My go-to tends to be a white pitcher (sometimes real ironstone, sometimes not). But I've also used vintage trophy cups, campagne budgets, drinking glasses, pickling jars, sugar bowls, jardineres, and more.
Anything that can hold water can work as a vase. And if your vessel doesn't hold water, see if you can add a vase or liner to it to make it work! Using a unique item as a vase is a great way to amplify the look of your flowers.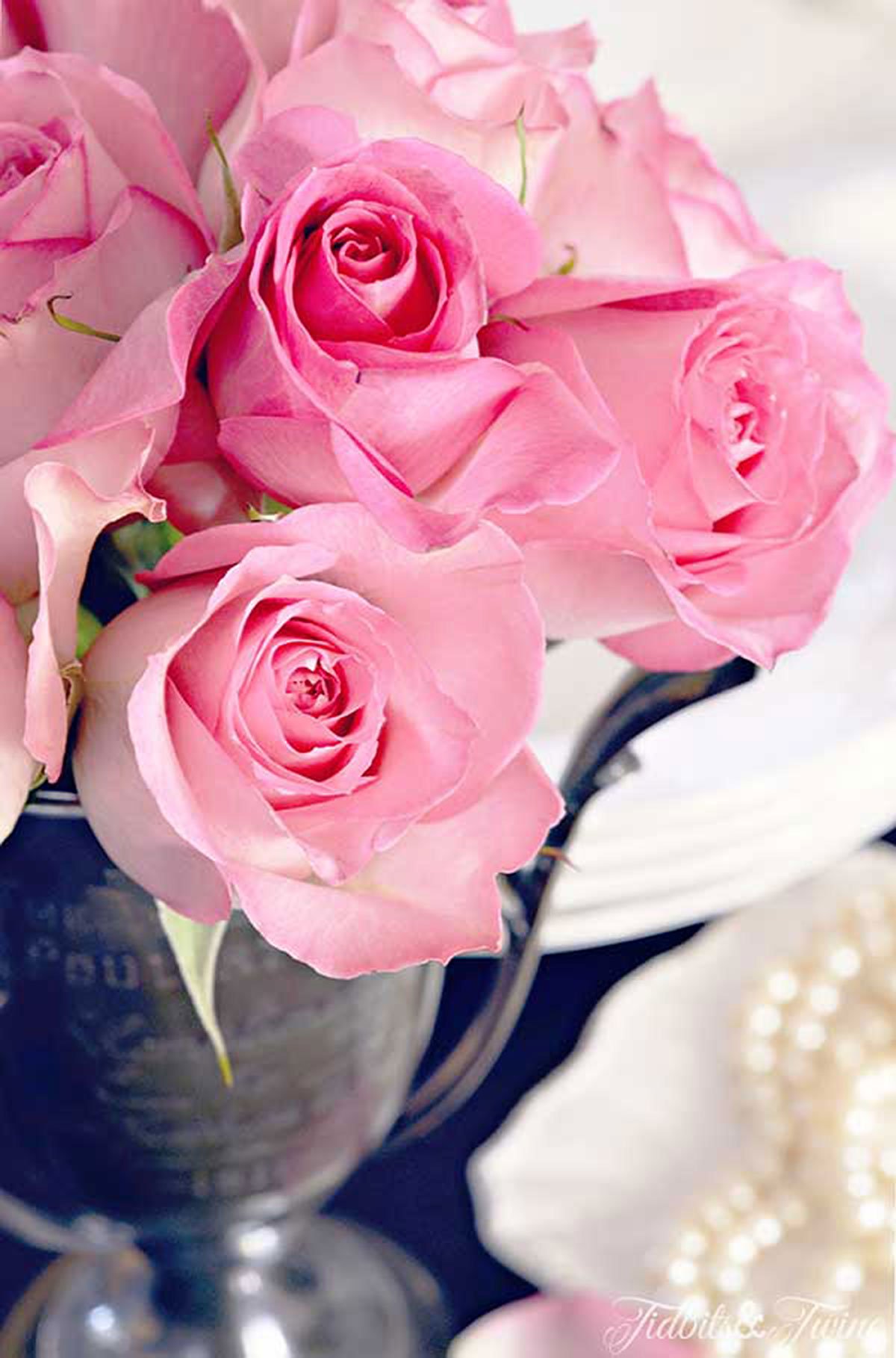 11. Create a Eye-Catching Mantel
You can enhance the look of your mantel with a flower arrangement! You don't need anything elaborate and costly. It can be a simple set of bud vases lined up with a single stem in each or even a small display!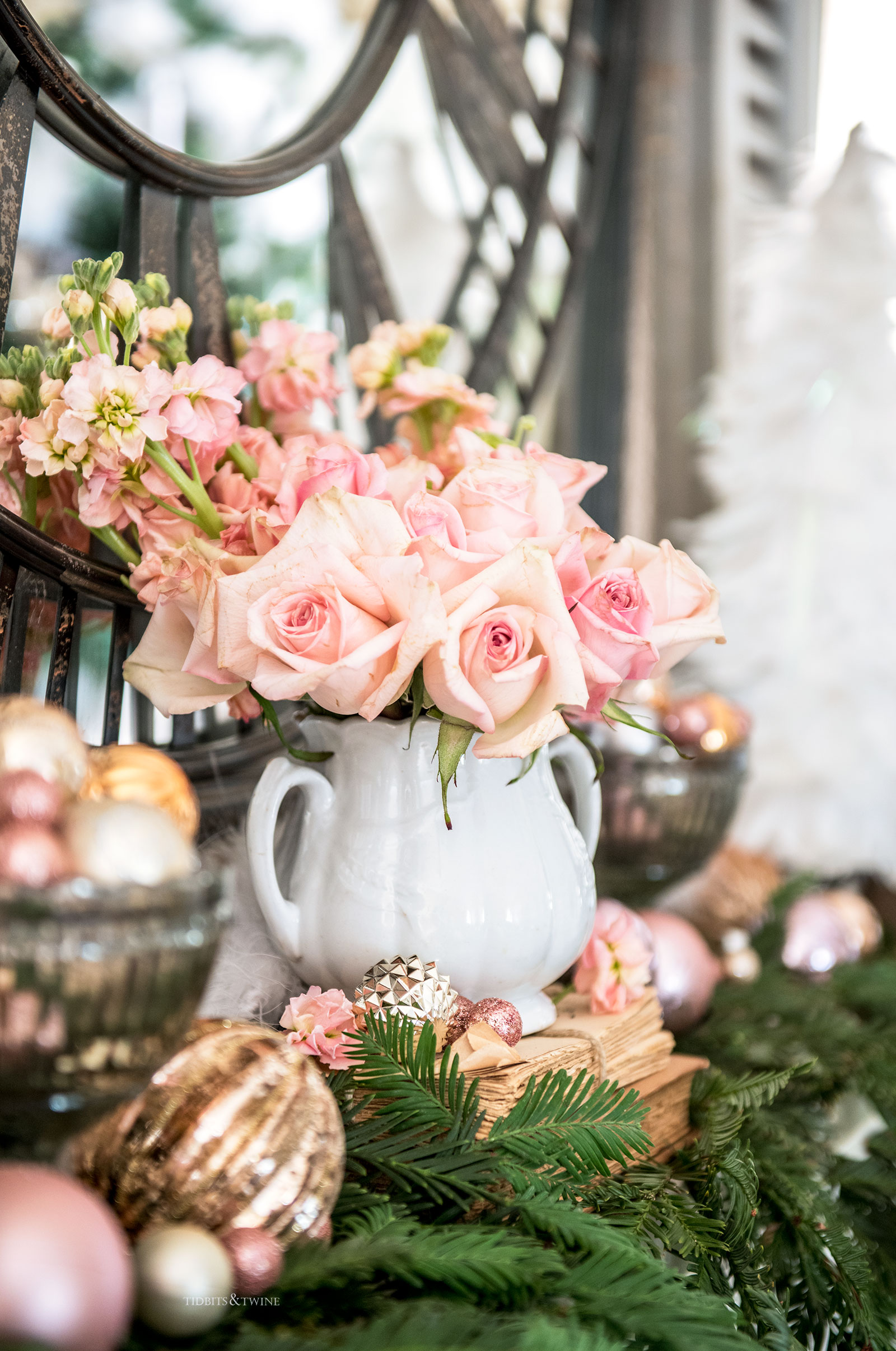 12. Layer Your Flowers
I am a huge fan of layering my decor, and flowers are no exception. Flowers do look beautiful as centerpieces, but they can also be used to layer among other decor items. Dried flowers can be added as accents to add an organic element to styled shelves. Or you can layer a vase with artwork on a mantel or sideboard!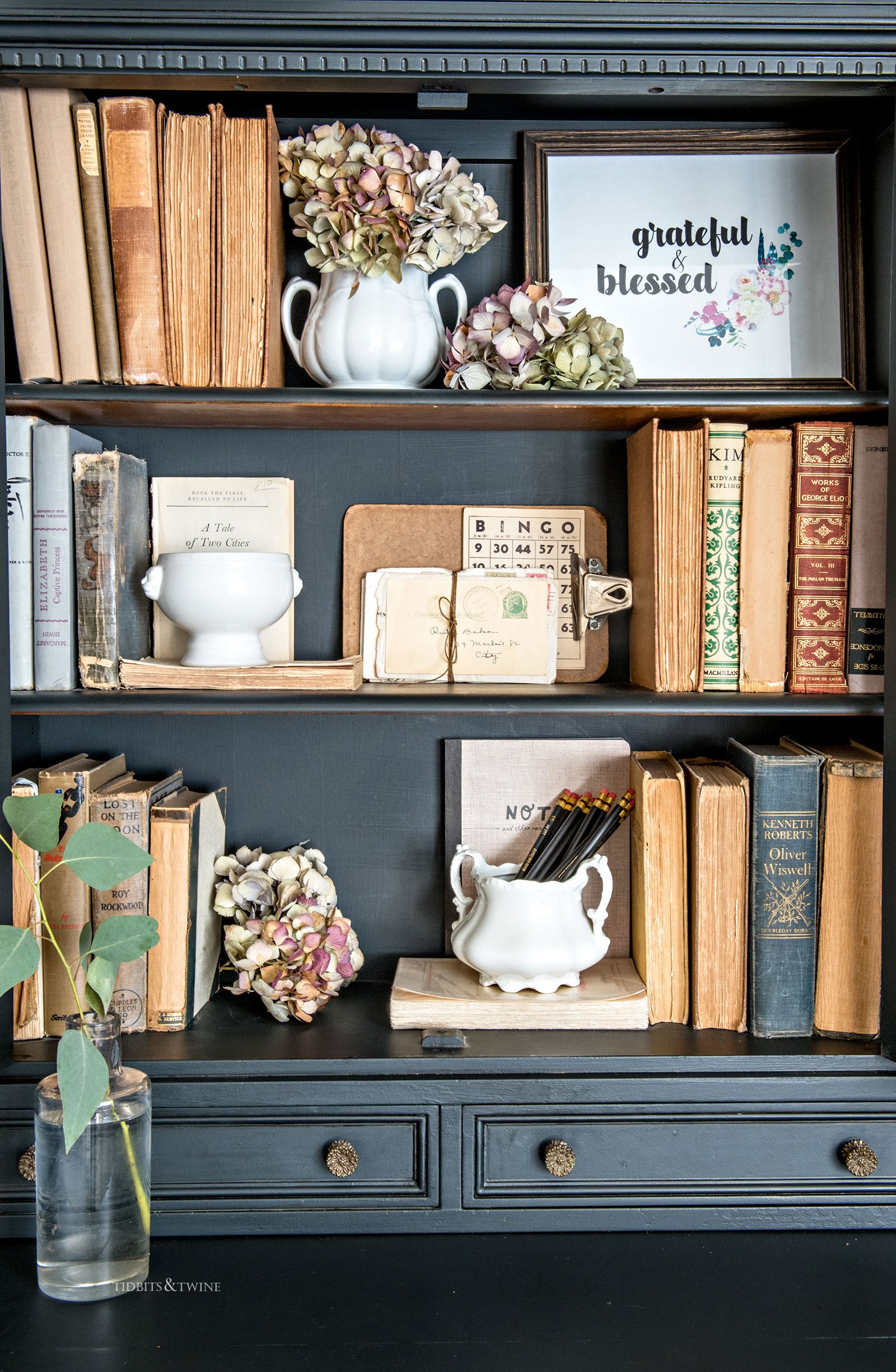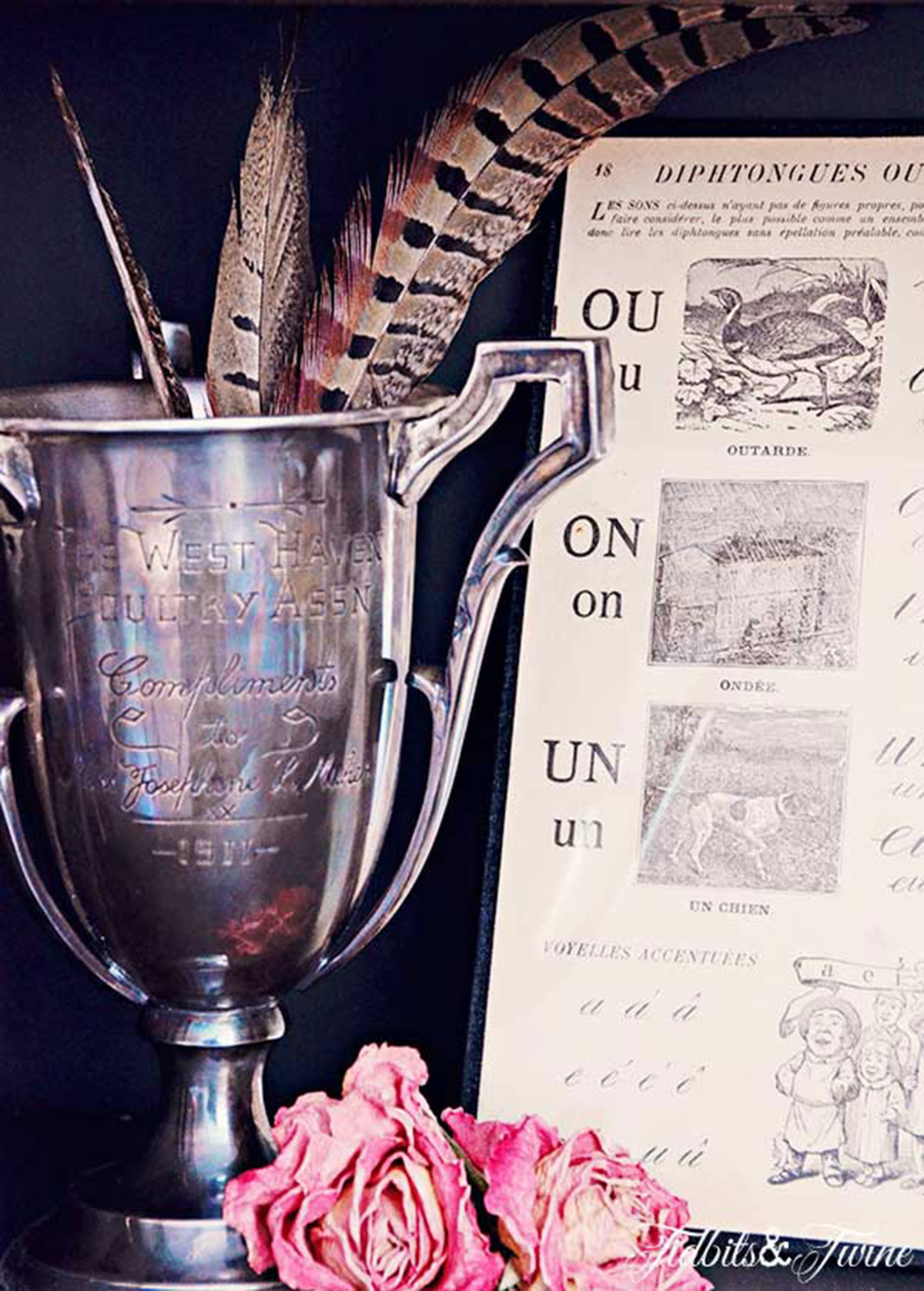 13. Enhance Your Garland
I've been known to embellish my gardland a bit with flowers from time to time! I love using dried roses since they retain their color and add a nice contrast to greenery. Hydrangea heads can also be used and they can be left to dry out over time. A floral garland is a pretty addition to a mantel or even the top of a hutch or cabinet!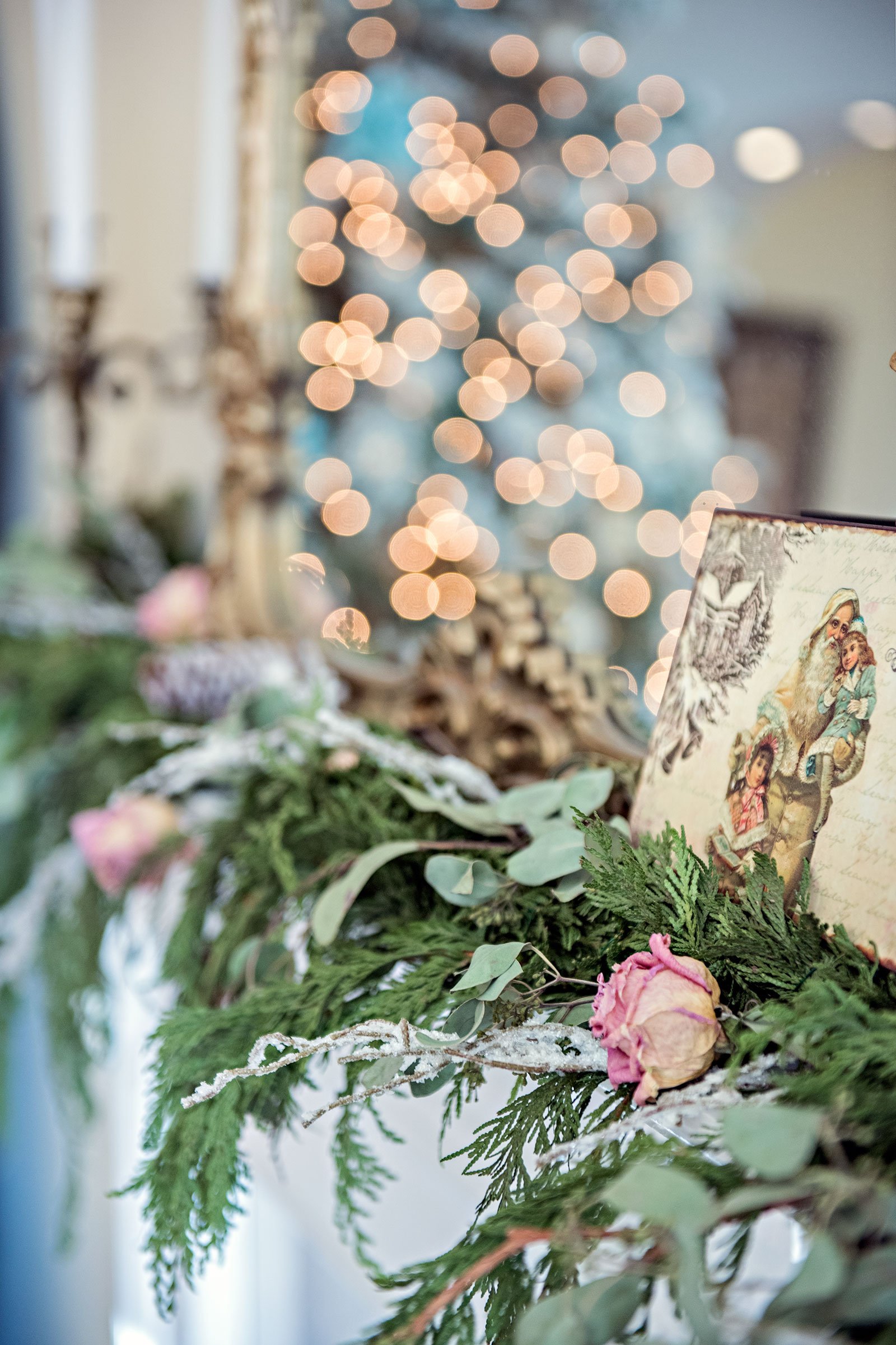 14. Beautify your Bathroom
In the warmer months, I keep a small display of flowers next to my tub in my bathroom for some added cheer and visual interest. Sometimes, I add a matching display on my vanity next to my sink.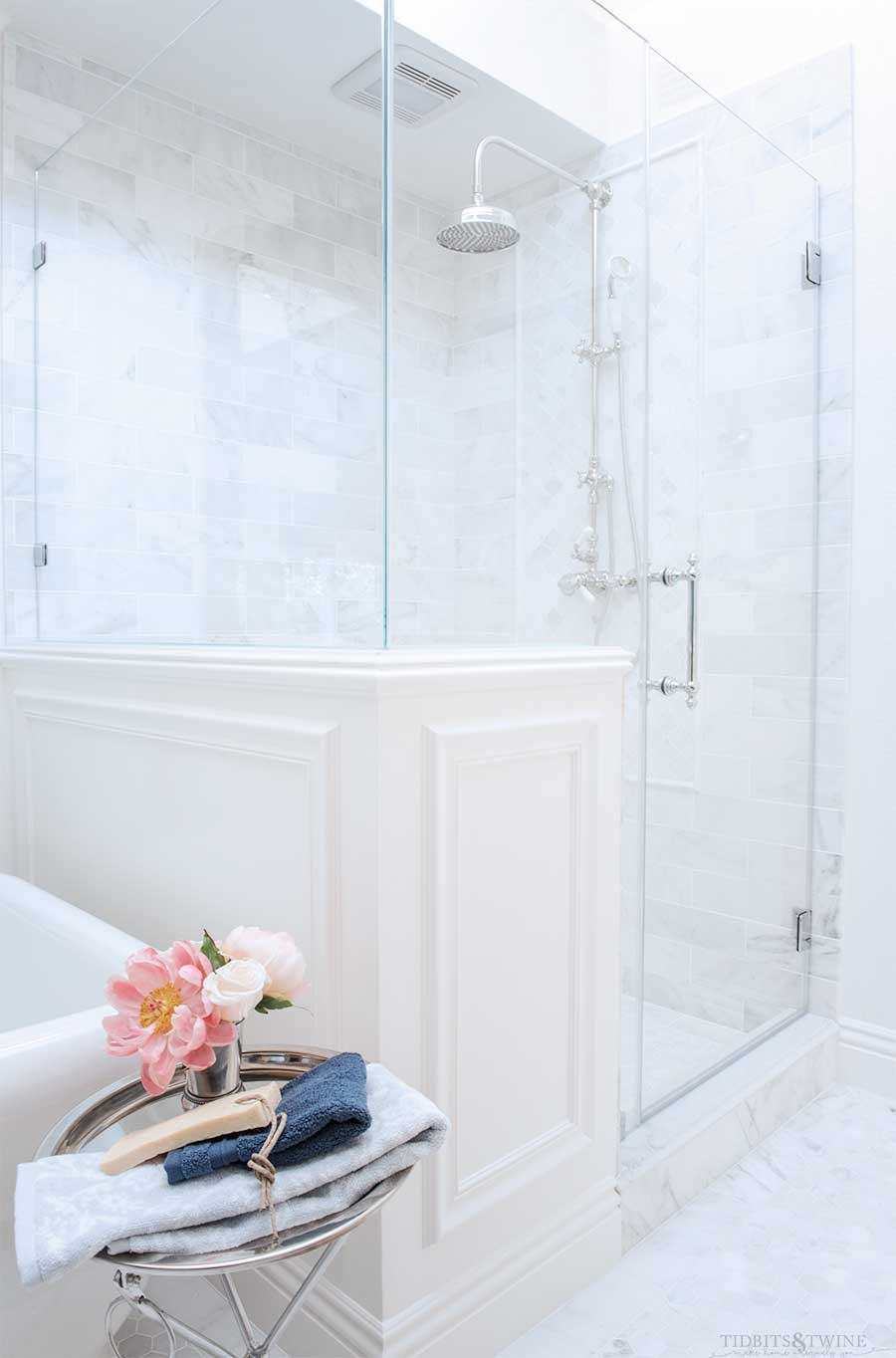 15. Strip the Petals
Have you ever considered pulling the petals off your flowers? I know this might sound odd, but petals are gorgeous even when not attached to a stem. You can float flower petals in water in a shallow bowl for a unique look. You can also dry your flower petals and use them later to sprinkle along a table or create a display bowl like I did with lavender.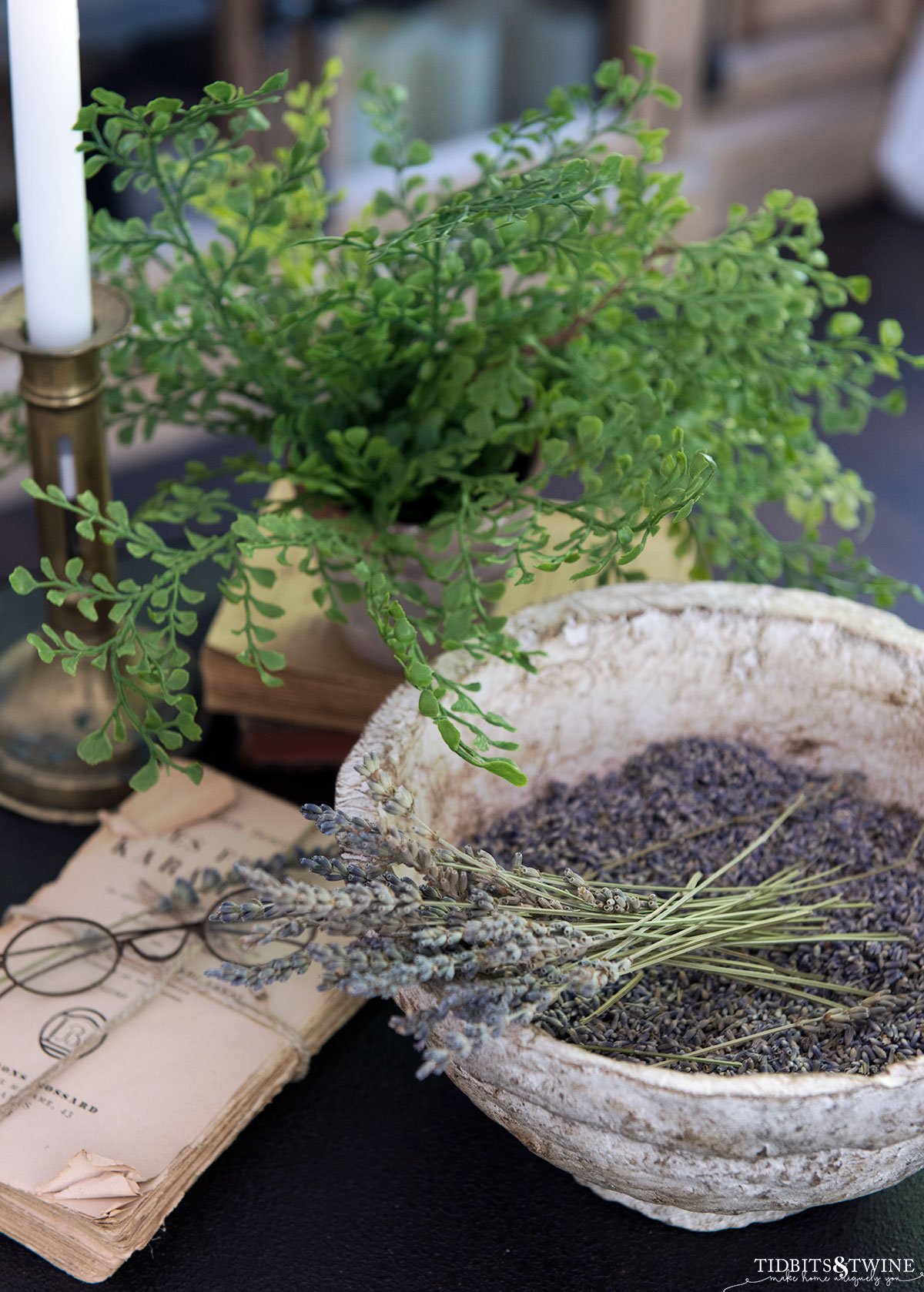 16. Brighten Your Kitchen
I'm a bit believe decorating the kitchen with things that make sense for the space. So white pitchers and other servingware tend to be among my favorite types of vases to use for flowers in the kitchen.
This was a fun Fall display I made on my kitchen counter last year. I tend to use flowers on my table more often, though. But another idea is to put a small display next to the sink since that's where so much time is spent!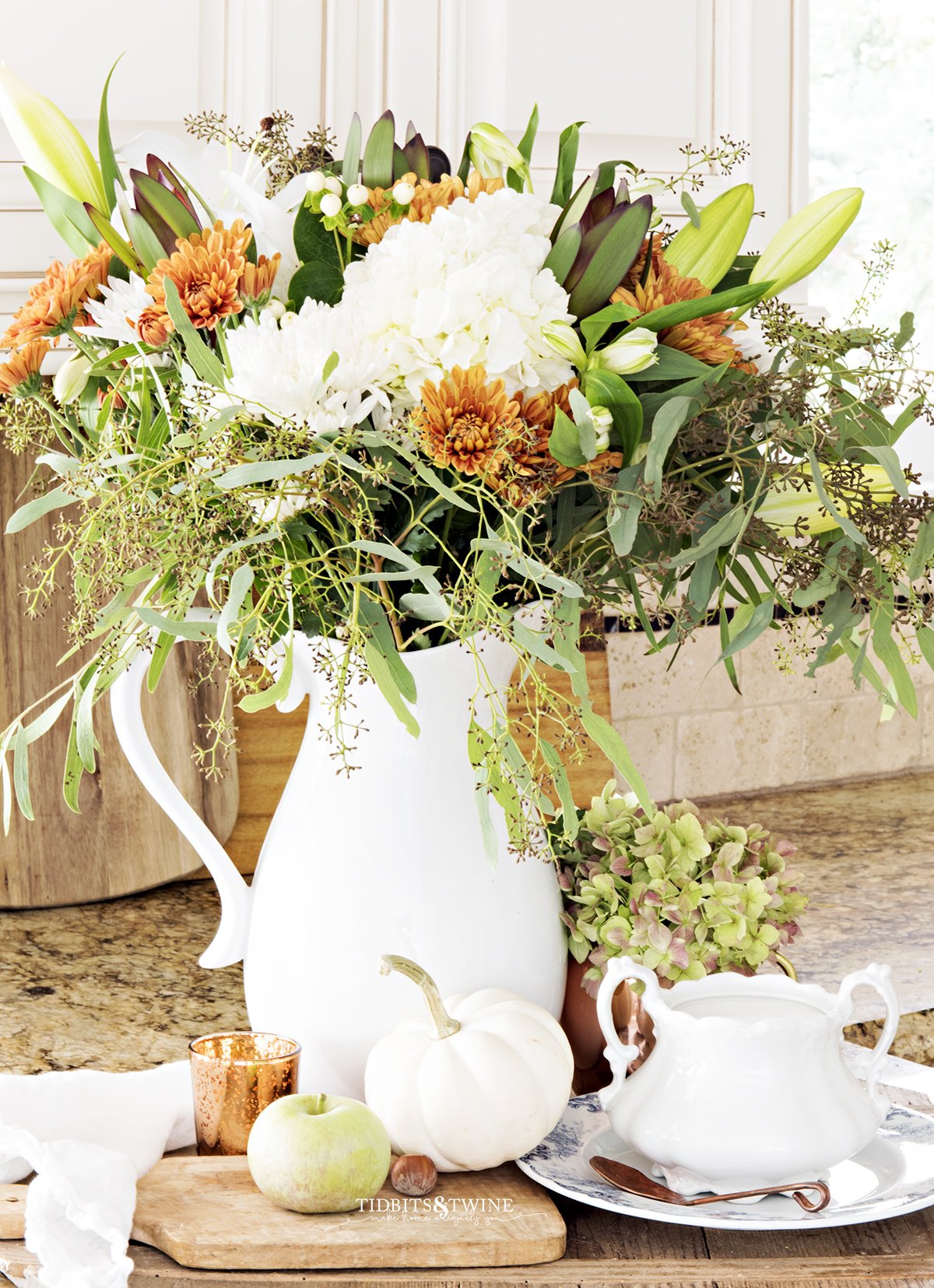 17. Create an Dining Focal Point
People often buy flowers when company is coming to create a focal point on the dining table. Remember, low arrangements are better for set dining tables (as opposed to everyday tables) because they allow conversation to happen and don't block the view of guests.
This organic arrangement uses Dahlias, Hellebore, Straw Flowers, Snap Dragons, Garden Roses, Hydrangea, Persimmons, Orchids, and lots more!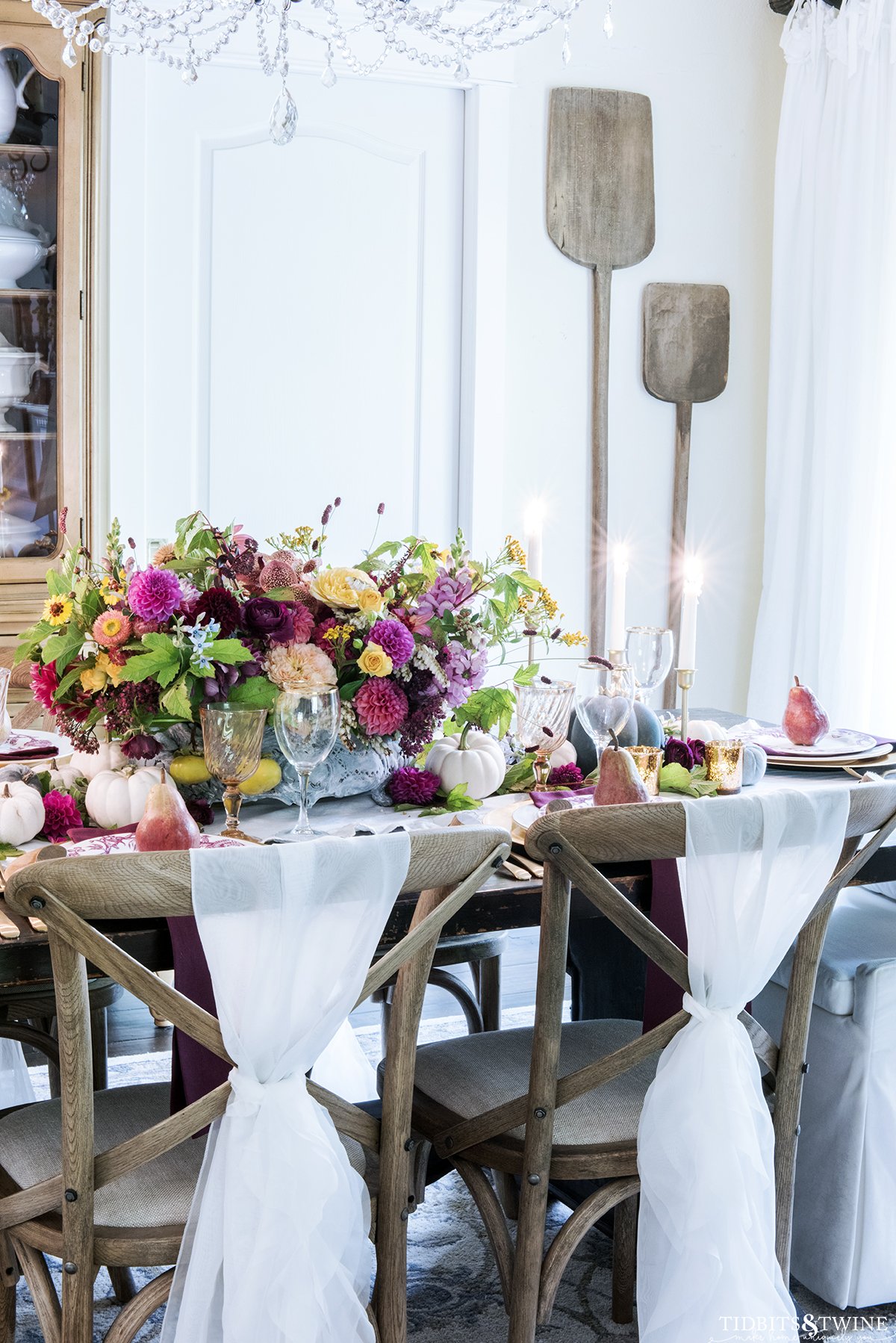 18. Dress Up a Side Table
Side tables, consoles, and buffets are other options for flowers. A small display of flowers is perfect for a side table. On a console table, you can layer a small display of flowers or opt for a tall focal point!
Here I used my favorite fake tulips in a rustic decorative vase in my family room as part of a vignette.
19. Style a Coffee Table
I tend to like having flowers or a plant on my coffee table becuase of the organic shape and softness that it adds to the display. You can create a large, central display, or something smaller depending on how you've styled your coffee table.
I used some cherry blossoms in an antique ironstone pitcher as part of a larger grouping on my coffee table last Spring.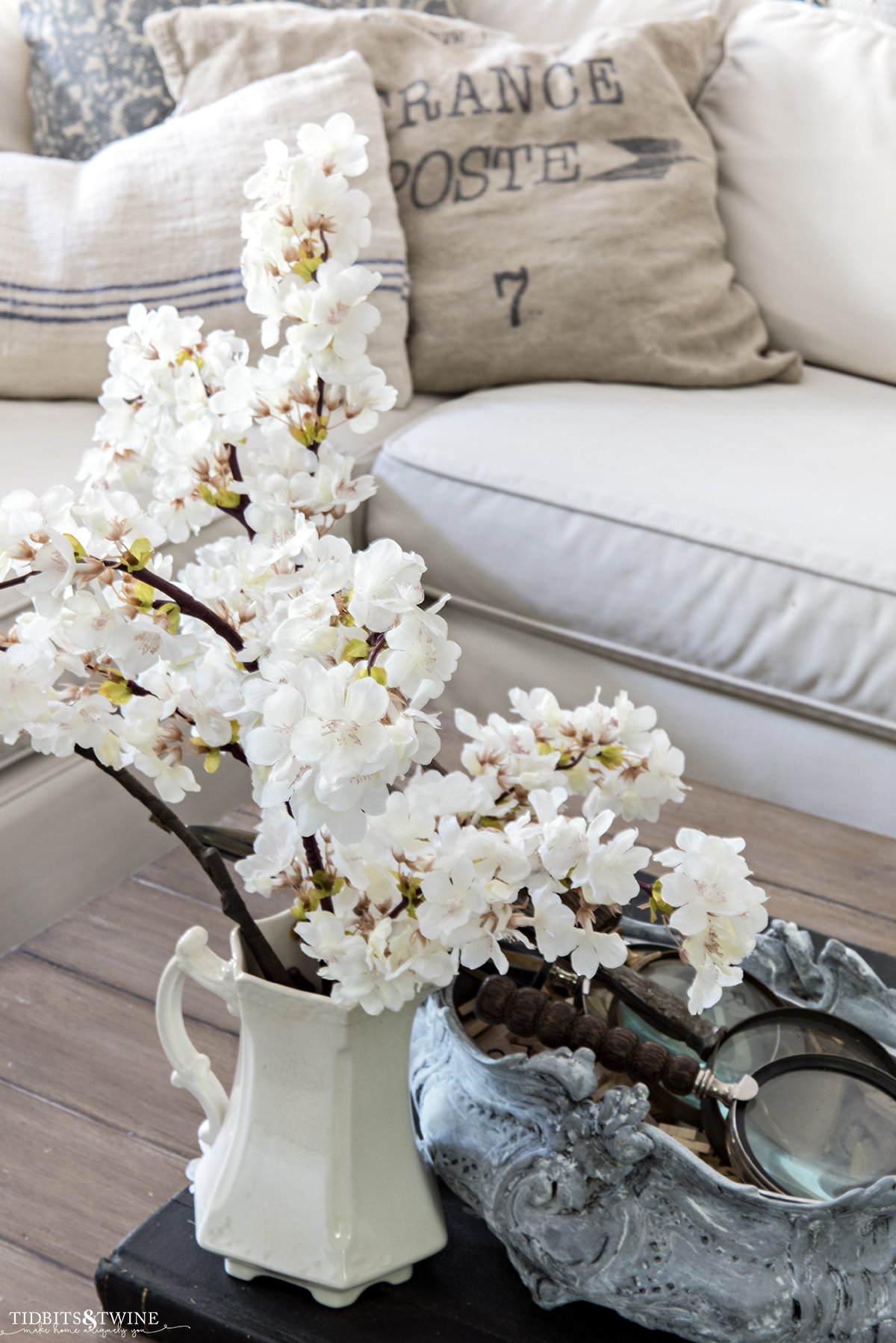 20. Freshen Your Nightstand
Adding a small display of flowers to your nightstand will instantly brighten your mood in the morning. Or put one in your guest room as a welcome for your overnight friends.
Remember the peach roses and white wax flowers from above? They became a simple bouquet in a mason jar in my guest room.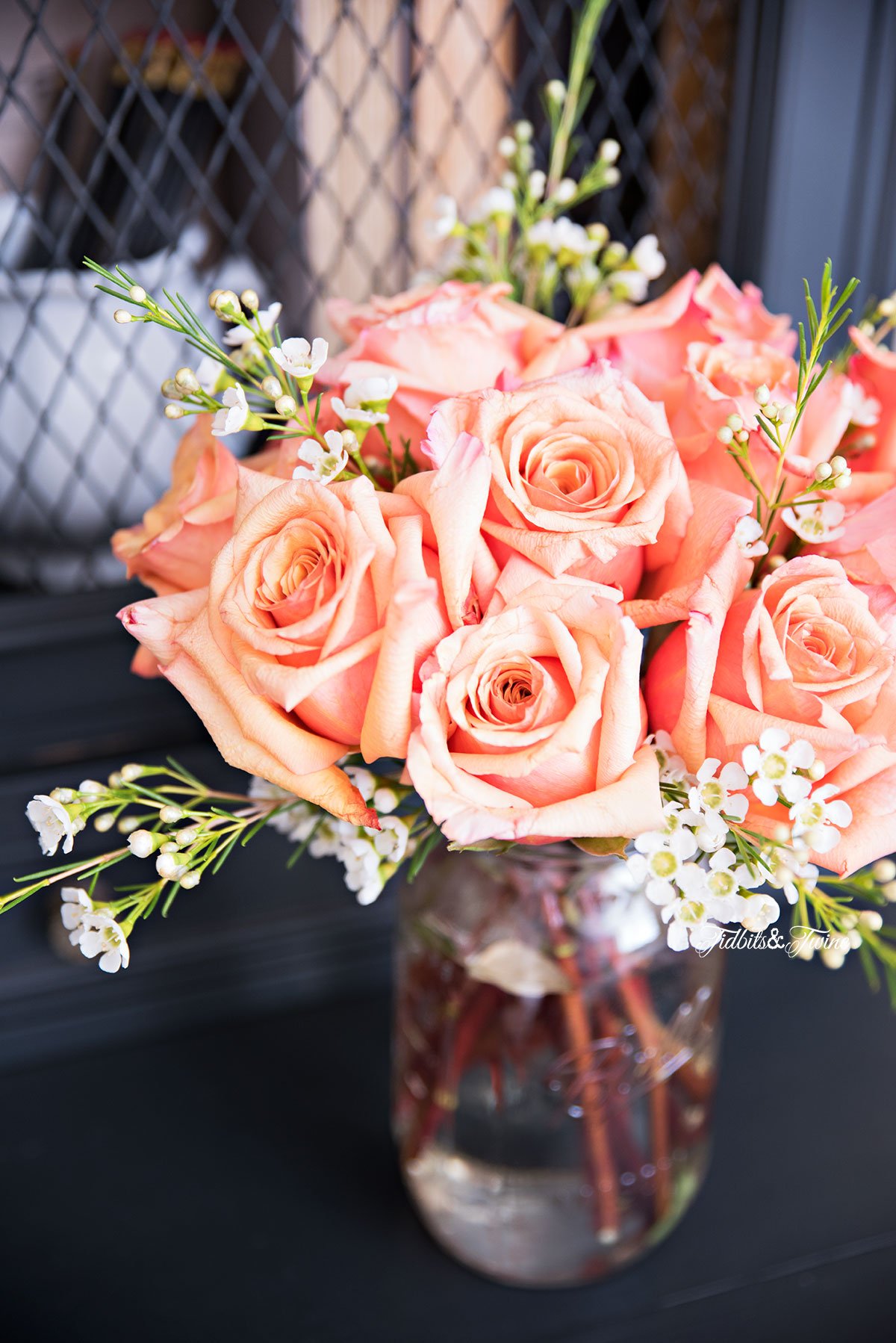 Join the Community
Let's keep in touch! Get exclusive artwork plus the latest news delivered directly to your Inbox!