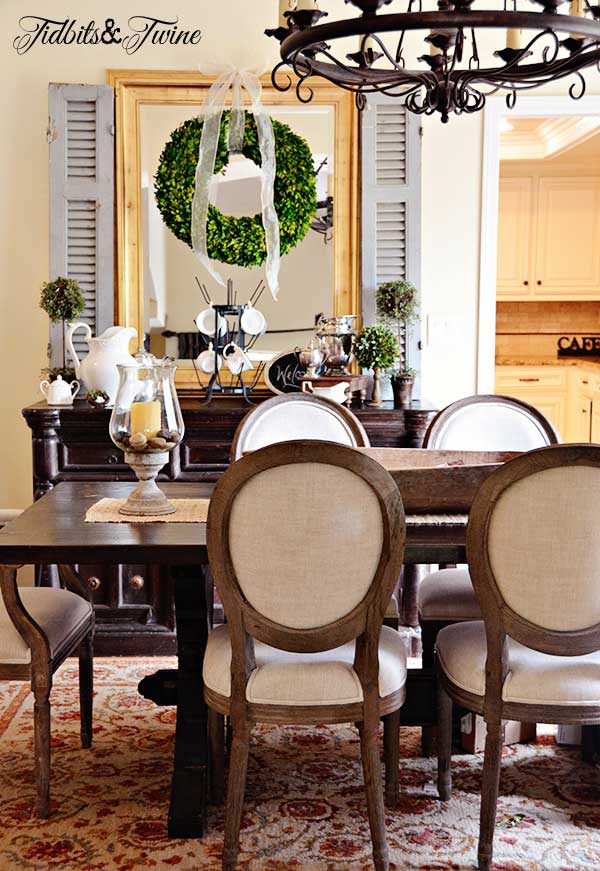 Last Thursday, I stopped by Room With a Past to pick up the Beckely Coal CeCe Caldwell paint that I need for my guest bedroom makeover. My son was with me and I told him I'd be in and out in about five minutes since I just had to pick up some paint. Boy was I wrong!!!
I had no sooner walked through the door when I saw so many beautiful items that caught my attention! An hour later, I was finally done shopping. Most of the items were for my dining room buffet and I stayed up late Thursday night arranging and rearranging them with the hopes of showing you on Friday morning. Camera issues delayed my post, but I got it working over the weekend to show you today.
I don't have any "before" pictures, but basically I changed out everything that was on top of the buffet so that I could include a mix of white and silver. The buffet is dark wood from a consignment shop that I've had since my Tuscan phase of decorating, but I like how it contrasts with my French items, so I plan to keep it. The mirror is also from my Tuscan phase (from Home Depot, if you can believe it!) but I added the French blue/gray shutters that I picked up from the antique faire the last time I went. Of course, they are just leaned against the wall since that's my style.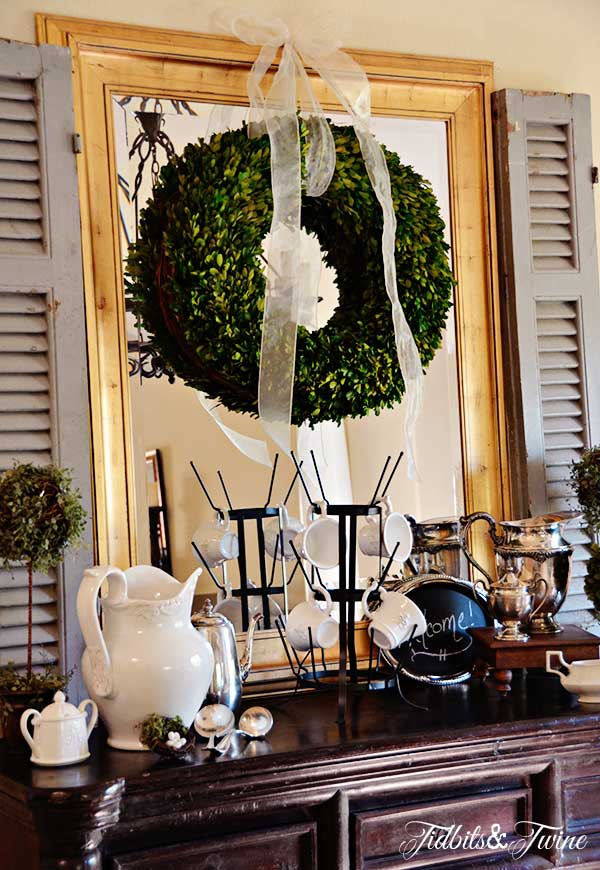 I picked up all of the silver pieces at the store last Thursday and combined them with various topiaries and boxwood that I already had. I always think that it looks best to group a collection together, but I prefer to mix other pieces in with the collection to help make the items "pop." I like the contrast between the silver and the white, as well as the addition of the green. I also picked up this little gravy boat, which is my very first piece of Ironstone!
The reproduction French bottle drying rack that I ordered from Decor Steals a few weeks ago also arrived Thursday and I couldn't wait to incorporate it into the display!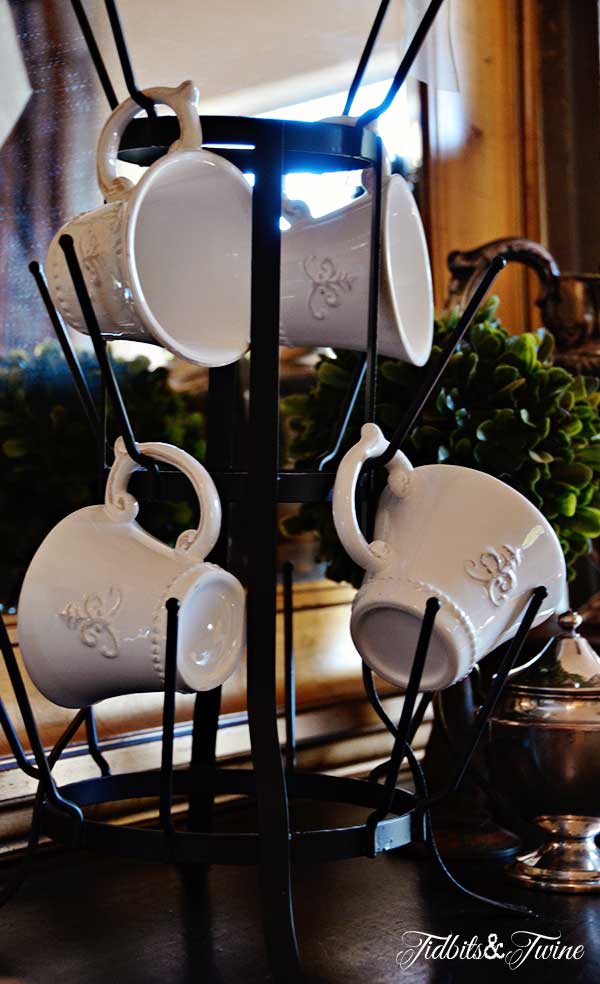 I felt that I needed some additional greenery on the left-hand side of the buffet but didn't want to be matchy-matchy to the right, so instead, I added a small bird nest. The nest isn't real, but the eggs are! Did I ever mention that I have two finches! Sparky and Lola. Unfortunately, Lola doesn't ever sit on her eggs and so they never hatch, so after a while, I collect them and add them to the nest to use as display.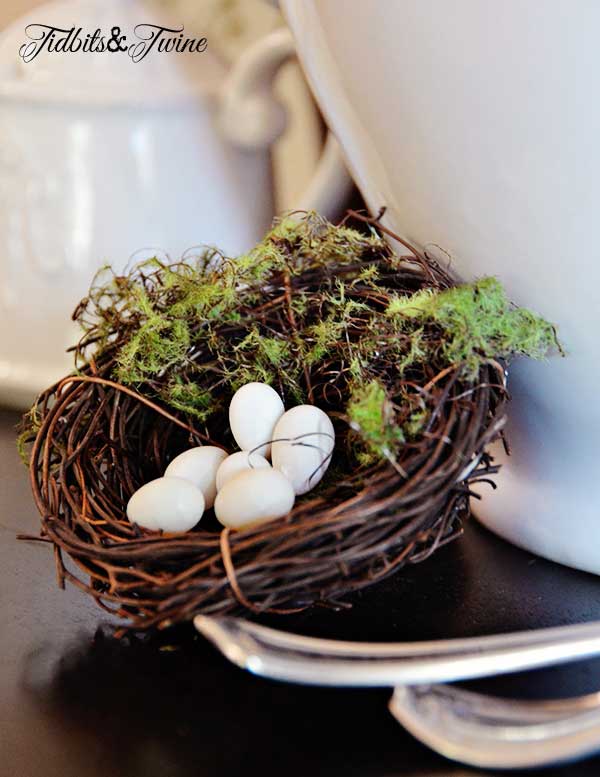 I am always changing things around in my home, but for now, I'm happy with the new arrangement on my buffet!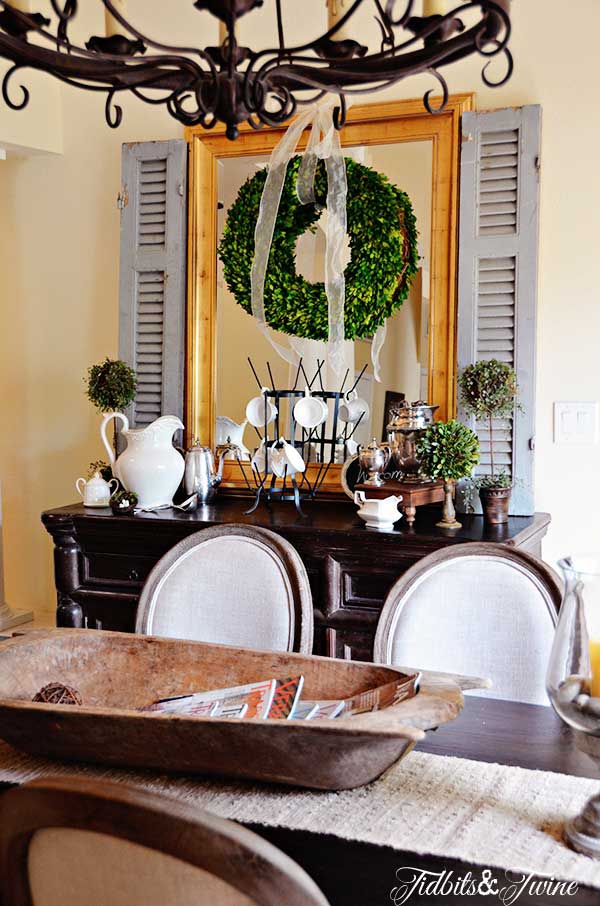 I picked up a couple of other fun items from my shopping trip last week and as soon as I have them incorporated into my home, I'll share those with you as well.

Sharing at:

Would you like to receive my posts via email? Subscribe here:
Join the Community
Let's keep in touch! Get exclusive artwork plus the latest news delivered directly to your Inbox!