Lately, I've been working on a side project completely unrelated to this site, so I haven't had time to write. But I did make time for some retail therapy last Sunday at the antique fair! And today I'm sharing pictures of some of the gorgeous European antiques I came across.
I am fortunate enough to live about 30 minutes from the Alameda Point Antique Fair. This is a major that happens the first Sunday of every month. It's a collection of about 800 vendors who show up before the sun rises and prepare their booths for a fun-filled day of shopping!
Over the years, I've come to know some of the vendors and recognize others just by their displays. Some of my favorites include Napa Antique Wine Artifacts, Atelier de Campagne, Grenouille French Vintage, Patine, Elsie Green, and Marina Natalia.
Alameda Point, like most antique fairs I would assume, can be hit or miss. You never know what vendors will show up and you never know what inventory they've brought with them. Some vendors also have brick-and-mortar stores and set up a professional display. Others are literally selling items off the parking lot ground or out of their trunk! It's a mixed bag.
I wasn't really searching for anything particular this time….well, who am I kidding, I always have a mental list. But I was really just going to see what was there! And I took a few snaps on my phone so you could "tour" along with me.
Grenouille French Vintage never disappoints! They had some beautiful pieces of pottery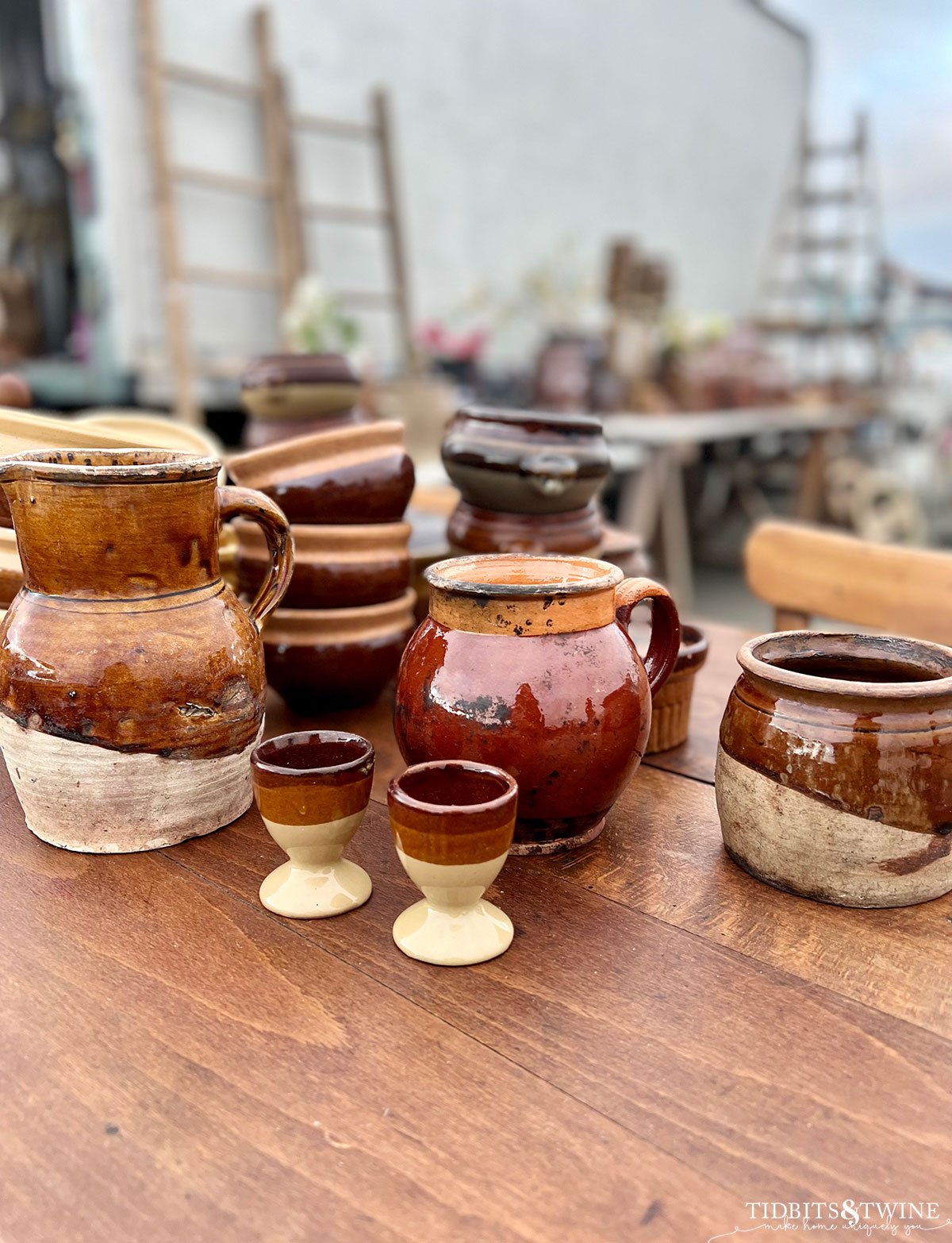 They don't typically bring large pieces of furniture with them to Alameda Point, but often have small chairs and bistro tables.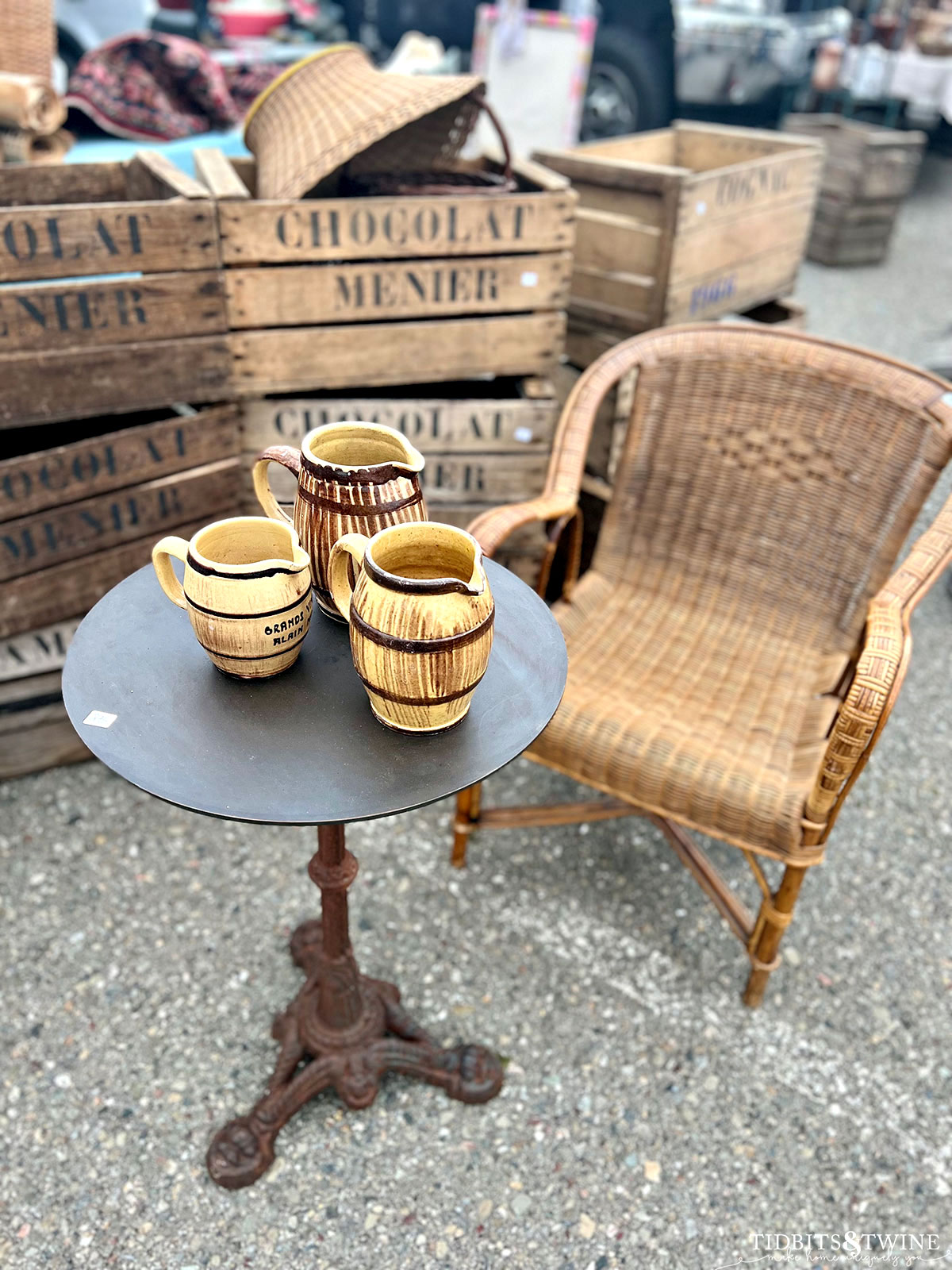 And they always have cute antique French knick-knacks.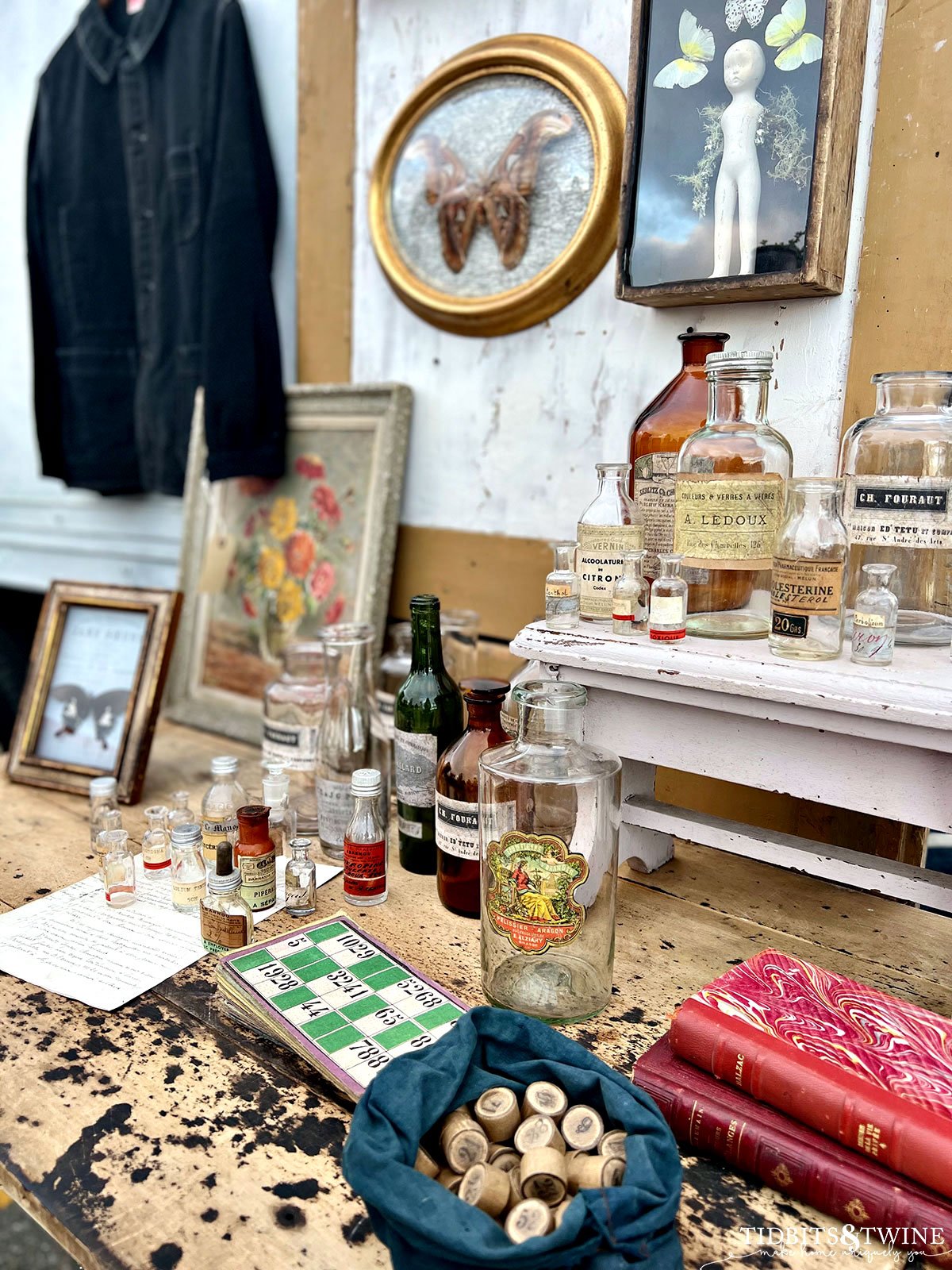 Patine has its usual display of grain sacks and pillows, but they had more table runners than I've previously seen. These are made from antique material that had just never been sewn into sacks. Instead, they took the bolt and cut it to size for table runners.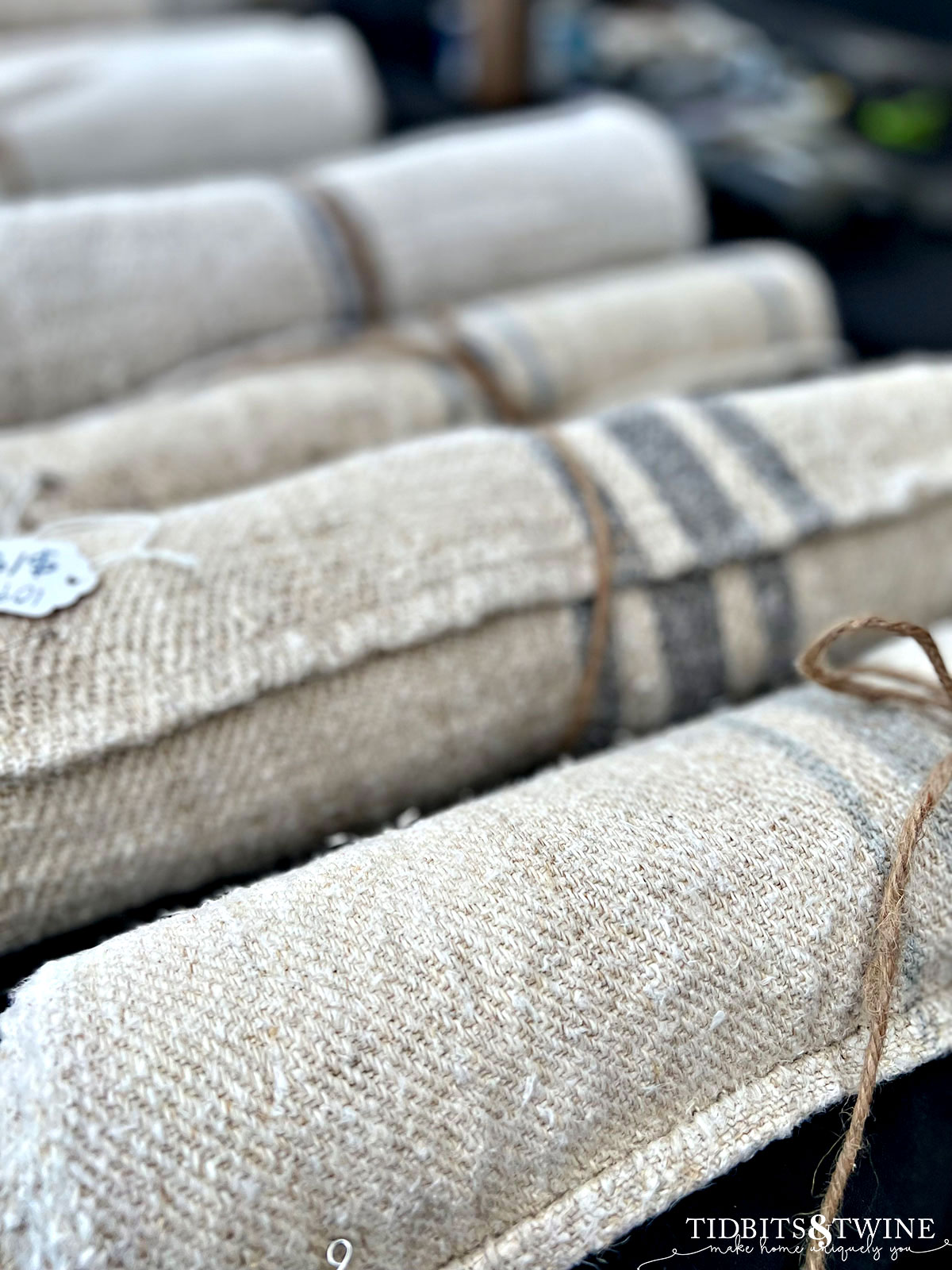 These wicker-wrapped demijohns really caught my attention. Aren't they beautiful?!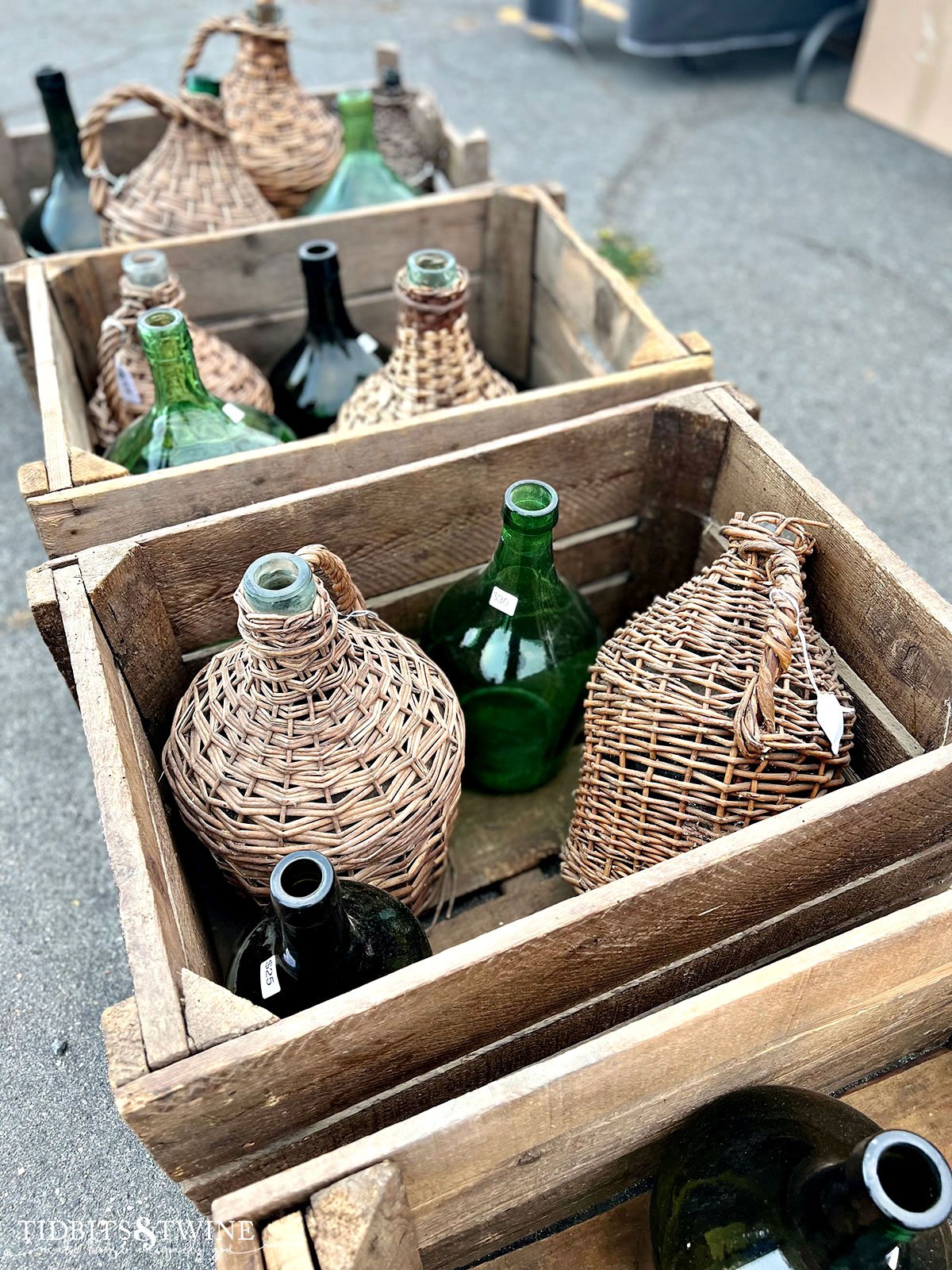 And of course, I had to stop to admire these shallow, round dough bowls.
As I wandered around, this display of umbrellas and parasols caught my eye. I had to dig through to see if there were any gadget canes lurking in here, of course…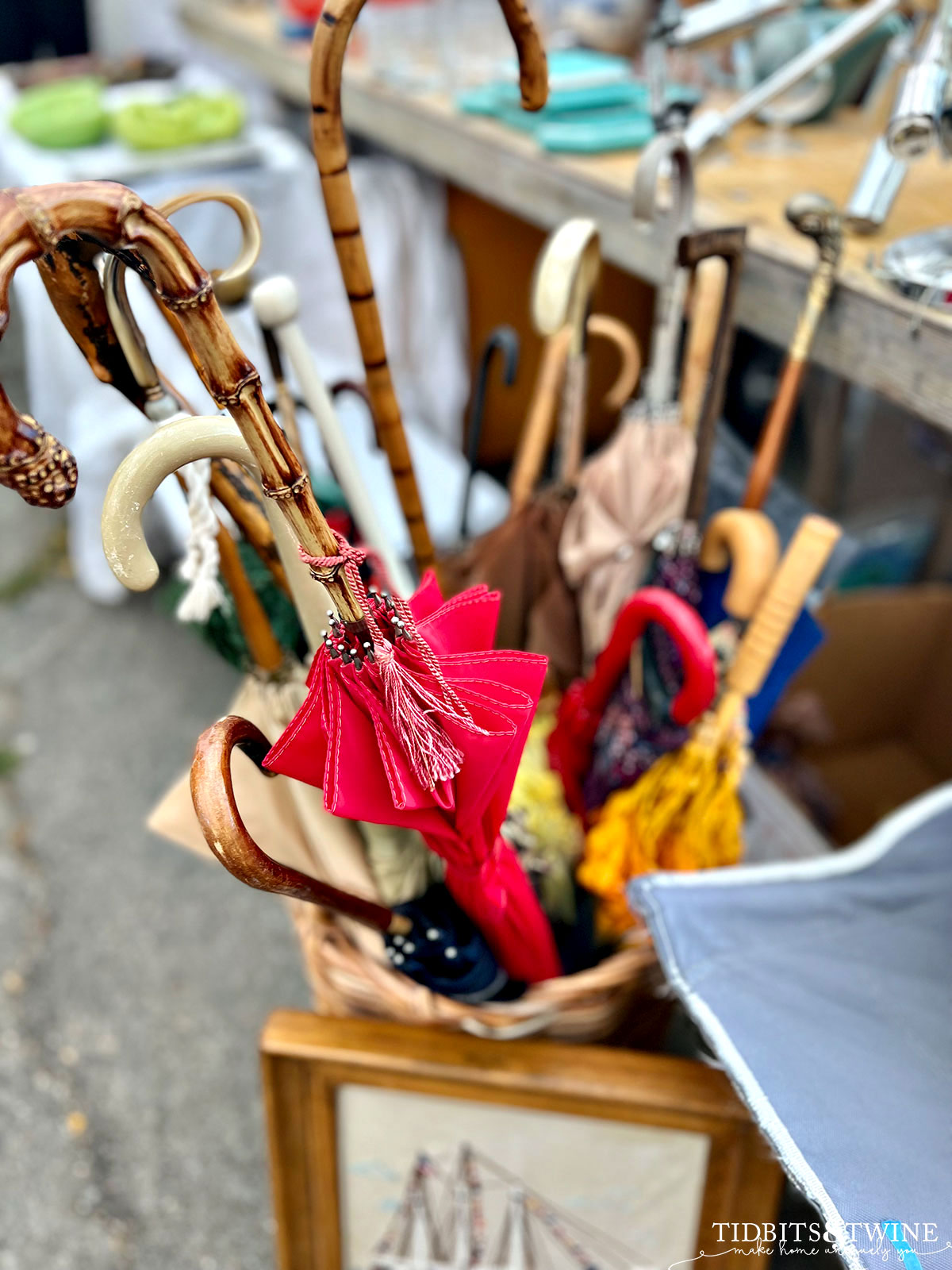 Ever since Michael from Art of Salvage retired, there hasn't been anyone selling gorgeous French furniture. I did spy this one-off settee that had been reupholstered.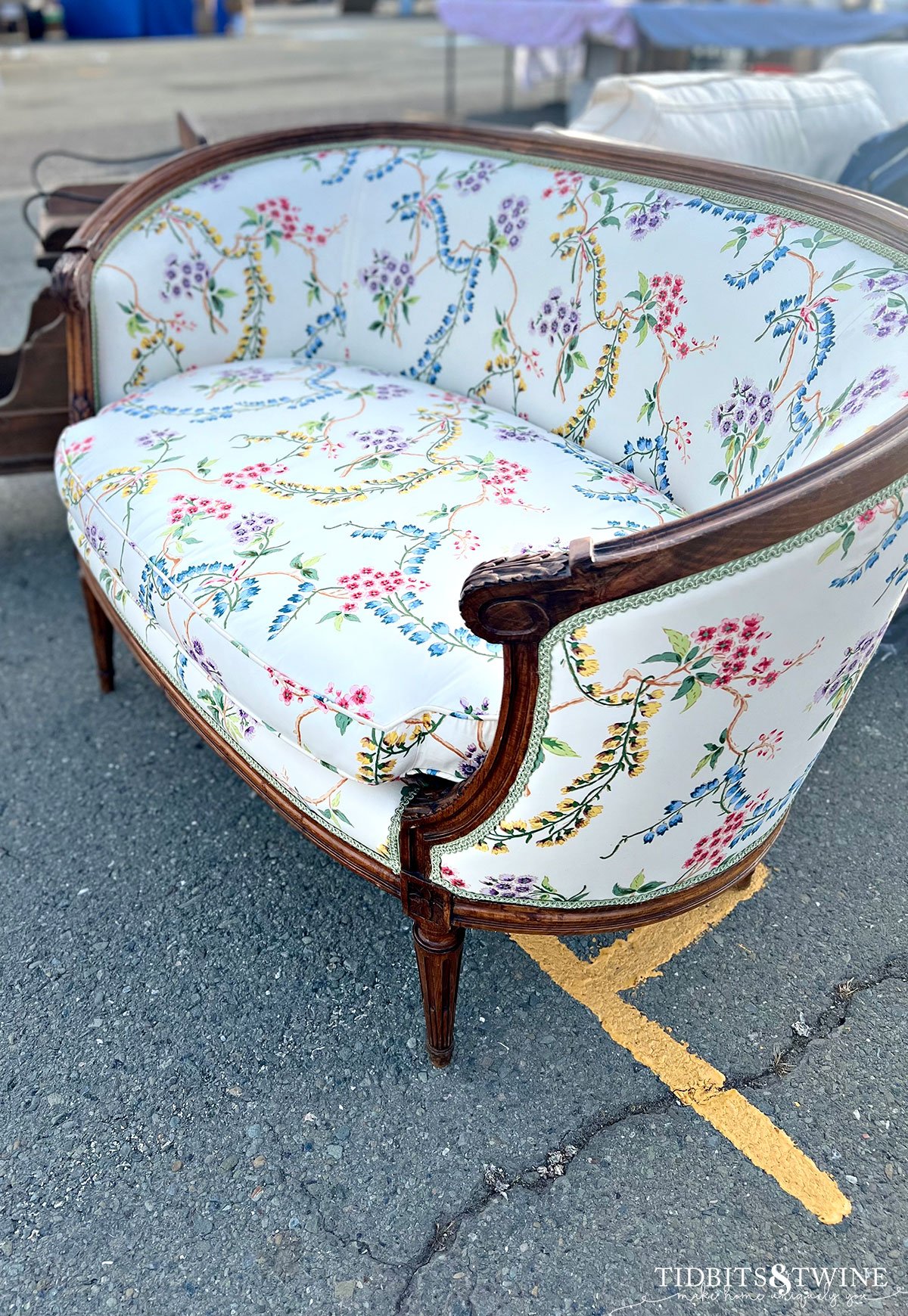 I own two seltzer bottles, one of which I picked up on vacation in the South of France. This set had beautiful colors!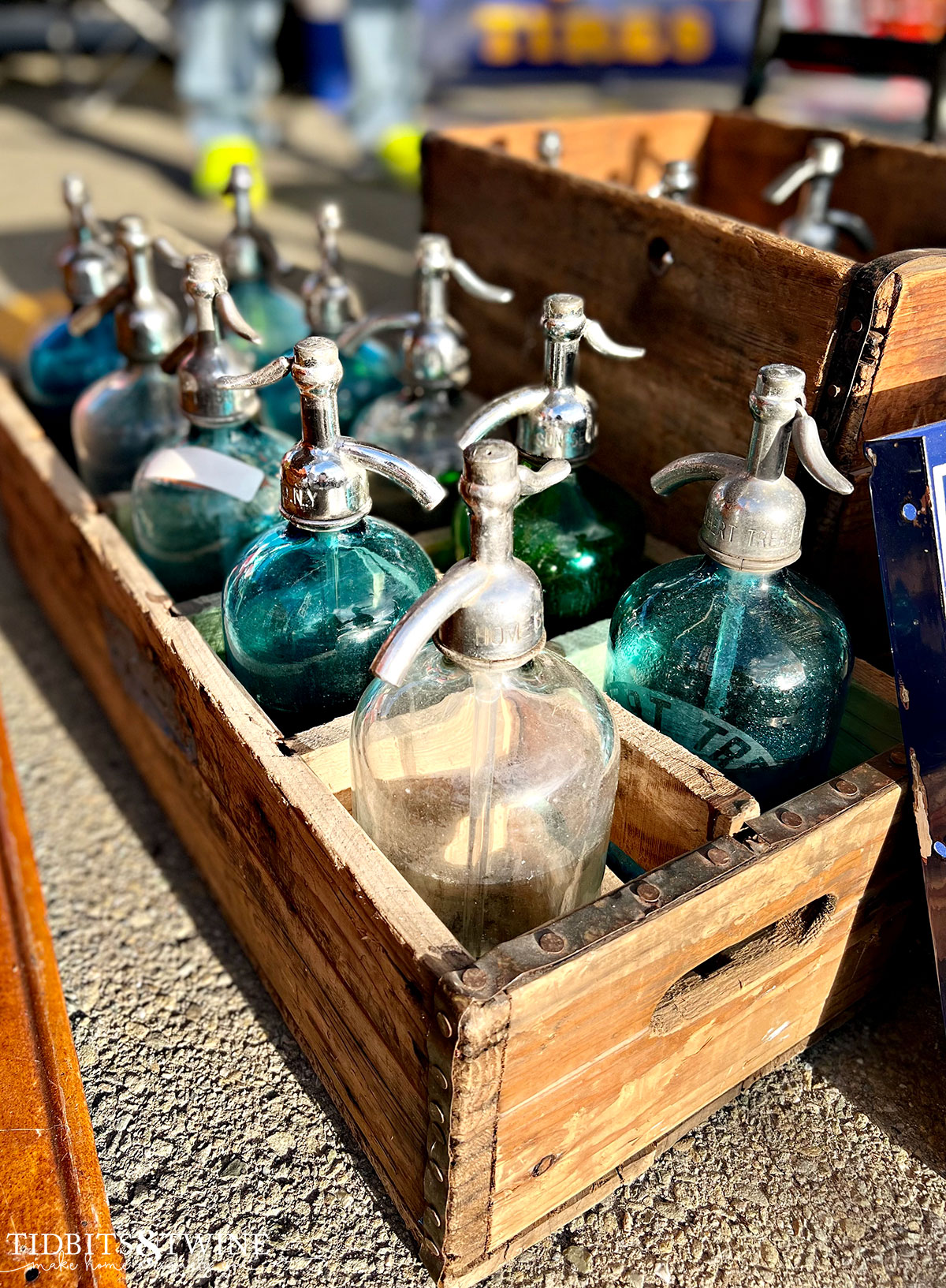 There was a vendor, ZHomestead, whom I hadn't seen before and apparently only comes a couple of times a year. He had a great display that included kitchenware and baskets and a few iron urns.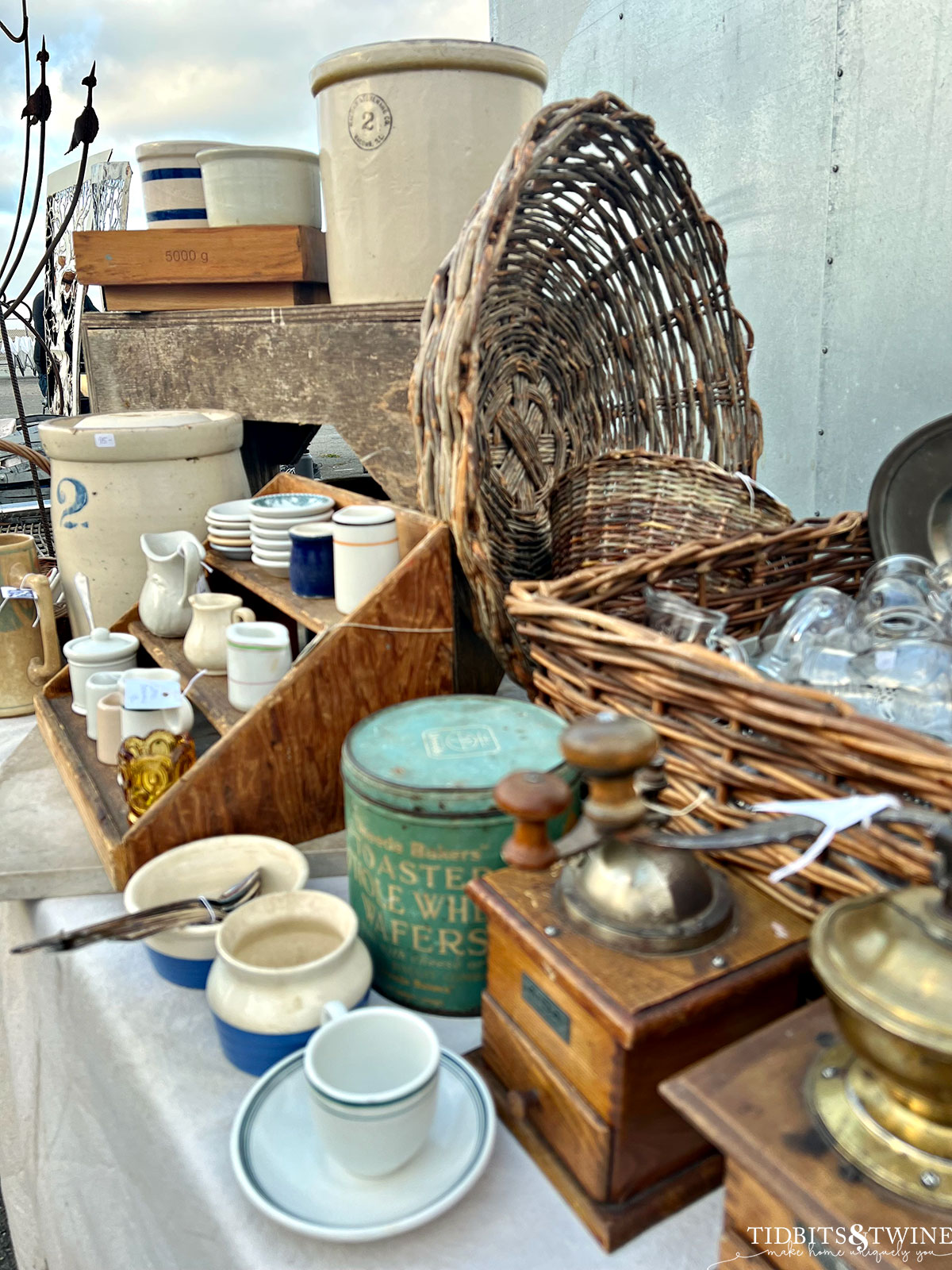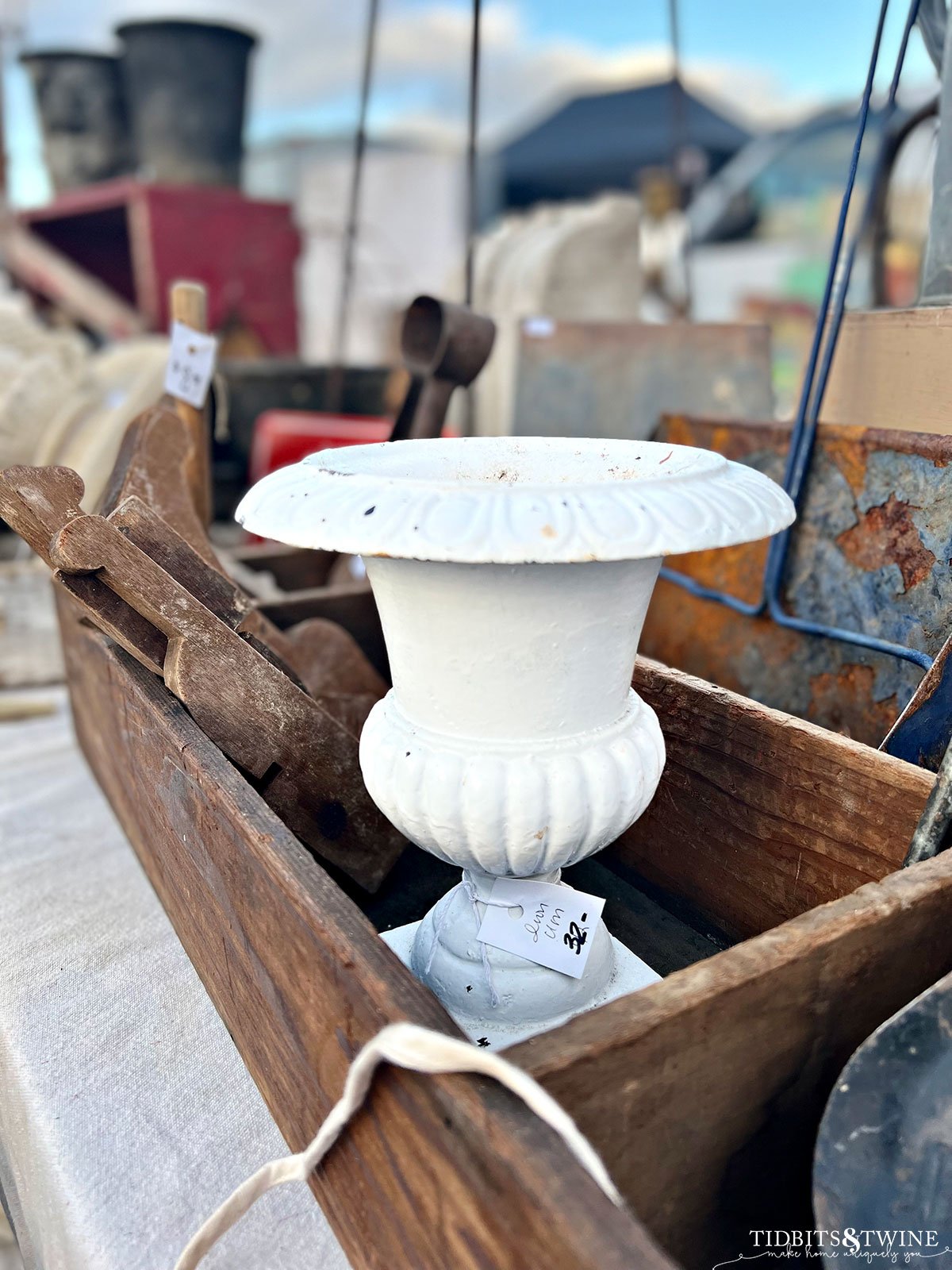 Here are some other fun finds, including architectural corbels, ironstone, urns, and more from various vendors!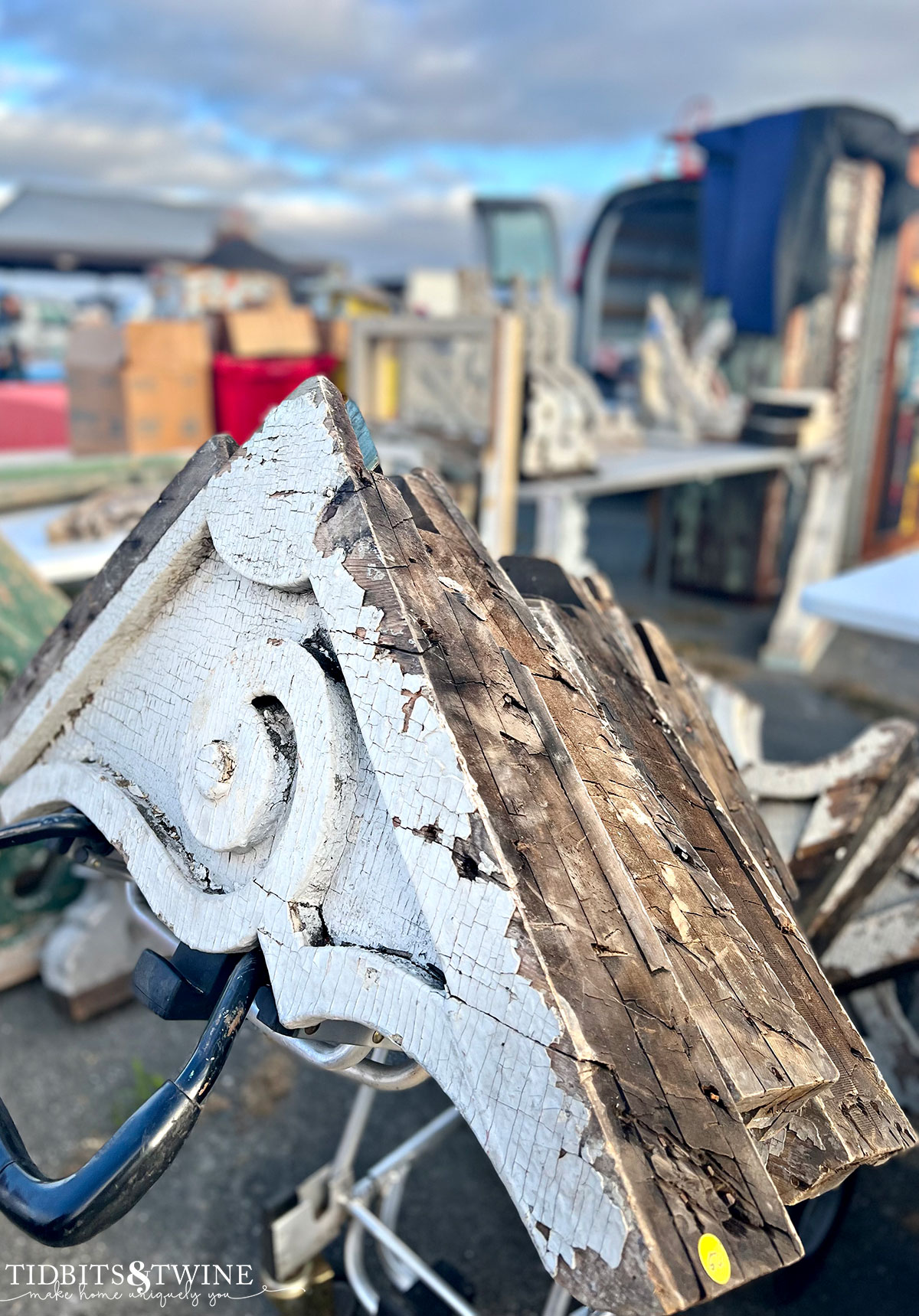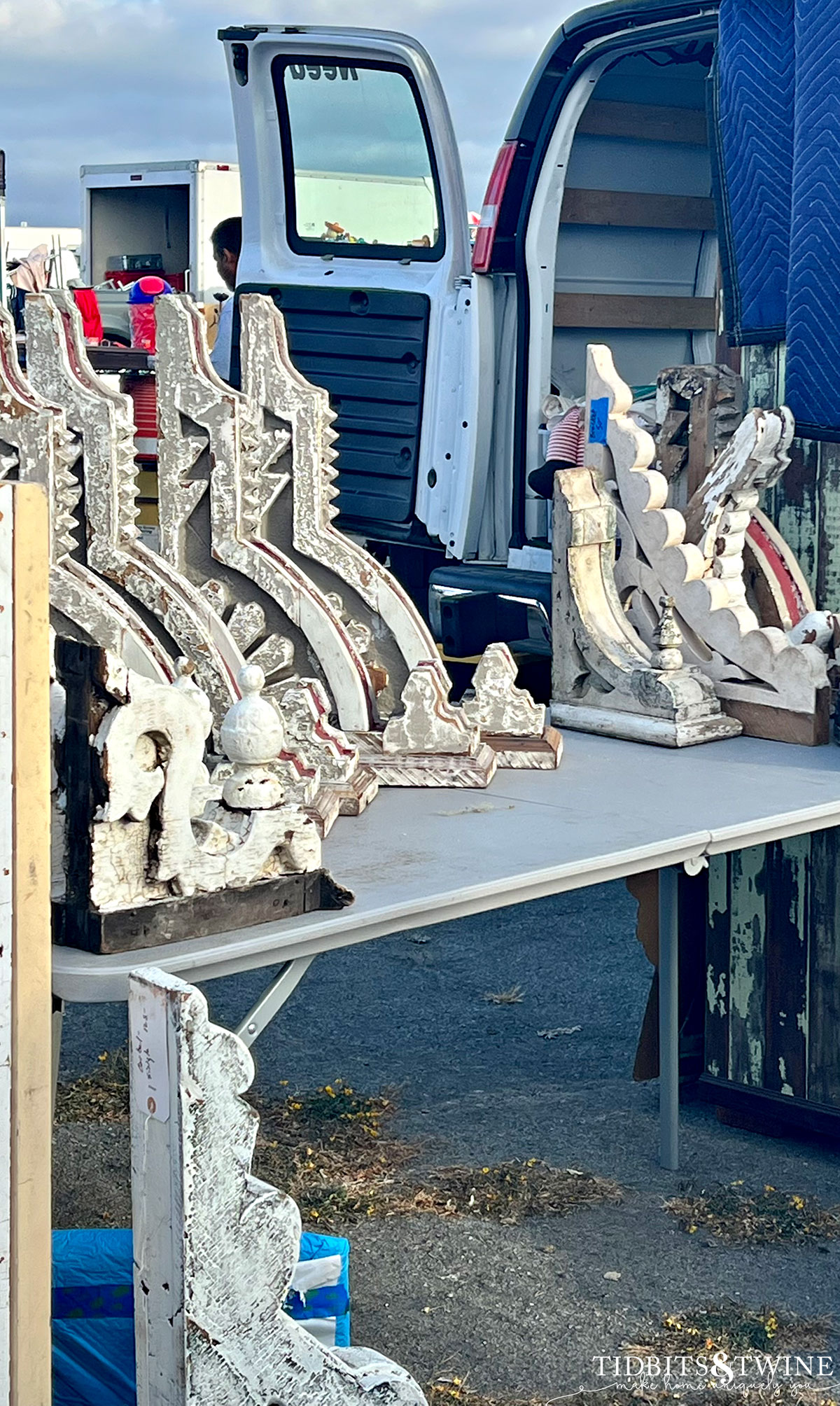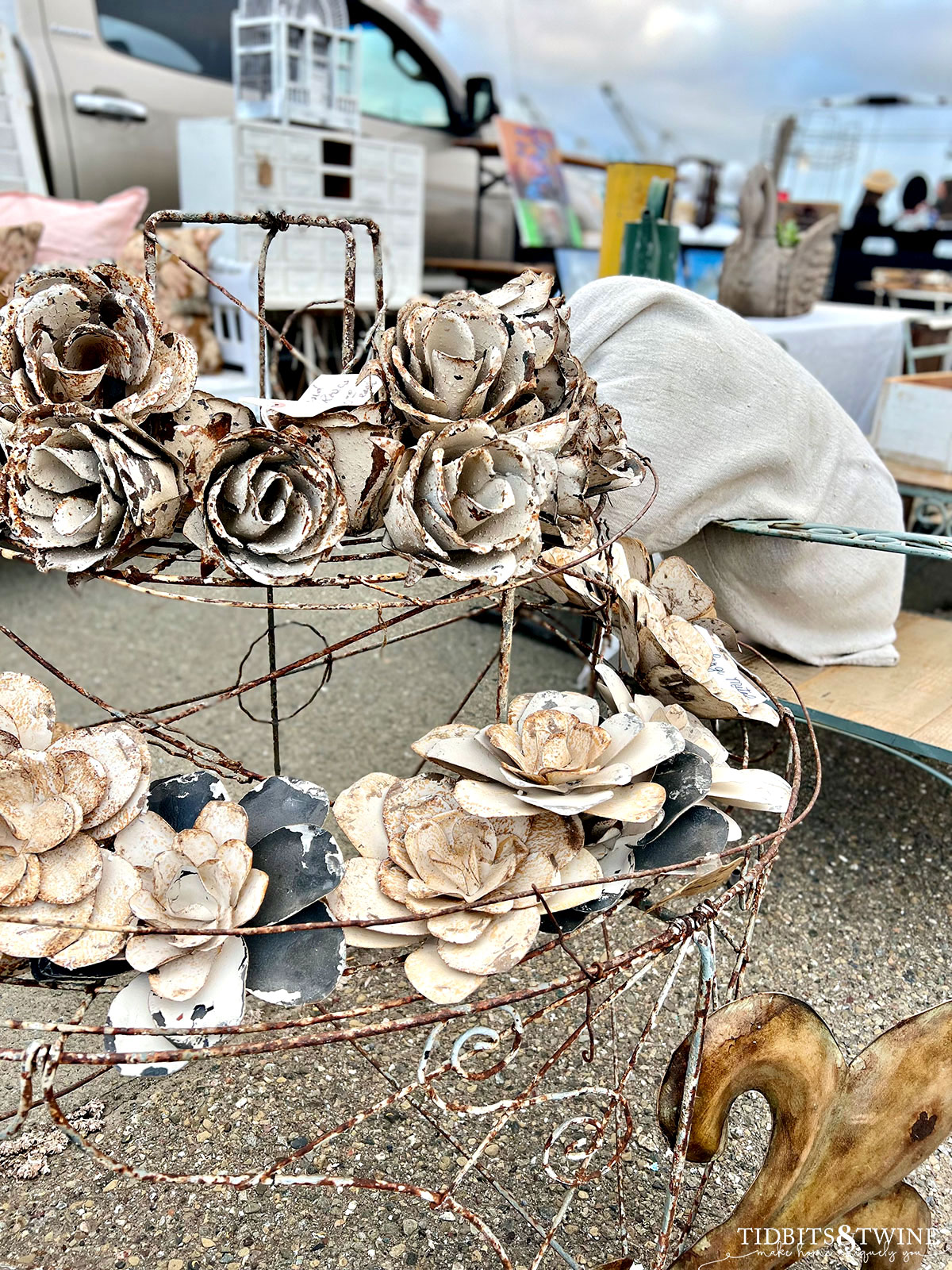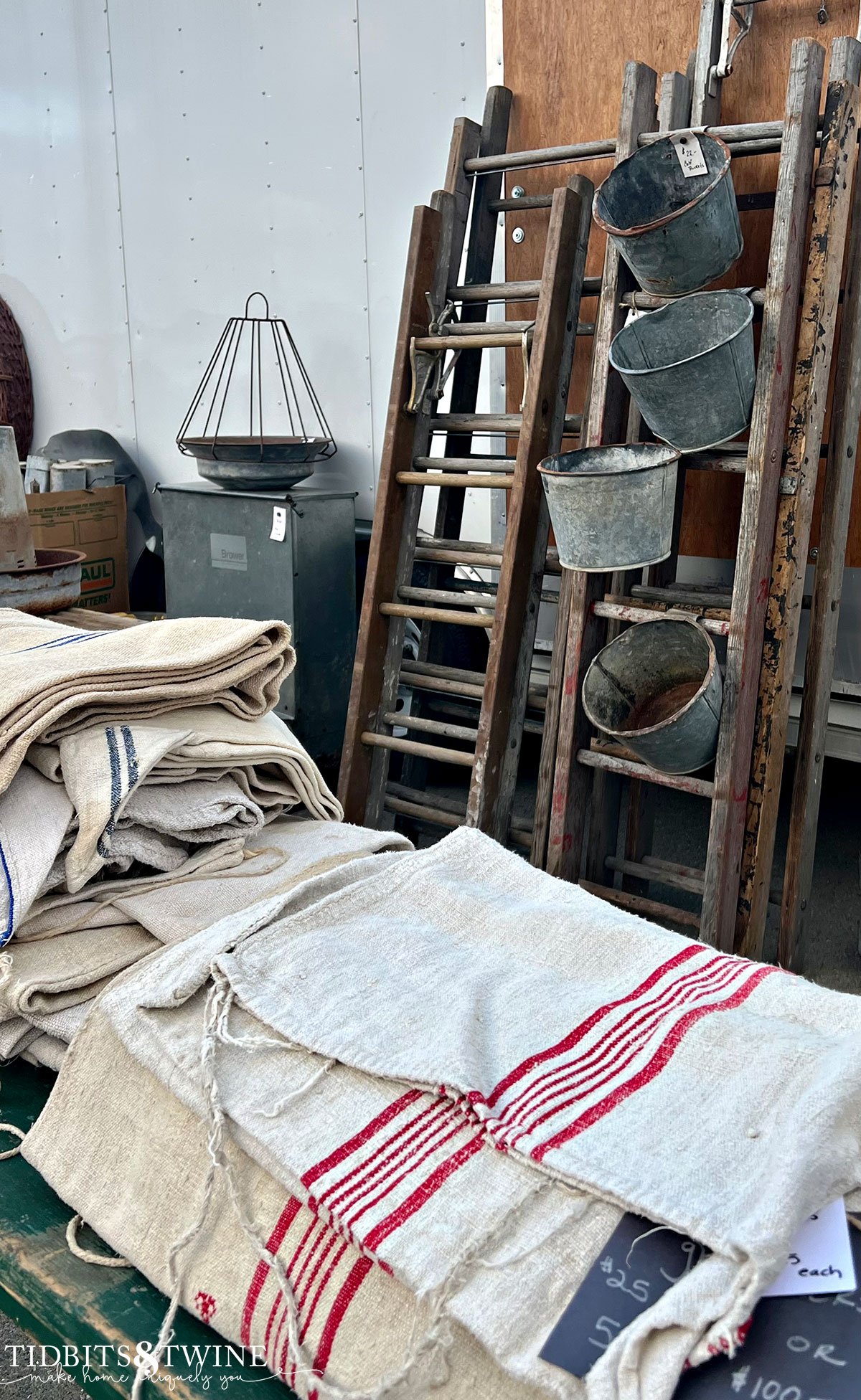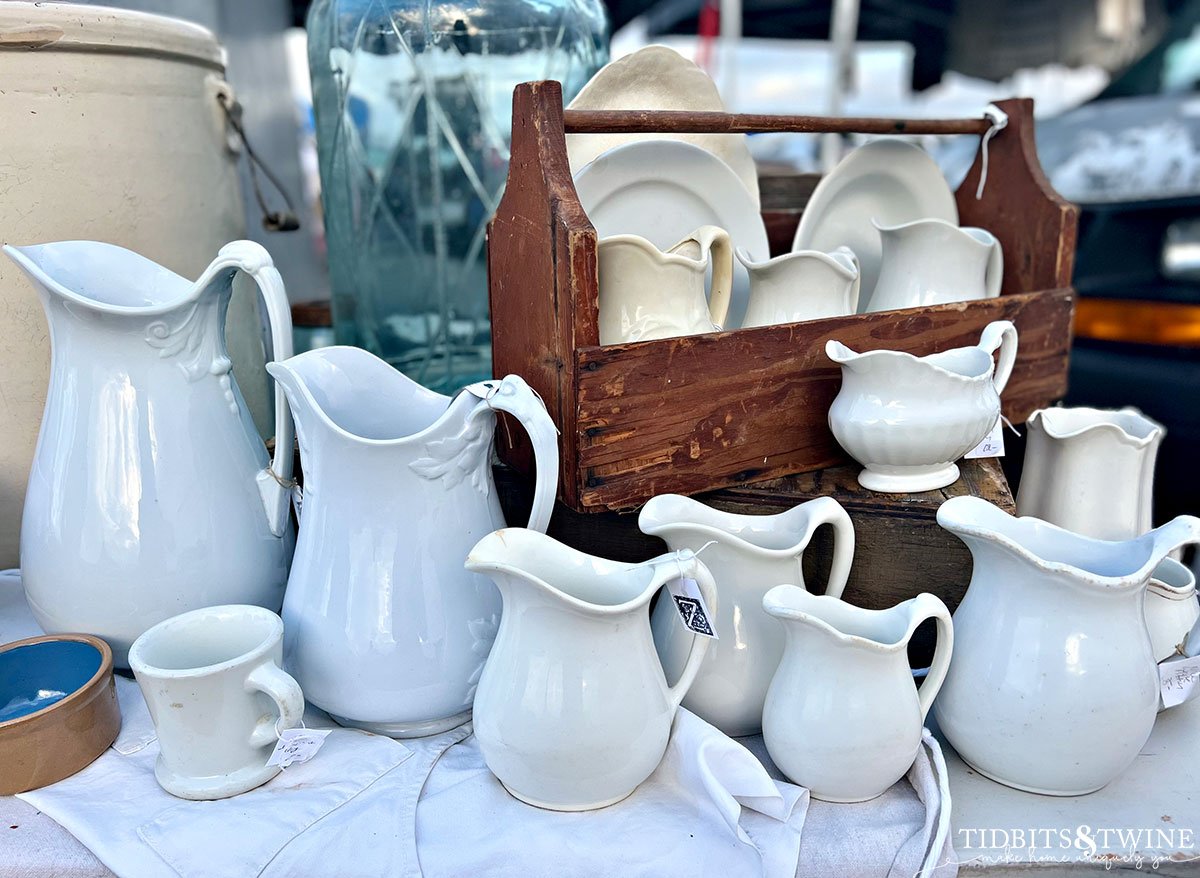 I saw this dresser and loved it. I contemplated buying it for my guest bedroom but decided to keep the one I refinished.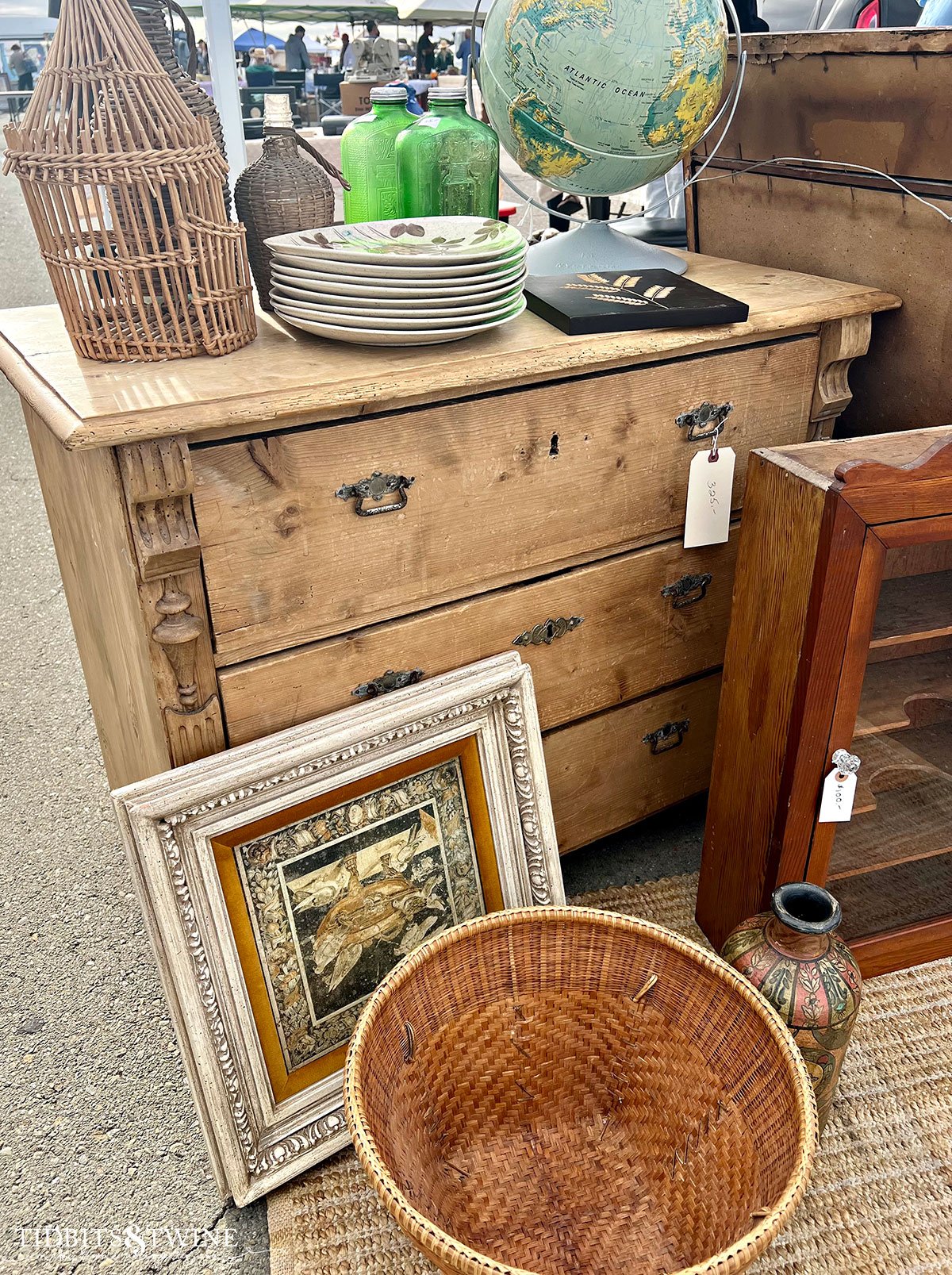 Atelier de Campagne always steals the show with their booth and their elegant decor.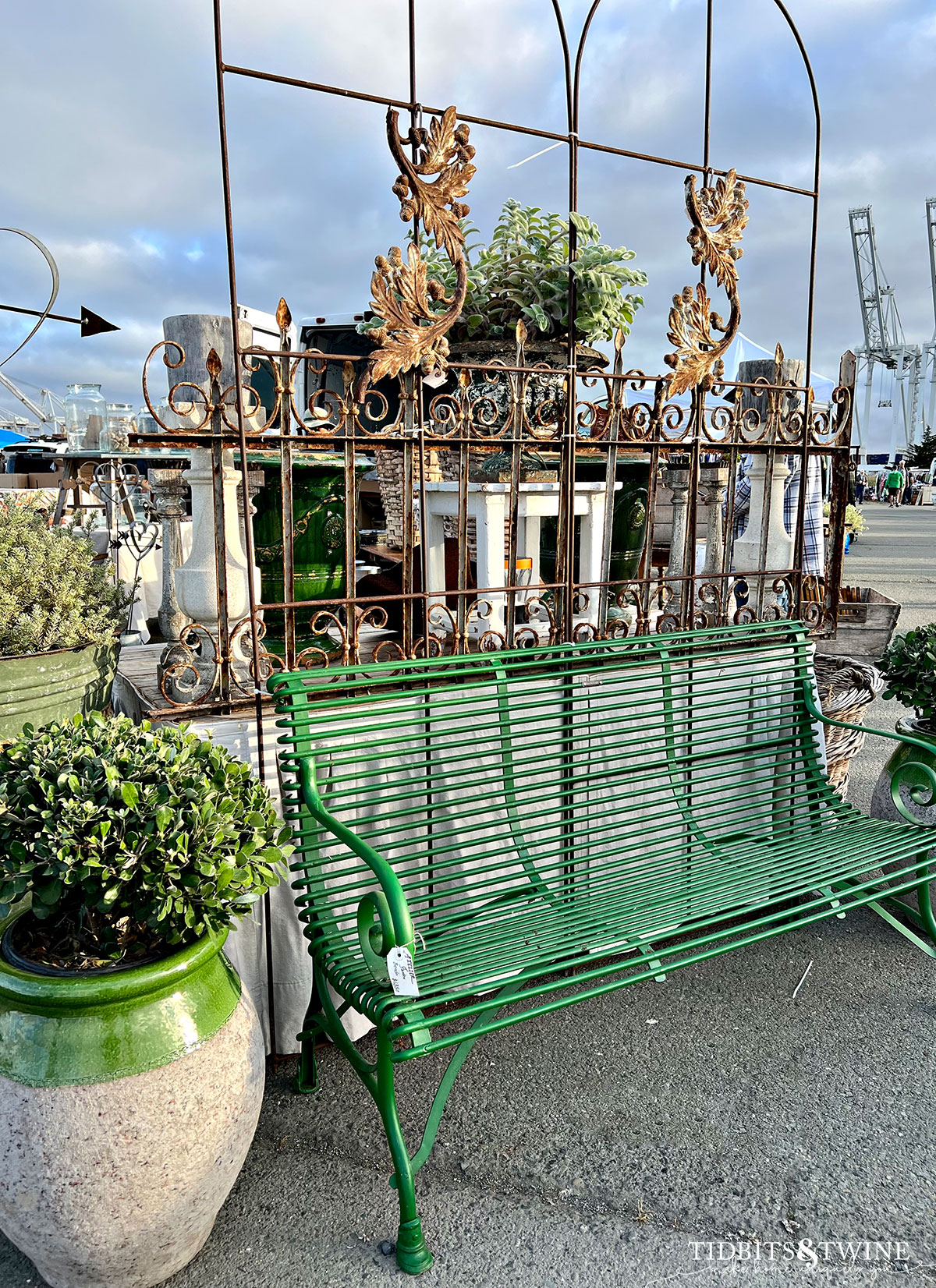 These green anduze pots are more stunning in person than you can imagine!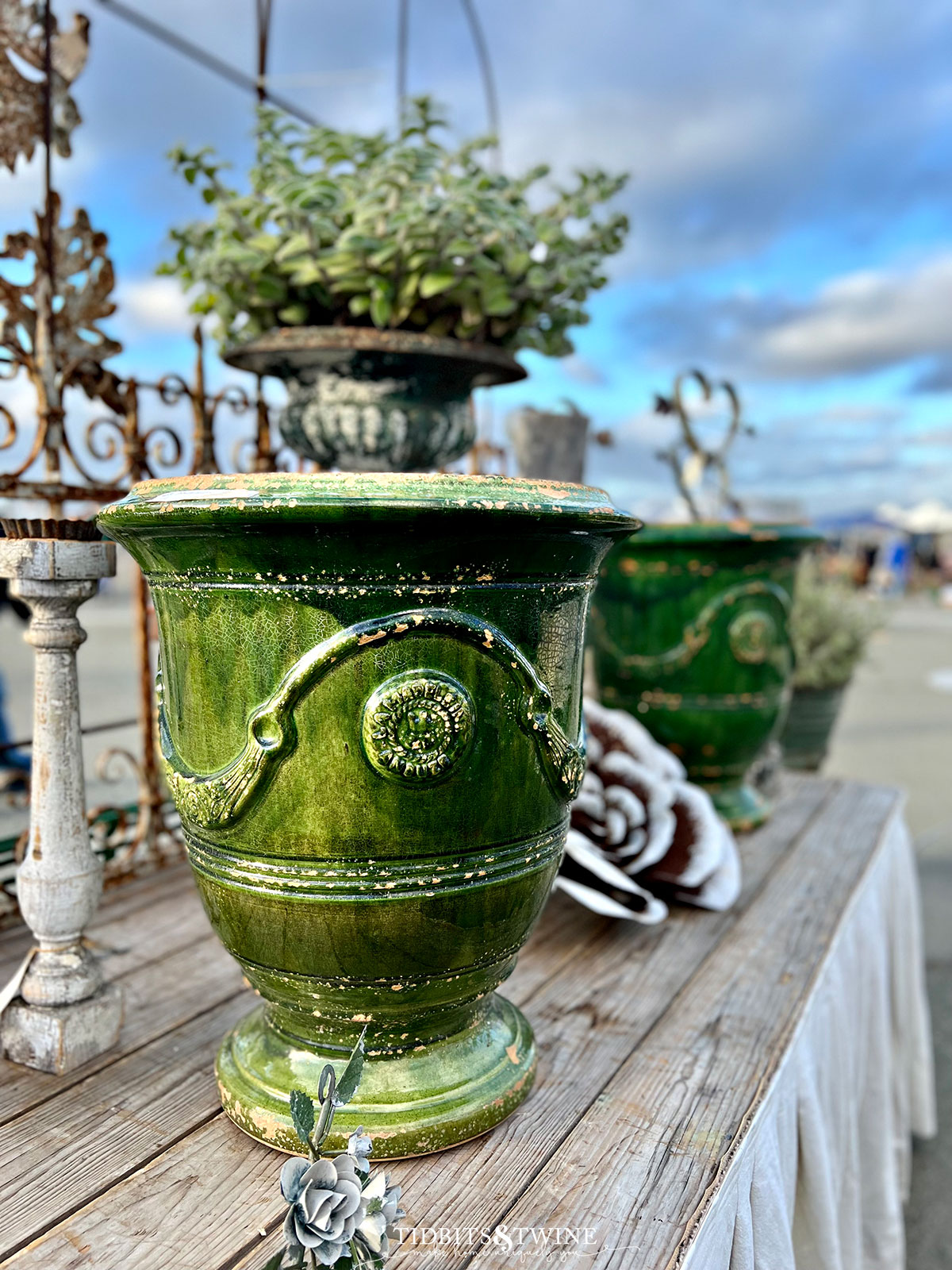 And these confit pots, too…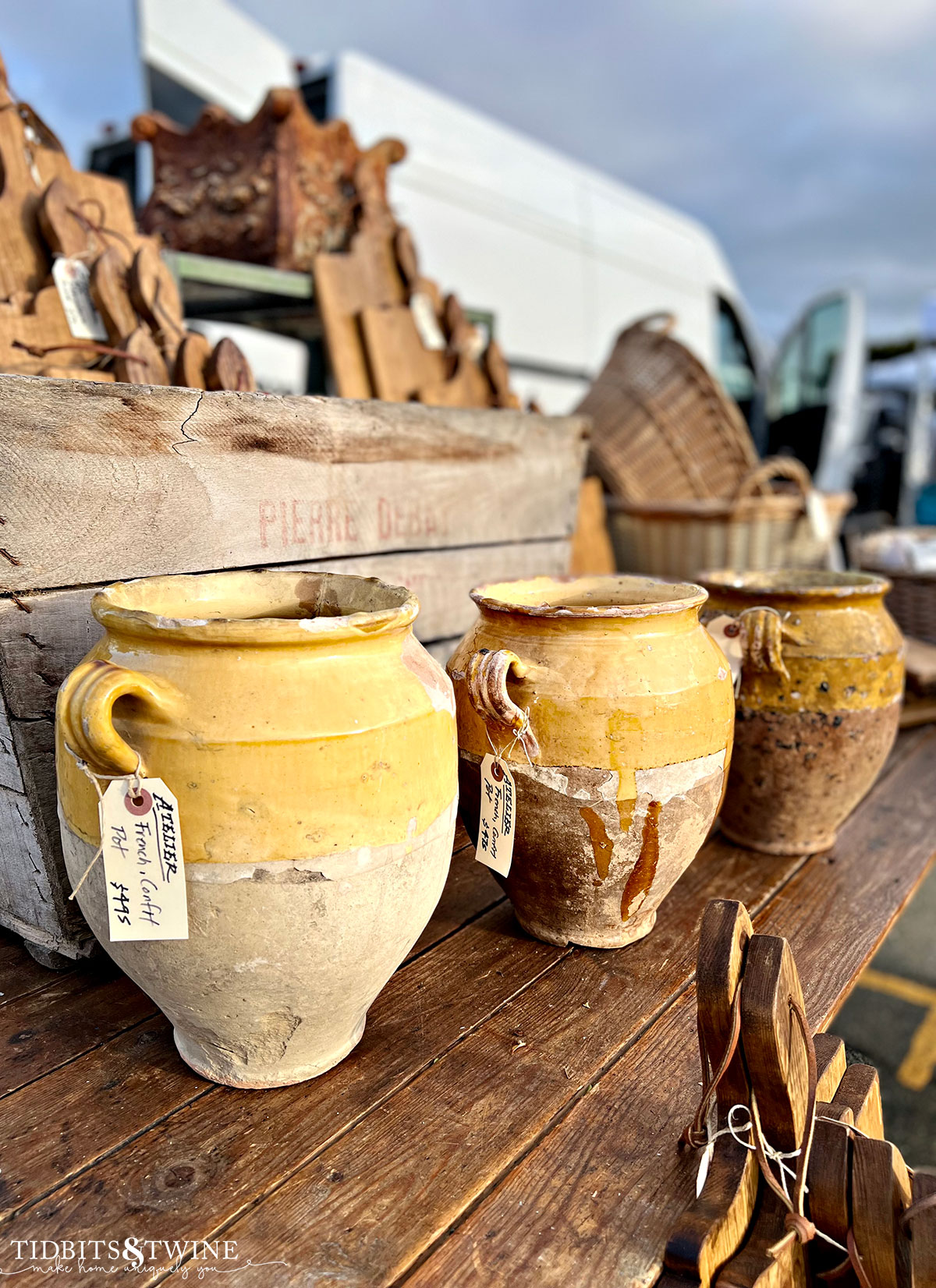 And I'd LOVE an urn like this but it's way out of my price range at close to $800, if memory serves.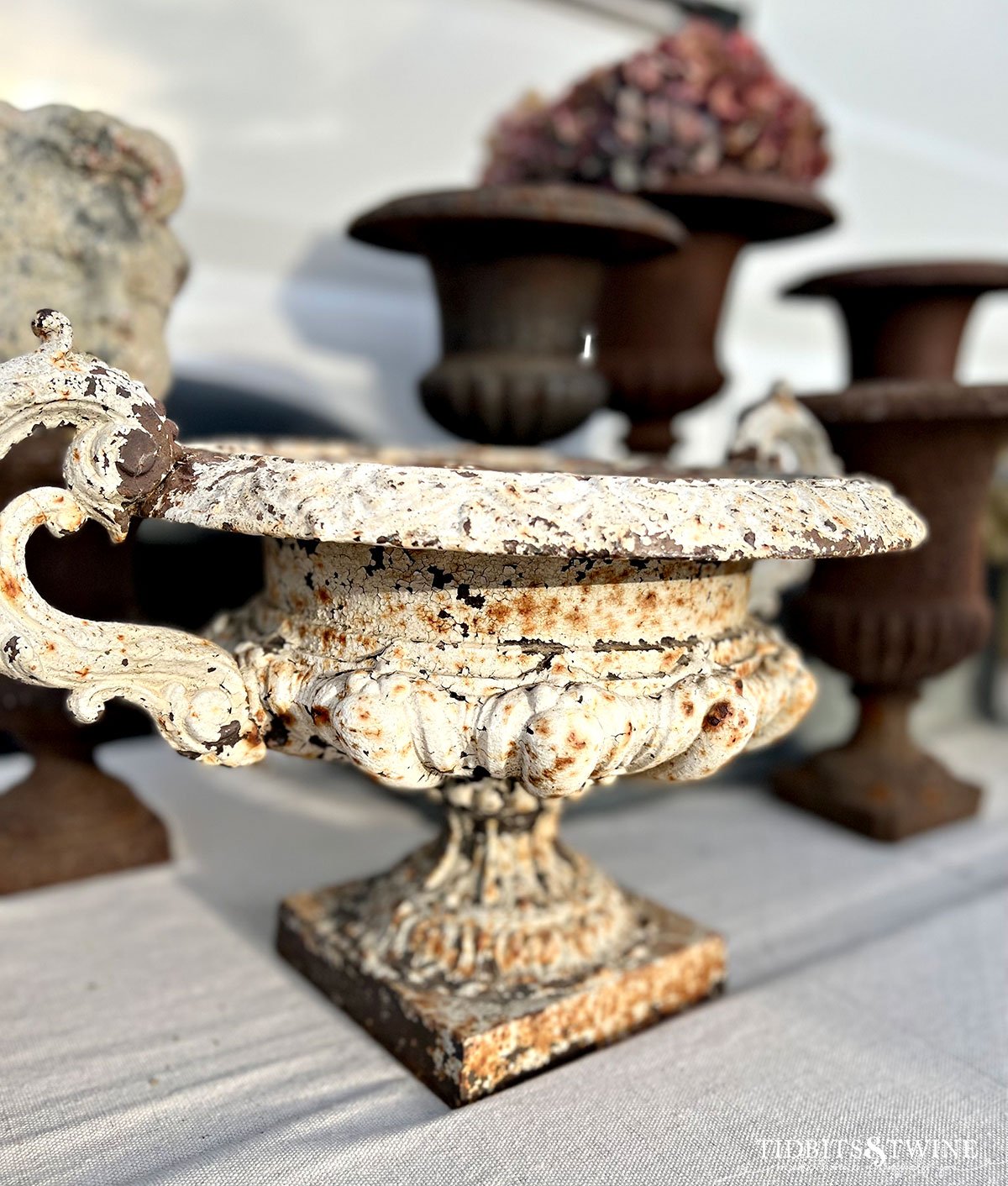 And if only I had a place for a basket this large…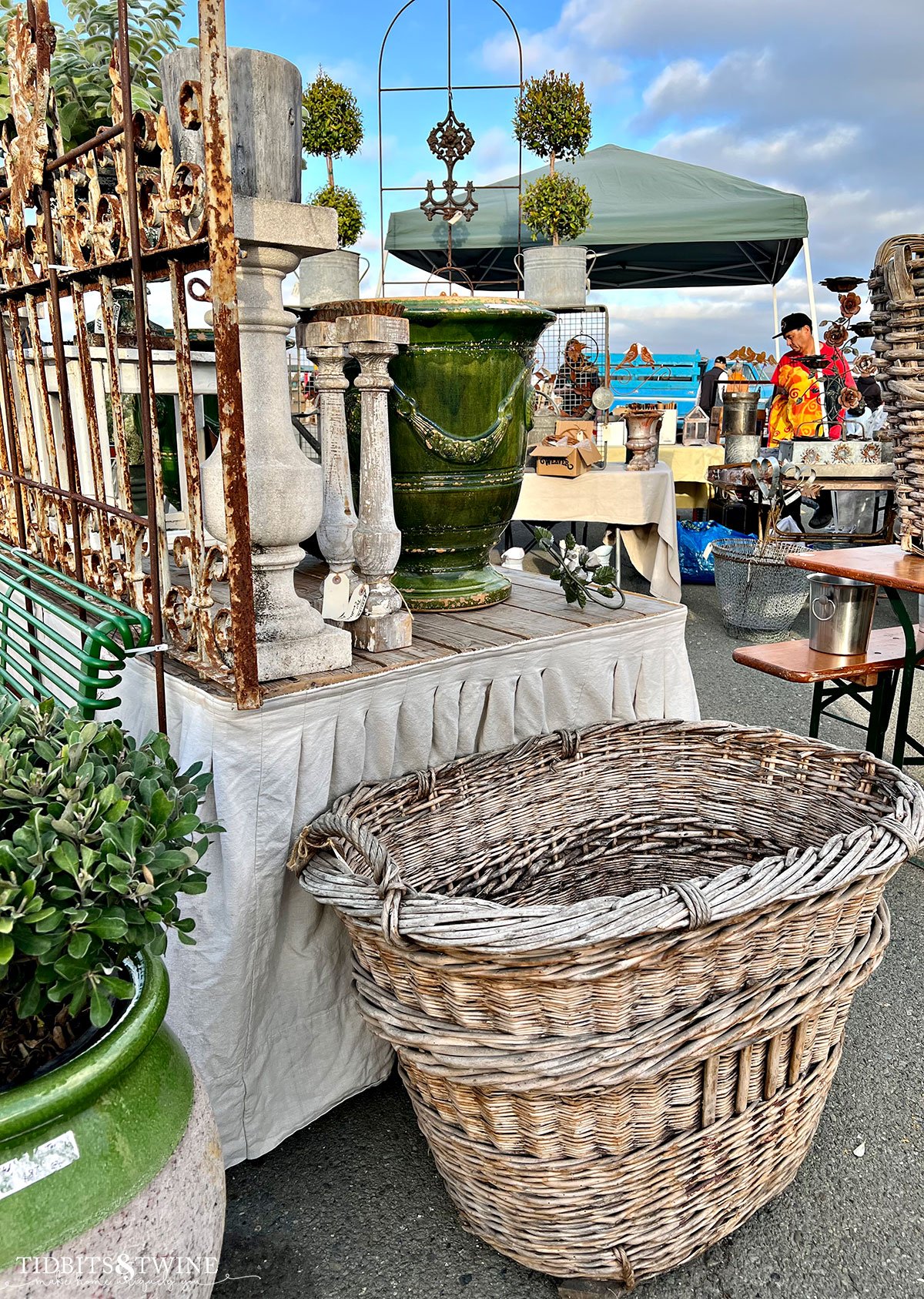 Now, as for what I purchased. I bought two gold frames and one piece of sketch artwork, and these…Nigerian cow bells!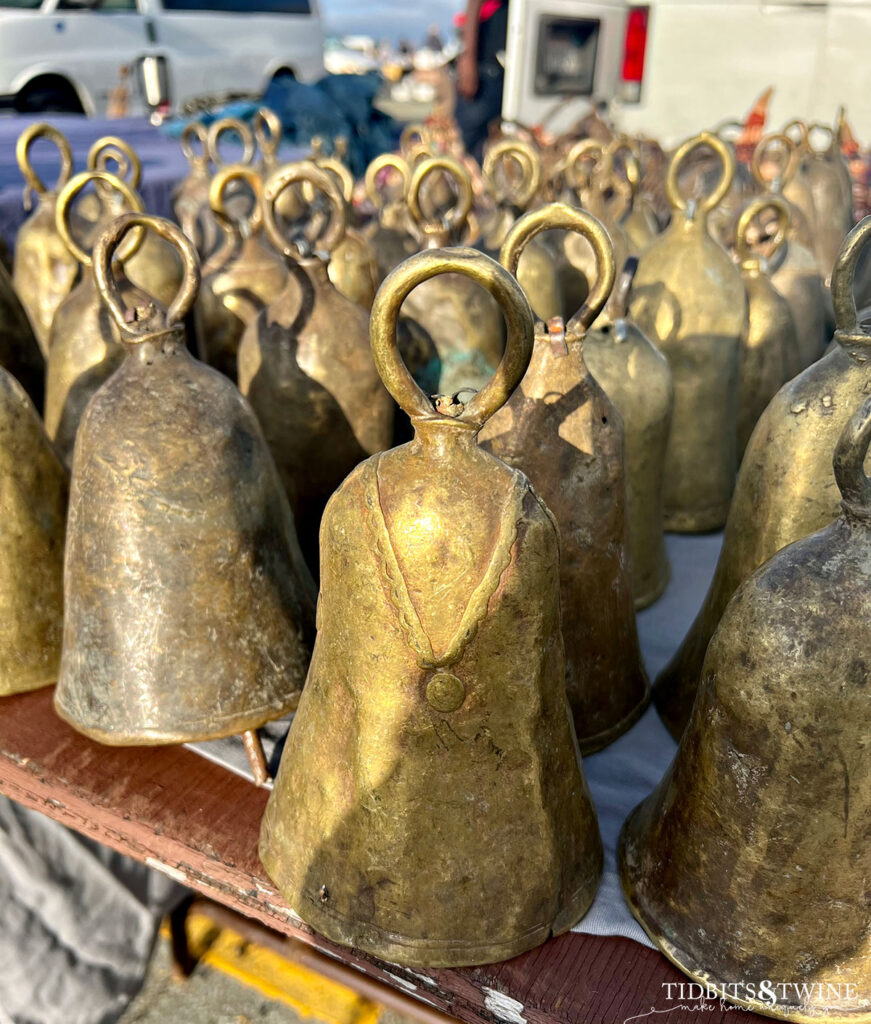 I'm sure you've never thought to yourself, "I need some Nigerian cow bells", nor have I, until I saw them! They have so much rustic charm and I thought they'd be perfect for some sort of Christmas display.
Which item from my shopping trip caught your eye the most?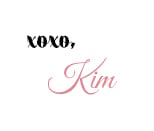 Join the Community
Let's keep in touch! Get exclusive artwork plus the latest news delivered directly to your Inbox!