Looking for gorgeous throw pillow combinations for Fall? You've come to the right place. I'm sharing styling tips to create winning combinations, the best places to buy Fall pillows, and my favorite throw pillow combinations for this Fall. Perfect pairings? Yes, please!
What patterns work well together? What size should I buy? How many pillows do I need? All of these are valid questions any time of year! But when it comes to Fall throw pillows, well, it gets even tricker.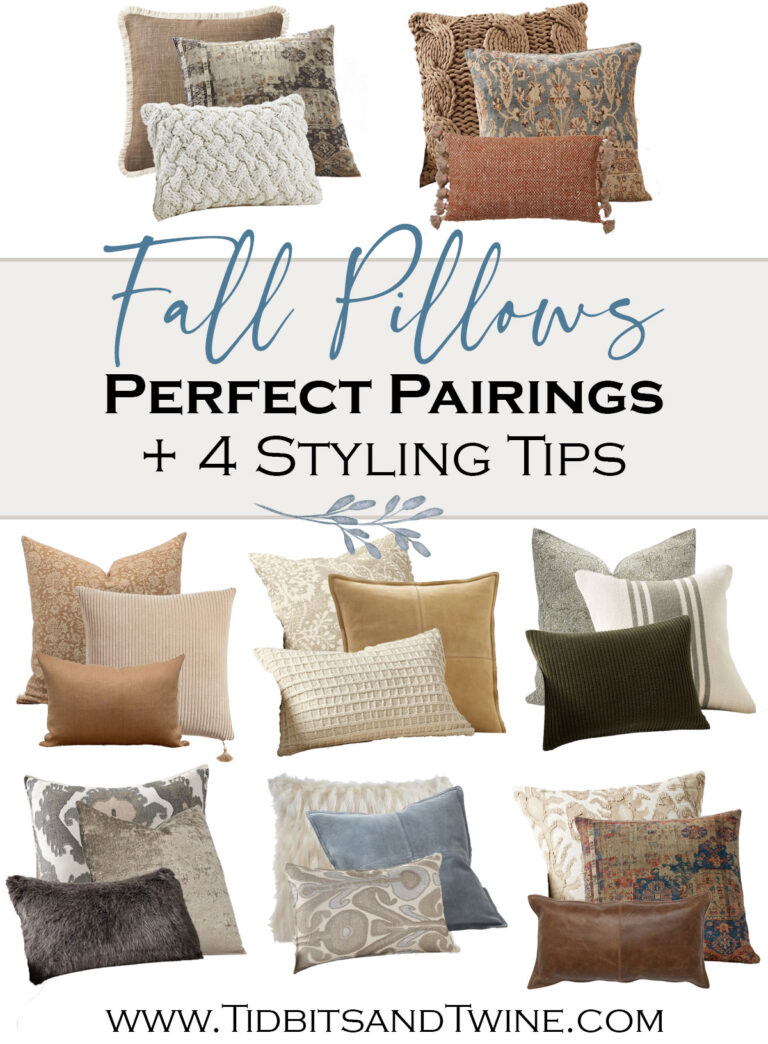 Why? Because when you head to the Fall section of a store or search for Fall pillows online, you end up with pillows that say "It's Fall Y'all" or images of pumpkins, scarecrows, and wheat. These are all a bit kitschy and are more of a theme versus a style. Plus, who wants a pillow they can only use for a couple of months and then have to store?
Not me.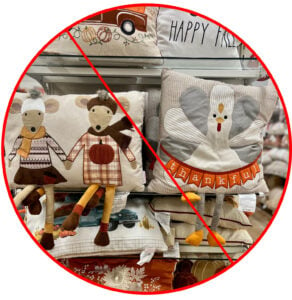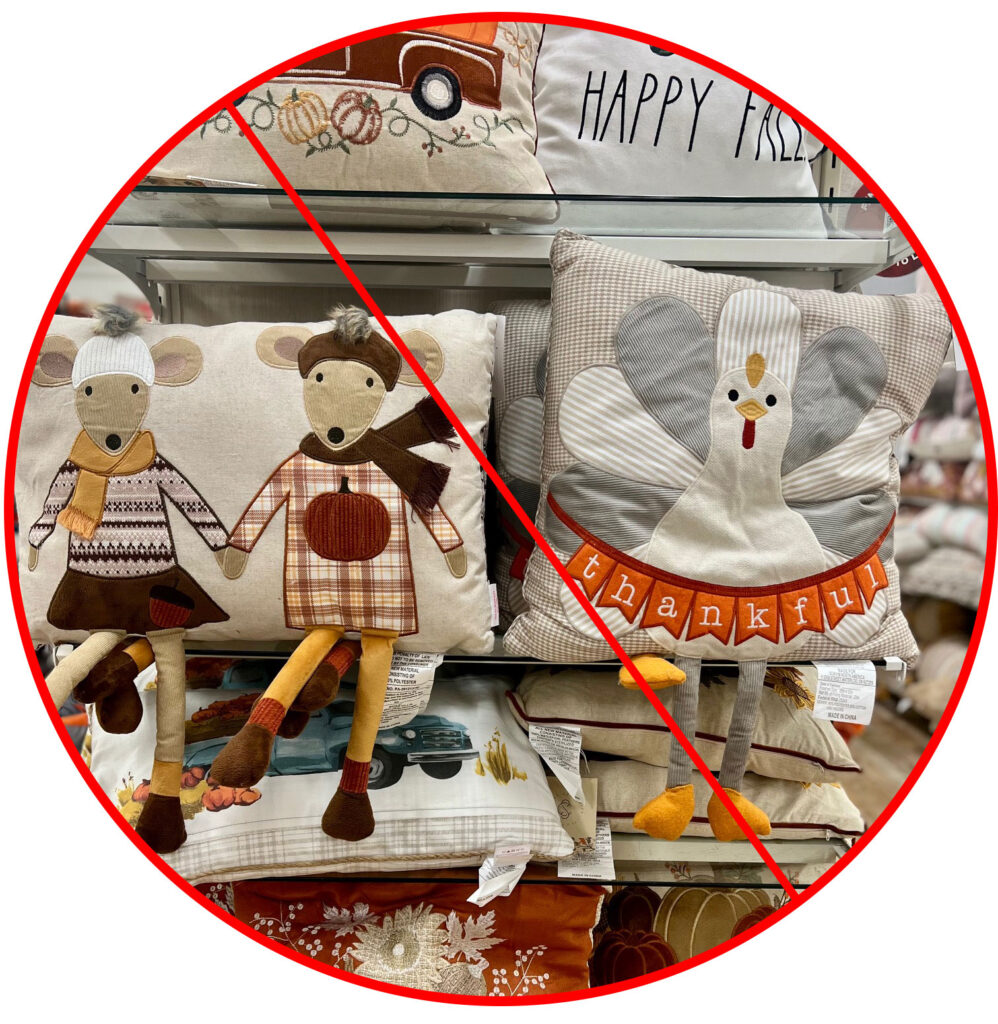 If you haven't noticed, I love decorating for Fall. I love the idea of bringing in texture and inspiration pulled from nature. But Fall pillows? Well, that's one area that I haven't leaned into…until now.
I was recently shopping for some Fall pillows and realized how hard it is to get a Fall feel without going overboard! And I want to be able to change up my throw pillow combinations so that I can use various pillows for more than one season.
Setting the Mood
When the weather begins to cool and the air gets crisp, that's the perfect time to create a cozy feeling in your home.
I've always been a fan of using natural elements to convey a sense of Fall, like dried stems, pumpkins, chunky knit throws, and candles.
And throw pillows are another, easy way to create a cozy feeling in your home! They instantly change the look of your furniture and your room and are a perfect way to refresh for the season.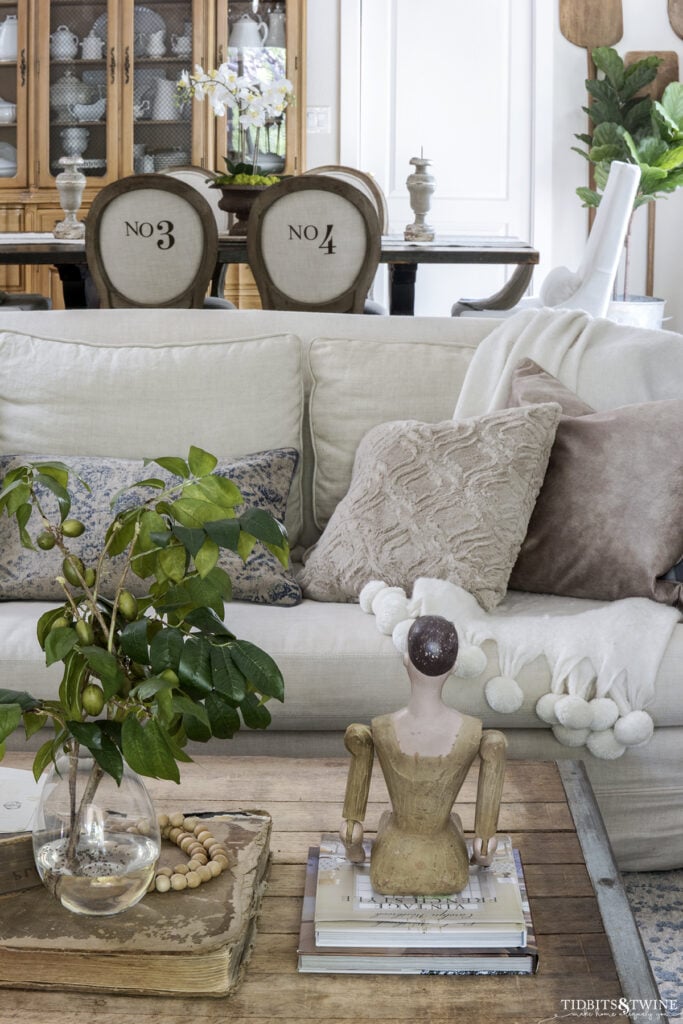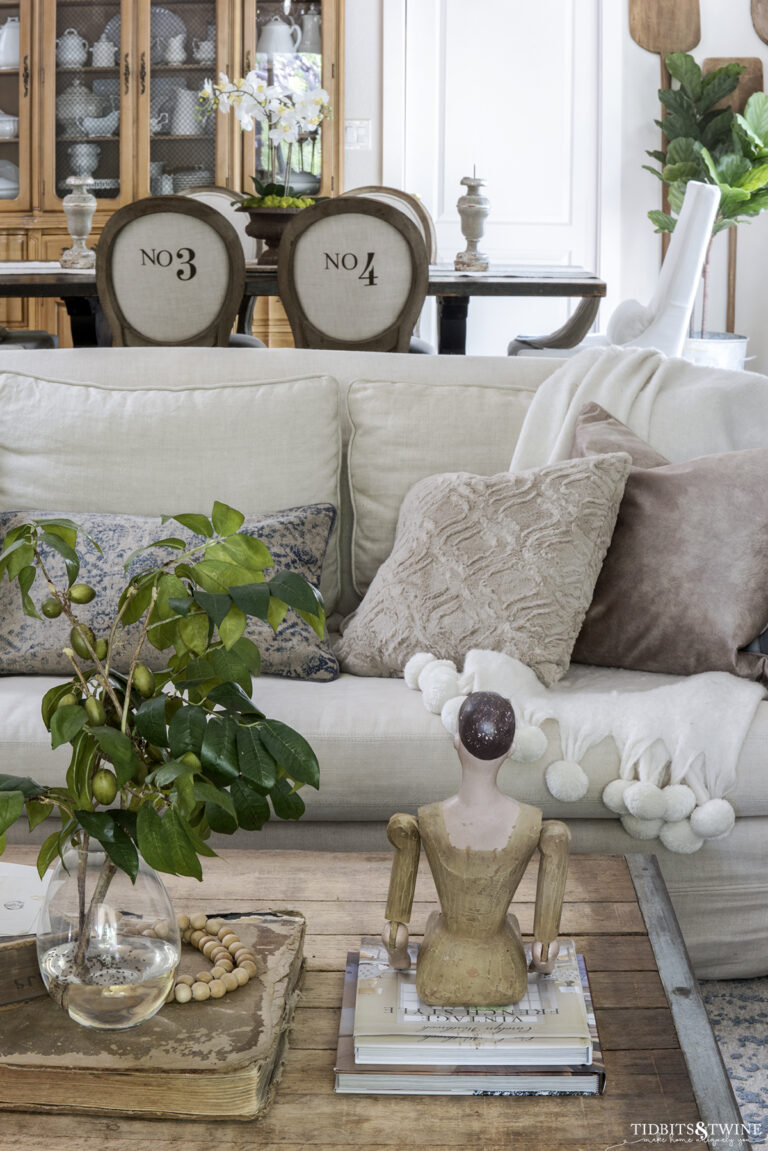 Fall Colors
Personally, I am not a fan of traditional Fall colors. I shy away from red, orange and yellow. That doesn't mean I don't enjoy warmer hues in Fall, though! Instead, I opt for their more muted counterparts.
For an elegant look that will transition from season to season, consider these Fall colors:
Terracotta
Rust
Moss
Sage
Chocolate
Beige (with a yellow, not pink, undertone)
Ivory
Eggplant
Gray
These colors all work with the natural colors of Fall, but will also help to transition from season to season so that you get double-duty from your throw pillows. Anything that has multiple uses is a win in my book!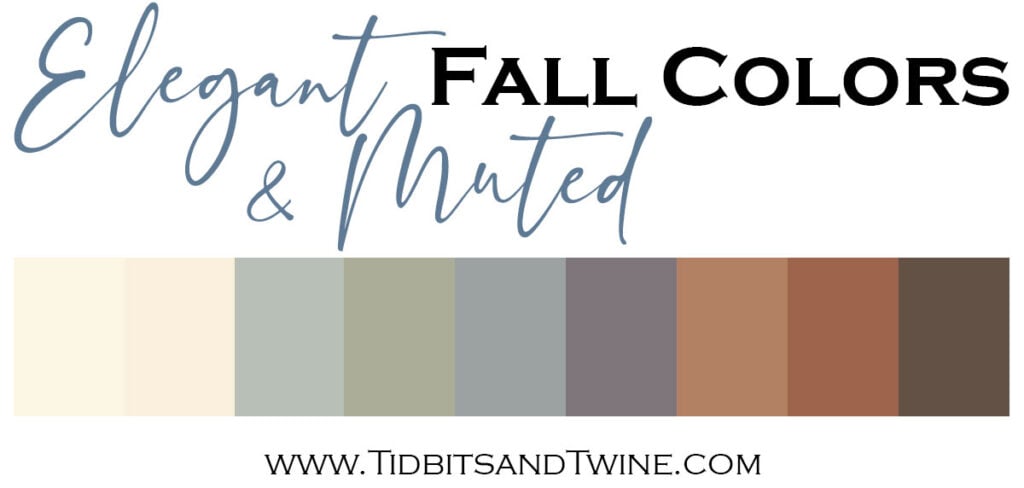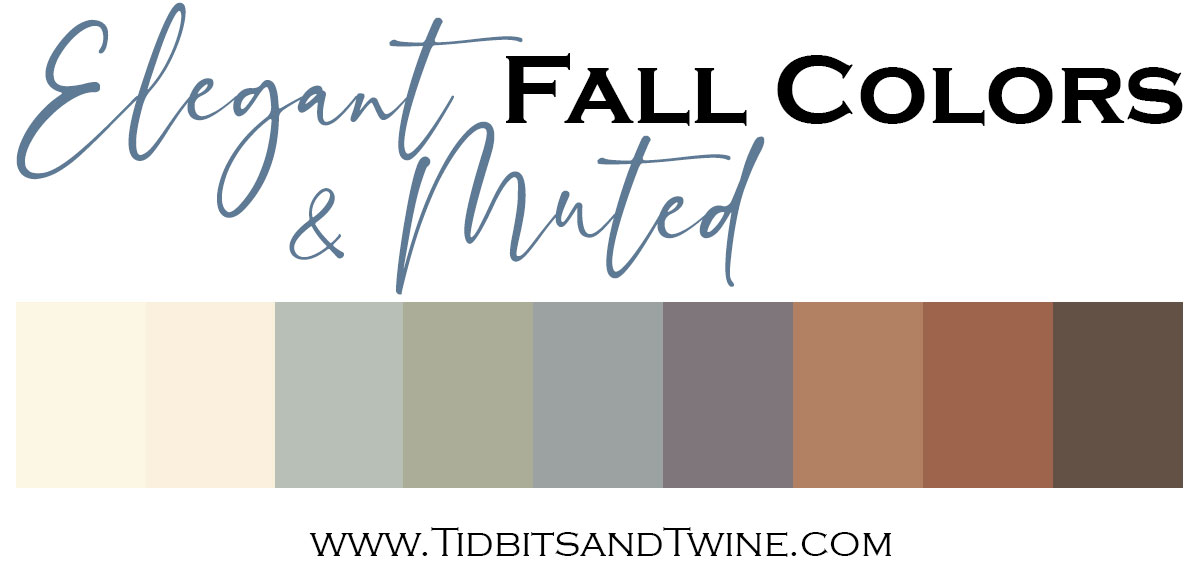 Fall Textures
When you think cozy, you likely don't envision shiny textures. That same thinking applies to selecting perfect textures for Fall.
When choosing your Fall throw pillows, look for a variety of textures such as:
Leather
Wool
Chunky knit
Fur or faux fur
Velvet
Corduroy
4 Pillow Combination Rules
1. Mix Sizes and Shapes
The goal with throw pillows is to create a layered look. Not so layered that there's nowhere to sit, though! Some images I see look pretty, but they just aren't practical. This is why I prefer groupings of 2-3 pillows, depending on your seating arrangement.
Always choose a large, medium, and small pillow in the grouping so that you have some variety. And you don't have to stick with squares! Lumbar, round, and bolster can be in the mix, too. You can read more in my Guide to Throw Pillow Sizes & Arrangements.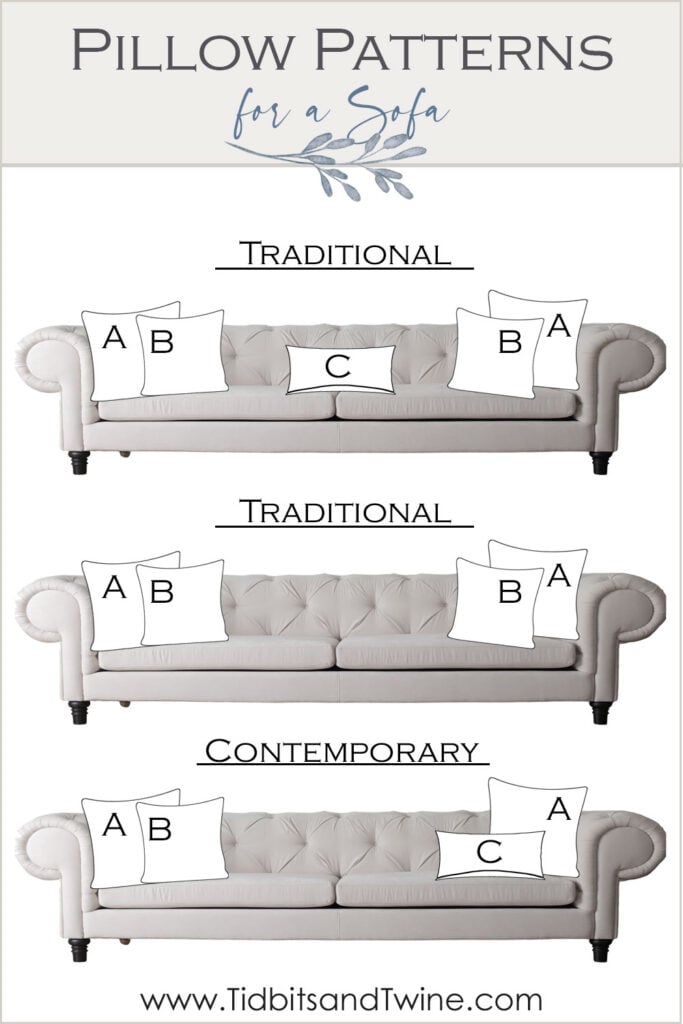 2. Mix Patterns
The basic rule for patterns is to use a large-scale pattern mixed with a small-scale pattern. Or a pattern paired with a geometric. The goal is for the two to complement one another, not to compete.
Tips & Tidbits: Complement Don't Compete
Still not sure which prints coordinate well? Here's a guide to Mixing Patterns Like a Pro!
3. Set Your Color Palette
It's important that the colors of your throw pillows work within your home's overall color scheme. So first and foremost, select a color palette that works for your home and your decorating style.
From there, use the patterned pillow to create the color scheme for your pillow grouping. Then pull a color from the pattern you want to highlight. You can use this color for your second pattern or geometric. Then pull a color for your solid pillow.
The colors don't have to be exact, they just have to be shades within the same color family.
4. Add in Texture
I love using texture all year round, but it's especially important when working with Fall pillow combinations! Ensure that at least one of your pillows has a cozy, warm feeling to it that really lends itself to a Fall feel.
Tips & Tidbits: Upgrade Your Insert
My preference is always to use a down or down/feather insert to give throw pillows a designer look. To ensure they are nice and fluffy, chose an insert that is 2″ larger than your pillow cover.
How to Create a Perfect Pillow Combination
My favorite way to combine pillows tends to follow one of two "rules"
1 Complex or Large-Scale Pattern + 1 Small Pattern or Geometric + 1 Solid
OR
1 Complex or Large-Scale Pattern + 1 Heavily Textured Solid + 1 Solid
In the second instance, I'm using the texture as a pattern. So it might be a woven pattern in a solid color, versus a printed pattern.
Now I say rules, but of course, there are no rules, just guidelines. I tend to be more traditional and conservative with my patterns, but if you're bold, feel free to mix it up and have fun!
Favorite Fall Throw Pillow Combinations
Here's a look at some of my favorite Fall pillow combinations that I came across while shopping recently. These combinations include a variety of sizes and textures, while embracing cozy muted colors.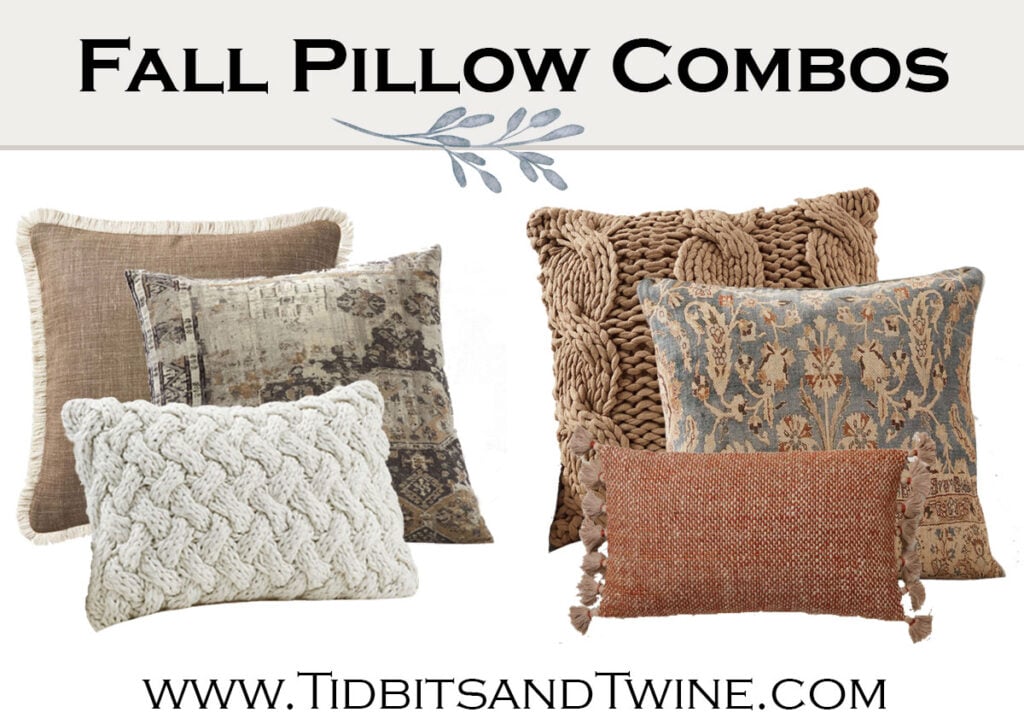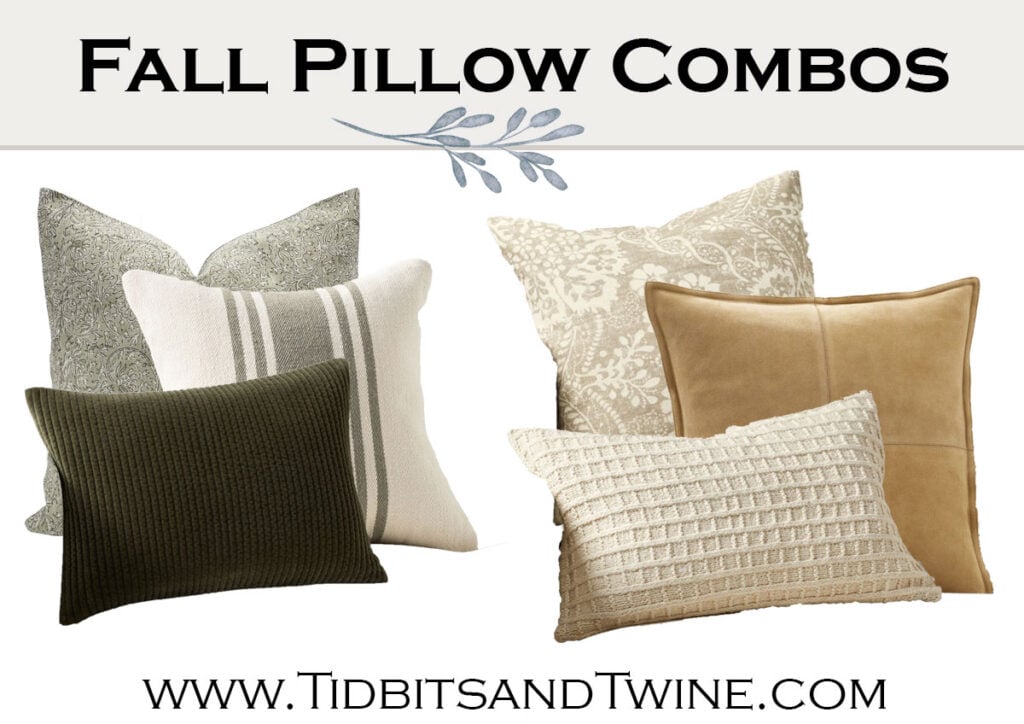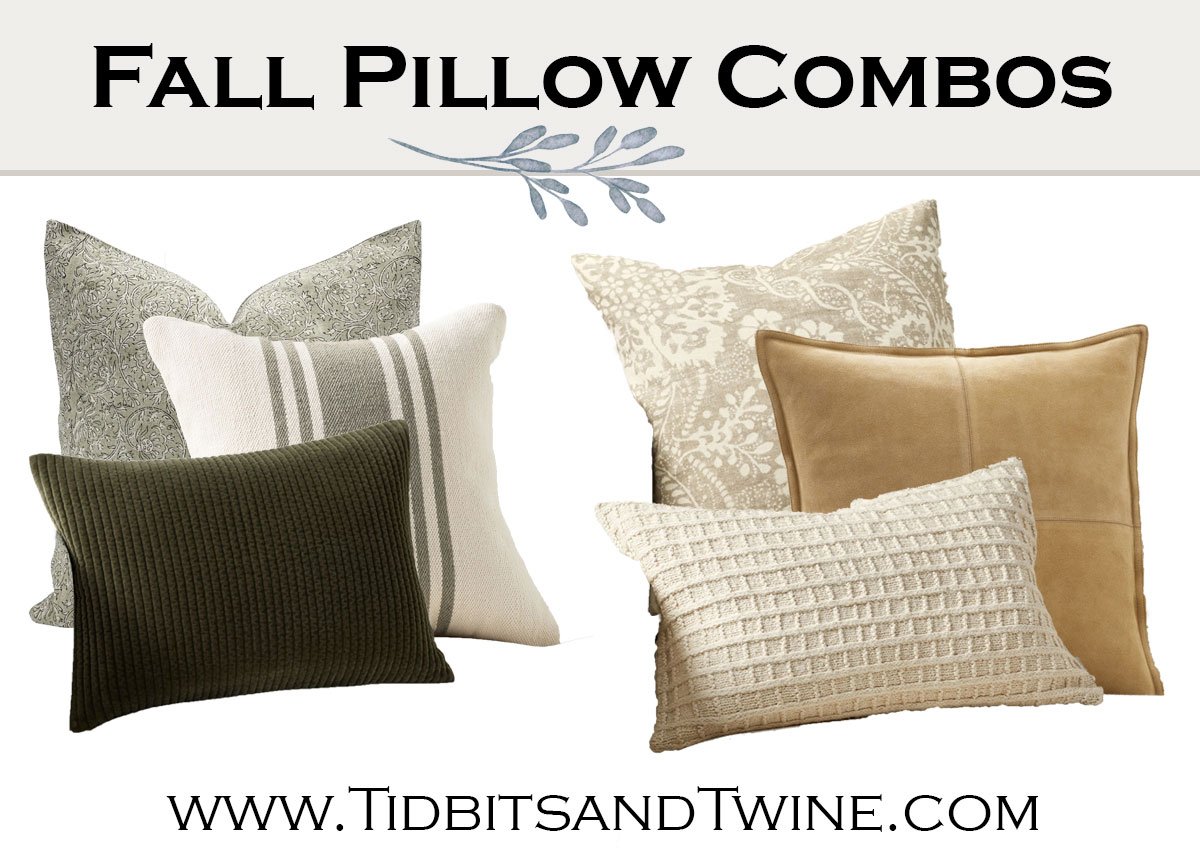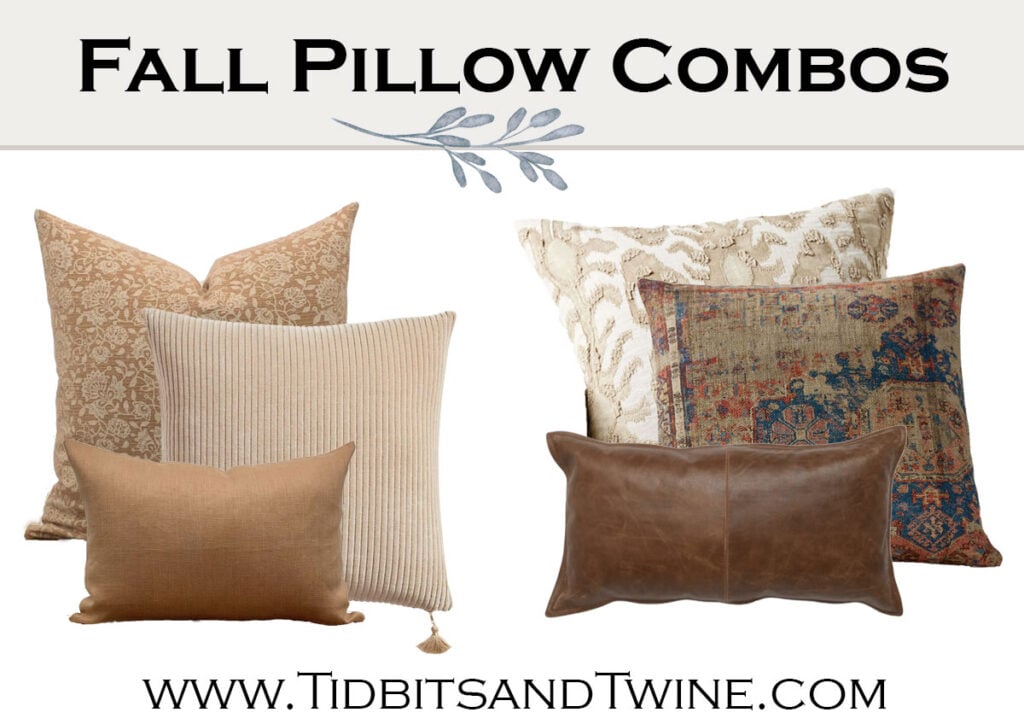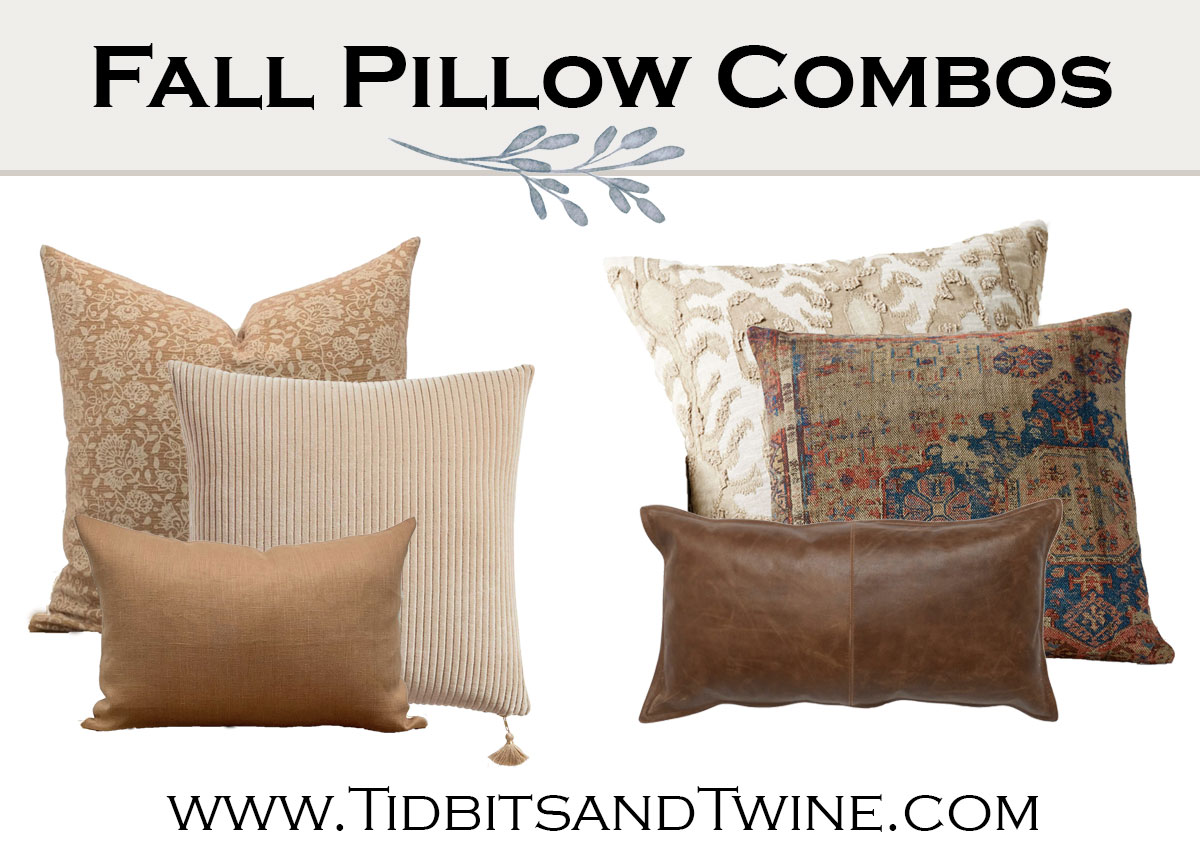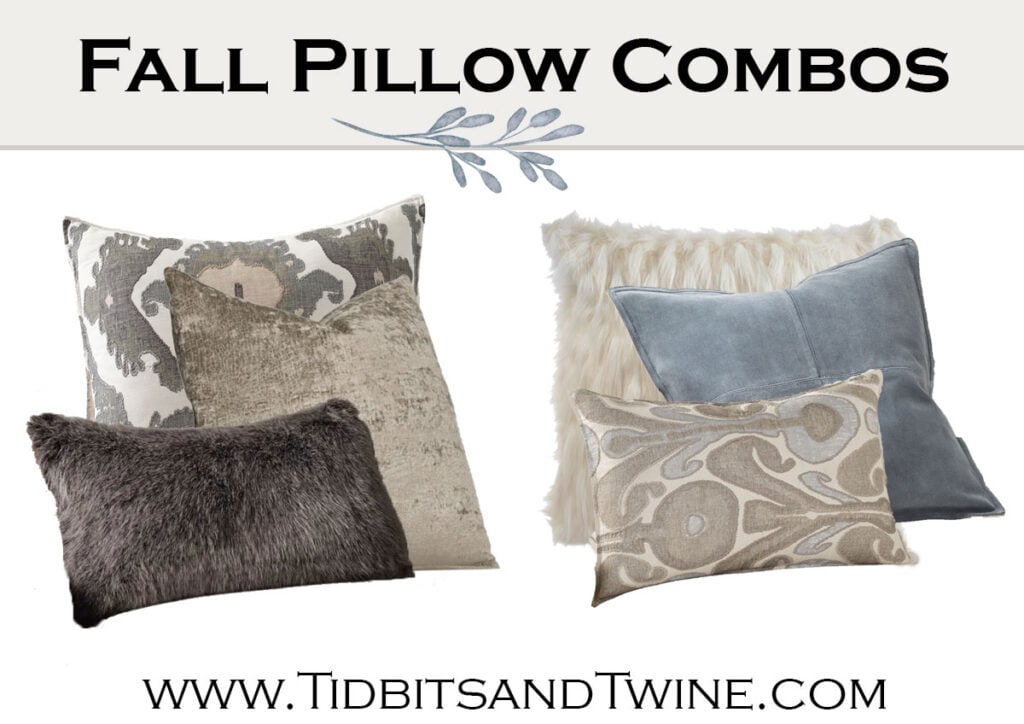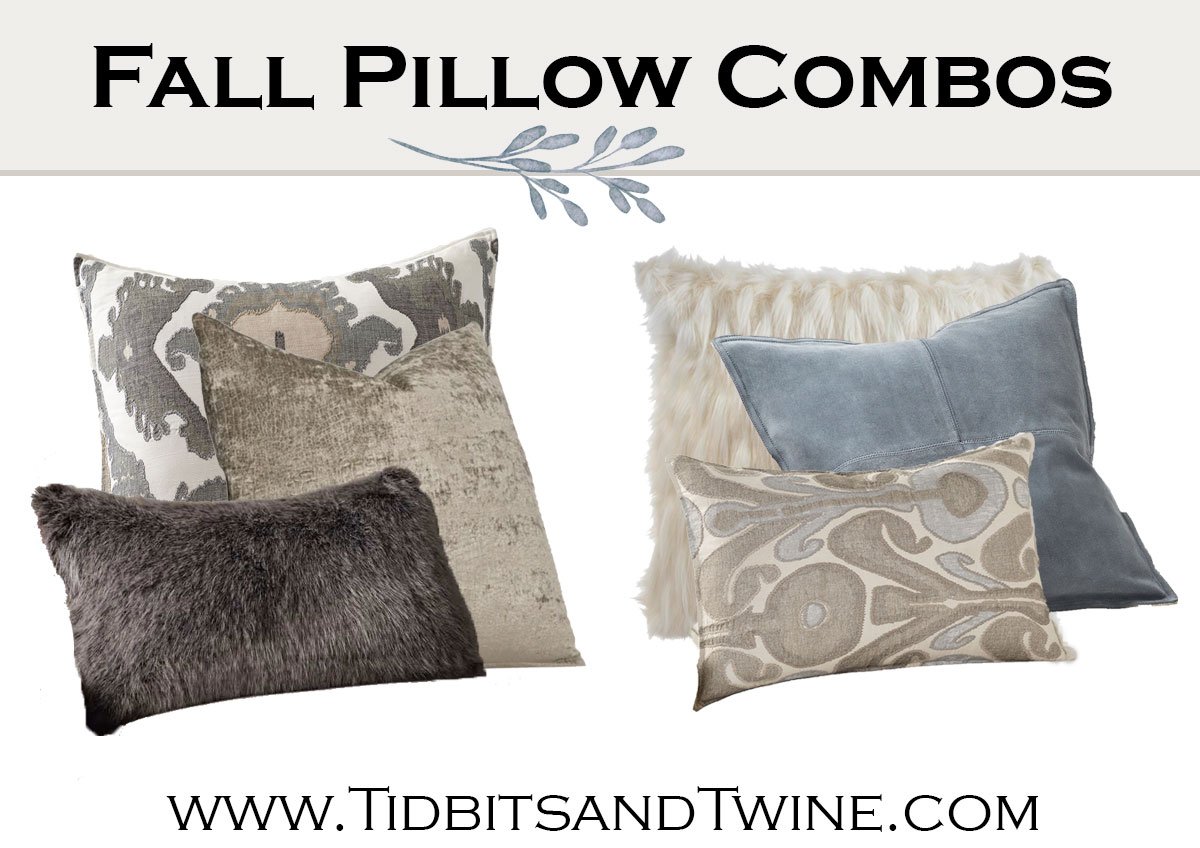 Where to Buy Fall Pillows
Obvioulsy, there are so many stores where you can find throw pillows. But since I lean toward traditional with just a touch of contemporary, this is my go-to list.
50 Fall Pillows You'll Love
Here are some of my favorites so you can create your own throw pillow combinations!

Join the Community
Let's keep in touch! Get exclusive artwork plus the latest news delivered directly to your Inbox!