Mora clocks are elegant, timeless, and a staple of Gustavian style. Learn all about these beauties including their history and where to buy one.
As my design style gravitated more and more toward European design, specifically French and Swedish, I started seeing beautiful clocks that caught my eye. I didn't know what they were called at the time, but I now know that they are Swedish Mora Clocks and an iconic decorating piece of Gustavian style.
Not sure what I'm talking about? Well, I'll bet you've seen one before…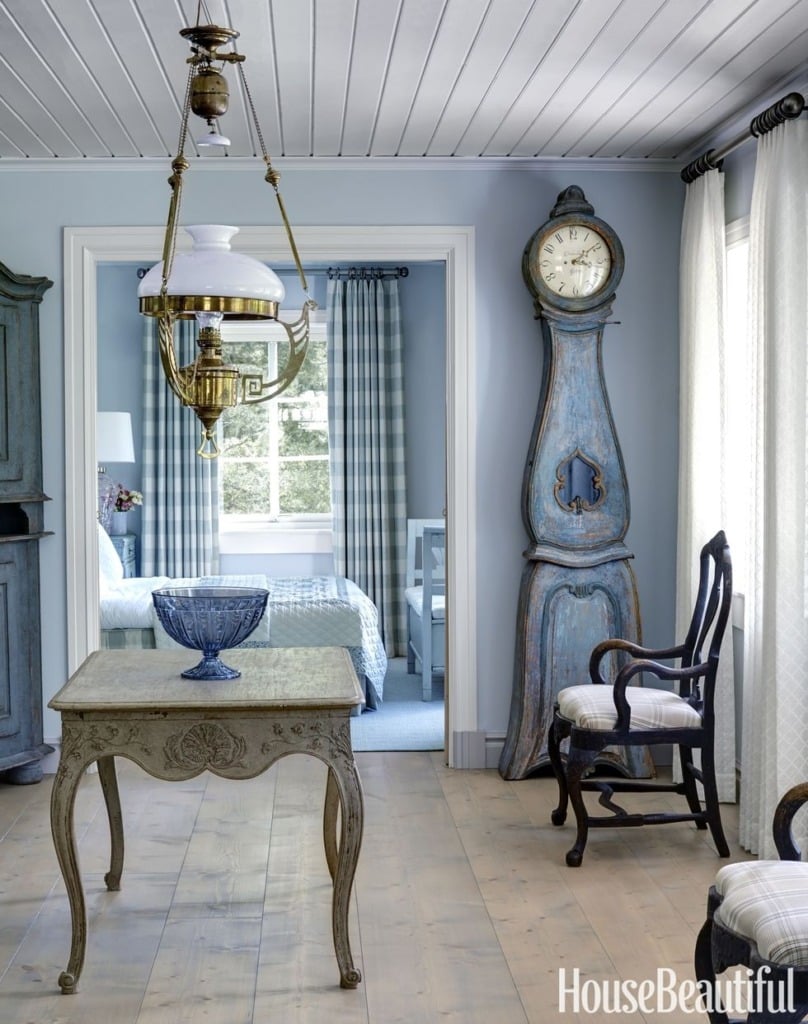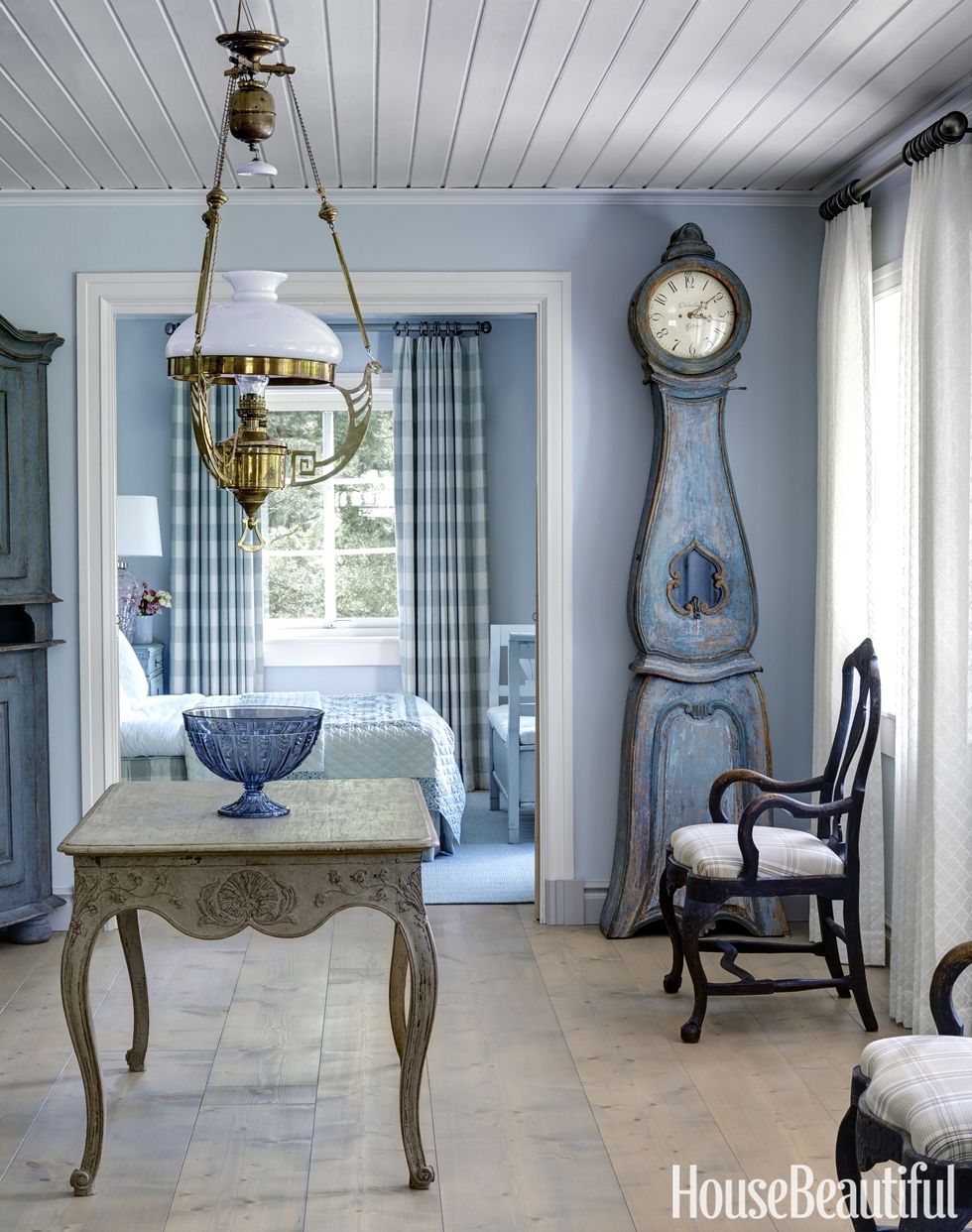 I came across my very first authentic, antique Mora Clock at Alameda Point, sold by Marina Natalia. You can read about my Mora clock here.
What is a Gustavian Mora Clock?
These are long case clocks that originated in the 18th century, named after the village of Mora, Sweden.
History of Mora Clocks
In the mid-eighteenth century, bad weather and poor soil conditions forced farmers to find a way to supplement their income. A cottage industry was born, where each family in a region would specialize in making a different part of the clock. One family would paint the faces, another construct the weights of the Mora clock, and so on in order to create one finished clock. The production of Mora clocks allowed for approximately 1,000 clocks made each year until mass production, along with competition from imported clocks from America and Germany ended the Mora clock industry. These timeless clocks were often given to brides on their wedding day. These bridal clocks would have more intricate hood ornamentation, such as carved leaves resembling a bridal crown, urns, or fans.
Style of Mora Clocks
Mora clocks differ from typical grandfather clocks in that their wooden cases tend to be painted in one or two colors, depending on the family's preference that ordered the clock. There are 'female" Mora clocks that feature curves (typical of Southern Sweden and similar to the female form ) and 'male' Mora clocks that have straight lines (typical of Northern Sweden). Personally, I see many more of the curvy clocks than straight and these are much more popular.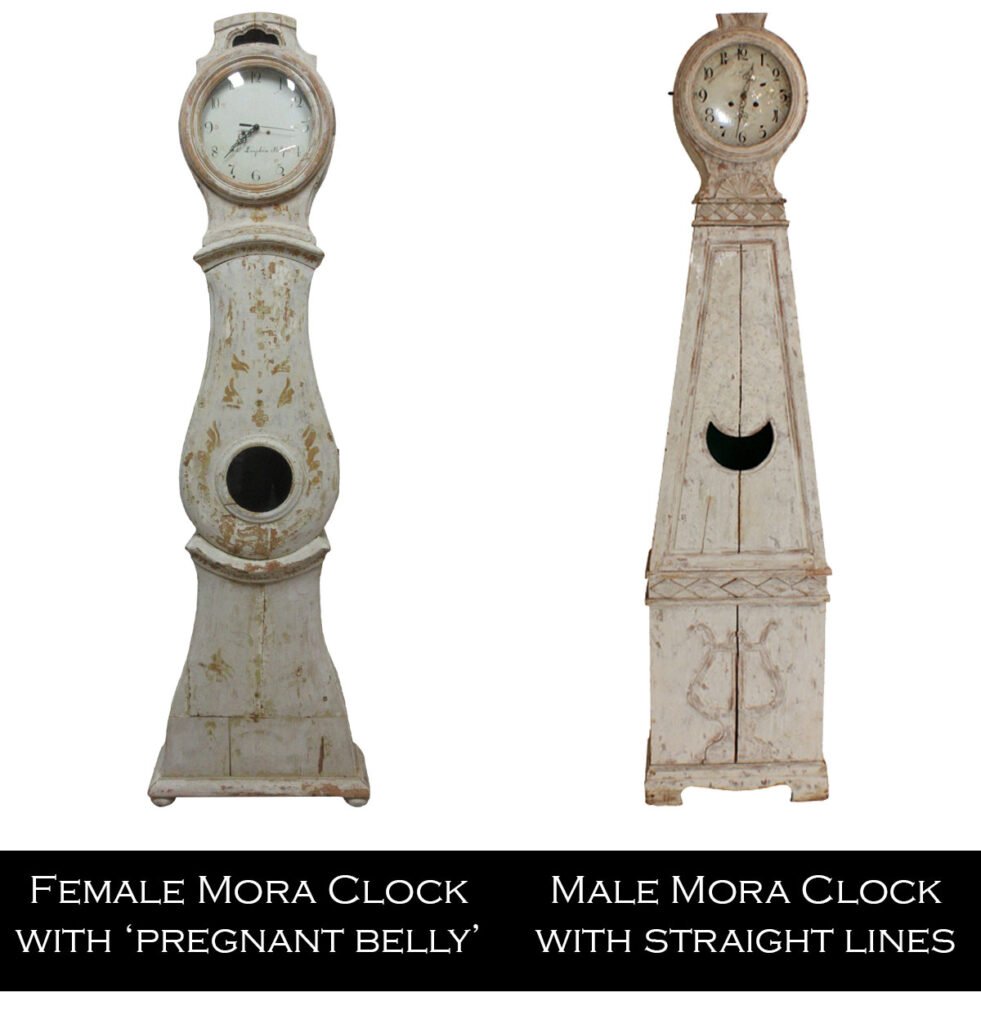 These days, the term Mora clock is synonymous with the pregnant belly shape of the original clocks from the region of Mora. Carved details are also common on these clocks, with more intricate carvings and ornamentations, gilded crowns reserved for wealthier families. In true Gustavian style, Mora clocks were often painted with a matte, chalky finish in white, grey, or light blues. These lighter pastel colors were preferred during the long dark winter days in Sweden.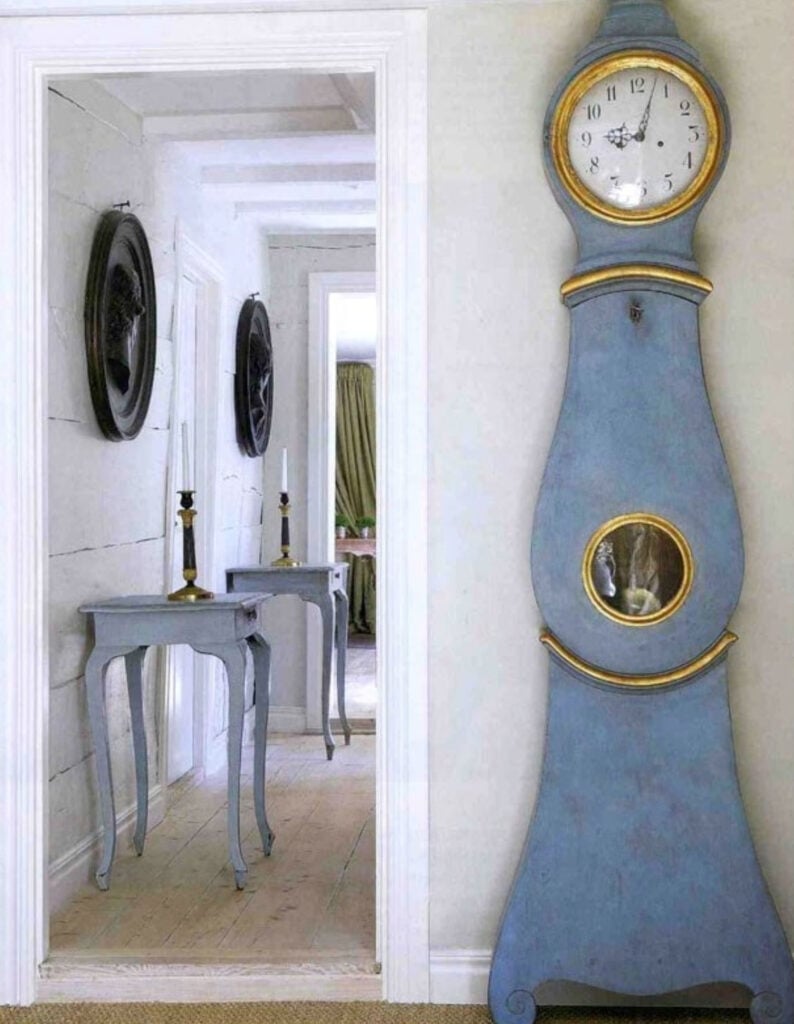 Mora Clock Faces
The clock faces are white enamel and hand-painted with black paint. They often have the clockmaker's initials and village on the face. "AAS Mora" represents the well-known clockmaker Krang Anders Andersson of Ostner.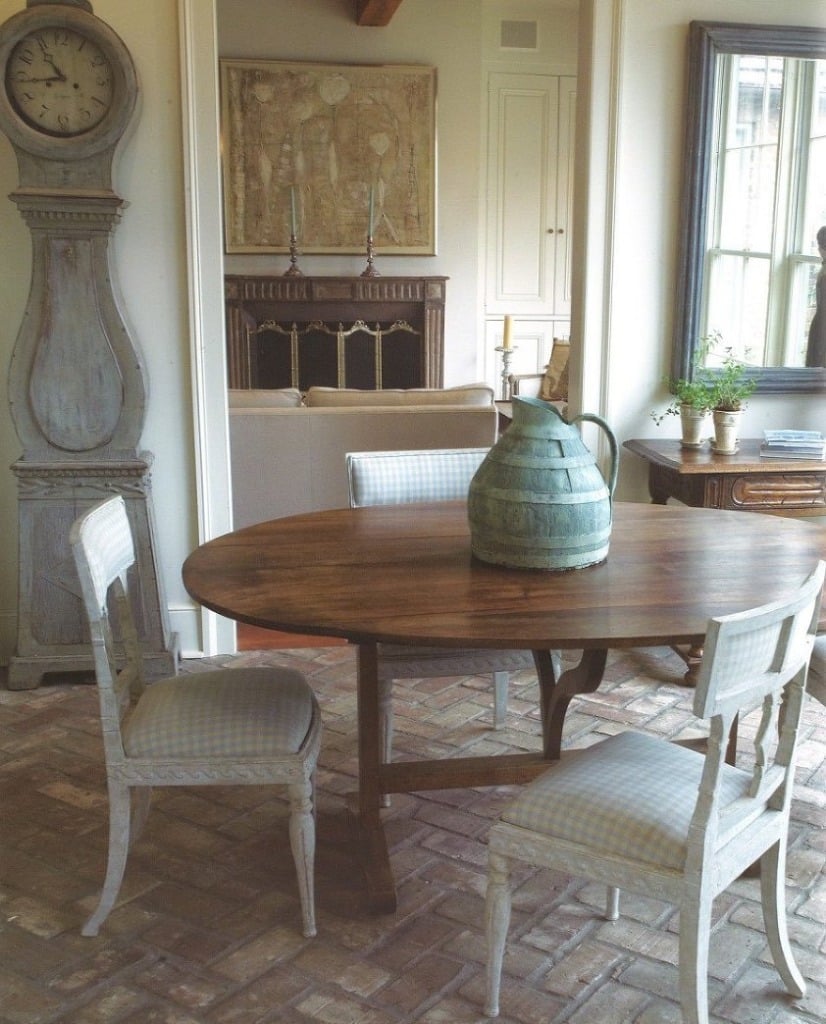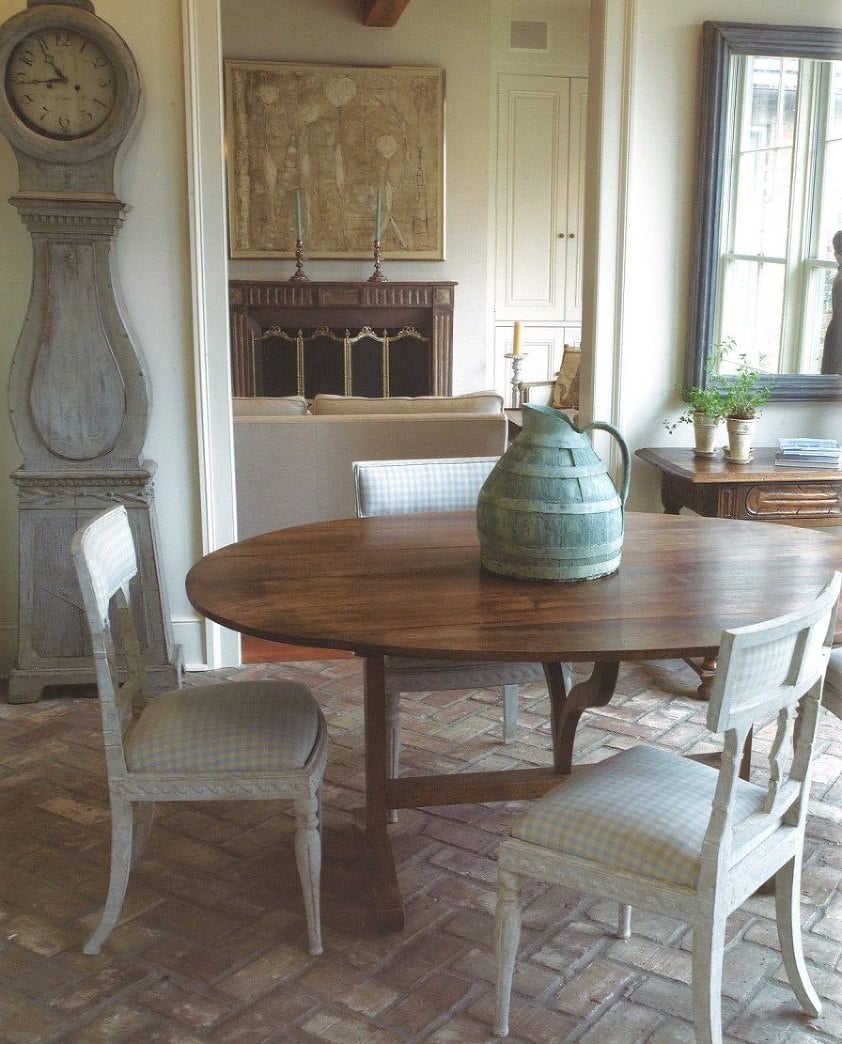 Mora Clock Mechanism
The clock features two cast iron weights and a pendulum swing. They have an eight-day movement, meaning that they need to be wound every eight days. There is a series of two chimes or striking bells that ring every hour. These days, most antiques no longer have their original works and instead have a modern movement.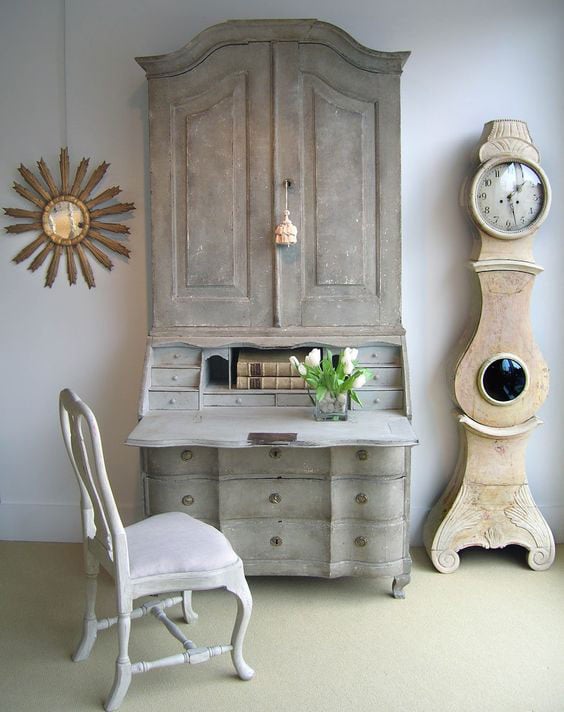 How to Decorate with Mora Clocks
True antique Mora clocks are used by interior designers as a statement piece in a room. These beauties are true show-stoppers! Thankfully, given the range of design styles and simplicity of colors, Mora clocks fit well within a variety of decorating styles, from shabby chic, to farmhouse, European, and French Country! You'll often see them next to front doors in a foyer, or at the base of a staircase. They should always be placed on a solid, flat surface. If a true antique, it's best to secure it to the wall in order to ensure it doesn't tip given the expense. Also, the convex glass on the hood of the clock is quite heavy and pulls forward when opened to expose the clock face.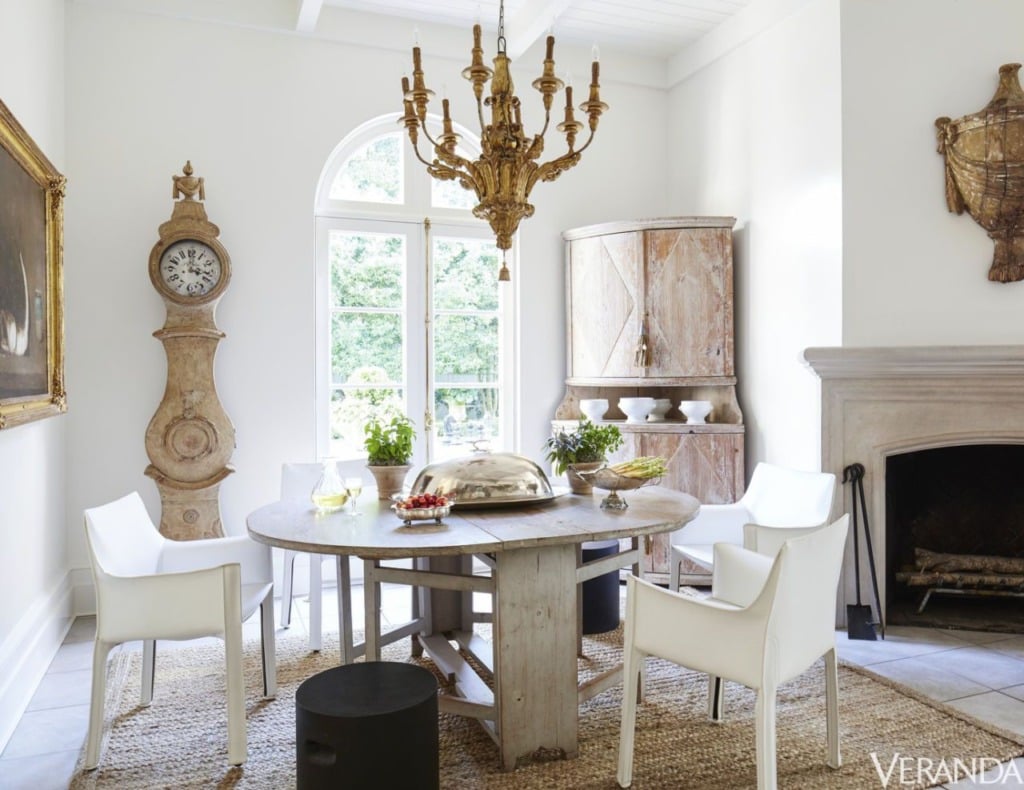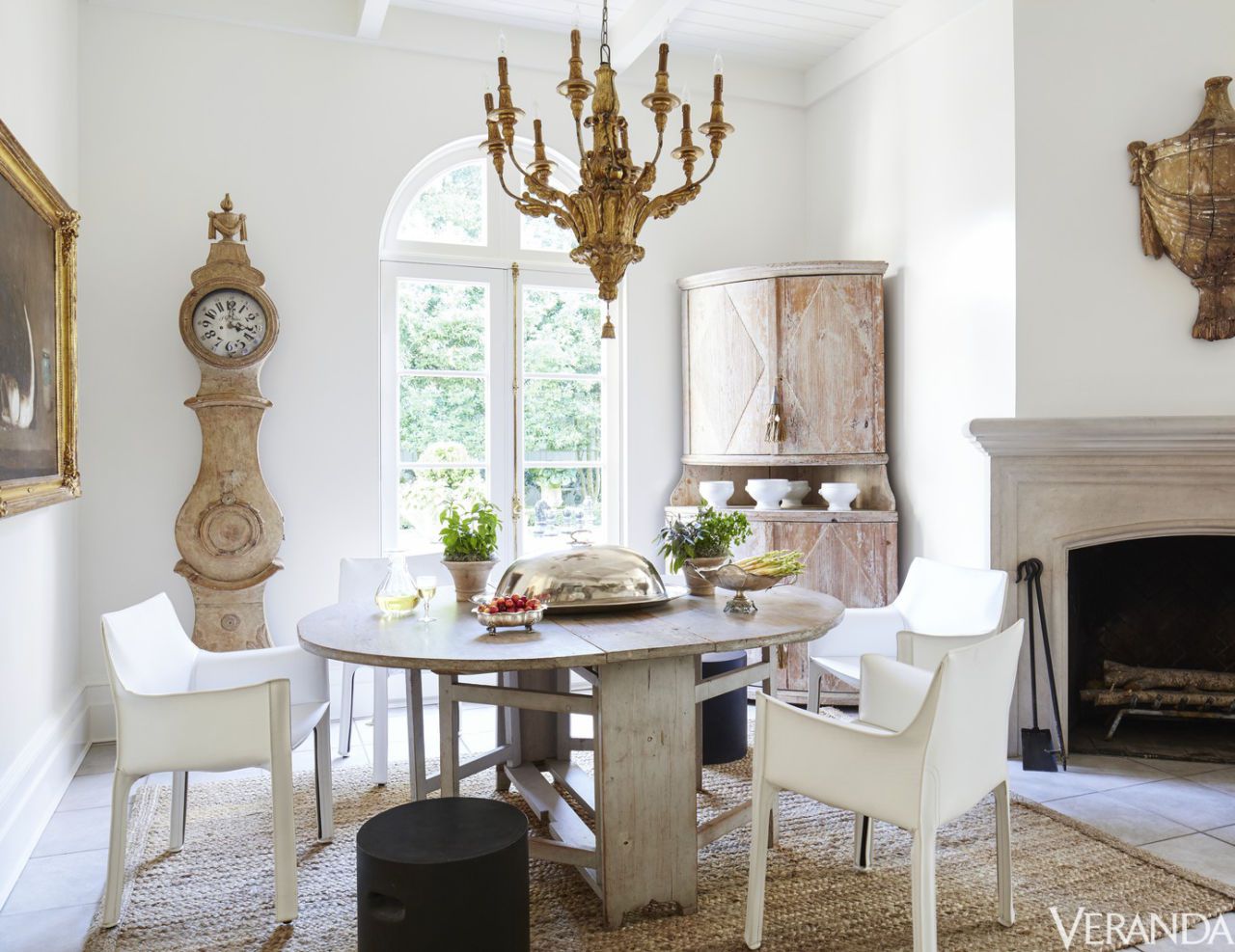 How to Paint a Mora Clock
Sometimes, what you can afford may not have the look you want. This was the case for me when I purchased a reproduction from Target of all places! I've created a How To guide for painting a Mora clock. You can see below that my clock went through quite a transformation!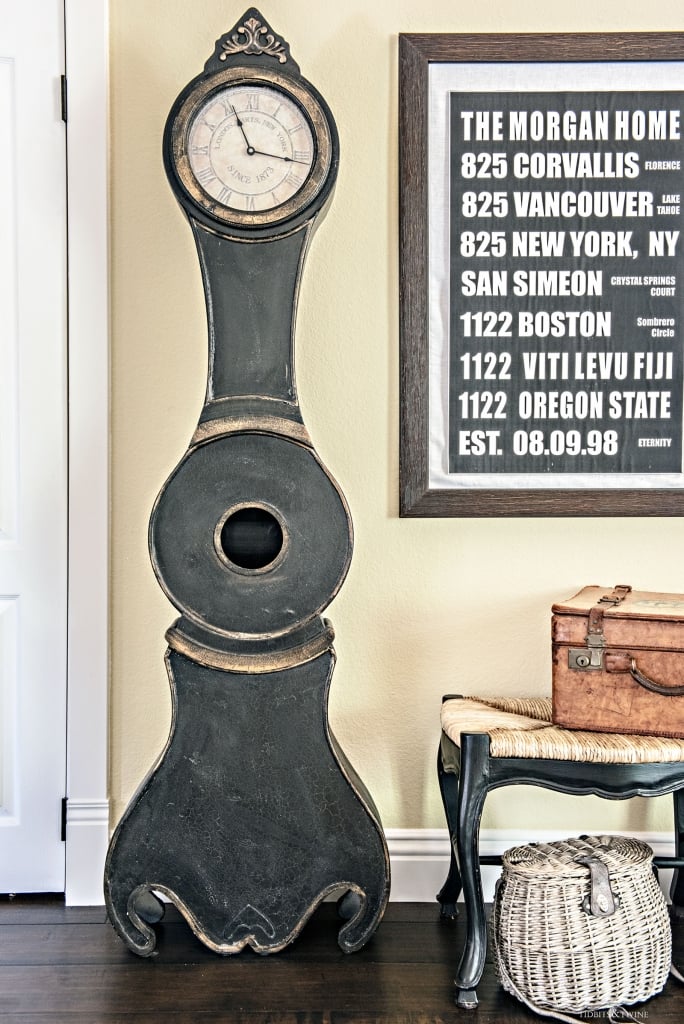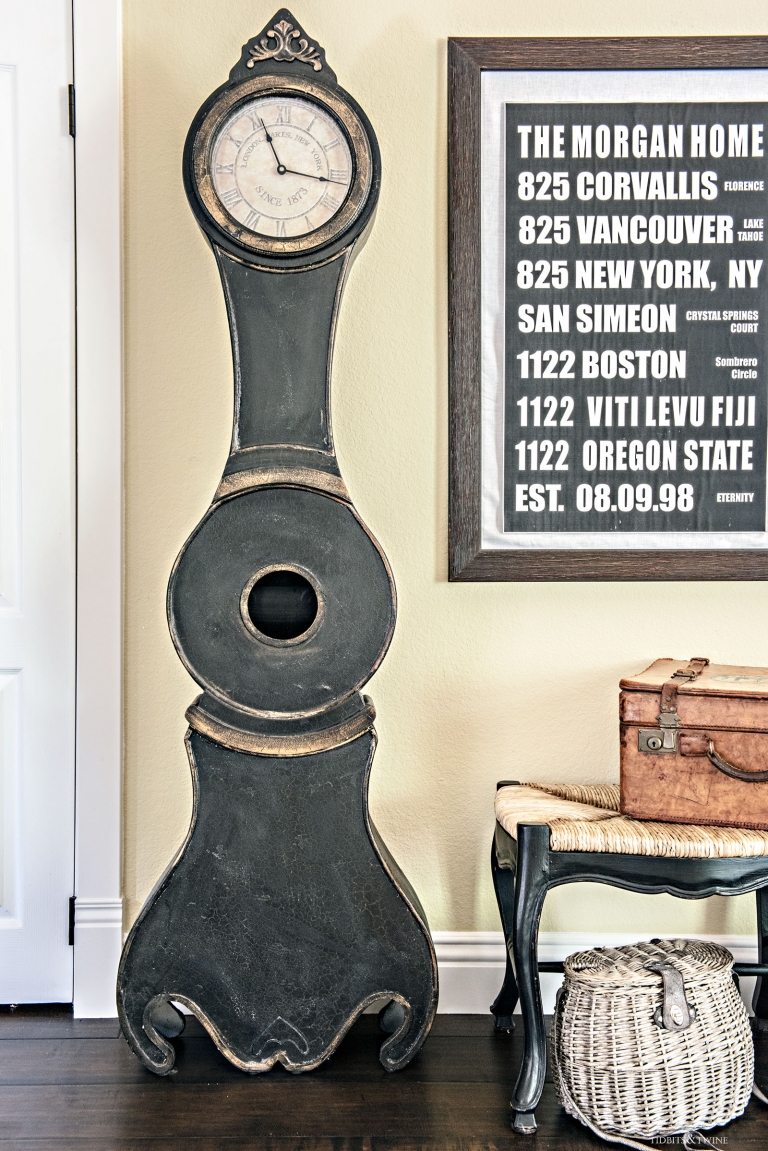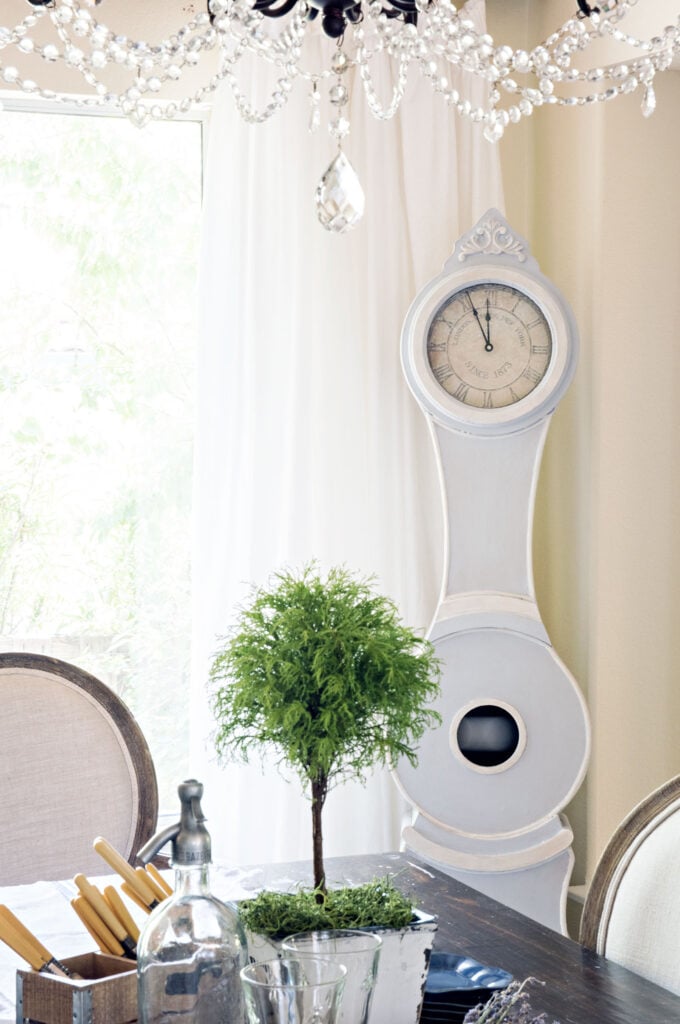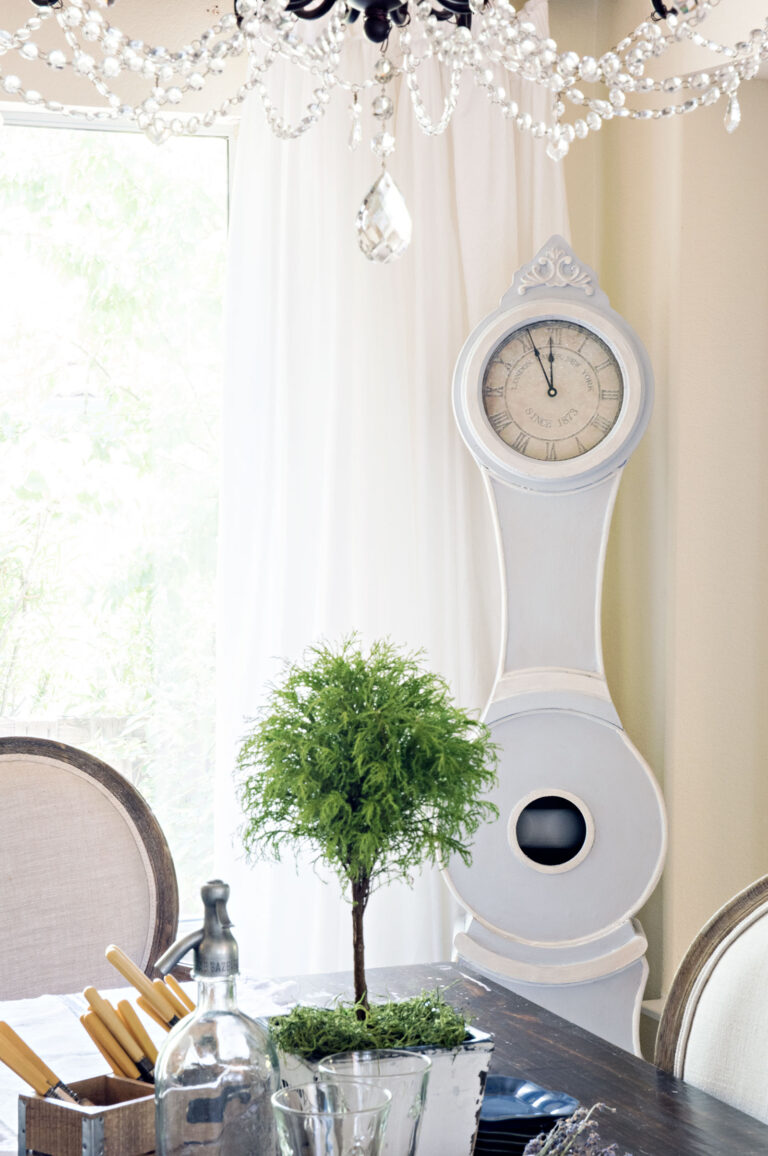 Antique vs Reproduction
Due to the age of the Mora clocks and their overseas European location, these clocks can be quite expensive. Even more so if they have their original clock mechanism! Thankfully, there are some beautiful reproductions available.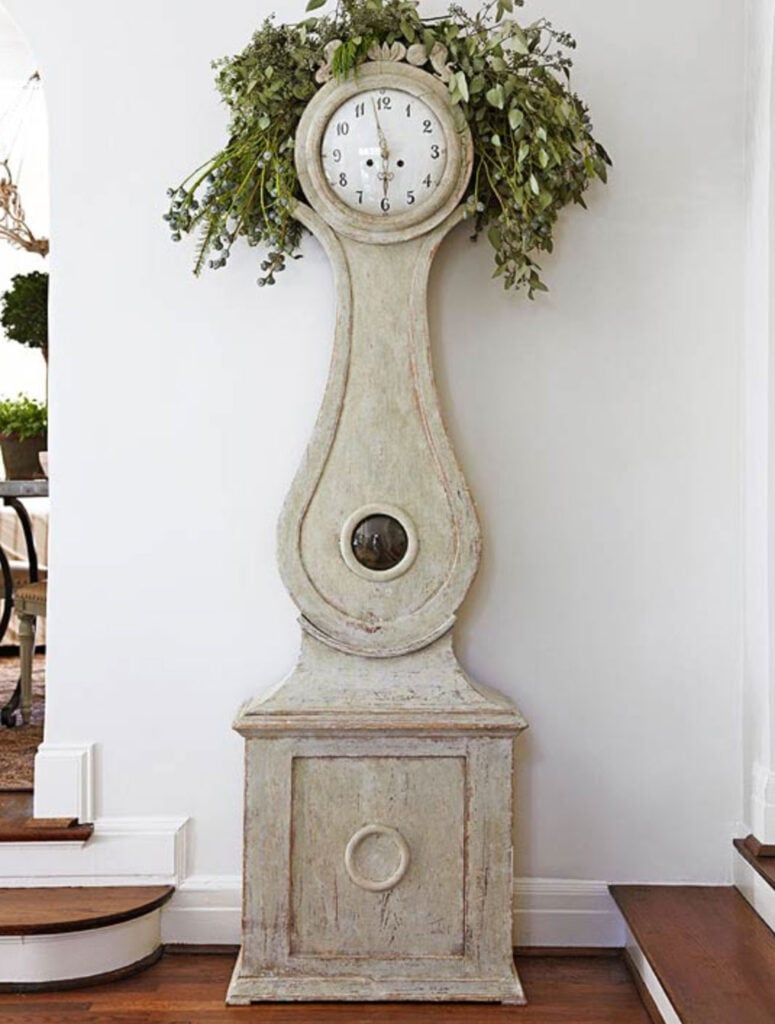 Where to Buy a Reproduction Mora Clock
Due to their popularity, mainstream retailers are now selling reproduction Mora clocks. Check out these retailers for reproductions:
Where to Buy an Antique Mora Clock
Many antique Mora clocks have been scraped down to reveal their original paint job, whereas others have been given a fresh coat of paint, still representative of their 1800's style. Most that you will find have been changed to a battery-operated clock. Some might come with their original mechanism but are not in working condition. For an authentic, antique Mora clock, check these retailers:

My Favorite Mora Clocks

More Decorating Tips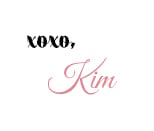 Join the Community
Let's keep in touch! Get exclusive artwork plus the latest news delivered directly to your Inbox!