A look at beautiful antique finds from vendors Itty Bitty Vintage Shop, Ink Antiques, Marina Natalia, and The Warped Table.
Last Sunday, I was finally able to make it to my local antique fair, Alameda Point. I saw many of my favorite Bay Area vendors like Napa Antique Wine Artifacts, Grenouille French Vintage, Patine, and more.
But today I thought I'd share a look at a few vendors that I haven't previously highlighted to help expand your shopping opportunities. I always think it's fun to see what people collect and sell, how they display items, what they use them for, and more. Plus, you can always reach out to them via the provided contact info to see about purchases!
Just a couple of things to note:
I always ask permission before taking photos. Some vendors are very private and specify no photos, while others, like those I'm including here, are happy to have pictures taken.
I never tell the vendors that I have a blog because….well, believe it or not, but I'm super private and very shy about my blog! My husband thinks I should tell them so I've vowed to start. Lol!
But I also ONLY share vendors with you that I think are friendly and kind and who sell things I think you'll love!
Itty Bitty Vintage Shop
I can't recall coming across Terri from Itty Bitty Vintage Shop at Alameda Point before but she has GORGEOUS things! She was very friendly and I instantly fell in love with so many things in her booth…
…like her Santos Cage Doll. The color was beautiful! I actually came by a couple of times trying to decide whether I should add her to my collection…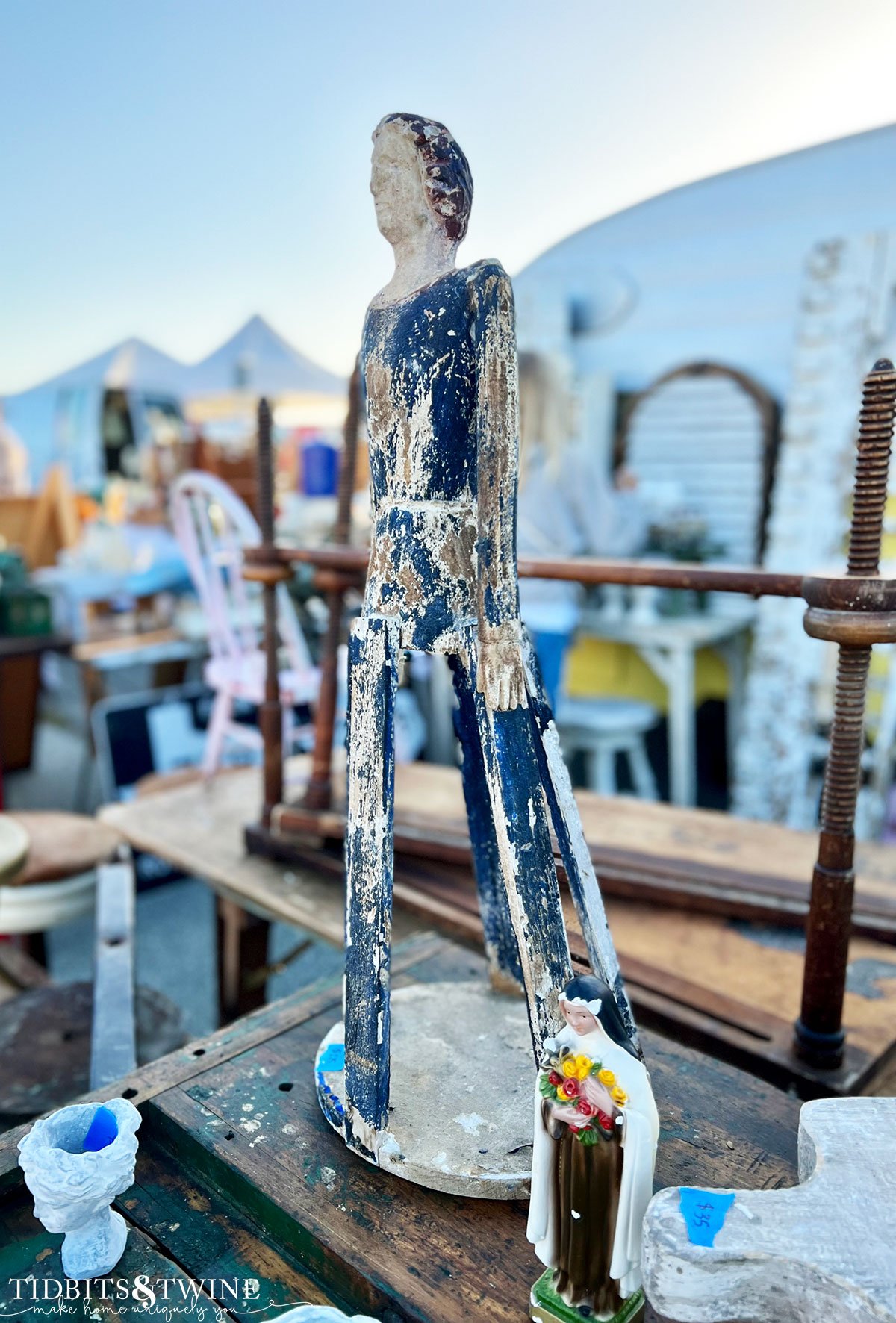 If you saw my Spring Family Room Tour, you'll know that I recently purchased a goddess head planter. So I was already in love the second I saw these tiny ones in Terri's booth!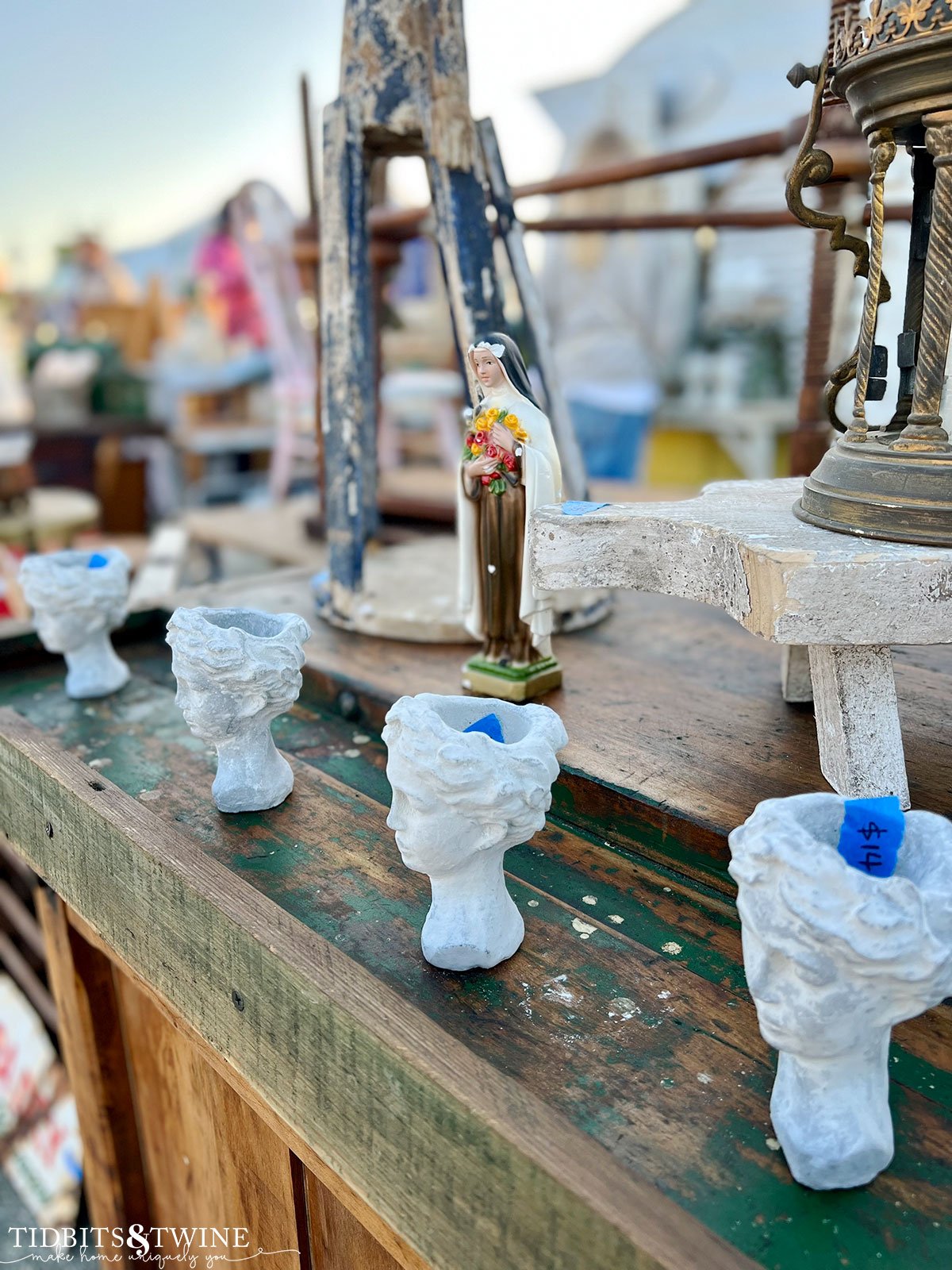 And look at these gorgeous pedestals, urns, and vintage scale!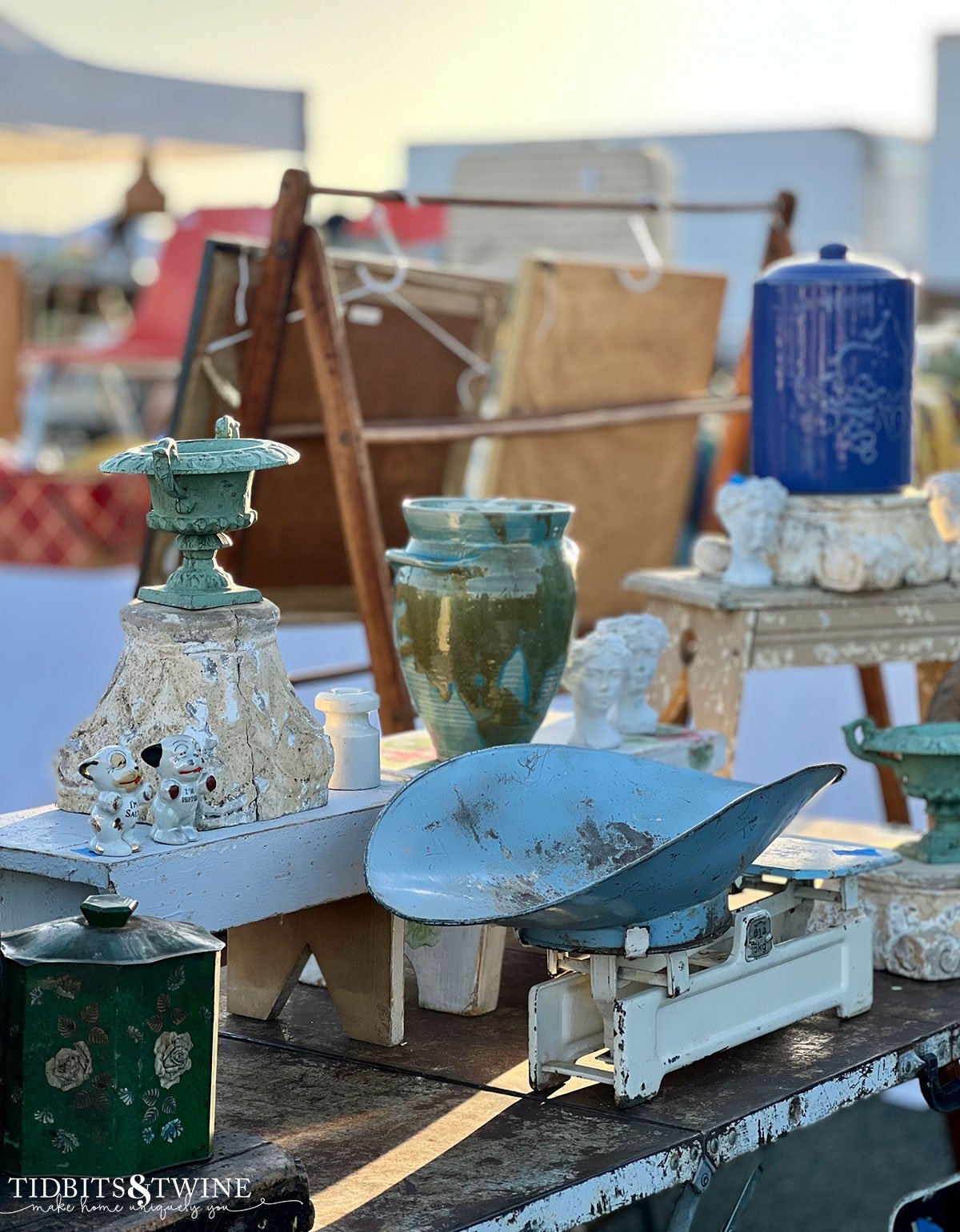 Here's the contact info for the Itty Bitty Vintage Shop. I always take a picture of business cards if I see them in a booth so that I remember each vendor. I don't usually post pictures of the cards themselves, but Terri's rusty truck display was too cute and creative not to share.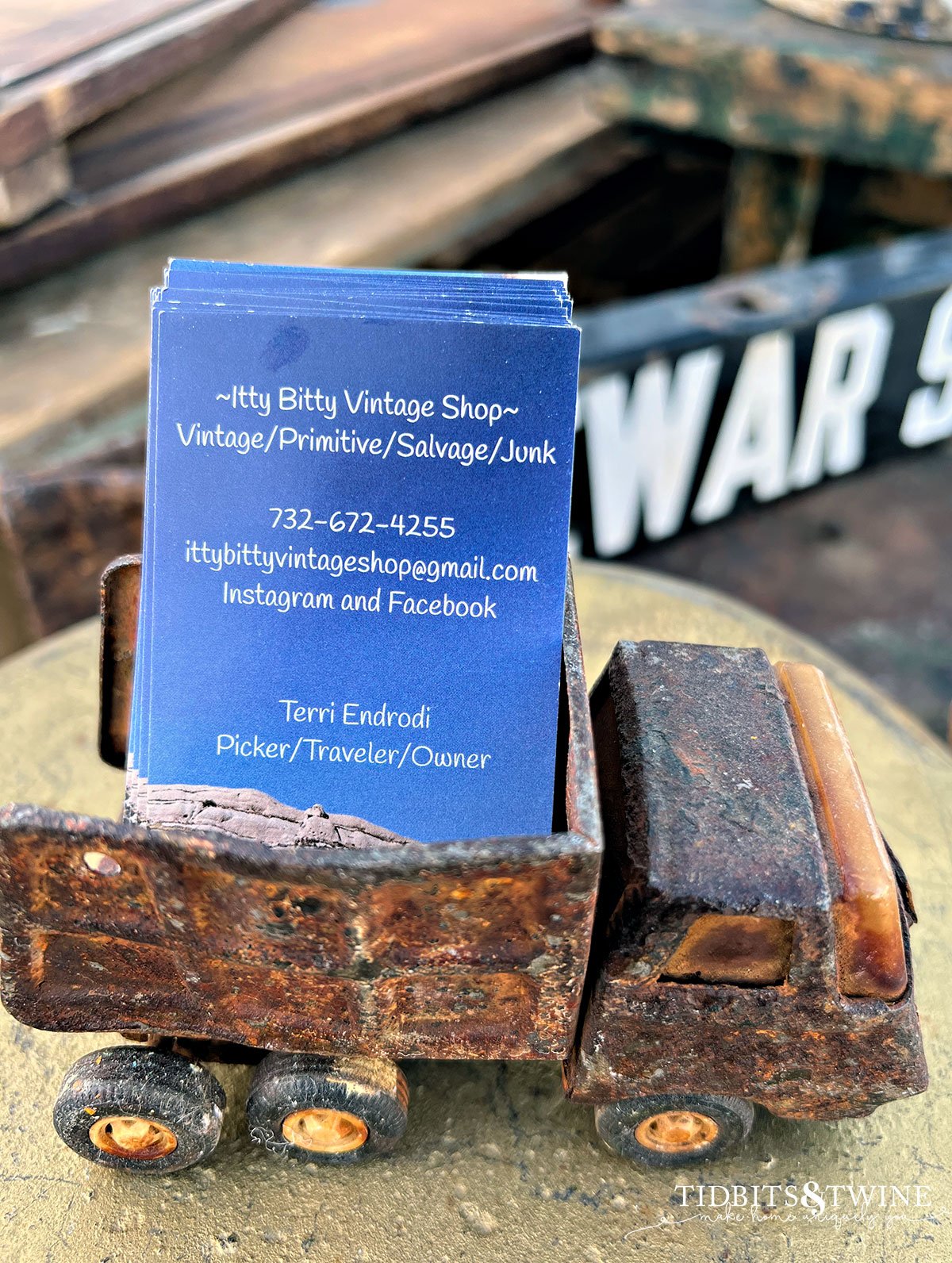 Terri is based out of Southern California and travels to various shows. You can find Terri and see more of her wonderful treasures on her Instagram page.
The Mystery Vendor
Just upon entering, there's a vendor with really nice, collectible antiques. He typically does have some Santos dolls on display, but they are priced at around $4k…way out of my budget! He didn't have a card or any contact info that I could pass along to you, otherwise, I would. I get so many emails asking me about Santos Dolls, though, that I felt I just had to include these photos!
Look at the beautiful condition and detailing on these dolls…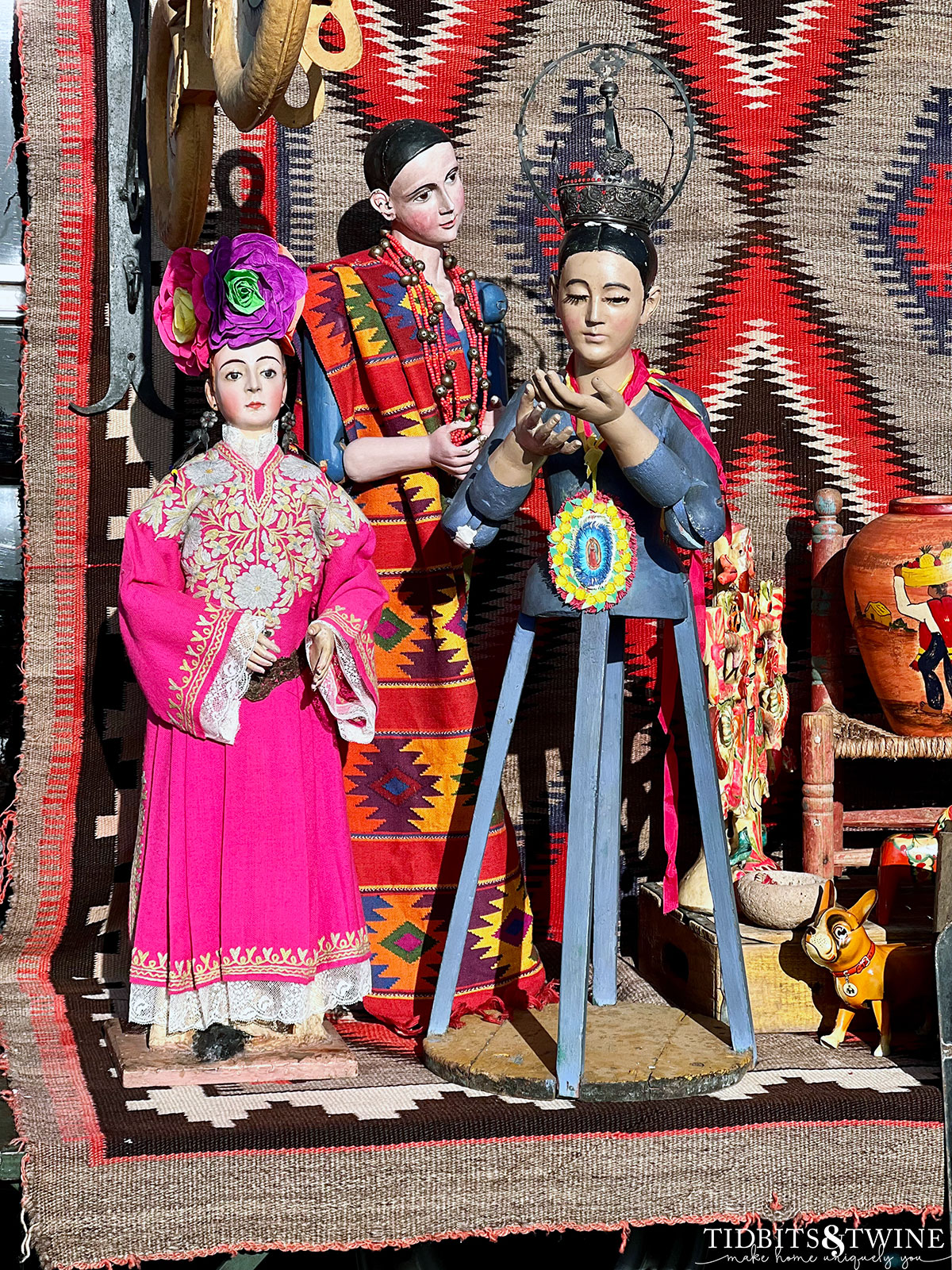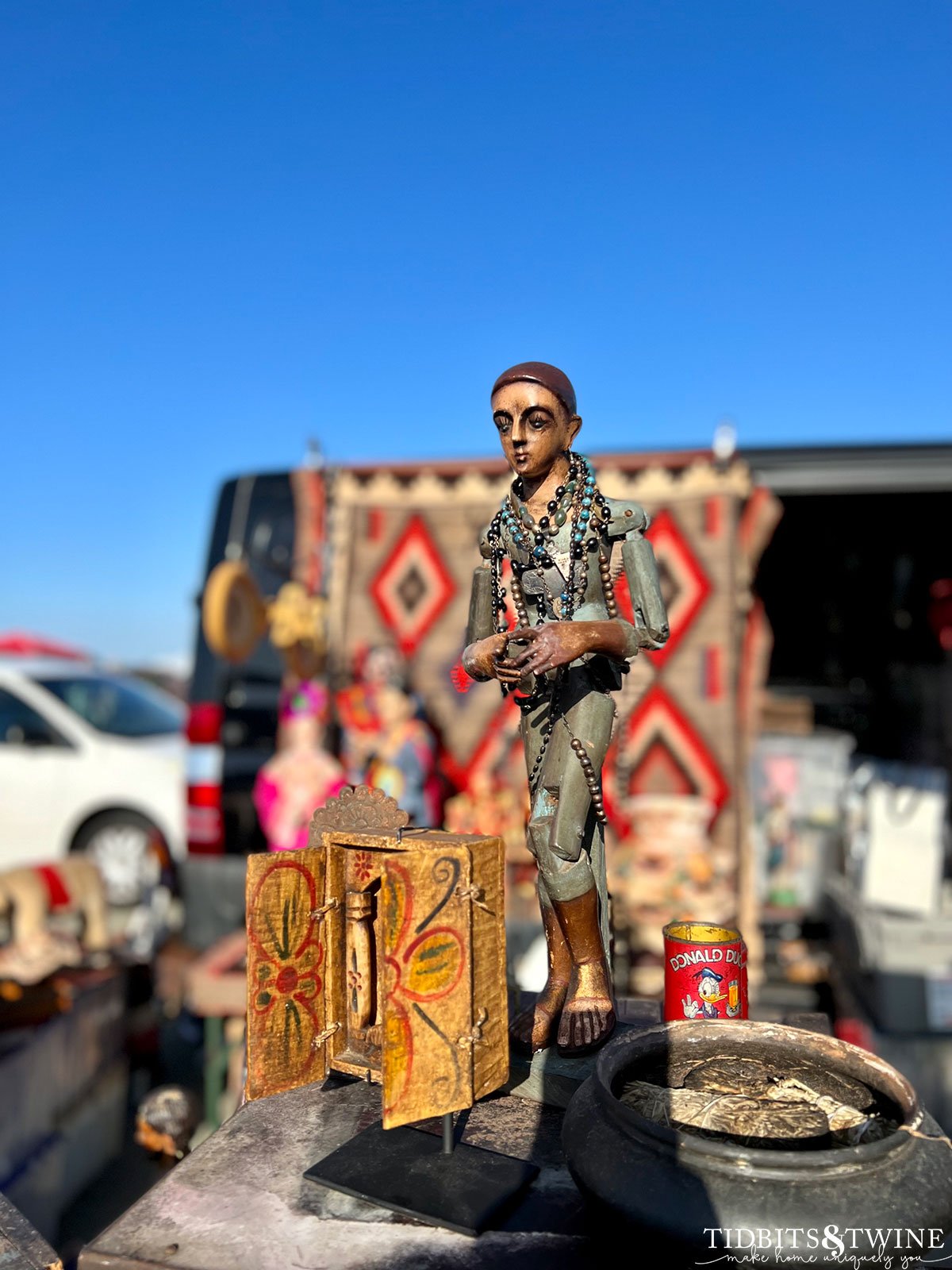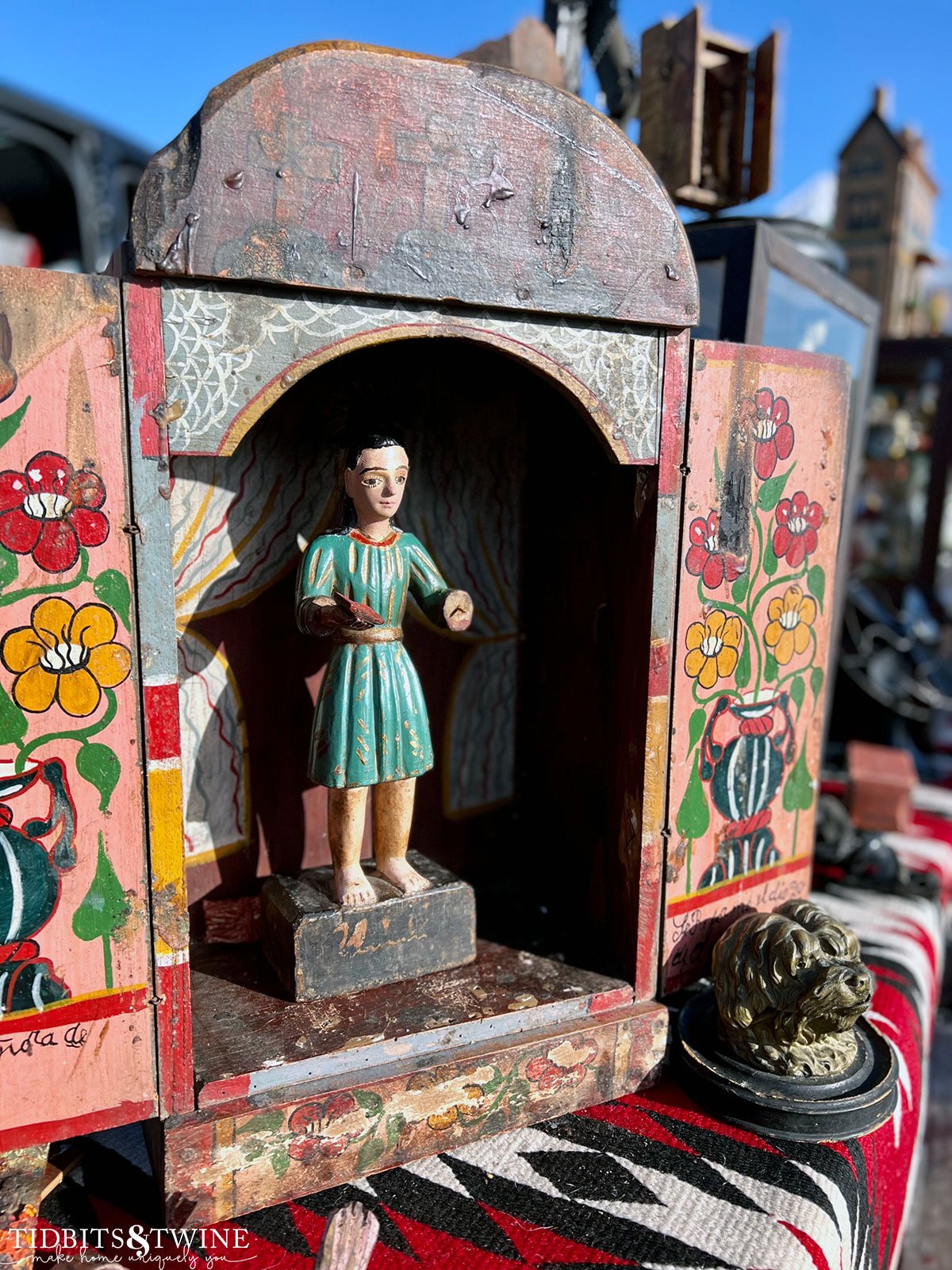 I always stop to see what's in these cases. I'm not sure whether it's the cases themselves or the goodies inside that I enjoy more!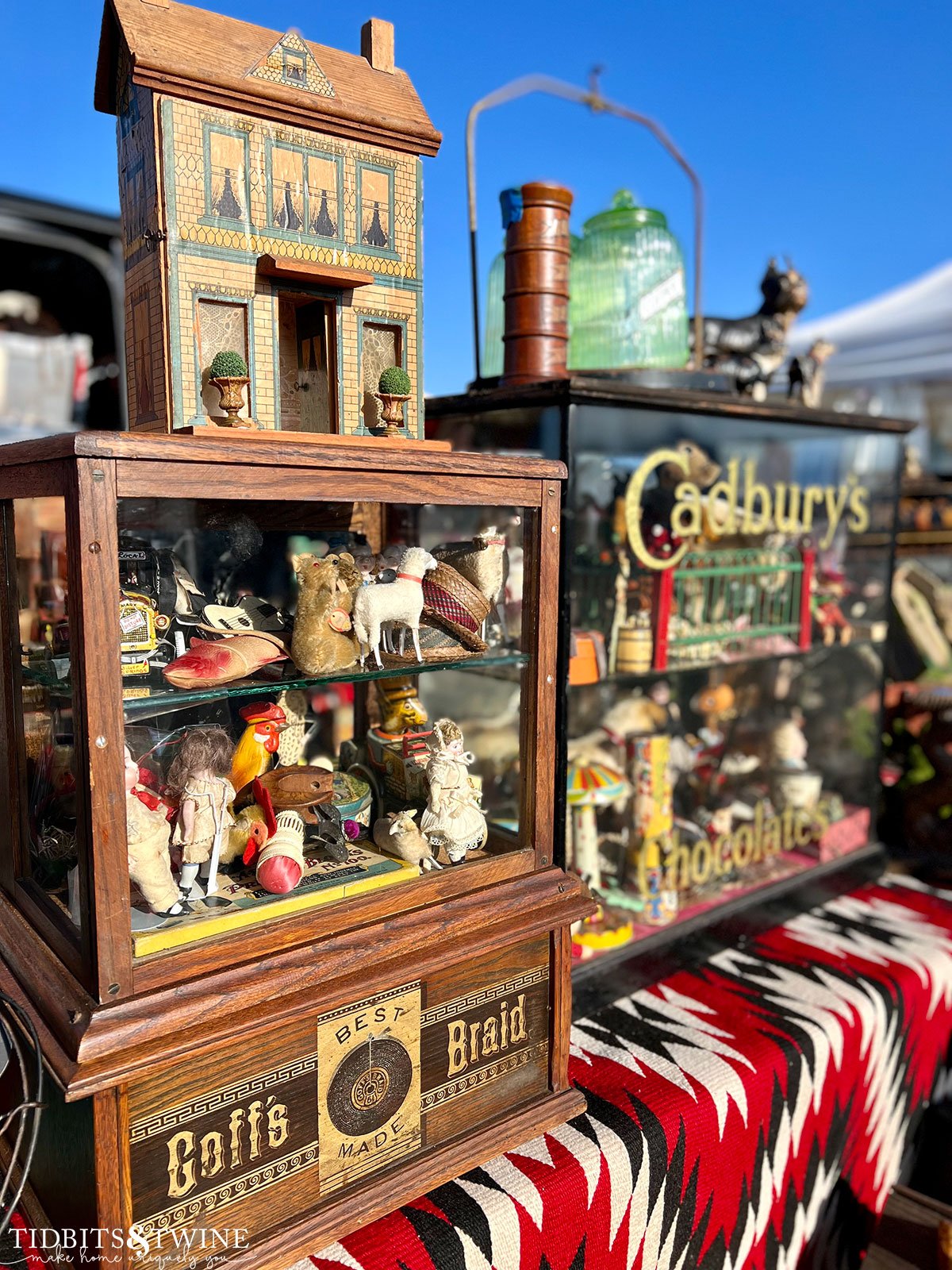 Marina Natalia
You might have read my previous post about Marina Natalia. While she isn't "new" on my site, her booth and displays are just so gorgeous that I can't help but share! And she really is so friendly and open to chatting about her travels to bring goods over from Europe.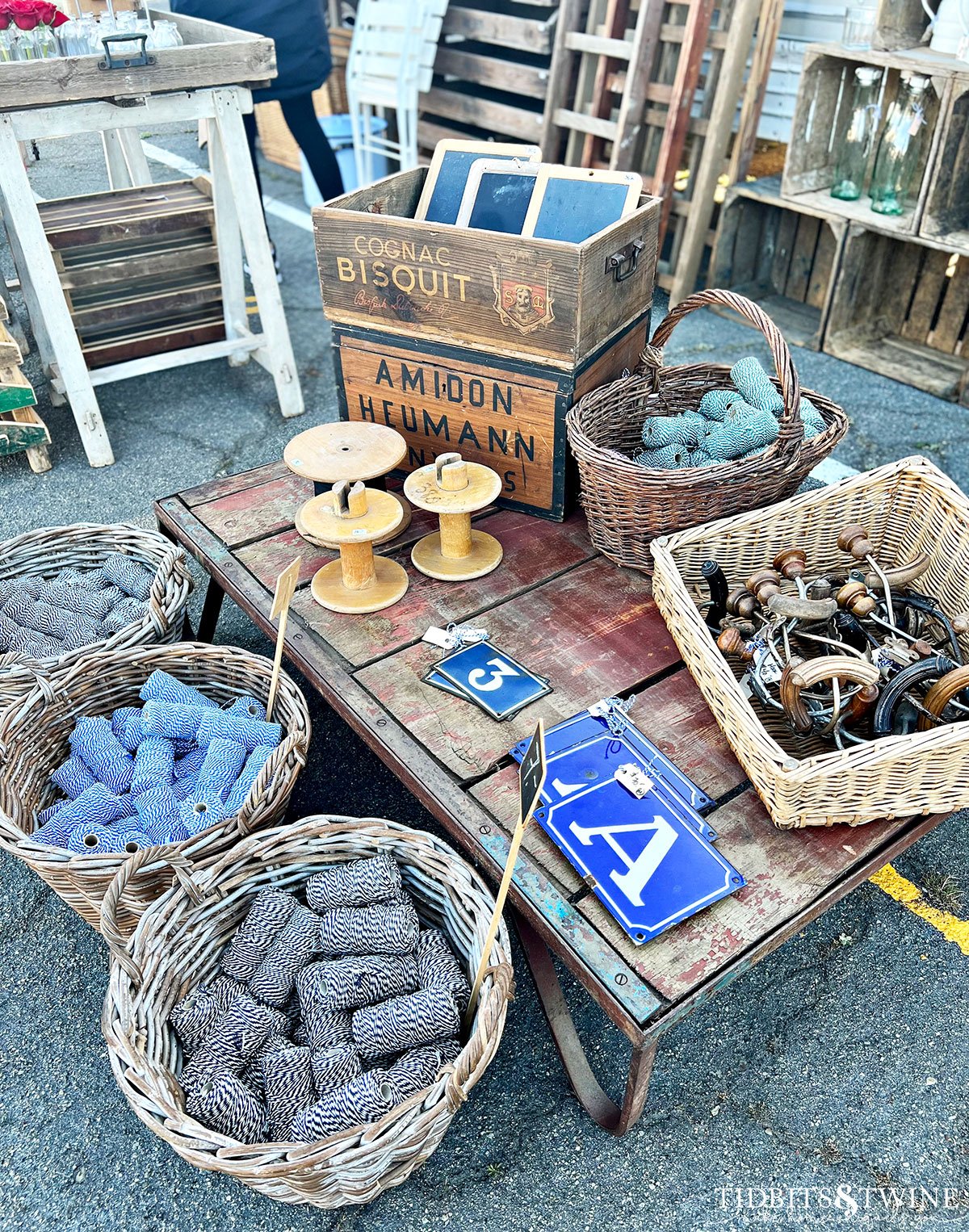 This month, she had beautiful grain sacks but also grain sack tea towels that were quite lovely.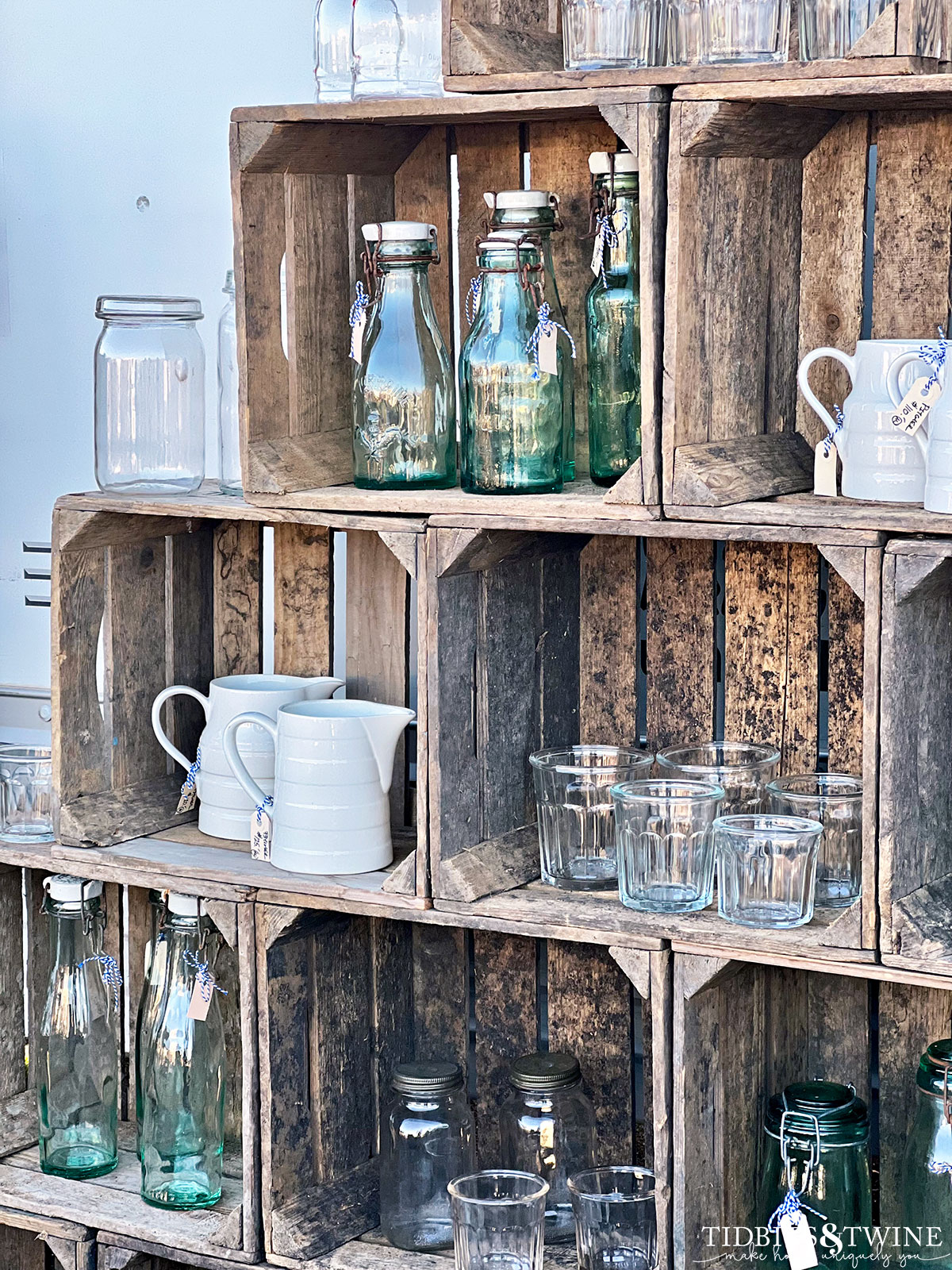 I love her vintage terracotta pots. In fact, I have several and recently used one in my Spring Family Room tour to hold my myrtle topiary!
Ink Antiques
Ink Antiques is a vendor that I've purchased from a few times before but haven't previously shared with you. I wish I had better photos of his booth because it really is quite a sight, especially when he has the coffin on display.
To appreciate everything, you really have to stand back and admire but there were too many people in my way! So, you'll have to make do with my photos and then check him out on his Instagram page.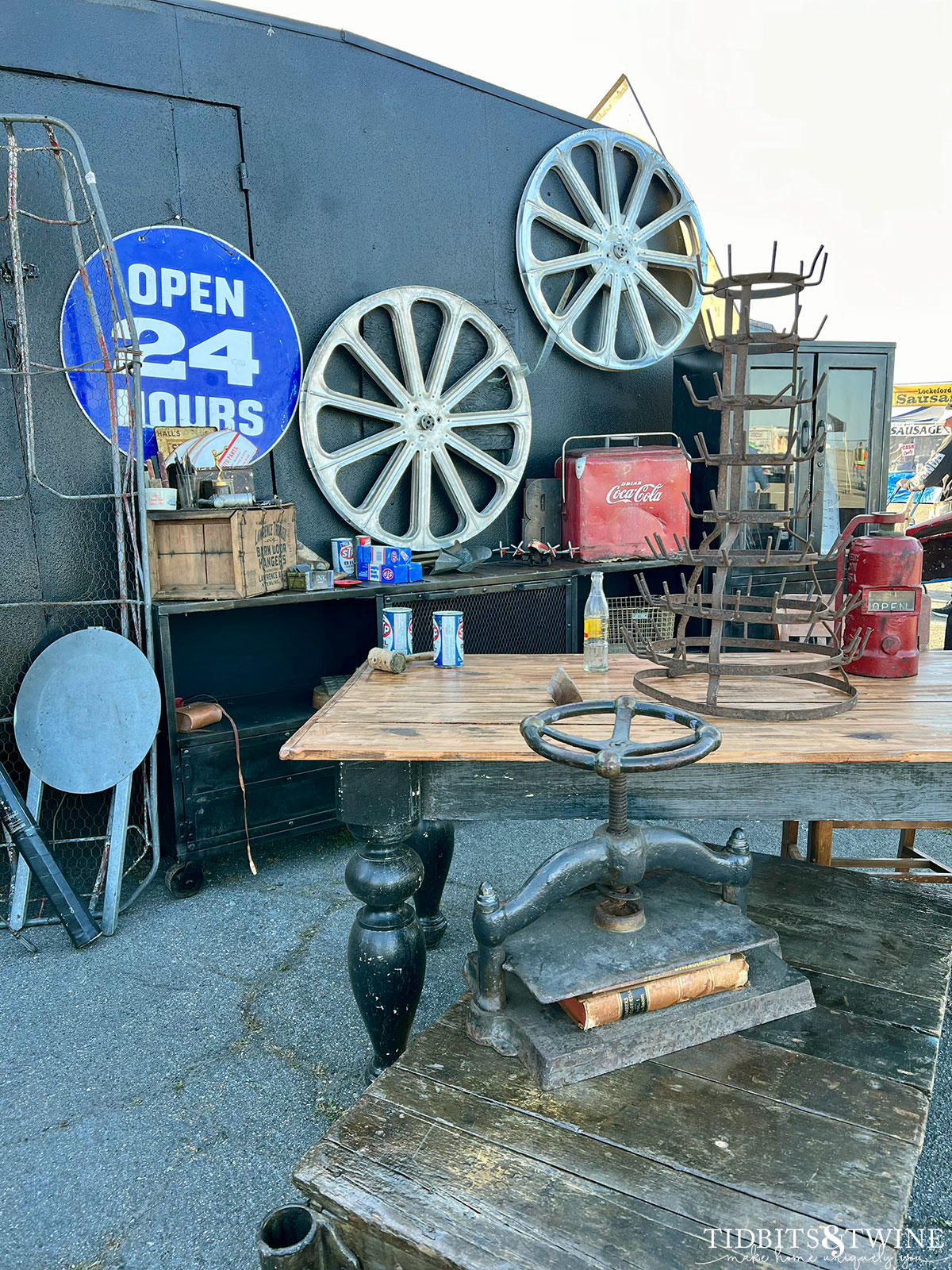 I would describe Ink Antiques' items as primarily industrial. He has a lot of metal objects like shelving, file cabinets, film reels, oil cans, etc. He also has quite a lot of what I'm going to classify as school items, like trophies, boxing gloves, and books.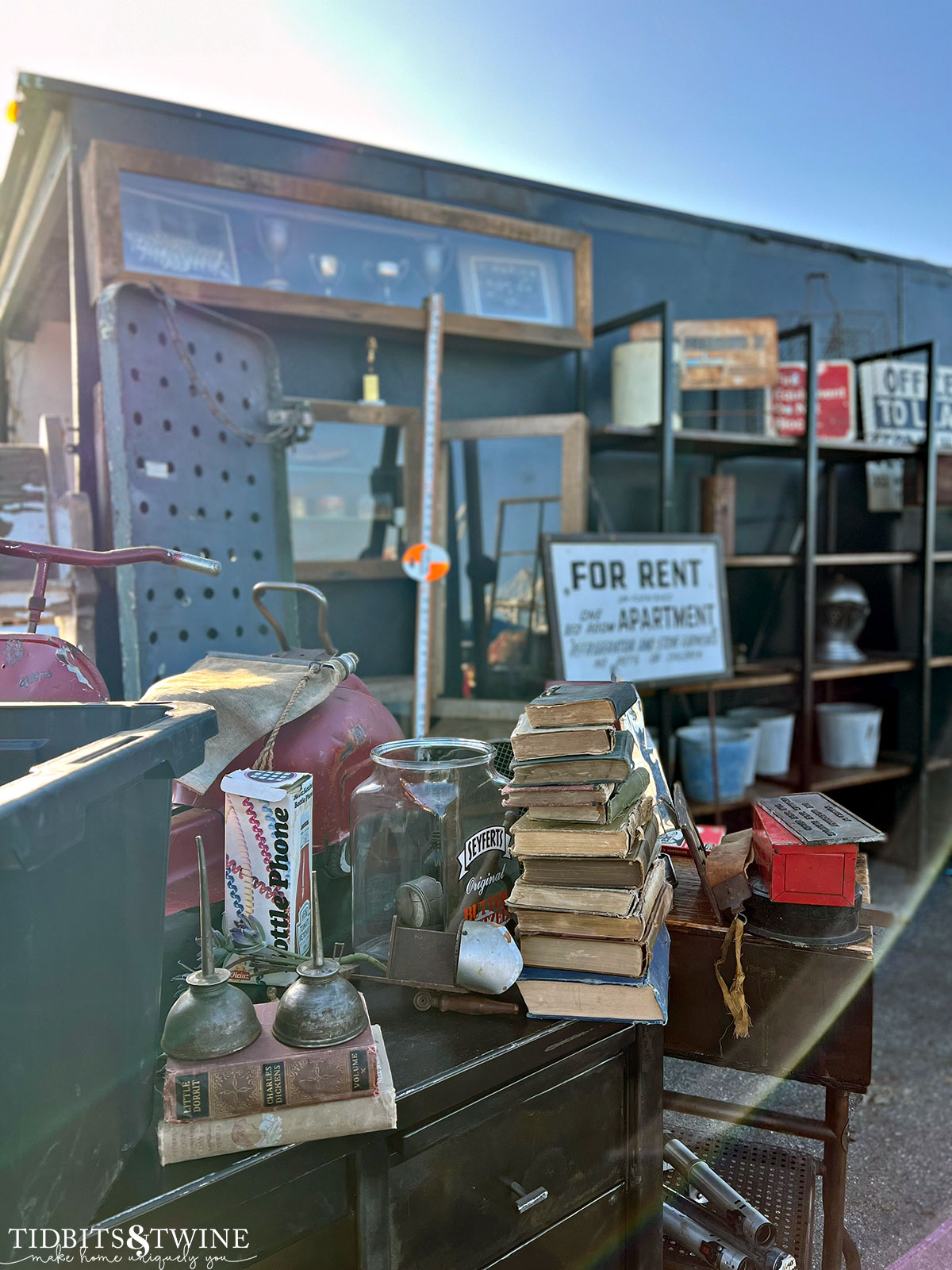 I've purchased an urn and several books from here and make a point to always stop by Ink Antiques when he's at Alameda Point.
The Warped Table
Husband and wife team Julie and Stan from The Warped Table are two of the nicest people at Alameda Point. They have absolutely no idea who I am but I always chat with them and have made several purchases. They have an amazing eye for creating displays that lure shoppers into their booth space.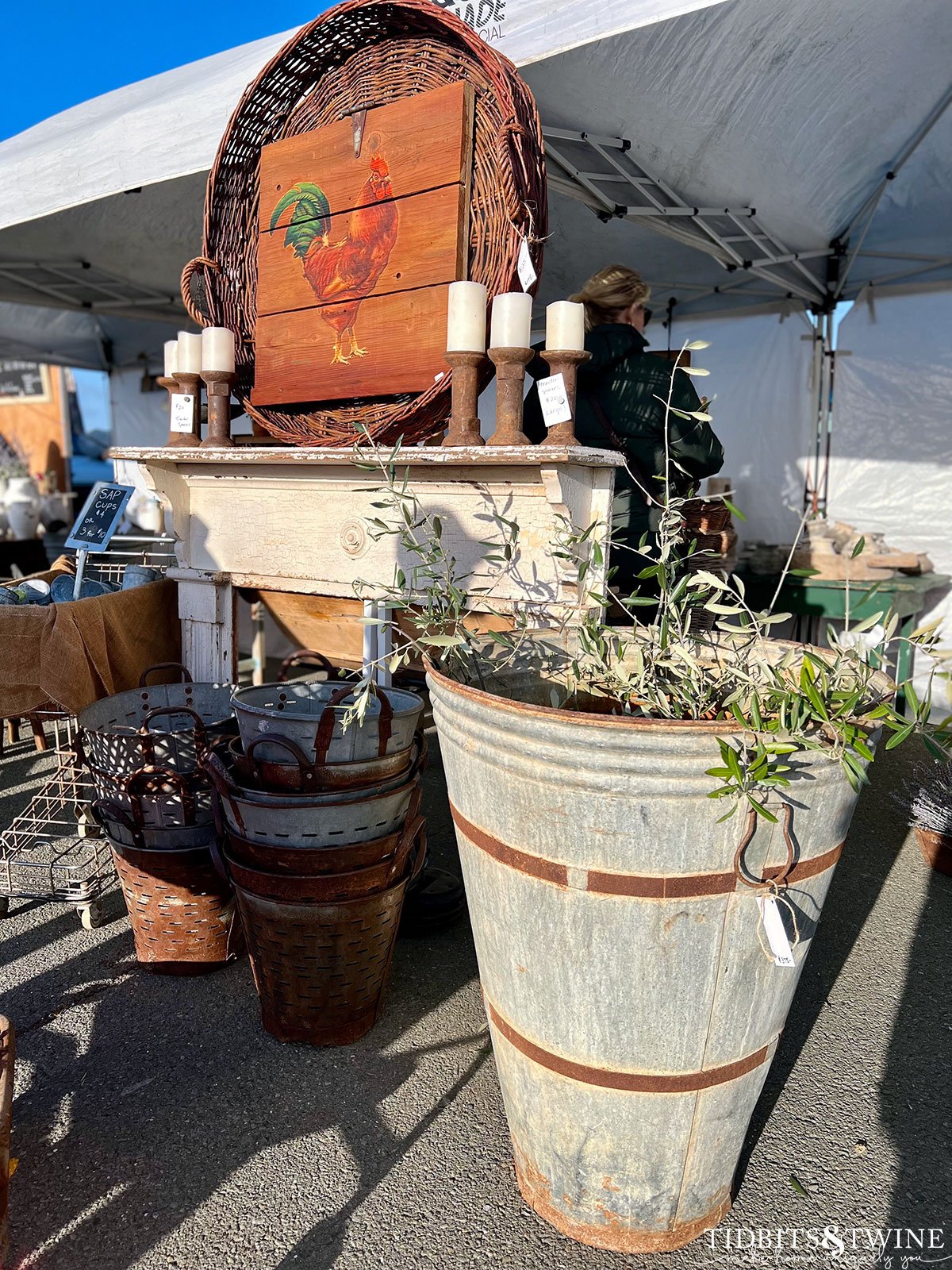 Look at the beautiful patina on these Turkish olive jars. And if you look closely, you'll see a great display of carved wood pots in the background.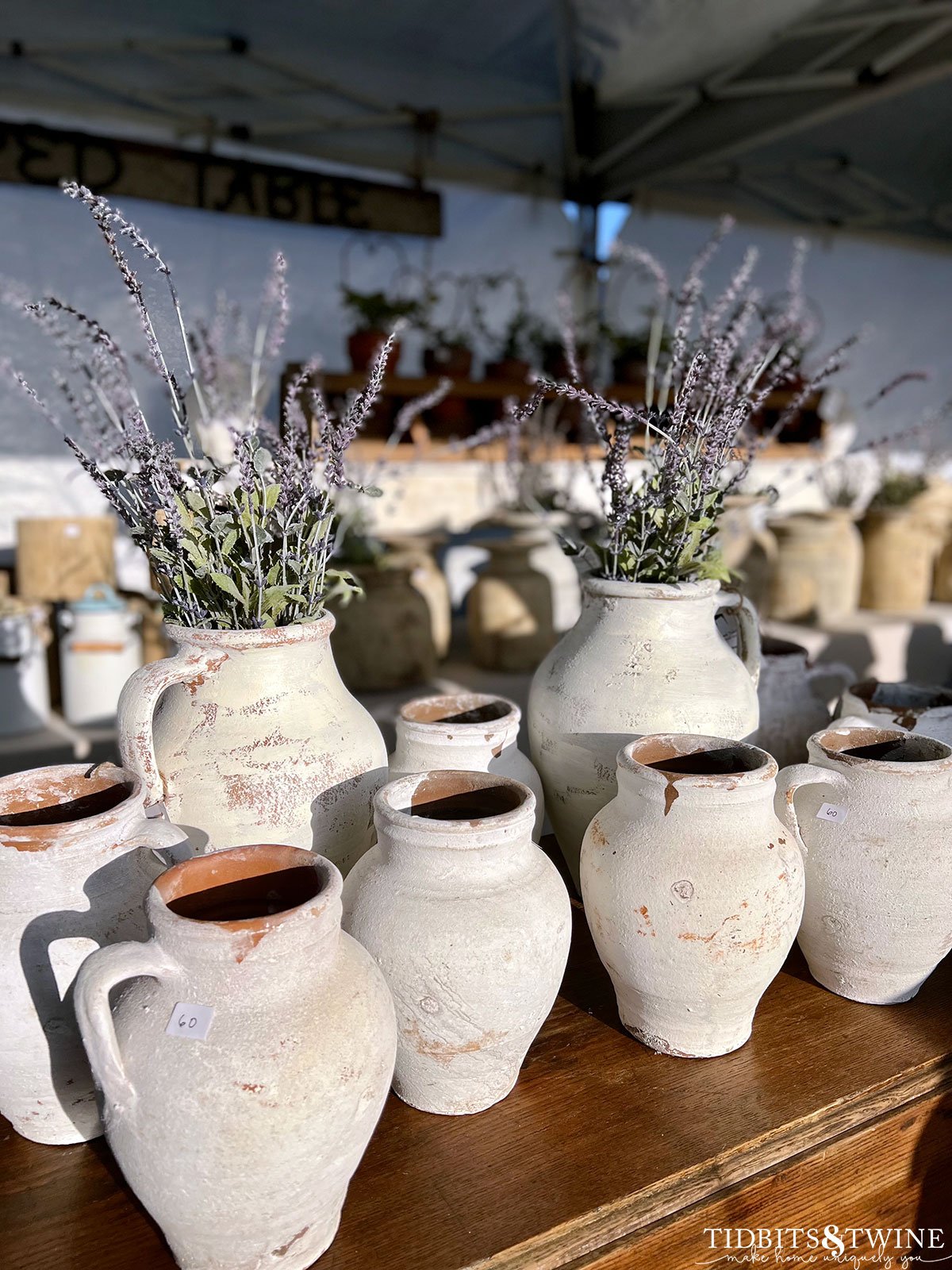 I loved these gorgeous matte black/gray pots. These are very "in" right now… And look in the background….a whole stack of vintage French laundry baskets!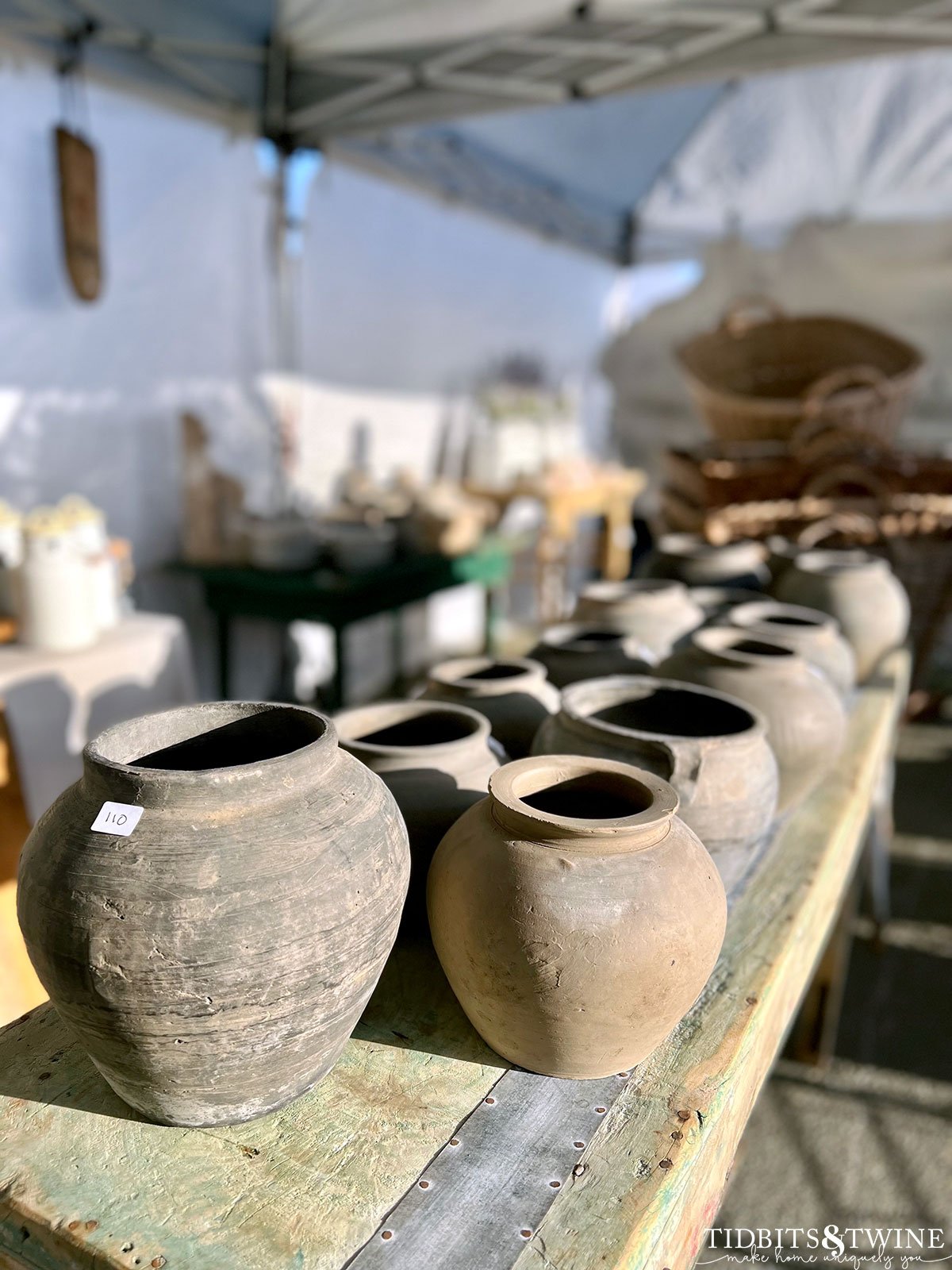 The Warped Table also sells beautiful wood vases, teak rises, Chapati boards, and European bread boards.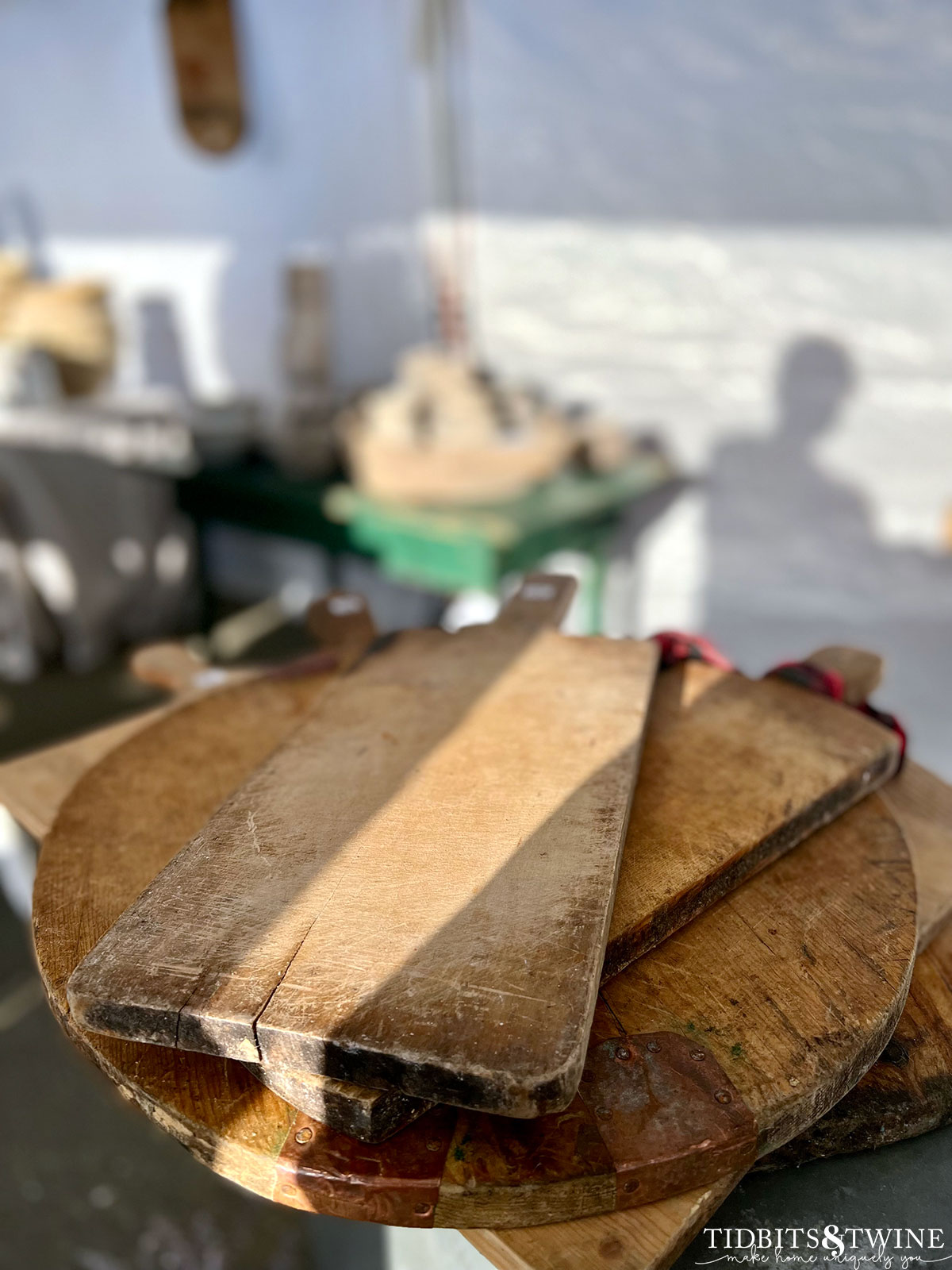 And here's the best news! They sell online and offer FREE SHIPPING! You can find them on their website, The Warped Table to see more of their items.
Decorating with Antiques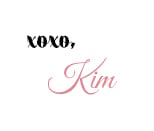 Join the Community
Let's keep in touch! Get exclusive artwork plus the latest news delivered directly to your Inbox!