Decorating for Fall doesn't have to be difficult. Much like the season itself, it can be a slow transition from warm and bright, to cozy and natural. Here are some easy, five minute Fall decorating ideas to bring a Fall feel to your home.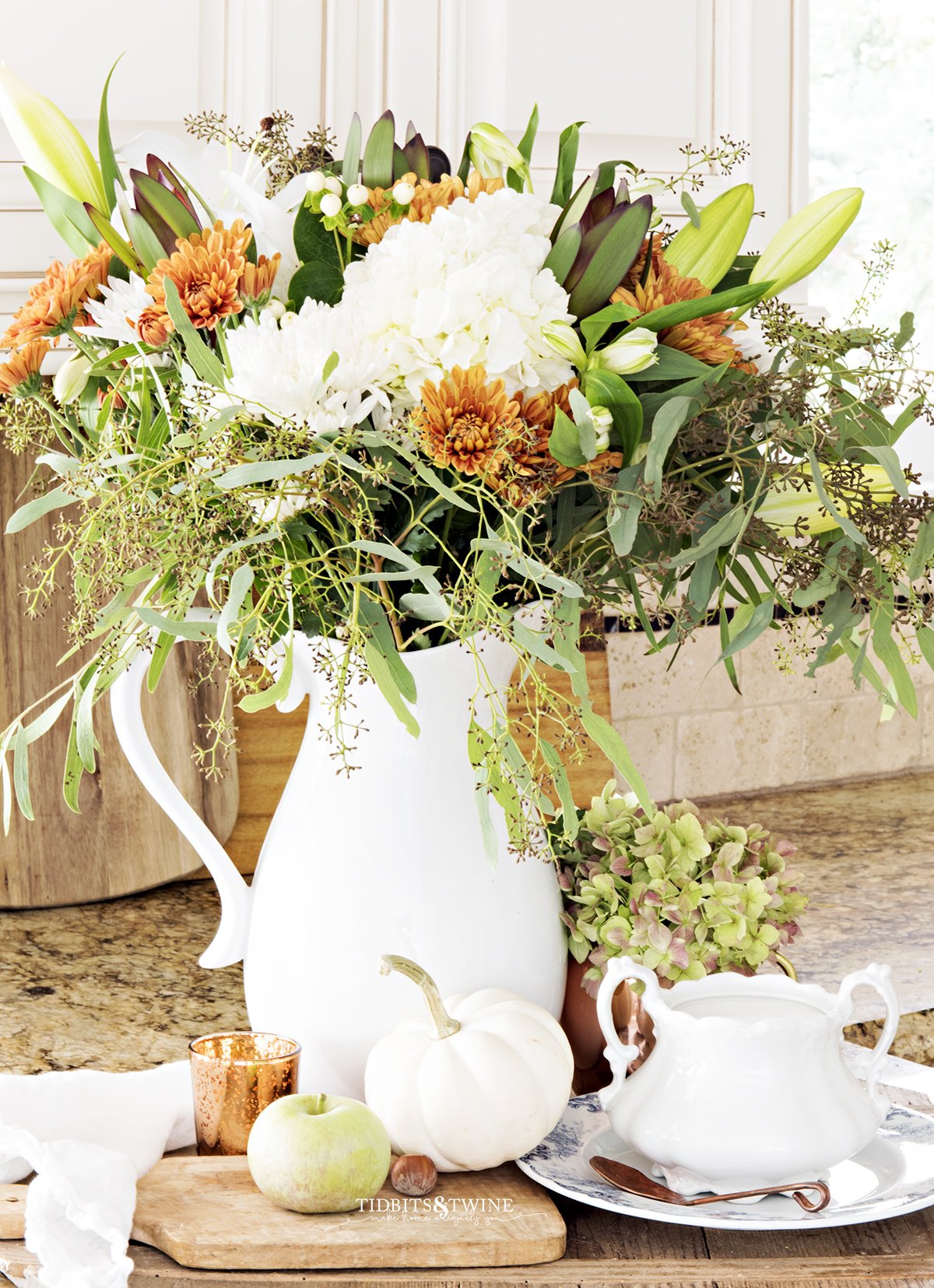 Some dread the start of the Fall season. Time to put away the shorts, cover the pool, and watch the tan fade. Others are eagerly awaiting the arrival of pumpkin spice lattes, sweaters, and boots.
But no matter whether you're hanging onto every last warm day or embracing the cooler weather, chances are that none of you are thinking, "I need to run out and buy a bunch of seasonal decor and then spend an entire day decorating!" Who has time or money for that?
For one thing, Fall is really a representation of the transition of nature, so simple, natural elements make great Fall decor. There's no need to buy expensive Fall decorations that you then have to store and drag out the following year only to wonder, "What was I thinking?"
No, when it comes to Fall, I'm all about easy and natural decor. Decorating for Fall can be a slow transition, just five minutes at a time. A sprinkle of this, a dab of that, and before you know it, your home will have transitioned along with the season.
Five Minute Fall Decorating Ideas for Your Home
So if you're short on time (or perhaps patience), this is for you! These are simple Fall decorating ideas that you can do in 5 minutes or less to decorate the kitchen, give some flair to a coffee table, or decorate the mantel and more.
Fall decorating doesn't have to scream at you! It can be subtle through the use of color, texture, and natural elements. Shop your own home to look for things you already own that reflect the season and use these easy, 5 minute Fall decorating ideas to transition for the season!
Use Dried Hydrangea
Dried flowers can be beautiful and are a great representation of Fall. Simply dry some hydrangeas at the end of summer and add them to your home. You can great a full bouquet of dried hydrangea, or simply add a few to styled bookcases, the mantel, etc.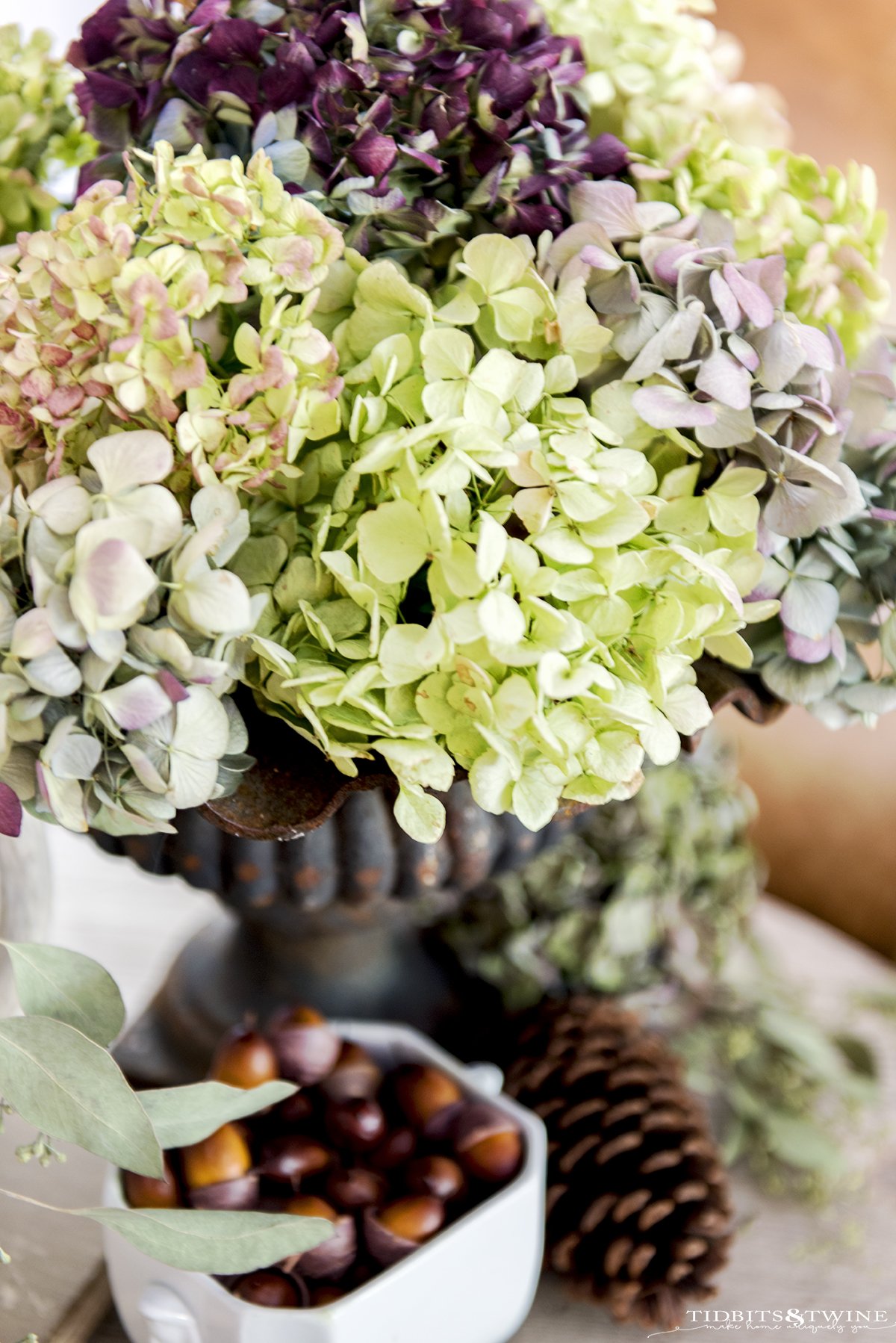 Drying hydrangeas is so easy! I created a tutorial for how to dry hydrangeas to preserve color and shape.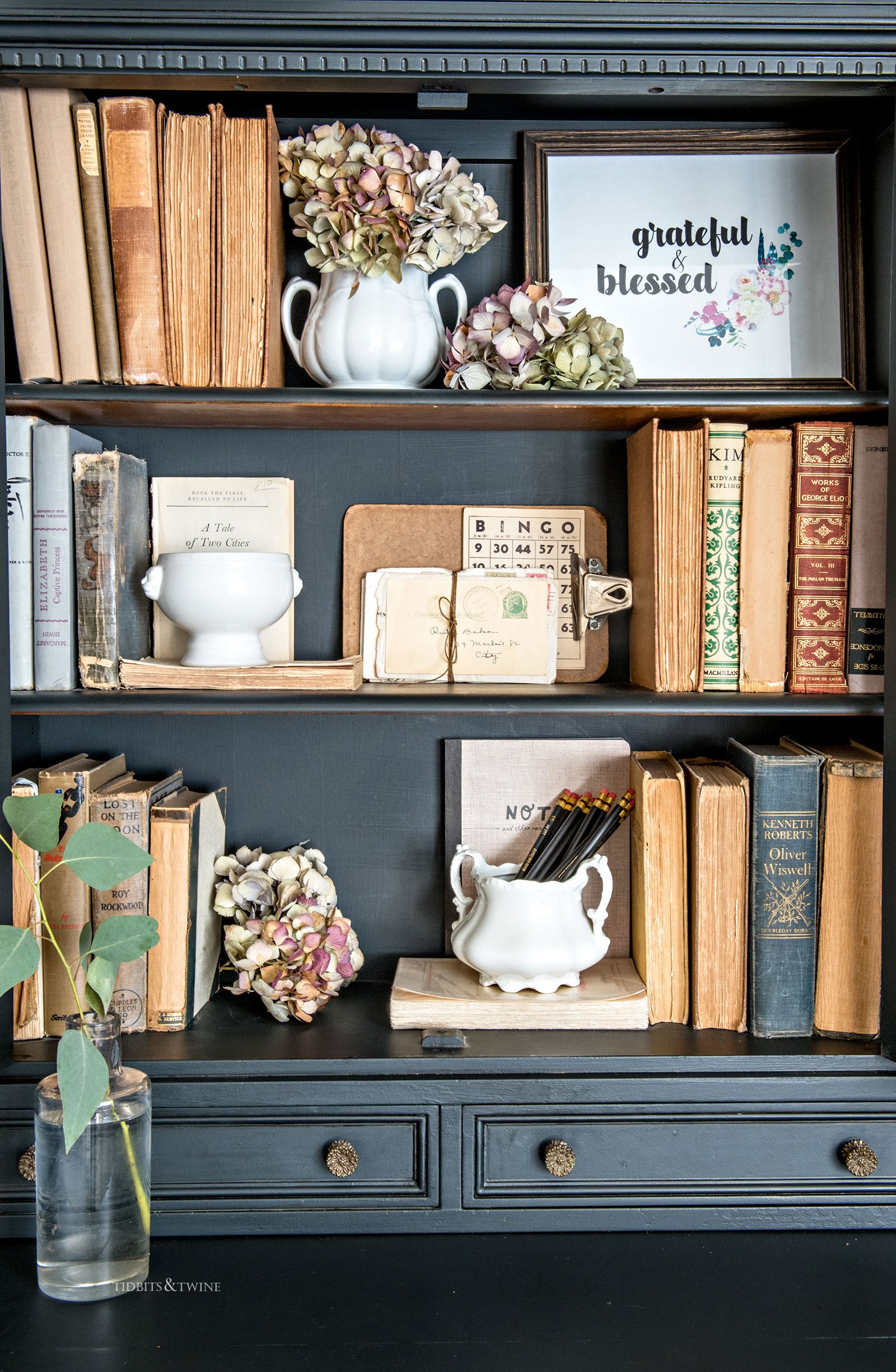 Create a Bounty Bowl
A cornucopia is a traditional symbol of Fall's bounty, but skip the cornucopia and opt for a bowl or similar container instead. In the kitchen, fill it with Fall fruits like apples, pears, or persimmons. You can also use bowls filled with acorns, pine cones, or mini pumpkins for fast Fall decor.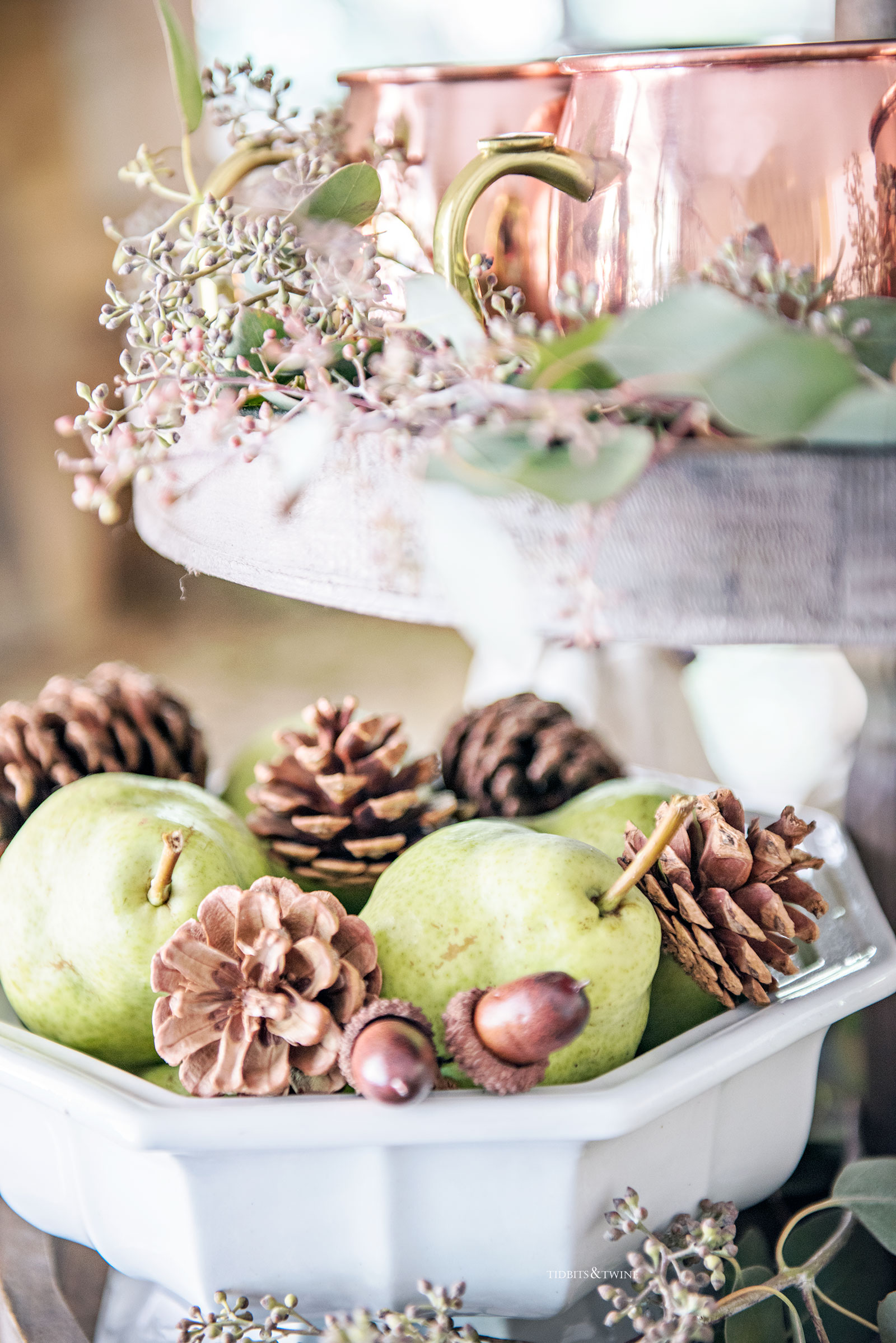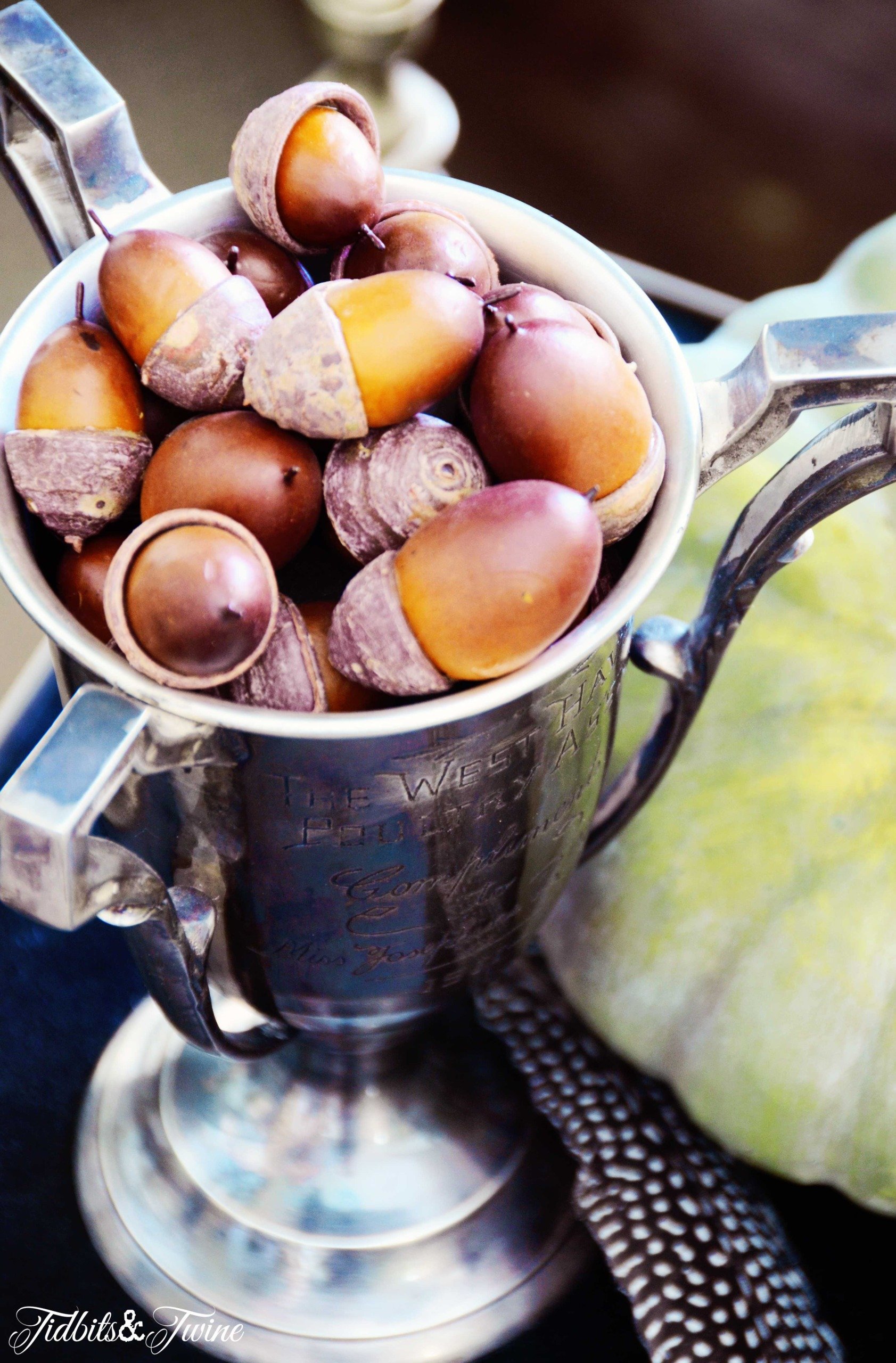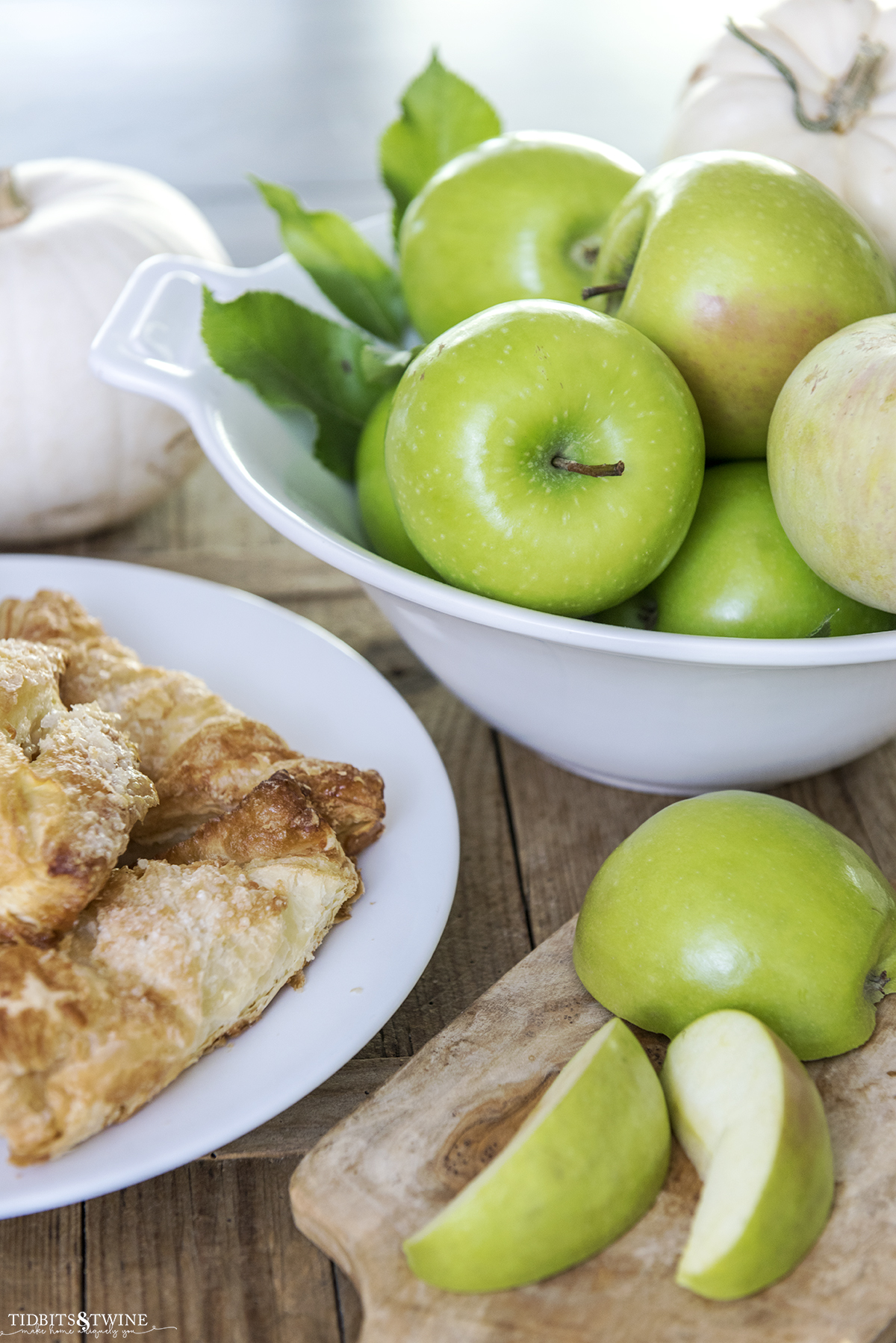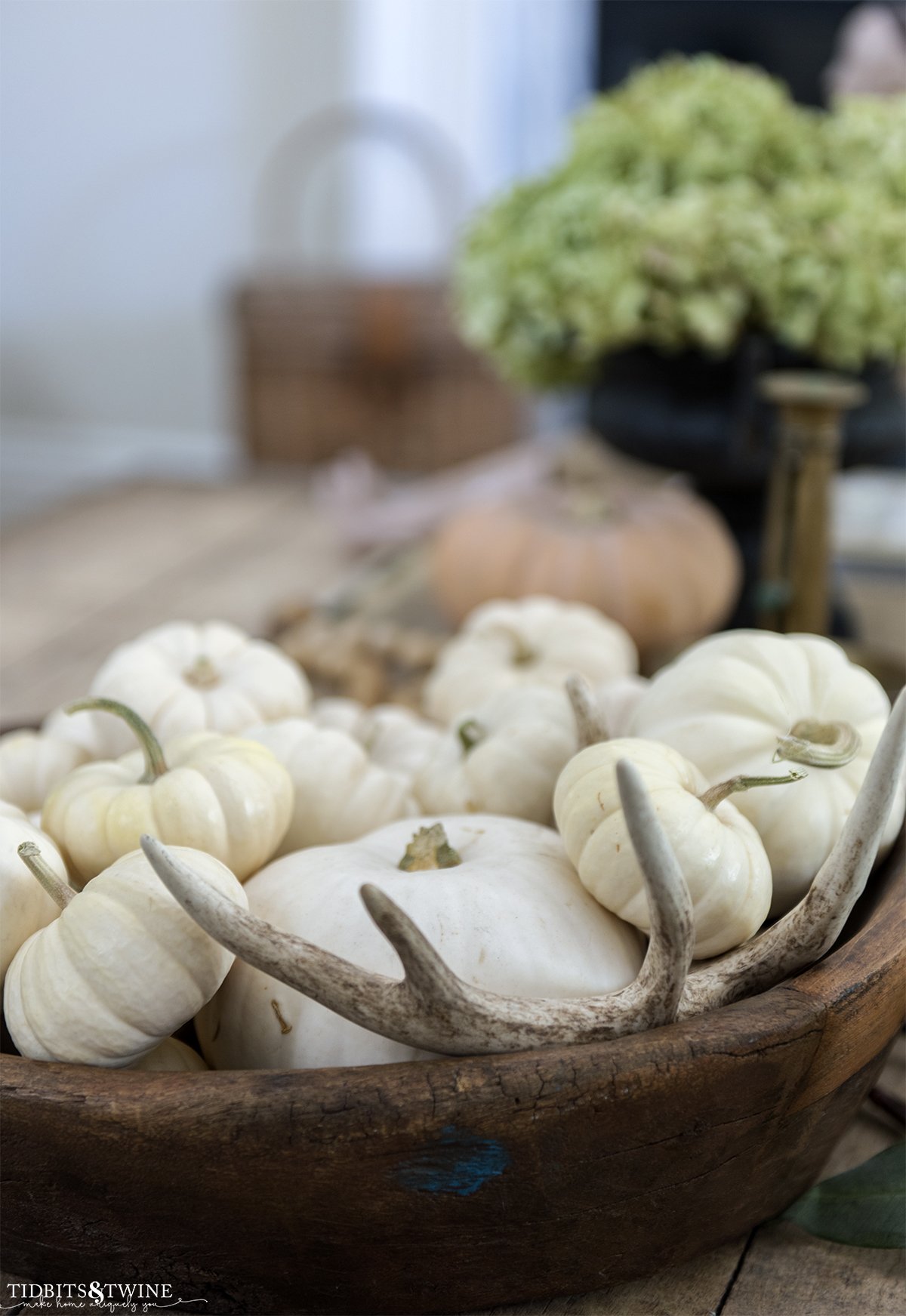 Create Pumpkin Groupings
Pumpkins are available in a variety of shapes and colors, so grab a few different kinds and group them together to make a gorgeous focal point! You can group them on the dining table, fireplace mantel, side table, etc.
For your main pumpkins, use an odd number, like 3 or 5. Pick one large and the others slightly smaller. Then you can mix in miniature pumpkins and dried hydrangea as filler.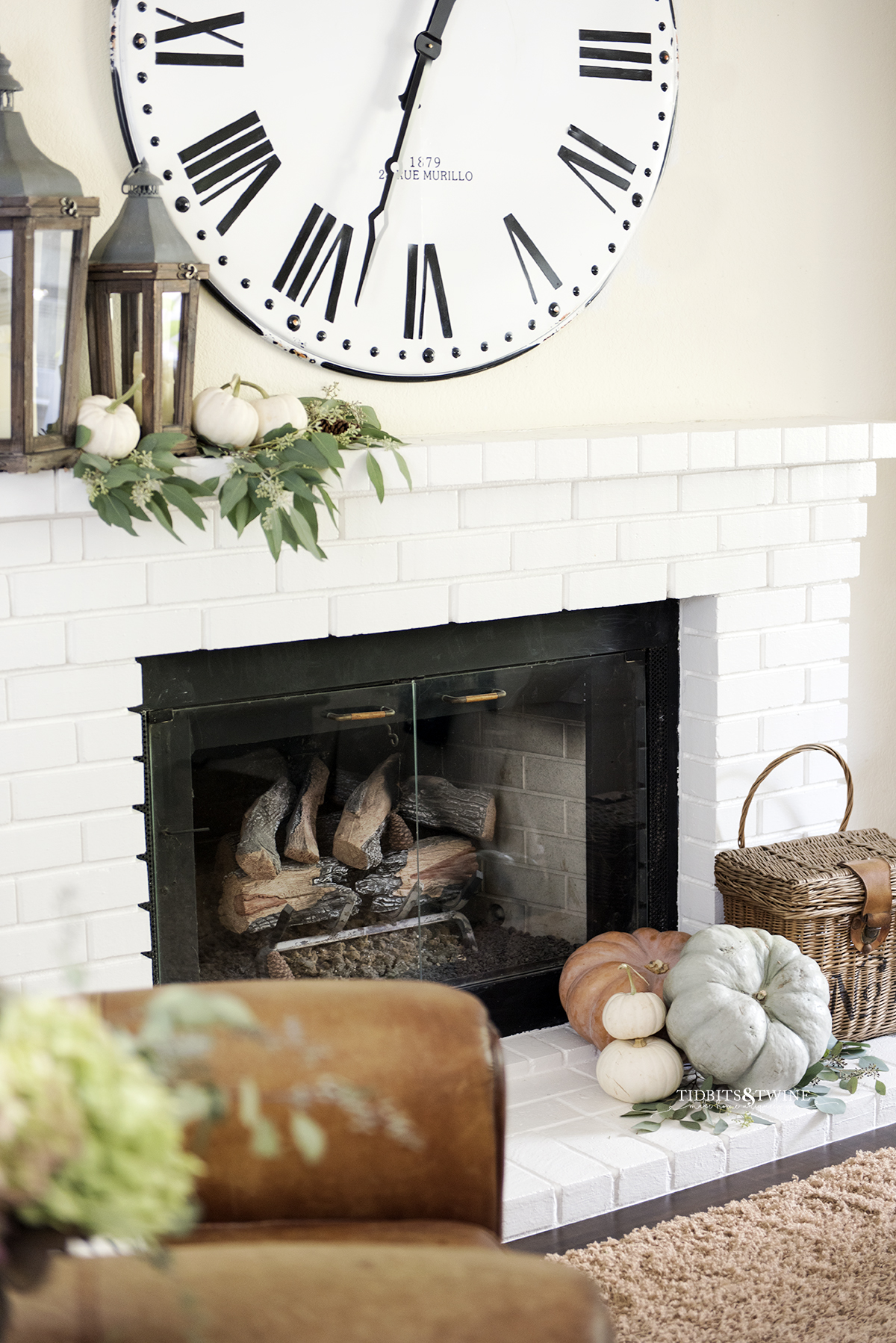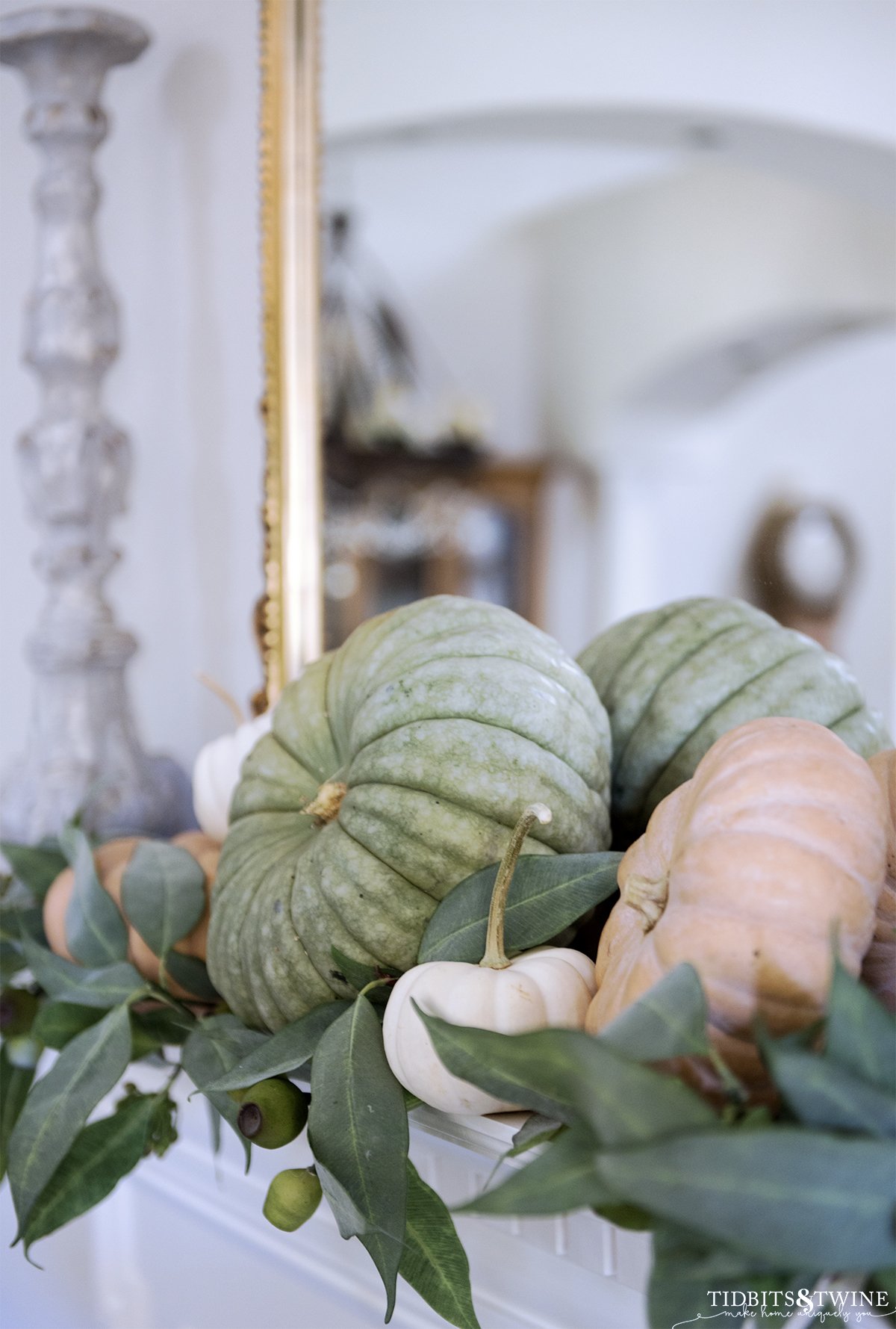 Sprinkle Some White Pumpkins
White pumpkins are one of my favorite – if not my favorite – items to use in Fall decorating. They go with any color scheme and any decorating style. You can use them mixed with other elements or they can stand out on their own! Their flexibility is what makes them so easy to use!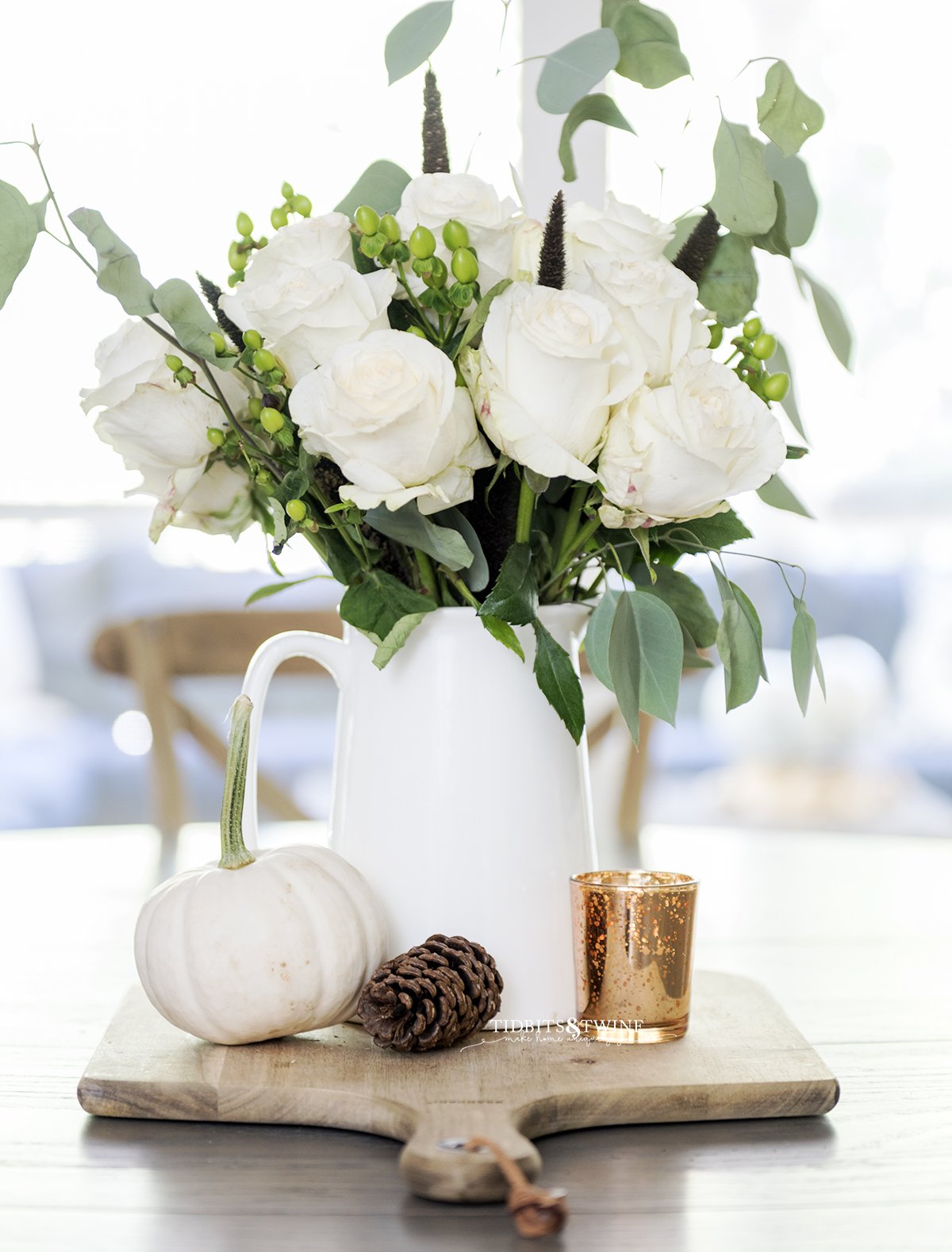 Add a Throw
Fall is in the air and temperatures are dropping. It's the time of year that we strive to make our homes feel cozy and warm. One way to introduce the concept of cozy is to add a throw blanket. Throws are a great visual representation of cozy, but of course, they're actually practical when you wrap yourself up in them. But beyond that, throws also help introduce other decorating details, like accents colors, and textures.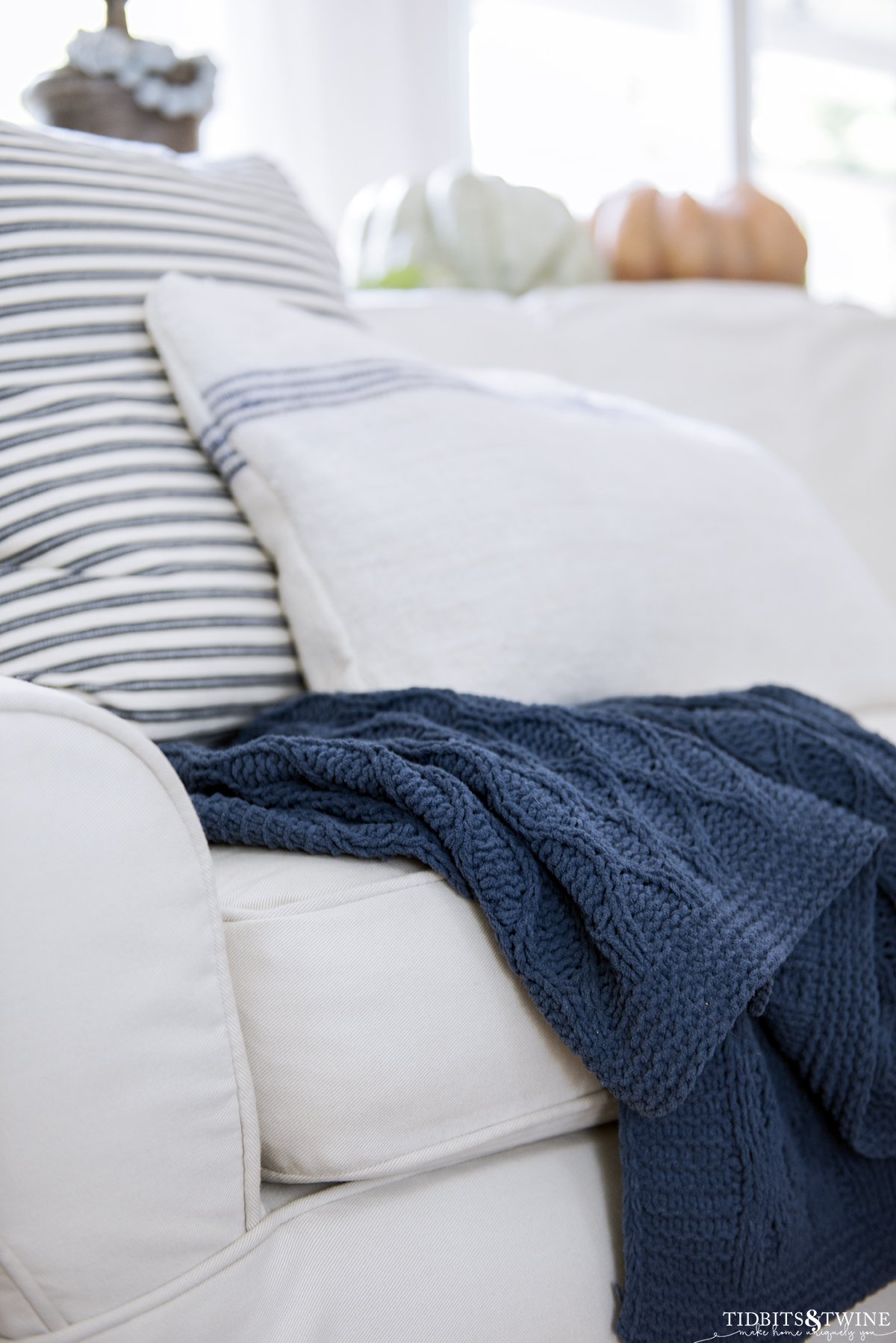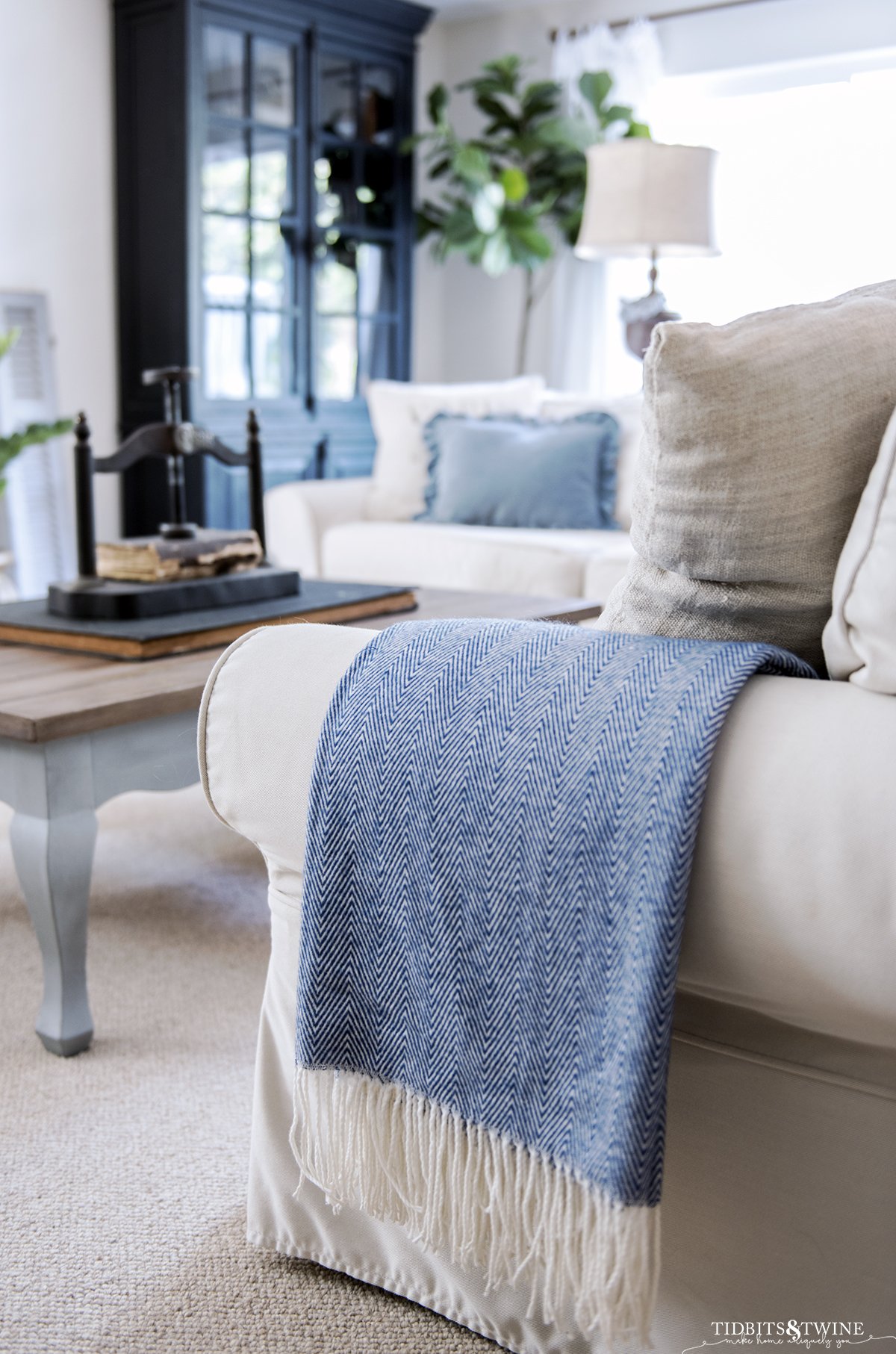 Swap Flowers for Branches
Fall is a great time to put away any faux florals you have and swap them out for branches or wheat bunches. Some of my favorite Fall branches include eucalyptus and olive due to their silvery sage foliage.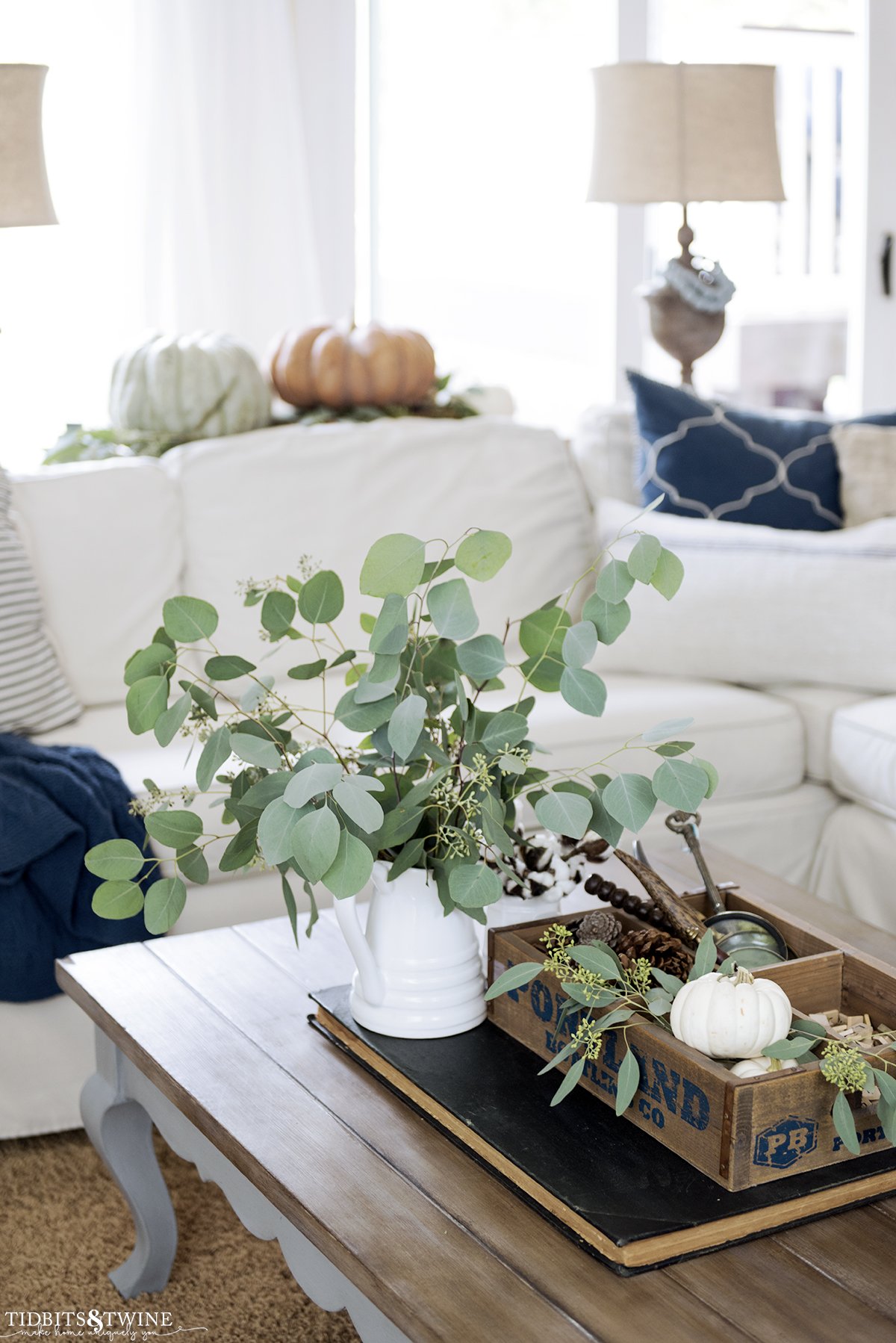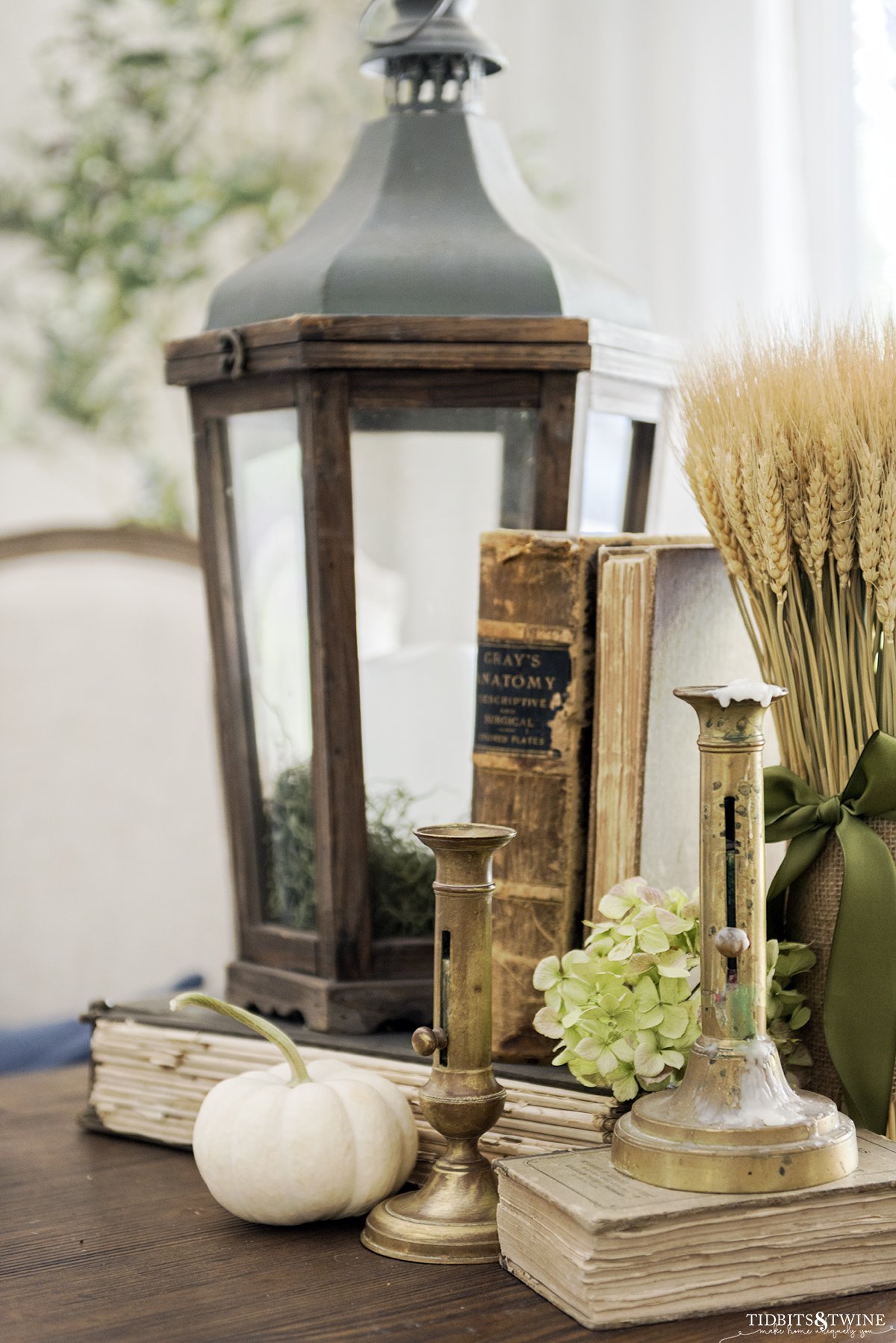 Update Your Color Palette
If you think about the colors that nature shows us each season, then Fall is really about neutrals, reds, oranges, and yellow. You can take a cue from nature and update your home's color palette to reflect Fall.
Look around and see what you own that might reflect Fall and bring those items to the forefront. Wooden items like dough bowls, lanterns, and breadboards can be great Fall touches. Maybe swap out colorful pots for baskets. Or it can be as easy as changing out your living room throw pillows!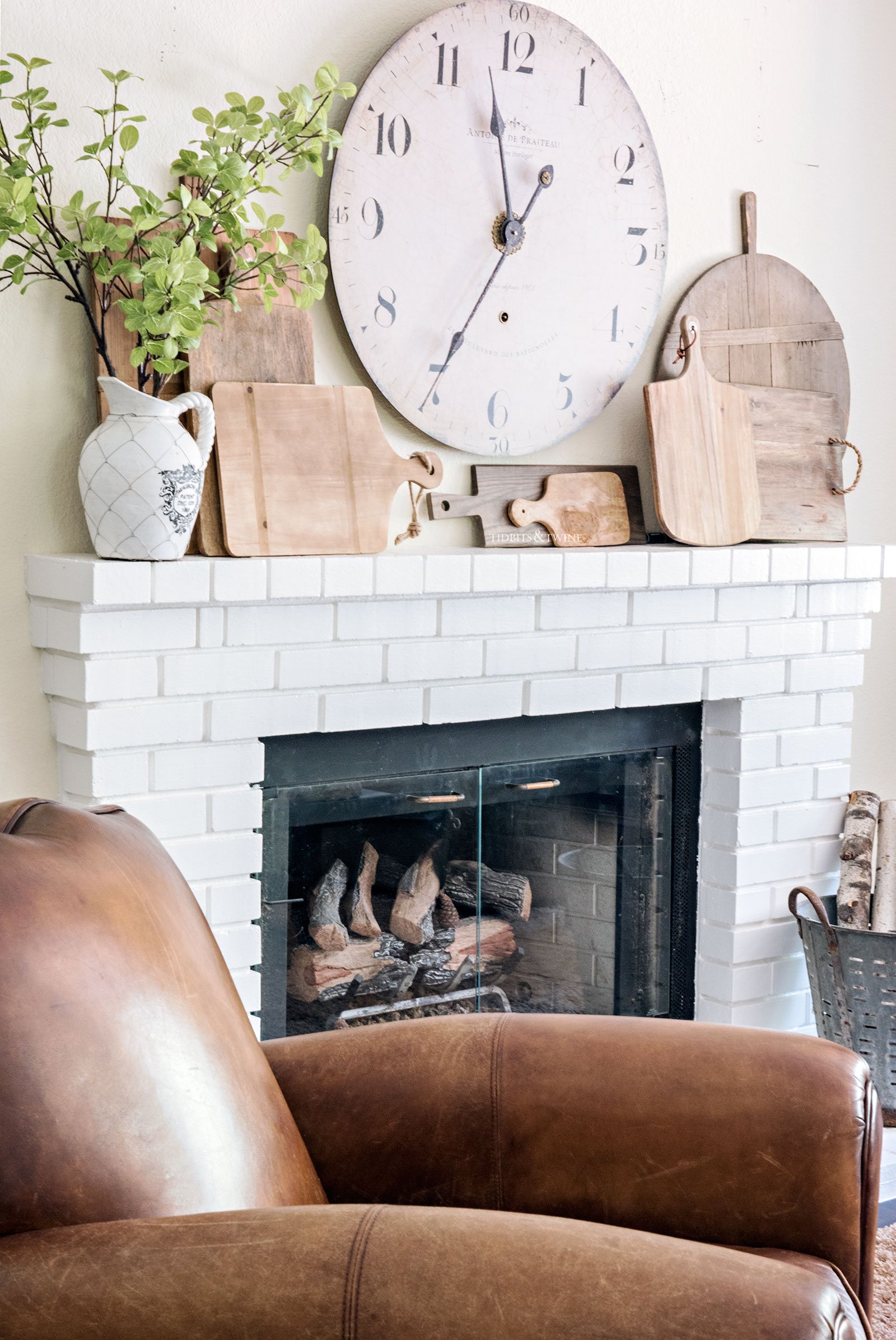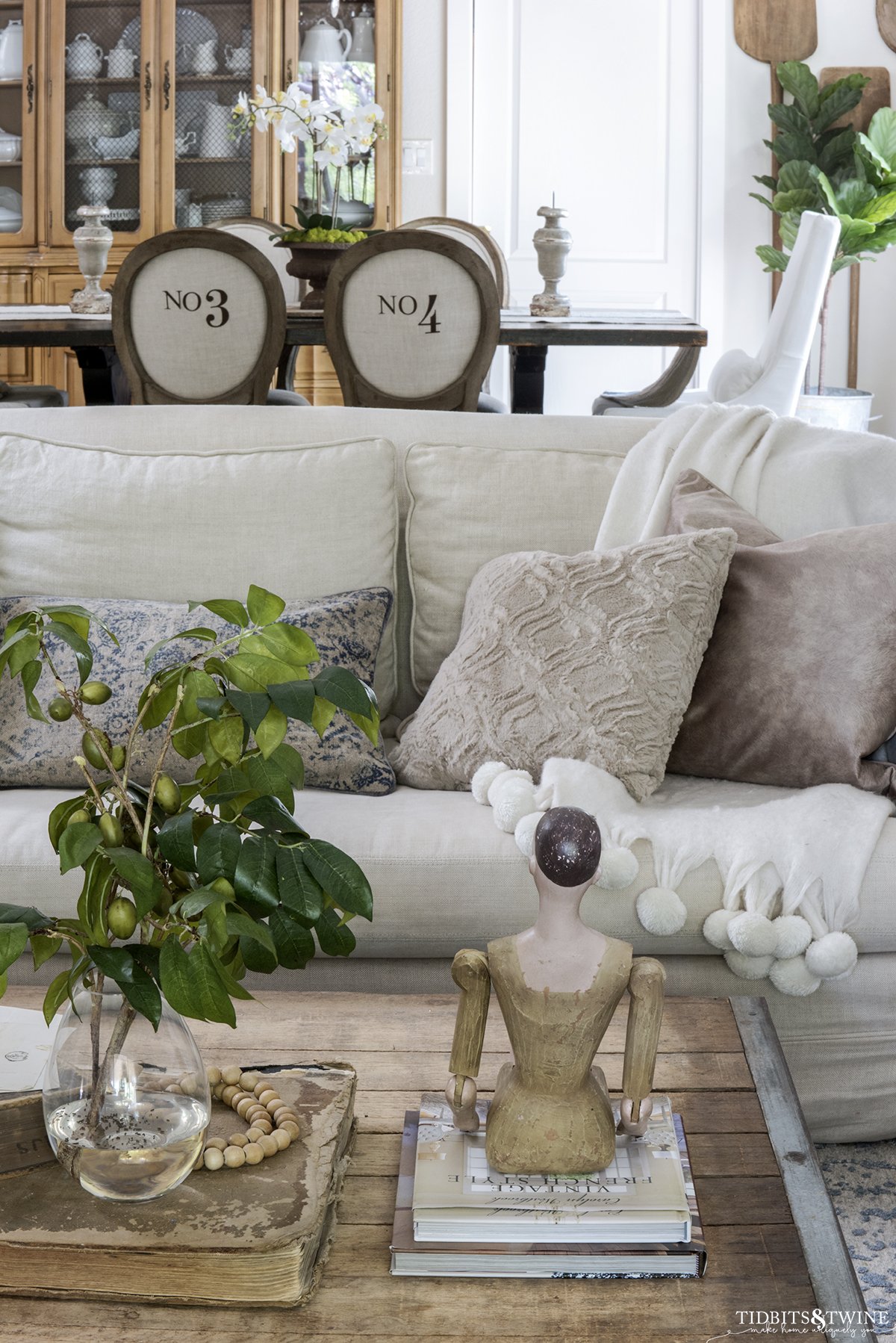 Change Your Artwork
I love using small pieces of artwork around the house. You don't have to have big, fancy frames or expensive matting. No, these are just small frames placed on tables or in cabinets that reflect your style and the season!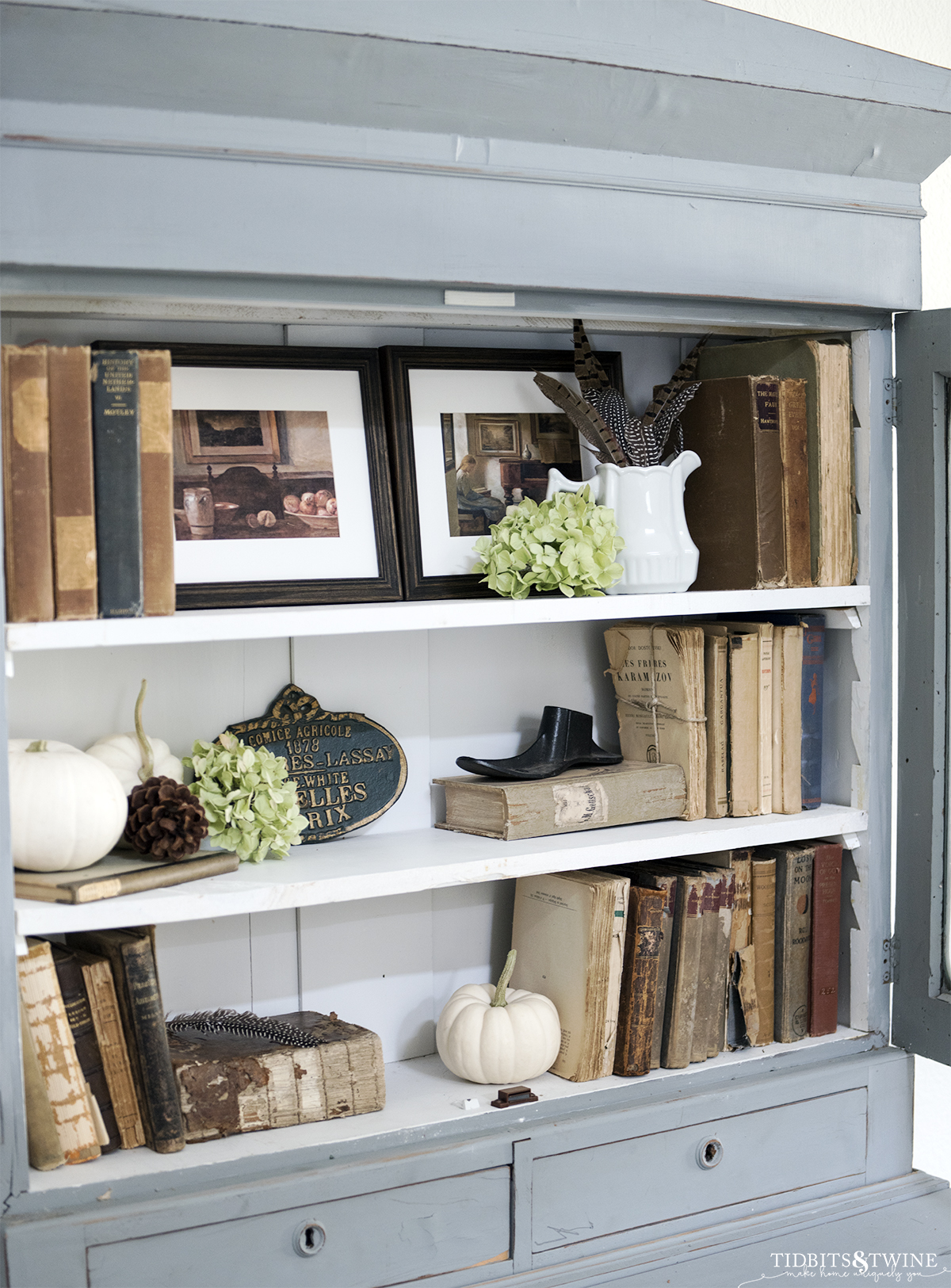 I've compiled some gorgeous pieces of art that you can use in your own home! Sign up here to get access.
Create an Easy DIY Centerpiece
Centerpieces don't have to be complicated or expensive. In fact, I'm a big believer in using ordinary grocery store flowers in most cases! Take a simple selection of flowers and add eucalyptus, branches or Fall flowers, such as mums, for an easy Fall centerpiece.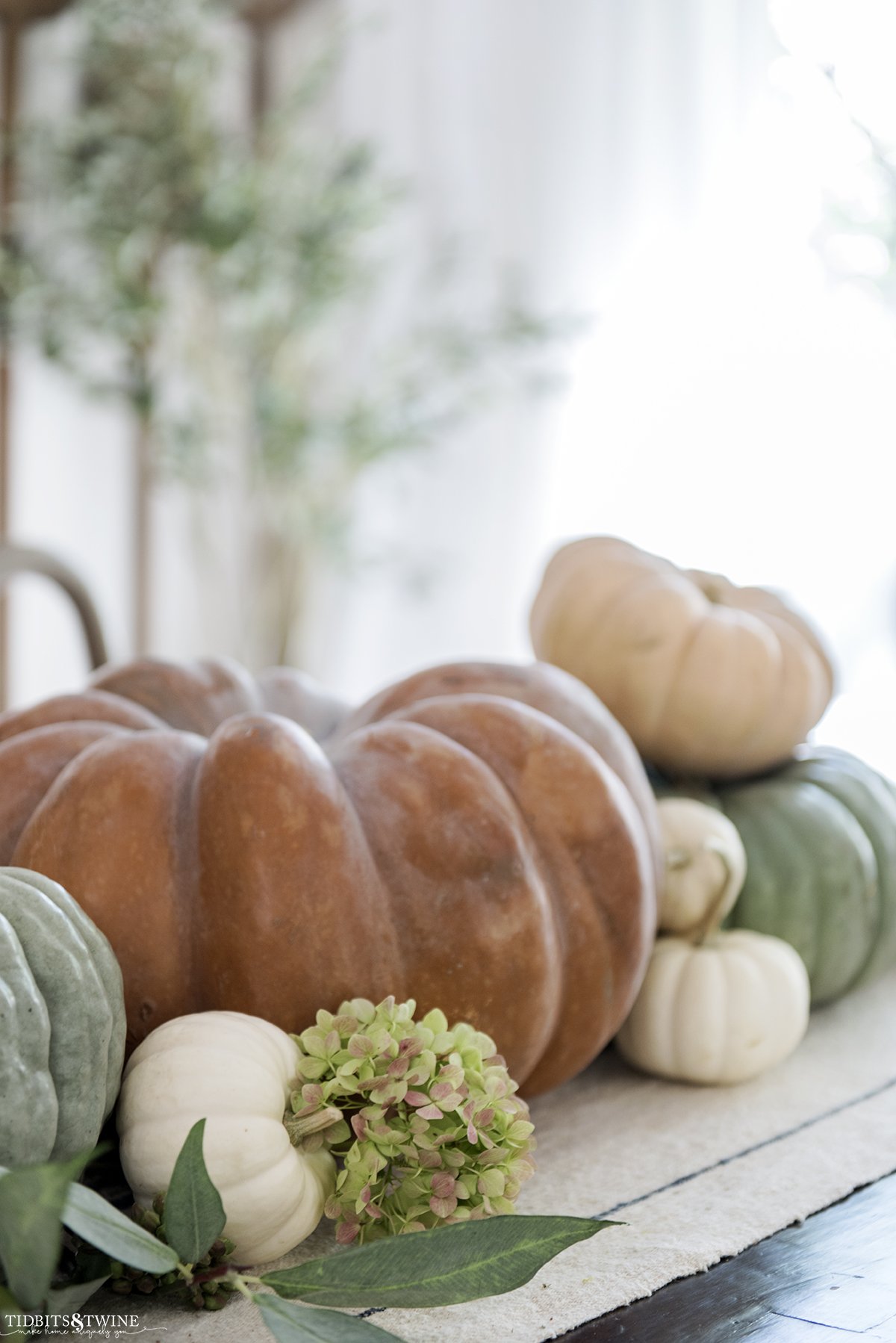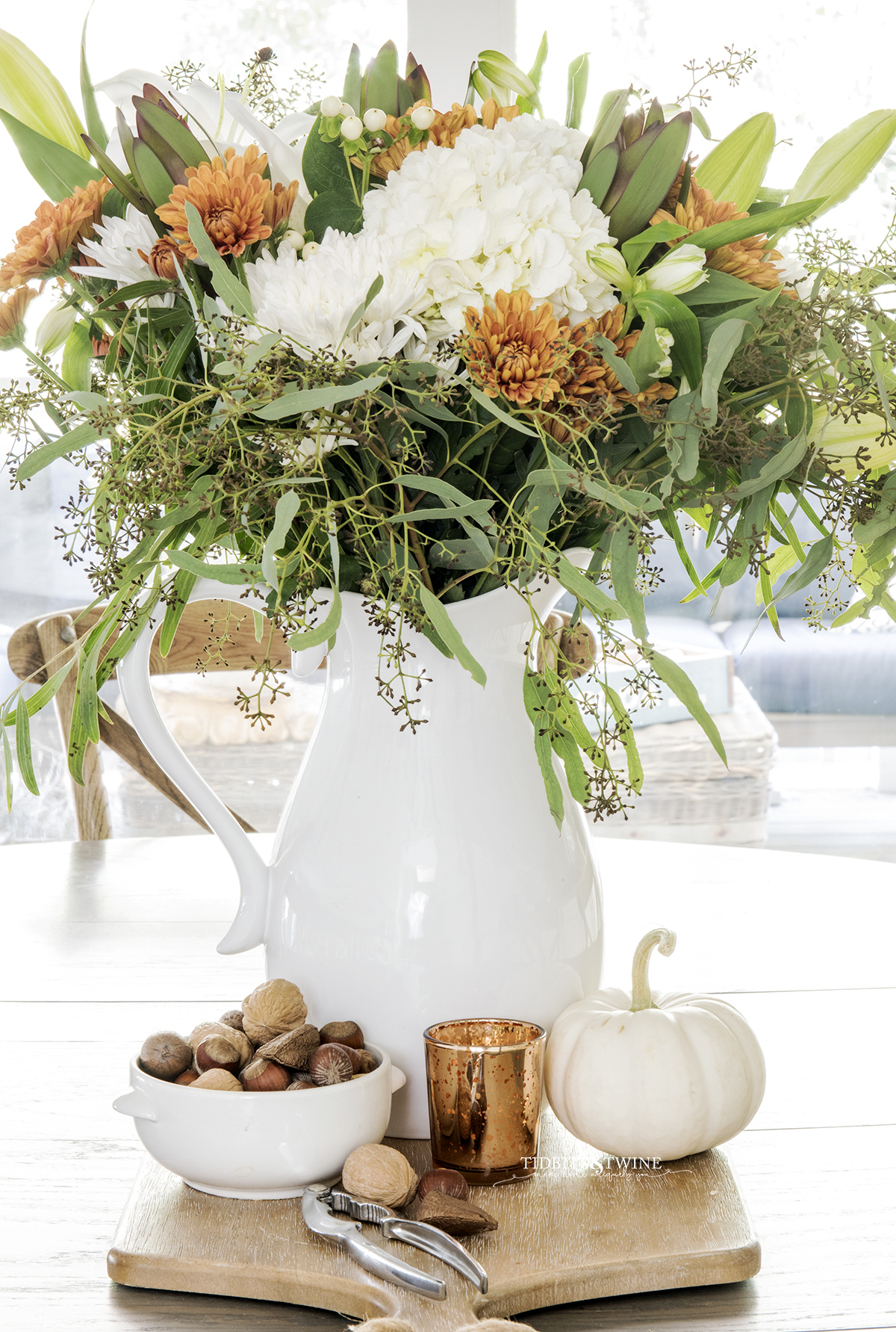 Display a Fall Vignette
A vignette is a small grouping of objects that create their own scene within a room that helps to set the mood. And a vignette is a great way to give your home a personal touch and a finished look. You can easily create a Fall vignette in your home for a bit of Autumn flair.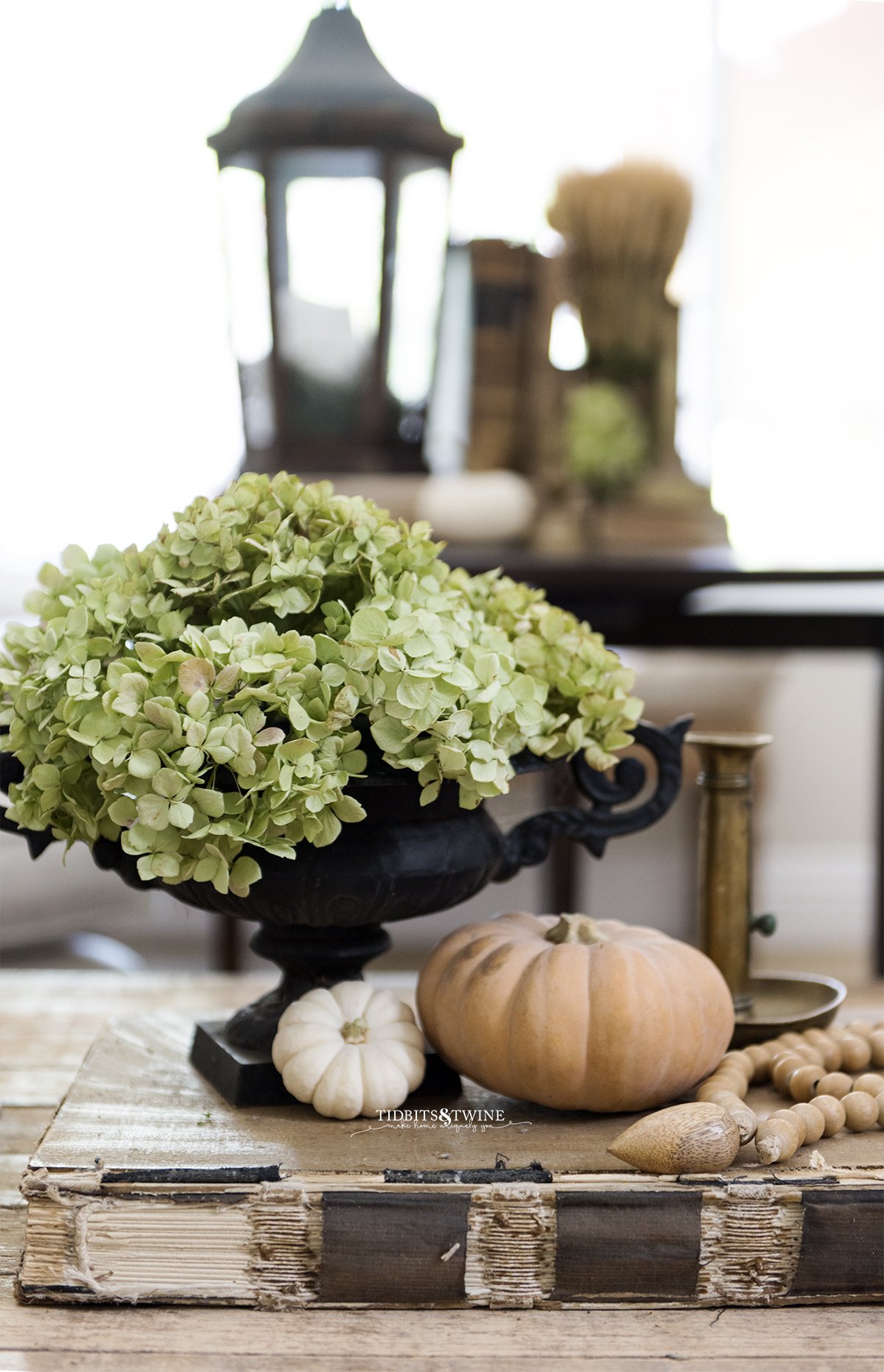 More Fall Decorating Ideas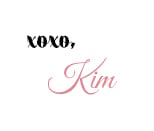 Join the Community
Let's keep in touch! Get exclusive artwork plus the latest news delivered directly to your Inbox!