My favorite Fall decor essentials that bring autumnal charm into your home. From cozy textiles to rustic accents, here is how to elevate your seasonal styling effortlessly.
It's that time of the year when cozy sweaters and pumpkin spice lattes make a grand entrance. But why let the outside world have all the fun? It's the perfect time to transform your living spaces into cozy, inviting abodes that capture the essence of Fall. In this comprehensive guide, I'll share my six Fall decor essentials that can elevate your home decor to a whole new level of warmth and charm.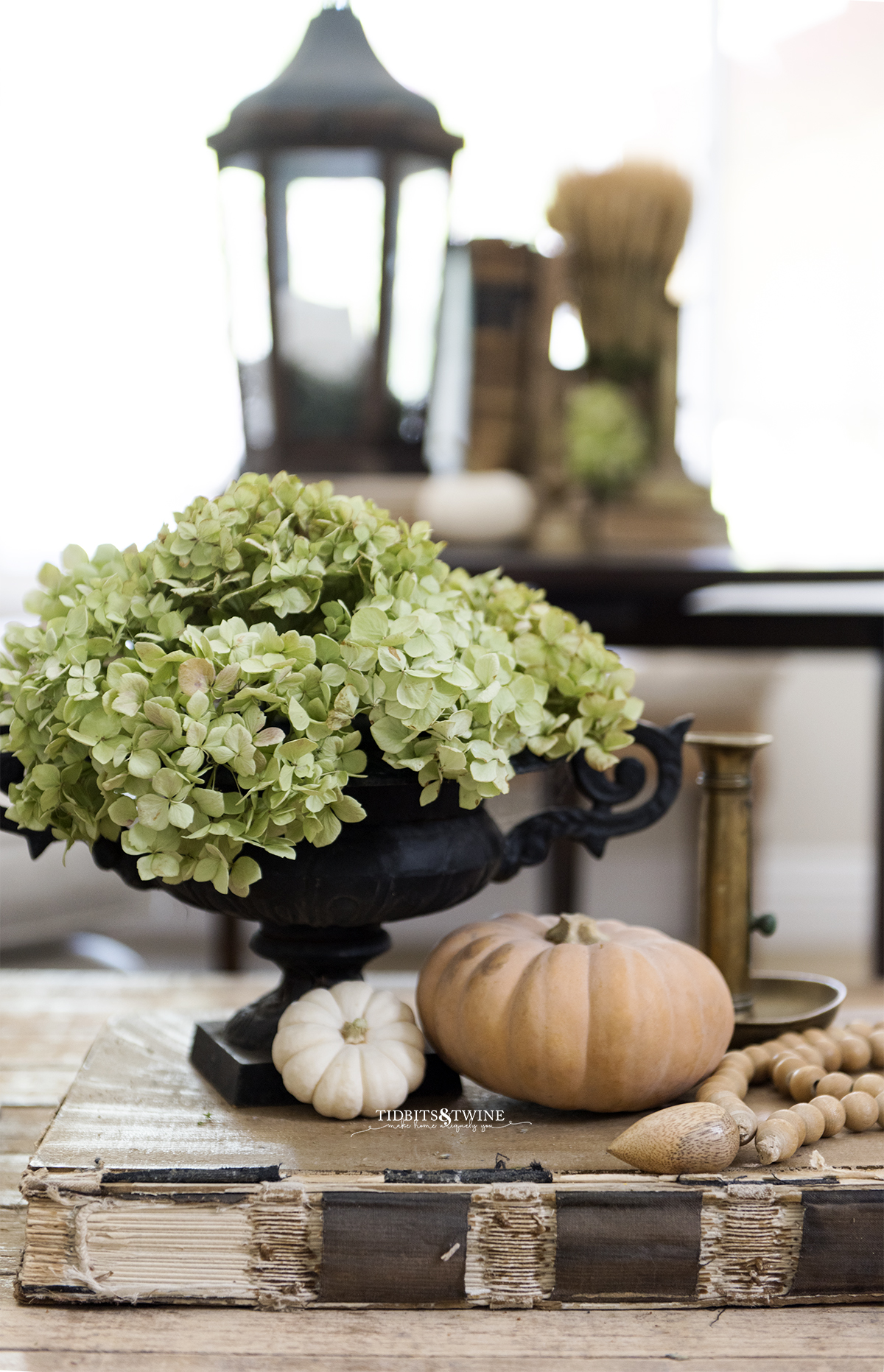 Today, we're talking about throws that make you want to snuggle, ambient lighting that sets the perfect mood for those pumpkin spice latte evenings, and oh-so-charming pumpkins that practically scream "Fall is here." So, grab your favorite blanket, pour a cup of apple cider, and let's get ready to deck the halls for autumn!
You can use the Table of Contents below to skip sections.
I've been busy decorating for Fall and realized that I have some Fall items that I love more than others. There are a few things that I consistently use in my Fall decorating. And those are my personal favorites… So today I'm sharing my favorite items to use in Fall decorating.
Admittedly, I have more Fall decor than I probably should or even need! As such, I don't pull out every item to use each year. Some Fall decor ends up in a rotation where I sometimes use it and sometimes don't.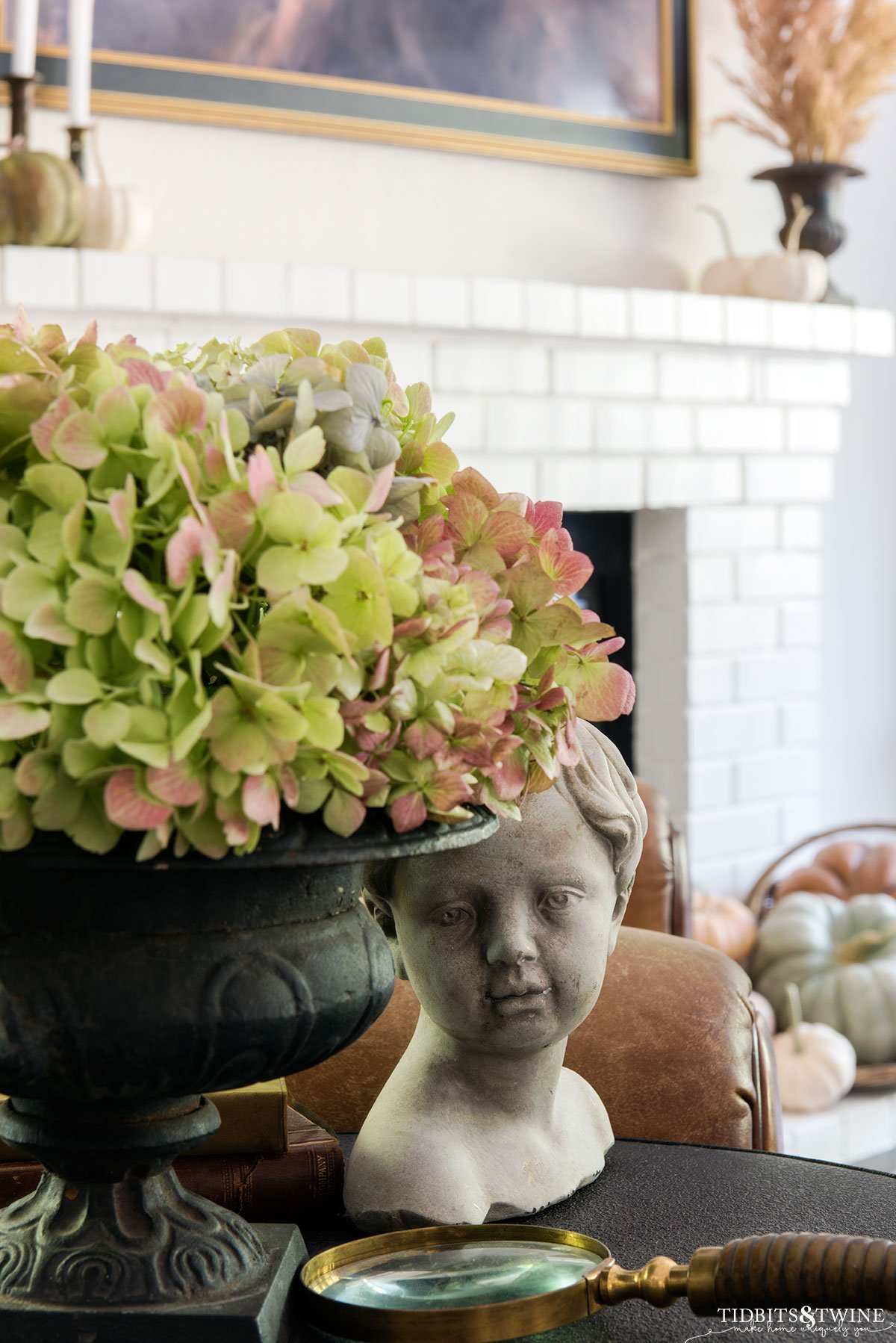 My Fall Decorating Process
My Fall decorating process always starts with me clearing the decks. I take everything that looks too Summer/Spring out of the room. I also remove anything that I'm just ready to put away and everything gets put into a big pile that I'll later need to put away.
From there, I can see how much space I'm working with and can get a sense of what Fall items I want to bring in for the season. I have a few tubs of Fall decor and I'll start rummaging through and picking out what I want to use. And this is where the fun begins!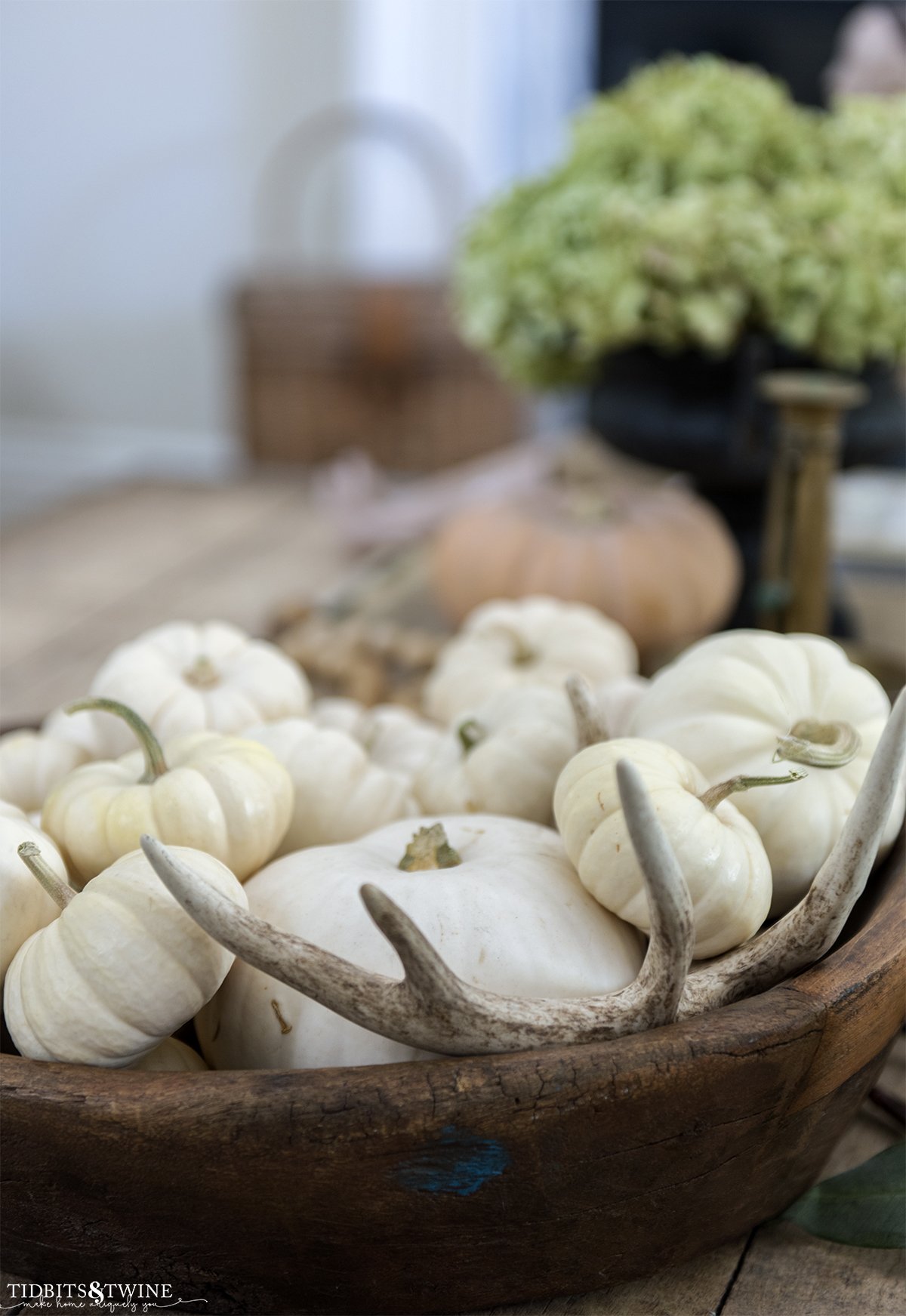 My Six Fall Decor Essentials
Not all of the Fall decor I own makes it out every year. Sometimes, I have to pick and choose because of space limitations and sometimes it's just because it might not represent the aesthetic I'm going for in a particular year!
But there are a few things that I consistently use in my Fall decorating. And those are my personal favorites… So today I'm sharing my favorite items to use in Fall decorating.
You know, the ones that I always use in my Fall decorating. So here are my six Fall decor essentials, plus an extra three that almost always make the cut.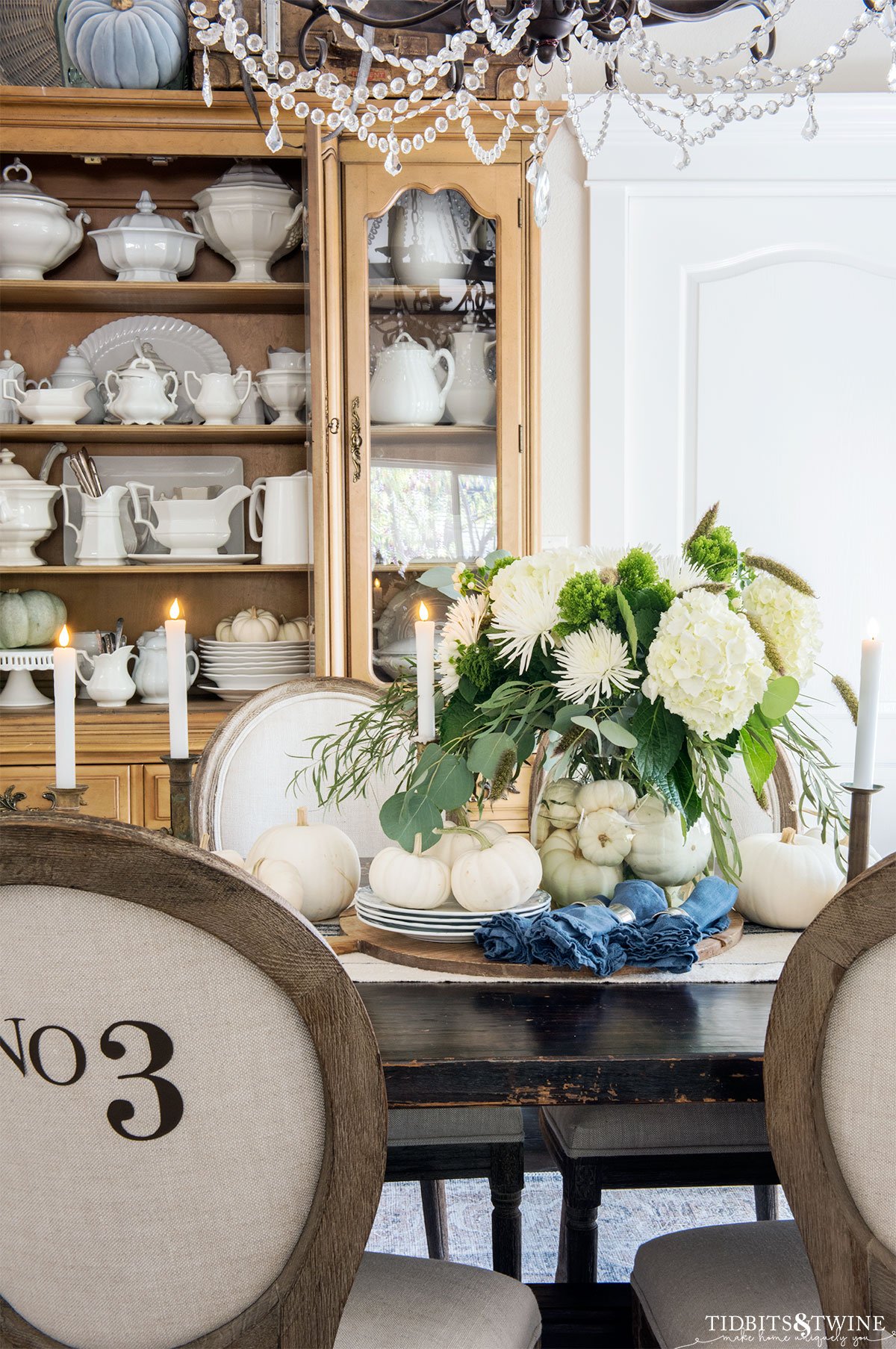 1. Pillows & Throws
There's something inherently comforting about a well-adorned sofa or chair, especially during the Fall season. Pillows and throws are quintessential Fall decor essentials that combine comfort with style, enhancing the coziness of your living space.
With the backdrop of a neutral sofa, you can instantly change the look and feel of your space by switching out your pillows and throws. And I love Fall pillows!!!
Let me clarify, I don't love Fall-themed pillows. I find these to be a bit kitschy and are more of a theme versus a style. Plus, who wants a pillow they can only use for a couple of months and then have to store?
Not me.
Instead, look for pillows and throws whose color or texture represents a Fall feel. And keep in mind that Fall colors don't have to be the traditional reds and yellows. You can also choose the more muted counterparts if that fits better with your style.
In terms of textures, when it comes to Fall, think cozy. When choosing your Fall pillows and throws, look for a variety of textures such as leather, knit, velvet, faux fur, etc.
Pillow Combinations
Mixing and matching pillows with different textures and patterns can create a visually appealing ensemble. Pair solid-colored pillows with patterned ones for a delightful contrast, or stick to a single color family for a cohesive look.
You can also mix up the size combinations for your pillows!
You can get more ideas in my Guide to Perfect Fall Pillow Combinations.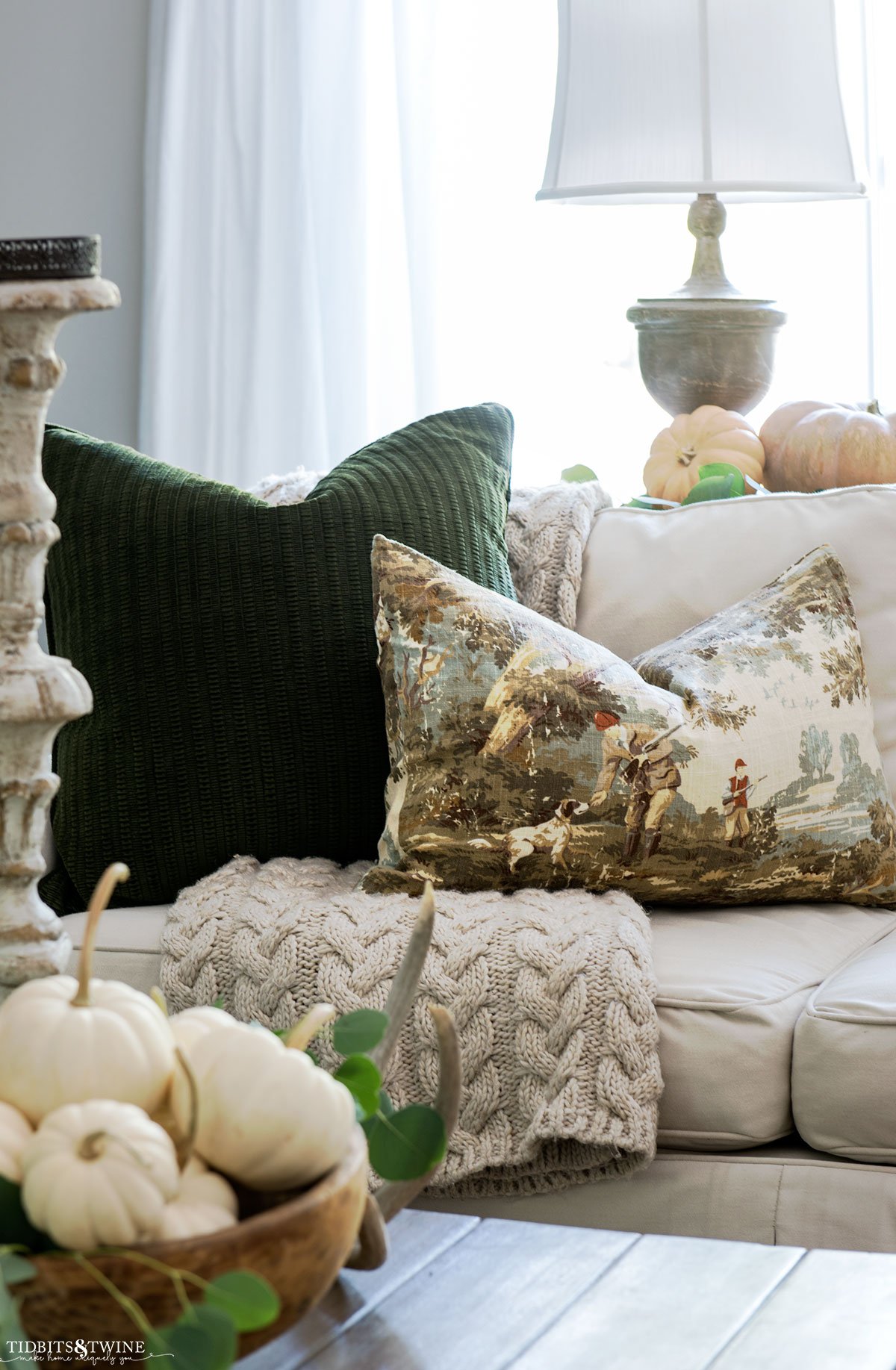 Throw Styling
You can drape throws casually over the back of a sofa or neatly fold them at the arm of a chair to add a touch of coziness.
I've previously outlined 8 Stylish Ways to Style a Throw for an effortlessly chic look.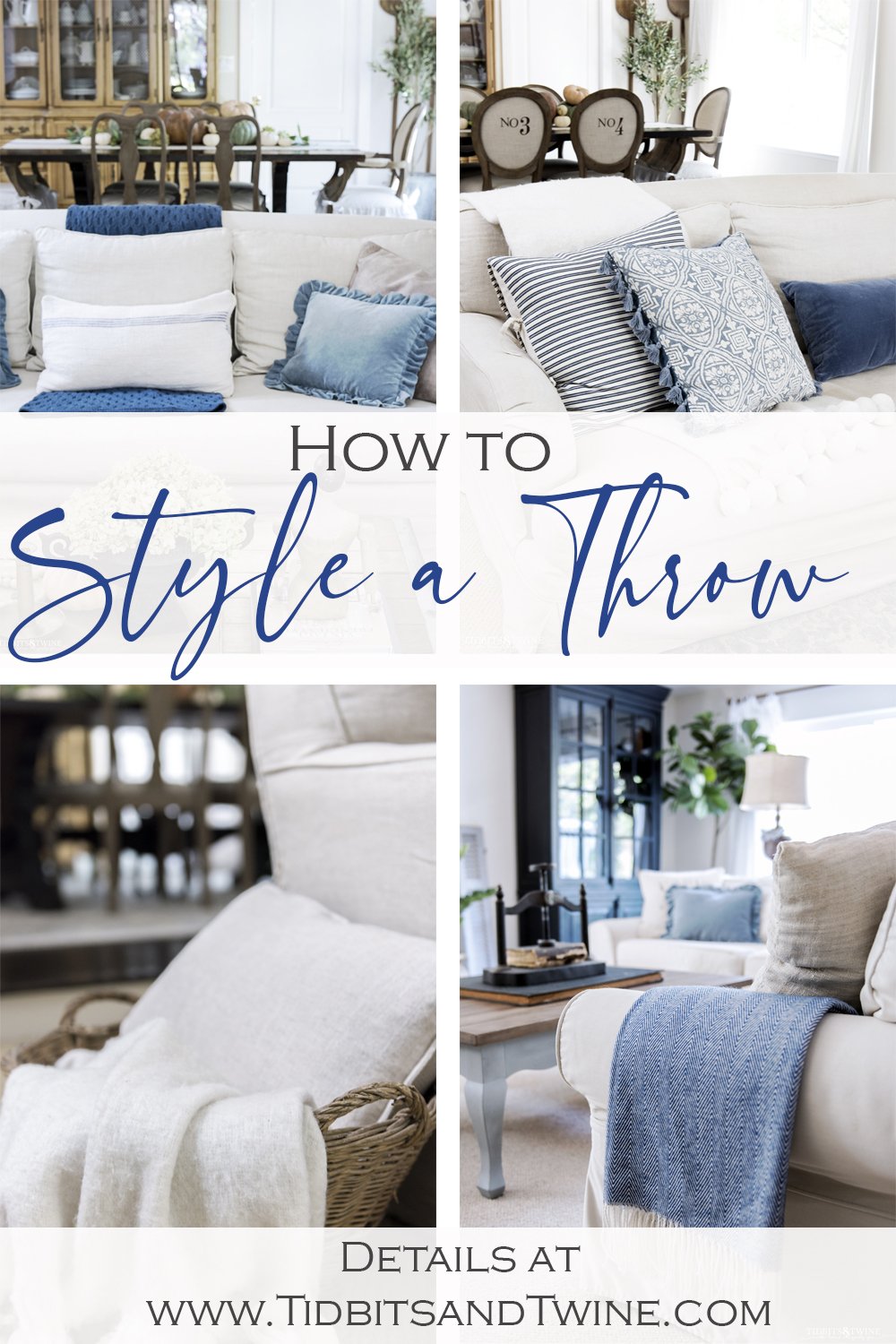 2. Fall Foliage
I always, always love using Fall foliage in the room. The organic element is absolutely essential in my opinion!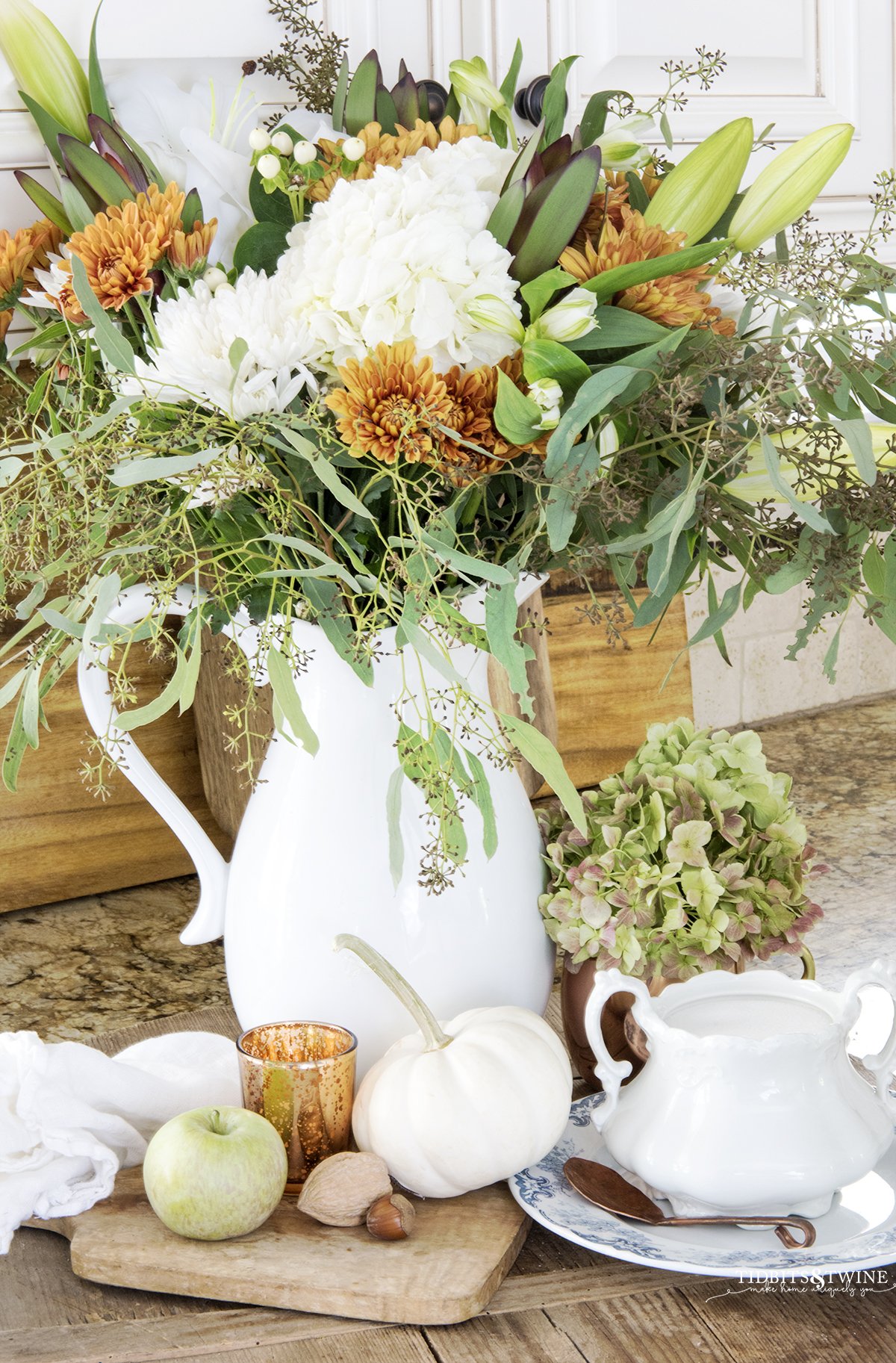 Hydrangeas are probably my go-to because I'm able to pick them from my yard. And I'd love to clip some branches that showcase the wonderful colors of Fall, but nothing in my yard actually changes color….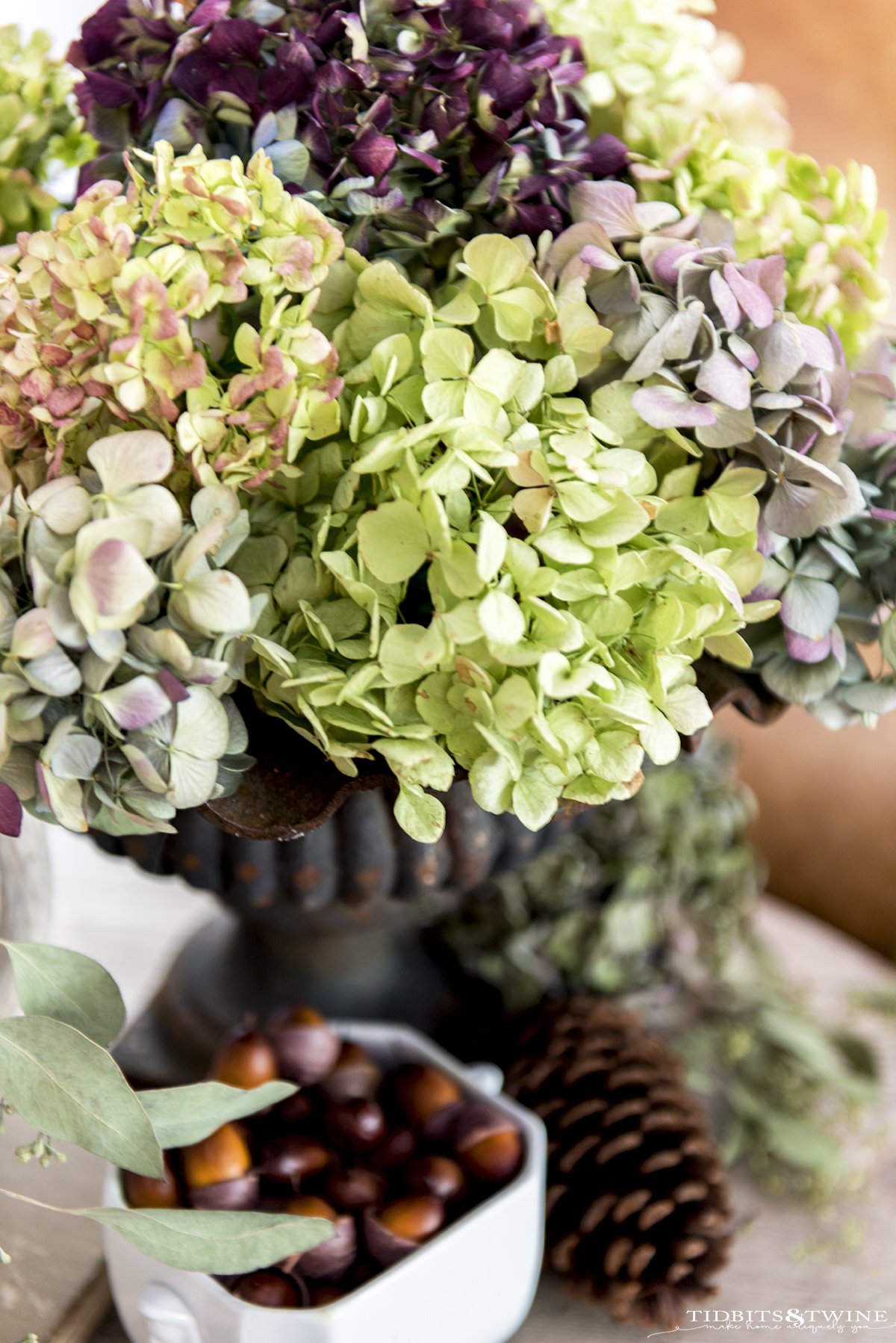 I also use dried grasses quite a bit, either as wheat bundles or individual picks.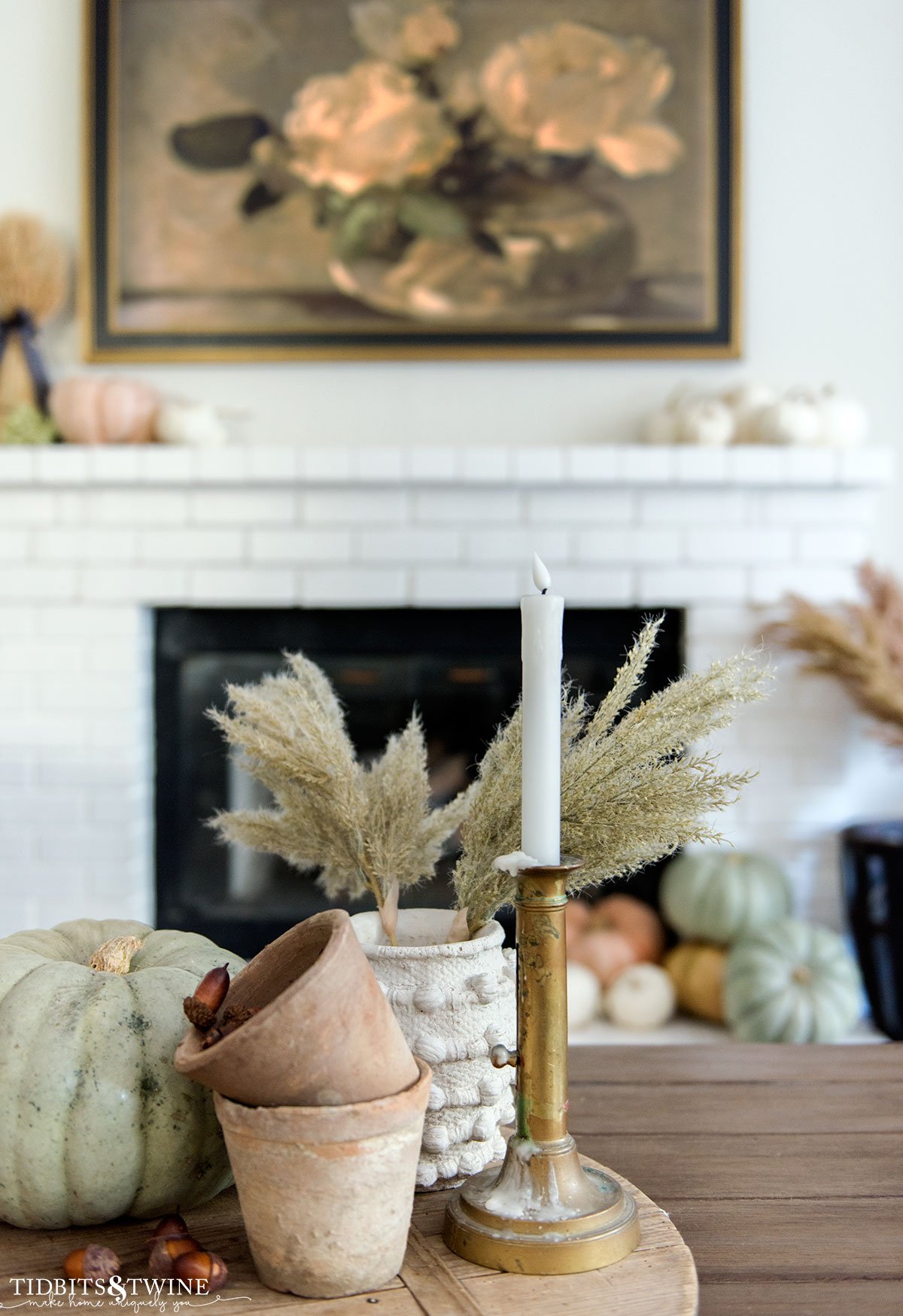 I also love eucalyptus stems and olive branches because both have a soft silvery green color perfect for Fall. I tend to use them with other flowers in a vase or as base for other elements, but you could do an entire arrangement of just eucalyptus or olive!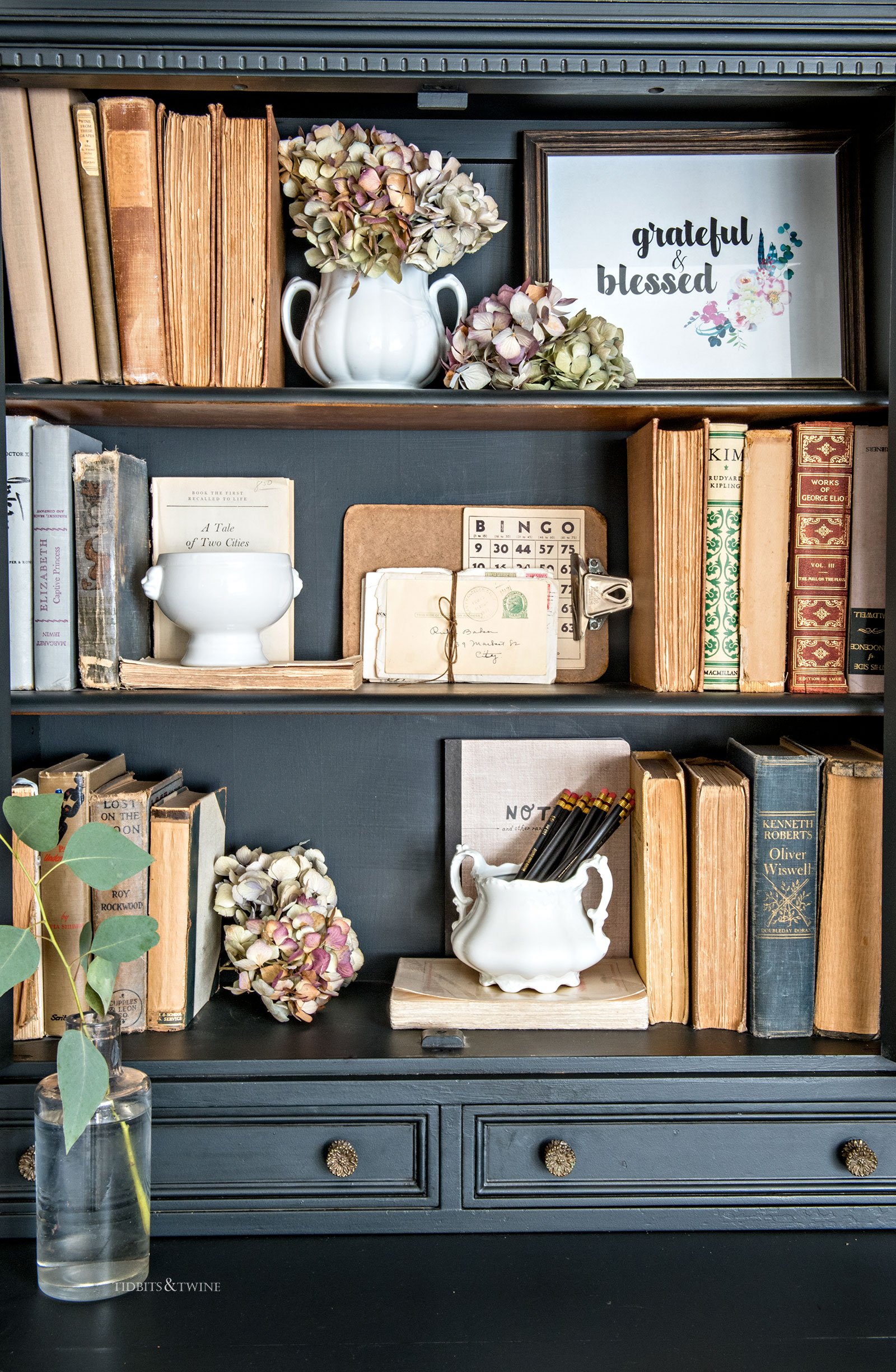 3. Pumpkins
It should probably come as no surprise that I love incorporating pumpkins in my Fall decor. But not orange pumpkins. I don't like orange. Sorry, not sorry!
Now terracotta pumpkins are okay for me…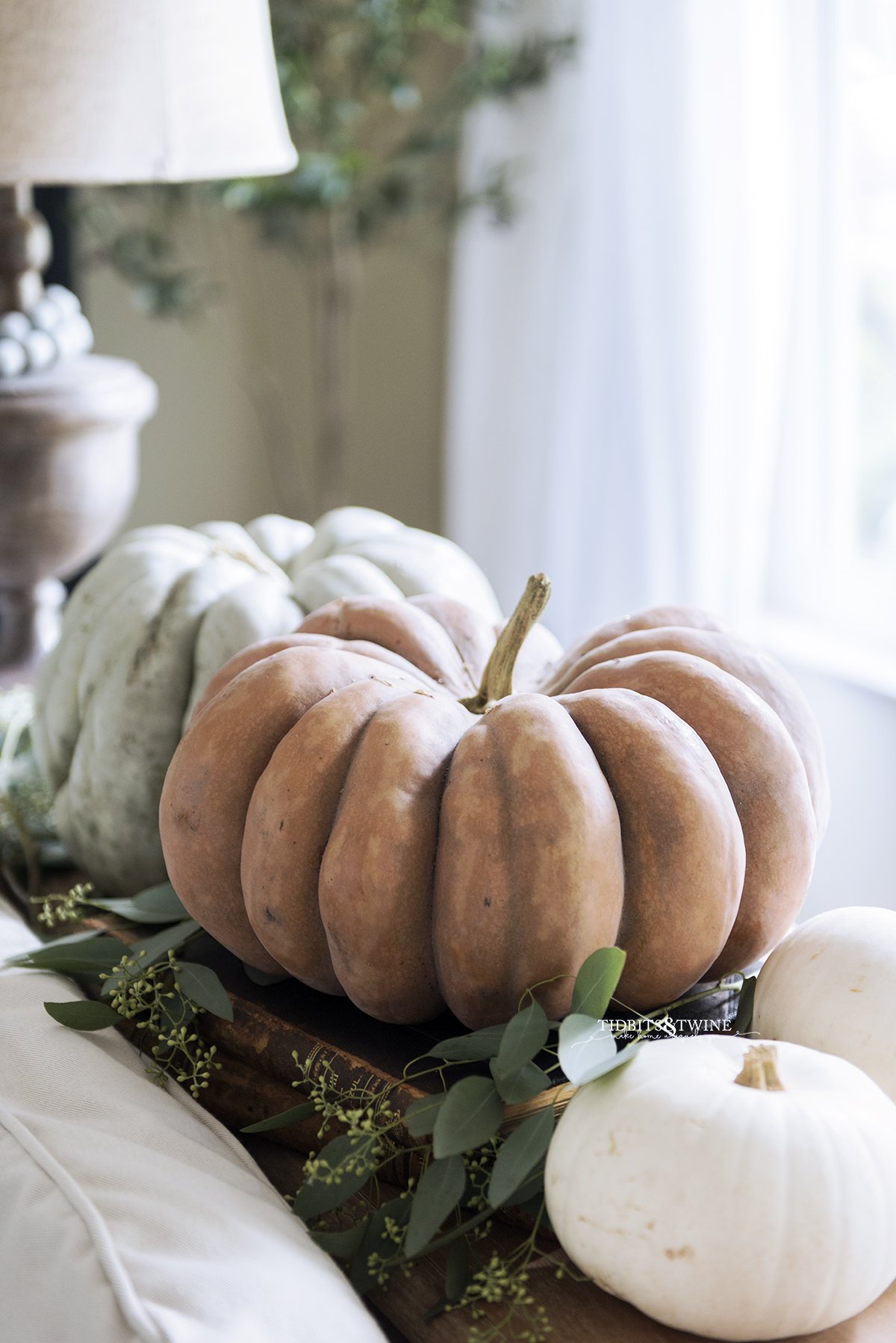 I prefer heirloom and fairytale pumpkins, which are paler and more muted in their coloring. And I love any and every white pumpkin!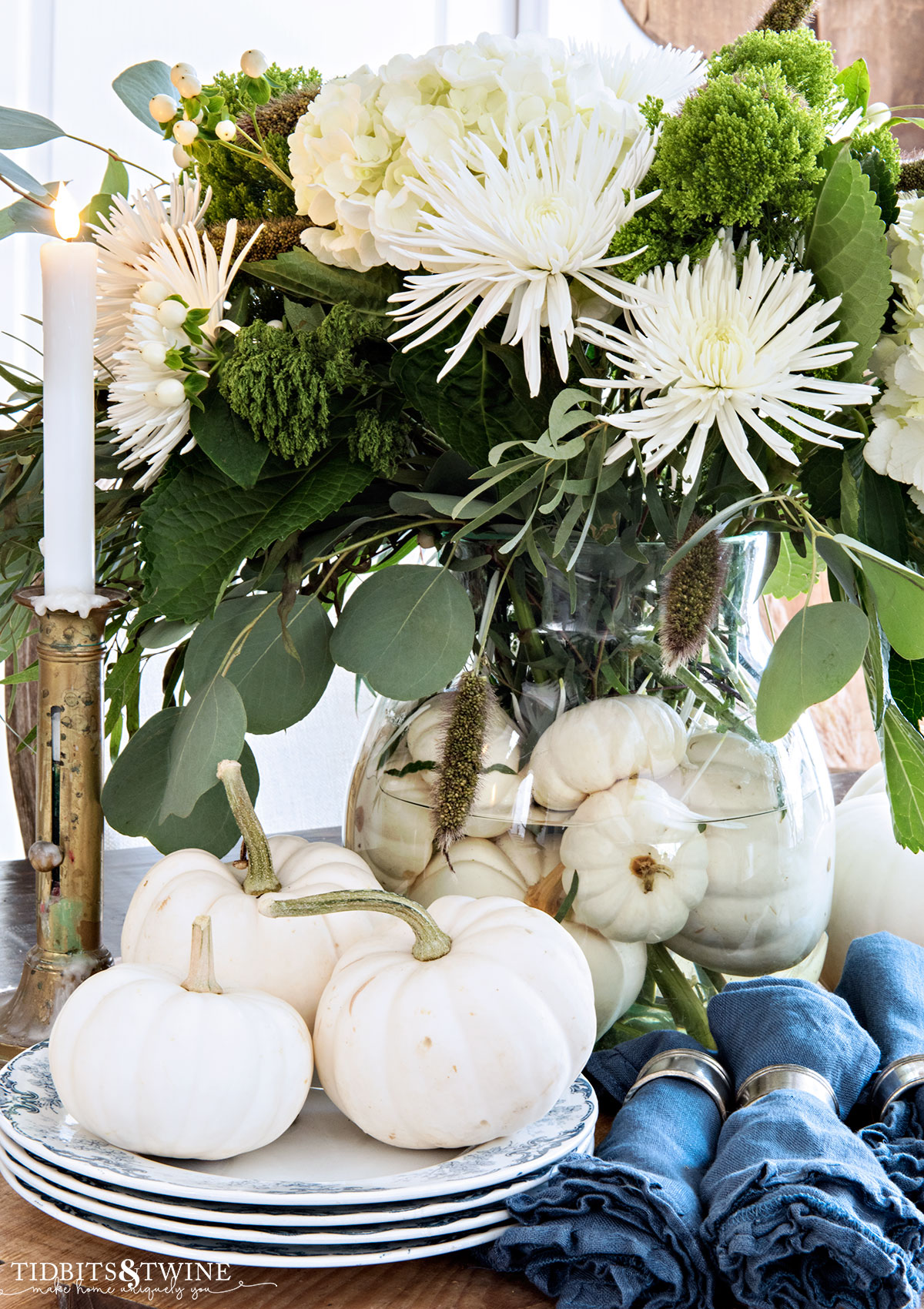 Of course, I decorate in September and I don't know about where you live, but in my home in California, good luck finding a pumpkin in early September!
So in recent years, I've started incorporating some fake pumpkins into my home. Thankfully, there are some really great decorative and realistic options nowadays!
4. Wood Elements
I'd probably be lying if I didn't admit that I pretty much always have wood elements in my home, but you can pretty much guarantee that I'll have a dough bowl out in Fall!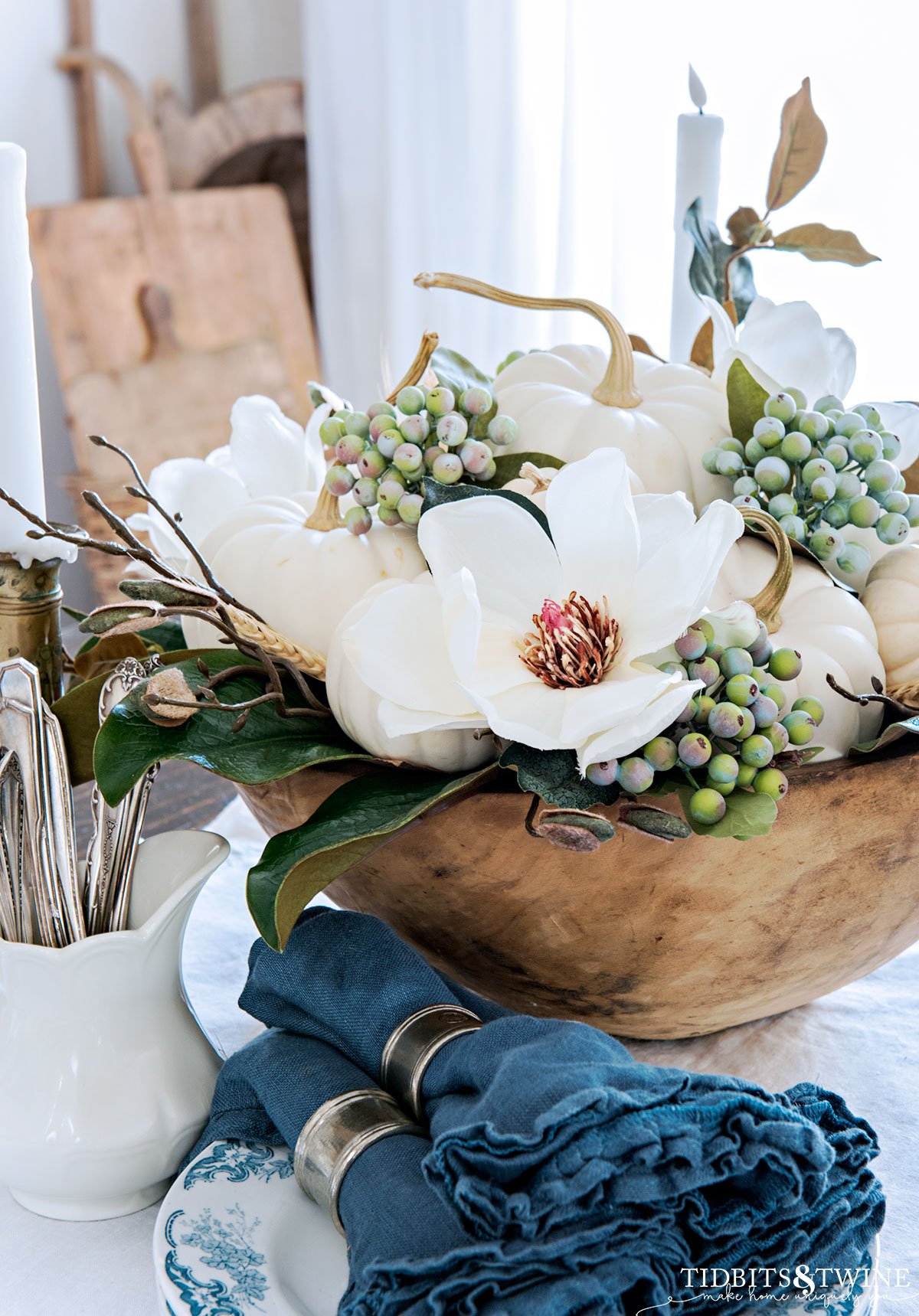 Other options for wood include vintage bread boards, bread paddles, wooden cooking utensils, Scrabble tiles, paper, and more. The texture of wood helps to really bring in the Fall feel.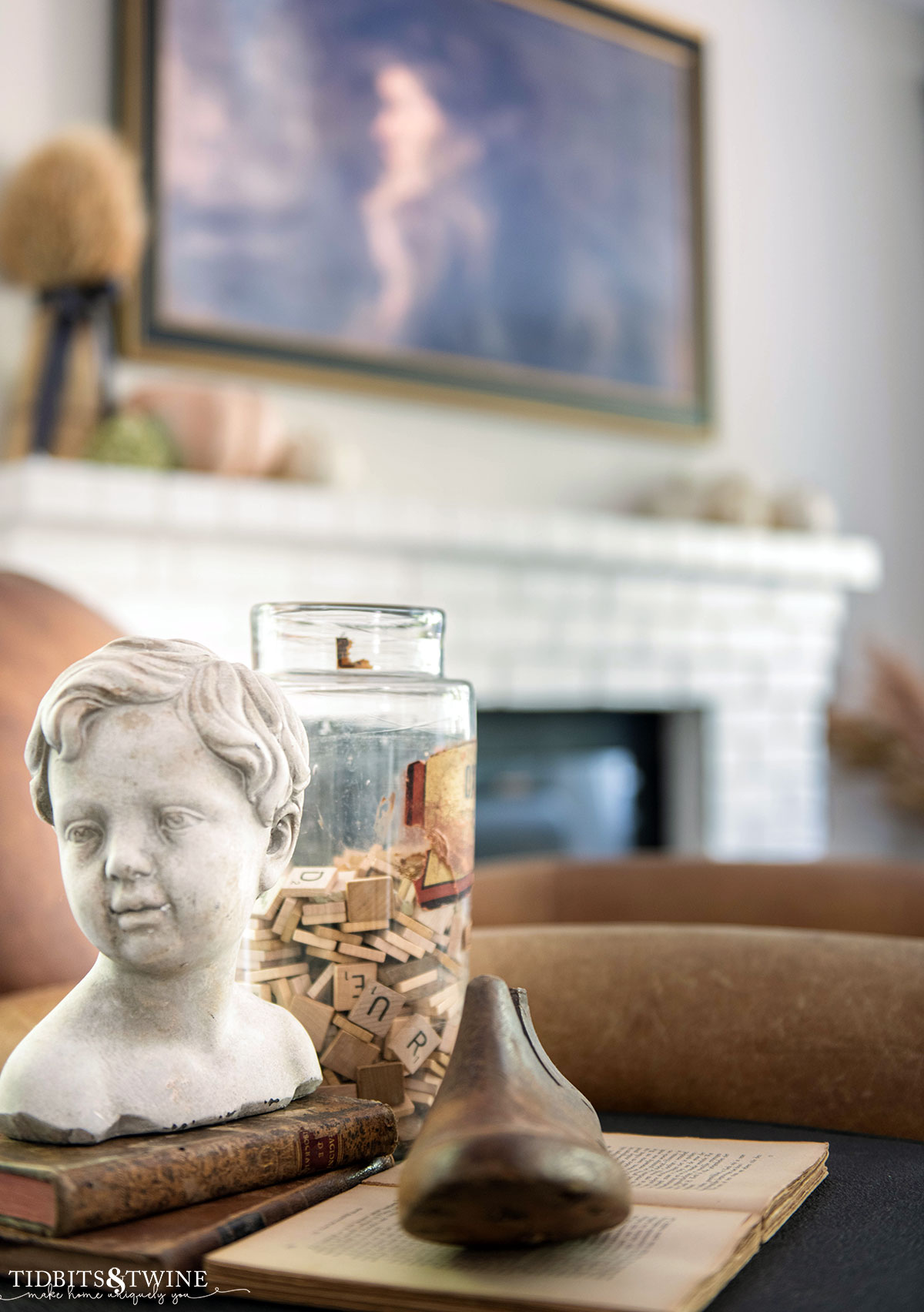 5. Fall Art
Changing your art is an easy way to showcase the season! I often find and print my own art and frame it so that I can easily swap the images depending on my mood or the season.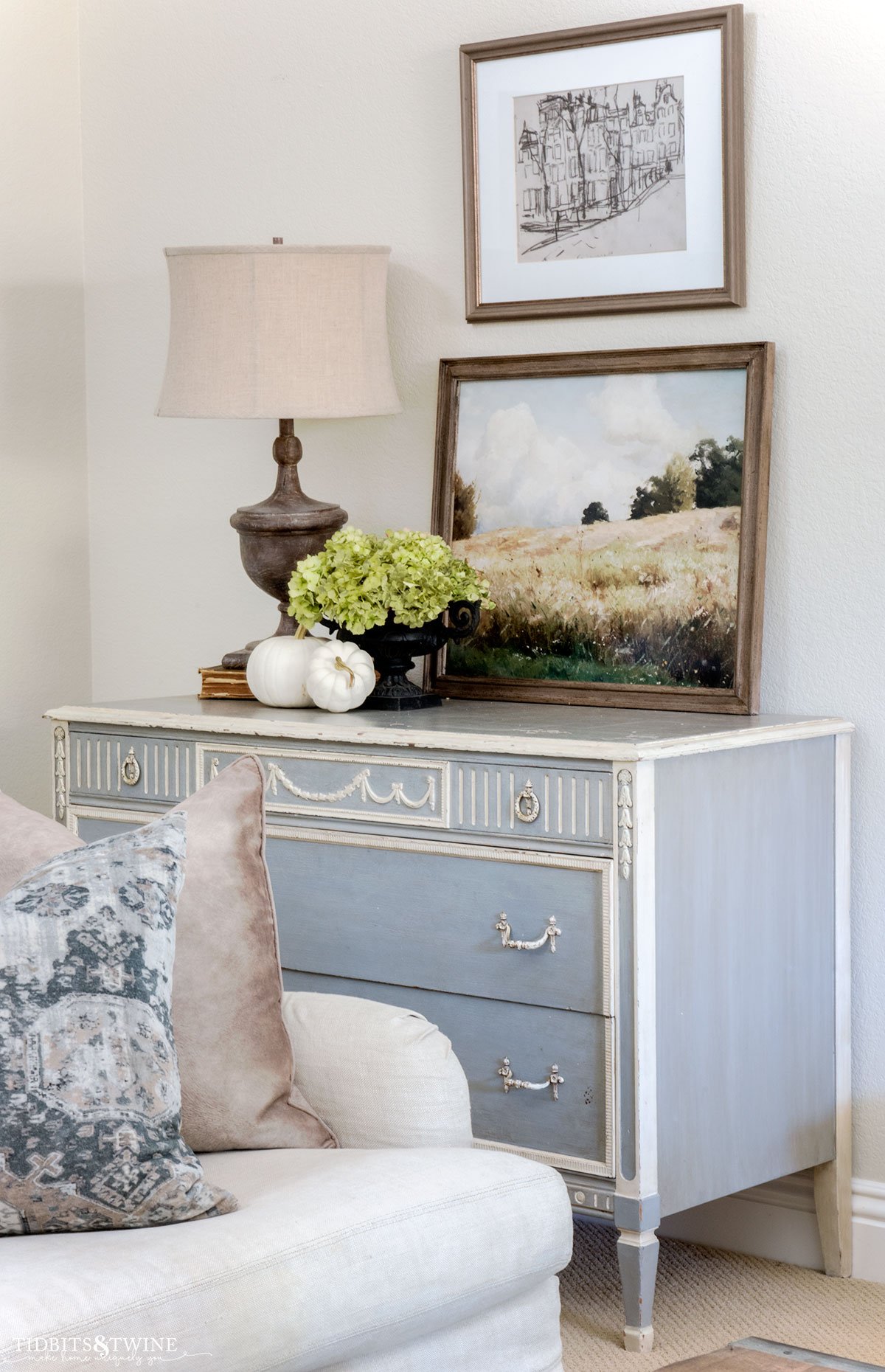 And of course, my Frame TV is my biggest art piece of all! You can easily change the image to suit your mood. You can purchase images online or you can download my FREE selection in my Exclusive Content.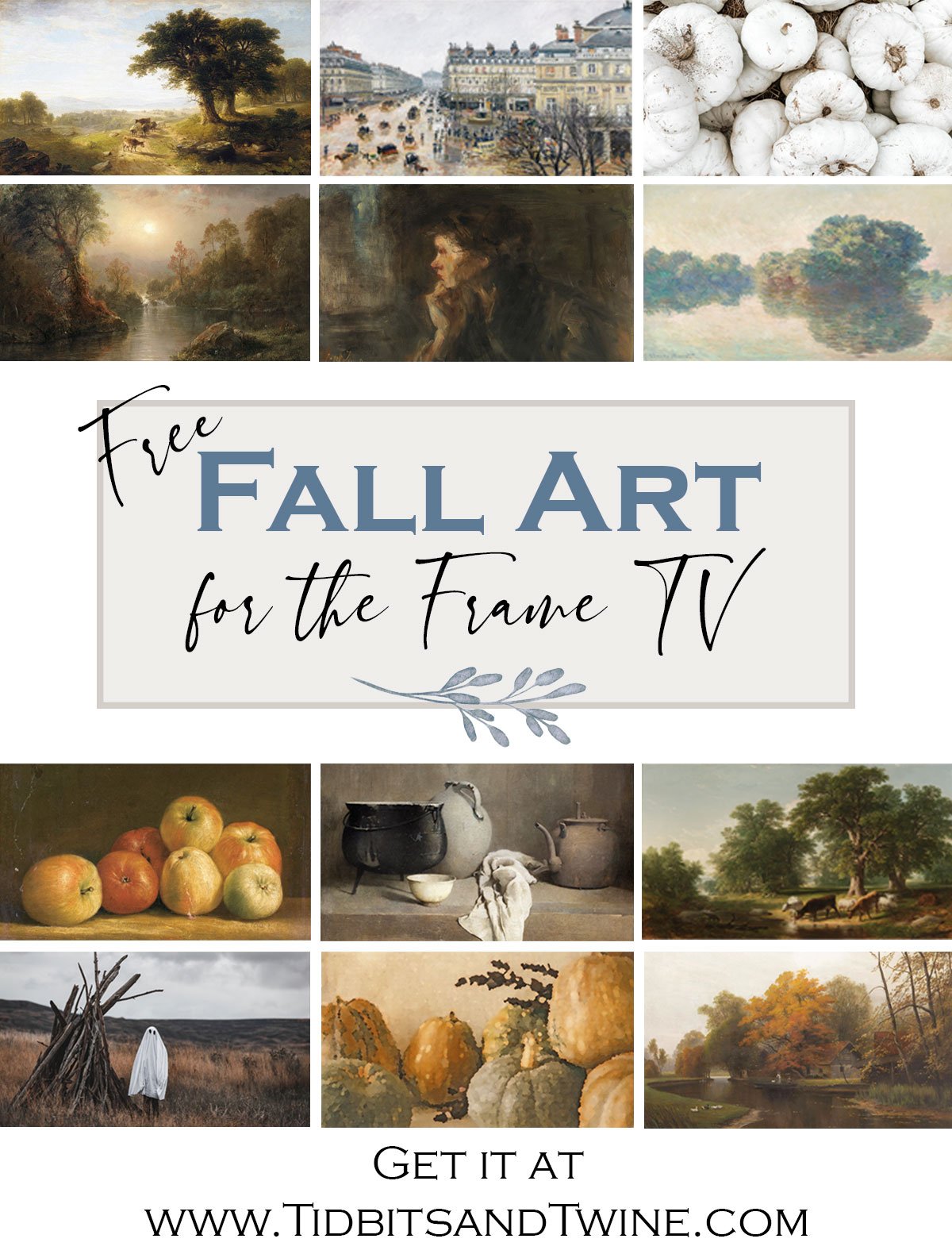 6. Ambient Lighting
Ambient lighting plays a vital role in setting the mood and creating a warm, inviting atmosphere in your home. During fall, when natural daylight diminishes earlier, lighting becomes even more essential.
Warm-Toned Bulbs
Opt for warm-toned light bulbs in your lamps and overhead fixtures. These mimic the cozy glow of candlelight and enhance the autumn ambiance.
Candles
Candles are an excellent way to infuse a cozy vibe into your space. Arrange them on tables, mantels, or in lanterns to create a flickering, warm glow that epitomizes fall evenings.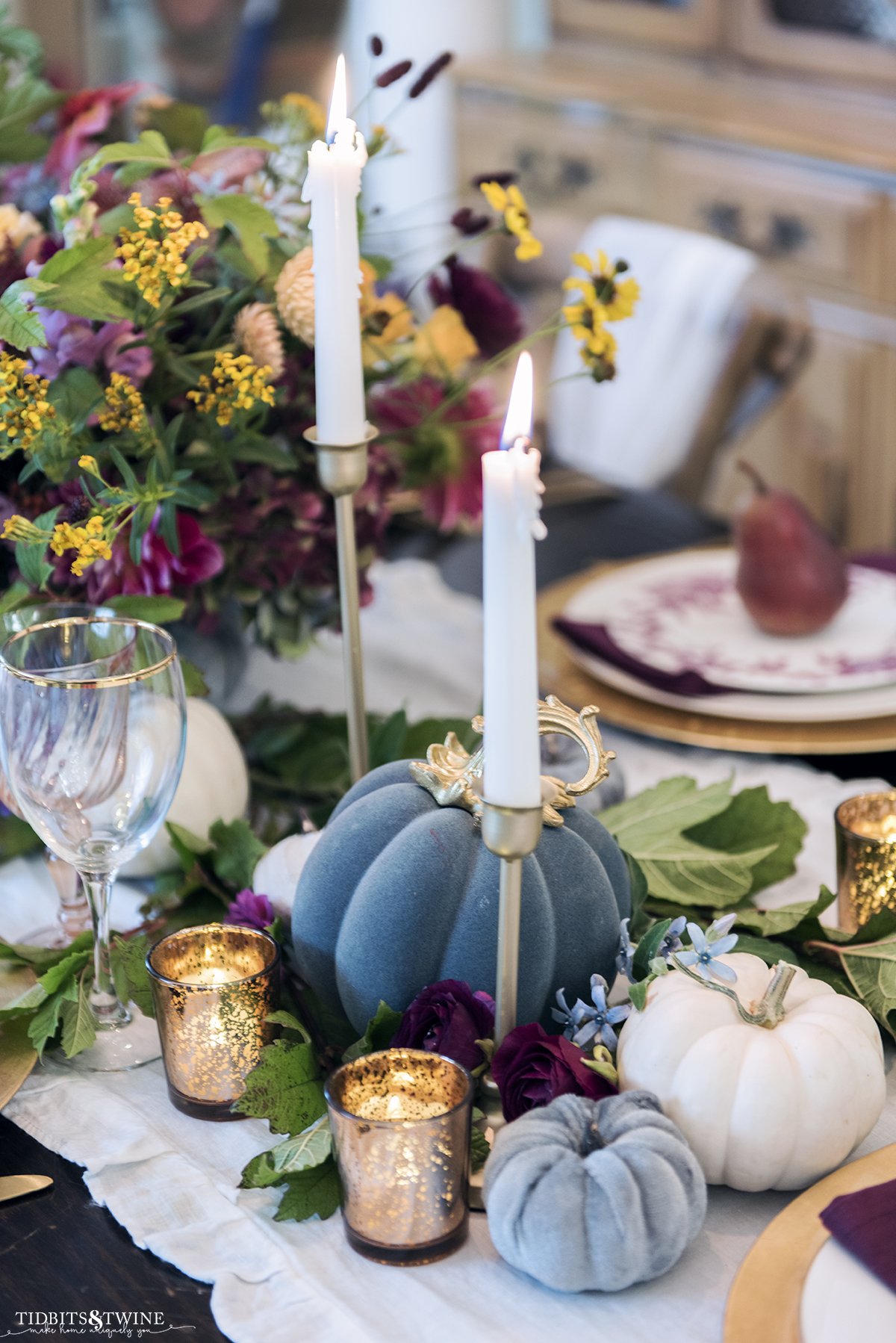 Fall Decor That Almost Makes the List
There are three more items that almost always make my list because they are perfect for Fall but can also be used year-round (Win! Win!)
1. Baskets
What's not to love about a good basket? They're great for decorative storage but also are an easy way to add texture reminiscent of Fall.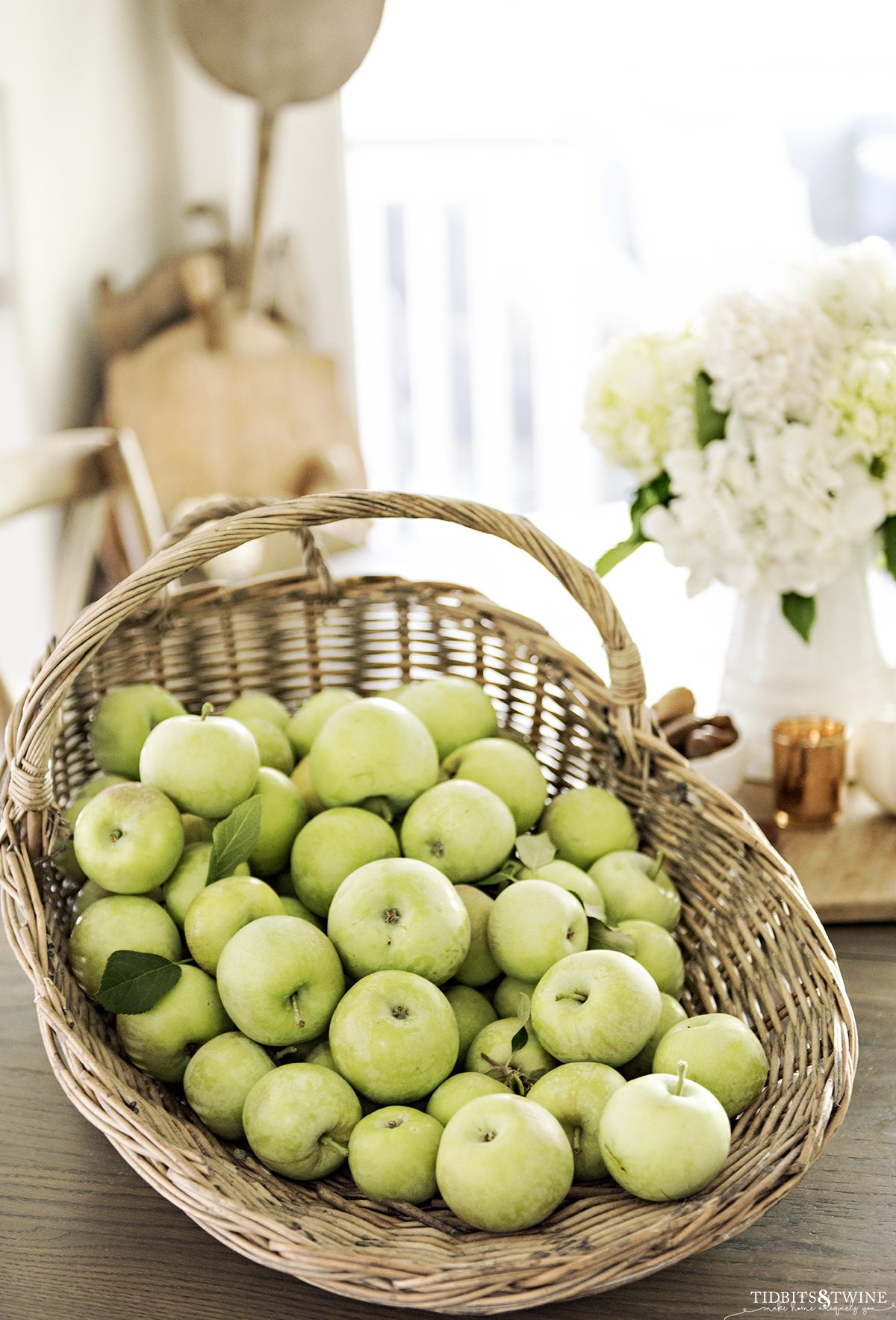 2. Lanterns
I've already written that I love both wood elements and candles so it's not a stretch to realize that I love lanterns, too! They have a cozy vibe and I think they're quite versatile! They look good with standalone candles, it's also fun to add filler around the base like seasonal berries, leaves, etc. Of course, don't use filler if you're using a traditional candle for fire reasons, but battery-operated or solar candles are fine.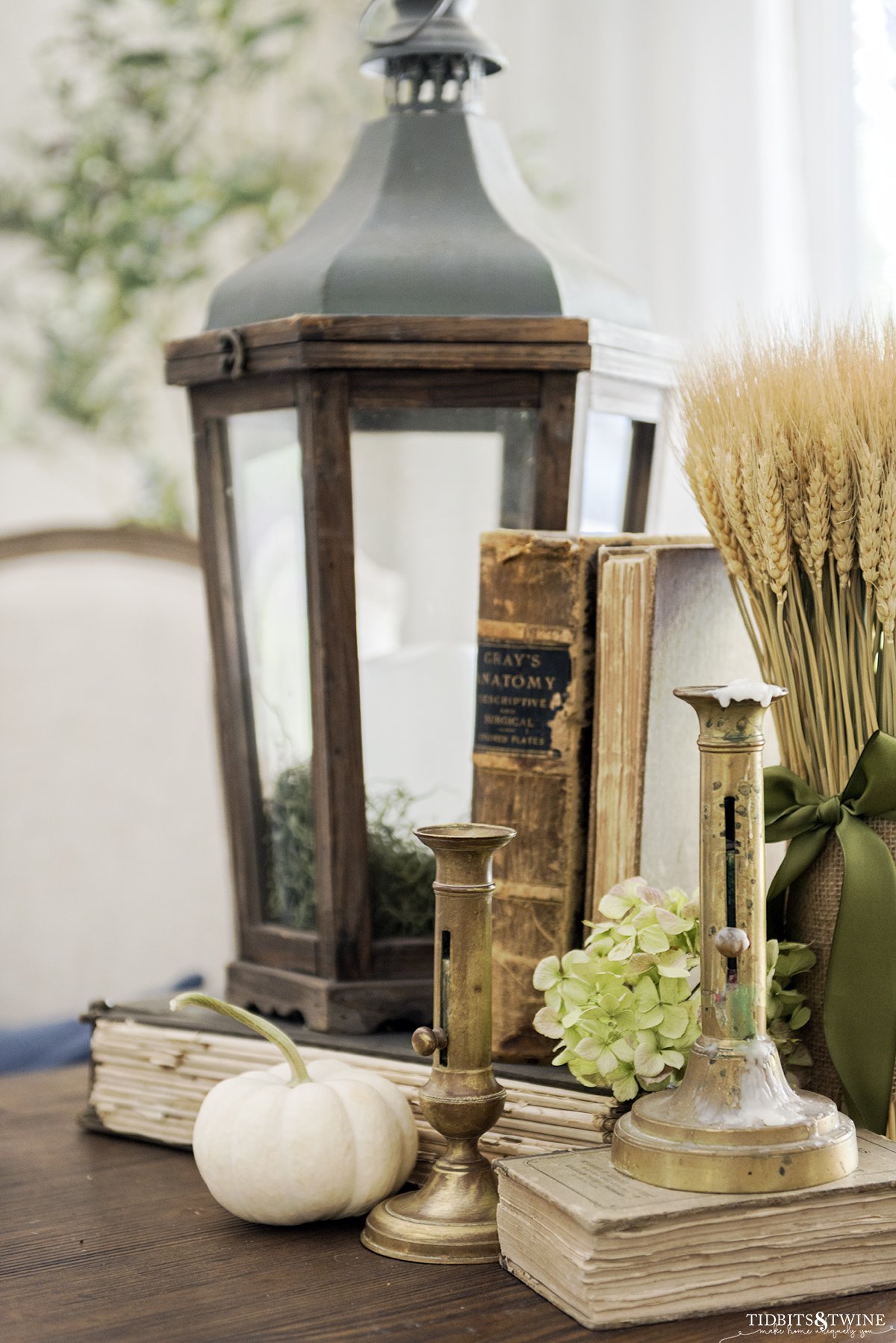 You can also skip the candles and fill a lantern with pumpkins for a whimsical look!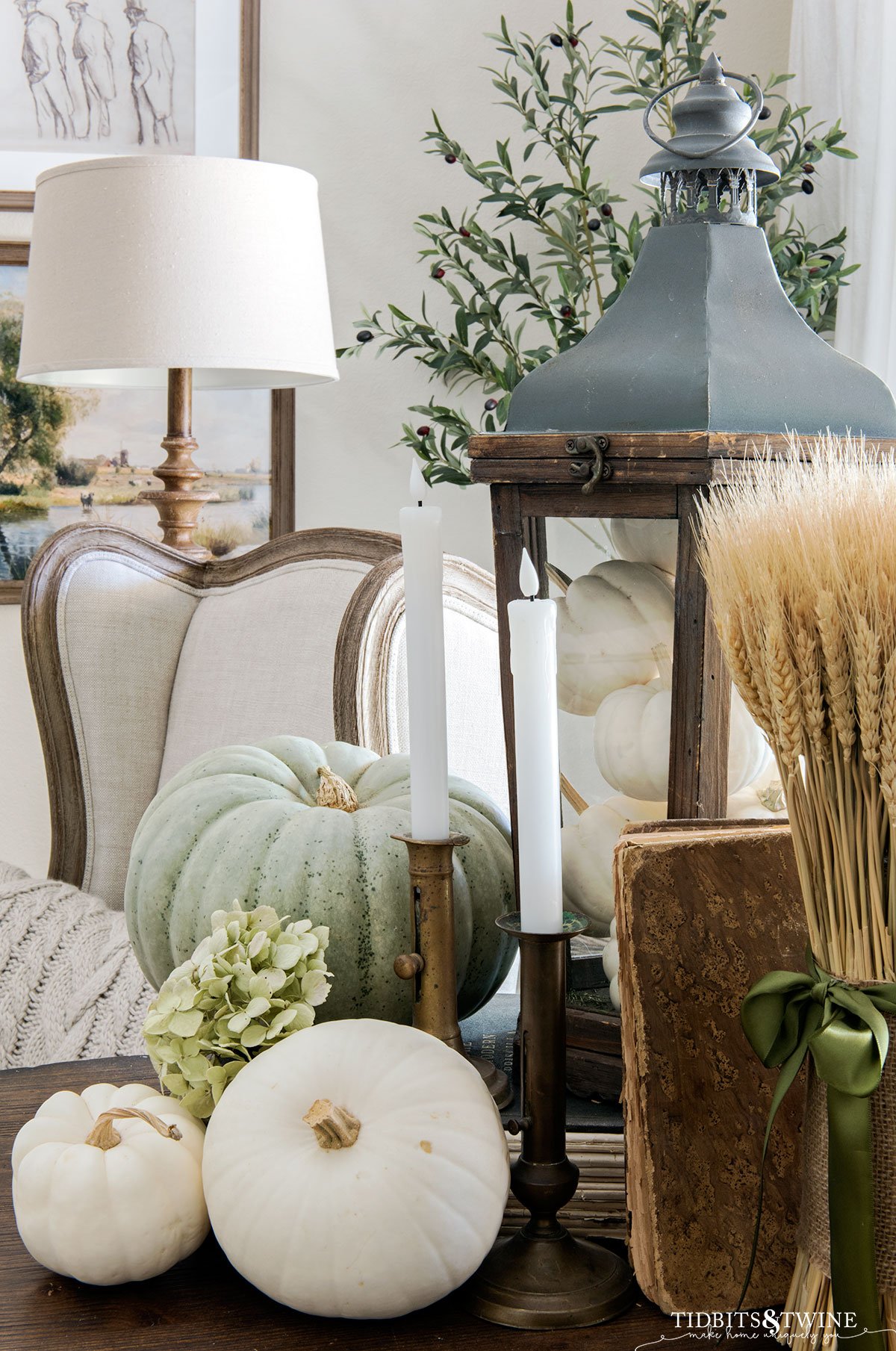 3. Antlers
This might seem like a strange one and admittedly, I never thought I'd love an antler, but here we are! I first came across these at an antique fair during the Fall and there were baskets and baskets available. Suddenly, the texture and shape really appealed to me!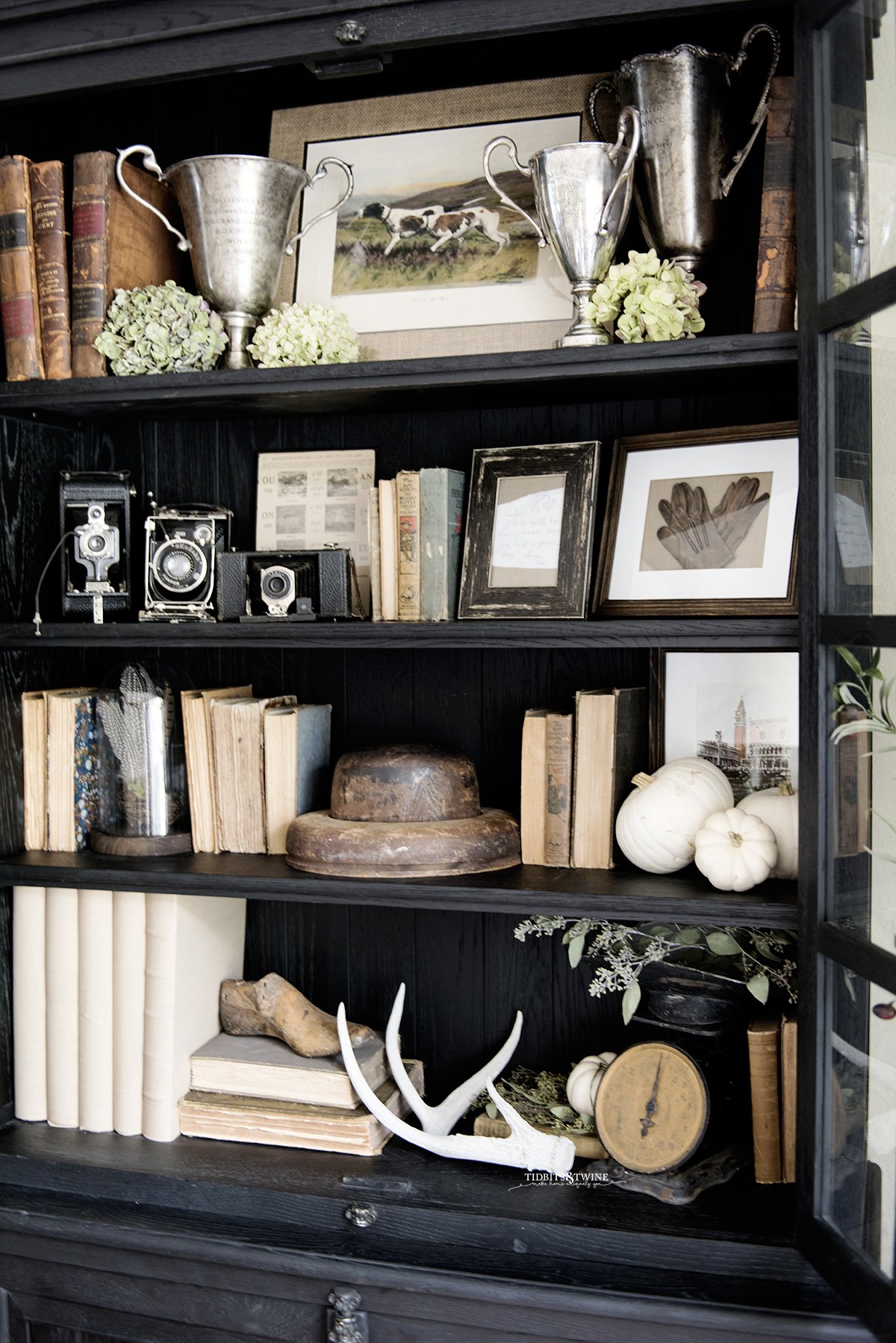 I really only put these on display during Fall but they are fun!
MORE FALL DECORATING INSPIRATION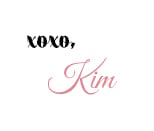 Join the Community
Let's keep in touch! Get exclusive artwork plus the latest news delivered directly to your Inbox!